The Royal College of Veterinary Surgeons issued a statement to remind its members of their fundamental obligation to science-based medicine and animal welfare.
A vet and veterinary nurse prepare a dog for surgery. (Photo: Leon Neal/Getty Images)
In 1784, American inventor Benjamin Franklin and French chemist Antoine Lavoisier were tasked by the Académie des Sciences to study the efficacy of mesmerism, the notion that invisible forces exerted by animals provide therapeutic relief in humans. The claim, made by German physician Franz Mesmer, was quickly put to rest with this investigation. No, animal spirits do not influence human biology. 
During their studies Franklin and Lavoisier inadvertently discovered a peculiar aspect of human psychology and physiology: the placebo effect. As biographer Richard Holmes writes in The Age of Wonder regarding the increased health of patients who were not actually receiving active ingredients, "It was simply because the patients believed they would be cured." 
It wasn't until the 1970s that Rabi Simantov and Solomon Snyder discovered endorphins, endogenous opioid neuropeptides produced by our pituitary gland and hypothalamus that bind to morphine receptors, which is the cause of the placebo response. We've reaped the advantages of this natural pain and anxiety relief for eons. The placebo response is why many alternative therapies "work."
One such alternative therapy is homeopathy, which has recently been put to task by American governing agencies. In 2015, the FTC cracked down on speculative claims advertised on homeopathic packaging, while last month the FDA announced it would be regulating high-risk homeopathic products. 
The UK-based Royal College of Veterinary Surgeons (RCVS) also now recommends veterinarians use caution when employing homeopathic products. Considering there is no evidence of a placebo response in any other animal, and that so far the only means for homeopathy to work in humans is by this response, the council overwhelmingly felt using such products is not humane. The statement read:
Homeopathy exists without a recognised body of evidence for its use. Furthermore, it is not based on sound scientific principles. In order to protect animal welfare, we regard such treatments as being complementary rather than alternative to treatments for which there is a recognised evidence base or which are based in sound scientific principles. It is vital to protect the welfare of animals committed to the care of the veterinary profession and the public's confidence in the profession that any treatments not underpinned by a recognised evidence base or sound scientific principles do not delay or replace those that do.
The statement continues by reminding vets that the welfare of animals under their care should be foremost on their minds. Since there is no credible proof homeopathic remedies work, they should not be employing these substances in their treatments. 
While the council has not banned veterinary homeopathy, nor even suggests it, holistic vets responded by claiming an infringement on their rights. Chris Day, president of the The British Association of Homeopathic Veterinary Surgeons, called it a "de facto ban." 
This is an attack on freedom of choice for clients and on the clinical freedom of vets. We are deeply disappointed that the RCVS would seek to undermine its own members whose independence and livelihoods are at stake. 
It's challenging trying to make sense of homeopathy's efficacy as promoted to treat animals. Consider a concoction designed for diarrhea and gas in dogs and cats. Among the active ingredients are Nux Vomica, from the highly poisonous strychnine tree, which, diluted to the homeopathic rating of 6c means there's one part strychnine per ten trillion parts sugar water; Thuja Occidentalis, derived from the cedar tree, which, while rich in vitamin C, is predominantly used in insecticides, cleansers, disinfectants, and soaps, and contains a neurotoxic compound, thujone; and Argentum Nitricum, silver nitrate, a popular homeopathic remedy for anxiety with no proven health benefits and lethal in high doses. 
That's only one-third of the ingredient list for that particular concoction; the others do not hold up to scrutiny either. By aligning itself with the "natural" and "holistic" edge of healthcare, homeopathic products take advantage of our general ignorance of compounds and dilution rates. Most homeopathic remedies are quite safe because there's little to no active ingredients inside of the bottle. The leap to calling it "therapeutic," however, is inexcusable, a fact more governing agencies are acknowledging.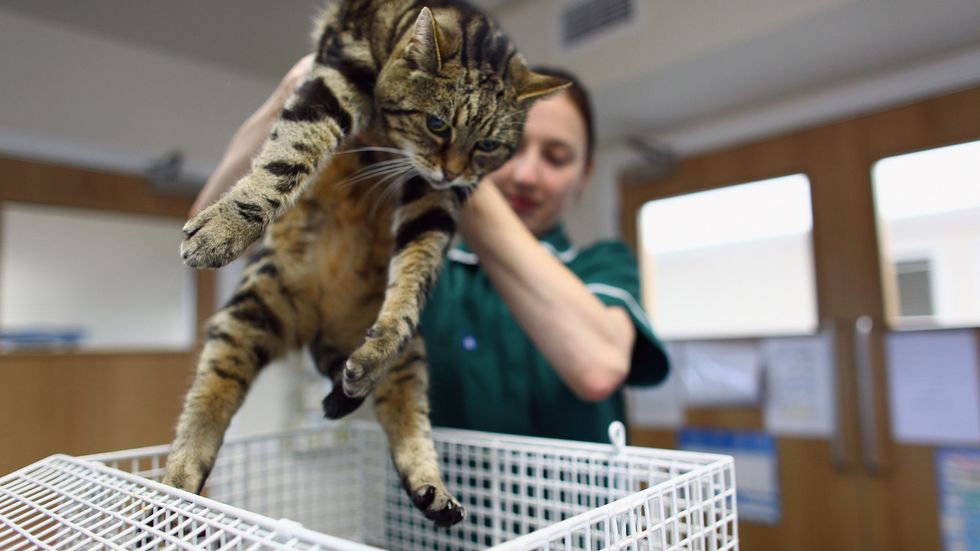 "Can I haz evidence plz?" (Photo: Jeff J Mitchell/Getty Images)
Senior Vice President of the RCVS Chris Tufnell is particularly concerned with the use of homeopathic nosodes which are sugar-coated homeopathic vaccination pills containing trace amounts of diseased tissue or discharge from a sick animal. "I have seen dogs die from completely preventable conditions such as parvovirus, which is extremely unpleasant and preventable," he said to The Sunday Telegraph. "It's entirely unnecessary." Homeopathic painkillers are another concern in the scientific community, as animals are often left in tremendous pain if their owners opt for alternatives to painkillers for their pets.
Our interaction with other species is always fraught with danger. For example, credible researchers always take studies on mice with a grain of salt. While their DNA is remarkably similar to ours, until tests are performed on humans there is no way to ensure efficacy on our biology. The reverse is also true: believing our remedies are applicable to other species is unsound.
Not that there aren't cross-species solutions. Recently, one of my cats was having bowel problems. My wife and I started mixing fiber into his diet; problem solved. Plant fibers do their job across many species; a lack of fiber in the human diet is creating serious problems. There are plenty of examples of such substances working in different animals. 
Homeopathy is not one of them. We've evolved an incredible healing system with natural opioids in which psychology and physiology work by unconscious processes. The RCVS recommendation isn't a civil rights issues; it's an animal welfare issue. Doctors treating animals should uphold the same oath demanded of human doctors. That starts with evidence. 
--
Derek Beres is the author of Whole Motion: Training Your Brain and Body For Optimal Health. Based in Los Angeles, he is working on a new book about spiritual consumerism. Stay in touch on Facebook and Twitter.
A new study shows how talking to yourself may help your brain perform better.
Man talking to a statue that looks like him. Credit: Pixabay.
While talking to yourself is often regarded a social no-no, possibly hinting at psychological problems, new research suggests that point of view may need revision. Scientists at Bangor University in the UK found talking to yourself out loud is not only be helpful but may indicate a higher level of intelligence.
The study's participants were given written instructions and told to either read them out loud or silently. After measuring the concentration and how participants performed on tasks, researchers concluded that people were more concentrated and absorbed what they read better when doing so out loud. 
As the study's co-author and psychologist Dr. Paloma Mari-Beffa explains, the benefits may be coming "from simply hearing oneself, as auditory commands seem to be better controllers of behavior than written ones". 
Dr. Mari-Beffa sees speaking out loud as an extension of our inner silent talk, which has been shown to help us organize thoughts, emotions and memories, as well as plan actions. 
She cites athletes, especially tennis players, who talk to themselves in stressful moments. They use spoken self-instructions to help focus their minds and motivate themselves to achieve specific goals.
The inventor Nikola Tesla was known to talk to himself during lighting storms.
The researcher adds that talking out loud could actually be "a sign of high cognitive functioning".
"The stereotype of the mad scientist talking to themselves, lost in their own inner world, might reflect the reality of a genius who uses all the means at their disposal to increase their brain power," points out Dr. Mari-Beffa.
The experiment in the study was performed on a relatively small sample of 28 participants but previous studies also indicated that talking to oneself had cognitive benefits, like helping find objects quicker. 
You can read the study "The impact of verbal instructions on goal-directed behaviour" here.
Caught between a rock and a hard place, the EU had better get ready for some of these exit-names
The European Union finds itself trapped in a reality not unlike the Invasion of the Body Snatchers. Former friends are turning into mortal enemies at a frightening rate. 
In fact, the EU is stuck between a rock and a hard place: Russia actively seeks to destabilize the Union from the east, and from the other side of the Atlantic, the Trump administration seems keen to do the same. Ted Malloch, president Trump's pick as U.S. ambassador to the EU (1), has compared the European project to the USSR – and expressed a desire to see it end in a similar way:
"I had in a previous career a diplomatic post where I helped bring down the Soviet Union. So maybe there's another union that needs a little taming".
And then there is the UK, which has decided to leave the Union. Some hope (and others fear) that its 'Brexit' is the first of several member state exits from the EU – thus potentially precipitating the end of the Union.
Such a scenario would have sounded impossible just over a year ago (i.e. before the British referendum on Brexit). But perhaps the EU should get ready for some worst-case scenarios. What will come after Brexit? Here is a map of portmanteau descriptions for other member states leaving the Union – some funnier than others.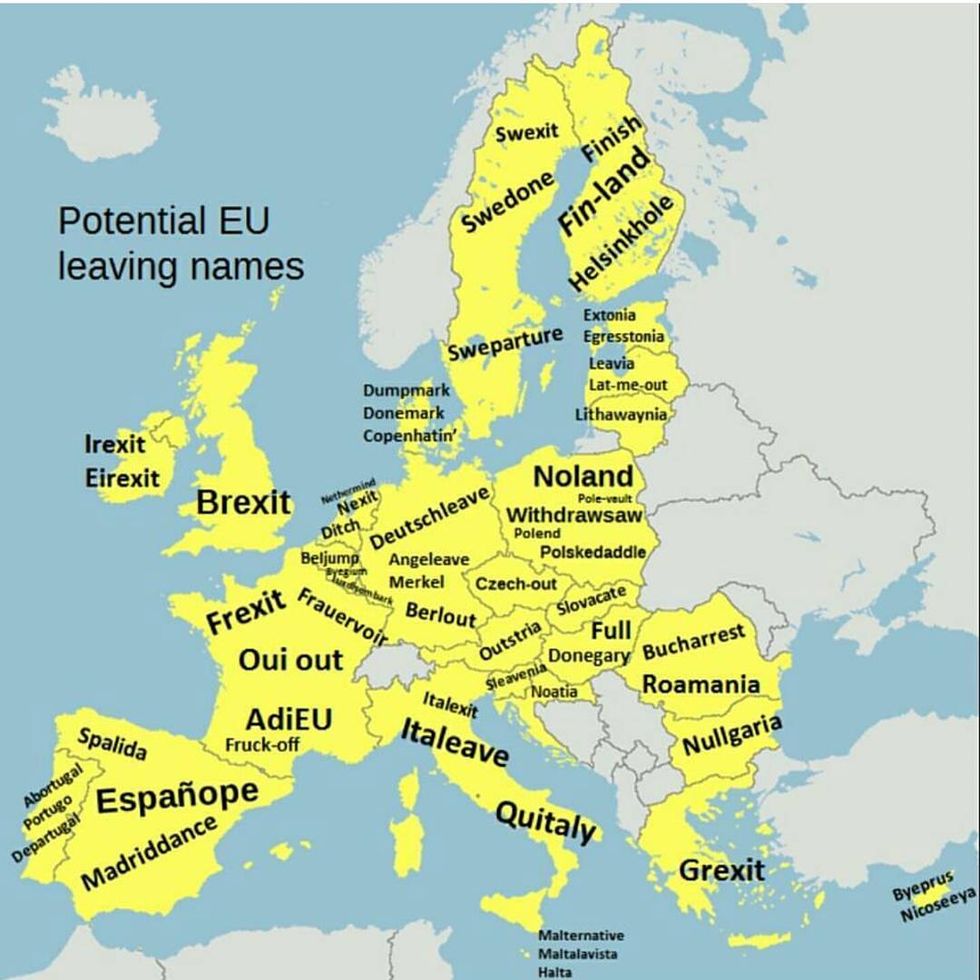 If Portugal decides to leave, will it be Abortugal or Departugal? Our money is on the shortest option, Portugo. 
With Geert Wilders' populist politics popular in the Netherlands, a Dutch EU exit has often been pondered in the press. Nexit seems the consensus term so far, but Ditch and Nethermind are a lot more fun.
Italeave sounds like a winner, much more than Italexit; but Quitaly has a pretty nice ring to it as well. 
If Prague ever votes to leave the EU, the name for it is pretty much guaranteed to be Czech-out.
The map shows quite a few options for a Polish exit, the best one being Pole-vault. 
France, had Marine Le Pen won the presidential elections earlier this year, would probably have opted for a Frexit. But to give their departure a bit of je ne sais quoi, she could have chosen to call it, a bit more imaginatively, adi-EU (although the French abbreviation is UE), or Fruck-off. 
Could Cyprus ever leave? If they do: Nicoseeya is one of the better names on this map.
The Romanian suggestions – Bucharrest, Roamania – need some more work. 
The Luxembourg name is a bit hard to decipher. But then the home country of European Commission President Jean-Claude Juncker is one of the most europhile countries in the club, and possibly the least likely to leave. How long before they are the last one left? 
Image found here at Maps on the Web.
Strange Maps #822
Got a strange map? Let me know at strangemaps@gmail.com.
(1) News of Mr. Malloch's candidacy for the job caused strong disapproval from EU officials. He was not appointed, and the position of U.S. Ambassador to the EU remains vacant (as of October 26, 2017) since the resignation of Anthony L. Gardner on January 17, 2017.
A report by UK's parliamentary committee tackles the issue of non-integration in the country's Muslim communities.
Immigrants into the UK should swear an oath of allegiance and be made to learn English, concluded the Parliament's new group on social integration, which has representatives from all parties.
Their statement comes on the heels of a review, released in December 2016, which was headed by Dame Louise Casey, a British government official working in social welfare. That report took 18 months to complete and found that many communities in the UK were significantly impacted by the "unprecedented pace and scale of recent immigration."
According to Dame Casey's review, some parts of Birmingham, Blackburn, Burnley and Bradford are now up to 85% Muslim, many of whom hold "very socially conservative views" with regards to women's rights and homosexuality.
As per the report, these Muslim communities do not identify as being British but rather with the global Islamic 'Ummah' (community). This tendency may help foster extremist views within some areas.
"British Muslims are increasingly identifying with a global Muslim 'Ummah'. This rise in religiosity and less integrated, more regressive and socially conservative versions of Islam is being felt in communities but not discussed openly, other than by Islamophobic hate mongers on the Far Right.
"This in turn helps to feed a grievance narrative promoted by extremist groups who want to drive a wedge between British Muslims and the rest of British society. So we need a more honest conversation about all this in the mainstream, in a way that helps bind people back together again, not drive them apart," states the study.
The review also pointed out that this kind of self-imposed segregation starts from a young age, with 511 schools having more than half the students of Pakistani or Bangladeshi background. There has also been a noticeable increase in unregistered schools and homeschooling in Muslim communities. 
Dame Louise Casey's solutions to this involve promoting integration in schools, pointing out that "more weight should be attached to British values" when creating the curriculum. These values should actually be communicated from the moment of arrival when migrants should be made to take an "oath of integration with British values and society".
Most importantly, however, the report recommended that immigrants need to learn English, especially as Muslim and Hindu women tend to know it far less than the men – in fact, they are half as likely.
The lessons would be paid for by the government and would help "tackle cultural barriers born out of segregation".
This sentiment was echoed by the parliamentary committee on social segregation which stated that speaking English is "the key to full participation in our society and economy" and a "prerequisite for meaningful engagement with most British people".
"The APPG believes that all immigrants should be expected to have either learned English before coming to the UK or be enrolled in compulsory ESOL [English for Speakers of Other Languages] classes upon arrival," proposed the committee.
Overall, the net of about 330,000 people immigrate into the UK every year, but the turnover is much larger since about a million arrive or leave altogether.
Some other specific recommendations from the parliamentary committee on social integration were to give more authority to make immigration-related decisions to regional governments and how to better spread migrant flows around the country.
Would you be cryo-preserved, knowing that if you survived, you would wake up hundreds of years later?
Photo by Chris McGrath/Getty Images
It's an urban legend many of us have heard and wondered about. It goes like this. Walt Disney had his body frozen at the time of his death, awaiting revival shortly after a cure for cancer had been found. Alas, though captivating it's unfounded. The visionary was cremated on the day of his funeral back in 1966. But now, a teenage girl from the UK has in reality done what was rumored to have been performed on the inventor of Mickey Mouse. She was cryogenically frozen in the hope of being revived sometime in the future when a cure is in hand.  
The "bright, intelligent" girl identified only as "JS," officially passed away on October 17, from a rare form of cancer. Press coverage was restricted until recently. London's High Court agreed to allow her to go forward with the procedure.
Her parents are divorced. She hadn't seen her father for eight years, reports say. When he first heard of her plan, her father was against it, while her mother supported it. He said even if JS did wake up hundreds of years later, she'd have no family or friends and would be stuck in a foreign country, as the facility chosen is in the US. After some deliberation in court, her father did eventually come around, saying he respected her decision. Justice Peter Jackson, who oversaw the case had sympathy for the man, saying, "No other parent has ever been put in his position."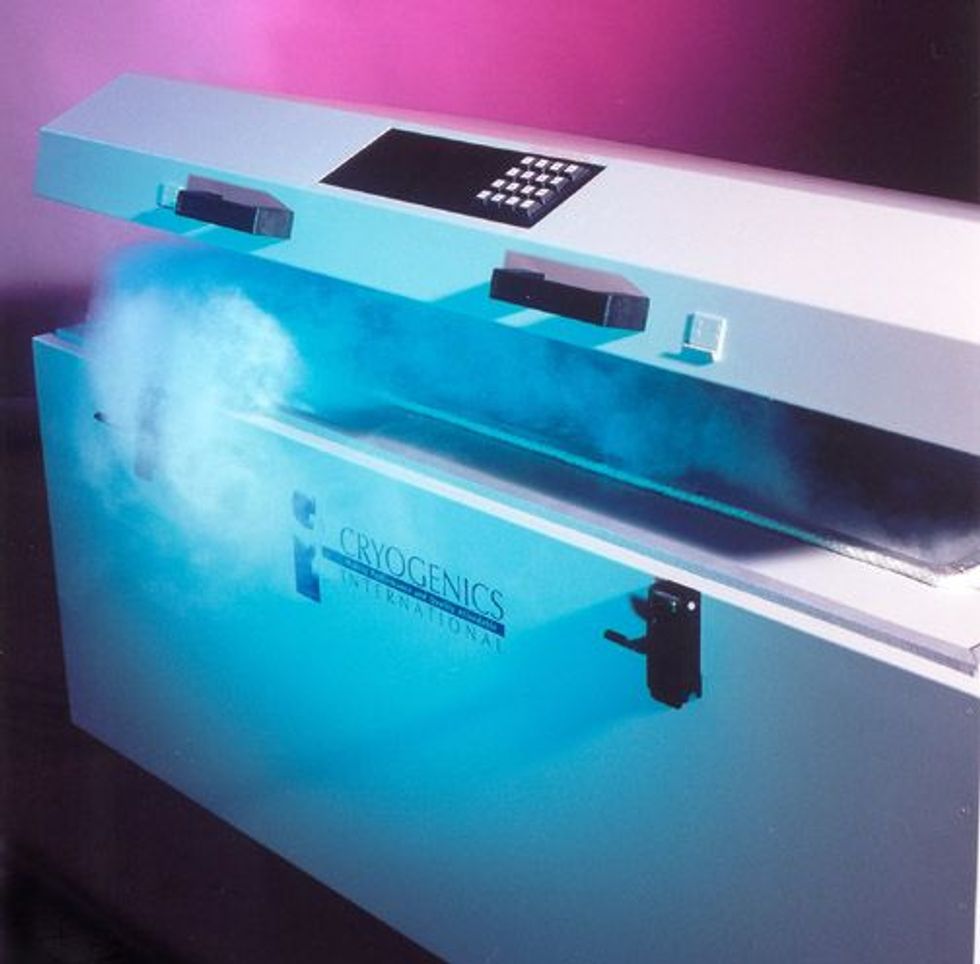 A cryonic cooling chamber.  
JS reportedly told a relative "I'm dying, but I'm going to come back again in 200 years." Well, why not? It worked for Philip J. Fry. JS researched cryonic preservation online for several months before making her decision, then wrote Justice Jackson. He encountered her case on September 26. Then the judge visited her in the hospital and was moved by her, granting her request on October 6.
In her letter to the court the girl wrote:  
I have been asked to explain why I want this unusual thing done. I'm only 14 years-old and I don't want to die, but I know I am going to. I think being cryo-preserved gives me a chance to be cured and woken up, even in hundreds of years' time. I don't want to be buried underground. I want to live and live longer and I think that in the future they may find a cure for my cancer and wake me up. I want to have this chance. This is my wish.
Today, cryopreservation facilities reside only in the US and Russia. A client's body is preserved using liquid nitrogen and stored at a temperature of -202°F (-130°C). At the facility JS chose, The Cryonics Institute in Michigan, the cost of the most basic service was around $46,000. The girl's maternal grandparents raised the money. JS brings their number of "cryopreserved patients" up to 143, at present. About 350 people worldwide have undergone the procedure total, since it was first developed in the 1960s.
Disturbingly, the first 20 patients to undergo it were eventually buried, after the company providing the service went bankrupt. Today, two major operators perform cryopreservation in the US, the aforementioned Cryonics Institute and Alcor of Arizona. Each has been performing the procedure since the 1970s. In addition to people, pets are often placed in cryostat.
Though we can be preserved in what is known as cryonics, we cannot be revived. What's more, there is some debate as to whether certain organs and structures in the body, such as the kidneys, can be frozen and ultimately thawed out, unharmed. This and other issues makes cryopreservation controversial. The industry views it as merely "an ambulance ride to the future." Sooner or later we are assured, science will have a way.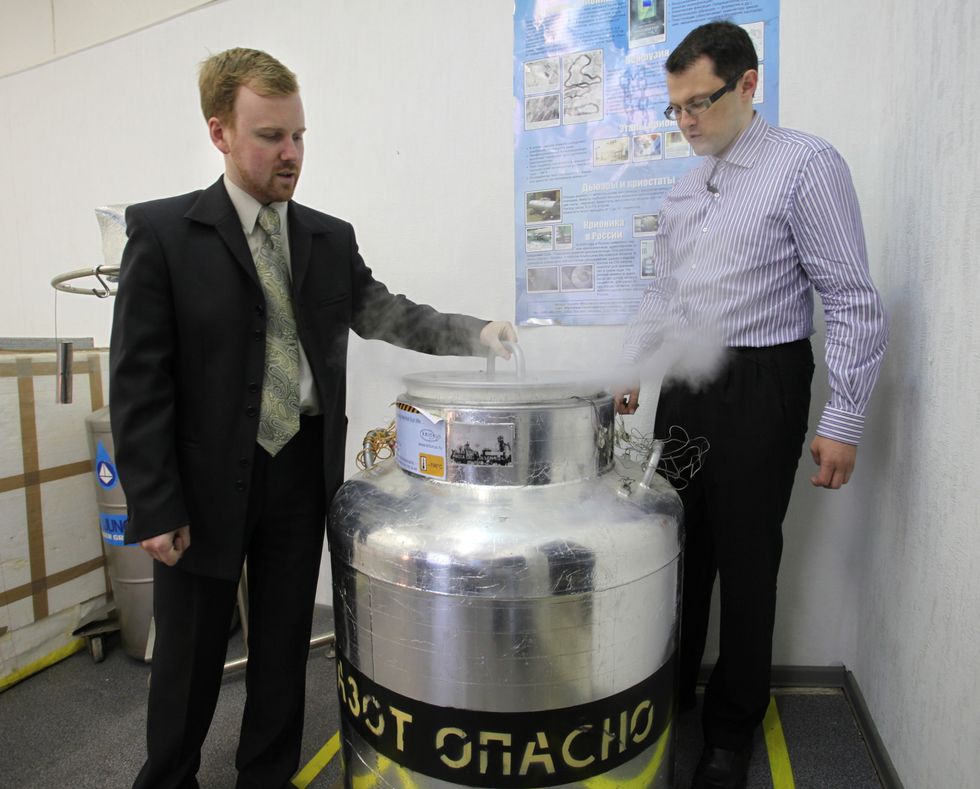 Science is good at preserving blood and the sex cells, even embryos. But the whole body is another thing.
There were issues with the freezing process on the day of JS's death, according to her mother. A group of volunteers helped prepare her body for preservation, in a manner that has been described as disorganized. In fact, the hospital expressed concern for the way things were handled.
To prepare the body, the blood must first be removed and replaced with antifreeze. Next, it must be cooled to -94°F (-70°C). Physical decay will be brought to a near standstill at this temperature. In JS's case, her body was placed into a metal crate filled with dry ice and loaded onto a plane, headed for Michigan.
She was received at the facility eight days after her death. According to the institute's website, "The patient was then placed in the computer controlled cooling chamber to cool to liquid nitrogen temperature." Twenty-four hours would be required for the patient to reach the proper temperature. Now, her body rests in cryostat or "long-term cryonic storage."
Moving forward, Justice Jackson expressed the need for regulation of cryopreservation. A procedure should be outlined and expressed to those involved in preparations. The judge also wrote that this was the first such case to come up in England and Wales and perhaps, the world. This case was, as he put it, "an example of the new questions that science poses to the law."
To hear another point of view on cryonics, click here: