Now, you can add chanting to your brain training regimen.
Handwritten Sanskrit script. (Image: Shutterstock)
You hear a lot of strange theories in yoga studios. In my 20 years of practicing yoga I've listened to plenty of suspect claims based on intuition rather than verified science, regardless of modern yogis calling the system an "ancient science." That said, yoga holds up well in certain regards, for pain, flexibility, and stress. Now, you can add to this list the recitation of Sanskrit mantras. 
I've never been much of an advocate for chanting. I don't OM when teaching and generally avoid styles like Kundalini that emphasize it. That said, when I have sat for kirtans, the chemistry of oral repetition can be hypnotizing. For my first book I spent many hours with Jeff Kagel (Krishna Das), one of America's foremost kirtan artists. KD takes a holistic viewpoint on the community aspect of chanting: 
"The stresses and lack of communication to the world that people feel, the way they feel cut off from each other, isolated and unhappy, without a lot of options, that leads to a need to connect and get back into yourself somehow. It's debilitating, it's crippling, living in the world without any deeper awareness that there's anything else."
Connectivity is a big part of the sangha (community) created around chanting. But what about neurological effects? This, too, has long been open to mysticism. And so James Hartzell, a Sanskrit devotee and postdoctoral researcher at Spain's Basque Center on Cognition, Brain and Language, decided to investigate claims about the efficacy of the "Sanskrit effect." 
During a time when we offload much of our memory to our devices, pockets of practitioners still honor millennia-old mnemonic techniques for memorizing tens and even hundreds of thousands of words. Before communication through writing, ideas and mythologies were expressed with cognitive tricks for memorization, such as rhyming and, in Sanskrit, using an "a" to denote an opposite meaning. For example, vidya means "knowledge" while avidya is "not vidya," or "ignorance."
The cognitive effects of meditation have been well-documented. Hartzell had a similar goal. He wanted to know if the thousands of hours of memorization and recitation pandits (Hindu scholars) perform affect the physical structure of their brains.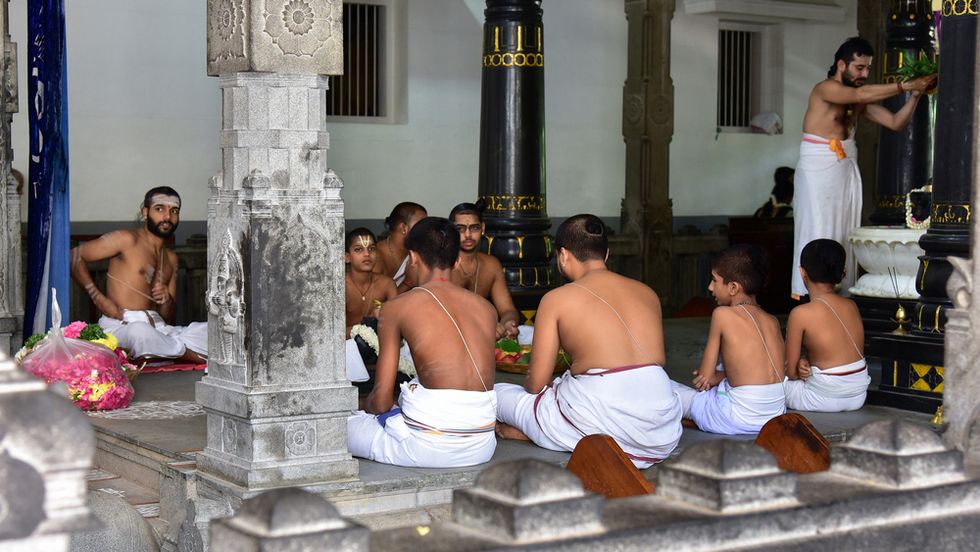 Morning rituals at the Ramanasramam shrine in India. Young Brahmin boys chant mantras while the head priest performs abhishekam. (Photo: Shutterstock)
He recruited 42 professional Vedic Sanskrit Pandits that had trained for at least a decade beginning in childhood. Their training includes eight to ten daily hours of practice, totaling over 10,000 hours at the entry level. Once that initial phase is over the pandits continue to practice for three hours daily. 
After scanning the pandits' brains with MRI technology, Hartzell's suspicions were confirmed: 
Numerous regions in the brains of the pandits were dramatically larger than those of controls, with over 10 percent more grey matter across both cerebral hemispheres, and substantial increases in cortical thickness. Although the exact cellular underpinnings of gray matter and cortical thickness measures are still under investigation, increases in these metrics consistently correlate with enhanced cognitive function.
Most prominent was the effect on the hippocampus, where we record new information and set it to memory. Hartzell was not surprised that the right hippocampi (we have two), which deals with patterns, was most affected. The right temporal cortex, associated with speech prosody and voice identity, was also substantially thicker. 
Hartzell is hoping that this research could lead to more in-depth studies on the effects of cognitive decline and diseases of dementia as the pandits age. Anecdotes are a plenty in the yoga world, but the researcher hopes this one is legitimate: 
This raises the possibility that verbal memory "exercising" or training might help elderly people at risk of mild cognitive impairment retard or, even more radically, prevent its onset.
With a pending crisis in dementia looming as we spend more time staring at screens, the cognitive importance of the arts is becoming more apparent. Cognitive benefits of reading and poetry are being studied. In fact, in 2012 the UK overturned nearly 80 years of bad policy by reinstating poetry in its primary English curriculum. Thanks to research from Pew, turns out most Americans are still reading books. 
Now we can add chanting to this regimen of cognitive training. Most likely the Sanskrit Effect is a Language Effect, meaning you don't have to focus on this particular language to accomplish similar feats of memory. How this plays into an easily distracted world will provide insight into how much we value the sustainability of our brains. A sangha is only as strong as its weakest members, and we need everyone sharp and ready. 
--
Derek Beres is the author of Whole Motion: Training Your Brain and Body For Optimal Health. Based in Los Angeles, he is working on a new book about spiritual consumerism. Stay in touch on Facebook and Twitter.
The benefits of actively playing chess are supported by numerous studies.
Want to transform your brain and make better decisions? Learn chess, a game synonymous with intelligence and brain power. It's been proven by numerous studies to help a variety of mind skills and has been growing in popularity around the world. 
According to a World-Chess-Federation-sanctioned YouGov polling study from 2012, 70% of adults have played chess at some point in their lives, with the number of worldwide chess players estimated to be above 605 million. The percentage of active chess players stood at 15% in the US, 23% in Germany, and 43% in Russia. A whopping 85 million played chess in India, buoyed by the popularity of the former world chess champion Viswanathan Anand. 
Some more recent stats from the organizers of the 2014 world chess championship report that 1.2 billion viewers watched that competition. 
How do you play chess? To be very brief: it's a board game played by two opponents, each with 16 pieces, who use strategic thinking to put the opponent's king piece under an attack from which it cannot escape, called a "checkmate". 
Chess is an ancient game, at least 1500 years old. It likely originated in India, derived from the strategy game chaturanga. Chess went through a number of forms but eventually its rules were standardized and world championships began to be held in the 19h century. The current world chess champion is Norwegian Magnus Carlsen, who recently defended his title against the Russian Sergey Karjakin. The women's chess champ is Hou Yifan from China.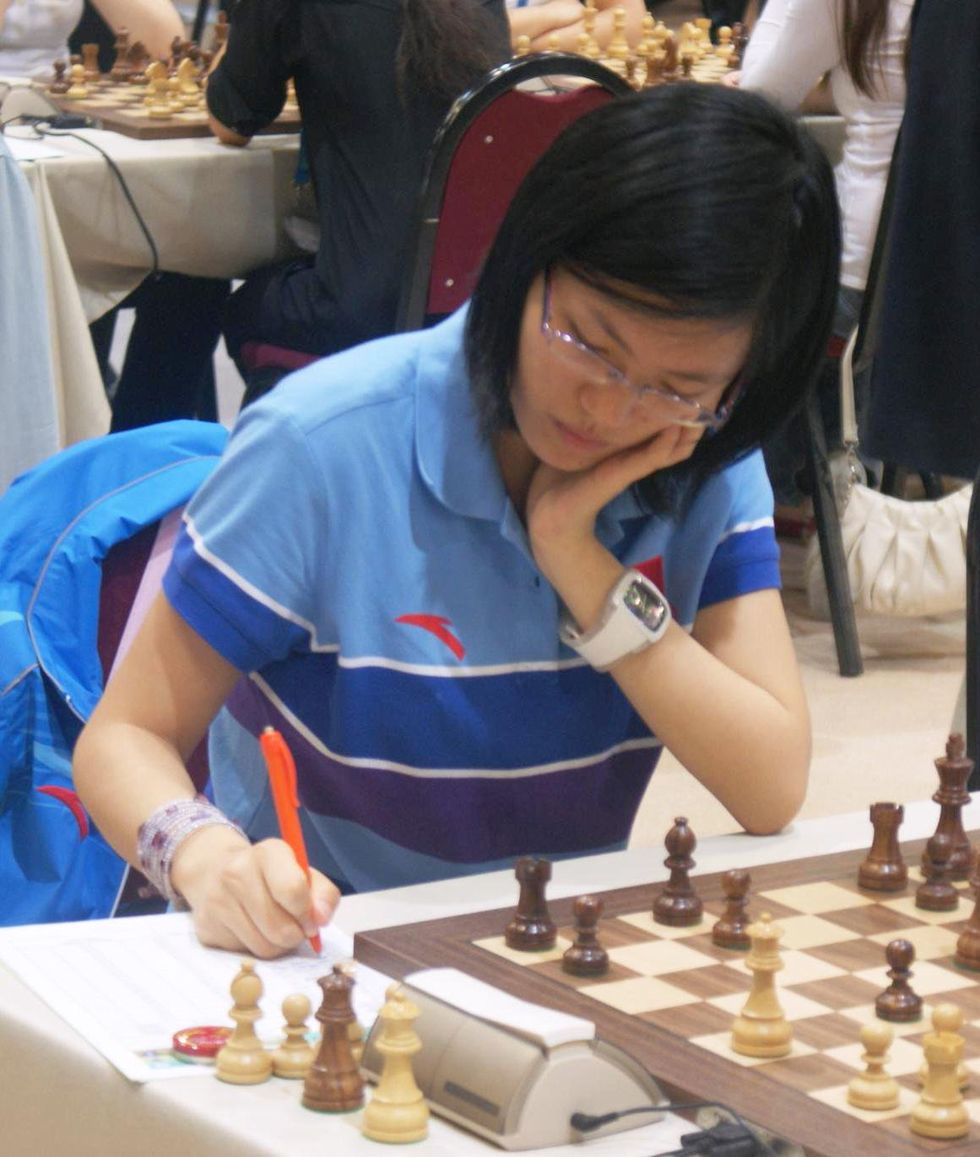 Hou Yifan at a Chess Olympiad in Istanbul, Turkey. 2012.
It's worth noting that chess champions are often some of the smartest people in the world, with the recent world champion Garry Kasparov, who has contributed to Big Think, reportedly having an IQ of 190, while the female champion Judit Polgar, who became a grandmaster at 15 has an IQ of 170.
If you needed more convincing, here are five reasons why you should find a place for chess in your life: 
1. Chess improves key thinking skills
As a game based on logic and processing of numerous potential combinations of moves at once, it is tailor-made for engaging your brain functions. There are a number of studies that show how chess can enhance your thinking powers. One way has to do with pattern recognition. Studies of the former world champion Garry Kasparov showed how quickly a player of his caliber recognized patterns.
It has also been shown that better chess players use both sides of the brain to make decisions, engaging the visual information processing part of the brain to find patterns and the analytical side to pick the best logical move.
Other studies highlight the interesting fact that the brains of elite players are actually smaller compared to the non-experts, possibly pointing to "localized shrinkage" in order to increase neural efficiency.
2. Chess can improve your memory 
Chess is an excellent memory exercise because it encourages remembering moves for various strategical purposes. The better players fill their memories with possible combinations. A study showed how the brains of grandmasters worked by recalling thousands of moves.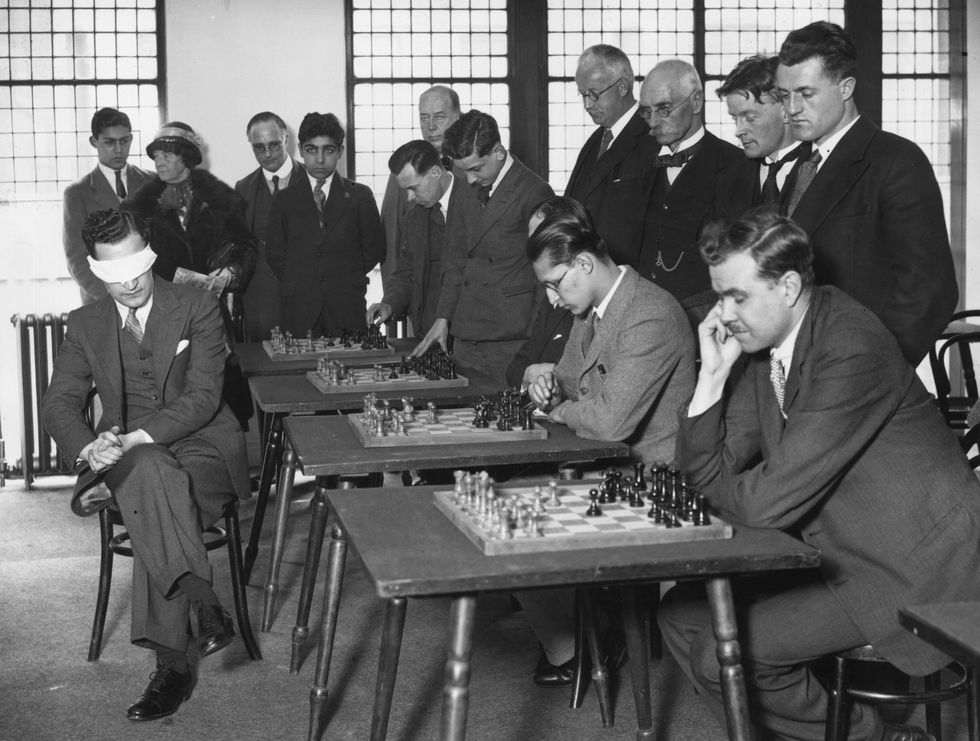 World blindfold chess champion G Koltanowski playing chess blindfolded against ten opponents at the Empire Chess Club in Whiteleys, Bayswater, London. (Photo by H. F. Davis/Topical Press Agency/Getty Images)
3. Chess players are successful
The 2012 YouGov poll also found a clear relationship between being a regular chess player and various measures of achievement and success. 78% of active chess players are university graduates. 20% of households making above $120,000 regularly play chess. Chess players are 5 times more likely to read in-depth analysis and high-brow publications. They are also likely to be affluent, 40% more likely to purchase luxury items. 
Peter Thiel, a prominent venture capitalist, co-founder of Paypal, and a major figure in the 2016 Presidential election is an avid chess player. 
And he's not alone among the famous. Microsoft's founders Bill Gates and Paul Allen have been known to play each other as do other Silicon valley titans. Acting legends Humphrey Bogart, Lauren Bacall, Marilyn Monroe, and Marlon Brando were lifelong chess aficionados. As was John Wayne. So was directing great Stanley Kubrick. Other celebrities known for their chess prowess include Arnold Schwarzenegger, Nicholas Cage, Ray Charles, Ben Affleck, Bono, Will Smith, and Howard Stern.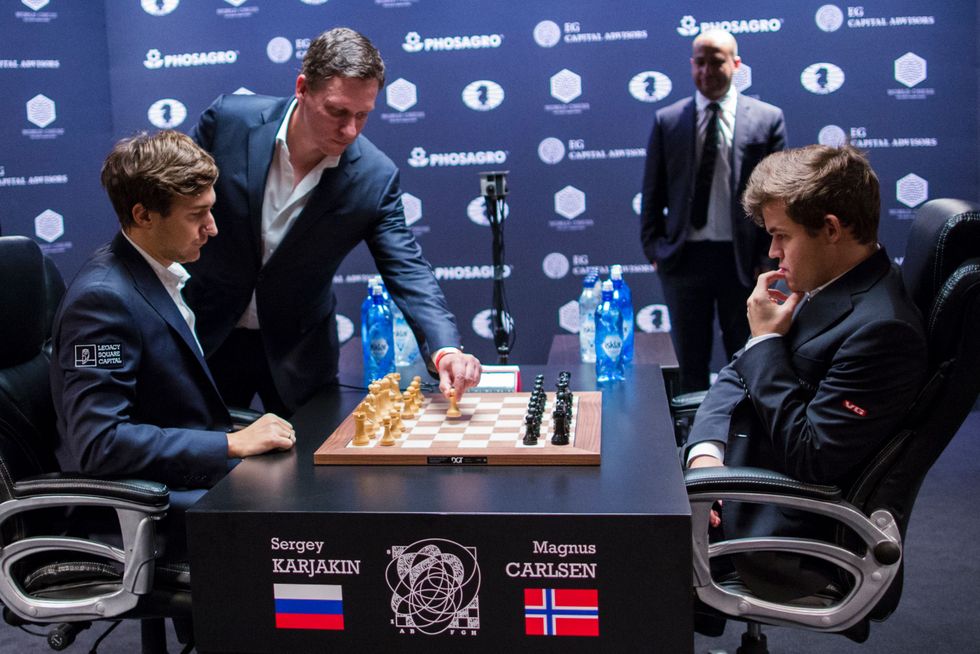 Businessman Peter Thiel (C) makes the honorary first move during the game between Magnus Carlsen, Norwegian chess grandmaster and current World Chess Champion, and Sergey Karjakin, Russian chess grandmaster during First of Two Tie-break rounds of the World Chess Championship on November 30, 2016 in New York. (Photo credit: EDUARDO MUNOZ ALVAREZ/AFP/Getty Images)
4. Chess can make your kids smarter. 
Several studies have been done to show that playing chess (in one case for 18 weeks) increased the IQs of the children involved. Other studies show chess improves the analytical and critical thinking skills as well as visualization abilities of kids in all stages of school, enhancing their development. Chess has also been shown to boost kids' math, reading and verbal skills.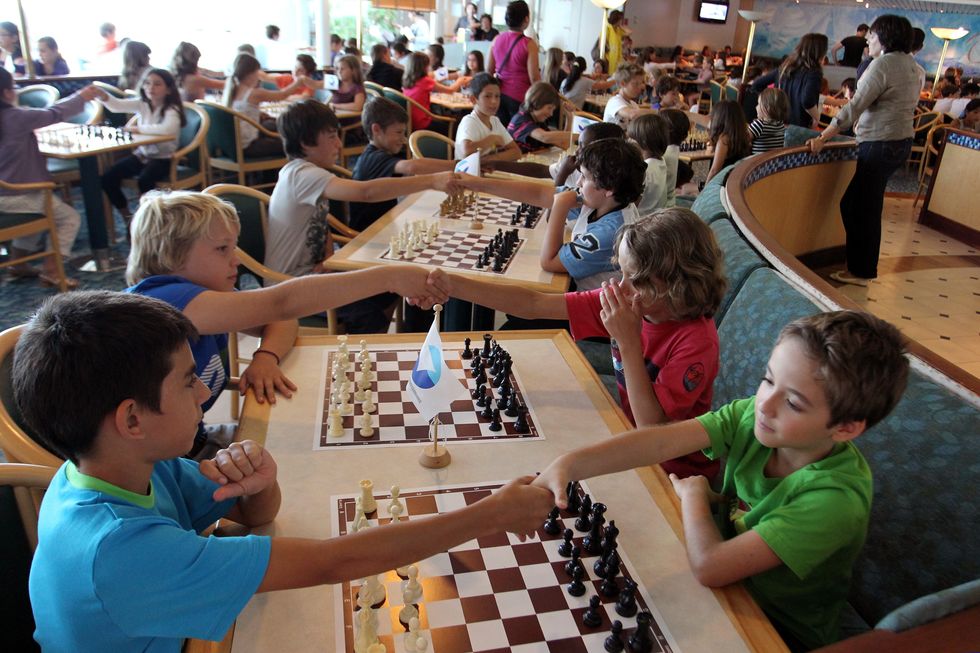 French primary school children between six and eleven years old, shake hands prior to competing in a chess tournament. (Photo credit: PASCAL POCHARD-CASABIANCA/AFP/GettyImages)
5. Chess can keep an aging brain sharp
 The game has been shown to protect the elderly from degenerative brain diseases like Alzheimer's disease and dementia.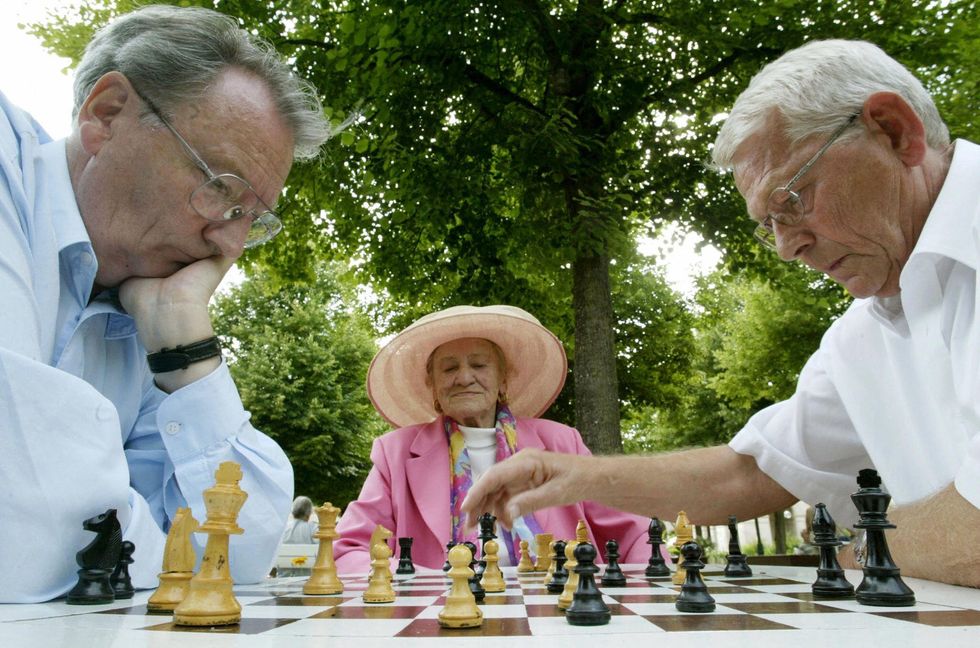 German senior citizens playing chess in Bad Kissingen. (Photo credit: OLIVER LANG/AFP/Getty Images)
And if you are looking for something more exciting, combining the brain and the brawn, you can partake in chessboxing as this photo illustrates: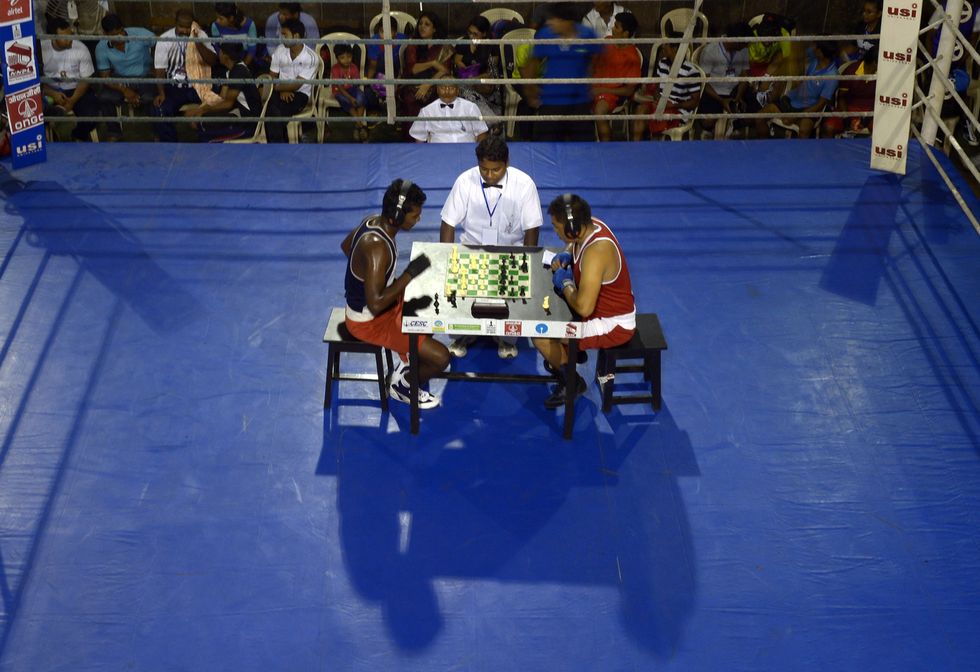 Indian chessboxers play a round of chess during the boxing round of The National Chess Boxing Championships in Kolkata. Chessboxing is a hybrid sport combining the mental workout of chess with the physical challenge of boxing. A chessboxing fight consists of 11 rounds, 6 rounds of chess and 5 rounds of boxing. Chess and boxing rounds alternate, beginning and ending with a round of chess, Chessboxing is particularly popular in Germany, Great Britain, Russia and France and now catching up fast in the Asian countries like China, Iran and India. (Photo credit: IBYANGSHU SARKAR/AFP/Getty Images)
Do you want to learn to play chess? You can start here. 
Watch the 12th world chess champion Anatoly Karpov talk to Big Think about the beauty in chess:
Watch Tim Ferriss explain how the chess strategies go beyond the game board, into life and business. 
Amy Herman teaches visual intelligence to doctors, intelligence analysts and the NYPD. Here she runs through how to make decisions you can defend under questioning: ones that are perceptive and informed.
Amy Herman created and conducts all sessions of 'The Art of Perception', an education program that was initially used to help medical students improve their observation skills. Often in diagnostics, you're not looking for what you can see, but what you can't – this is called the 'pertinent negative'. The same goes for investigations, and so the program was adapted for the New York City Police Department, and other intelligence agencies. Really, Herman says, it's about fine-tuning something we take as a given: our visual intelligence. This refers to the concept that we see more than we can possibly process. What we register is just a fraction of the world around us, so how can we see more? Like any other skill or muscle, to get the most and best use out of it, it needs training.
According to Herman, we need to think more consciously about what we see and deliberately take information in so that we can do our jobs more effectively and live our lives more purposefully. To that end, she runs us through a building block of 'The Art of Perception' course: The Four A's.
Tune into the video above for four practical steps to make more perceptive and informed decisions. Amy Herman is the author of Visual Intelligence:Sharpen Your Perception, Change Your Life.