Albert Einstein's famous thought experiments led to groundbreaking ideas.
Albert Einstein during a lecture in Vienna in 1921. Photo by F. Schmutzer.
Albert Einstein is widely considered one of the smartest people who ever lived, significantly impacting our understanding of the world around us. His General Theory of Relativity has redefined what we know about space and time and is one of the pillars of modern physics. What's also remarkable about Einstein's achievements is that they relied largely on his mental powers and the intricacy of his imagination. He was able to discern and relate very complex scientific concepts to everyday situations. His thought experiments, that he called Gedankenexperiments in German, used conceptual and not actual experiments to come up with groundbreaking theories.
CHASING A BEAM OF LIGHT
One of Einstein's most famous thought experiments took place in 1895, when he was just 16. The idea came to him when he ran away from a school he hated in Germany and enrolled in an avant-garde Swiss school in the town of Aarau that was rooted in the educational philosophy of Johann Heinrich Pestalozzi, which encouraged visualizing concepts. 
Einstein called this thought experiment the "germ of the special relativity theory." What he imagined is this scenario - you are in a vacuum, pursuing a beam of light at the speed of light - basically going as fast as light. In that situation, Einstein thought, that light should appear stationary or frozen, since both you and the light would be going at the same speed. But this was not possible in direct observation or under Maxwell's equations, the fundamental mathematics that described what was known at the time about the workings of electromagnetism and light. The equations said that nothing could stand still in the situation Einstein envisioned and would have to move at the speed of light - 186,000 miles per second.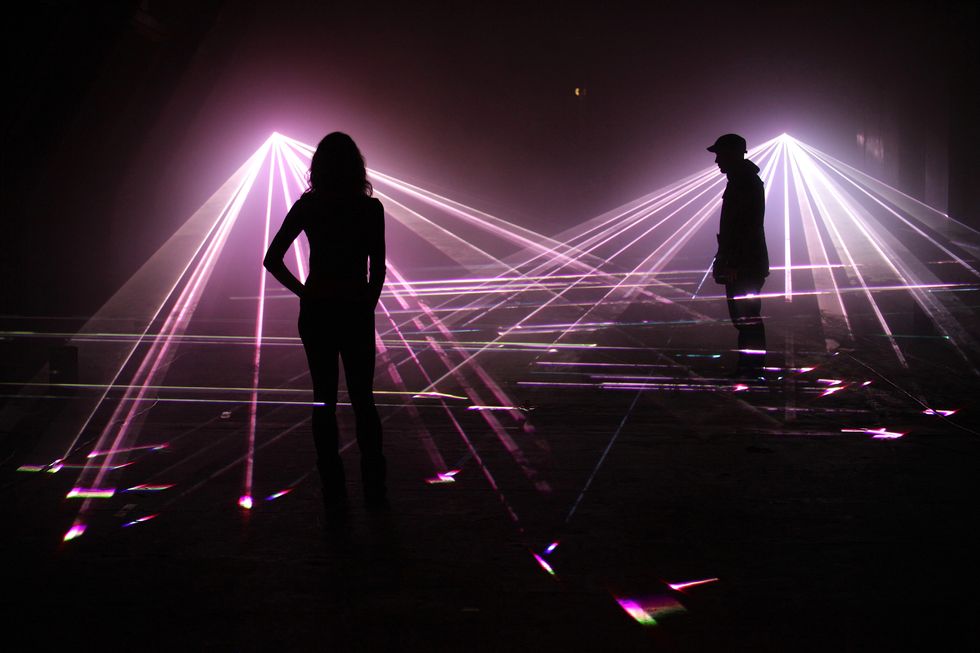 Artists pose in a laser projection entitled 'Speed of Light' at the Bargehouse on March 30, 2010 in London, England. (Photo by Peter Macdiarmid/Getty Images)
Here's how Einstein expanded on this in his Autobiographical Notes:
"If I pursue a beam of light with the velocity c (velocity of light in a vacuum), I should observe such a beam of light as an electromagnetic field at rest though spatially oscillating. There seems to be no such thing, however, neither on the basis of experience nor according to Maxwell's equations. From the very beginning it appeared to me intuitively clear that, judged from the standpoint of such an observer, everything would have to happen according to the same laws as for an observer who, relative to the earth, was at rest. For how should the first observer know or be able to determine, that he is in a state of fast uniform motion? One sees in this paradox the germ of the special relativity theory is already contained."
The tension between what he conceived of in his mind and the equations bothered Einstein for close to a decade and led to further advancements in his thinking.
LIGHTNING STRIKING A MOVING TRAIN
A 1905 thought experiment laid another cornerstone in Einstein's special theory of relativity. What if you were standing on a train, he thought, and your friend was at the same time standing outside the train on an embankment, just watching it go by. If at that moment, lightning struck both ends of the train, it would look to your friend that it struck both of them at the same time.
But as you are standing on the train, the lighting that the train is moving towards would be closer to you. So you would see that one first. It is, in other words, possible for one observer to see two events happening at once and for another to see them happening at different times. 
"Events that are simultaneous with reference to the embankment are not simultaneous with respect to the train," wrote Einstein. 
The contradiction between how time moves differently for people in relative motion, contributed to Einstein's realization that time and space are relative.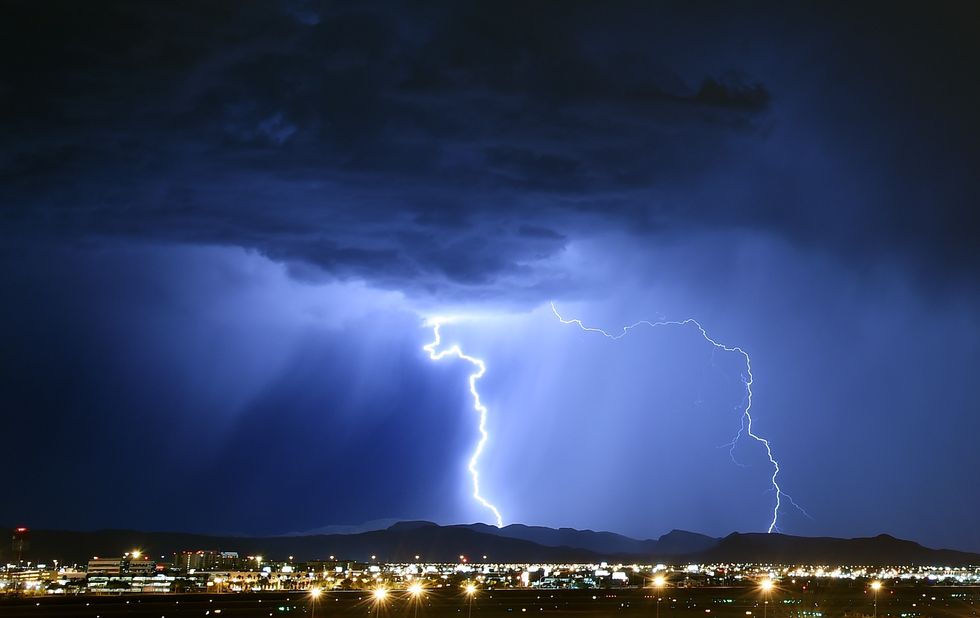 Lightning strikes during a thunderstorm on July 6, 2015 in Las Vegas, Nevada. (Photo by Ethan Miller/Getty Images)
MAN IN FALLING ELEVATOR
Another thought experiment led to the development of Einstein's General Theory of Relativity by showing that gravity can affect time and space. Here's how he described it happened:
"I was sitting in a chair in the patent office at Bern when all of a sudden a thought occurred to me," he remembered. "If a person falls freely, he will not feel his own weight." He later called it "the happiest thought in my life."
A 1907 thought experiment expanded on this idea. If a person was inside an elevator-like "chamber" with no windows, it would not be possible for that person to know whether he or she was falling or pulled upward at an accelerated rate. Gravity and acceleration would produce similar effects and must have the same cause, proposed Einstein. 
"The effects we ascribe to gravity and the effects we ascribe to acceleration are both produced by one and the same structure," wrote Einstein.
One consequence of this idea is that gravity should be able to bend a beam of light - a theory confirmed by a 1919 observation by the British astronomer Arthur Eddington. He measured how a star's light was bend by the sun's gravitational field.
THE CLOCK PARADOX AND THE TWIN PARADOX
In 1905, Einstein thought - what if you had two clocks that were brought together and synchronized. Then one of them was moved away and later brought back. The traveling clock would now lag behind the clock that went nowhere, exhibiting evidence of time dilation - a key concept of the theory of relativity.
"If at the points A and B of K there are clocks at rest which, considered from the system at rest, are running synchronously, and if the clock at A is moved with the velocity v along the line connecting B, then upon arrival of this clock at B the two clocks no longer synchronize but the clock that moved from A to B lags behind the other which has remained at B," wrote Einstein. 
This idea was expanded upon to human observers in 1911 in a follow-up thought experiment by the French physicist Paul Langevin. He imagined two twin brothers - one traveling to space while his twin stays on Earth. Upon return, the spacefaring brother finds that the one who stayed behind actually aged quite a bit more than he did.
Einstein solved the clocks paradox by considering acceleration and deceleration effects and the impact of gravity as causes of the for the loss of synchronicity in the clocks. The same explanation stands for the differences in the aging of the twins. 
Time dilation has been abundantly demonstrated in atomic clocks, when one of them was sent on a space trip or by comparing clocks on the space shuttle that ran slower than reference clocks on Earth.
How can you utilize Einstein's approach to thinking in your own life? For one - allow yourself time for introspection and meditation. It's equally important to be open to insight wherever or whenever it might come. Many of Einstein's key ideas occurred to him while he was working in a boring job at the patent office. The elegance and the scientific impact of the scenarios he proposed also show the importance of imagination not just in creative pursuits but in endeavors requiring the utmost rationality. By precisely yet inventively formulating the questions within the situations he conjured up, the man who once said "imagination is more important than knowledge" laid the groundwork for the emergence of brilliant solutions, even if it would come as a result of confronting paradoxes.
Studies reveal the impact of strategic thinking on studying and other areas of life.
Pixabay
Metacognition, thinking about how you think, has been shown to help students improve their grades. Stanford University researchers published a new study that outlines a 15-minute thinking hack that led to an average improvement of one third of a letter grade for the participants. 
The research stems from the insight that while many resources are provided by educational institutions, students don't always know how to use them effectively. Patricia Chen, a postdoctoral research fellow who led the study, hypothesized that if students were made more self-reflective about how they approach their studies and the available resources, they could do better.
"Blind effort alone, without directing that effort in an effective manner, doesn't always get you to where you want to go," said Chen.
The team conducted two experiments using a "Strategic Resource Use" intervention they designed, which combines educational and social psychological theories. 
For the experiments, the control group, which consisted of half the class, received just a regular reminder of a statistics exam coming up in a week. The intervention group also got a 15-minute online survey that made students think about what they expected will be on the exam, what grade they might get, what resources would be best used for preparation and how they would use them. In particular, they were asked to choose from 15 available class resources like practice questions, readings from the textbook, lecture notes or peer discussions.
Students in the first study got an average of 3.45% higher in points than their classmates in the control group. For the second study, that average difference was 4.65 percentage points.
The researchers found that strategic thinking had additional psychological benefits, helping students feel more empowered about their education. Students in the intervention group were also less stressed out about the upcoming exams.
Chen sees the strategy of metacognition to be useful in other parts of life, not just in education. You can use it to achieve goals like losing weight, learning any new skill or in parenting.
"Actively self-reflecting on the approaches that you are taking fosters a strategic stance that is really important in life," she said. "Strategic thinking distinguishes between people of comparable ability and effort. This can make the difference between people who achieve and people who have the potential to achieve, but don't."
You can read her study in the journal "Psychological Science".
Other studies have also highlighted the positive effects of utilizing metacognition. A study from the University of Newcastle in Australia looked at over 2,000 PhD students and found a relationship between how they thought about the learning process to their successes and failures in achieving their degrees. The British Educational Endowment Foundation discovered that students who received interventions that made them think about their writing skills showed 9 to 18 months worth of academic improvement. 
Your mind is built to process contradictory, irrational ideas. Use that to reach new intellectual heights.
We know it's a myth that "humans only use 10% of their brains," but there might be a function of your mind that you're neglecting to use: its sandboxes. Eric Weinstein borrows this term from computer science to explain the potential of experimental thinking. A sandbox in computing is a secured place where untrusted software can run without controlling the computer or accessing its vital resources. Security specialists, for example, use sandboxes to analyze how malware behaves. Once they see and understand how it works, they can then devise a strategy to defeat it, and strengthen their own system to prevent it from getting in again.
Your mind has sandboxes for the same purpose: a safe space to metaphorically play with dangerous or seemingly irrational ideas that are inconsistent with your worldview. Without the ability to fully understand these problems, we cannot hope to solve them or react appropriately. Weinstein uses the example of a jihadi sandbox: how can we effectively fight Islamic terror if we don't understand the forces behind it? If an idea appalls you, do not shut it out. Build a sandbox and investigate it thoroughly by running an emulation of a jihadi's mind (or an atheist, or a devout Christian, or a racist, or a dictator, or a righteous liberal): "Can we run that mind well enough to understand it, to empathize with it and to argue and spar with it to achieve some kind of better outcome where we are actually able to turn foes into dancing partners?" asks Weinstein.
A rational, one-track mind cannot solve humanity's biggest issues, but the ability to process seemingly irrational ideas might allow us, as individuals and as a species, to reach new intellectual and behavioral heights.
While pejorative stereotypes have been properly cast aside, the question remains whether there is a fundamental difference between how Eastern and Western societies are configured.
The Warwickshire weather vane in Birmingham, England. (Photo by Laurence Griffiths/Getty Images)
"Oh, East is East and West is West, and never the twain shall meet." 
So begins the poem by noted imperialist Rudyard Kipling. They line is often misinterpreted to support the notion that the world is divided between two great spheres, and that they are fundamentally dissimilar. Never could they unite, suggests Kipling.
In Western culture, we suppose that people from the East are different, even if we don't mean to be prejudiced. In the US, asians are subject to stereotypes that are, at first glance, positive: they good musicians, good at mathematics, etc. Or take India. Being a land of superior spiritual knowledge drew many in the 1960s and 70s to investigate, including such great minds as Steve Jobs and John Lennon.
While older, repulsive, stereotypes regarding Asians have been properly cast aside, the question remains whether there is a fundamental difference between how Eastern and Western societies are configured.
Well, new studies offer the idea that the answer may be yes.
After it was realised that over 70% of all subjects in psychological studies had historically been American students looking for a quick buck or college credit, many psychologists began asking if more diverse groups of subjects gave differing solutions. It was found that those studies not only gave differing data, but that the results were often remarkably different from the American dominated studies. The uniqueness of college-aged American subjects was immortalized with the acronym WEIRD (Western, Education, Industrialized, Rich, and Democratic).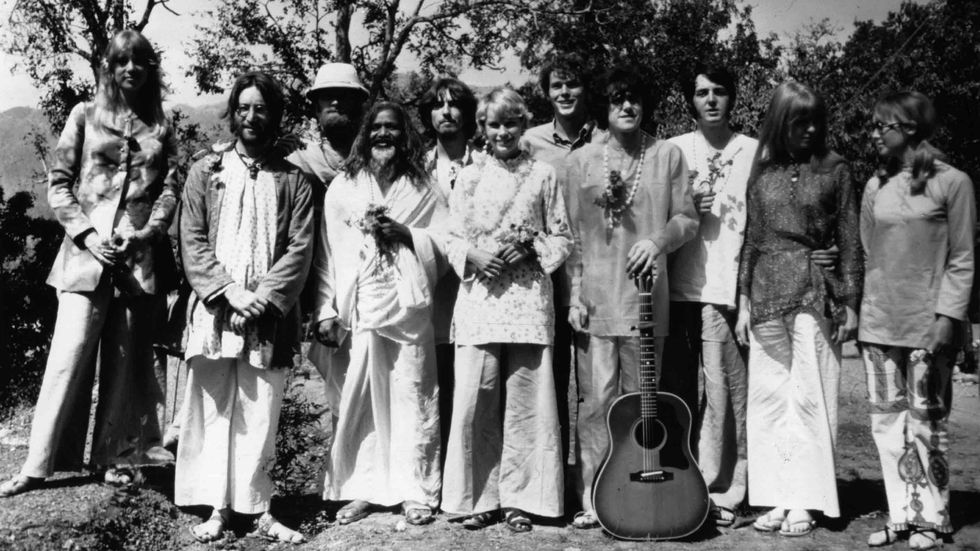 Celebrity devotees of the Mahareshi Mahesh Yogi and friends, at his academy in India, high up in the Himalayas, where they are studying transcendental meditation, March 1968. From left to right, Patti Boyd, John Lennon (1940 - 1980), Mike Love of The Beach Boys, Mahareshi Mahesh Yogi, George Harrison (1943 - 2001), Mia Farrow, John Farrow, Donovan, Paul McCartney, Jane Asher, Cynthia Lennon. (Photo by Keystone Features/Hulton Archive/Getty Images)
While the studies cover many different topics, the subject of an individualistic or holistic thinking style is noteworthy. Individualist thinkers tend to see problems as being made up of separate components. Holistic thinkers, on the other hand, tend to see problems as parts of flawed systems.
In one study, complex images were shown to test subjects from East Asia and North America. The scientists tracked the eye movements of the participants in order to gauge where their attention was focused. It was found that the Chinese participants spent more time looking at the background of the image, while the Americans tended to focus on the main object in the picture. Holistic and individualistic thinking manifested in one clear example.
This is only the beginning of the interesting findings in this field. For example, a simple test can demonstrate the cultural differences in word association. A subject is given three worlds, such as chair, table, and lift, and then asked to relate two of the words.
Go ahead, relate two of them, I will wait. Any combination will do.
People who tend to think individualistically associate chair and table in this example, as they are both furniture items. While people who think holistically relate chair and lift, as they work together to create a function system, so the theory goes.
Of course, these tendencies are generalizations. There are collectivist thinkers in the West and individualist thinkers in the East. As the world globalizes, and the thought of thinkers of both sides continues to disseminate into the other, the differences are likely to become less intense.
But, why is this?
A multitude of hypotheses abound for why this might be the case. Some suggest that it comes down to philosophy. While western thinkers have tended to focus on the individual, Eastern thought tends to be holistic in nature, with China's greatest thinker, Confucius, basing most of his philosophy- and therefore most of later Chinese thought- on the concept of "Filial Piety".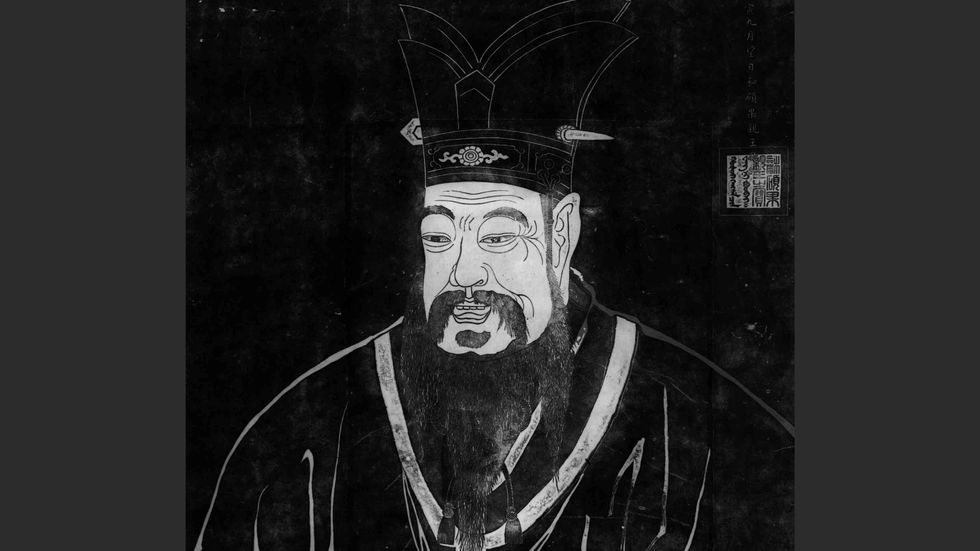 Chinese philosopher Confucius (551 - 473 BC), circa 500 BC. (Photo by Hulton Archive/Getty Images)
Other, perhaps more interesting, explanations exist. One is that the staple food of a region may have something to do with it. This is excellently seen in China, where the northern half of the country grows wheat and the southern half grows rice. Rice growing is a labour intensive activity, that requires the coordination of several neighboring farms to do properly. Wheat farming, on the other hand, takes much less work and does not require coordination of irrigation systems in order to work.
When individuals from northern and southern China are given the tests to determine their tendencies to holistic or individualistic thinking, the results show that southerners tended towards holistic thinking while wheat eating northerners tended to more individualist thought.
Then there are the historians, who point out the case of the Hokkaido in Japan as a case study. Cold, remote, and with poor weather, the island was largely unsettled even into the late 1800's. The wilderness here was often compared to the American frontier, and the importing of American professionals to assist in the colonization program the Japanese government financed helps that image.
Even today, more than 100 years after the colonization effort, the effects of living in a society that was so recently a frontier show up in individual and holistic thinking tests. With residents of Hokkaido demonstrating tendencies towards individualism to a larger extent than the rest of the Japanese population.
And, here is the rest of that poem by Kipling, showing his real goal was to focus on individuals rather than competing worldviews, and how those differences of East and West, circumstance, and nationality fall apart when great minds met:

Oh, East is East and West is West, and never the twain shall meet,
Till Earth and Sky stand presently at God's great Judgment Seat;
But there is neither East nor West, Border, nor Breed, nor Birth,
When two strong men stand face to face, though they come from the ends of the earth!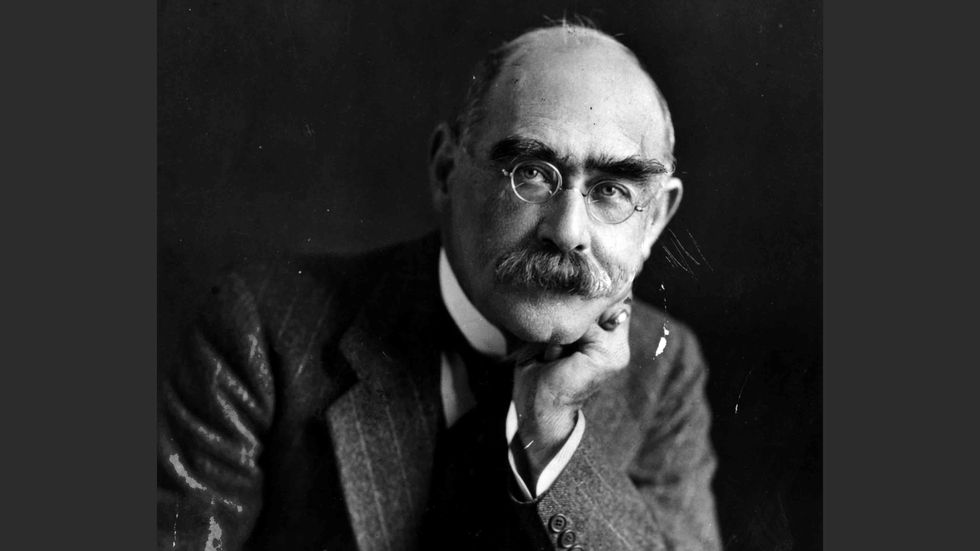 16th January 1928: Rudyard Joseph Kipling (1865-1936), English writer and Nobel laureate, who wrote novels, poems, and short stories, mostly set in India and Burma during British rule. (Photo by Evening Standard/Getty Images)
--
Do you get antsy when there's nothing to do?
Lazy persons of the world, rejoice! You might be brighter than average! A recent study that compared the "need for cognition" and physical activity levels in an individual showed that persons who enjoyed thinking more were less active than those who found thinking to be a burden or dull.
The need for cognition, or NFC, is measured by a simple test that has been in use for decades. Subjects are tested by agreeing or disagreeing with questions such as "I only think as hard as I have to" or "I really enjoy a task that involves coming up with new solutions to problems". People with a high need for cognition will respond in ways affirming that they enjoy thinking. Those with a low score, not so much.
The study took 30 people who had a high or low NFC and measured their daily levels of physical activity. The results showed that those with a higher NFC were significantly less active than those with low NFC, though this difference was less pronounced on weekends when all subjects were more active.
The authors of the study, including Todd McElory of Florida Gulf Coast University, point out that persons with a lower need for cognition also have demonstrated a lower tolerance for boredom in previous studies. This suggests that those persons may look to physical activity as a means for stimulation. Persons with higher need for cognition would not require this distraction as they demonstrated an enjoyment of thinking.
The study only concerned 60 persons who were all college students over the course of a single week, and the results might be more applicable to young adults than to adults in general. The authors of the study noted this when discussing the spike in activity by all subjects on the weekends. So more research is certainly needed before all couch potatoes can claim to be philosophers.
Interestingly, this study found that persons with above-average intelligence tend to be thinner than average, however the findings were purely correlative rather than causal. Like everyone, intelligent people come in all shapes and sizes, no matter their laziness, an important thing to remember considering the health risks of a sedentary lifestyle are considerable and difficult to counter.
So there you have it; the findings are murky but the takeaway is not without value: if you have a high need for cognition you might need to spend a little more time moving. Or at least think about it.