Bell Helicopter has just premiered its electric, self-piloting air taxi design at the Consumer Electronics Show (CES) in Las Vegas.
Not this one... this one is from The Fifth Element (1997)
Last year Uber promised flying taxis in several cities by 2020. But the company will be relying on variety of partners to provide the actual vehicles and systems required to have a working flying taxi service in a city.
One such partner is Bell Helicopter who has just premiered its electric, self-piloting air taxi design at the Consumer Electronics Show (CES) in Las Vegas. The company is not revealing the full design yet, keeping the propulsion system a secret but it has shown the cabin.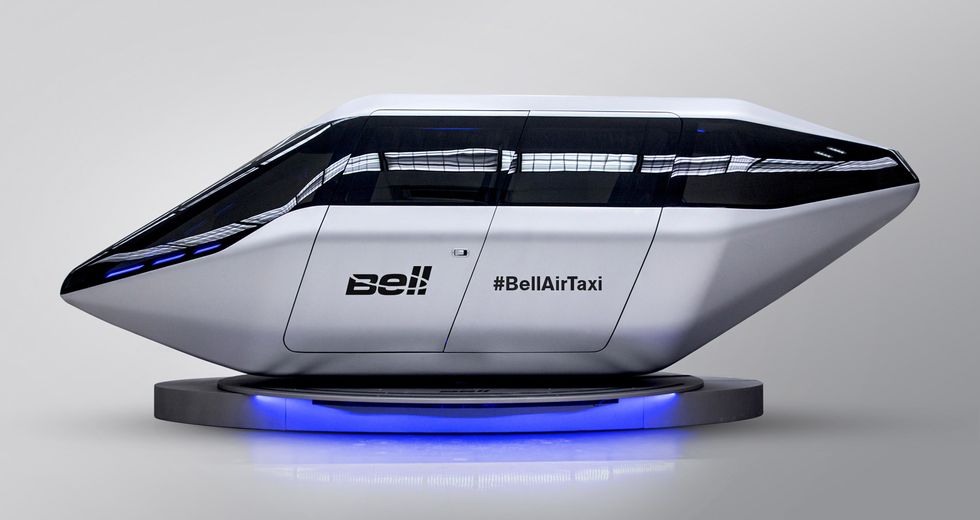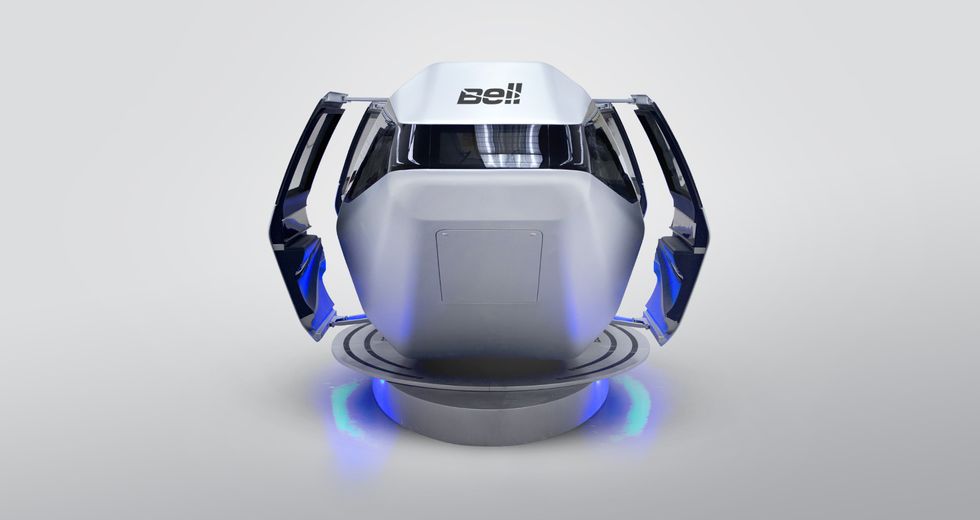 Credit: Bell Helicopter
The luxurious four seater features a fully integrated user experience control center, where passengers can catch up on world news, hold a video conference call, share documents with other passengers, watch traffic updates in real time or just unplug for a while.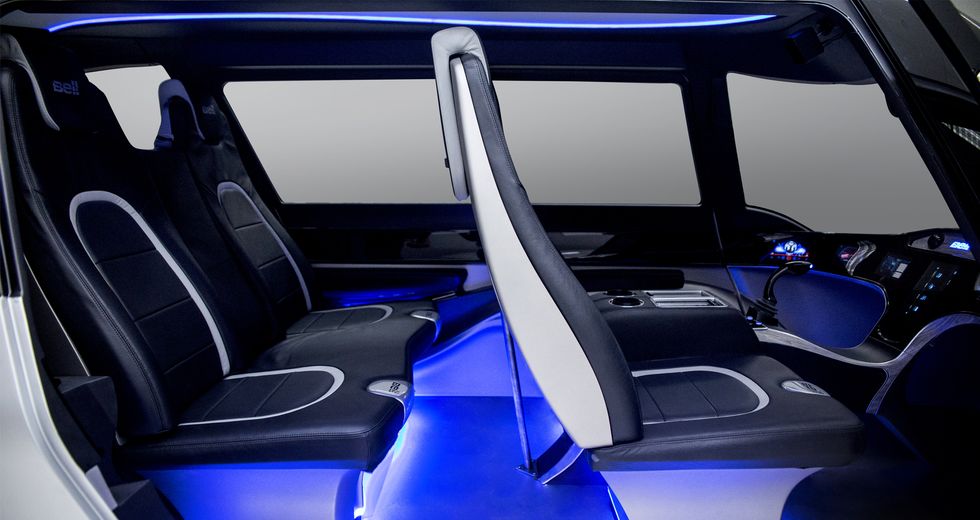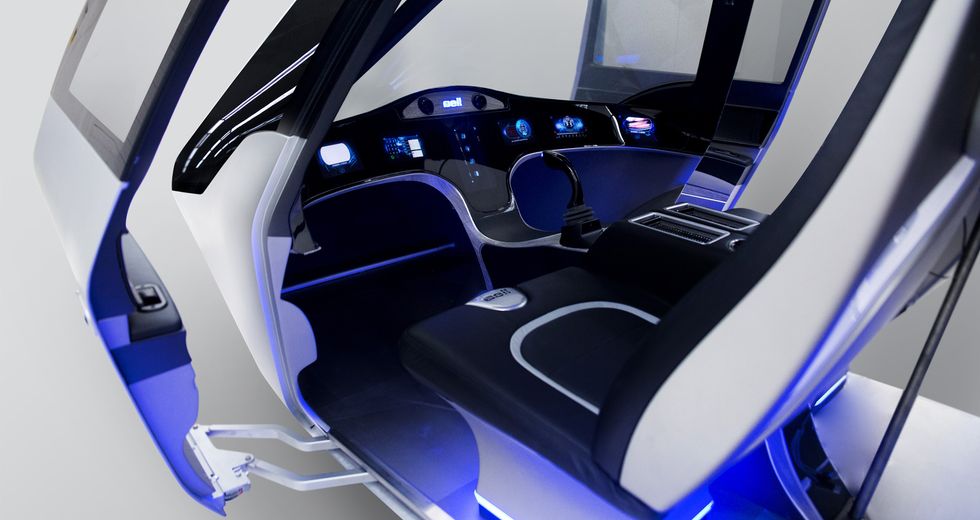 Credit: Bell Helicopter
Bell Helicopter's President and CEO Mitch Snyder said during CES:
"Bell Helicopter is innovating at the limits of vertical flight and challenging the traditional notion of aviation to solve real-world problems. The future of urban air taxi is closer than many people realize. We believe in the positive impact our design will have on addressing transportation concerns in cities worldwide."
Bell Air Taxi Concept Flight from Bell Helicopter.
Meanwhile, at least 19 companies are also working on flying taxis. Amongst them are big names like Airbus and Boeing (who have just completed initial flight tests of an electric unmanned cargo aerial vehicle prototype), as well as small startups like Kitty Hawk, owned by Google founder Larry Page. 
There are still lots of issues that need to be tackled before we can have full-blown urban flying taxi services. Some of them include security, air traffic control, noise, and appropriate routes. But big cities, together with regulators and manufacturers are getting on board to facilitate the process. 
Dallas-Fort Worth, Dubai and LA are the first three cities where Uber plans to launch a pilot service by 2020. Uber has signed a Space Act Agreement with NASA to create a brand-new air traffic control system. Dubai's Road and Transport Authority (RTA) hopes that airborne taxi services will make up a quarter of all transport in the city by 2030 and Singapore is also investing in flying, driverless drones.
While there will surely be hurdles on the road to commonplace flying taxi services in cities, given the constantly rising traffic problems in urban areas (the average LA commuter spends about 100 hours in traffic per year), flying cars and taxis seem to only be a matter of time.
If you want to get from A to B more safely, be a little more choosy at the cab rank.
Photo: Getty Images
If you've taken to the United States streets anytime lately, you may have noticed that most public school buses are a very particular shade of yellow. That shade is called National School Bus Glossy Yellow in Canada and the US, and it was specially designed by Dr. Frank Cyr. He was in charge of developing standards for the school bus. While there was no standard prior to this, many wanted something eye-catching so that every driver knew what vehicles hosted dozens of children on their way to learn. So, in 1939, after a long-awaited conference, they chose yellow.
Yellow is easy to see in the dim lights of early morning or late evening, and because it's seen across both the green and red cones in the eye, it pops in our vision faster than other colors. It's easier to notice even out of the corner of the eye, and stands out against the fog on a rainy day. What's more, while the majority of those who are color blind have trouble distinguishing red from green, they can still see yellow just fine. The eye-popping color is just one of the reasons that school buses are one of the safest vehicles to travel in. Amanda Dumas-Hernandez, a Professor of Color Theory, agrees: 
"Studies have proven that yellow is more visible on a spectral scale. It moves to the foreground while darker colors move to the back. Something yellow appears optically speaking heavier and larger than a darker shape the same size."
It makes sense that yellow taxi cabs are safer than the blue ones. According to PNAS.org, blue and yellow cabs have the same rates of fare and spend the same amount of money a month to keep their medallions, so neither set of drivers are more motivated to drive safer. It isn't like Uber, where drivers are rated by the very customers they drive around. Furthermore, the drivers tend to drive at similar speeds, so the color of the cabs isn't attracting certain driver personalities. It is mostly linked to the color of the cab.
When Dumas-Hernandez learned that blue taxis got in 9% more accidents than a yellow taxi, she was surprised. "I thought it would be more," she said.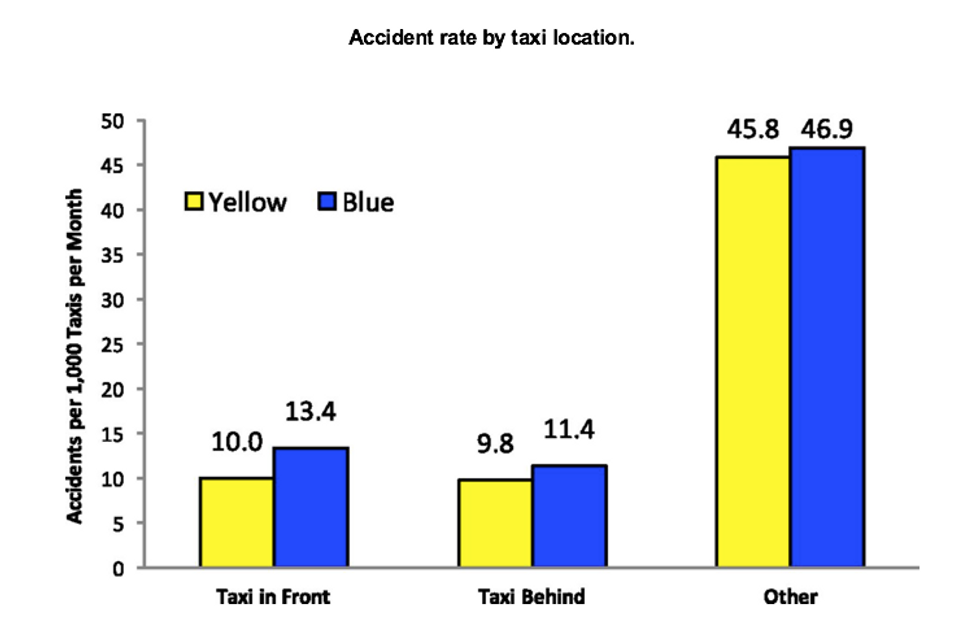 Accident rate by taxi location. Image: PNAS.org.
The long-standing association of yellow being the color of cabs means many people purchase cars that are specifically not yellow, because of the connection, but they will purchase blue cars. People are more careful around the yellow vehicle for the same reason they are careful around the school bus: they know what the color means.
Blue cars are similar to the color of fog on a rainy day, or the water under a bridge, so because of their lack of distinction, they are more likely to be hit. Blue cabs have approximately six accidents more than their yellow siblings for every one thousand accidents. Yellow cabs are less likely to be hit from behind, whether at day or at night, than blue ones. The color blue blends in with the dark while driving at night, meaning the already troubling act of facing on-coming headlights while your eyes are dilated is more difficult when a blue car is hiding along the road.
These findings may prompt introspection and the headquarters of ride-sharing apps like Uber and Lyft, and will push car buyers to consider color not just as a stylistic afterthought, but as a very low-tech but effective safety mechanism that could keep them and their passengers safer. The most immediate application of this research however will be helping people on the street make an easy choice when faced with two competing taxi companies. 
Of course, this is all a short-term worry: we won't be at the mercy human error for much longer.