"One small step for man" costs a lot of money. Who's going to help pay the bill for the next bout of space exploration?
It costs about $10,000 per pound, to put a person into orbit and $1,000,000 per pound to send a person to Mars. That's a lot of money, especially in these current times of economic austerity. So how are we going to explore space and build an insurance policy, so to speak, to save Earth from global warming? The acclaimed theoretical physicist Michio Kaku says that help could come not from NASA alone but with help from the private sector. Specifically, he posits that inventor, free-thinker, and all-around Silicon Valley disruptor Elon Musk "has the vision, the energy, and the checkbook" to turn these seemingly far-out ideas into a reality. Michio's latest book is The Future of Humanity: Terraforming Mars, Interstellar Travel, Immortality, and Our Destiny Beyond Earth.
Mining asteroids might seem like the stuff of science fiction, but there are companies and a few governments already working hard to make it real.
Host and Director of the Hayden Planetarium, American Museum of Natural History Neil deGrasse Tyson from NovaScienceNOW 'Asteroid' speaks onstage during the 2006 Summer Television Critics Association Press Tour for PBS. (Photo by Frederick M. Brown/Getty
Mining asteroids might seem like the stuff of science fiction, but there are companies and a few governments already working hard to make it real. This should not be surprising: compared with the breathtaking bridges that engineers build on Earth, asteroid-mining is a simple, small-scale operation requiring only modest technological advances. If anything is lacking, it is the imagination to see how plausible it has become. I am afraid only that it might not arrive soon enough to address the urgent resource challenges that the world is facing right now. 
As an academic researcher, I work with several asteroid-mining companies to address that urgency. I depend on their funding, so there are trade secrets I cannot share. However, I can reveal the core reasons why I am optimistic about the business case for asteroid-mining, and what it will mean for our future.
Many people are skeptical of asteroid-mining because they imagine that the goal is to bring platinum back for sale in Earth's metals market. Reporters repeatedly cite an irresistible statistic that the platinum in an asteroid can be worth trillions of US dollars, but anyone with an understanding of economics realises that bringing home a huge stash of precious metal would crash the market, reducing the valuation of the asteroid. 
On the other hand, if the plan is to dole out platinum in small quantities to keep the valuation high (as it is done in the diamond industry), then how could asteroid companies compete with terrestrial mining companies that benefit from a mature, low-cost terrestrial supply chain and transportation network?
This is exactly why platinum is not the objective of asteroid-mining. Instead, the first product from asteroids will be something much less obviously precious: water.
To rocket scientists, water is the raw material for propellant. Launching water from Earth into space consumes a lot of propellant, which makes the whole concept self-defeating. Fortunately, water is abundant in space, where it is much easier to move around. Water can be readily extracted from clay minerals in a common class of small bodies known as carbonaceous asteroids. Once separated from the minerals, the water can then be split by electricity (a process called electrolysis) into hydrogen and oxygen to make rocket propellant – the key ingredients of rocket fuel.
Using rocket propellant produced in space will reduce the cost of doing everything else in space, initiating a virtuous cycle for the off-Earth supply chain and transportation network. Before that can happen, though, we must find the customers who can get the whole process started.
Who will buy rocket fuel made from asteroid water? One concept is to sell it to telecommunications companies for boosting satellites into orbit. A decade ago, most satellites were launched with a small upper-stage rocket attached. The rocket initially lofts the satellite into geostationary transfer orbit, a highly elliptical orbit having perigee (the low point) just a few hundred kilometres above the Earth's surface, and apogee (the high point) about 36,000 kilometres higher. The spacecraft coasts to apogee, where the rocket fires and circularises the orbit so that the satellite can begin selling data to customers. The cost of the disposable upper-stage rocket is very high, however.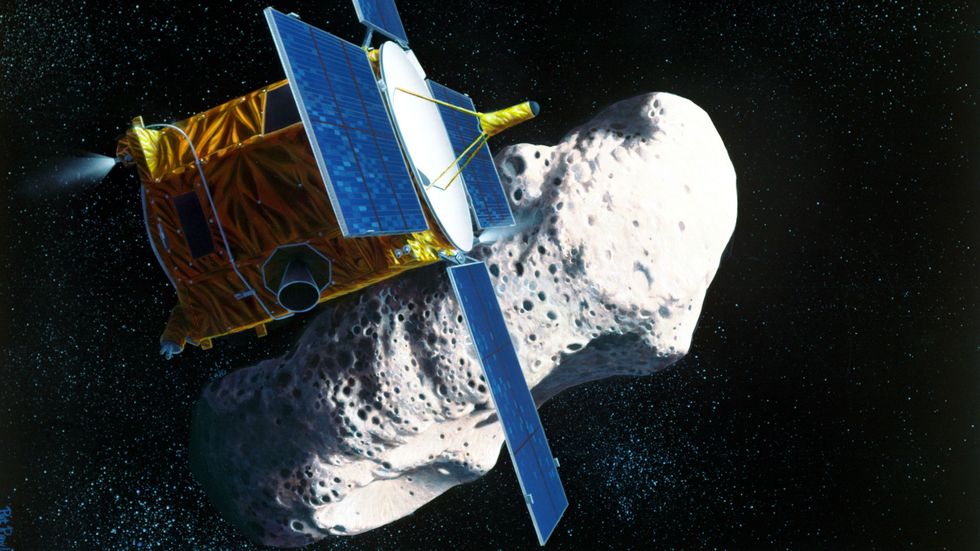 Today, most satellite owners place a lightweight electric thruster on the spacecraft instead. Such thrusters are cheaper and more efficient, but very weak. It takes six to 12 months for satellites to reach final orbit. Time is money, so this delay still costs the satellite-owners hundreds of millions of dollars in lost revenues.
Asteroid-mining will provide a third option. A mining company will sell water to an in-space transportation company, which will use it to refuel a space tug parked in Earth orbit. The tug will dock with the newly launched satellite in geostationary transfer orbit, and boost it to the final orbit quickly, within a day. 
According to our calculations, the total cost for this service, including capital recovery, finance charges, insurance and profit for all parties, will be less than the lost revenues of the current method, so that means there is a business case. The only concern is whether there are enough early customers to get the service established.
Here is where the national space agencies like NASA can help. If they develop an in-space refuelling depot to lower their costs for exploring the Moon or Mars, and if they give out commercial contracts for some of this space water, they will lower the capital investment and risk for the new mining companies. In this way, government agencies can ensure the earlier success of private space industry. This is a legitimate role for government because taxpayers will greatly benefit.
An asteroid-mining infrastructure could help to solve a major impending resource problem. Within a decade or two, the current system of satellites and fiber optics will not be able to keep up with the demand for wireless and internet data. I know of no solution apart from building antennas in space that are too large to launch on rockets, because nothing else scales up quickly enough to meet the data needs that will grow exponentially through to the end of the century. Metal from asteroids will not be sold on Earth, where it would be too expensive. It will remain in space, transmitting precious data down into the digital market.
Similar arguments can be made that generating solar energy in space will, by sometime this century, be cheaper than generating energy on Earth through any known method. The energy might then be beamed to the ground via microwaves. Moving most of the energy sector into space will unburden the planet of the environmental impacts of energy generation, along with the entire supply chain that supports it. Even wind and solar disrupt large areas of land.
Off-planet energy generation could eliminate one-quarter of the human industrial footprint by 2100, by some estimates. This does not even take into account the exponentially growing energy footprint of computer manufacturing and operation, which is terrifying from an environmental perspective.
Note that none of these ideas involves bringing asteroid materials back for sale on Earth. The real value of space-based mining will be to create a space-based industry that benefits all of us. The primary import from space will be massless photons carrying data and energy.
The important point our government leaders should understand is that investing in space-mining is a safe bet on our future, one of the safest they can make. NASA and the other space agencies will get more science and exploration, plus greater geopolitical presence, for less cost than their current way of doing business. Saving the Earth and improving our quality of life might simply be side effects we get for free.

Philip Metzger
--
This article was originally published at Aeon and has been republished under Creative Commons.
The Planetary Habitability Laboratory has made up some periodic tables of all of the confirmed and suspected exoplanets so far, plus planetary bodies in our own solar system.
(PLANETARY HABITABILITY LABORATORY)
Exoplanets are hot right now. In the popularity sense. Thermally, they're also cold and medium. But ever since the first one was discovered nearly 26 years ago — or 9,457 days as of this writing — we've been fascinated by them. Some people are intrigued by the potential any of them may hold for migration from Earth should it become inhabitable. Some wonder if other life on our level could be there. And then there's their most undeniable value: science. If you've been having trouble keeping track of what we've found so far, the Planetary Habitability Laboratory (PHL) of the University of Puerto Rico at Arecibo has just published its Periodic Table of Exoplanets, which it'll presumably keep up to date as more of them are found. It's actually a set of three tables:
confirmed exoplanets
exoplanet candidates observed by NASA's Kepler spacecraft
planetary bodies in our own solar system
The PHL is in a great location for this kind of thing, being near one of the world's most important celestial observatories, the Arecibo Telescope.
The exoplanets are far away, of course, and so we know little about them other than their sizes and distances from their stars. It's with these two attributes that PHL is able to sort the exoplanets.
Each table's column, or Y axis, contains the exoplanets of a particular size, going from the smallest — miniterrans — at the left, to the largest — Jovians — at the right.
Miniterrans — are probably spherical and with low mass and no atmospoheres, like Mercury and our own moon.
Subterrans — are roughly the size of Mars.
Terrans — are about the size of Earth and Venus.
Superterrans — are bigger than us but not quite Neptunian.
Neptunians — are equivalent to Neptune and Uranus.
Jovians — are as big as Jupiter and Saturn or bigger.
Here's an overview of how many exoplanets of each type there are so far: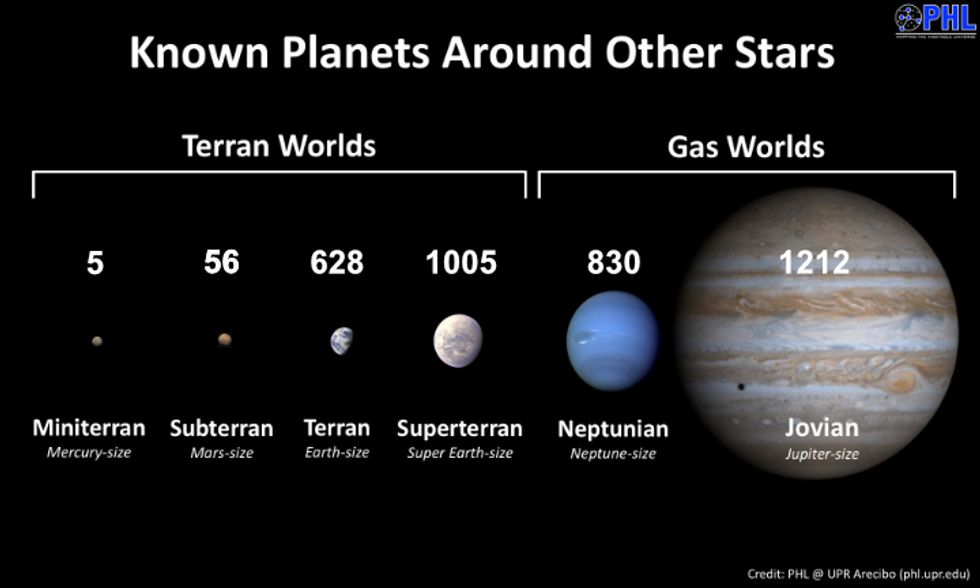 Simple summary of exoplanets by size (PHL)
There's also the issue of an exoplanet's distance from its sun, which is shown along the X axis at the left edge of each table:
Hot Zone exoplanets — are too close to their suns and too hot to have liquid water.
Warm "Habitable" Zone exoplanets — are in the sweet spot for life as we know it, with a capacity for liquid water.
Cold Zone exoplanets — are too far from their suns, and too cold, for anything but frozen ice.
Confirmed Exoplanets
There are 3,700 of these as of November 15, 2017.
Kelper Exoplanet Candidates
NASA's Kepler observatory has spotted 4,303 possible exoplanets so far.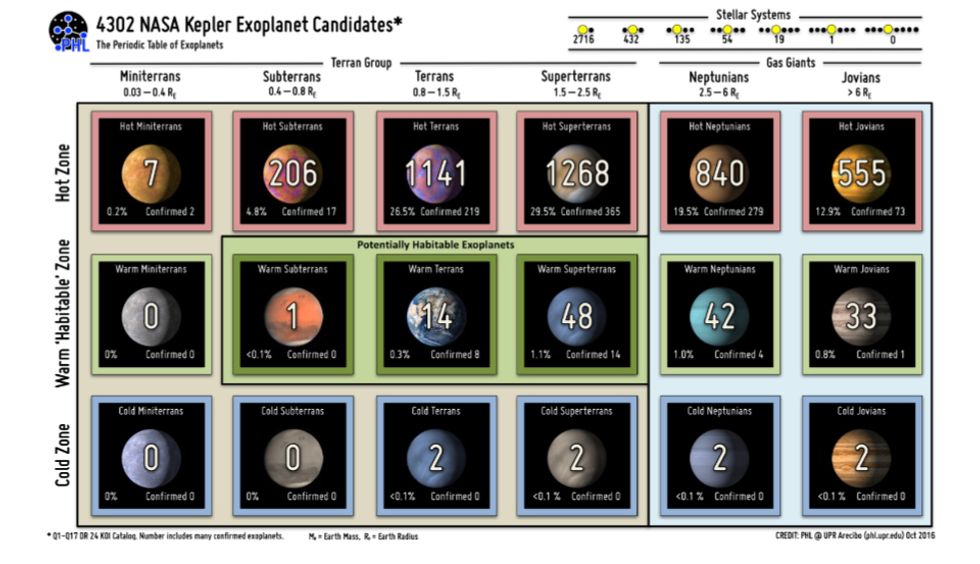 Click image to expand. (PHL)
Planetary Bodies in Our Own Solar System
These counts are accurate as of November 15, 2017. Some of the candidates will probably be confirmed and others ruled out in time. Many more will no doubt be found eventually out there in this vast, vast universe that's probably teeming with life. At least these bodies are places that life could be.
Neil deGrasse Tyson is working in with video game developers to create a space exploration game called Space Odyssey.
What if a video game could teach science in a way that didn't put gamers to sleep? 
That's the idea behind a new game called Space Odyssey, which aims to be a virtual universe governed by real scientific laws where players can build planets and solar systems and explore the cosmos. Neil deGrasse Tyson is helping to develop the game and is planned to be the narrator who guides players through space.
Space Odyssey, as Business Insider reports, would feature "building activity similar to Minecraft, space colonization akin to that in Civilization: Beyond Earth, elements of exploration like No Man's Sky, and echoes of Elon Musk's favorite rocket-building simulator, Kerbal Space Program."
What would set this game apart, however, is its educational bent and insistence on using real-life science to inform the mechanisms of the game. On this point Tyson won't budge.
"I have no patience for people who say, 'I don't want the laws of physics to constrain me'," Tyson said at a recent E3 convention.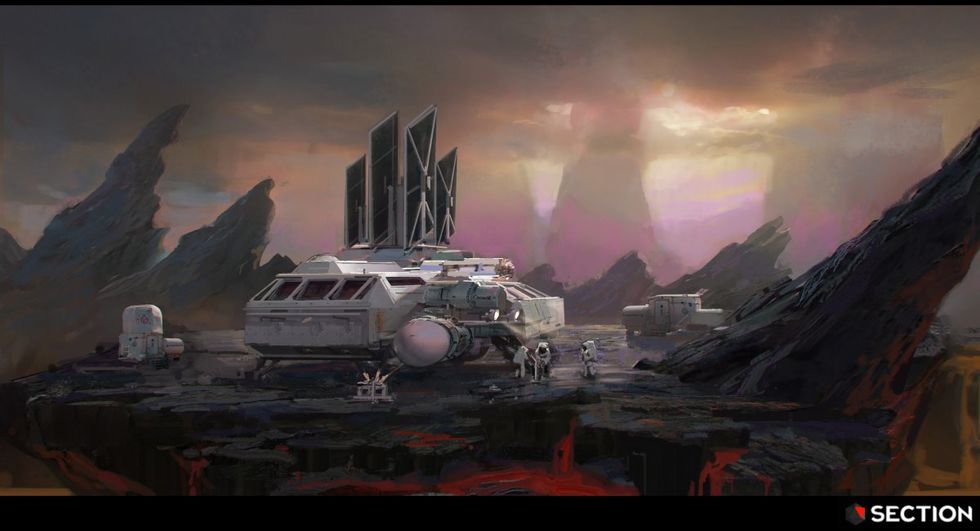 The game is in early stages of development and at the time of writing has received just more than a third of its $314,159 Kickstarter goal.
If the game receives full funding (which wouldn't solely come from the Kickstarter) players will be able to "develop planets, colonize worlds, nurture species, mine elements, build robots, and discover unique life-forms as you coordinate with others in an intense game of real-time strategy," according to the Kickstarter video. 
The first stage of the game would take place on Proxima B, which, at 4 light years away, is the closest known exoplanet to our solar system. Players would explore the planet and acclimate themselves to the game with Neil's voice helping them learn the ropes. They would then move to a space station where they'd be able to create, terraform and protect a home planet. Other major activities, missions, and narrative arcs are planned, as well.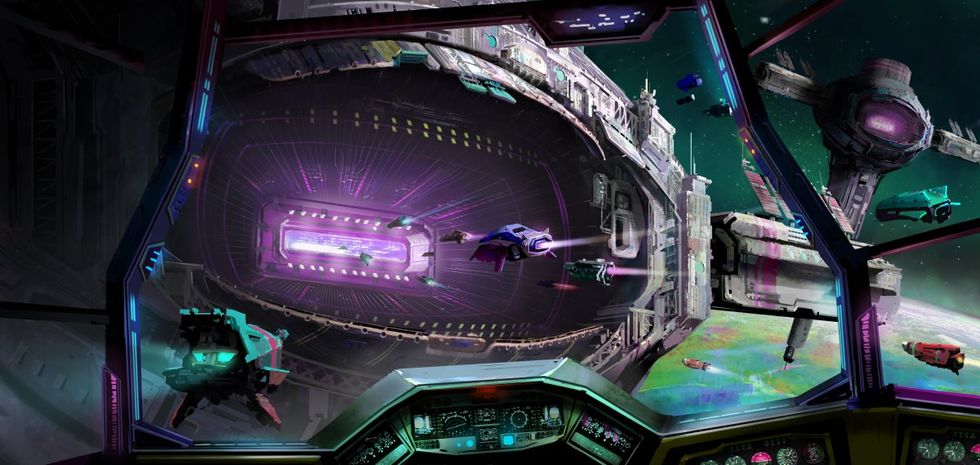 Players would also be able to explore systems created by other online players or "prominent scientists and fictional world-builders like Tyson, Bill Nye, George R.R. Martin, Neil Gaiman, and Peter Beagle," according to the Kickstarter page.
Space Odyssey co-creator elaborated in an interview with Digital Trends:
"Part of the gameplay will allow you to grow a planetary system," Murphy said. "Its size and scope is relative to the level of challenge you would like to undertake. You can grow and mature these planets as much as you'd like, creating colonies, ports, mining structures, undertake trade of elements you discover/mine or invent or innovate. We are adding strategic partners that will consult with us on design and tech possibilities, including Bigelow Aerospace and the National Space Society to name a couple."
Murphy said Tyson has played a creative and scientific role in the game's development.
"He's helped create challenges in the game, and has challenged our creative team to entertain and inspire," Murphy said. "He has also brought forward some incredible collaborators to our efforts, an incredible team of scientists, astronauts and explorers."

According to a fact sheet for the game, Space Odyssey is being designed for PC and will target the Steam market but plans also call for virtual reality missions that will be playable on Oculus Rift or Samsung Gear.
"It's a departure from what the core game feels like when you play it, but that's okay. Our goal with the VR missions is to take things to an even more educational level," Murphy said.
It remains to be seen if Space Odyssey can fuse science education into its ships and terraformed planets, and end up with gameplay that's compelling to mainstream gamers. Minecraft, one of the most widely played video games ever, is one of the few games that's bridged the gap of education and playability – some teachers even use it to teach lessons in the classroom.
Space Odyssey reportedly borrows some of Minecraft's building-blocks applications. So with that and Tyson's preternatural ability to get the masses absolutely hyped for science, this new game might just be able to take off. 
As its CEO, Bill Nye lays out the missions The Planetary Society would like to see NASA focus on over the next 20 years. NASA by nature goes where the future is, and Nye can't help but think of another industry that should follow suit.
Why is NASA so important? Let us count the ways – for its intellectual and physical daring, its spinoff technology that has advanced civilization generally (we wouldn't have the internet without NASA) – but perhaps chief among them is that no matter who you are in the world or how you feel about the United States, NASA earns global respect for its technological achievement and drive towards progress and efficiency. An industry that could learn from that ethos, rather than digging its heels in to delay the future, is fossil fuels. If everyone pulled together in the same direction, it would mean clean, renewable energy for everyone on Earth, much sooner. Bill Nye's most recent book is Unstoppable: Harnessing Science to Change the World.
Bill Nye's most recent book is Unstoppable: Harnessing Science to Change the World.