The capabilities on this thing are both impressive and worrisome.
Total Recall props at Comic Con International, Los Angeles. Getty Images.
So when will fully autonomous, self-driving cars be introduced? Elon Musk said Tesla's model will be ready by 2019. But, he also admitted in an August earnings call, that the unveiling is likely to be delayed. One advantage, all Tesla models come with the hardware to become fully autonomous, when the capability is available.
A recent analysis predicts that self-driving cars will be noticeable by 2020. Yet, they aren't expected to be ubiquitous until 2040. By then, 95% of all cars on the road will be autonomous. Meanwhile, self-driving trucks are already making deliveries from Texas to California.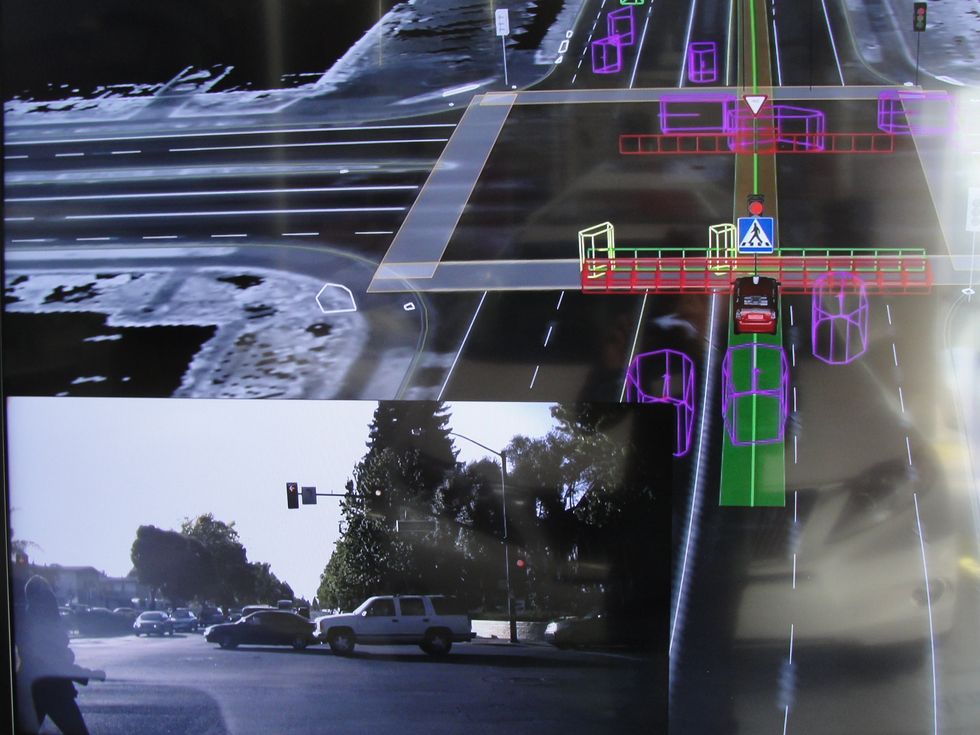 Self-driving cars use an array of sensors and cameras to maneuver within the environment. Credit: Getty Images.
Although tech companies like Apple, Google, and Uber have jumped into the autonomous vehicle game, analysts say traditional automakers have a leg up, mostly because they already have the infrastructure required to pump out millions of such cars per year. Ford is now going one step farther. The company has filed a patent for an autonomous police cruiser.
The website Motor 1 broke the story. Writer Christopher Smith discovered Ford's plan while leafing through the company's most recent patent applications. The cruiser will require a complex A.I. system which has yet to be developed.
It needs to be at a level 4 of autonomy or better. This is when the car can handle itself, without a human constantly controlling it. But a driver may be required for some functions. At level 5, a human is not required at all. Ford and GM are developing level 4 and 5 models, as is a company called Waymo.
The self-driving cop car would be supported by an elaborate system, including on-board and roadside sensors and surveillance cameras. These would detect infractions. Depending on the type and level of violation, the car would decide whether to go in pursuit or remotely issue a citation for an infraction.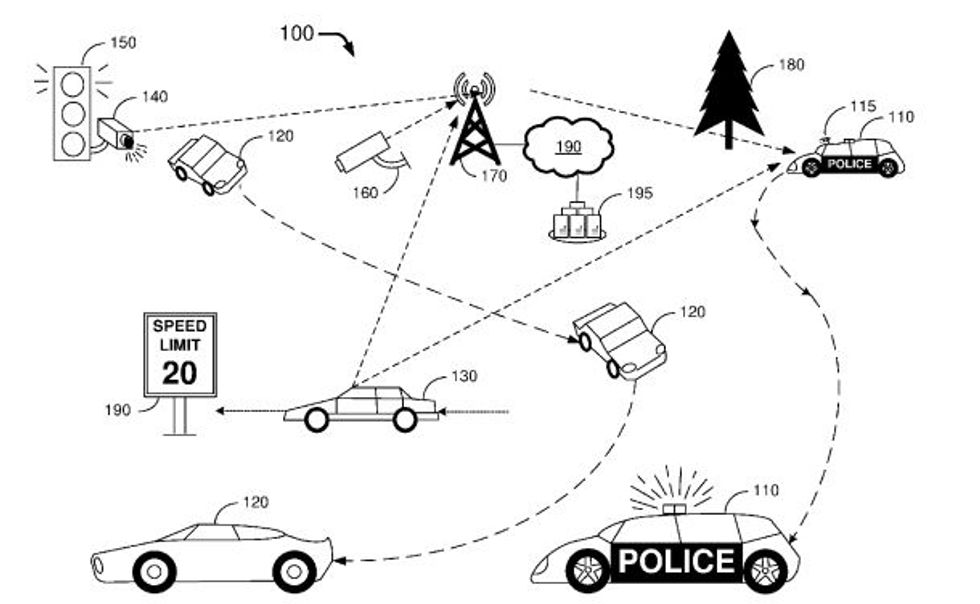 Illustration for Ford's proposed self-driving police car. Credit: U.S. Patent Office.
Relying on wireless, vehicle-to-vehicle communication, the autonomous cruiser would be able to pull up your driver's license information (if your car wasn't self-driving), check your speedometer, and even get footage from red light cameras along your route. Then, it would decide what to do.
There's been no word yet on how it will make such decisions. Not only could this lead to the loss of jobs for police, but it would spell the end of the time honored tradition of roadside arbitration. At least today, you have a chance at talking the cop out of a ticket.
Ford believes the vehicle could help find highway patrol officers better places to hide from passing motorists, and the self-driving option might free up an on-board officer, who would spend his or her time performing tasks that the computer doesn't do well. Giving such technology powers over the public generates a lot of questions and anxiety.
Could it get hacked? Would freeing up the officer allow him or her to look more closely into passing motorists' immigration status, and whether or not they have outstanding warrants? Would the robocar understand special circumstances, such as an anxious husband rushing his pregnant wife to the hospital? Another question is exactly how fair such a system would be.
Although on the surface, A.I. looks as if it's free of the prejudices normal humans carry, research has shown quite the opposite. A.I. adopts the biases of programmers and any humans it interacts with. Considering problems with racial profiling and systemic racial injustice in the criminal justice system, there's a fear that such a vehicle would merely extend inherent biases, perhaps in a way that's trickier to recognize.
Keep in mind that not every patent leads to a finished product. Still, these are elements to weigh carefully, should a Robocop on wheels become a reality for everyday motorists.
Police in Dubai already use self-driving cars. Want to learn more? Click here:
Scientists are conflicted about what causes car sickness, which may make a workaround difficult.
Got your sick bag?
At first glance, the driverless car sounds great. In 2013 alone, there were 1.25 million car crash deaths worldwide. So self-driving cars, if they are as safe as we're told, should save a lot of lives per year. There are other benefits. Drunk driving won't be the scourge it once was. A long commute in one study, was found to damage relationships. But perhaps if one doesn't have to drive, they can Skype with their sweetheart, instead. Commuters can avoid traffic-related stress, study, get some work done, have a cocktail, or find interesting ways to steam up the windows with a fellow passenger. 
There is one evident drawback, thus far. This is yet another instance of mechanization swallowing jobs. Cab drivers and long-haul truckers better have a backup plan. Their days are numbered. As are those of Uber drivers. The problem with widespread adoption of new technology is, there are always unforeseen ramifications.
Advances in rocketry for instance, brought us missiles and the space race, Teflon, Velcro, the microwave, and even Tang. It also brought us the ever-present threat of nuclear annihilation, though far less considerable now than it once was. Ponder if you will, all the changes the internet has brought us, both good and bad.
So what might be the unforeseen consequences of driverless cars? That's a thorny question you'll never get to the bottom to, until such cars are prevalent. Nevertheless, scientists, journalists, futurists, and others, are scrambling to understand all the possible implications. But one thing is becoming uncomfortably clear, if you're prone to motion sickness, you'd better hope your health insurer covers Dramamine.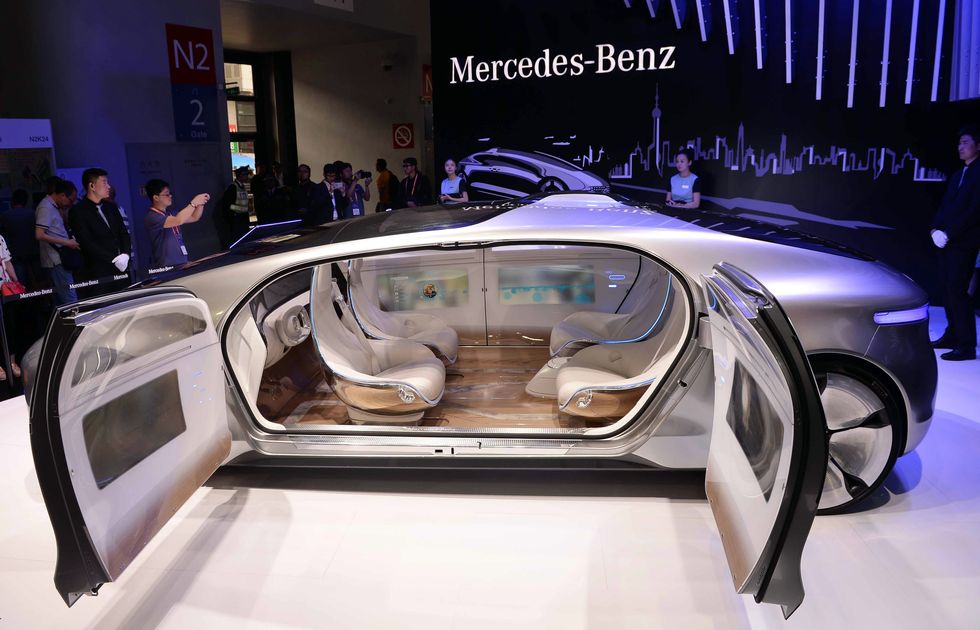 The driverless car is set to usher in a new model of transportation. But certain concerns loom.
A study from the University of Michigan last year, warned of a significant increase in the number of people experiencing car sickness, over 27% more that before. 6-10% of passengers are expected to regularly experience queasiness over the course of the ride. Rather than a tablet, you might be holding a sick bag.
Researchers at U-M's Transportation Research Institute say that there are features inherent in driverless cars that make the risk of car sickness more likely. Not keeping one's eyes on the area of motion, and being unable to anticipate which way the car will go, increases the likelihood of motion sickness.
The fact that you won't be engaged in driving the car, makes you more likely to have your stomach turn, researchers found. Those who are prone know that keeping their eyes on the road is less likely to cause symptoms. But reading, playing games, or becoming immersed in one's smart phone, makes one more prone.  
Some technological fixes, such as panoramic views or larger windows have been suggested as a workaround. Another idea is having windows as part of the electronic display, and having screens move with the motion of the vehicle. Critics argue that such bells and whistles are unlikely to lower risk. The likely end result is that we won't be multi-tasking like crazy, but we won't have to drive either.
Things get more complicated, as they tend to do with a paradigm shift. There is still much debate on how motion sickness actually comes about. A recent study published in Human Molecular Genetics, shows evidence supporting a hereditary predisposition.
Another theory states that motion sickness is a conflict between what's registering in the eyes with the vestibular system of the inner ear—responsible for balance. When what you see doesn't match up with the motion your body is feeling, your stomach turns.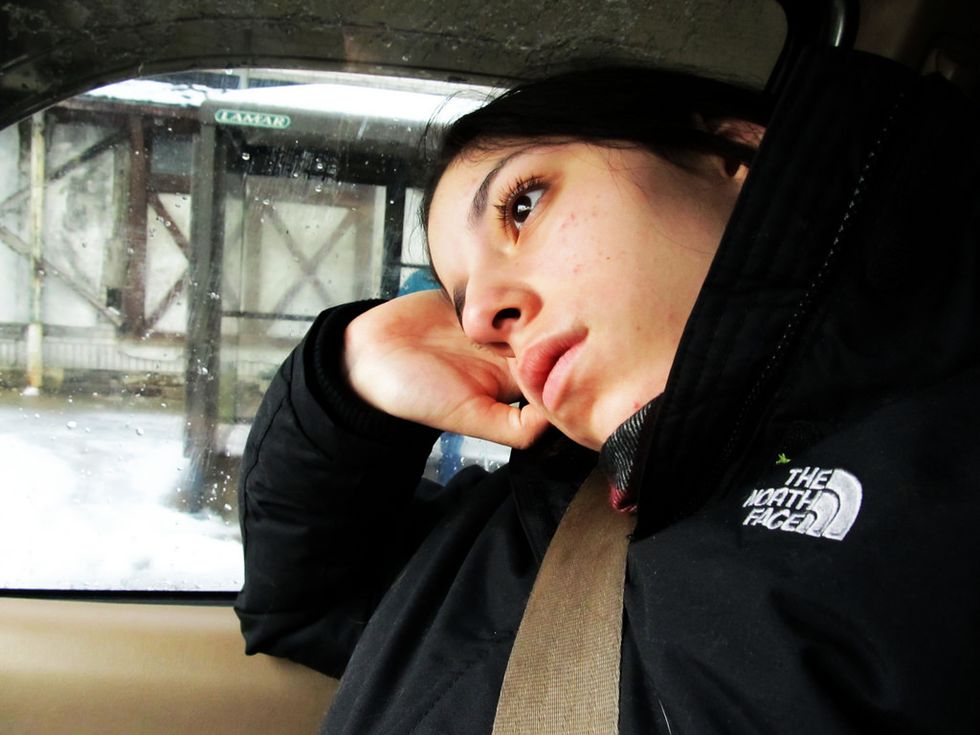 A conflict between what your eyes see and what your inner ear registers could cause motion sickness.
Say you are watching a scene where an out-of-control train is careening off of a cliff. Though your eyes say you're going down with it, your feet are planted firmly on the ground. It's this conflict that's said to cause queasiness. Here, screens which follow the pace and direction of movement might help. So your tablet would be projected onto the windshield and would bob and flow with the motion of the vehicle.
Kinesiology professor Tom Stoffregen of the University of Minnesota, says that rather than a conflict between the input of the eye and the calculations of the inner ear, motion sickness has to do with postural stability. The body itself is never completely settled. Stand perfectly still and you'll soon realize there are a series of muscles supporting you. A smidgen of movement keeps you aloft. Prof. Stoffregen calls this sway. It's hardly noticeable. But it's there.
When your body moves in a way you don't tell it too, you begin to feel ill. Stoffregen calls it a conflict between, "postural movement and postural outcome." The genetic findings support both hypotheses, unfortunately. What further confuses the issue is that certain people are prone to motion sickness, while others aren't.
In terms of driverless cars, no one knows for sure if more people are going to get car sick, due to their proliferation. But all indicators point to it being likely. Even so, sooner or later, adjustments will lower this risk. Such a concern is unlikely to stop the advent of the driverless car, particularly since it offers so many benefits.
To learn more about motion sickness, click here: 
The driverless car is coming – but what will *you* being doing in your self-driving car? Robotic cars will give rise to a new ridership economy of on-the-go services and experiences.
The ridership economy is coming.
Discussions of autonomous vehicles have become so commonplace that by the time driverless cars are widely available, the public's excitement may be long over. Robotic cars have become as ubiquitous a feature on the evening news as the "incredibly cute pet" story. It is time to ask what might be the impacts of autonomous vehicles on business and society? And if driving is left to the robots, will we also be inventing a new ridership economy from the hours we gain being no longer at the steering wheel?
What will you be doing in your self-driving car? The Auto Insurance Center recently conducted a survey that asked that very question. While this is clearly not the first such study, and most assuredly will not be the last, the findings present some interesting data. 
Here is the top ten list of activities that 2,000 drivers from around the world said they will do when they are freed from the wheel:
1. Read a book
2. Catch up with friends and family via phone
3. Get work done outside of the office
4. Watch a television show
5. Watch a movie
6. Eat
7. Play video games
8. Sleep
9. Engage in sexual activity
10. Pray
Apparently, carsickness is not enough of a problem to keep people from wanting to read in the car. A 2015 study showed that 72% of Americans reported reading at least one book over the previous year, – perhaps accounting for why reading is the number one activity future riders envision themselves doing during their robotic ride. 
The survey suggests that talking to friends and family on our phones will increase when in self-driving cars. Furthermore, because it allows passengers the luxury of being able to take their eyes off the road, the car is set to become an entertainment hub for gamers and movie watchers. Instead of fuel economy or horse power, 'our screen is bigger than their screen' may become a new compelling measure by which to compare relative car value. Volvo jumped to the front of the in-vehicle entertainment line last year by announcing a venture with Ericsson to integrate the next 'killer app' to stream HD video to the car, giving the movie theater business one more competitor to putting 'butts in seats'.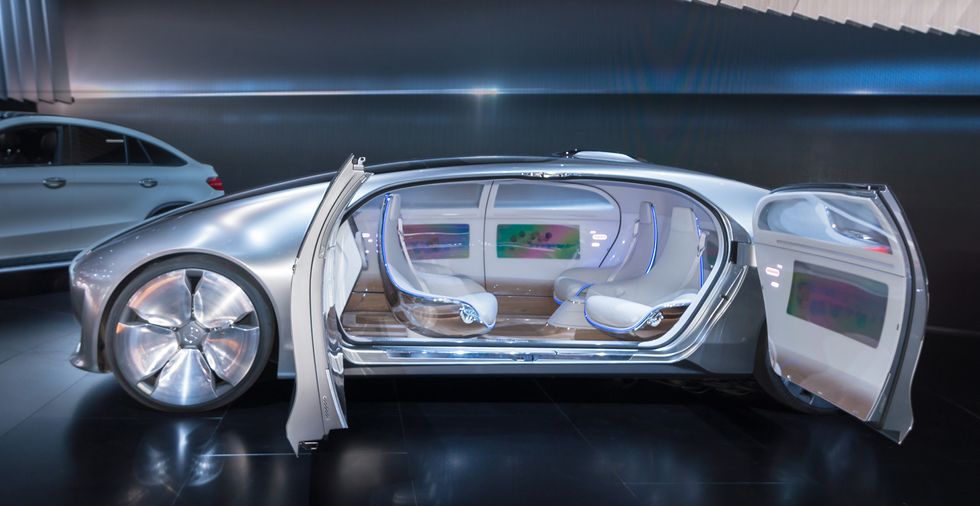 The drive-thru and fast casual restaurant businesses may also see market growth arising from the driverless car. Eating while driving has always been a common activity (note the ever growing number of coffee cup holders in new cars). Now imagine no longer having to hold the wheel with your hand (or even with a well-placed knee). This new freedom will likely result in vastly expanded menus with plated foods on easy to use vehicle trays and storage units. Food on-the-go may even get healthier. Breakfast, in particular, is likely to get a boost putting Starbucks, McDonalds, and others on notice that food behind the wheel is no longer a constrained luxury that must be a sandwich or in a cup.
A few of the listed activities lead to a chuckle, or stimulate some vivid imagery (note activity number 9). "Praying" made the list as #10. It is unclear as to whether praying onboard is due to a newly developing religious fervor or the amount of trust future riders have in the artificial intelligence powering their robotic chauffeur.
What the list does show is a distinct lack of imagination by tomorrow's 'riders.' This is not an indictment of the survey respondents, but rather an indication of the amazing opportunity for business to create new rider experiences that are likely to become novel revenue streams for both service providers and the emerging autonomous vehicle industry.
How much would any business pay to have access to a consumer that has high-speed wireless connectivity but trapped for at least one hour a day? (note the average journey to work commute time in the US is about 30 minutes) Here are five services that will make it to a new top 10 list when autonomous cars, filled with connected, credit card carrying, strapped in consumers, flood the streets creating a new ridership economy.
On-Road Shopping – Online shopping just got a boost. Amazon's Echo (a.k.a. Alexa) is already being integrated into Ford and Volkswagen. "She," along with competing robotic assistants, will have a permanent spot on your dashboard capturing your imagination and newly found online shopping time. Brick and mortar may win as well – location based marketing for retailers will no longer be limited to tracking your smart phone at the mall, but may scoop you up from the road as well. Imagine Target, Nordstrom, or The Home Depot sending you personalized GPS-based marketing content to that in-vehicle widescreen compelling you to ask your autonomous car to take a hard turn to the store you overlooked only moments ago.
Smarter in 30 Minutes – Online education is growing, but the time available to learn is not. Get ready for MOOCS or Massive Open Online Courses to find a way into your car distilling classes into 25-minute learning sessions. Think credit-on-the-go that will be offered by for-profit education companies, such as Capella University, and leading non-profit university giants on edX. Pick up a certificate or an entire degree just by using the time going to work and back home again.
Me Time – All of us have seen (and probably have done) self-care behind the wheel. Self-care at high velocity already occurs – just think of the woman you passed putting on makeup at 60 mph or the reckless male with eyes glued to the mirror and shaving while merging into a traffic circle. Will Procter & Gamble or Estée Lauder, along with their retail partners, such as CVS and Walgreens, move your bathroom mirror and cabinet into the car? Always stocked, always ready, your branded self-care car console may replace your steering wheel – helping you get ready for work the morning or to freshen up for a Friday evening.
The Doctor is In…Your Car – While we are discussing self-care, why not healthcare? Given developments in the Internet-of-Things, and the growing capacity for tech devices to measure nearly every physiological function, the car might someday be able to serve as the site of a daily checkup. New partnerships between telecommunications firms, health service providers, and even insurers may provide nutrition consultations while you ride or possibly collect your weight, blood pressure, heart rate, and other factors that could indicate your overall wellness, level of stress, or fatigue. Rather than a frustrating commute, your car may become a platform of wellness services on wheels.
Home Work – After a day at the office, most people come home to another day of work. Cooking, cleaning, doing laundry. Why not get a jump-start on these tasks from the car? Designers have envisioned putting a washer and dryer in Ford Windstar minivans to meet the needs of supercharged soccer parents that wanted to do the wash while sitting on the sidelines. Seamless connectivity may make it possible for your autonomous car to connect to your smart house to warm up the oven or to even start dinner long before you arrive home. 
While the vision of the driverless car is being promoted as a promise of unprecedented safety and seamless mobility, it will also free up trapped time for consumers to do other things. New technologies and creative business partnerships will deliver service innovations inside the vehicle producing an entirely novel platform of experiences that will transform how we connect with the world – this is the new ridership economy.