There's a reason you can't stop you head boppin' to block-rockin' beats, and why you can't get a song's hook out of your head.
There's a reason you can't stop your head boppin' to block-rockin' beats, and why you can't get a catchy song's hook out of your head. The Atlantic editor Derek Thompson lays down a spoken-word jam about the science behind music's appeal. Derek Thompson's latest book is Hit Makers: The Science of Popularity in an Age of Distraction.
Researchers succeed in deleting key genes from ants, significantly modifying their behavior.
credit: Rockefeller University.
A staple of bad science fiction, mutant ants have been more of a figment of imagination rather than scientific reality. We've genetically altered mice and fruit flies, but growing mutant ants has eluded scientists due to the complex life cycle of the little critters. Now two teams announced that they managed to edit out certain genes from lab ants, altering their behavior.  
The team from Rockefeller University published a paper outlining how they removed orco - a gene that plays a key part in an ant's odor receptors. Deleting the gene by using the CRISPR-Cas9  technique resulted in the ants losing about 90% of their "olfaction". This made them unable to socialize. The ants also changed in other ways, showing affected behavior. They laid very few eggs, wandered aimlessly, and showed poor parenting.
The other team, including scientists from NYU, Vanderbilt University, University of Pennsylvania, and Arizona State University, also used CRISPR to delete the orco protein in ants to affect their communication through pheromones, causing an "aberrant social behavior and defective neural development."
You can read their paper here.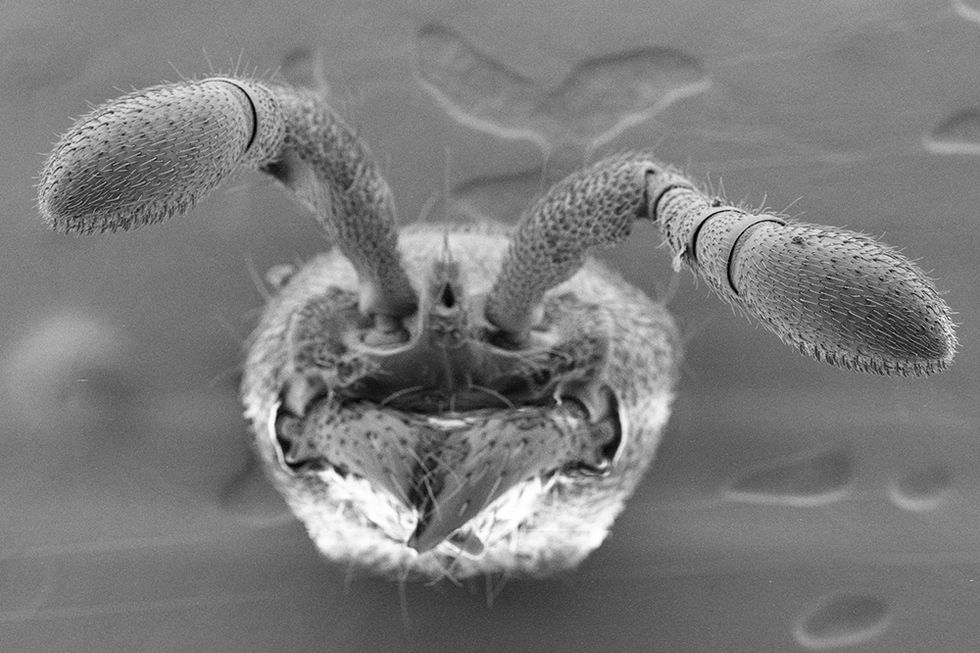 Researchers modified the ability of the ants to detect pheromones though porous hairs on their antennae. Credit: Rockefeller University.
This kind of interference with the social behavior of ants is considered a success because of the difficulty in altering the nature of insects with such a sophisticated social structure. NYU Professor Claude Desplan, who was involved in one of the studies called the modified ant they created "the first mutant in any social insect."
"While ant behavior does not directly extend to humans, we believe that this work promises to advance our understanding of social communication, with the potential to shape the design of future research into disorders like schizophrenia, depression or autism that interfere with it," said Desplan.
Why edit ant genes at all? Daniel Kronauer, author of the Rockefeller University study, says there are "interesting biologic questions" you can only study in ants. 
"It was well known that ant language is produced through pheromones, but now we understand a lot more about how pheromones are perceived," says Kronauer. "The way ants interact is fundamentally different from how solitary organisms interact, and with these findings we know a bit more about the genetic evolution that enabled ants to create structured societies."
Check out this animation of how Kronauer and his colleagues tracked color-coded ants, while using an algorithm to analyze the resulting behavior.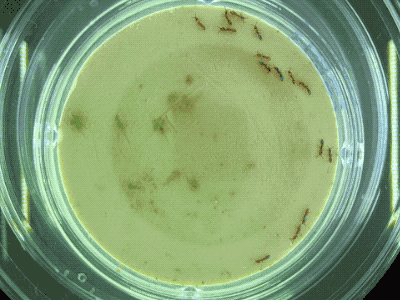 A new study shows how talking to yourself may help your brain perform better.
Man talking to a statue that looks like him. Credit: Pixabay.
While talking to yourself is often regarded a social no-no, possibly hinting at psychological problems, new research suggests that point of view may need revision. Scientists at Bangor University in the UK found talking to yourself out loud is not only be helpful but may indicate a higher level of intelligence.
The study's participants were given written instructions and told to either read them out loud or silently. After measuring the concentration and how participants performed on tasks, researchers concluded that people were more concentrated and absorbed what they read better when doing so out loud. 
As the study's co-author and psychologist Dr. Paloma Mari-Beffa explains, the benefits may be coming "from simply hearing oneself, as auditory commands seem to be better controllers of behavior than written ones". 
Dr. Mari-Beffa sees speaking out loud as an extension of our inner silent talk, which has been shown to help us organize thoughts, emotions and memories, as well as plan actions. 
She cites athletes, especially tennis players, who talk to themselves in stressful moments. They use spoken self-instructions to help focus their minds and motivate themselves to achieve specific goals.
The inventor Nikola Tesla was known to talk to himself during lighting storms.
The researcher adds that talking out loud could actually be "a sign of high cognitive functioning".
"The stereotype of the mad scientist talking to themselves, lost in their own inner world, might reflect the reality of a genius who uses all the means at their disposal to increase their brain power," points out Dr. Mari-Beffa.
The experiment in the study was performed on a relatively small sample of 28 participants but previous studies also indicated that talking to oneself had cognitive benefits, like helping find objects quicker. 
You can read the study "The impact of verbal instructions on goal-directed behaviour" here.
A new study finds a connection between brain lesions and the ability of a person to consider other beliefs.
Eyerusalem Solomon of Tacoma Park, Maryland, prays for Pope John Paul II in the Basilica of the National Shrine of the Immaculate Conception March 31, 2005 in Washington, DC. (Photo by Joe Raedle/Getty Images)
Scientists found that damage in a certain part of the brain is linked to an increase in religious fundamentalism. In particular, lesions in the ventromedial prefrontal cortex reduced cognitive flexibility - the ability to challenge our beliefs based on new evidence.
The researchers, led by Jordan Grafman of Northwestern University, utilized data gathered from Vietnam War veterans as part of the Vietnam Head Injury Study. They compared levels of religious fundamentalism between 119 vets who had lesions and 30 veterans who didn't.
The study further confirms that the prefrontal cortex is associated with religious beliefs and is the latest in a number of recent studies that look to find the neurological basis for religion.
"The variation in the nature of religious beliefs are governed by specific brain areas in the anterior parts of the human brain and those brain areas are among the most recently evolved areas of the human brain," said Grafman.

How free these areas are from disease, in particular the part known as the dorsolateral prefrontal cortex, may determine a person's mental openness - necessary to appreciate the "diversity of religious thought." The prefrontal cortex was previously linked to having a cognitive function in spiritual experiences.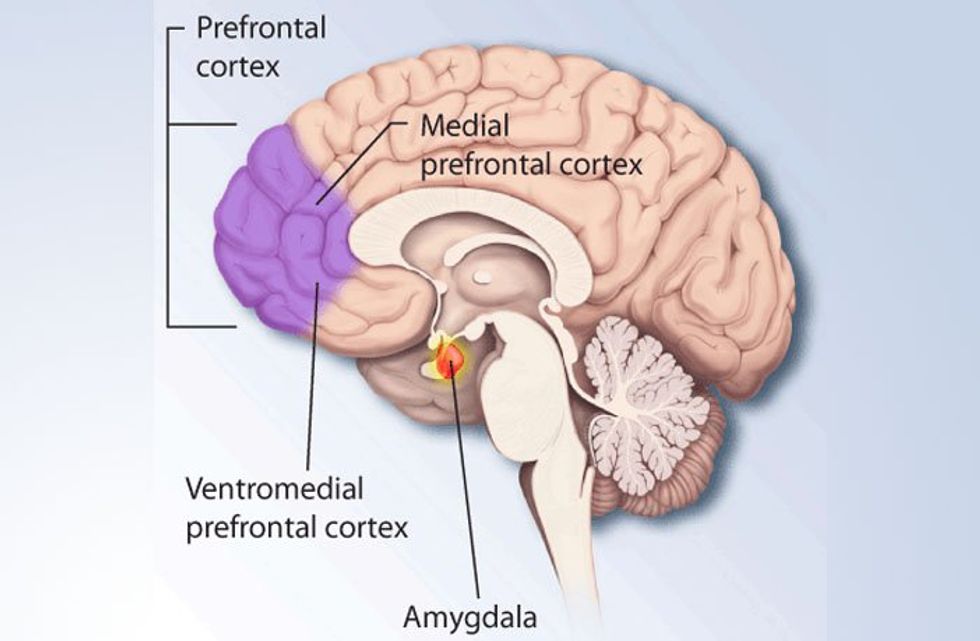 The scientists specify that they are not stating religious people overall are mentally inflexible or that belief is caused by brain damage. There are many cognitive processes involved in forming beliefs. But in some people, the system of "belief revision" may become suppressed due to brain damage.
The researchers define fundamentalism as a cognitive approach that "embodies adherence to a set of firm religious beliefs advocating unassailable truths about human existence." They write in their paper that the appeal of such a rigid way of thinking is in promoting "coherence and predictability" within a religious group. People in fundamentalist groups tend to value strong commitment to their community, rejection of other beliefs, often combined with science denial and violence. Deliberation becomes victim to conviction.
The scientists themselves point out the limitations of their study and call for more research into the subject. Grafman notes the fact that the sample was all male American veterans, certainly not representative of all demographic and cultural groups.
This study contributes to a growing body of knowledge about how religious experiences are formed in the brain.
"We need to understand how distinct religious beliefs are from moral, legal, political, and economic beliefs in their representations in the brain, the nature of conversion from one belief system to another, the difference between belief and agency, and the nature of the depth of knowledge that individuals use to access and report their beliefs," Grafman added.

You can read the study "Biological and cognitive underpinnings of religious fundamentalism" here in the journal Neuropsychologia.
Scientists successfully test an ingenious system for growing premature fetuses.
Lamb fetus in a BioBag. Credit: Children's Hospital of Philadelphia.
Scientists were successful in creating an artificial womb that grew premature lamb fetuses for four weeks. They hope to develop a similar system for human babies in the next three to five years.
Being born prematurely is the most common cause of death among babies, while even survivors are often plagued by various lifelong disabilities due to underdeveloped organs. About 10% of babies born every year in the U.S. are premature. Scientists hope their unique system of "BioBags," fluid-filled plastic bags that serve as artificial uteruses, can make a major difference in the survival and health of these babies.  
Compared to incubators, the advantage of the new system is that the bags are sealed, protecting fetuses from infections. The BioBags are filled with water and salts to approximate the amniotic fluid inside a uterus. The fetuses grow in a near-sterile, computer-controlled environment.
To replace placenta, which provides fetuses with oxygen and necessary nutrients, the scientists used special oxygenator devices connected to the umbilical cords of the lamb fetuses in the study. A novel technique allowed the heartbeats of the fetuses to pull in the oxygen they needed.
The study's leader Alan Flake of the Children's Hospital of Philadelphia in Pennsylvania said:
"We've developed a system that, as closely as possible, reproduces the environment of the womb and replace the function of the placenta."
Check out this video published by the Children's Hospital of Philadelphia to learn more about the study:
The experiment involved lambs that were 4 to 6 weeks away from completing their normal gestational period of 21 weeks, which is equivalent to 23 or 24 week pregnancy milestone in humans. The physiological similarity of lamb fetuses to human was the reason the lambs were chosen for the experiment.  The lamb fetuses were removed via C-section, placed in the bags and observed for four weeks. All of the lambs developed healthily and normally.
While others were euthanized and studied further, some of the lambs were removed from the bag and bottle-weaned. The oldest of those is now one.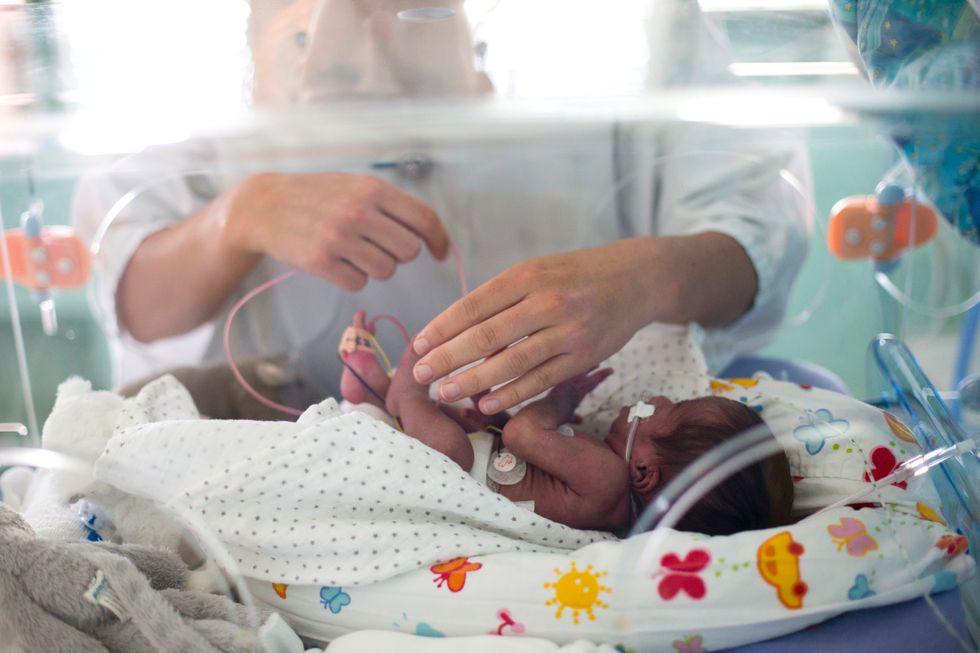 It took the scientists three years and four prototypes to devise the current device. They note that, if successful, their system could also produce economic benefits as the annual medical care cost of premature babies is currently at $43 billion.
Other scientists expressed cautious optimism about the findings, pointing out the need for further testing. The team making the artificial womb hopes to use it for babies born at about 24 weeks, when their chances of survival are better.