Like autism, ADHD lies on a spectrum, and some children should not be treated.
Photo: NDABCREATIVITY / Adobe Stock
ADHD is an extremely contentious disorder in terms of diagnosis and treatment.
A research team examined 334 studies on ADHD published between 1979 and 2020.
The team concluded that ADHD is being overdiagnosed and overtreated in children with milder symptoms.
Attention deficit hyperactivity disorder (ADHD) has long been a controversial topic. While the term "mental restlessness" dates back to 1798, English pediatrician George Still described the disorder in front of the Royal College of Physicians of London in 1902. The condition is attributed to both nature and nurture, with a recent study suggesting the disorder is 75 percent genetic.
According to DSM-IV criteria, ADHD affects five to seven percent of children; but according to ICD-10, only between one and two percent are afflicted. Global estimates state that nearly 85 million people suffer from ADHD, which, like autism, exists on a spectrum.
Treatment is perhaps the most contentious issue. While a holistic approach includes counseling, lifestyle changes, and medication, due to insurance requirements and other factors, many children only receive the latter. And now a new systematic scoping review published in the journal JAMA Network Open that investigated 334 studies conducted between 1979 and 2020 found that ADHD is being both overdiagnosed and overtreated in children and adolescents.
ADHD: An epidemic of overdiagnosis
Researchers from the University of Sydney and the Institute for Evidence-Based Healthcare in Australia initially retrieved 12,267 relevant studies before using a set of criteria that whittled the list down to 334. Only five studies critically investigated the costs and benefits of treating milder cases of ADHD, prompting the team to focus on knowledge gaps in side effects.
The team writes that public scrutiny has increased along with the increase in diagnoses. The numbers are startling: between 1997 and 2016, the number of children reported to be suffering from ADHD doubled. While the symptoms of ADHD include fidgeting, inattention, and impulsivity, Dr. Stephen Hinshaw compared this disorder to depression, as neither condition has "unequivocal biological markers." He continues, "It's probably not a true epidemic of ADHD. It might be an epidemic of diagnosing it."
The Australian researchers write that ambiguous or mild symptoms might contribute to diagnostic inflation and the subsequent rise in the prevalence of ADHD. They compare this to cancer, a field that has established protocols for overdiagnosis. ADHD is still understudied in this regard.
Photo: fizkes / Adobe Stock
Overdiagnosis is harmful

This has contributed to an increase in potential harm, not just to children's health (such as the long-term pharmacological impact on developing brains) but to parents' finances. As of 2018, ADHD is a $16.4 billion global industry, with continued revenue growth predicted — ensured by future ADHD diagnoses.
The costs and benefits of ADHD treatment are mixed. The authors write:
"We found evidence of benefits for academic outcomes, injuries, hospital admissions, criminal behavior, and quality of life. In addition, harmful outcomes were evident for heart rate and cardiovascular events, growth and weight, risk for psychosis and tics, and stimulant misuse or poisoning."
For most of these studies, the benefits outweighed the risks in children suffering from more severe ADHD. But this is not true for children with milder symptoms.
Across the studies, the team noticed that four themes emerged. The first two were positive, and the second two were negative:
For some people, an ADHD diagnosis was shown to create a sense of empowerment because a biological explanation provided a sense of legitimacy.
Feelings of empowerment enabled help-seeking behavior.
For others, a biomedical explanation led to disempowerment because it served as an excuse and provided a way to shirk responsibility.
An ADHD diagnosis was linked to stigmatization and social isolation.
The unfortunate reality is that ADHD is a real condition that should be treated in some children. But for many, the harm of treatment outweighs the benefits.
--
Stay in touch with Derek on Twitter and Facebook. His most recent book is "Hero's Dose: The Case For Psychedelics in Ritual and Therapy."
Students who think the world is just cheat less, but they need to experience justice to feel that way.
Students in German and Turkish universities who believed the world is just cheated less than their pessimistic peers.
The tendency to think the world is just is related to the occurence of experiences of justice.
The findings may prove useful in helping students adjust to college life.
Some people believe that the world is a just place where people tend to get what they deserve. The merits of this belief have been subject to debate for a few centuries, and some argue that its bad for you. It is a popular belief in any case and some social psychologists argue that it is a fundamental belief that allows us to function.

But how does this belief, which must surely be challenged every day, affect our lives? A new study published in Social Justice Research suggests that a personal belief in a just world may help us act justly, after finding that it reduces instances of cheating in college classes.


The world is just? That's news to a lot of people. 
The study is the most recent addition to a long line of work focusing on the belief in justice, our behavior, and our reactions to evidence that might suggest injustice occasionally occurs. This study focuses on a personal belief in a just world, (PBJW) rather than a general belief in a just world (GBJW). The difference between them must be highlighted.
GBJW is the stance that justice prevails all over the world and that people tend to get what they deserve. PBJW is more focused on the individual's social environment and their belief that they tend to be treated justly. While several studies show PBJW correlates with a higher sense of well-being and a variety of other positive effects, a high GBJW is associated with less life satisfaction, negative behavior, and callousness towards the suffering of others. This study controlled for GBJW, and focused on PBJW as much as possible.
To assure that culture was not a factor, the study included students at universities in both Germany and Turkey.
The researchers gave students at the four participating universities a series of questionnaires that asked if they ever cheated in class, if they perceived the world to be just, if they though that justice always prevailed everywhere, their tendencies towards socially appropriate behavior, their life satisfaction, and if they felt like they were treated justly by their teachers and fellow students.
The answers were statistically analyzed for relationships. While some of the connections seem trivially true, others were surprising.
PBJW turned out to only be an indirect predictor of if a student was likely to cheat. Both a belief in a just world and a lower likelihood of cheating were mediated by the justice experiences of the students, with more of these positive experiences lowering the rate of cheating and improving their belief in justice. This was also associated with higher levels of life satisfaction.
These effects existed across all demographics in both countries.
What does this mean? Is a belief in justice a self-fulfilling prophecy? 
In a way, it seems to be. People who have reason to think the world is just to them tend to interpret events in a way to sustain that belief and behave in a just manner. In a larger sense, the take away from this study is that experiences of justice, both from peers and instructors, is vital to student's wellbeing and understanding that the rules that exist about cheating are part of a larger, legitimate, system.
The researchers, citing previous studies on the perception of justice, note that "justice experiences (1) signal that university students are esteemed members of their social group, which in turn conveys feelings of belonging and social inclusion and (2) motivate them to accept and observe university rules and norms. These cognitive processes may thus strengthen their well-being and decrease the likelihood that they cheat."
The authors also suggest that if you want people (not only students) to act justly; consider treating them with "civility, respect, and dignity."
Sometimes, all it can take to help somebody act virtuously is to treat them well. Likewise, people treated harshly can rarely find reason to play by rules that don't protect them. The findings of this study will certainly add to the literature on how we perceive justice in the world around us, but might also help us remember that there are real consequences to our actions which can be much larger than we imagine.
Here's why the Irish president believes students need philosophy.
Photo credit: Charles McQuillan / Getty Images
President of Ireland Michael D. Higgins calls for students to be thought of as more than tools made to be useful.
Higgins believes that philosophy and history should be a basic requirement forming a core education.
The Irish Young Philosopher Awards is one such event that is celebrating this discipline among the youth.
While attending the Irish Young Philosopher Awards 2019, the president of Ireland, Michael D. Higgins, had some choice words for the burgeoning young students. Higgins cautioned against getting an education with the intent of being "made useful" economically speaking:
"Talk of a 'knowledge society' and the demand to enable our young people to meet its needs has... come to dominate our view as the ultimate aim of a secondary school education. We need to be careful."
Higgins is a strong advocate for teaching more philosophy in schools — not just organizing a curriculum that prepares students for the workplace.
Need for a fully rounded education 
This kind of sentiment has been echoed before by many leading philosophers, pundits and teachers throughout the latter half of the 20th century. The idea is that the education system has lapsed in its initial purpose.
What was once a place to become verse in the classics, gain an understanding of basic history logic, mathematics and so on has instead gave way to a hyperspecialized trade school for knowledge workers. Workers that will just be mere cogs and serve an economic function.
Again, Higgins spoke of the the idea that, "too many policy lobbyists have, often unknowingly, unthinkingly perhaps, accepted a narrow and utilitarian view of... education — one that suggests we exist to be made useful — which leads to a great loss of the capacity to critically evaluate, question, and challenge."
There has been a diverse chorus of voices ringing the alarm on the deterioration of education as it's being replaced with the idea just to be made useful.
Education has become a prisoner of contemporaneity. It is the past, not the dizzy present, that is the best door to the future. ― Camille Paglia
It is within this sphere of the contemporary where we can't lose focus from the past visions of the great. Philosophy and history is one such area that needs to be upheld. As Higgins rightfully critiques, there is no sense of history or philosophical know-how instilled in young students anymore. Philosophy has almost gotten just as bad a wrap as mathematics. These modes of thought are one of the most important anchoring forces that ground us in demonstrable logic.
Luckily, it seems that this type of renewal — grounding our education in learning for learning's sake seems to be gaining steam.
Young philosophers in action  
This is the second year of awards for this type of event. The Irish Young Philosophers Awards was created as an alternative for the annual young scientists exhibition. Dr. Danielle Petherbridge, an event organizer said that the participants had already doubled in the past year with 350 finalists chosen for the festival.
This year, Higgins presented the award to 16-year-old Lauren Doyle from Mount Sackville Secondary school. The work that won was titled "Why is nature beautiful and why do we destroy it?"
Echoing again his support for philosophy in schools, Higgins stated:
"The neglect of philosophy has had such far reaching consequences, putting limits, even diminishing the learning of so many subjects, thus depriving young people of so much of the enrichment of learning, of what the great philosopher Edward Said called the riches that lie in the interstices between subjects."
Research shows that the way math is taught in schools and how its conceptualized as a subject is severely impairing American student's ability to learn and understand the material.
One derivative coming right up... (Photo: Getty Images)
Americans continually score either in the mid- or bottom-tier when it comes to math and science compared to their international peers.
Students have a fundamental misunderstanding of what math is and what it can do. By viewing it as a language, students and teachers can begin to conceptualize it in easier and more practical ways.
A lot of mistakes come from worrying too much about rote memorization and speedy problem-solving and from students missing large gaps in a subject that is reliant on learning concepts sequentially.
It comes as no surprise to most people that Americans perform worse in math and sciences than many of their international peers on the world stage. The numbers don't lie: A recent national survey from the Organization for Economic Cooperation and Development found that 82% of adults couldn't determine the cost of carpeting when given its dimensions and price per square yard.
Unlike the more difficult and comprehensive math tests given to test students' comprehension, this test was for basic numeracy skills. The United States fell behind in 22nd place.
For a country that has boasted, or at least hosted, some of the smartest minds and most competitive research labs, companies, and universities in the world, there is a strange disconnect between our overall mathematical ability and our professional output. There is no doubt that a lot of Americans are bad at math and even suffer crippling math anxiety from a very young age.
But why? It has to do with a few reasons: how math is presented as a subject, how it's taught, and what's expected from American students.
Why the U.S. needs to change its collective view of mathematics
Mathematics has been taught a certain way for decades in U.S. schools. Maybe it's time for that to change.
Getty Images
One of the first things that comes to many people's minds when they think about math is rote memorization, impracticability, and the old slacker adage, "When am I ever going to need to use this?" The quadratic formula, sines, and cosines have gotten a bad rap and taken a verbal beating by an innumerable amount of high schoolers for probably more than a century.
The vast majority of people who haven't had to use an equation since their senior year or cram session in college just don't see the value in math. That's because they fundamentally misunderstand what mathematics is.
Neil deGrasse Tyson put it succinctly when he said, "Math is the language of the universe. So the more equations you know, the more you can converse with the cosmos."
Now, that's part of the equation, but not all of it. Math, in a sense, is a way to speak and manipulate the world in a logic- and reason-based system using a specialized written language.
It is the language of numbers, quantity, and space, and it's used in applications for engineering, physics, and so on. It's doubtful that math is presented this way to children or students at an early age. But that's just one part of the problem with how we approach math.
Why it's easy to fall behind in math
Professor Po-Shen Loh at Carnegie Mellon believes that everyone is a math person; all they lack is proper instruction. In an interview with Big Think, he went on to say that math is a language that builds upon itself, and not understanding the foundations of math is like not understanding the roots and structure of a language.
Essentially if a student doesn't catch on in their first years of instruction, it's going to be very difficult for them to reverse course and excel later on down the line. He believes it is essential to catch this early on and address it before a student's issues with math reach a point where they feel "they're just not good at math."
Professor Loh goes on to say that "Mathematics is the principles of reasoning. There are ways to show you how these basic building blocks of reasoning can be used to deduce surprising and difficult things."
One major reason that mathematics is difficult to understand is because it is a network of prerequisites. Everything, all of the concepts, are chained in sequences of dependencies.
If you miss an important concept earlier on—say, not being able to understand how to chart a simple algebraic equation on a line graph, you'll have no idea how to go on to charting even more complicated equations.
Loh goes on to say that this is much more prevalent in mathematics than history, for example. If you didn't fully understand the War of 1812, it's not going to impact how you learn about the Civil War—aside from the occasional historical patterns you may or may not recognize, of course.
The way to address this is to provide a learning environment for everyone that moves at their own pace, to make sure to fill in the gaps, and to catch those lapses in understanding before they get out of control.
And if you're already in too deep, say, as a college grad or just an adult who wants to learn… well, it's time to start from square one.
A faulty learning and teaching methodology
A few years back, the Programme for International Student Assessment (PISA) dug a little deeper into how math is taught. A 2012 assessment questioned how students approach the subject. Their responses were categorized in three learning styles: some students relied mostly on memorization, others tried to relate new concepts to ones they've already learned, and finally, some used a self-monitoring approach in which they evaluated their understanding and focused on concepts they had yet to learn.
Without much of a surprise, it turned out that the memorizers were the least likely to achieve high scores and understanding. The United States ranked in the top three for this learning method. A more in-depth look showed that memorizers were about a half year behind students who used either relational or self-monitoring strategies.
Research has shown and most likely loads of anecdotal evidence shows that most math classrooms in the United States equate comprehension and skill with speed. Students who are the fastest on their time tables race against the clock to see how fast they can write down their memorized lines. This is not learning, this is not comprehension.
Studies show that stress interferes with the part of our brain we use to manipulate mathematical facts.
Getty Images
Studies have shown that children manipulate math facts with their working memory, an area of the brain that will go offline when they experience stress.
Now put together 45-minute timed tests in a condensed school year or semester combined with math anxiety, faulty instruction and expectations, poor learning methods, potential lapses in the fundamentals, and the problems start to pile up. As a result, the part of the brain responsible for mathematical thinking literally shuts off, and you start to see why Americans are so bad at math.
Leading mathematician Laurent Schwartz wrote in his autobiography that he was a slow thinker in math and even believed that he was stupid. That is until he realized that "What is important is to deeply understand things and their relations to each other. This is where intelligence lies. The fact of being quick or slow isn't really relevant."
The problem has been diagnosed, and a few pieces of the solution have been put together, but something is still missing.
Why new methods of teaching math aren't working
We've tried different methods of teaching math over the years, but have any of them worked?
Getty Images
Many potentially great minds have probably been turned off by the fast-paced timed tests and wonky teaching methods presented through the years. The language of math needs to be presented in a way that shows how it connects to the world and demonstrates its great capacity for understanding and manipulating reality.
If more people could tap into this infinite matrix of power, they'd be able to engage in the wondrous world of math and unlock unknown potentials. It's not for a lack of trying that we've failed; it comes down to instruction yet again.
Despite being today's newest fad and the subject of ire from many on both sides of the political spectrum, Common Core is our latest panacea for our math woes. Yet we still suffer from what math professor and author John Allen Paulos calls innumeracy—a mathematical illiteracy akin to not being able to read or write.
What is needed is a fundamental shift in how we view mathematics as a subject so we can learn to imagine how it can benefit and help us in different fields. In addition, we need to make sure that it's taught in a way that no student skips past the fundamentals. Instructors and teachers at all levels must make a systemic change if we're to see any progress. Could this change be Common Core or a different teaching philosophy? We'll find out in the years to come.
A growing body of research suggests that students of color perform better in school when they have at least one teacher of the same race.
Photo: Shutterstock
Students of color perform better in school when they have at least one teacher of the same race, suggests a growing body of research. A recent study explored this phenomenon by analyzing the racial disparities among American schoolchildren and their teachers in various parts of the country, and sought to understand how young adults become teachers in the first place.
The researchers—Constance A. Lindsay, Erica Blom and Alexandra Tilsley of the Urban Institute—used data from the American Community Survey to illustrate the racial disparities among teachers and students.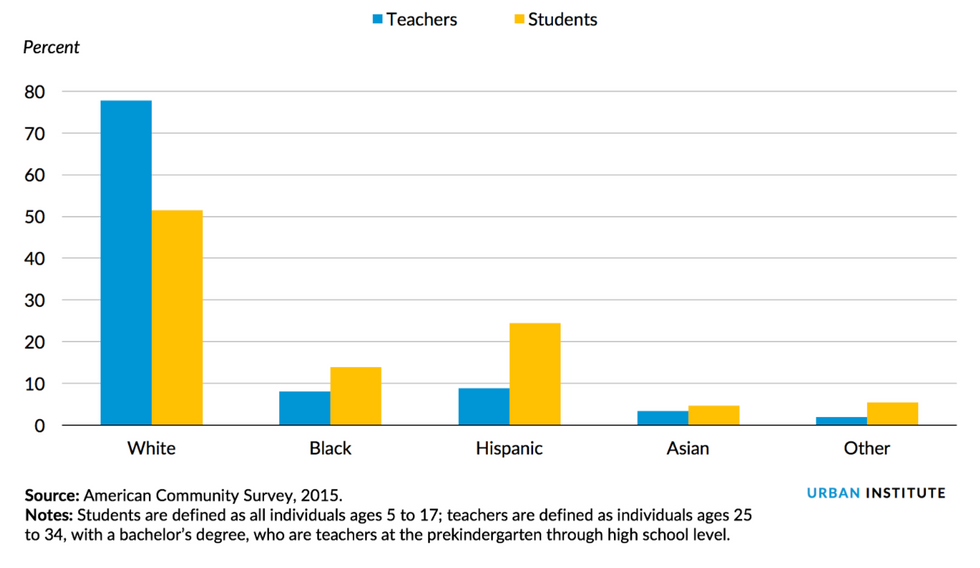 Why should we care about these disparities? The authors wrote that while the jury's still out on the exact causal mechanisms at play, a growing body of research suggests that same-race teachers can have positive effects on students of color by having higher expectations, serving as role models, and having a better cultural understanding of the students. These effects seem especially significant for economically disadvantaged black male students, as David Figlio writes in an article for the Brookings Institute:
For instance, they find that a disadvantaged black male's exposure to at least one black teacher in elementary school reduces his probability of dropping out of high school by nearly 40 percent. This estimated effect is not just statistically significant, but also highly educationally relevant.
Research also suggests that black students are less likely to be suspended and more likely to be admitted to gifted programs when they have black teachers. 
Given the impacts same-race teachers can have on students of color, the authors of the recent study sought to understand how young adults become teachers. The biggest prerequisite for becoming a teacher in the U.S. is obtaining a bachelor's degree. And here, too, lie significant racial disparities.
White and Asian young adults obtain high school and university degrees at significantly higher rates than their black and Hispanic counterparts, even though the portion of young adults who  earn bachelor's degrees and then become teachers is basically the same across all races. The researchers argue that increasing the amount of black and Hispanic young adults who earn bachelor's degrees would result in more equal representation in the classroom. 
By expanding the pool of college graduates, we expand the pool of potential teachers. The pipeline to a teaching career starts well before college graduation—it starts with getting more black and Hispanic young people through high school and college.
They propose that doing so would not only benefit students of color, but society at large:
In addition to the strong economic and social benefits accruing to the students themselves when they graduate from high school, Levin and Rouse argue that the net benefit to taxpayers associated with each new high school graduate is well over $100,000.