The environmental benefits of the coronavirus pandemic are only temporary, warns the head of the UN Environment Programme.
NASA and European Space Agency (ESA)
Satellite imagery shows that significantly lower air pollution over much of the planet in the wake of the COVID-19 pandemic.
As the U.S. was preparing an economic stimulus package for struggling Americans, some lawmakers tried in vain to include environmental provisions.
Whether now is an appropriate time to consider restructuring the economy and energy infrastructure is a controversial topic.
The COVID-19 pandemic has produced surreal images: Mask-wearing shoppers stocking up on toilet paper and canned food. City streets, once bustling, now empty. Semi-trucks parked on sidewalks, converted into temporary morgues.
But zoom out far enough, and the images of the pandemic tell a different story — one with clearer skies.
NASA and the European Space Agency recently released satellite imagery showing how the slowing of the global economy has significantly reduced air pollution over China, Italy, the U.S., and other nations. The images show drastic drops in nitrogen dioxide, which is produced mainly by cars, trucks, buses, power plants, and off-road equipment, according to the U.S. Environmental Protection Agency.
However, the head of the UN Environment Programme (UNEP), Inger Andersen, warns against viewing this as a "silver lining."
"And as we inch from a 'war-time' response to 'building back better,' we need to take on board the environmental signals and what they mean for our future and wellbeing, because COVID-19 is by no means a 'silver lining' for the environment," Andersen wrote in a recent blog post. "Visible, positive impacts – whether through improved air quality or reduced greenhouse gas emissions – are but temporary, because they come on the back of tragic economic slowdown and human distress."
The relationship between pandemics and the environment
Andersen noted two key reasons why the environment is directly relevant to the spread of zoonotic diseases like COVID-19. First, as human development continues to creep into new ecosystems, it's bound to put people in close contact with wildlife, which is how zoonotic viruses spread.
"According to IPBES, we have seen 100 million hectares of agricultural expansion in the tropics between 1980 and 2000, roughly equal to the size of France and Germany combined," Andersen wrote. "The 'wild' must be kept 'wild.' It is time to restore our forests, stop deforestation, invest in the management of protected areas, and propel markets for deforestation-free products. Where the legal wildlife trade chain exists, we need to do a far better job of improving hygiene conditions."
The blog post also noted that global warming is making it easier for dangerous microbes to survive in the environment.
Changes in temperature, humidity & seasonality directly affect the survival of microbes in the environment; & evide… https://t.co/hd41TxleUX

— UN Environment Programme (@UN Environment Programme)1586073608.0
For Anderson, the pandemic presents an opportunity to redirect the economy toward a greener future:
"So, in the aftermath of the crisis, when economic stimulus packages composed of infrastructure are designed, there is a real opportunity to meet that demand with green packages of renewable energy investments, smart buildings, green and public transport, etc.."
When the U.S. government was preparing its recent economic stimulus package, House Democrats sought to include some environmental provisions, such as requiring airlines to lower emissions, putting $100 million toward developing sustainable aviation fuels, and allocating aid money for the national wind and solar industries.
Ultimately, these measures didn't make it into the package. Some lawmakers and commentators criticized Democrats for trying to weave environmental protections into an urgently needed bill designed to help financially struggling Americans. (Although, to be sure, Republicans had pet projects of their own which they sought to include in the bill.)
Currently, it's unclear whether measures that would aid U.S. renewable energy companies will be included in future stimulus packages.
The pandemic is a 'portal'
As the economy continues to spiral and U.S. unemployment reaches a record high, is now the time to consider making massive changes to the ways we envision our society? One interesting answer comes from Indian author Arundhati Roy.
In a recent piece in the Financial Times, Roy writes that the pandemic is a "portal, a gateway between one world and the next." Roy makes no explicit mention of the environment or climate change, and he's not necessarily suggesting that efforts to restructure society should take priority over, say, aid packages to citizens. But he does argue that we shouldn't aim to return to "normality" as the global community begins to repair the damage caused by the pandemic:
"Our minds are still racing back and forth, longing for a return to 'normality', trying to stitch our future to our past and refusing to acknowledge the rupture. But the rupture exists. And in the midst of this terrible despair, it offers us a chance to rethink the doomsday machine we have built for ourselves. Nothing could be worse than a return to normality.
Historically, pandemics have forced humans to break with the past and imagine their world anew. This one is no different. It is a portal, a gateway between one world and the next.
We can choose to walk through it, dragging the carcasses of our prejudice and hatred, our avarice, our data banks and dead ideas, our dead rivers and smoky skies behind us. Or we can walk through lightly, with little luggage, ready to imagine another world. And ready to fight for it."
French president Emmanuel Macron recently announced plans to close all of the country's coal-fired power plants two years ahead of schedule.
French President Emmanuel Macron — Photo: Ludovic Martin/Getty
France plans to close all of its coal-fired power plants by 2021, a move that doubles down on the country's relatively aggressive push toward renewable energy.
"We've also decided to make France a model in the fight against climate change," French president Emmanuel Macron said at the World Economic Forum in Davos, Switzerland.
Macron said the pledge would be a "huge advantage in terms of attractiveness and competitiveness," suggesting that the move away from fossil fuels isn't a zero-sum game.
"We should stop opposing on one side productivity, on the other side climate change issues," he said.
France only gets about 1 percent of its power from coal. But in the U.S., coal remains a much larger part of the power supply mix, accounting for about 16 percent of energy production in 2016. It's also a more controversial political issue.  
In June 2017, President Trump announced the U.S. would drop out of the Paris Agreement on climate change. Months later, in October, the Environmental Protection Agency announced the repeal of the Clean Power Plan, a policy drafted under the Obama administration that would have pushed states away from coal production.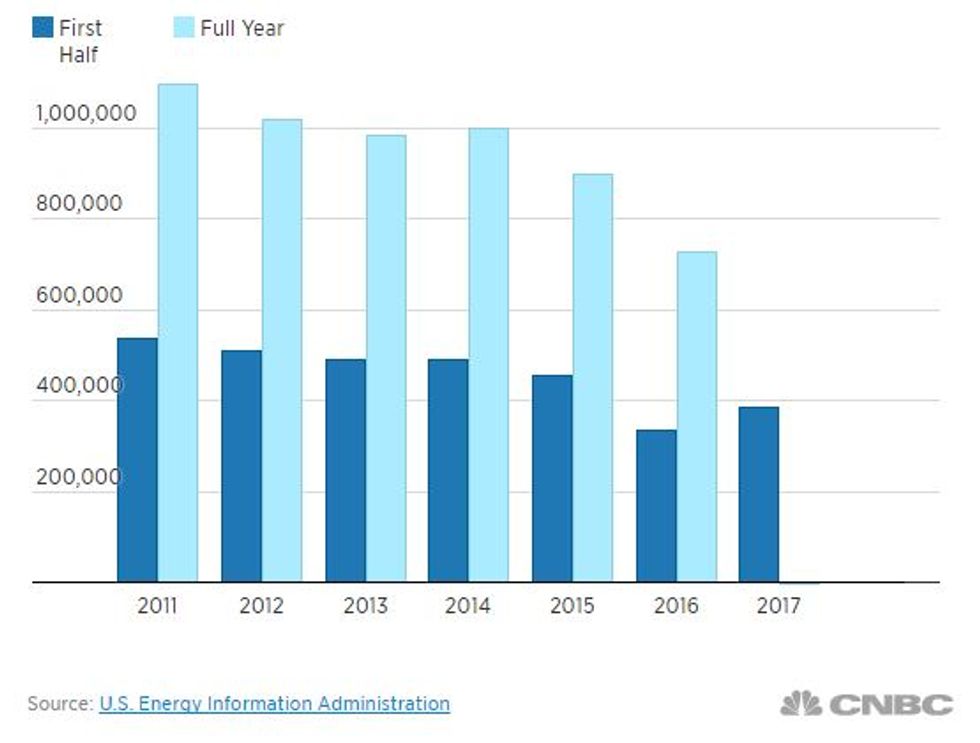 Coal was a cornerstone of Trump's presidential campaign. He won nine out of ten states with the highest coal production in the country after promising to revive the industry and put thousands of unemployed coal miners back to work. But since his election, employment rates in the mining industry have remained mostly stagnant. The relatively cheap cost of natural gas seems to be the cause. And, incidentally, it's this competition that could help the U.S. hit emissions goals set by the Obama administration—even without the Clean Power Plan in place.
Since signing the Paris Agreement in 2015, at least 15 countries have pledged to phase out coal. The U.K. and Italy plan to close all of their coal plants by 2025; the Netherlands by 2030. China has reduced coal consumption three years in a row, and halted the construction of about 100 new coal-fired plants.
Still, coal is hard for some countries to resist. It's cheap, found in politically stable areas, and easy to extract.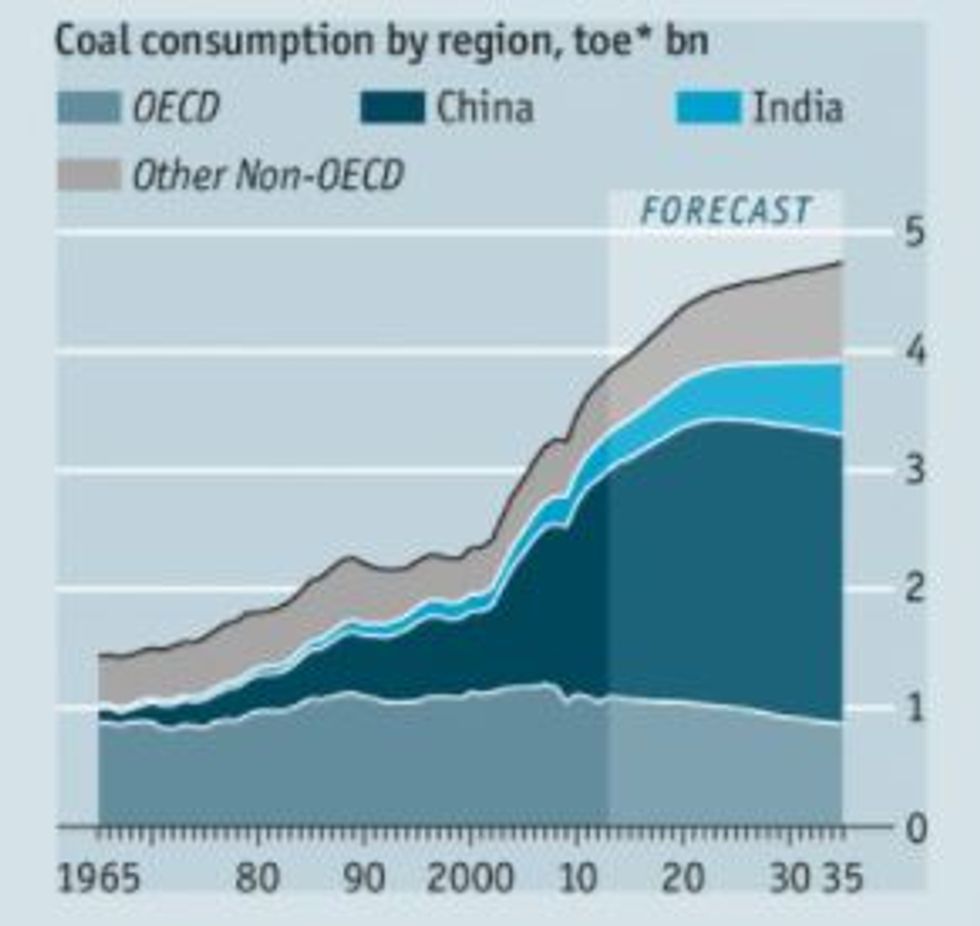 India, for instance, plans to nearly double its coal production by 2020. Even Japan, a country desperate for stable energy sources after closing its nuclear reactors in the wake of the Fukushima disaster, has plans to build new coal-powered facilities.
It seems coal won't be phased out of the global power mix until alternative energy sources become cheaper. And so far, natural gas and renewable energy don't quite cut it.
A massive solar project has just been completed, and its specs are impressive.
Credit: Getty Images.
Environmentalists so far are infuriated by the actions of the Trump White House. With a little less than a year in office, the administration has opened up public and protected lands to energy exploration, removed the US from the Paris Agreement, and scrapped the Clean Power Plan. In the near future, there are plans to expand offshore drilling, sell off public lands in the West, and allow for drilling in the Arctic National Wildlife Refuge.
There's also been quite a number of rule changes and rollbacks, a scrubbing of climate change information on government websites, and the appointment of climate skeptics to high offices, such as Scott Pruitt as Secretary of the EPA, a man who refuses to accept that CO2 levels are associated with global warming.
Acting Director of the Bureau of Land Management (BLM) Michael Nedd, looks at it another way. Instead of stripping environmental protections, he told the Washington Post, it could be viewed as the new administration evening out the scales. "One could argue—I don't know, but one could argue—that under the previous administration that scale could have been tipped too far on the environmental side and energy wasn't developed."
He added, "So right now, what we're looking at is: How can we have that balance?" Nedd said their aim was to develop a free market approach. Develop all kinds of energy, and let the market decide what the winner is. In that, there are still some renewal projects going on within the federal government that haven't been shelved, although they may be receiving a lot less attention.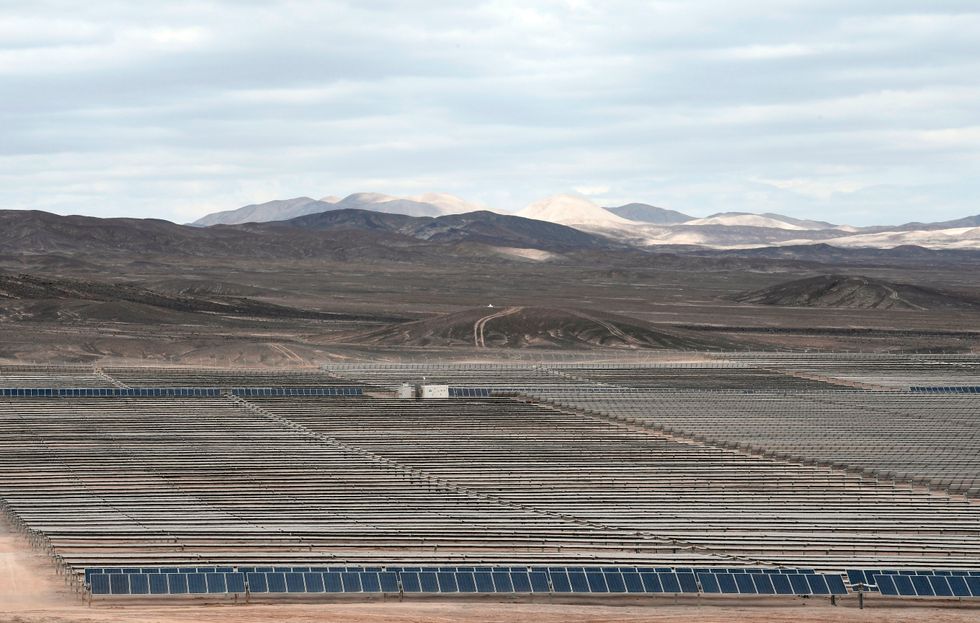 The price of solar panels today makes them competitive with fossil fuels, even in the middle of a natural gas boom. Credit: Getty Images.
The US government recently fired up two conjoined solar power plants on federal land. A "Throw the Switch" event was held on Dec. 17, although the Bureau of Land Management sent out no press release. Present were Senator Harry Reid (D-NV), U.S Bureau of Land Management Nevada Director John Ruhs, NV Energy officials (the state's energy company), state and local officials, and representatives from J.P. Morgan, EDF Energy, Switch, and First Solar.
Located in Clark County, Nevada, the Switch 1 and Switch 2 power stations together make up 1,797 acres. That's 275 football fields end to end. The plants contain a total of 1,980,840 solar panels, which at capacity pump out 179 MW of power. That could power 46,000 homes.
All that clean energy is channeled to power hungry data centers in Las Vegas and Reno. The project is located in the Dry Lake Solar Energy Zone, one of 19 zones earmarked by the Interior Dept. for major energy projects. First Solar built the dual plants, while EDF runs them.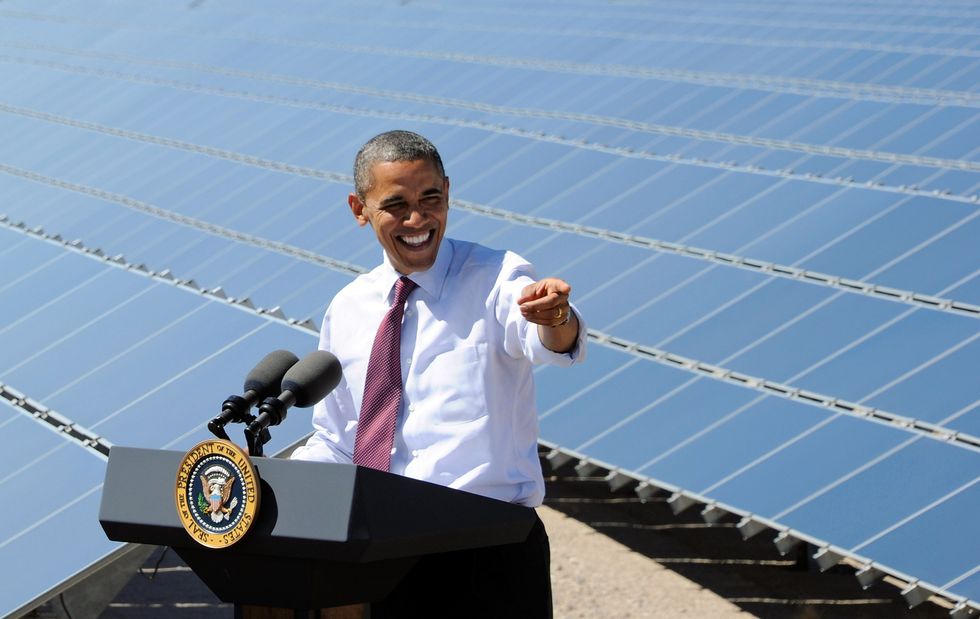 Renewables may no longer need federal support to be competitive in the marketplace. Credit: Getty Images.
Senator Harry Reid said the project created hundreds of good paying jobs. It also saves the environment from absorbing 265,000 metric tons of carbon dioxide each year, which is like pulling 52,000 cars off the road. EDF executive Cliff Graham said at the event, "EDF RE is positioned to invest $3 billion between now and 2020 in renewable projects across the country; we anticipate to deliver on our projection and bring more jobs, tax dollars and investment to Nevada."
The land was first leased for the project through an auction held in 2014. Construction began in 2016 and took 12 months total, with the aid of 1,300 construction workers. BLM Nevada director John Ruhs told the Washington Post, "The administration is completely supportive of 'all of the above' energy." Adding, "It's just the first of more that are coming, especially for Nevada, and probably California, as well." The Obama administration approved 60 utility-scale, renewable energy projects. Whether many or all go through remains to be seen.
On another front, The Nature Conservancy also took part in this project. They were able to secure $6.9 million to help protect desert tortoise habitats and offset the environmental impact of the power plants.
To learn more about their contribution, click here:
In the summer of 1969, America did the extraordinary. Let's do it again.
Optimism, as defined by economist Jeffrey Sachs, is more than just a translucent, faraway wish. It means having bold goals and acting on them—even if you have no plan or existing knowledge of how you'll get there. The US was once good at this: In May 1961, President Kennedy stood before Congress and announced that the US would land a man on the moon and bring him back safely before the decade was out. In the summer of 1969, that mission was achieved. If American politicians, scientists, engineers and the public could unite for the space race, then the same is unquestionably possible for the urgent humanistic causes of poverty, inequality, and curbing global warming, which will create millions of climate refugees this century. Optimism doesn't just require vision and determination—it needs a deadline, as JFK showed. By 2030, let's mobilize our optimism to cut poverty in half in America, and make a decisive move to renewable energy.
This video is part of a collaborative series with the Hope & Optimism initiative, which supports interdisciplinary academic research into significant questions that remain under-explored. The three-year initiative will provide over $2 million for philosophers, philosophers of religion, and social scientists to generate original, high-quality, collaborative research on topics related to optimism and hopefulness. Discover the public components of the Hope & Optimism project, and how you can contribute, at hopeoptimism.com.
Jeffrey Sachs is the author of
Building the New American Economy: Smart, Fair, and Sustainable
.
How will we deal with the impending overpopulation crisis – and how much of a crisis is it anyway?
The population is growing, says Bill Nye, but it's important to note that the rate of growth is slowing down. Why? Because the more our societies educate girls, the fewer children they have once they're women. The population will very likely rise to 9 or 10 billion people and the world does have enough resources to look after us all, provided we do three things to redistribute resources globally, not just in developed nations. We need to produce reliable renewable energy to get electricity to every individual on the planet. We need to use that clean energy to increase the quality of water sanitation systems in developing nations so we lose less time and lives combating diseases, time which children could better spend in school. We must continue to educate girls and women, as quickly as we can, which means providing access to the internet and other information resources, globally. It's in our best interest; if women have more control over their lives and reproductive choices, the world's resources become more ample for each individual. Bill Nye's most recent book is Unstoppable: Harnessing Science to Change the World.
Bill Nye's most recent book is Unstoppable: Harnessing Science to Change the World.