Protests break out in Charlotte, North Carolina, after fatal shooting of Keith Lamont Scott by a police officer (Photo by Sean Rayford/Getty Images)
Imagine a world in which all the babies born each day were randomly redistributed among the biological parents. The infant assigned to any given set of parents could be white, black, Asian, Hispanic, Native American, or any combination thereof (and that's just the US); the baby could be perfectly healthy or grossly deformed. Parents would know only that their child was not their biological child. Let us call this social mixing.
This plan is of course politically impossible, perhaps even repellent. Our goal, however, is to engage the reader in a thought experiment, to examine why it stirs up such uncomfortable feelings.
Is the idea so frightening? Yes it is. It is a frightening thought that your own biological child, the one sitting there now doing her homework, might have gone to an impoverished mother or a drug addict, perhaps have been beaten, perhaps starved. But why, save for genetic chauvinism, do we view with comparative equanimity the everyday reality of other people's children subject to the same treatment by their own biological mothers?
You may argue that genetic bias is indelible in human nature. Social mixing would not only disturb the comfort of this fatalistic attitude, but also use genetic chauvinism for ends beyond mere economic equality, providing grounds for a compassion that goes beyond the wellbeing of our immediate families. Since any man might be your biological brother, any woman your biological sister, concern for them would have to be expressed by a concern for a common good.
A second effect of social mixing would be to generate a strong interest in the health and wellbeing of expectant mothers, which would ultimately translate into an interest in the social and biological welfare of everyone. Since any child might end up our own, we would provide the social and educational environments that would best enhance their development. Ghettos and slums would be an eyesore for us all. Poverty, drug, and alcohol addiction are already everyone's problem, but this fact would be more meaningful than it is now. The child of that addict might be our biological child. Every victim of a drive-by shooting might be a member of our genetic family. Each of us would see the link between our fate and the fate of others.
Third, the superficial connection between colour and culture would be severed. Racism would be wiped out. Racial ghettos would disappear; children of all races would live in all neighbourhoods. Any white child could have black parents and any black child could have white parents. Imagine the US president flanked by his or her black, white, Asian and Hispanic children. Imagine if social mixing had been in effect 100 years ago in Germany, Bosnia, Palestine or the Congo. Racial, religious, and social genocide would not have happened.
Fourth, the plan accords with John Rawls's concept of justice, introducing a welcome element of randomness into the advantages that each child can expect. At the present time, if you are a child of Bill Gates, you will have not only a genetic advantage but also a material one. Under a regime of social mixing, any baby could find herself the child of Bill Gates and enjoy the opportunity of optimally exercising whatever her genetic gifts might be. As for Bill Gates's biological child, he might find himself the son of a barber, but with his natural genetic gifts he might make the most of a less than optimal educational environment.
There are, of course, many natural objections to this idea. It will be said that one of the joys of marriage is for lovers to see the product of their love. To this we say that the product of one's love lies not in the genetic production of a human being but in the mutual cultivation of the life of a child. But isn't it true that either the genetic match between parent and child or a bond formed between mother and child in the womb makes each parent uniquely fit to raise his or her own child and less fit to raise another child? The evidence for such idiosyncrasy is slight. True, adopted children tend to have more mental and physical problems than non-adopted ones. But children are often adopted at relatively advanced ages, after they have formed close attachments with caregivers. Children adopted during their first year are at no disadvantage relative to non-adopted children.
It will be objected that in defusing genetic chauvinism we will be giving up our only secular moral constraint – which translates into the fear that under social mixing people will be as indifferent to their own real children as they are now to the biological children of others. But there are no grounds for such deep pessimism. Look at the behaviour of adoptive parents now, or look at the practice of surrogate motherhood. The many apparently infertile parents who adopt a baby only to have a biological child subsequently do not tend to reject the first child.
It may be objected that under social mixing cultural diversity would disappear. But this would only be true for diversity that depends on the shape of your features and the colour of your skin. This is the kind of diversity that racists wish to maintain. The cultural diversity we care about – of language, food, dress, religion, music, speech – would be preserved no less than it is now.
It may be objected that parents' desire to have their own biological children is so strong that they would be blind to the public good, that they would have babies and bring them up in secret. But those babies would not have birth certificates, they would not be citizens, they could not vote, serve in public office and so forth. If discovered, the children might be taken away after the strong bonds of psychological (as opposed to biological) parenthood had been formed. Few Americans would risk these penalties.
It will be objected that incest would occur frequently in a society where biological kinship was obscured. In answer to this, we now have the ability to test prospective parents and to forbid marriages between people with close genetic overlap – whatever the cause. But even if we did not have this ability, is it likely that incest would be more frequent under our plan than it is now (notwithstanding taboos) among close biological relatives living together? Our proposal is certainly no cure-all for all the ills that plague society. People do rape, rob, and murder their relatives and would undoubtedly continue to do so if their relatives were genetically unrelated to them. But our proposal would reduce crimes due to genetic chauvinism – and there are enough of these.
It may be objected that people would not want to bear children only to have them raised by strangers. But genetic narcissism may not be the optimal motive for having children. There may be no correlation between the biological capacity to have children and the ability to cultivate the optimal development of a child. It may be a good thing if only people who passionately wished to be an integral part of the life trajectory of another human being raised children.
Genetic chauvinism lives on very strongly in our culture. Modern fiction and cinema often present adoptees' searches for biological parents and siblings in a highly positive light. The law in child custody cases is biased towards biological parents over real parents. You might claim that this bias itself is 'natural'. It is so common as to seem part of our biological makeup. But subjugation of women was also common in primitive human cultures and remains so in many cultures today. Unnatural as it sounds, social mixing promises many advantages. If we are not willing to adopt it, we should consider carefully why. And if naturalness is the key, we should ask ourselves why on this matter, ungoverned nature should trump social cohesion.
Howard Rachlin & Marvin Frankel
--
This article was originally published at Aeon and has been republished under Creative Commons.
AI is leaving human needs and democracy behind in its race to accomplish its current profit-generating goals.
It doesn't have to be this way, but for now it is: AI's primary purpose is to maximize profits. For all of the predictions of its benefits to society, right now, that's just window-dressing—a pie-in-the-sky vision of a world we don't actually inhabit. While some like Elon Musk issue dire warnings against finding ourselves beneath the silicon thumbs of robot overlords, the fact is we're already under threat. As long as AI is dedicated to economic goals and not societal concerns, its tunnel vision is a problem. And as so often seems to be the case these days, the benefits will go to the already wealthy and powerful.
Right now, while artificial intelligence is focusing on profit-generation, natural intelligence has proven to be more than up to the task of manipulating it, as if sneaking up behind someone distracted by a shiny object.
We're coming to understand just how adroitly AI can be played as we learn more and more about Russia's manipulation of social media during the 2016 presidential election. Facebook's much-lauded AI was working to "consume as much of your time and conscious attention as possible," as Facebook's first president Sean Parker recently put it to Mike Allen. After all, as we've often been told, "You're not the customer—you're the product" meant to draw advertisers to the platform. Cleverly parsing our newsfeeds for clues to our most addictive interests and associations, Facebook's AI somehow completely failed to notice it was being gamed by Russia, as noted in this stunning exchange between Senator Al Franken and Facebook General Counsel Colin Stretch:
What neither man explicitly says is that it was not the job of Facebook's AI to do anything but maximize the platform's profits. Democracy? Not Facebook's problem—until it was. Stretch's classic tech-speak/euphemism is that Facebook's algorithms should have had a "broader lens."
This lack of a broader lens is at the root of growing concerns that automation is going to mean the loss of a significant number of jobs. Katherine Dempsey, writing for The Nation, discussed the issue via email with deep-learning expert Yoshua Bengio, and he summed up the end game this way:
"AI will probably exacerbate inequalities, first with job disruptions—a few people will benefit greatly from the wealth created, [while] a large number will suffer because of job loss—and second because wealth created by AI is likely to be concentrated in a few companies and a few countries."

The future currently under construction is frightening if you're not among those few people. Dempsey cites a McKinsey & Company report, 'A Future That Works', describing a time in which fewer actually will. According to that report, 51% of all the work done in the U.S. economy could be automated at a savings for companies—and loss in workers' salaries—of $2.7 trillion. While only about 5% of all occupations could be fully automated, about a third of the work in 60% of them can be taken over by machines.
Dempsey also notes that AI is reinforcing existing biases. Its mistakes may be attributable to the narrowness of programmers' intentions and sensitivities, or not, but the algorithms are just not that smart so far. The New York Times cites Google Photos tagging black people as gorillas, the algorithms in Nikon cameras assuming Asian people are blinking, and a terrifying expose by ProPublica revealing that AI is being used to identify future criminals.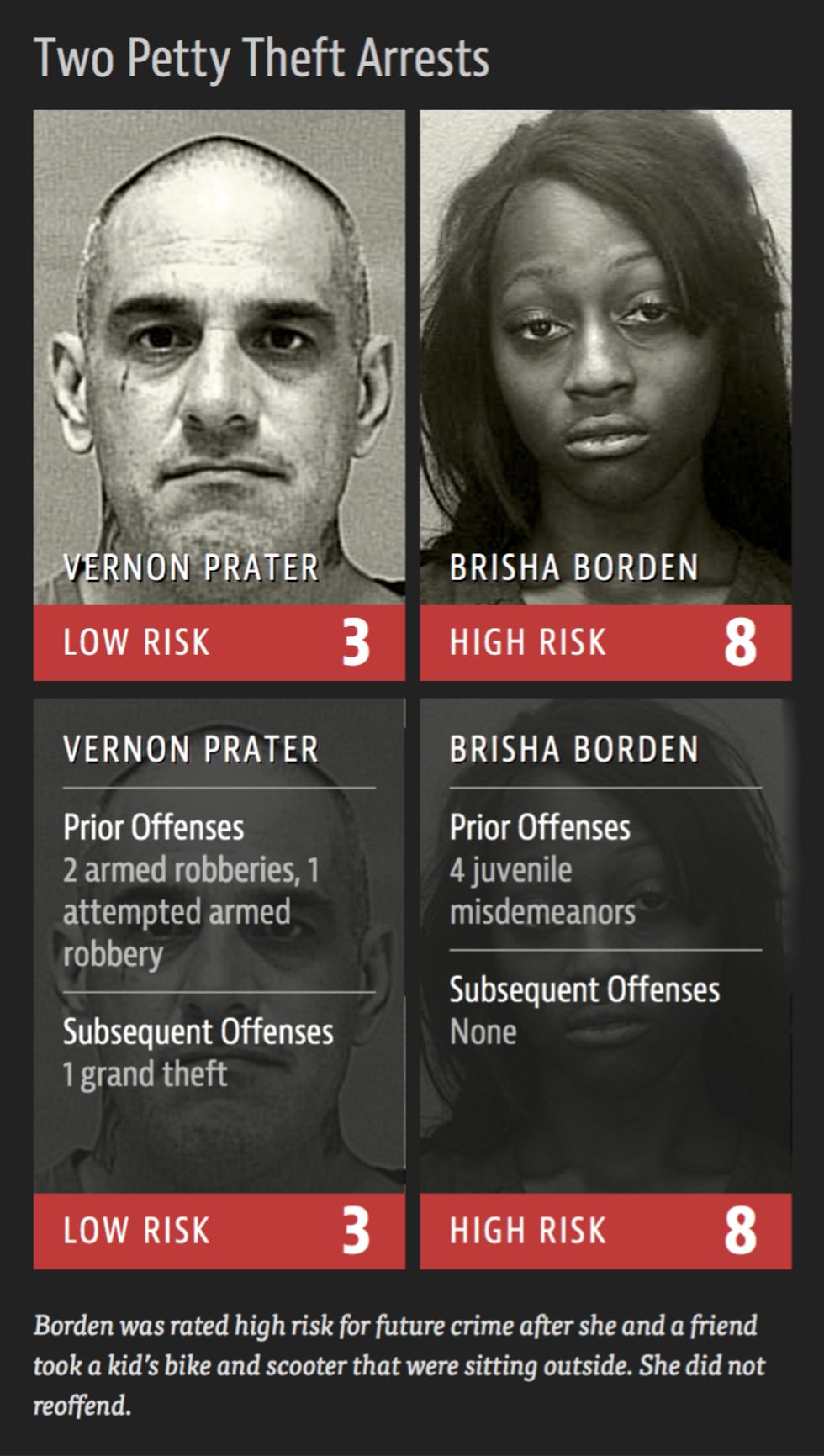 (PROPUBLICA)
A Princeton study found that a "machine-learning program associated female names more than male names with familial attributes such as 'parents' and 'wedding.' Male names had stronger associations with career-related words such as 'professional' and 'salary.'" No surprise then that, as a Carnegie Mellon study found, Google is targeting ads for high-paying jobs primarily at men. Still, as Michael Carl Tschantz of the International Computer Science Institute admits, "We can't look inside the black box that makes the decisions."
And there's the problem at its basic level. As long as AI is primarily dedicated to advancing economic goals, its workings are likely to remain largely proprietary and thus unavailable for scrutiny—that's assuming its creators even know how it works. Our best—and maybe only—defense against this danger to our society is to educate ourselves and our children about AI and machine-learning technology so we aren't treating AI as some sacred form of modern magic whose workings and effects we're forced to unquestioningly accept. Forget robot overlords for now—it's the short-sighted greed of our human ones that should worry us.
Is race a trivial quality of humans, or of deep social importance? Who gets to decide whether race exists or not?
How many different races are there? Pick a number, any number, says philosophy professor Philip Kitcher. Wherever there is an agenda there is a division to be made; race is a social construct with scientific levers. "If there's one thing that we've learned from biological science and psychological science over the last century, it's that there's an enormous amount of variation within the groups that we've traditionally thought of as races, far more than there is between the groups we've traditionally thought of as races." This makes sense; historically, we've drawn the line wherever it has suited the mainstream agenda. Humanity can be divided into two races, which would see Africans, Europeans and most Asians as one unified race. Or it could be divided into three races, which would separate Africans into their own group. You can keep dividing humanity down into more and more refined biological groups until you have 10 or 20 or 30 different races. But what would be the purpose? Our mistake has always been confusing groups for classes anyhow. Philip Kitcher is the co-author of The Seasons Alter:How to Save Our Planet in Six Acts.
A study suggests people act aggressively on their prejudices when they have plausible deniability.
Photo from the Milgram experiment.
Social norms help keep people's ugliest inclinations at bay. Racists and homophobes tend to refrain from acting on their prejudices publicly because they know they'd be punished by society in one way or another — they might lose a job, be ostracized from friends and family, or even face legal consequences.
But the power of social norms seems to crumble in situations where people feel empowered to act on their prejudices because they have plausible deniability.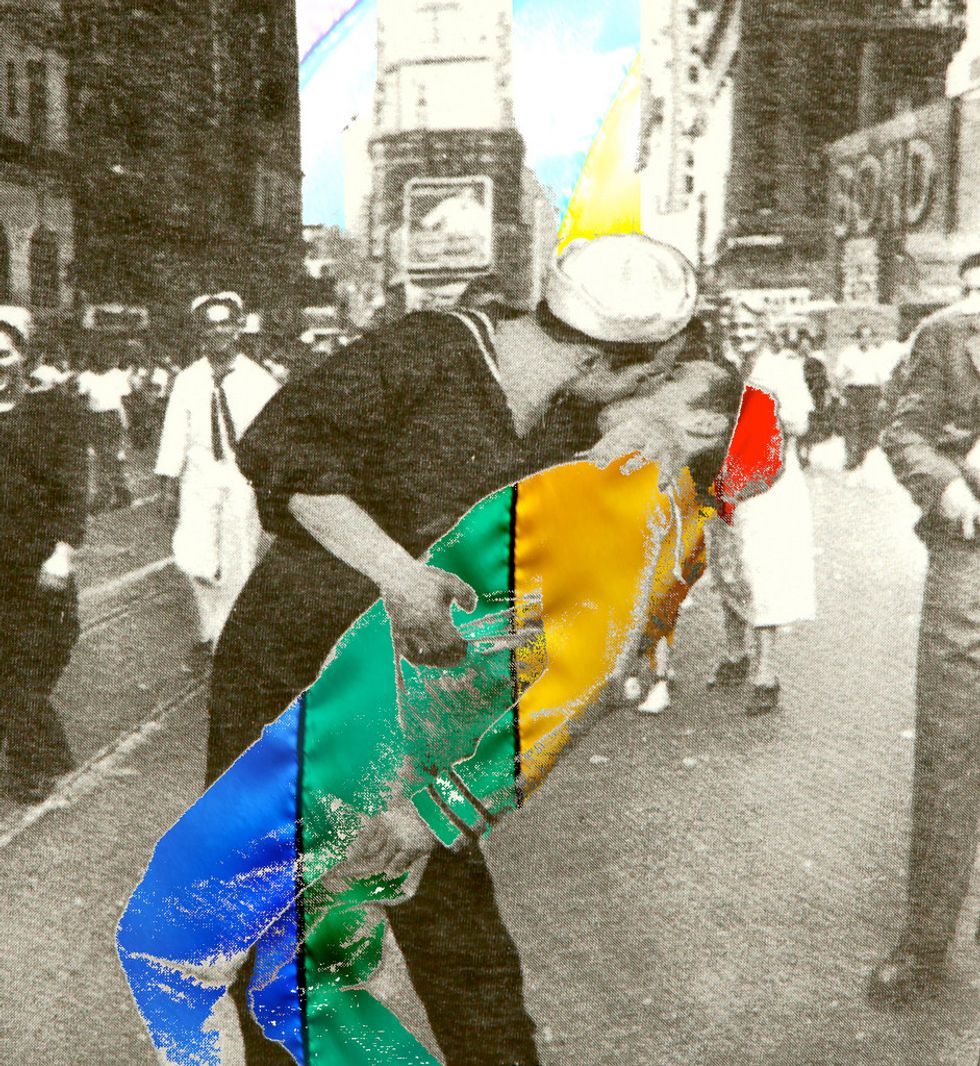 (Photo: torbakhopper via Flickr)
William Cox, a social psychologist at the University of Wisconsin-Madison, and his colleagues conducted a study on prejudice-based aggression using 166 undergraduate students as participants.
The students played a game against an opponent in another room, and the winner of each round would shock the loser. Researchers gave participants one of two identity-related statements that described their opponent: "I am gay" or "I like shopping." What participants didn't know, however, was that there was no opponent in the other room, and researchers had rigged the results of the game.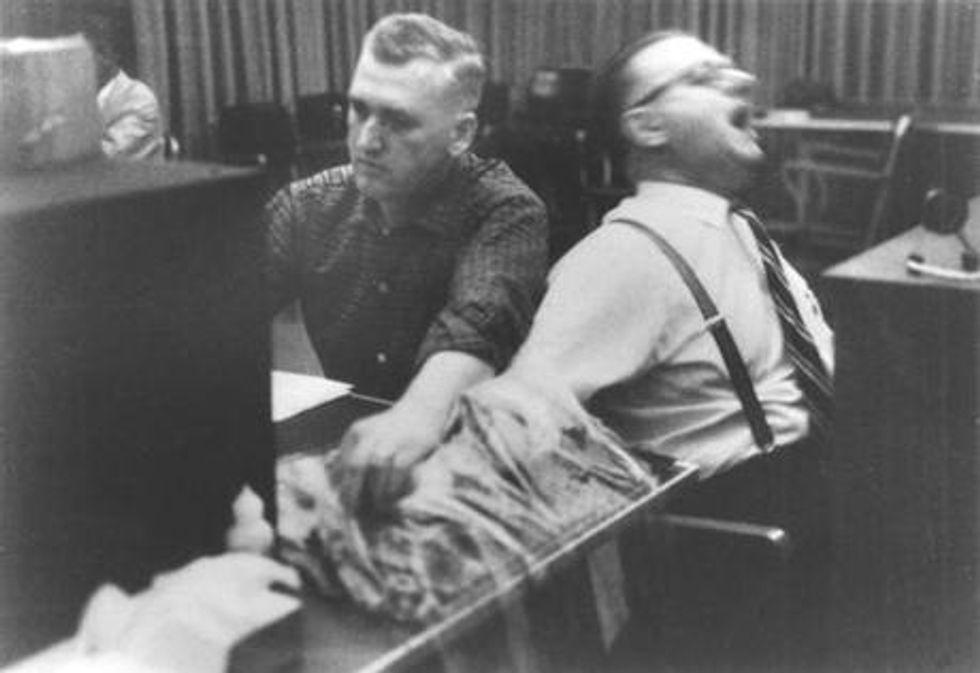 (Photo from the Milgram experiment)
Before playing, students were evaluated for how much they expressed concern for concealing prejudice. Students who expressed little desire to conceal prejudice tended to aggressively shock people in both groups. But something interesting happened to the subset of people who were aware of their prejudices, but wanted to keep them secret. William Cox explains:
As we predicted, these covertly prejudiced people tended to refrain from shocking the man who was confirmed as gay, but delivered extremely high levels of shocks to the man who liked shopping. If they had shocked the first man, people could accuse them of prejudice ("You shocked him because he was gay!"). But if others accused participants of prejudice in the second condition, it could be plausibly denied ("I didn't think he was gay!"). In other words, stereotyping can give people opportunities to express prejudices without fear of reprisal. 
Rates of crime and recidivism in America are very high. One Cleveland-based French restaurant, however, leads the way in helping ex-cons to thrive and not reoffend after their sentences.
Chef David Waltuck with a few students at Edwins restaurant in Cleveland. (Image: Edwins Instagram @edwinscle)
Of the 200+ former inmates who have trained as cooks at Edwins over the last few years, none has reoffended. The Cleveland-based French restaurant is reportedly the only American high-end restaurant to employ ex-offenders for a majority of their staff. And the food they serve is top-notch. For example, writer Douglas Trattner wrote in Cleveland Scene:
I'll admit that I had my doubts. It's one thing to train ex-cons to work the dining room of a meat-and-three cafeteria, or secret them away in the prep kitchen of a high-end establishment, but Chrostowski is steadfast about fully and unapologetically integrating his charges into all aspects of his fine French bistro. And sure enough, he's done it, birthing one of Cleveland's best new restaurants on the backs of "un-hirable" ex-cons.
Employers willing to hire people with criminal records are hard to come by in the United States. In October 2015, CNN cited a survey finding that over three quarters of former prisoners found employment to be nearly impossible. Seth Ferranti, once an inmate himself, corroborated this result in an article for VICE. He describes how he lacked work experience after 20 years in prison and he explains on his applications that he has been convicted of a crime. He applied at a restaurant after being connected through a friend of his who knew the kitchen manager. After a solid phone interview, he recounts:
The kitchen manager wasn't there, so I left the application and went home. He followed up via phone and hired me, telling me I could start the next day and detailing the clothes I'd be expected to wear for the job. 
I was excited—it was my first gig in a long time. 
But an hour later, the manager called back and told me he couldn't go through with it. Of course, he didn't say it was because of my felony conviction, but I knew what the story was. I had been honest and explained that I'd just been released from prison, and he seemed cool with it, but apparently one of his bosses felt differently. I felt totally discriminated against, but this type of stuff happens to ex-cons every day.
Even when all else goes without a hitch, having a criminal record works strongly against individuals pursuing employment.
This is troublesome given the alarming rates of imprisonment and recidivism in the United States. As Michelle Ye Hee Lee confirmed in The Washington Post, America has less than 5% of the world's population and nearly a quarter of the world's prisoners. Furthermore, the recidivism rate in the US is 60%. In contrast, Australia, Singapore, and Norway all have recidivism rates under 30%. In this context, barriers to employment exacerbate existing problems with the American punitive system.
Of course, employment is not the only problem facing American ex-offenders. Michelle Alexander refers to the treatment of criminals as "legalized discrimination" in her book The New Jim Crow: Mass Incarceration in the Age of Colorblindness. She notes in her introduction that this discrimination affects not only ex-cons' employment but also their housing, education, rights to vote, and public welfare benefits.
So what are prisons in countries with fewer criminals (and fewer repeat offenders) doing differently? In Norway, which has the world's lowest recidivism rate, they are treating prisoners more humanely. Business Insider reports on two Norwegian prisons, which have access to the outdoors, minimal use of bars, and kitchens stocked with normal equipment – knives and all. The operating theory is that if you treat people like animals, that's what they will become.  "Americans want their prisoners punished first and rehabilitated second," criminologist Bob Cameron says to Business insider. Unlike the punitive aims of American prisons, the Norwegian penal system aims to place offenders in a secure and healthy environment in which they can "normalize" with the aim of helping them to reintegrate into society after their sentence. In other words, the prison-system is designed to help criminals thrive, succeed, and not reoffend.
Overturning the American penal system from a punitive to a normalizing one is no small task. However, the story of Edwins restaurant, where none of the hundreds of once-convicted employees have reoffended, shows that individuals can help to transform the institutional forces by acting without prejudice toward those with criminal records.