Many great minds have plenty of bad things to say about democracy, but what about the people who think it is great?
Pericles, the great Athenian leader, speaks of the greatness of liberty to the people of Athens.
Socrates had several issues with democracy, most of them stemming from events that took place during his lifetime in Athens. Some of the decisions made by the Athenian democracy were rather insane and made by a body politic that had no business trying to determine foreign policy. Socrates is depicted in Plato's Republic as favoring a totalitarian regime managed by iron-fisted philosopher kings, in which all citizens are raised to fit a particular role, the state regulates bedtime stories, and harmony between individual and society reigns supreme. 
His objections to democracy are countered in the works of John Stuart Mill, whose love of democracy is as great as Socrates' hatred of it.
John Stuart Mill was an English philosopher in the 19th century who is best known for his work on utilitarianism, though his writings span an incredible range of topics. His ideas on democracy, liberty, and the benefits of both are laid out in two of his works; On Liberty, and Considerations on Representative Government.
What does he have to tell us?
While Mill agrees that the unwashed masses should not have absolute power, in Considerations on Representative Government he argues for a giving the votes of the educated more weight than anybody else's; he counters Socrates' idea of the philosopher king with an observation on what happens to the citizens of a "good" despotism. Seeing the society they would rule as being:
"One man of superhuman mental activity managing the entire affairs of a mentally passive people. Their passivity is implied in the very idea of absolute power. The nation as a whole, and every individual composing it, are without any potential voice in their own destiny. They exercise no will in respect to their collective interests. All is decided for them by a will not their own, which it is legally a crime for them to disobey. What sort of human beings can be formed under such a regimen? What development can either their thinking or their active faculties attain under it?"
The population living in a despotic society would be reduced to unthinking drones who need only enough mental capacity to get their daily chores done. Only a democracy can produce citizens capable of enough cognitive power to maintain a democracy, argues Mill, by requiring them to use that mental ability. He notes with envy that while the typical English voter only had to be prepared to vote and serve on a jury, the typical Athenian had to be ready to serve in nearly any office that existed. Mill sees this as a mostly good thing, as it requires the Athenian to be more fully developed as a person in order to fill those roles.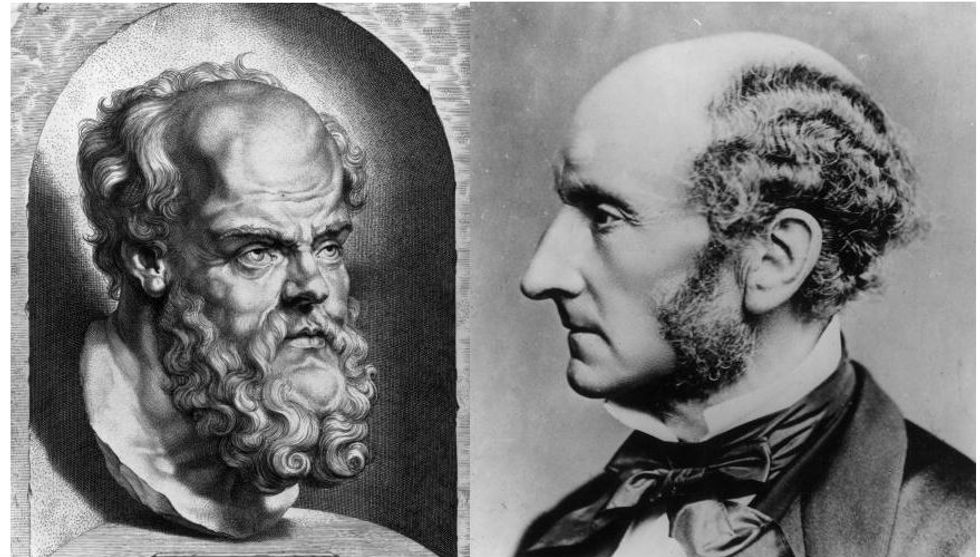 Could a Socrates have been produced in Sparta? Mill thinks not, despite Socrates' praise for the Spartan government. 
Democracy is great and all, but why is freedom good?
In On Liberty, Mill argues that we all need the freedom to choose our lifestyles. This is vital, as without this liberty people will be stifled and unable to explore new ideas, make discoveries, and fully develop as people. In a society where we must all follow the same religion, value the same things, and enjoy the same hobbies, individualism can never flourish. Mill sees this as a horrible situation, explaining that:
"It is only the cultivation of individuality which produces, or can produce, well developed human beings." and "In proportion to the development of his individuality, each person becomes more valuable to himself, and therefore capable of being more valuable to others."*
In Considerations on Representative Government, he notes that the best defense of liberty is an active population working inside of a democratic system. Mill allows us to connect the dots. Only a democratic government can safeguard freedom, and only a free society can hope to promote the development of the individual. The development of the individual is both good by itself and as a means to other ends. We, therefore, need democracy to help individualism and self-development to flourish and the world to progress.
But democracy can lead to such dangerous outcomes! Look to Athens and their mob!
Mill understands that people might make bad choices when they vote. However, he points out that the United Kingdom and the United States of the 19th century were doing rather well compared to the authoritarian states of Eastern Europe and Asia. He also reminded us that Athens, even with occasional lapses in judgment, produced much greater men than did any of the other Greek city-states. Liberty gives positive results, so it seems.
So, was Socrates just wrong about everything?
It is important to remember, however, that Mill was a progressive. He saw the march of history as moving ever forward and the ideal society as one that understood this progress was possible and promoted it. The ancient Greeks were interested in harmony, and in the Republic Plato built a utopia that would remain harmonious for the longest time possible. They even went so far as to define justice as harmony between parts of the whole, both for people and cities. The goals of Mill and Socrates differ considerably, and this must be remembered when comparing their worldviews.
Socrates offers us some excellent critiques of democracy. The problem of properly educating the voters, the threats of demagoguery, and the insistence that the people with direct power should be enlightened are all valuable insights. However, Mill shows us how democracy, flawed as it may be, offers us the best opportunity for growth as individuals and as a society. If, of course, we are willing to do what it takes to make democracy work.
*Mill was a utilitarian. He firmly believed that democracy and freedom lead to better outcomes and more happiness than tyranny. A common objection to utilitarian endorsements to democracy is that if it could be proven that oppression leads to better results, we would be morally obligated to institute that instead. Mill does dodge this problem, somewhat, by placing a high value on individualism. A high enough value, perhaps, to always make the math come down on the side of liberty. If this solves the problem or not is another issue. 
One of the stranger philosophies currently enjoying a renewal of interest is also that of your favorite group of magical space wizard monks.
One of the most iconic elements of the Star Wars universe is the Force. That mysterious energy field that permeates the galaxy, which all lifeforms interact with but only a rare few can harness. It gives the science fiction series a mystical punch and serves to make our heroes a little more compelling. Not merely action heroes, they have a deeper connection to the cosmos they protect.
The philosophies that surround the force keep nerds up at night. Books have been written detailing both the ideas of the Jedi and Sith orders. In the films, the Jedi approach to the Force is often explained to those who have never heard of it before. Their idea is that a living force connects everything in existence, that affects all of us and can be manipulated by some individuals. It is aware of changes in the cosmos and strives to balance itself as though it were alive and thinking.
There is a name for this philosophy in real life, panpsychism.
Panpsychism is the idea that everything in the universe has some consciousness or that consciousness is a fundamental part of matter. It has precedents going back to before recorded history, and Thales, the first philosopher, hinted at it when he said: "Everything is full of gods." Other thinkers have had similar ideas throughout history, including Plato, Leibnitz, Spinoza, and Bertrand Russell. Despite the spiritual overtones of the philosophy, it has had its supporters among scientists as well.
Arthur Eddington was a British astronomer and philosopher of science; he is most famous for confirming the existence of phenomena predicted by the theory of Relativity. Eddington realized that while physics can tell us how matter will behave it cannot tell us what the nature of matter is. He concluded that as we can only know how the nature of the matter that makes up our brains and that it is conscious, it is simplest to presume that the matter outside our brains is somehow aware as well. 
He argued that all matter had some form of "mind stuff," explaining that:
"The mind-stuff of the world is, of course, something more general than our individual conscious minds... The mind-stuff is not spread in space and time; these are part of the cyclic scheme ultimately derived out of it... It is necessary to keep reminding ourselves that all knowledge of our environment from which the world of physics is constructed, has entered in the form of messages transmitted along the nerves to the seat of consciousness... Consciousness is not sharply defined, but fades into subconsciousness, and beyond that, we must postulate something indefinite but yet continuous with our mental nature... It is difficult for the matter-of-fact physicist to accept the view that the substratum of everything is of mental character. But no one can deny that mind is the first and most direct thing in our experience, and all else is remote inference."
The idea that all matter might have some awareness is increasingly popular in analytic philosophy, as it does provide some answers to problems in understanding consciousness. Specifically, the "hard" problem of consciousness is addressed. That issue, the question of how consciousness can arise from unconscious matter, is quickly solved when you treat all matter as having some awareness. There are detractors, however. They often point out the difficulty in taking seriously the idea that your sofa has some form of consciousness.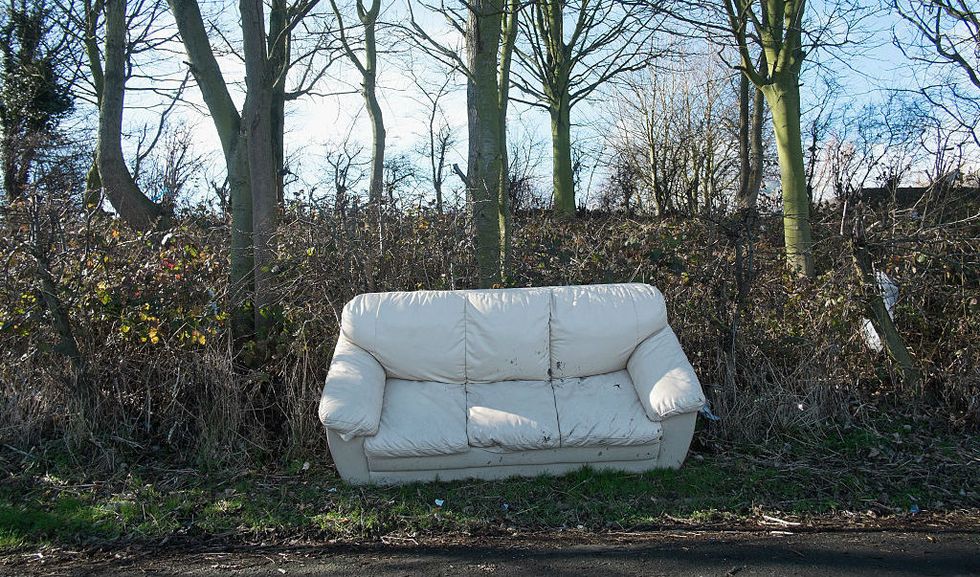 The sofa, however, takes your rejection very seriously. 
How do the Jedi use this Philosophy?
While only some things, notably Force-sensitive characters, can manipulate the Force; every object in the universe appears to be able to interact with the Force. Luke Skywalker can interact with all sorts of objects using the force despite those objects not being able to do likewise.  The Jedi understand that they share their interaction with the Force with the entire galaxy, but also know that they, as force sensitives, interact a little differently than others.
This is not fundamentally different from how a panpsychist would understand their existence. They grasp that they are more conscious than a rock, but know that the rock has some potential for awareness as part of its essence. They share awareness in common, just as both Luke and the stones he moves on Dagobah are equally surrounded and embraced by the Force.
A view of panpsychism remarkably similar to the Force was proposed by physicists Bernard Haisch and Gregory Matloff. They suggest that consciousness is produced and transmitted through space and that any system that has a certain size or energy output could generate and emit consciousness. Their outlandish theory suggests even that stars choose to move by electing to emit a jet of hot gasses. The idea, if correct, would make all large or energetic objects in existence mentally aware, in some sense. Significant changes in such systems would then be felt elsewhere, a "disturbance in the force" if you will.
Panpsychism is a radical, bizarre, and quite plausibly accurate philosophy. The idea that all matter is somehow aware staggers the imagination. The idea that some of our favorite heroes understand and fully embrace such a view is even more incredible. But, despite its strangeness, panpsychism continues to attract supporters in the scientific and philosophic communities. Remember to keep an open mind on such strange ideas, and may the Force be with you.
There is a philosophical way of looking at the current arguments to remove Confederate statues, and it's one that dates back to Ancient Greece.
A statue of Confederate general Thomas Jonathan 'Stonewall' Jackson, and a statue of the philosopher Plato.
A great deal of trouble and debate has recently taken place around monuments to Confederate leaders and soldiers in the United States. Both sides have a well-explained position. Supporters of the monuments offer defenses ranging from "Heritage not Hate" down to a frank acceptance, and appreciation, of the avowed white supremacy of the Confederate States of America. Opponents of the monuments cite that exact white supremacy and history of oppression as a reason to demolish the statues.
It has been suggested by prominent figures that the campaign to remove statues because of the sins of history will have no end, with offending images being found everywhere. Today it will be Robert E. Lee, tomorrow Washington, the next day we might find reason to hate Lincoln. To prevent the descent into revisionist madness, we must stop it before it starts and leave them all standing—so the argument goes.
However, there is a philosophical way of looking at the current arguments to remove Confederate statues. It's one that dates back to Ancient Greece and suggests that it is not mere revisionism.
In the classic work The Republic, Plato attempts to describe what justice is through an extended study of the ideal city and how it relates to a just man. While his conclusion is not what interests us here, there is one segment, on the decline of the ideal state into tyranny, that does. Plato did not see utopia as the end of history as we do, but rather as subject to decay and only a momentary thing. Since his city-state started out as perfect, any change is for the worse, but it is the inevitability of change that is relevant to us. He has Socrates explain the nature of the changes to a debate partner in this dialogue: 
"The accumulation of gold in the treasury of private individuals is the ruin of timocracy; they invent illegal modes of expenditure; for what do they or their wives care about the law?"

"Yes, indeed"

"And then one, seeing another grow rich, seeks to rival him, and thus the great mass of the citizens become lovers of money."

"Likely enough."

"And so they grow richer and richer, and the more they think of making a fortune the less they think of virtue; for when riches and virtue are placed together in the scales of the balance, the one always rises as the other falls."

"True."

"And in proportion as riches and rich men are honored in the State, virtue and the virtuous are dishonored."

"And what is honored is cultivated, and that which has no honor is neglected."

"That is obvious."

"And so, at last, instead of loving contention and glory, men become lovers of trade and money….
Here, he shows that what is valued in any place inevitably changes over time and that those new values lead to fundamental changes in society. In this case, the increased love of money, and reduced emphasis placed on virtue and vice, leads the aristocratic city-state to become an oligarchic plutocracy. This love of money begets itself, as "what is honored is cultivated."
This thought is the key to understanding the current debate over Confederate monuments. A statue is an object of art and history, but also of honor. Many names in history have no statues, and the decision to devote resources to producing one means that this person, above all others, is supposed worthy of having a statue. Times, tastes, and values change, and people who were once deemed destined to have a place of honor are sometimes cast aside. With them go their monuments.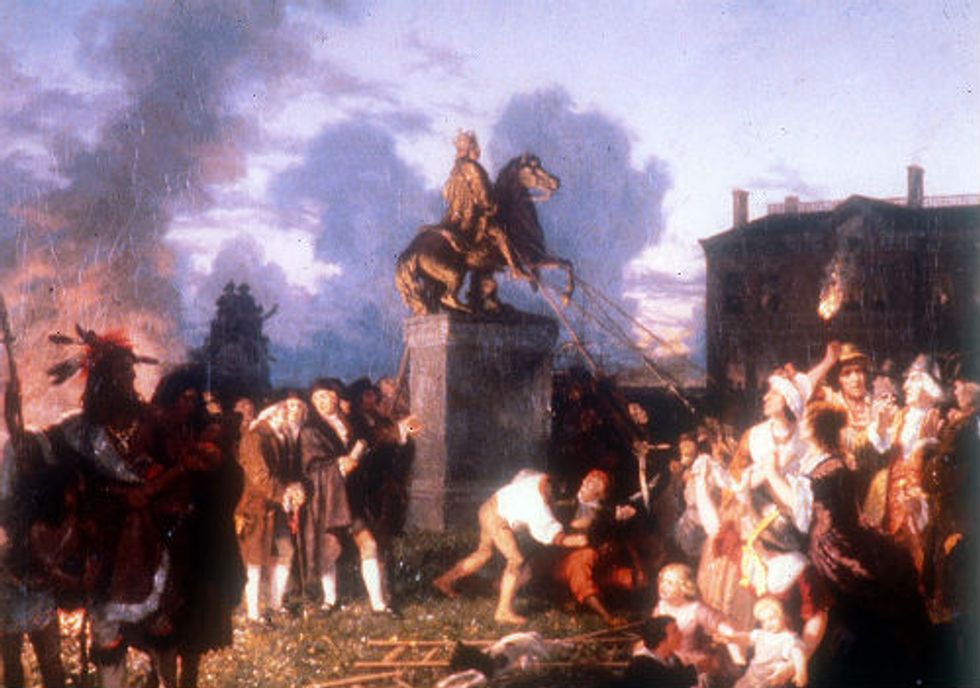 American Revolutionaries removing a statue of George III, as depicted by Johannes Adam Simon Oertel.
This same principle, "what is honored is cultivated," is applied in Germany on bans on Nazi imagery. There are no public statues praising Hitler remaining in Berlin, and many sites which were deemed likely to be used as shrines to fascism were demolished or severely altered to prevent that honor from ever materializing. Austria took bold steps this year in the same direction. This same motivation was cited by the University of Texas at Austin in its recent decision to remove its Confederate statues. With university president Greg Fenves saying, "We do not choose our history, but we choose what we honor and celebrate on our campus."
A notable image of regime, or cultural, change is always the toppling of old monuments to ex-leaders, and it happens everywhere. Rarely are such people accused of trying to re-write history. They are more often praised for taking control of their future. The Germans remember the Nazis, and the Ukrainians remember Stalin. They just don't have so many statues honoring them in parks anymore.
On a more positive note, there are countless examples of people being images of honor in a society to show that they are noteworthy. Franklin Delano Roosevelt, who founded the March of Dimes, was placed on the dime shortly after his death. Seattle has a statue dedicated to its greatest native guitarist, Jimi Hendrix. Serbia's greatest scientist, Nikola Tesla, adorns the 100 Dinar note. These great men, seen as worthy of emulation for charity, artistic skill, and scientific achievement, are showcased. The list of similar selections goes on and on—and in the future will grow to include more female icons, another shifting cultural value.
The current movement to dismantle Confederate statues then, from the perspective of Plato, is part of the natural evolution of what is valued in a society. What those values are, and if they are good ones, is another question. What is not questioned is that a society desires and values some things above others and that steps will be taken to promote them. Is rebellion against Lincoln still to be held dear? Perhaps, perhaps not, but it is inaccurate to say that people wish to erase disappointing history; Plato would say they seek to promote what they value. A natural, and perhaps inevitable thing. 
Can philosophy give you true understanding about life, the universe, and everything? Sometimes it Kant.
Philosophy provides a new way of looking at the world and exploring ideas that otherwise might be too heavy, or too big, to comprehend. It's a lot better than the alternative—which is willful ignorance and throwing your hands up in the air and saying "I guess it's all part of a masterplan!". And while this incongruity between the philosophically minded and the more deity-inclined can create some major cultural hiccups, there's at least some semblance of both sides searching for the same thing. Philosophy, Kitcher argues, may not ever give us the ultimate solutions to all the big questions in life. But it does put us in the driver's seat and give us control.
How did our world come to be ruled by a view of human nature that contradicts the testimony of much of history, and the bulk of the arts, and your daily experience? Mathoholics are to blame.
Illustration by Julia Suits, The New Yorker cartoonist & author of The Extraordinary Catalog of Peculiar Inventions
1. History will puzzle over our era's ruling faith in rationalism. Behavioral economics is shaking that faith but as Nick Romeo notes, Plato described "cognitive biases" ~24 centuries ago.
2. And Plato is far from alone. Hasn't every realistic writer described humanity's everywhere-evident cognitive foibles? Except some math-obsessed economists?
3. Doesn't history, and the arts, and daily experience, testify against those hyper-rational individualists of econo-models?
4. For instance, here's Shakespeare on confirmation bias: "Trifles light as air / Are to the jealous confirmations strong / As proofs..."
5. The gist of many cognitive biases shouldn't surprise non-economists ("a bird in the hand is worth two in the bush" = "loss aversion").
6. Daniel Kahneman's cognitive-bias-cataloging Nobel involved studying grandmotherly wisdom (every psychologist knows we're "neither fully rational, nor completely selfish").
7. Beyond the fun of footnoting philosophy-founding dialogues with cognitive biases, Plato would have laughed at econo-rationalism.
8. And Plato saw money-lust as enslavement to irrational impulses (now driving mindless market priorities).
9. He knew we're irrationally persuadable. He hated sophists for teaching how to sell seductive surfaces over substance (marketing over product). Marketing, obviously, has always used cognitive biases (under-theorized).
10. Even as many economists declare that we're rational optimizers, businesses operate on the profitable principle that there's an easily manipulable fool born every minute.
11. But Plato abetted modern rationalism's rise by popularizing math-lust. 2,000 years later "falling in love with geometry" was an Enlightenment "occupational hazard." And today similar math-worship (for algebra + stats) drives economists to irrational math-oholic fantasies.
12. Largely unnoticed is how Plato's dialogues dramatize the shortcomings of "cognitive individualism."
13. Social cognition research shows that "individual knowledge is always remarkably shallow"—>"we never think alone."
14. Isn't it self-evident that we evolved to reason socially? Thinking, like every other significant aspect of human nature, evolved collectively and tribally (not econo-individualistically).
15. Intriguingly, while "confirmation bias" worsens solo thinking, it can improve group reasoning (other cognitive perspectives countering your biases—>don't think alone, or with cognitive clones).
16. Countering cognitive individualism is how science succeeds (bias-balancing processes).
17. That famed-science-institution motto "take no man's word for it," also applies to your own word. Feeling sure that you're right often isn't a reliable intuition. We fall in love with ideas and methods and become blind to our beloved's faults.
18. Math-method-loving economists strengthen faith in rationalism by routinely excluding "obvious empirical" facts if they're not equation friendly. This "equation filtering" begets "theory-induced blindness" (field-wide method-level bias).
19. This math-fashioned folly must misrepresent us for its beloved math model-making to work. Arguing that models, like maps, must exclude details, fails because here we're ignoring known roadblocks. There's no efficient-allocation market nirvana without rationally optimizing masses.
20. Beyond the matho-pathology of unbehavioral economics, misplaced faith in rationalism enabled Donald Trump's presidency. He grasps empirical psychology better than many rationalists. Every salesperson knows persuasion isn't factual or logical, but unavoidably emotional, and trust-dependent (see Aristotle on ethos, pathos, logos).
21. Ways of life that deny our deeply limited, deeply flawed, deeply social nature are doomed to history's dustbin.
Illustration by Julia Suits, The New Yorker cartoonist & author of The Extraordinary Catalog of Peculiar Inventions