A study looks at how to use nuclear detonations to prevent asteroids from hitting Earth.
Credit: Adobe Stock
Researchers studied strategies that could deflect a large asteroid from hitting Earth.
They focused on the effect of detonating a nuclear device near an asteroid.
Varying the amount and location of the energy released could affect the deflection.
Large asteroids don't tend to hit Earth very often. But when they do, major cataclysms result. Remember the dinosaurs?
Add to this the fact that since 1998, scientists have detected about 25,000 near-Earth asteroids, while in 2020 alone, a record 107 of them came closer to our planet than the distance to the moon. With so many asteroids floating by, protecting our planet from impacts by these giant space bodies is an existential priority.
To prepare for the day when an asteroid will be heading our way, a joint study published in Acta Astronautica from the Lawrence Livermore National Laboratory (LLNL) and the Air Force, looked at how to use neutron energy output from a nuclear blast to deflect such a threat.
The scientists devised sophisticated computer simulations to compare strategies that could divert an asteroid 300 meters in diameter. In particular, they aimed to identify the effects of neutron energies resulting from a nuclear "standoff" explosion on the space rock's path. (A standoff detonation involves detonating a nuclear device near a space object — not on its surface.) The goal would be to deflect the asteroid rather than blow it up.
Detonating a nuclear device near an asteroid deposits energy at and below the surface.Credit: Lawrence Livermore National Laboratory
The researchers understood that they could affect an asteroid's path by changing the distribution and strength of the released neutron energy. Directing the energy could influence how much melted and vaporized debris could be created and its speed, which in turn would alter the asteroid's velocity. As the authors write in the paper, "Changing the neutron energy was found to have up to a 70% impact on deflection performance."
The scientists see their work as a stepping stone in continuing research into how best to protect our planet. They plan to devise further simulations in order to comprehend more precisely the energy spread needed for the deflection strategy to work.
Lansing Horan IV led the research, while getting a nuclear engineering master's degree at the Air Force Institute of Technology (AFIT) in a program with LLNL's Planetary Defense and Weapon Output groups. Horan explained that their team decided to zero in on neutron radiation from a nuclear blast because neutrons are more penetrating than X-rays.
"This means that a neutron yield can potentially heat greater amounts of asteroid surface material, and therefore be more effective for deflecting asteroids than an X-ray yield," he shared.
Another possible strategy for getting rid of an asteroid threat would be through so-called disruption. It essentially involves blowing the asteroid up, breaking it into tiny fast-moving pieces. Most of these shards should miss the Earth but around 0.5% could make it to the surface. The strategy does seem to have some drawbacks, however, if a larger asteroid came close to Earth. Exploding something like that could create a significant amount of calamity for the planet even if the whole asteroid didn't graze us.
Horan thinks disruption may be more appropriate as a last-minute tactic "if the warning time before an asteroid impact is short and/or the asteroid is relatively small."
Deflection is ultimately safer and less likely to produce negative consequences as it involves a smaller amount of energy than it would take to explode it. Horan said that over time, especially if we detect and deflect asteroids years before impact, even small changes in velocity should make them miss Earth.
While some may be understandably worried about using nuclear blasts close to Earth, Hogan sees it as something that may have to be considered in situations when time is of the essence.
"It is important that we further research and understand all asteroid mitigation technologies in order to maximize the tools in our toolkit," Horan elaborated. "In certain scenarios, using a nuclear device to deflect an asteroid would come with several advantages over non-nuclear alternatives."
One such scenario would be if there's not enough warning and the approaching asteroid is large. In that case, a nuclear detonation might be "our only practical option for deflection and/or disruption," proposed the scientist.
No amount of "brute force" would make stop such a storm, experts say.
Image source: National Nuclear Security Administration / Nevada Site Office
Donald Trump reportedly has asked about nuking hurricanes a few times, but denied it on Twitter.
The idea has been around for a while, even though it's proven to be useless and incredibly dangerous.
Hurricanes let off more heat energy than dozens of nuclear bombs combined and there would be no way to stop the radiation from spreading if anyone ever tried nuking one.
U.S. President Donald Trump has reportedly suggested nuking hurricanes in an attempt to stop them. Axios first broke the news that Trump made the suggestion more than a few times in private meetings.
According to Axios, their source told them: "During one hurricane briefing at the White House, Trump said, "I got it. I got it. Why don't we nuke them?' They start forming off the coast of Africa, as they're moving across the Atlantic, we drop a bomb inside the eye of the hurricane and it disrupts it. Why can't we do that?"
Trump has denied he's said this a few times.
The idea to bomb or nuke hurricanes is surprisingly something that was considered in the mid-20th century. Scientists have routinely had to give explanations on why nuking a hurricane is a horrible idea.
This "solution" flies in the face of what's actually causing more intense hurricanes — climate change. Indeed, from the beginning of June until late November, the Atlantic hurricane season really picks up. It has only gotten worse in the past few decades due to an increasingly warmer ocean temperature.
You can't nuke a hurricane 
Today, hurricane modification is resigned to the scientific fringes. In the 1960s and '70s there was more of a concentrated effort and vibrant research community studying how to weaken cyclones. Nuclear bombardment was one of those options.
Government scientists first postulated the idea sometime in the 1950s, but it was soon taken less seriously after they realized the dangers of radiation contamination.
Today, the National Oceanic & Atmospheric Administration (NOAA) actively keeps a webpage dedicated to debunking this inquiry. They state that nuclear weapons might not even have any effect on altering the storm and that "radioactive fallout would fairly quickly move with the tradewinds to affect land areas."
Not to mention, there would need to be an absurd amount of energy required to match a hurricane's strength. Heat released from a hurricane is equivalent to a 10-megaton nuclear bomb exploding every 20 minutes.
Their statement adds:
"The task of focusing even half of the energy on a spot in the middle of a remote ocean would still be formidable. Brute force interference with hurricanes doesn't seem promising. . . . Attacking weak tropical waves or depressions before they have a chance to grow into hurricanes isn't promising either."
The U.S. government used to run an experimental program aimed at curbing hurricanes by misting them with particles of silver iodide. This too, was deemed to be implausible. There are a number of environmental consequences that come with attempting to stop a hurricane. The aforementioned iodide spray could coat the ocean with millions of pounds of a soot-like substance and create problems for people downwind.
Radioactive risk is too high
International law prohibits the use of nuclear weapons for non-military purposes if it exceeds 150 kilotons. This is part of The Peaceful Nuclear Explosions Treaty, which was ratified by the United States in 1990.
While there is little data on the effect radiation has on ocean marine life, scientists have found that after the Fukushima nuclear incident of 2011, there was significant levels of radioactivity in the ocean. There was the potential that radioactive plankton could be washed through the rest of the world through sea currents.
The last thing we need is more nuclear mishaps, such as the catastrophe currently unfolding in Russia.
There is a much less dramatic — bombastic — way to curb the intensity of hurricanes. And that is to minimize the effects of climate change, such as focusing our efforts on clean energy.
New findings show that Russian explosion was from a nuclear reactor.
Image source: Thomas Nilsen
Nuclear experts confirm that the Russian explosion that occurred earlier in August was likely from a nuclear reactor.
Rapidly decaying radioactive isotopes were found in the surrounding area.
A number of independent researchers confirmed the findings.
In the aftermath of the mysterious nuclear explosion at a Russians weapons site, more details are beginning to emerge regarding the spread of radiation. With very limited news from the Russian state-run media channels, experts and whistleblowers alike are now confident that the explosion was in fact from a nuclear reactor.
The deadly blast emanated from the Nyonoksa military weapons range, where it released a cloud of radioactive gasses that swept into nearby towns, among them Severodvinsk. The state weather agency confirms that there was a mix of decaying radioactive isotopes found, that consisted of strontium-91, barium-139, barium-140, and lanthanum-140, all of which have half-lives that degrade in a time range from 83 minutes to 12.8 days.
Joshua Pollack, editor of the Nonproliferation Review and leading expert on nuclear and missile proliferation told Business Insider that, "These are fission products. If anyone still doubts that a nuclear reactor was involved in this incident, this report should go a long way toward resolving that."
Russia has a long history of negating or blatantly ignoring these nuclear accidents. Now experts believe that there is enough data to evince this was a nuclear reactor explosion. While government officials have stayed tight-lipped, the facts have been slowly leaking out.
Russia's continual nuclear coverups
The initial August 8th blast killed five scientists with an additional spike in radiation levels. It took a few days before Russia admitted any nuclear materials were involved. Russian media channels initially reported that the explosions were due to a liquid propellant jet engine. Western scientists and other officials were quick to doubt this statement.
Russia's nuclear agency, Rosatom, eventually announced that the specialists killed in the accident were developing new kinds of weapons with an isotope power source.
A string of unethical things happened following the accident. An independent newspaper, The Moscow Times reported that doctors who treated engineers hurt during the explosion were not told their patients were covered in radioactive material.
Additionally, in the aftermath of the explosion, several nuclear monitoring stations in Russia cut out and went offline. It was reported that doctors were forced to sign nondisclosure agreements, while some hospital records were also destroyed. One doctor even found cesium-137 in his muscle tissue, which Russian media channels quickly dismissed.
These set of facts suggest a cover-up job, something of which Russia has a long history of initiating.
Courageousness of whistleblowers
If it wasn't for scattered Russian social media posts showing first responders in hazardous material protection suits and a handful of heroic experts uncovering the facts, this crucial information might have slipped through the cracks.
Norwegian nuclear safety expert Nils Bøhmer is confident that the new information removes any doubts. Speaking with The Barrents Observer, told reporters that, "The presence of decay products like barium and strontium is coming from a nuclear chain reaction. It is a proof that is was a nuclear reactor that exploded."
He explains that the mixture of short-lived isotopes wouldn't be there if Russian authorities were only using a regular propellant engine with just an "isotope source."
Russia has been known to be testing two types of weapons systems which could include a nuclear reactor: both the Burevestnik cruise missile and Poseidon underwater drone may fit the bill.
Alexander Uvarov, editor of independent news site AtomInfo.ru also spoke out and told news agency RIA Novosti that these isotopes are byproducts of nuclear fission which involved uranium.
Health issues from nuclear fallout  
Yuri Dubrova an expert on the effects of radiation on the human body also spoke with The Moscow Times. Dubrova said that patients brought into the hospital after the nuclear incident most likely had a high dose of nuclear isotopes on their skin.
Since not all the facts are straight, there's no way to determine how many doctors or immediate residents were affected by the high doses of radiation.
"If the dosage wasn't very high, the person should be able to fully recover within a week if they are given clean food and water. Exposure to Caesium-137 is quite preventable — all you need to do is wash the patient really well. But the doctors were made vulnerable to radiation because they hadn't been told what had happened," he said.
After Russia's consumer safety watchdog Rospotrebnadzor and the Emergency Situations Ministry inspected the hospital a few days later, it was declared safe.
It looks like a potential Chernobyl situation has been narrowly missed. It'll be important for experts to monitor the situation as we glean more information and continually stay vigilant to ensure Russia is held accountable for these potentially cataclysmic nuclear events.
The times in history when science was deadly and dangerous.
A masked ecologist militant is pictured with a barrel falsely contaminated during a demonstration against nuclear energy near the Tricastin nuclear power plant run by Areva in Bollene, southern France, on November 25, 2011, during a visit of France's Pres
Science is a force for good in our world, improving lives of people all across Earth in immeasurable ways. But it is also a very powerful tool that can become dangerous in some situations. Especially when it gets entangled in politics. At other times, science's inherent ambition to push boundaries of what is known can also lead to some heart-stopping moments. 
The following list is in no way exhaustive but gives us a place to start when thinking about the serious responsibility that comes with the march of science.
1. Project MKUltra 
The infamous project MKUltra was CIA's attempt at mastering mind control. The program started in the 1950s and lasted seemingly until 1966. Under MKUltra, often-unwilling subjects were given drugs, especially hallucinogenics like LSD. The people tested were also put through sleep and sensory deprivation, hypnosis, sexual abuse, and other kinds of psychological torture, while some tests proved lethal.
The supposed goal of the project was some combination of chemical weapons research and effort to create mind-controlling drugs to combat the Soviets. 
2. Weaponizing the Plague
The last time plague roamed around, it killed around half of Europe's population, reducing the amount of people in the world by nearly a 100 million during the 13th and 14th century. In the late 1980s, the Soviet Union's biological warfare research program figured out how to use the plague as a weapon, to be launched at enemies in missile warheads. What could go wrong? Besides the plague, defectors revealed that the Soviet bio-weapons program also had hundreds of tons of anthrax and tons of smallpox.
3. The Large Hadron Supercollider 
The Large Hadron Collider (LHC) in Switzerland, built to study particle physics, is the world's largest machine and single most sophisticated scientific instrument. Because of this and the cutting-edge research its involved in, the LHC has prompted more than its share of fears from the general public. It has been blamed for causing earthquakes and pulling asteroids towards Earth.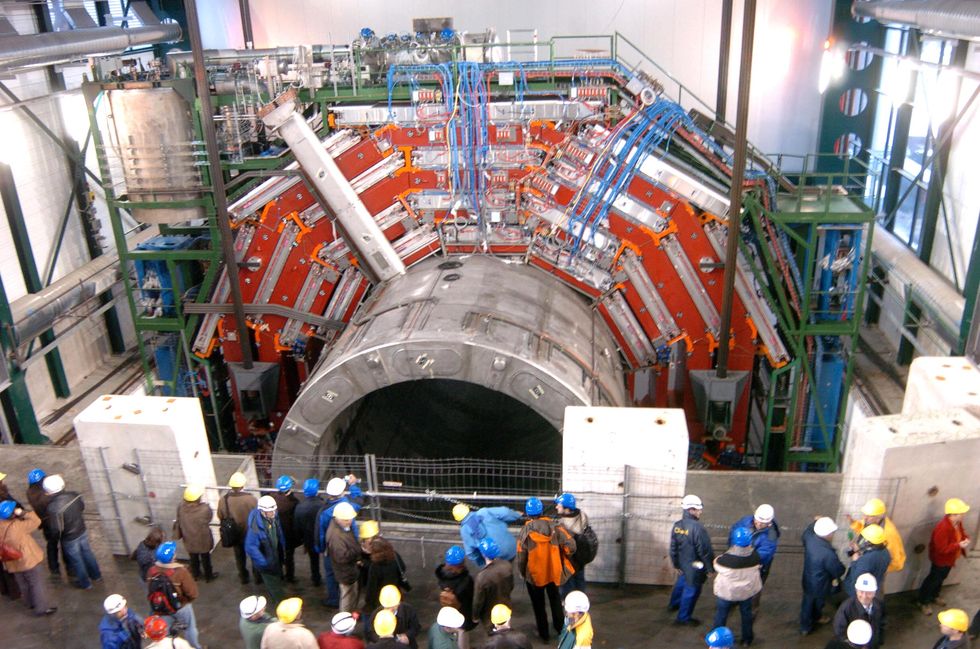 A giant magnet used in the Large Hadron Collider, weighing 1920 tonnes. 28 February, 2007 at the European Organization for Nuclear Research (CERN) in Geneva. (Photo credit: JEAN-PIERRE CLATOT/AFP/Getty Images)
While conspiracy theories around the LHC have generally been disproven, it has also been accused of potentially creating black holes that could swallow Earth, a possibility that was curiously not completely discounted by the CERN, the organization running the collider. 
CERN claimed the LHC is not dangerous, but also acknowledged that some type of black hole could be created. 
"The LHC will not generate black holes in the cosmological sense. However, some theories suggest that the formation of tiny 'quantum' black holes may be possible. The observation of such an event would be thrilling in terms of our understanding of the Universe; and would be perfectly safe," said CERN's statement.
A quantum black hole would be tiny. Don't you feel better?
4. The Tuskegee Syphilis Experiment
A government-funded "study" from 1932-1972 denied treatment for syphilis to 399 African American patients in rural Alabama, even as penicillin was found to be effective against the disease in 1947. The patients were actually not told they had syphilis, with doctors blaming their "bad blood" instead and given placebos.
The goal of the experiment, carried out by the U.S. Public Health Service, was to study the natural progress of syphilis if left untreated. 28 of the people in the study died directly from syphilis while 100 died from related complications.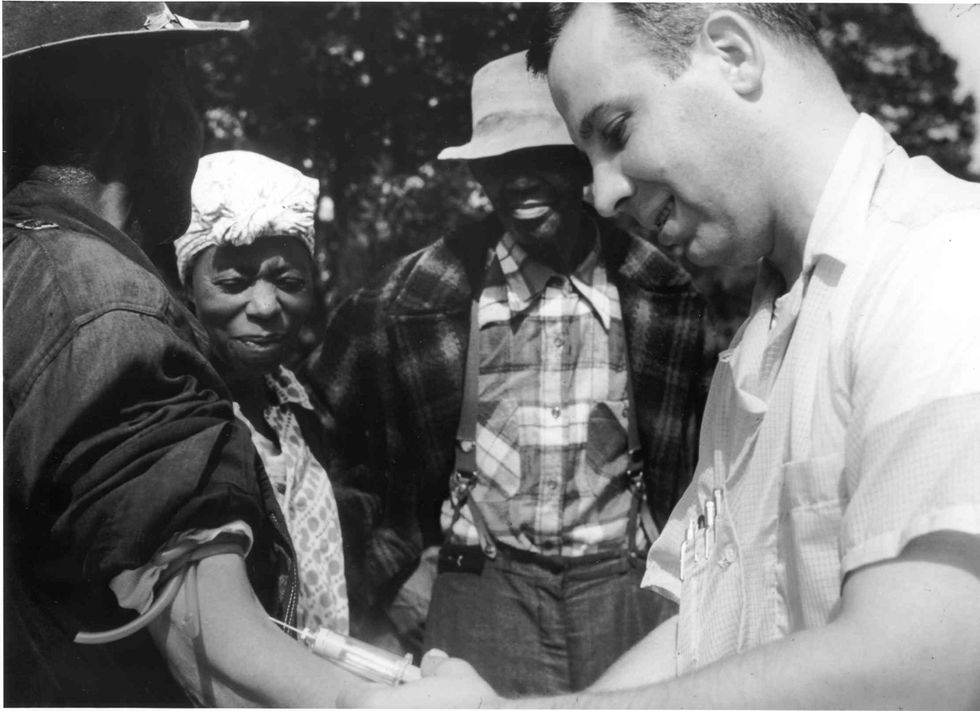 Doctor drawing blood from a patient as part of the Tuskegee Syphilis Study. 1932.
5. Kola Superdeep Borehole 
A Soviet experiment, started in 1970, sought to drill as deeply as possible into the crust of the planet. By 1994, they bore a 12-km-deep hole into the Kola Peninsula in Russia's far northwest. The record dig provided much scientific data, like the finding of ancient microscopic plankton fossils from 24 species.
While nothing negative happened, there were concerns at the time that drilling so deep towards the center of Earth might produce unexpected seismic effects. Like cracking the planet open.
The hole's site is currently closed. 
6. Guatemalan STD study
This horrid experiment is another instance of the U.S. government causing harm in the pursuit of "science". From 1945 until 1956, around 1500 Guatemalans were deliberately infected with sexually transmitted diseases, including syphilis and gonorrhoea. The subjects included orphans, prisoners, prostitutes and military conscripts. Researchers used disease-infected prostitutes, injections, and other unscrupulous methods to make their subjects sick. 
Subjects of the experiment are currently suing John Hopkins University for $1 billion for its role in the study.
7. The Aversion Project
A medical torture program was instituted in South Africa between 1971 and 1989 to "cure" homosexuality in military conscripts. The policy, carried out under apartheid, included forced "aversion therapy" treatments like electric shock therapy and chemical castration. The army also authorized as many as 900 sex change operations.
It was widely believed in the medical community at the time that homosexuality was a mental illness that could be cured. Dr. Aubrey Levin, in charge of the program as chief psychiatrist of the South African military, was eventually accused of human rights abuse by international organizations and received a prison sentence.  
8. Nazi Concentration Camp Experiments 
Nazis carried out medical experiments on thousands of prisoners in concentration camps, without any regard for human life. Some of their "research" involved purposefully inducing hypothermia, infecting people with malaria, using mustard gas on people, forced sterilization, giving prisoners different poisons, infecting wounds with bacteria and filling them with wood shavings and ground glass.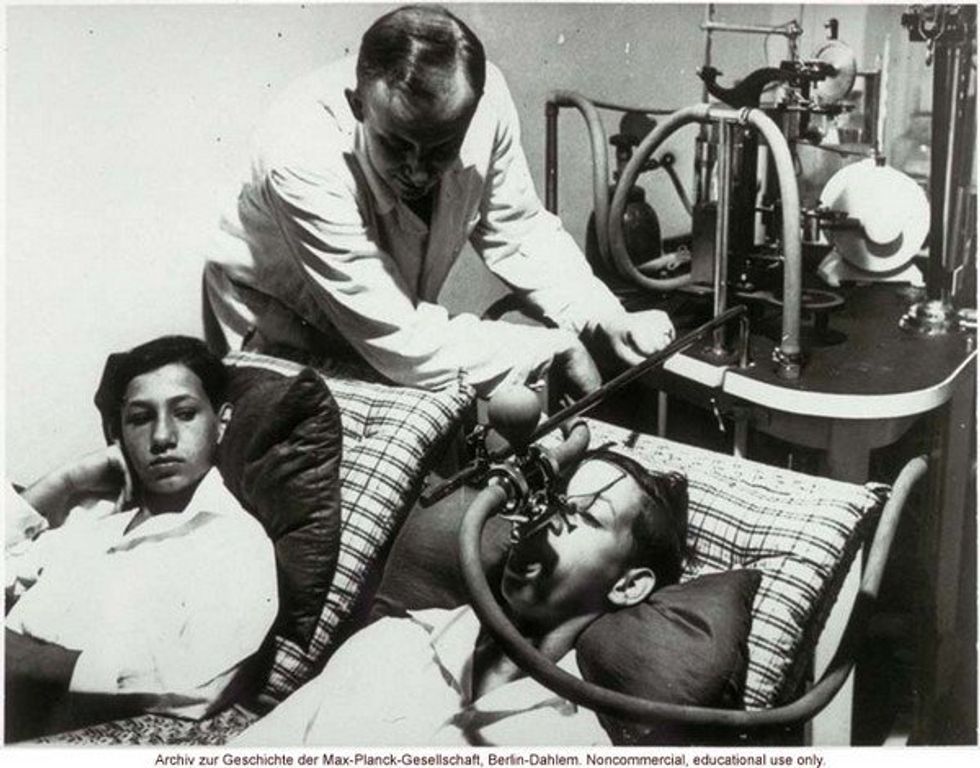 The Nazi doctor Josef Mengele was the prototypical "evil scientist," known for his concentration camp experiments, with a particular focus on twins, mostly Jewish or Roma ("Gypsy"). Supposedly in the interest of studying heredity, the SS physician Mengele was responsible for such atrocities as removing organs from people without anesthetics, injections with deadly bacteria, dismemberment and others.
Not surprisingly known as the "Angel of Death", Mengele collected the eyes of murdered victims for heterochromia research and attempted to prove through experiments the supposed resistance of Jews and Roma to a host of diseases.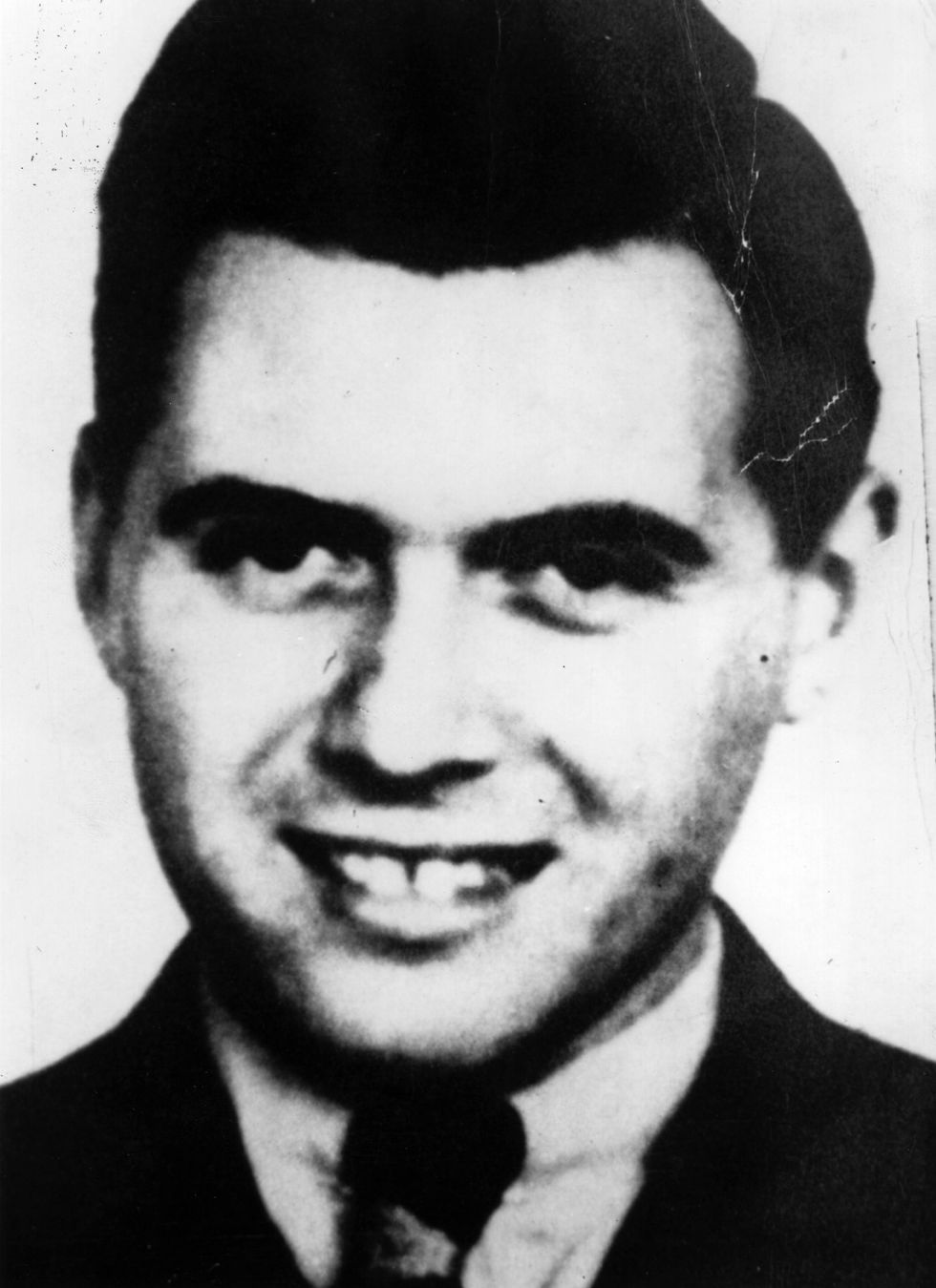 circa 1940: Joseph Mengele, before he became known as 'The Doctor of Auschwitz' and 'The Angel of Death' for his pseudo-scientific experiments on inmates in Nazi death camps. (Photo by Keystone/Getty Images)
9. Unit 731
Unit 731 was a secretive R&D unit of the Japanese Army that carried out horrendous experiments on humans during World War 2. Commanded by General Shiro Ishii, the unit experimented on an estimated 250,000 men, women and children. Most of the victims were Chinese, along with some prisoners of war from Russia and the Allies.
The forced medical procedures involved vivisections - cutting open subjects usually without anesthesia, unnecessary limb amputations, and removal of body organs like parts of brain, liver, lung and others. Victims were also subjected to biological warfare, frostbite testing, forced pregnancies, and even weapons testing by grenades or flamethrowers.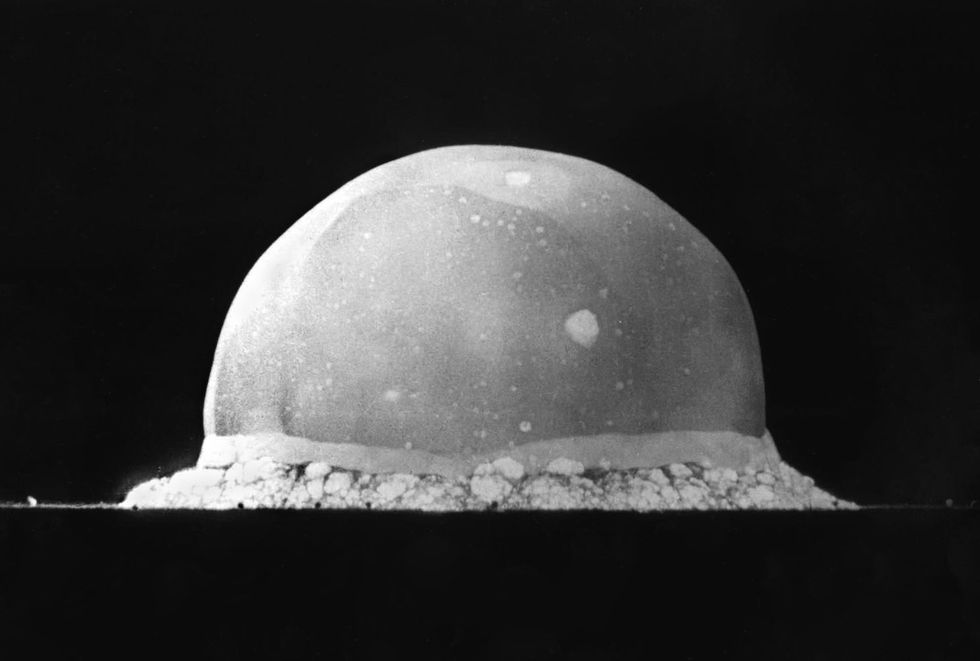 Trinity Site - 0.016 second after explosion, July 16, 1945. The highest point of the cloud in this image is about 200 meters high.
10. The Trinity Test
It's hard not to put the world's first nuclear test on such a list. In the mad rush to develop the atomic bomb and gain a military advantage in World War 2, America instituted the secretive Manhattan Project. This resulted in the Trinity Test, a detonation of the first-ever nuclear weapon in a New Mexico desert on July 16, 1945.
While the scientists were relatively confident in their work, there were some famous doubters who wondered if the bomb would even explode or if it would perhaps cause the end of the world as we know it.
Waiting for the bomb to go off, Nobel Prize-winning physicist Enrico Fermi, wagered others whether the bomb would just destroy New Mexico or the world, potentially setting the Earth's atmosphere ablaze.