For the first time, it was discovered that nonphotosynthetic bacteria have a circadian clock.
Credit: Paulista / Adobe Stock
For the first time, nonphotosynthetic bacteria are shown to have a circadian clock.
B. subtilis thrives in the gastrointestinal tracts of humans as well as grass-feeding ruminants.
The researchers believe that this rhythm provides bacteria with an advantage.
Despite an ancient warning from the Buddha, we still like to pretend that we're one self—a unified biological animal that persists through time. Sure, we know that our biological processes are dictated by circadian rhythms. What we overlook is that we're really the sum of billions of different components, and some of those "parts" have their own clocks.
The Buddha might not have had a microscope, but his keen insight into human psychology translates well to biology. That's the word from a new study, published in Science Advances, that found the bacterium Bacillus subtilis is run by its own circadian rhythms.
Also known as "grass bacillus," B. subtilis thrives in the gastrointestinal tracts of humans as well as grass-feeding ruminants. You can easily and cheaply purchase bottles of this bacterium as a probiotic due to its supposed immune system-boosting properties. The strain is found in soil, though you probably want to secure it by other means, making it a favorite of supplement companies. The European Food Safety Authority rates it as "Qualified Presumption of Safety."
For this study, the European research team chose B. subtilis thanks to previous observations that, like humans, it seems to follow a 24-hour circadian clock. It also responds to red and blue lights (again, like humans), causing the researchers to believe that it entrains to environmental conditions. The team discovered this by enzymatically inducing bioluminescence in order to stare into this mysterious world.
Lead author, Professor Martha Merrow from Munich's Ludwig Maximilans University, says
"We've found for the first time that non-photosynthetic bacteria can tell the time. They adapt their molecular workings to the time of day by reading the cycles in the light or in the temperature environment."
Zeitgebers are cues (such as temperature fluctuations) that allow biological organisms to synchronize with their environment. In humans, it's what makes us sleepy as the sun sets and raises cortisol levels in our blood a few hours before sunrise. This bacterium appears to maintain a similar clock. Rather than only responding to light and dark, B. subtilis takes cues from temperature drops, hinting at a circadian rhythm.
Although bacteria comprise 15 percent of all living matter, the team notes that circadian clocks have not been identified in nonphotosynthetic bacteria—until now. They note that bacterium such as Rhodospirillum rubrum displays rhythmic processes such as enzymatic activity yet has no apparent circadian clock.
Co-author Dr. Antony Dodd, a researcher in the UK's John Innes Centre, notes:
"Our study opens doors to investigate circadian rhythms across bacteria. Now that we have established that bacteria can tell the time we need to find out the processes that cause these rhythms to occur and understand why having a rhythm provides bacteria with an advantage."
Understanding the survival methods of bacterium clues us in on the long, slow process of evolution. While this new discovery does not state the purpose of the circadian clock in
B. subtilis
, it opens up a new line of research for one of the most perplexing components of human biology: our guts.
--
Stay in touch with Derek on Twitter and Facebook. His most recent book is "Hero's Dose: The Case For Psychedelics in Ritual and Therapy."
Beef, salt, and water is all the Canadian professor eats. Is that sustainable?
TORONTO, ON - DECEMBER 6 - Profile of Dr. Jordan Peterson. The U of T prof at the centre of a media storm because of his public declaration that he will not use pronouns, such as 'they,' to recognize non-binary genders. (Carlos Osorio/Toronto Star via Getty Images)
Jordan Peterson began eating an all-beef diet after his daughter's health problems cleared up.
The human microbiome requires a diversity of nutrients and bacteria, making such a diet questionable in the long-term.
Neuroses caused by elimination diets could prove to be unhealthier than the ailments they purportedly cure.
There's a complex biological system behind our intuition.
An event at Stonehenge. Credit: Getty Images.
You know when that "gut feeling" tells you something? Scientists are now starting to zero in on the origin of that feeling. And yes, you should trust it. Previous research has shown that when it comes to decision-making, going with our gut usually makes for a better outcome than if we go on intellect alone.
For most of Western civilization, it was thought that the emotions were something to master and keep under control. The intellect, since the time of Plato, has held the highest place of esteem. And yet, modern research shows that most of our decisions are made with a mix of emotional and intellectual insights. We tend to rationalize the emotional aspects later on, and ignore altogether an overwhelming number of biases that also lead us to conclusions.
Intuition has been a popular topic among psychological researchers in recent years. Last year, psychologists at the University of New South Wales in Australia, found a way to quantify intuition, and ran a series of experiments on how much "nonconscious emotional information," from the body (or brain), influences the decision-making process.
They had participants interpret a situation. Were white colored dots on a screen moving left or right? Some of the participants encountered subliminal images meant to stimulate their intuitive response. Researchers found that when participants encountered a positive subliminal image, they were more accurate in their interpretations.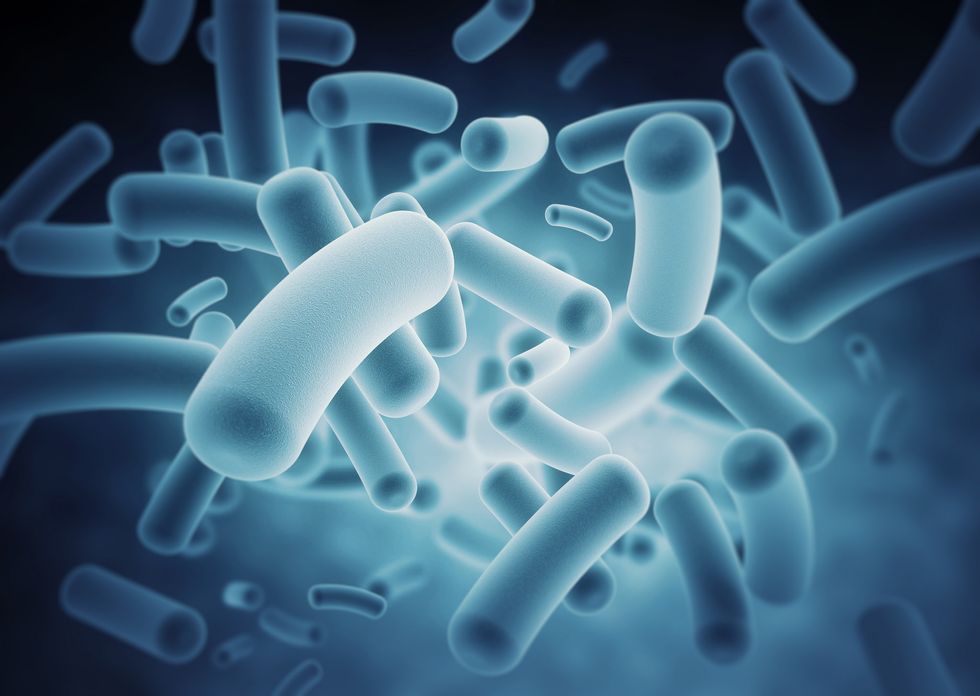 Microflora in the colon may play a role in our intuitive sense. Credit: IBM Research, Flikr.
In this latest study, scientists at the University of Exeter in the UK, looked at how a basic drive, such as hunger, could influence the decision-making process. Their results were published in the journal, Proceedings of the Royal Society B. It seems that our gut can actually "store" memories, and that hunger can trigger a sophisticated series of calculations that make us arrive at a decision, using our intuition or gut—in the literal sense.
This study surrounds computer models set up to see how well an animal could survive in an environment dotted with predators and where food availability fluctuates. Those animals who searched using their cognitive abilities had about the same chance of survival as those who went on gut feeling alone. Prof. John McNamara was the study's co-author. He told Medical News Today, "If it costs a lot of resources to be so clever." As a result natural selection "found a cheaper way to make decisions."
A rabbit in the wild for instance, might be motivated by hunger to eat some clover. But noticing a patch near a wolf, hidden in the tall grass next to the clover, could indicate not only to steer clear, but also help the bunny realize that there hasn't been a lot of food in this area, lately anyway. This would cause it to move on to a completely new territory. Hunger actually jars the memory, which causes the rabbit to be more careful. This doesn't just lend insight into animal behavior but ours as well, according to the study's lead author, Dr. Andrew Higginson.
He said of the findings, "Our model explains why there is [a] link between our gut and our decisions: hunger can act as a memory telling us there's not been much food around, which it's important to respond to in the wild." He added, "The usefulness of such memory means that animals, including humans, may appear to be processing a great deal of information in the brain when in fact they are just following their gut."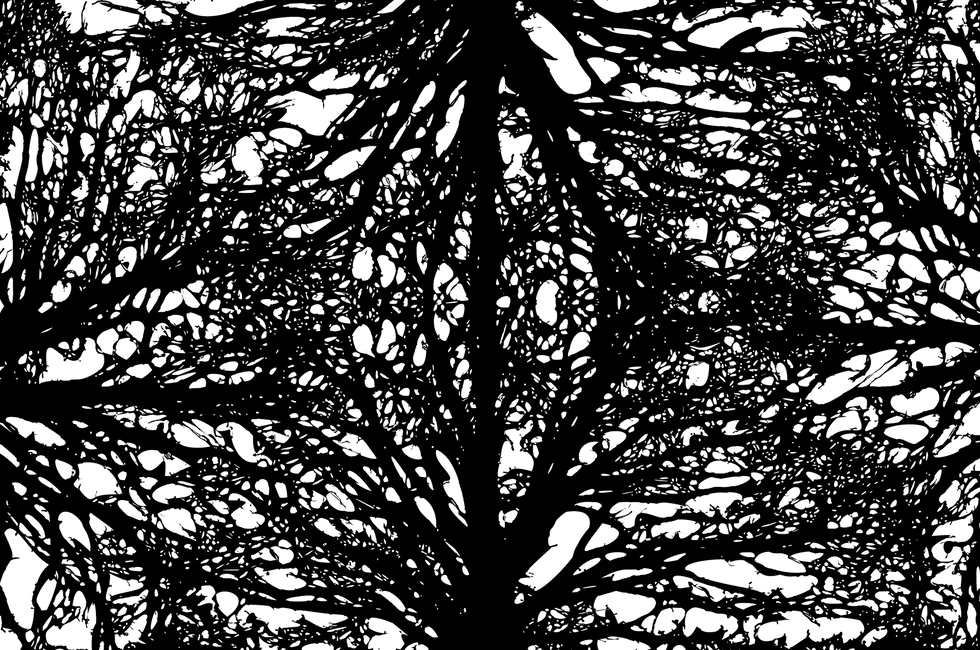 One of two different nerve systems may be the source of intuition or that "gut feeling." Credit: geralt, Pixababy.
Researchers say other feelings may bring up memories "encoded" within an animal or human's gut, in order to aid in decision-making. So where does this come from, biologically? We know that there's an important connection between the microbiome and mental health.
One type of helpful bacteria in the digestive system makes serotonin—the neurotransmitter responsible our sense of well being. Another type produces brain-derived neurotrophic factor (BDNF), which aids memory and learning, by encouraging the formation of new neural connections. Though residing throughout the digestive tract, research has mainly focused on the colonies of the large intestine.
Another possible source is the vagus nerve, one of the longest in the body. While it was originally thought that signals went one way, from the brain to the gut, we now know that signal traffic travels in both directions.
Dr. Emeran Mayer is a professor of medicine at UCLA. He told Smithsonian Magazine that it actually might be gut microflora, interacting in a collaborative way with the vagus nerve and the brain. "The vagal pathway is activated by serotonin released in the gut from cells that respond to signals from microbiota," he said. Could this also be the source of our intuition?
Another potential pathway is the enteric nervous system or "gut brain." This is a system of nerves, considered a single entity, interwoven throughout the esophagus, stomach, and the intestines.
Want to learn more about the biological basis for intuition? Click here:
It's more than just weight gain—it's chronic inflammation and weak immunity.
Photo: U.S. Air Force, Airman 1st Class Grace Lee.
The first two episodes of the Netflix documentary series Rotten touch upon important issues in our relationship to food. The first focuses on the dangers of colony collapse in bee populations as well as international companies filling bottles with ingredients that definitely are not honey. The second deals with food allergies, particularly focused on the largest: peanuts.
While these are distinct issues, two themes weave these stories together. First, the impact of our environment on health. Humans have gone to great lengths to separate from nature. Yet we interact with whatever environment we live within. Effects of sedentary existences lived apart from the planet's rhythms include the slow destruction of our bodies and pretty much every species we come into contact with.
The booming almond industry needs pollinators, which stressed beekeepers (and bees) travel hundreds or thousands of miles to accomplish in California's central valley each season—adding to the stress. Colony collapse is rampant given the diseases these nomadic bees are now sharing. This is but one example of interdependence that we often overlook. No pollination, no honey, no almonds, no—a lot. 
The rapid onset of food allergies over the course of only one generation provides another example of our exile from nature's rhythms. We would never eat foods apart from the environment they were grown or captured within until recently. Industrial monocultures are likely, at least in part, to blame for this stunning increase in any or all of the eight allergens, which leads us to the second theme in these episodes: our microbiome.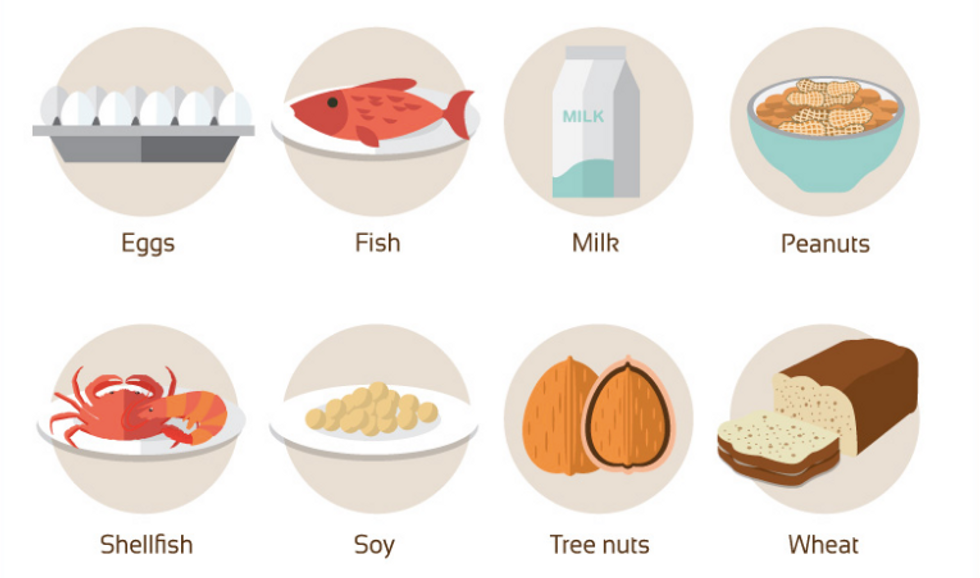 These 8 foods make up 90% of all food allergies in the U.S. Image: Fix.com
The bacteria that live inside of our guts is arguably the most important feature of our entire body. While the brain receives the bulk of praise, scientists have more recently raised an inquisitive eyebrow regarding all the data emerging on the microbiome. The relationship between our nervous system and gut (which has its own nervous system) is exceptionally influential on health. 
Our microbiome also directly interacts with our environment. While Purell has proven beneficial for soldiers in foreign territories, constantly sanitizing your hands weakens your immune system when in home territory. Synopsis: let your kids play in dirt. You play in dirt too. Those bacteria are strengthening.
Yet we have many weird relationships with our environment and the foods we eat, often in the invented cause of "purity." One example is juicing, heralded as the perfect (and profitable) "cleansing" mechanism. Drink juice for five or ten days and your body "resets." But juice is no different than soda, as you've removed the most beneficial part of the fruit: fiber. 
We've long known fiber is essential to our diet, in order to "get things moving." Otherwise known as roughage, dietary fiber is comprised of soluble and insoluble fiber. Both play critical roles in defecation. While too much fiber can cause intestinal gas and bloating, too little, a hallmark of a highly processed diet heavy on sugar, means we'll turn to laxatives instead of eating the fruits, plants, and grains that offer an abundance of it. 
Fiber also reduces the risk of heart disease, arthritis, and diabetes, and has been shown to lower mortality rates. But its role in digestion is particularly important. The food we consume is broken down by enzymes, its nutrients absorbed by our intestines. The molecules we cannot absorb, fiber, either pass through or, as it turns out, become food for gut microbes. 
A recent study published in Cell Host and Microbe investigates mice on a low-fiber, high-fat diet. The gut bacterial population crashed, triggering immune reactions. A similar experiment, published in the same journal, discovers that the effects of a low-fiber diet are wide-ranging: 
Along with changes to the microbiome, both teams also observed rapid changes to the mice themselves. Their intestines got smaller, and its mucus layer thinner. As a result, bacteria wound up much closer to the intestinal wall, and that encroachment triggered an immune reaction.
Continuation of this diet causes chronic inflammation; the mice also got fatter and developed high blood sugar. In both cases, the inclusion of a fiber called inulin dramatically improved their health and gut bacteria population. The researchers, which include Georgia State University's Andrew T. Gewirtz, realized that fiber serves as an essential food for an entire population of bacteria. 
"One way that fiber benefits health is by giving us, indirectly, another source of food, Dr. Gewirtz said. Once bacteria are done harvesting the energy in dietary fiber, they cast off the fragments as waste. That waste — in the form of short-chain fatty acids — is absorbed by intestinal cells, which use it as fuel," writes Carl Zimmer for The New York Times.
The "peaceful coexistence" of bacteria in the microbial system is disturbed on a low-fiber diet. Famine breaks out. Bacteria dependent upon fiber starve, followed by the bacteria that depend upon them for sustenance. A colony collapse. What follows isn't a disappearance, but an aggravation. 
"Inflammation can help fight infections, but if it becomes chronic, it can harm our bodies. Among other things, chronic inflammation may interfere with how the body uses the calories in food, storing more of it as fat rather than burning it for energy," writes Zimmer.
Obesity isn't the only thing fiber fights. It is also believed to help combat or prevent immune disorders. A fiber supplement probably won't cut it, however, since what our microbiome truly craves is a variety of fiber sources, which, fortunately, can be found in the produce aisle. 
We begin life with a disadvantage regarding fiber. In his book, Catching Fire, British primatologist Richard Wrangham writes that our relatively small colon means we cannot utilize plant fiber nearly as effectively as great apes. Cooked food provides an important means for intaking more fiber (and other nutrients) than raw plants, but thing is, we have to eat those plants. 
A diet filled with processed foods and fiber supplements is not going to cut it. Our microbiome craves what it has evolved to need in order to survive. Without those requirements those bacteria perish, initiating system-wide havoc in our bodies. Sans fiber we're not honoring the environment that gave birth to us, and that environment is certainly speaking back. 
--
Derek Beres is the author of Whole Motion: Training Your Brain and Body For Optimal Health. Based in Los Angeles, he is working on a new book about spiritual consumerism. Stay in touch on Facebook and Twitter.
The community of microorganisms that live inside of your stomach is one of the most important markers of health, physically and psychologically.
I mean, you don't have to boil a rattlesnake but feel free. (Photo: Gerry Penny/AFP/Getty Images)
Tim Spector probably never expected to measure his poop, but so life goes. The professor of Genetic Epidemiology at King's College London was invited by his colleague, visiting research fellow Jeff Leach, to travel to one of the last remaining hunter-gatherer tribes in Africa. The purpose: to track his gut microbiome. 
In a time of fractured nutritional advice with snake oil salesmen and saleswomen proffering wildly speculative claims, your bacteria and fungi don't lie. Your microbiome is the community of microorganisms that live inside of your stomach. Research is showing that this is one of the most important markers of your health, physically and psychologically. So Spector measured his levels, hopped on a plane to Tanzania, and ate porcupine. 
Not only that prickly creature. For three days Spector lived as the Hadza do: baobab porridge, Kongorobi berries, hyrax, honeycomb, and yes, porcupine (tastes like suckling pig!). As it turned out, a long weekend on this diet had spectacular consequences. 
"The results showed clear differences between my starting sample and after three days of my forager diet. The good news was my gut microbal diversity increased a stunning 20%, including some totally novel African microbes, such as those of the phylum Synergistetes," writes Tim Spector.
The bad news is that the microbes fled shortly after his return to London. That's okay, Emeran Mayer, a Professor in the Departments of Medicine, Physiology and Psychiatry at the David Geffen School of Medicine at UCLA, tells me. Author of the cutting edge book in this field, The Mind-Gut Connection, he's devoted his career to studying the link between the gut and brain.
While Spector's journey makes for solid journalism and great passport stamps, Mayer says we don't need to return to hunter-gather diets like the Hadza or Amazonian Yanomami to make a difference.
"A review of worldwide dietary habits has made it pretty clear that largely plant-based diets rich in indigestible fiber have the greatest health benefits, and that this benefit is in large part explained by the beneficial effects of such diets on the gut microbiome," says Mayer.
Mayer points to traditional Mediterranean, Asian, and European diets as being sufficient in increasing good bacteria. These diets are high in polyphenols, antioxidants, and anti-inflammatory molecules. Numerous problems, he continues, are evident with the "Western" diet that has created startling obesity and GI problems in America: a low ratio of plant and animal components, high animal fat and sugar, excess calories, additives like emulsifiers and artificial sweeteners, an abusive relationship with antibiotics, and pesticides.
The standard Western microbiome is so bad that Jeff Leach calls our guts "ecological disaster zones." Leach has lived and worked with the Hadza for years and has written a book of his own, Rewild, which offers advice on how to create good habits for better guts. The process of rewilding your diet is possible anywhere, though cues taken from hunter-gatherer tribes can work wonders. While Westerners douse themselves in antibacterial soaps and celebrate "clean" diets, it turns out that a little—or a lot—of dirt is best.
"It is their persistent exposure to this rich pool of microorganisms that has endowed the Hadza with an extraordinary diversity of microbes; much greater than we see among people in the so-called developed world," writes Jeff Leach.
While Mayer admits that we're only at the beginning of research in this field, he predicts that textbooks across the academic spectrum will have to be updated: medical, psychiatry, neurology, metabolism, and cardiology first to mind. Gut bacteria and fungi, which if isolated as a separate organ would weigh between two and six pounds, is revolutionizing our understanding of our nervous systems. This information far exceeds what we put on our plate; it could shift how we treat depression, anxiety, and behavioral disorders, even diseases like Parkinson's. (Indeed, earlier this year I wrote about my dietary shift curing me of longstanding anxiety disorder.) 
There may soon be another cup next to the urine station in your doctor's office as Mayer foresees microbiome levels integrated into your annual exam in the near future. There's even ways to measure in the comfort of home: Leach is part of the team behind Map My Gut, a 23andMe for your feces. The information is designed to help consumers understand how their diet affects their lifestyle and may play a role in certain diseases.
With this wealth of data on nutrients and bacteria surfacing, Leach also writes about an ancient aspect of eating often overlooked today: the ritual of the meal. In Los Angeles I constantly watch people shove food into their mouths while driving—unconscious gorging over shared ritual. In Spector's article there's a photo of the tribe surrounding the campfire as the author details the porcupine meal: spines, skin, and organs dissected; organs immediately cooked and consumed; meat shared communally later that evening. 
Mayer relates the ritual of eating with positive emotions, which runs counter to the stress of comfort foods and busy eating performed while running from task to task. He points to the grape and olive harvests in Italy as examples of communities uniting to celebrate sustenance. No television, no social media, just conversation and enjoyment. This isn't only socially healthy, but it has a reverberating effect inside of your body.
"The reason that rituals are so important is because mental states are directly translated into the activity of the gut and modulate the behavior of gut microbes. We know that negative emotions affect these functions in a negative way. Being mindful of what we eat and in which context we eat is an essential part of healthy eating," says Mayer. 
In The Mind-Gut Connection, Mayer writes that unfortunately there's no one-size-fits-all recommendation for specific dietary recommendations. There are too many individual and environmental elements at play. But he does admit that maximizing your gut's microbial diversity is key—increase your intake of multiple prebiotics in the form of plant fibers, as well as consume fermented foods and probiotics. And, of course, avoid mass-produced and processed foodstuffs with tons, or any really, preservatives. If you can't recognize the name as food neither can your digestive system. 
--
Derek's latest book, Whole Motion: Training Your Brain and Body For Optimal Health, is out now. He is based in Los Angeles. Stay in touch on Facebook and Twitter.