Is life worse or better than non-existence? And if it is, who is judging? Welcome to anti-natalism, a small but lively corner of philosophy.
Affebook, Wikicommons
Is being born worth it? If you weighed life's pleasure against the suffering and sorrow, do you end up ahead? Gustave Flaubert claimed that he would have cursed himself if he became a father, as he desired to "transmit to no one the aggravations and the disgrace of existence." Fyodor Dostoyevsky was even more bleak in The Brothers Karamazov, writing, "I'd have let them kill me in the womb, so as not to come out into the world at all."
Arthur Schopenhauer was especially pessimistic on this topic: 
If children were brought into the world by an act of pure reason alone, would the human race continue to exist? Would not a man rather have so much sympathy with the coming generation as to spare it the burden of existence, or at any rate not take it upon himself to impose that burden upon it in cold blood?
We can even find this view in the New International Version of the Bible:
And I declared that the dead, who had already died, are happier than the living, who are still alive. But better than both is the one who has never been born, who has not seen the evil that is done under the sun.
Welcome to anti-natalism, a small but lively corner of philosophy that, in our time of climate change, prospects of nuclear war, and divisive populist politics, has been growing of late. Though David Benatar, one of the chief modern architects of this philosophy, may or may not have coined the term "anti-natalism"—he's done "intellectual archaeology" to figure it out, and his jury of one is still debating—his recent appearance on Sam Harris's Waking Up podcast further solidified his stake in this long debated topic: Is life worth living? Benatar says no, at least for the unborn.
According to Benatar, head of the Department of Philosophy at the University of Cape Town and author of Better Never to Have Been, being born is "not always a harm, but always a very serious harm." Summating his philosophy, he continues:
We ought not to bring new people into existence, but I think the view is broader, that we ought not to bring new sentient beings into existence. It's not just the view that it's harmful to come into existence, but a further view that it's wrong to bring beings into existence. 
Harris finds a correlation with Buddhism. According to a translation of Buddhist texts by Sir Hari Singh Gour, Buddha claimed that men are ignorant of the suffering they unleash; existence is the cause of old age and death. If man would realize this harm he would immediately stop procreating. That might offer insight into why Buddha named his own son Rāhula, which means "fetter" or "impediment." Of course, Buddha had his son before embarking on his legendary quest, so selfishly the name implies Rāhula was getting in the way of his father's search for enlightenment. 
Morals are a critical component of Buddhism, as well as the founding principle of anti-natalism. Benatar believes there exists "an asymmetry of values between the good and bad things in life." When we consider the uninhabited corners of the universe (which would be most of the universe), we don't consider the absence of good that could be out there. But if we were to contemplate that suffering does not exist, for example, on Mars, we would think it positive that the beings that don't exist have escaped suffering. Benatar focuses much energy on this perceived absence of pain. 
Harris mentions that Benatar's observation is directly in opposition to philosophers working in existential risk, the idea that a catastrophic event would drastically curtail or end human existence. Harris cites Oxford philosopher William MacAskill, who says the greatest possible wrong would be to do something (i.e. nuclear war) putting us at risk of self-annihilation, which is wrong because it closes the door to all the untold goods that exist after untold years of creative involvement with the cosmos. Harris believes those hypothetical losses are equally important to any suffering that might be wiped out.
Harris then speculates on what it would take to create a "life worth living," which Benatar calls "an ambiguous sentiment." Benatar distinguishes between a life worth starting and a life worth continuing. Missing that ambiguity makes his fundamental point impossible to understand, as he is not advocating for suicide. As to bringing others into existence, however, the bar for starting a life must be much higher than it currently is. 
If you're thinking about bringing someone into existence, you're not just thinking about when they're young, but also when they're in their eighties. Parents don't think about the cancer that will ravage their future child's body decades after they themselves die. 
Benatar draws an analogy to a play you were looking forward to seeing. You buy tickets and attend the show, which turns out subpar. If you had known in advance that it was not what you thought, you would not have wasted your time. Again, this is in alignment with Buddhism, only from that perspective it's your perception that needs to change; you don't necessarily need to wipe the slate clean. 
Harris continues to search for benefits. There's no telling how beautiful life could have been if you're not willing to give it a shot in the first place. Turning the lights out in a universe with the potential for beauty is not as bad as bringing life into a world that is purely hell, but that's not the situation we find ourselves in at this moment. We don't know how good life can be, at least not in our current experience. 
This, Harris believes, is an especially important question as we design artificial intelligence, as we might build minds that suffer to degrees we cannot even understand without being aware that we've done so. We have the potential to create hells inside of our computers in our ignorance.
Harris, of course, leans heavily on science, though Benatar says that the suffering of now isn't worth it to the many generations that will continue to suffer for a potential benefit a thousand years from now. While Harris states there are many potentially better existences than non-existence, Benatar simply cannot imagine any possible existence that is better than never having existed. 
The two-hour conversation is exhilarating and exhausting, as the same ground is covered through numerous analogies. But, like in Buddhist debating traditions, those details are necessary. Anti-natalism is not a philosophy that can be summated in an elevator pitch, especially given that it goes against our most base biological impulse. Tell almost any parent that their child should not have been born and a reasoned response is not forthcoming. 
Happily the conversation never becomes heated, a feat in a topic this emotional. Harris is always a reasoned debater while Benatar has tread this territory for decades. When Harris mentions those who grow from their suffering—many people come out the other side of pain with unforeseen cognitive and emotional benefits—Benatar concedes that your perception of existence shifts your understanding of reality. If you perceive your life to have grown richer from an experience, it did. 
In the end, though, the suffering still isn't worth it. Benatar invokes rape victims. You can take that experience and help others through counseling and therapy, but would the rape be valuable enough given the suffering it caused? It is an analogy of a bigger question about existence the living will continue to grapple with, but if you ask Benatar, it is the unborn who benefit most. 
--
Derek is the author of Whole Motion: Training Your Brain and Body For Optimal Health. Based in Los Angeles, he is working on a new book about spiritual consumerism. Stay in touch on Facebook and Twitter.
Kids say the darndest things. They're also far more adept at workflow management than adults are. What can we learn from them?
Most likely, you don't need to be convinced in the utility of perseverance - the ability to stick to a boring task, despite the fact that the Facebook tab is blinking with notifications in your browser. Implementing tactics that help us resist distractions in order to work towards long-term goals is crucial for success. Now, researchers have found an interesting strategy that has been proven to work for kids - imagining they're Batman. The study was published in the journal Child Development.
With the onset of early childhood and attending preschool, increased demands are placed on the self-regulatory skills of kids. Children need to start completing tasks that may be much less interesting than the myriad of entertaining distractions around them. Researchers have been interested in how to develop self-control and perseverance in children by teaching them tactics like averting their attention away from distractions. 
Another strategy they have found effective is called "self-distancing"— the ability to look at your own situation from an outsider's perspective. Doing this helps people distance themselves from their current feelings and the particular distractions of the moment and instead reflect on the situation more objectively, with the long-term goal in a sharper focus. In a more scientific language, this sounds like "transitioning from stimulus control to volitional control of one's thoughts and behaviors" and is what we need to be able to self-regulate successfully.
This same tactic appears to work for kids as well. In an interesting experiment, researchers found that when kids (ages 4 and 6) are asked to imagine they are Batman (or another exemplary character) they perform markedly better on a test designed to measure their perseverance. 
The researchers simulated a typical grown-up dilemma: choosing between working on something that is beneficial in the long-run but tedious in the moment (completing a boring task on a computer but being a "good helper") or giving in to immediate gratification in the form of playing a game on an iPad. 
The children were separated into three different groups. The first group was asked to reflect on the task from a first-person perspective, the second was asked to reflect on the task while referring to themselves by name (third-person perspective), and the third group was encouraged to reflect on the task from the perspective of a character like Batman or Dora the Explorer. The "encouragement" came in the form of a question the kids had to ask themselves: "Am I working hard?" vs. "Is [child's name] working hard?" vs. "Is Batman working hard?"
As expected, the older kids persevered longer on the work task than the younger kids as they've had more time to develop self-control. However, the extent to which the children were self-distanced affected their performance regardless of age, with the kids in the Batman group spending the most time on the tedious task.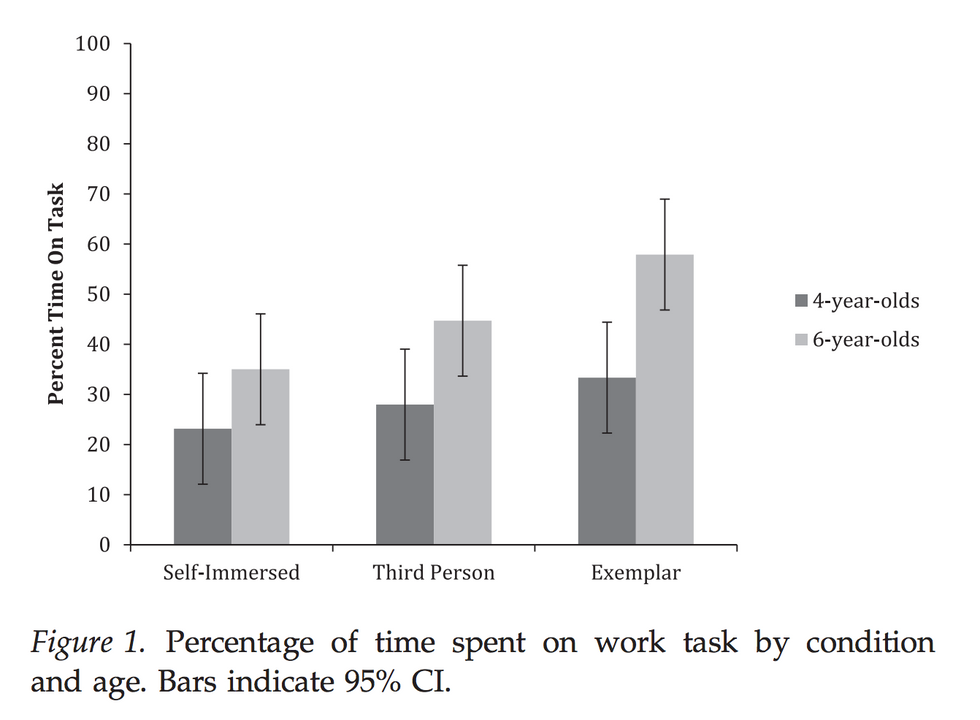 Credit: Child Development / The "Batman Effect": Improving Perseverance in Young Children
In addition to the self-distancing theory, the researchers suggest several other potential reasons why this tactic works for kids. One is that the kids were able to identify with powerful features of the impersonated character and the other is that role-playing in general is considered a fun and familiar activity at this age. 
The researchers conclude that: 
Perseverance can pave the pathway to success. The current research suggests that perseverance can be taught through role play, a skill that is accessible to even very young children.
So, who is ready for a role-playing day at work?
80% of adults are overly optimistic about life—where does that cognitive bias come from?
There's one brain bias that affects 80% of adults and it has a familiar name you may not expect: optimism. Not always thought of as a cognitive mechanism, the optimism bias leads people to overestimate the likelihood of positive outcomes and to underestimate the likelihood of negative outcomes. It can be hugely helpful in our social lives and in keeping us motivated even if the trade off is, at times, the denial of reality. So where does this cognitive bias come from? Are we born with it, or do we develop it as we grow? Developmental psychologist Lori Markson compiles research about how optimism works in babies and young kids, and how that may help us to understand why we adults are the way we are. This video was filmed at the Los Angeles Hope Festival, a collaboration between Big Think and Hope & Optimism.
Designed by two MIT professors, this build-it-yourself kit teaches kids to "think with their hands" in an effort to bolster STEM skills early on.
Gender disparity in the STEM fields (science, technology, engineering and mathematics) continues to be a serious problem. The reasons are complex—from lack of children's stories that feature women scientists, lack of female role models and STEM toys for girls, to persisting biases and stereotypes in schools and universities, and lack of mentorship and flexibility at the workplace. According to the 2016 Science and Engineering Indicators report of the National Science Foundation, women account for only 25 percent of the employment base in the computer and mathematical sciences field and 15 percent of the engineering workforce.
To light the engineering spark in young girls, MIT professors Maria Yang and Tony Hu have co-founded Brainy Yak Labs, a company with the mission to get kids excited about STEM through creative play. Their first product (which just finished a successful Kickstarter campaign) is a dance party lamp kit called Jubilite, which kids get to build and decorate themselves.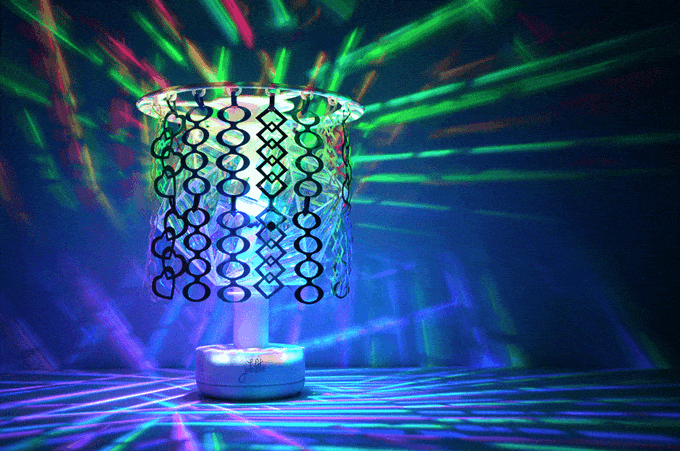 While there are plenty of robot kits, drones, and programmable cars out there, nearly all of them are targeted to boys. A toy or a project needs to capture a child's attention first, before he or she can learn from it. That is why the MIT duo has decided to start with arts and crafts which is something that many girls and boys love.
In the process of building the lamp, children learn how to use tools to assemble the plastic housing, secure the PCBs (printed circuit boards), and insert the switches. While connecting the electronic modules together, they learn about each component and its function. The instruction booklet also teaches important vocabulary like microcontroller, PCB, RGB, LED, as well as the principles behind electronics and mixing colors with light. After assembling the lamp, kids get to make it their own by decorating it with stickers, markers and sequins.
Having tested the lamp with hundreds of children, Yang says that both girls and boys love it. Kids are excited about creating a beautiful object they can use and they express pride at accomplishing a task that might seem a bit challenging at first. Girls, in particular, share that building the lamp makes them feel confident, like they "can do anything."
Robin Avant, assistant professor of biology and molecular biology at Housatonic Community College is an advocate of combining art classes with STEM studies, part of a growing movement advocating STEAM—science, technology, engineering, art and math. In an interview for Westfair Online she says:
"Look at engineering and architecture—all blueprints and models that are used in these careers are made from art. Instead of leaving art out, an ideal individual student would be well-grounded and well-rounded in all disciplines. They would see there are connections and that they are not separate disciplines."
The Jubilite lamp kit does a great job of combining art and science, nurturing creativity, logical thought, and confidence in the coming generation of innovators.  
The psychopath gene can be expressed in one of two ways. Here's what stopped James Fallon's psychopathy from becoming destructive.
"I'm a very lucky psychopath," says neuroscientist James Fallon, who discovered he had borderline psychopathy while using his own brain scans in a double-blind study. Upon reflection it made a lot of sense, and now Fallon understands that it was his mother's good intuition in his developmental stage that set the course for how his psychopathy would be expressed as an adult. Good parenting and family connections can be the difference between an anti-social and a pro-social psychopath, and being kind to kids—in your family or in your neighborhood—who are struggling might just save the world from someone on the wrong side of psychopathy.