The Demo-2 mission represents a new era for American spaceflight.
On Wednesday afternoon, SpaceX is set to become the first private company to launch humans into orbit.
The company's Crew Dragon, launched by the Falcon 9 rocket, is scheduled to take two NASA astronauts to the International Space Station.
Neil deGrasse Tyson will host the American Museum of Natural History's live-stream coverage of the launch.
On Wednesday afternoon, a SpaceX rocket is set to launch two NASA astronauts into space on a mission to the International Space Station. If successful, it'll be the first time a private company has put humans into orbit, and the first time astronauts have launched from American soil since NASA's Space Shuttle program ended in 2011.
At 4:33 p.m E.T., SpaceX's Falcon 9 rocket is set to take off from the company's Launch Complex 39A site in Cape Canaveral, Florida. About 90 minutes before launch, NASA astronauts Bob Behnken and Doug Hurley will walk across a walkway 230 feet above the ground and climb into Crew Dragon — the SpaceX capsule that sits atop the Falcon 9 rocket.
Hurley (R) and Behnken (L)
Photo by Bill Ingalls / NASA
It won't be the Crew Dragon's first mission. Last year, SpaceX successfully sent a Crew Dragon carrying only cargo to the International Space Station. But the company has also suffered setbacks with the capsule, including thruster and parachute complications, and a 2019 explosion that occurred during testing.
If successful, Falcon 9 will launch the Dragon capsule into low Earth orbit 12 minutes after takeoff. The rocket will then begin a controlled descent to its landing site on a drone ship in the Atlantic Ocean. Hurley and Behnken will manually fly Crew Dragon toward the ISS.
When they approach the station, Crew Dragon's autonomous docking system will take over, and the capsule will connect to the station at 11:29 a.m. on Thursday. The NASA astronauts will then board the ISS, where they'll likely remain for several months. (NASA has yet to confirm the details of the return mission.)
Walkway to SpaceX's Crew Dragon atop the Falcon 9 rocket
Photo: SpaceX
In addition to being a milestone for private spaceflight, Wednesday's mission — called Demo-2 — is also the culmination of NASA's Commercial Crew Program. Started in 2010, the federally funded program aims to pair NASA with private companies — like SpaceX and Boeing — to transport astronauts to and from the ISS. The mission also represents the end of an era in which the U.S. has relied on Russia to transport American astronauts to the ISS.
"This is a unique opportunity to bring all of America together in one moment in time and say, look at how bright the future is," Jim Bridenstine, NASA's administrator, said at a news conference on Tuesday.
Here's where you can live-stream the historic launch:

American Museum of Natural History
The American Museum of Natural History will begin streaming around 11 a.m. E.T. The live-stream event will begin with curator Ruth Angus examining "the awe-inspiring leap from imagination to scientific achievement in space exploration." At 1 p.m., the museum's Director of Astrovisualization Carter Emmart and astrophysicist Jackie Faherty will take viewers on a virtual field trip to the ISS. Around 4 p.m., Hayden Planetarium Director Neil deGrasse Tyson will join Faherty and museum curator Michael Shara to provide live commentary on the launch.
NASA TV
NASA's live-streaming channel will begin covering the launch Wednesday at 12 p.m. E.T. The agency will provide live commentary, and will also show the astronauts joining the crew of the ISS after the capsule docks with the station.
SpaceX
SpaceX's YouTube channel will also live-stream the launch, though the link is not yet available. We'll update it as it comes online.

UPDATE: The SpaceX link is now active and the live-stream is scheduled to begin at 12:15 p.m.
The 57-year-old is teaming up with NASA and SpaceX for the film project, which is to be set aboard the International Space Station.
Universal Pictures
NASA Administrator Jim Bridenstine confirmed the project on Tuesday via Twitter.
The project — an action-adventure movie — would be the first narrative film shot in space.
It's unclear how Cruise will get to the space station. Later this May, SpaceX and NASA plan to send American astronauts to the ISS aboard a SpaceX vehicle.
Astronauts aren't floating in space, they're free falling—and so are you. Here's the amazing science behind so-called zero gravity.
When we launched our 'Ask an astronomer' series with NASA's Michelle Thaller, one set of questions stood out from hundreds, arriving by way of the curious and clever students at Courthill Infant School, Poole, in the south of England. Representing all the aspiring scientists in Dragonflies Class, Joshua, age 4, asked NASA's Michelle Thaller a brilliant question: "Why is there no gravity in space?" Here, Thaller explains the incredible science behind why astronauts appear to float in space, which is an interesting misconception fuelled by the term 'zero gravity'. (In fact, there is a small amount of gravity found everywhere in space, which is why microgravity is a more accurate term.) So what are they doing if not floating? They're actually constantly free falling, says Thaller, and so are you, the person beside you, and the entire planet Earth. It's a high-velocity orbit that allows astronauts to seemingly defy gravity, soaring so fast around the planet that they remain suspended instead of succumbing to Earth's gravitational pull. Michelle Thaller explains the very cool science of how orbits allow astronauts to seemingly defy gravity. You can follow Michelle Thaller on Twitter at @mlthaller.
Think getting along with people that are nothing like you is hard? Here's how astronauts do it, 254 miles above Earth on the ISS.
Look up—you can see the greatest feat of human cooperation orbiting 254 miles above Earth. As commander of Expedition 35 aboard the International Space Station (ISS), Canadian astronaut Chris Hadfield understands the difficulty of cultural barriers in team work, and the life or death necessity of learning to communicate across those divides. The ISS is a joint project between five space agencies, built by people from 15 different nations—and each of them has a different take on what is "normal". Hadfield explains the scale of cultural differences aboard the spaceship: "What do you do on a Friday night? What does "yes" mean? What does "uh-huh" mean? What is the day of worship? When do you celebrate a holiday? How do you treat your spouse or your children? How do you treat each other? What is the hierarchy of command? All of those things seem completely clear to you, but you were raised in a specific culture that is actually shared by no one else." Here, Hadfield explains his strategy for genuine listening and communication. Whether it's money, reputation, or your life that's at stake, being sensitive and aware of people's differences helps you accomplish something together—no matter where you're from. Amway believes that ​diversity and inclusion ​are ​essential ​to the ​growth ​and ​prosperity ​of ​today's ​companies. When woven ​into ​every ​aspect ​of ​the talent ​life ​cycle, companies committed to diversity and inclusion are ​the ​best ​equipped ​to ​innovate, ​improve ​brand image ​and ​drive ​performance. Chris Hadfield features in the new docuseries One Strange Rock and is the author of An Astronaut's Guide to Life on Earth: What Going to Space Taught Me About Ingenuity, Determination, and Being Prepared for Anything
.
Space is not the place to put waste, as it turns pretty much anything into a high-velocity projectile capable of causing incredible damage. 
Gravity, 2013
Space isn't as spacious as it should be; it's full of space debris, small amounts of scrap, trash, and machinery that humans have abandoned to Earth's orbit. The ISS has cataloged about 500,000 of these small pieces and they hurtle around our planet at about 15,000mph. Or 14.17 g-force. Or 24,140kph.
An anonymous user on Reddit, who claims to work in the aerospace field, posted an image of what a 1/2oz of space debris can do to a block of solid aluminum. This test was done by a light-gas gun in close quarters and shows how much damage even a tiny amount of space debris can do: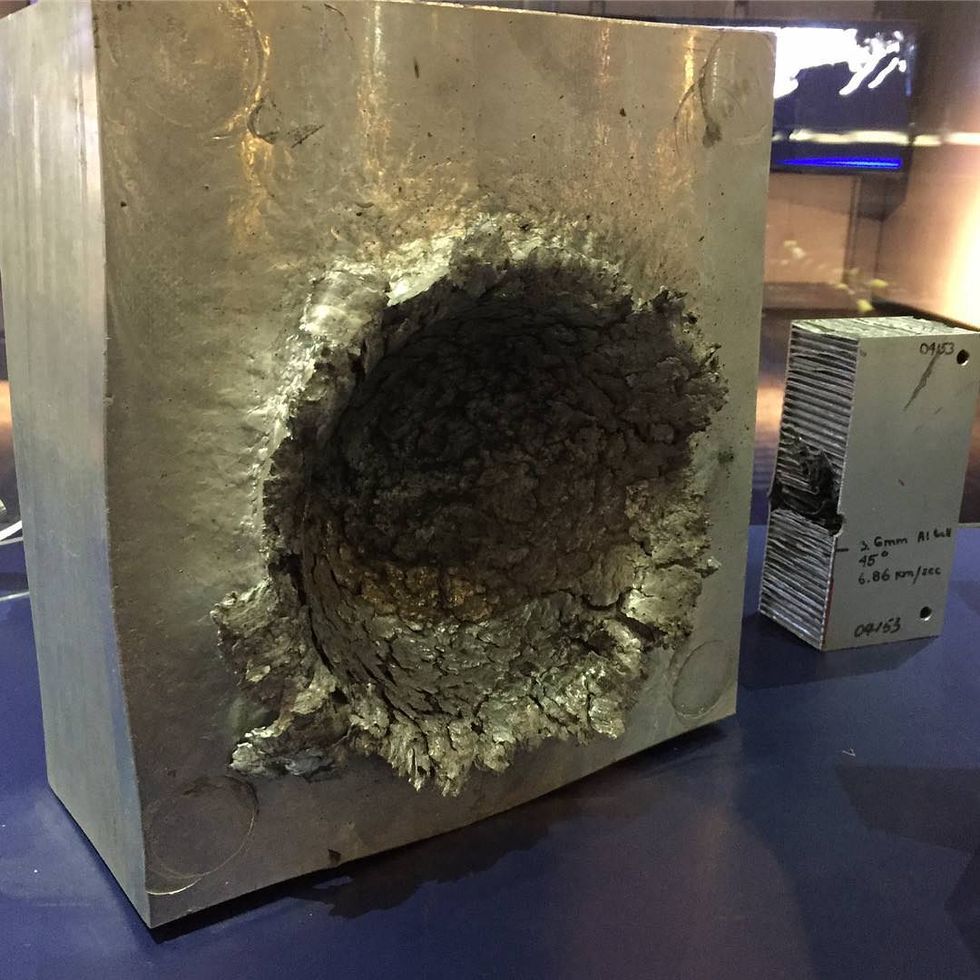 Pretty scary, huh? It should be noted that although this looks enormous, the crater is about 5 inches deep. Having said that, it's caused by something about the size and weight of an eraser on the end of a pencil.
The ISS (International Space Station) is about the size of a football field, and thus an easy target for space debris. To solve this, it has to move their orbit to make sure they don't get hit. Every once in a while, they get hit by pieces the size of a paint chip and need to repair the ship for weeks.
What's that? Do you want another interesting space debris fact? Well, during the height of the Cold War in 1965-1967, the U.S. fired hundreds of thousands of tiny needle into space to try for what could best be described as high-powered radio signals. This, however, didn't work nearly as well as planned and the needles just clumped together into groups — turning these needles into high-velocity projectiles. 50 years later, there are about 38 of these clumps still in orbit, although sometimes they enter the Earth's atmosphere and burn up.