The 2018 Nobel Peace Prize has been awarded to two people, one a doctor and one a survivor of ISIS captivity, for their work in raising international awareness about wartime sexual violence.
Dr. Mukwege is a Congolese gynecologist who has helped to treat thousands of survivors of sexual violence.
Murad is a 25-year-old Yazidi woman who was taken captive by ISIS militants in 2014.
Both have sacrificed their own personal safety to speak out against wartime sexual violence, the Nobel committee said.
The 2018 Nobel Peace Prize has been awarded to Dr. Denis Mukwege, a Congolese gynecologist, and Nadia Murad, a Yazidi woman and former captive of ISIS, for helping to combat wartime sexual assault.
"Both laureates have made a crucial contribution to focusing attention on, and combating, such war crimes," said Berit Reiss-Andersen, chair of the Nobel Committee, on Friday at the Norwegian Nobel Institute in Oslo.
Who is Dr. Mukwege?
Dr. Mukwege is the founder of the Panzi Hospital in the Democratic Republic of the Congo, a nation the U.N. has called the "rape capital of the world" and where more than 1,000 women are raped every day. The initial goal behind the hospital was to curb maternal mortality rates.
"But our first patient did not come to deliver a baby," Dr. Mukwege said in a 2016 speech. "She had been raped with extreme violence."
Since 1999, the Panzi Hospital has treated more than 50,000 survivors of sexual violence through a five-pillar holistic healing model that includes "physical care, psychosocial support, community reintegration services, legal assistance, and education and advocacy to address the root causes of violence."
"You just can't imagine how a smile, a simple handshake, to just tell them 'be encouraged' is important to them. To feel they are loved, to feel they can finally find love and affection," Dr. Mukwege told CNN in 2009.
Dr. Mukwege once described how seeing the recovery of young sexual violence survivors motivates him to keep working

"The kids' strength to go on living gives me strength to go on taking care of them," Dr. Mukwege said in an interview. "It just tells you, 'It's all good.' You have got to keep fighting for life, you have got to keep on giving life, you have got to give hope to others."
The Nobel committee said that Dr. Mukwege's philosophy is "justice is everyone's business."
"Denis Mukwege is the foremost, most unifying symbol, both nationally and internationally, of the struggle to end sexual violence in war and armed conflicts," said Reiss-Andersen.
Who is Nadia Murad?
Nadia Murad accepts the 2016 Sakharov Prize for Freedom of Thought, which she shares with Lamiya Aji Bashar, for their work in advocacy for the Yazidi community in Iraq and survivors of sexual enslavement by the Islamic State jihadists.
(Photo: FREDERICK FLORIN/AFP/Getty Images)
In August 2014, ISIS militants invaded Murad's Yazidi community in the village of Kocho in Northern Iraq, a region that's long been home to the monotheistic religious minority. The militants told all the residents to walk to a school on the outskirts of town, and, upon arriving, separated the men from the women.

Murad, who was 19 years old at the time, watched as the militants murdered more than 300 men, including six of her brothers and step brothers. The militants took her, along with other young women, as a sex slave. The elderly women, presumably too undesirable or burdensome to the militants, were executed and buried in a mass grave that would later be discovered by Kurdish forces.
In an interview with Time, Murad describes how some of the captured women committed or attempted suicide.
"I did not want to kill myself, she said. "But I wanted them to kill me."
For three months, Murad was held as a slave in Mosul by ISIS militants who beat her, burned her with cigarettes, and raped her after a failed escape attempt. One night in November 2014 her captor left a door unlocked and she managed to escape, eventually ending up in Germany through a program that helps relocate refugees.
Since her escape, Murad has been speaking out about the atrocities she and her fellow Yazidis suffered at the hands of ISIS, who consider the Yazidi to be "kafir" or nonbelievers. In 2015, she told part of her story to the U.N. Security Council.
"I cannot imagine how painful it must be every time you are asked to recount your experience," U.S. Ambassador to the U.N. Samantha Power said to Murad after her testimony. "And your being here and speaking so bravely to all of us is a testament to your resilience and your dignity—and it's of course the most powerful rejection of what ISIL stands for."
It's estimated that, around the time of Murad's capture, ISIS militants killed more than 5,000 Yazidi men, captured about 6,500 women and children, and forced the evacuation of hundreds of thousands more.

"For eight months, they separated us from our mothers and our sisters and our brothers, and some of them were killed and others disappeared," Murad told CNN in 2017.
Murad is the 17th woman to win, and the second-youngest recipient of, the Nobel Peace Prize.
Reiss-Andersen said both winners have put their own personal security at risk by combating war crimes and seeking justice for victims.
"Denis Mukwege is the helper who has devoted his life to defending these victims," Reiss-Andersen said. "Nadia Murad is the witness who tells of the abuses perpetrated against herself and others."
As of Friday morning, it wasn't clear whether Murad was aware she had won the award; the committee couldn't reach her by phone. Dr. Mukwege was reportedly in the middle of surgery when he found out he had won.
"For almost 20 years I have witnessed war crimes committed against women, girls and even baby girls not only in my country, the Democratic Republic of Congo, but also in many other countries," he said.
"To the survivors from all over the world, I would like to tell you that through this prize, the world is listening to you and refusing to remain indifferent. The world refuses to sit idly in the face of your suffering."
Religion influences politics more now than it did 50 years ago. Are we going forward or backward?
Religion influences politics more now than it did 50 years ago. To help explain how we moved seemingly backward from global secularism to increased religious involvement in public policy, Professor of International Politics Monica Duffy Toft explains the threefold story of failed modernization, democratization, and globalization, and how they propelled religious figures and ideas into the political arena once again. Monica Duffy Toft's work at the Center for Strategic Studies is made possible through funding from the Charles Koch Foundation. The Charles Koch Foundation aims to further understanding of how US foreign policy affects American people and societal well-being. Through grants, events, and collaborative partnerships, the Foundation is working to stretch the boundaries of foreign policy research and debate by discussing ideas in strategy, trade, and diplomacy that often go unheeded in the US capital. For more information, visit charleskochfoundation.org.
When it comes to ISIS, terrorism, and global and domestic instability, America has been its own worst enemy.
For the last 25 years, the U.S. has based its foreign policy on a sense of primacy and idealism rather than restraint and realism, says William Ruger, Vice President for Research and Policy, Charles Koch Foundation. Ruger asserts that the U.S. failed to recognize the human and economic cost of international military and political intervention. "We've really opened up all kinds of challenges in this attempt to open up an exemplar for the Middle East. We actually have created an exemplar," he says, "an exemplar of what can go wrong if you engage in the world without first thinking carefully about what is necessary for American safety, and what the unintended consequences of our behavior could be..." The Charles Koch Foundation aims to further understanding of how US foreign policy affects American people and societal well-being. Through grants, events, and collaborative partnerships, the Foundation is working to stretch the boundaries of foreign policy research and debate by discussing ideas in strategy, trade, and diplomacy that often go unheeded in the US capital. For more information, visit charleskochfoundation.org.
Global security expert Richard A. Clarke explains the traits of a "Cassandra"—someone who predicts colossal disasters—and why people very rarely listen to their warnings.
Before Bernie Madoff got caught, before Hurricane Katrina and Fukushima devastated cities, and before ISIS formed, there was an expert for each one of those events warning people in power that it would happen. What did those powerful people do? Absolutely nothing. These experts are called 'Cassandras' in hindsight, because as global security expert Richard A. Clarke explains in a previous Big Think video: "Cassandra in Greek mythology was a woman cursed by the gods. The curse was that she could accurately see the future. It doesn't sound so bad until you realize the second part of the curse, which was no one would ever believe her. And because she could see the future and no one was paying attention to her, she went mad." So how can we graduate from sheepishly identifying Cassandras in hindsight, to recognizing and acting on their real predictions before the impending chaos hits? It's tough because everyone and their uncle is trying to get in on the prediction game. Who can you trust? Fortunately, Clarke and his research partner R.P. Eddy have used case studies to build a detailed template of the four aspects that determine whether we can avoid a Cassandra event: the quality and personal traits of the Cassandra themselves, the reaction of the audience or decision makers in power, the nature of the predicted event (is it too ridiculous to believe?), and the critics of the Cassandra. Even today, there are potential Cassandras predicting events that could be catastrophic to humanity this century. Can we learn from our mistakes in time? Richard A. Clarke and R.P. Eddy's new book is Warnings: Finding Cassandras to Stop Catastrophes.
New research claims religious terrorism is on the rise, and it appears that it's going to get worse before we see a decline in such horrendous acts.
In the latest episode of Common Sense, Dan Carlin considers what's being lost in the current age of terrorism. He posits the idea that America would look much different right now had 9/11 never occurred—terror as a main driver causing the rift between Left and Right. The word "terror" not even need be spoken to feel it lurking behind so much of our discontent. 
That's because, he continues, terrorists take advantage of our "human reaction," which is, namely, security at any cost. The payment for this security, real or imagined, is huge:
To be so afraid turns off your natural filters. You no longer think what you're sacrificing for this extra security is valuable at all. 
What makes terrorism "so particularly abhorrent," he continues, "is that it strikes against innocence." In one of the best debates I've heard on this topic, Fareed Zakaria recently appeared on Sam Harris's podcast. The two have long been at odds on Islamic terrorism. Zakaria reminds Harris that the predominant number of victims are Muslim, many, which Carlin also points out, are children.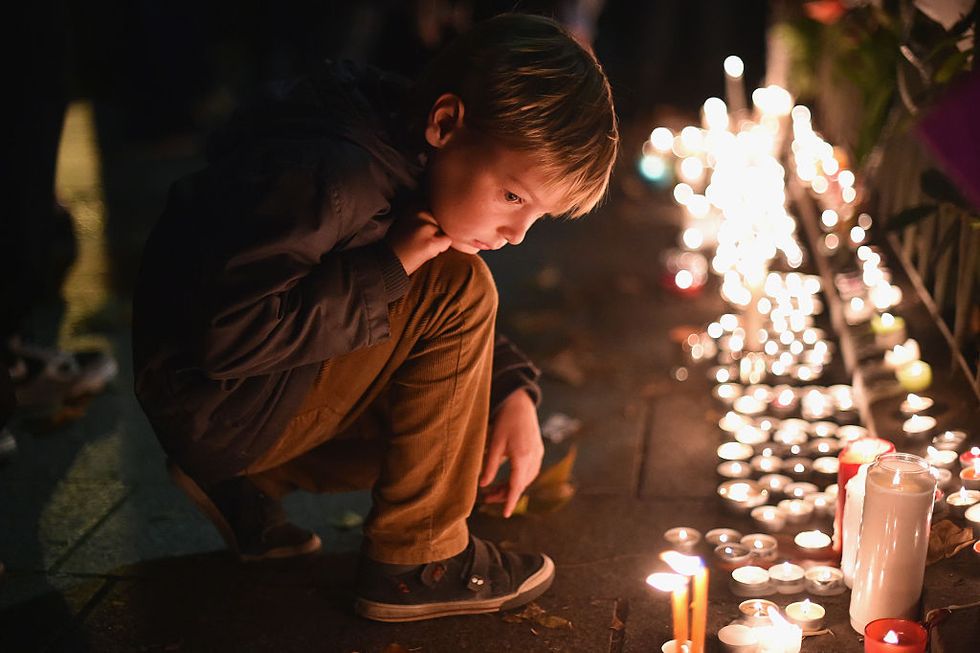 A young boy views tributes left opposite the main entrance of Bataclan concert hall in Paris, France.
Carlin believes there are two ways out of this mess. The first is to normalize terrorism and adjust, which he considers the safer option. The worse road—one we're witnessing evidence of regularly—is to allow terrorists to morph society in ways that forces citizens to act in ways we never would have had terrorism never existed. This means, for one, how we treat one another. 
While the Zakaria-Harris conversation becomes heated (though never disrespectful), they agree that peaceful resolution is the goal—a lofty ambition, but ultimately the saving grace. Zakaria grew up Muslim in India, which he claims is predominantly secular. While he's an atheist he advocates for not generalizing Muslims in one category nor denying their religiosity. Citing ancient scriptures as if all of Islam follows those codes today is his main criticism of Harris.
Yet new research claims religious terrorism is on the rise, and it appears that it is going to get worse before we see a decline in such horrendous acts. Whereas terrorism in the sixties was predominantly secular, writes University of California, Berkeley lecturer Bruce Newsome, the nineties gave birth to a new breed of religious terrorism, a wave that led to a more recent uptick which he dubs "newest terrorism."
He makes the distinction in part between how terrorists today strike quickly instead of prolonging events with hijackings and hostages. 
While the new terrorists prioritized spectacular lethality in long-planned hijackings or bombings of mass transit, offices or hotels, the "newest" terrorists encourage more frequent active violence, hostage-takings and kidnappings. They seek to kill in the most horrifying ways.
This means walking into a club and opening fire, driving a van through a crowded sidewalk, and taking a machete to passerby. More frequent small attacks are usurping large-scale 9/11-style tragedies, keeping us on constant alert, always on edge in fear of a suicide bomber or suspicious driver just around the corner. 
And while Zakaria is certainly right that many Muslims do not promote such heinous acts, Newsome notes that religion is the catalyst. It is common to hear claims that these attacks "are not real religion," a mistake that Harris, among others, frequently points out. Newsome writes that religious terrorists are more violent and deadly than secular counterparts, and that we should take them at their word. 
For example, Newsome crunched 46 years of hostage data to find that secular terrorists released hostages 51 percent of the time compared to 31 percent by religious terrorists. Twice as many people die in the hands of the religious; the religious kill more people while deploying fewer terrorists per event. Since religious terrorists are more likely to be willing to die or commit suicide in the process, maximizing death and destruction is a stated and lauded goal. 
And, of course, religious terrorists are social media experts, consummate marketers, both online and on the ground: 
We found that newest terrorists choose more public targets, such as theaters and shopping malls, theoretically in pursuit of higher lethality and terror. Old terrorists choose more politically useful or symbolic targets, such as government buildings or military barracks.
Newsome predicts that terrorism is going to get worse in the coming years. Religious extremism combined with an ability to build and access weapons and ease of communication are the culprits. It might be some time before we witness another 9/11 (if ever), but the uptick in smaller attacks appears to be imminent. How we deal with that fact—normalizing it; committing atrocities in the name of security; spreading secular education broadly—will be our great challenge in the coming years.
--
Derek's next book, Whole Motion: Training Your Brain and Body For Optimal Health, will be published on 7/17 by Carrel/Skyhorse Publishing. He is based in Los Angeles. Stay in touch on Facebook and Twitter.