Both social media companies plan to implement special protocols on Tuesday as election results begin rolling in.
Credit: Twitter
Twitter says it will remove or add a warning to tweets that declare election wins before official results are declared, as determined by national media outlets.
When Twitter users try to retweet, the company will show them a prompt encouraging them to "quote tweet" (and thereby add their own commentary) instead, a move designed to slow the spread of misinformation.
Facebook plans to display election results, as determined by national media outlets, on posts from candidates who contest the results or declare early wins.
Should kids be on social media? If yes, what are some good rules to have?
Should kids be on social media? The kneejerk reaction, for some parents, is to control what they do. But journalist Virginia Heffernan thinks that how children and teenagers use social media is how we all use social media — we're just too proud to admit it. Those of us that use social media inevitably are painting an avatar of personality online, testing what works and what doesn't, and through fine-tuning our own selves in the process. It is absolutely true that you can fall victim to narcissism if you follow the "like" economy to its fullest, but a healthy attitude towards social media can lead to some old-fashioned self-exploration that many older folks may have forgotten about. Because young people know... perhaps more than adults... that you have to try on a lot of metaphorical hats before you find the one that fits. Virginia Heffernan's latest book is Magic and Loss: The Internet as Art.
For the first time in Facebook's history, the number of daily active users in the U.S. dropped—by about 700,000.
Facebook CEO Mark Zuckerberg. Photo: MONEY SHARMA/GETTY
American kids are ditching Facebook for other social media platforms, and 2018 might bring the largest online migration yet.
In a report on the future of Facebook's U.S. audience, the research firm eMarketer estimates that the platform will lose 2 million users ages 24 and younger this year. The report also predicts that usage among users ages 12 to 24 will decrease by about 5.7 percent, and that usage among kids younger than age 12 will decline by 9.3 percent. What's more, some of the youngest kids in the U.S. will bypass signing up for Facebook altogether, a group dubbed the "Facebook nevers."
The report marks the first time eMarketer has predicted a drop among young users of the social media platform. And even though Facebook is expected to add new users in 2018, the firm says it'll do so at the relatively slow rate of 1 percent, and those new users will be of an older demographic.
Facebook's own data tell a similar story. According to the company's fourth-quarter earnings report for 2017, the amount of time users spent on Facebook dropped by 50 million hours daily. And, for the first time in the company's history, the number of daily active users in the U.S. dropped, by about 700,000.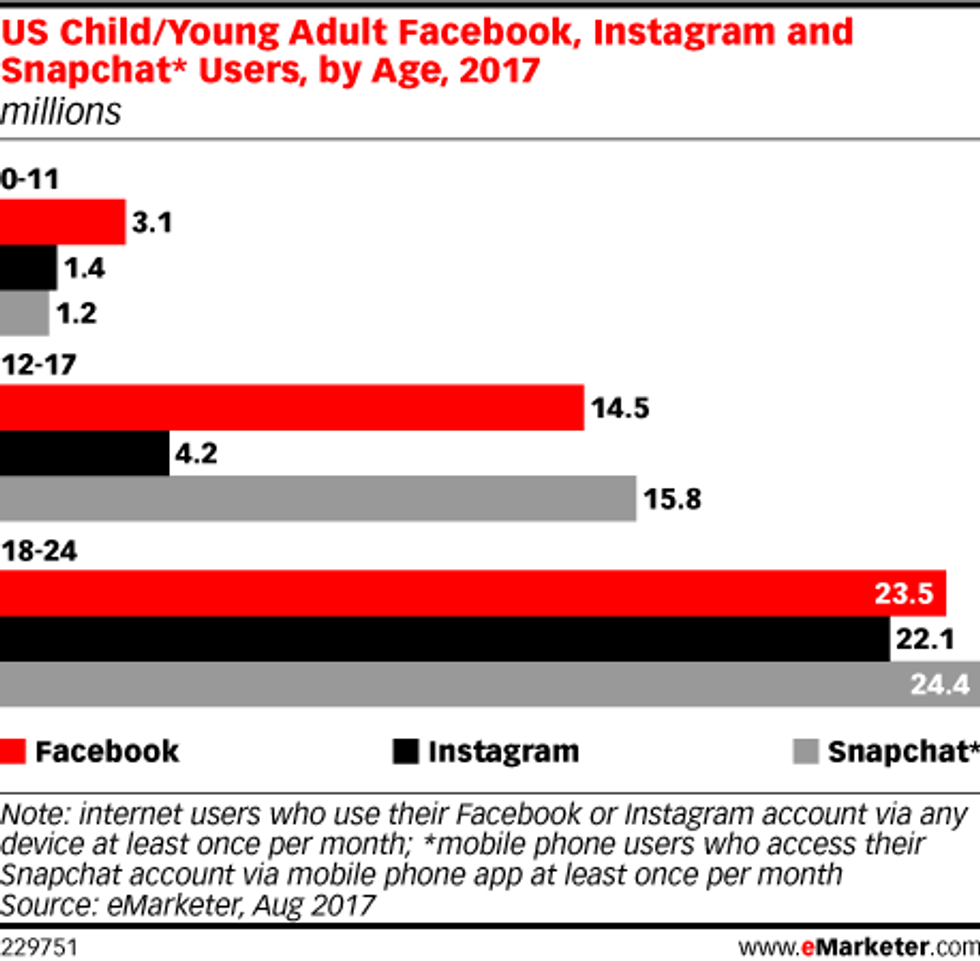 Meanwhile, Snapchat and Instagram are on the rise. eMarketer predicts that Snapchat will add 1.9 million users ages 24 and younger in 2018. Instagram, which is owned by Facebook, will add an estimated 1.6 million users of the same age group this year—which would still make it the largest social media platform besides Facebook.
So, why are kids leaving?
In a blog post from August 2017, eMarketer analyst Oscar Orozco suggested the main reason has to do with how the younger generation consumes media.
"Both have found success with this demographic since they are more aligned with how they communicate—that is, using visual content."
Julie Smith, a social scientist who works with teens, told USA Today that it's about immediacy.
"Teens want that instant gratification. That's why Snapchat and Instagram work well for them. Their minds move quickly... Facebook feels like an investment of their time, and they don't want to invest their time in it."
But there's more factors at play than just immediacy and visual content. Facebook has arguably become "your parent's" social media platform, an institution that's both household name and household utility. That's not exactly cool.
Facebook also isn't ideal for smartphones. The lean, image-based interfaces of Instagram and Snapchat are undoubtedly better suited for palm and thumb.
What's more, kids have probably learned to see the permanent nature of Facebook as a liability. How many times do you think adults have told them some version of: "don't post anything inappropriate on Facebook because it'll be there forever." It's easy to see how Snapchat's relative ephemerality is alluring on that front.
To be sure, Facebook is still the world's leading social media platform, and it saw explosive growth in 2017. The company hit 2 billion users worldwide—a full 500 million above YouTube—and its stock soared about 50 percent. But there were controversies, too: allegations of Russians meddling in the election, fake news, metrics errors, and a growing body of research showing how using social media can harm mental health.
In December 2017, Mark Zuckerberg announced Facebook would be redesigning its News Feed algorithm to bring users less news and promotional content, and more posts from friends and family.
"We feel a responsibility to make sure our services aren't just fun to use, but also good for people's well-being," Zuckerberg wrote in a post on his personal Facebook page, adding that he expected "the time people spend on Facebook and some measures of engagement will go down."
He was right. But beyond that anticipated blow seems to lie an existential threat that's been looming over Facebook for years: that kids want a social media platform used by and designed for their own generation — not one to share with their parents.
Researchers find more evidence of the link between social media use by young adults and depression.
Researchers published an eye-opening analysis that shows just how much social media and depression are linked in young adults. The more social media platforms they are on, the more likely they are to be depressed.
The analysis was led by a team from the University of Pittsburgh Center for Research on Media, Technology and Health.  In particular, the scientists found that people who reported using 7 to 11 social media platforms were 3 times more likely to exhibit symptoms of depression and anxiety than their counterparts who used 0 to 2 such platforms. These include Facebook, YouTube, Twitter, Google Plus, Instagram, Snapchat, Reddit, Tumblr, Pinterest, Vine and LinkedIn. 
"This association is strong enough that clinicians could consider asking their patients with depression and anxiety about multiple platform use and counseling them that this use may be related to their symptoms," said the paper's lead author and physician Brian A. Primack, M.D., Ph.D. "While we can't tell from this study whether depressed and anxious people seek out multiple platforms or whether something about using multiple platforms can lead to depression and anxiety, in either case the results are potentially valuable."
A previous study in which Doctor Primack participated found a clear connection between social media use and increased depression in young adults. For the current study, in 2014, the team sampled 1,787 young people between 19 and 32 years of age. They used a depression assessment questionnaire as well as questions on social media use. They controlled also for other potential contributors to depression and anxiety, such as race, gender, relationship status, household income, education and total time on social media.
It should be noted that Primack himself cautions about what the study could mean. Is it that increased social media usage causes depression or do depressed people use more social media? 
"It may be that people who suffer from symptoms of depression or anxiety, or both, tend to subsequently use a broader range of social media outlets. For example, they may be searching out multiple avenues for a setting that feels comfortable and accepting," said Primack in a statement. "However, it could also be that trying to maintain a presence on multiple platforms may actually lead to depression and anxiety. More research will be needed to tease that apart."
Primack and the team do, however, offer some ideas on why social media use could contribute to depression. These include: 
- multitasking as switching between platforms has been shown to impair cognitive and mental functioning
- different rules for different platforms could be confusing and contributing to negative emotions
- more potential social media embarrassments that would come with using more platforms
The ultimate goal of this research? To be used in treatment. The study's co-author and psychiatrist César G. Escobar-Viera, M.D., Ph.D., weighed in:
"Ultimately, we want this research to help in designing and implementing educational public health interventions that are as personalized as possible."
The study "Use of multiple social media platforms and symptoms of depression and anxiety: A nationally-representative study among U.S. young adults" is available online and will be published in the journal Computers in Human Behavior. 
Cover
Photo: 

A general view at the Tween show during Mercedes-Benz Fashion Week Istanbul Fall/Winter 2013/14 at Antrepo 3 on March 12, 2013 in Istanbul, Turkey. (Photo by Andreas Rentz/Getty Images)
Sean Curry takes aim at the rapidly evolving "gourmet" food industry that is warping our expectations, mindsets and first-world privilege to a scary new level.
Zombie cookie monsters, an appropriate metaphor. (Photo: PATRICIA DE MELO MOREIRA/AFP/Getty Images)
Arby's has a new addition to its menu: venison. From late 2016, it's been rolling out deer burgers in select markets across Tennessee, Minnesota, Michigan, Wisconsin, Georgia, and Pennsylvania, in a play that it hopes will attract hunters and people involved in hunting culture.
Recently, McDonald's Canada added the "Keep Calm, Caesar On" salad to its menu, a "nutrient-rich lettuce blend with baby kale" with "real parmesan petals" and fried chicken covered in a creamy Asiago Caesar dressing.
Meanwhile, Subway continues to test out its Subway Café franchises across the country, to mixed results.
We're living in a weird time for American food. Our culinary consciousness has grown by leaps and bounds in the new millennium and our eating habits have grown with it. We don't want the same old warmed-over beef and potato crap anymore — we want better food and we know how to get it.
But the forces of capitalism wait for no stomach. As quickly as our preferences change, the food industry changes with them. Arby's and McDonald's are experimenting with gourmet meats and superfoods. Subway is trying to compete with Starbucks' coffee culture.
It's hard to eat nowadays, is what I'm getting at. No one can just grab a sandwich and be content anymore, because…
Everything is available all the time.
Not only is Anthony Bourdain on every screen within a ten-foot radius of me, eating the food I wish I could be eating in an exotic place I wish I could be visiting, but there's a Thai hawker shop, a Brazilian churrasco restaurant, and a falafel cart that was literally named the best street food in New York City in 2010, all between here and my train stop.
How can I be expected to be satiated with heating up leftovers when I know I could have had rodízio-style short ribs and roast chicken with a side of farofa? I don't even know what farofa is, but I know it didn't spend the last two nights in a Tupperware. 
What's more, when I open my phone to find a recipe that uses the peppers, onions, parmesan and scallions I have on hand, three Instagram notifications pop up first. I check them quickly, then check in on my feed before heading out of the app. Within the first ten posts I see are: "hickory-smoked Niman Ranch ribs," "shrimp-stuffed cream cheese tomato bites," and a friend's homemade stuffed shells.
How does a person feel content with whatever they can whip up when they're being presented with gourmet-looking stuff like that every time they look at their phone?
And on top of that, we can't even be satiated with our food anymore, because…
Social media is making us full.
Seriously — your Instagram feed is making you less hungry. A team of social scientists at BYU conducted a study with a sampling of 232 people to see how looking at food pics all day is affecting how we think about food. 
Half of the participants were shown 60 pictures of sweet foods, while the other half were shown 60 pictures of salty foods. At the end of the pictures, each group was given salty peanuts to eat (the salty food group had not seen pictures of peanuts). 
The salty food group reported feeling less happy with the peanuts than the sweet food group, leading the researchers to conclude that looking at pictures of food makes your brain feel the effects of that food's taste, even without eating it.
By celebrating food, we are literally killing our ability to enjoy it. 
But maybe that's a good thing, because…
We are pushing food way too far.
Holy shit, you guys, have you looked at your Instagram feeds lately? Are you guys actually eating all of this stuff?
This is a picture of soft serve vanilla ice cream with sprinkles served in a churro cone.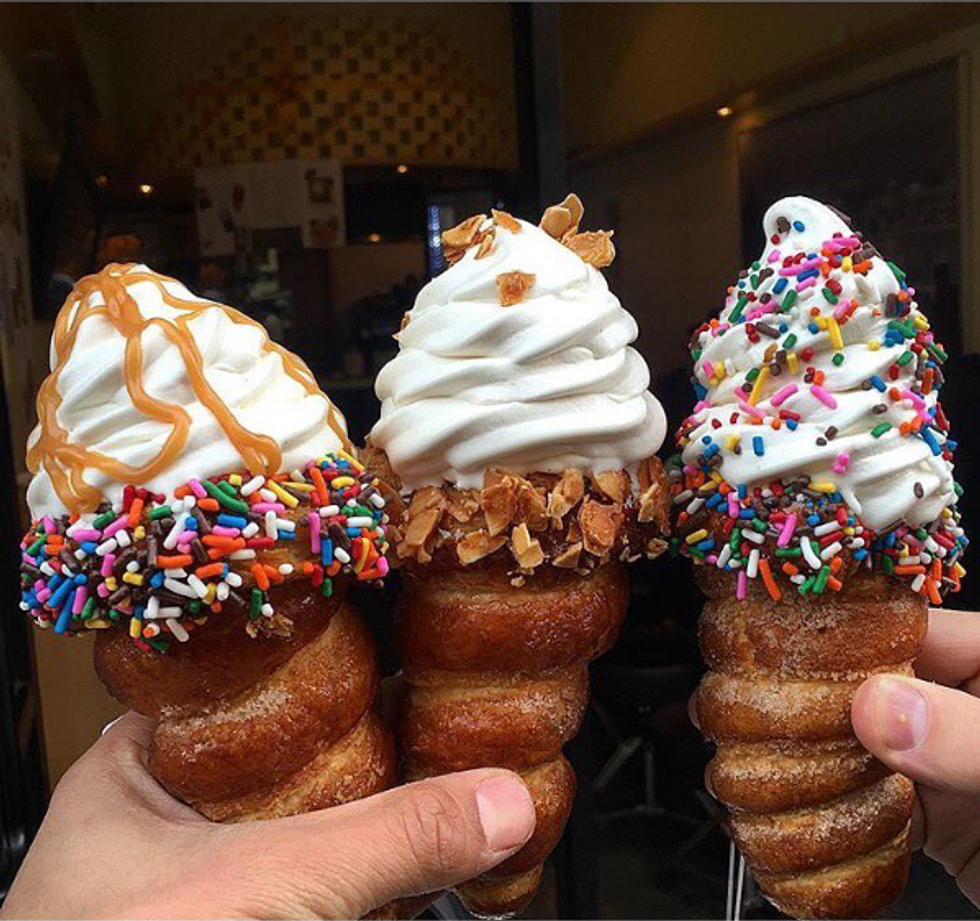 This is a Bloody Mary with a garnish that consists of shrimps, olives, pickles, and a fish taco.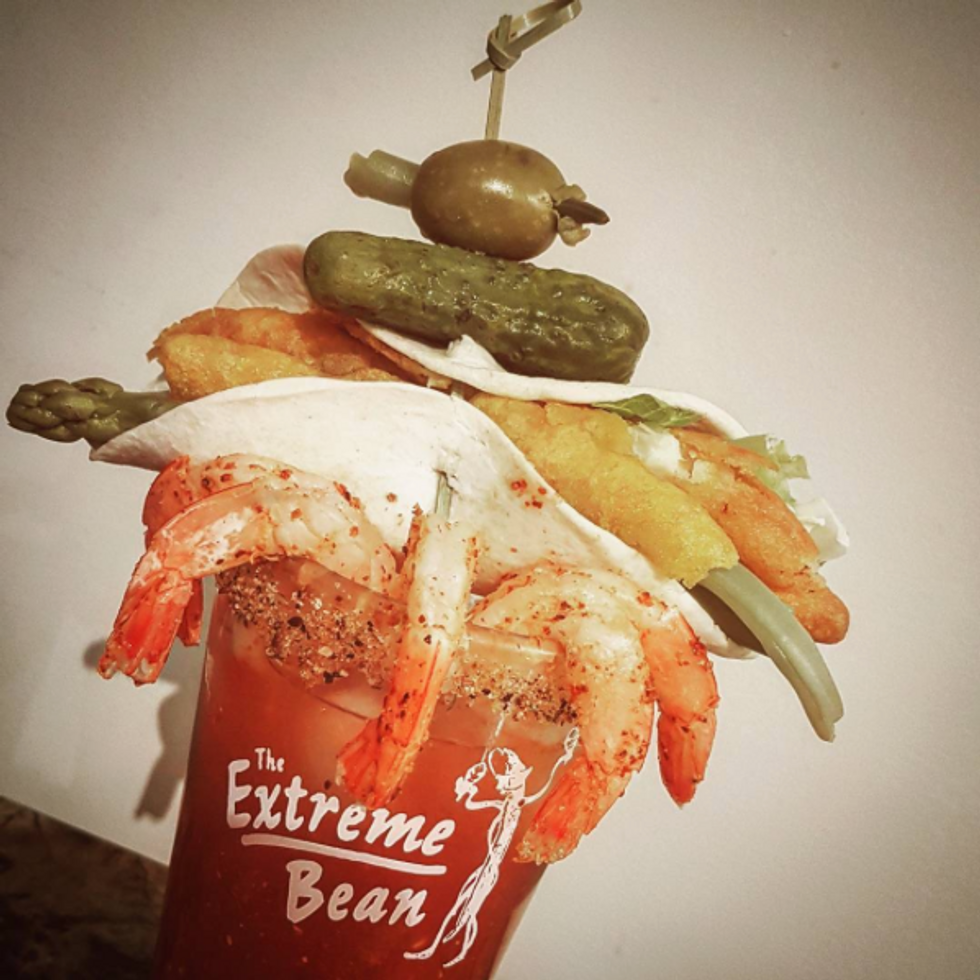 Here's one with bacon, cheese, olives, shrimp, and a cheeseburger.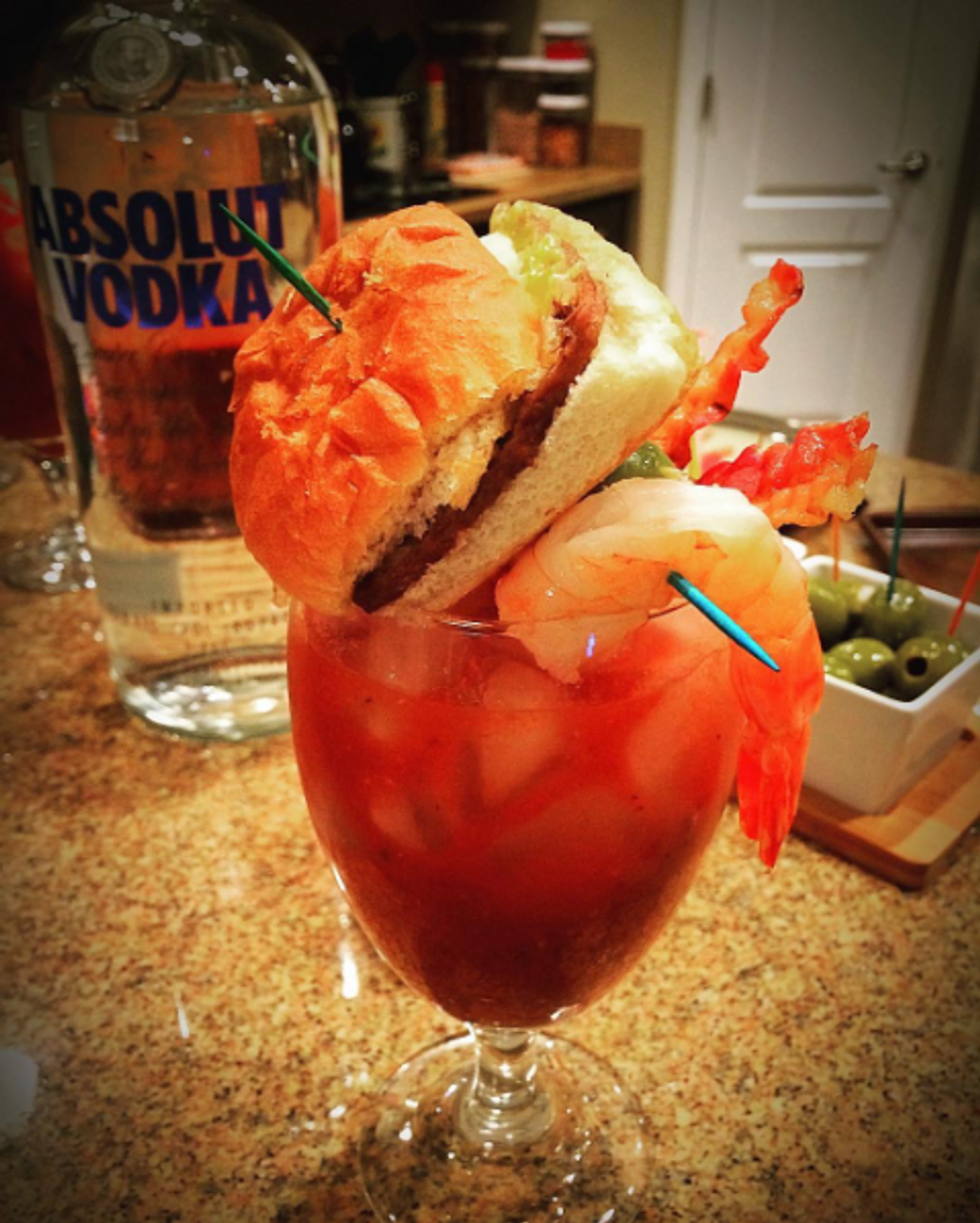 On their own, these are all ridiculously delightful treats for one to enjoy on occasion.
Taken together within the context of an Instagram feed, they're called #foodporn. In other contexts, they'd be called overindulgence or desensitization. 
"You're being too serious," you might say. "These are just for fun! Restaurants and influencers just do this to get people to follow them!"
You might be right — these could simply be props in a larger marketing campaign. But setting aside the troubling prospect of food being used as a prop in a world where 3.1 million children under five die of starvation every year, treating food as props is a recipe for disaster because...
We're raising a generation of gluttons.
Growing up, I remember my parents rarely serving my siblings and I fast food. If anything, it was a rare treat, not a regular occurrence. 
I also remember watching Saturday morning cartoons. (OK, so: "Saturday morning cartoons" were a block of television programming most networks aired on Saturday mornings that was directed mainly at kids. This was before Netflix and Hulu.)
And of course, with Saturday morning cartoons came all the commercials that played within them. (Right, "commercials": every single piece of television programming used to have commercial breaks, and you couldn't fast-forward through them.)
Even with my extremely limited exposure to fast food as a child, I still knew exactly what a Big Mac tasted like. I had never eaten a Big Mac before — not only would my parents never give an eight year old a Big Mac over a kid's meal to begin with, but the fast food joints near us were a Burger King, a Taco Bell, and a Wendy's. 
I had never eaten a Big Mac before, but I knew exactly what a Big Mac was supposed to taste like. How was that possible? 
You might be rolling your eyes at my definitions of "Saturday morning cartoons" and "commercials" just a moment ago. "We get it, Sean, Saturday morning cartoons aren't a thing anymore, but they're not that far removed. Young kids aren't reading Big Think, and besides, we're not THAT old."
Aren't we, though? If you're someone who grew up watching Saturday morning cartoons, you're old. By today's kids' standards, you're very old. You're old enough to have watched Saturday morning cartoons.
You are out of touch with what it's like to be a kid today. You don't know what kind of media environment they're currently immersed in. You might recognize how vulnerable a child's mind is to it, but the media environment you remember wasn't so bad. You ended up alright, didn't you?
Children today are exposed to a nightmarish amount of media. Between phones, televisions, computers, and games, they can spend up to 44.5 hours a week staring at screens. For context, that is more hours a week than the average American spends at their job. They do it more than they sleep. The average child between two and seven years old sees 12 ads a day. A teenager between 13 and 17 sees 17, on average.
A child between 8 and 12 sees 21. A day.
And that's only the things that are obviously ads. How many YouTube vloggers do they follow? How many pop stars on Instagram? How many influencers on Snapchat? 
And how many YouTube videos, Instagram posts, and Snapchat stories do you see in your feed every day that have something like this in it?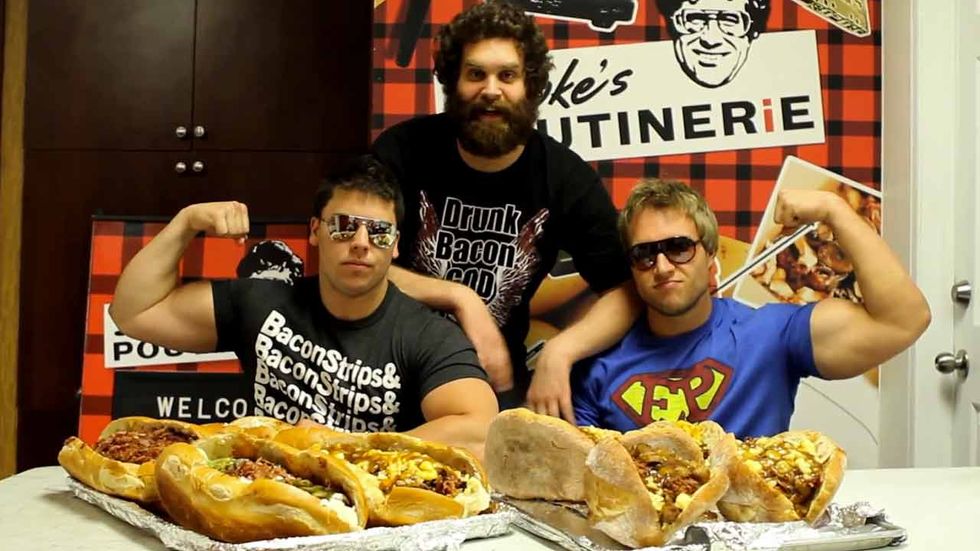 To be fair, the Epic Meal Time guys are awesome and should keep doing what they're doing. There's an appropriate place for extremes, be it in food, music, film, or anything else.
But right now, that extreme is becoming dangerously close to the normal.
So how did I know what a Big Mac was supposed to taste like at all of eight years old, even though I had never eaten one?
I was told to.
And now, we're telling eight years olds to eat this stuff: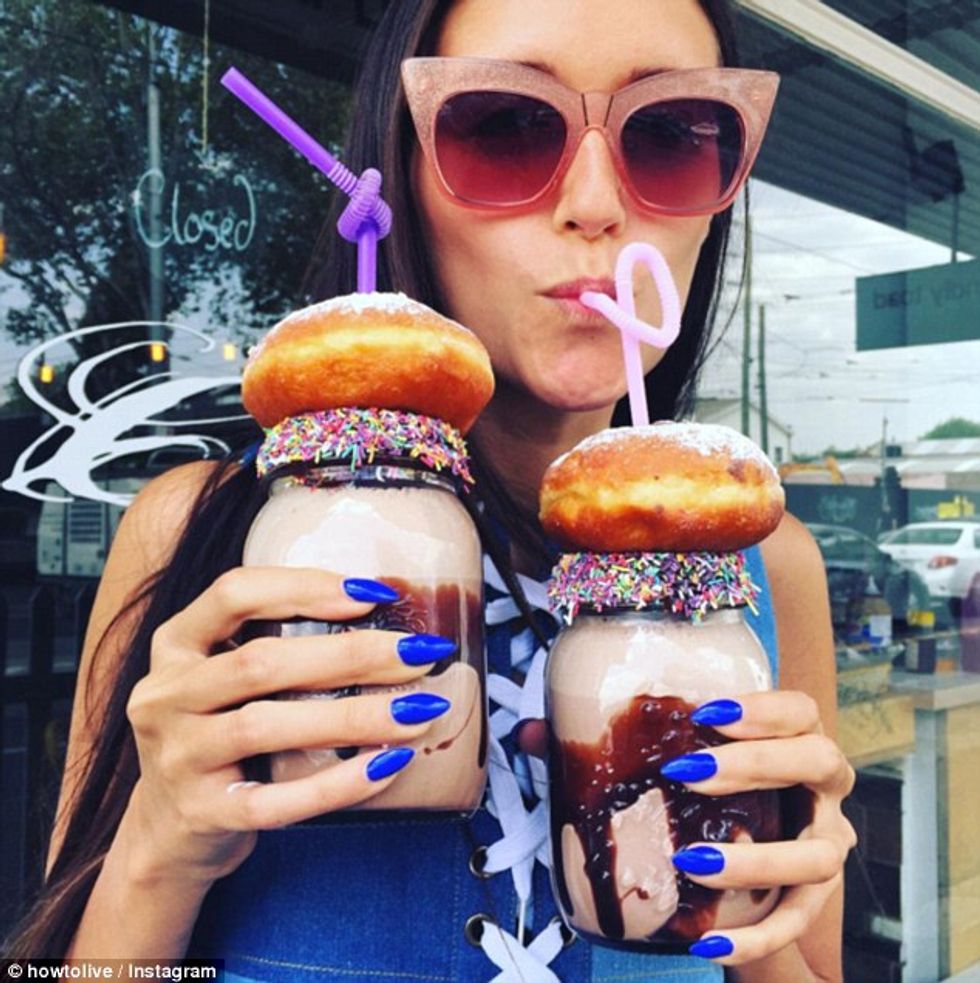 I don't know the answer for this one, guys. More kale? Exercise? We've fetishized the hell out of fitness, too — I don't think more extremes are the way to go here. 
I'd recommend moderation and self-control, but... c'mon, let's be honest, this is social media we're talking about here. Besides, that rainbow sprinkles/sugar doughnut/chocolate milkshake looks damn good.
Luckily, chef Dan Barber is here to talk some sense into us: