We need electric planes, sustainable aviation fuels, and hybrid propulsion now, not later.
In the year when the Swedish word "flygskam" (flight-shaming) hit the news in Europe, public concern about carbon emissions from aviation is endangering the sector's social license to operate.
Aviation is a critical sector that connects travelers and businesses across the globe, fosters economic growth and supports humanitarian missions. It is therefore important for the sector, in collaboration with all those who depend on it, to continue to do all it can to lead the way towards sustainable operations. With demand for flights projected to double over the next 15-20 years, 2019 could be the year that the industry, or at least the most progressive actors within it, define a pathway towards net-zero flying.
Over the last decade, the aviation sector has made progress in improving fuel efficiency through improved aircraft design and operations. The International Civil Aviation Organization (ICAO) achieved an important milestone to limit emissions growth with the Carbon Offsetting and Reduction Scheme for International Aviation (CORSIA), a globally agreed market-based measure to achieve carbon-neutral growth for international aviation from 2020.
Alongside these achievements, more options exist when it comes to managing aviation's carbon footprint. While electric planes – which could run at half the cost and noise of conventional aircraft – are a very real medium-term possibility for smaller aircraft on short routes, they're likely not an option for widespread adoption on larger or long-haul flights due to low energy density of current battery technology.
Hybrid propulsion, whereby electric motors would provide initial thrust on take-off and landing for example, could on the other hand reduce emissions in medium- and long-haul flying, but this also will take years to make a substantial impact. This leaves sustainable aviation fuels, or SAF, as the most realistic option today for greener flying. SAF could come in various types of sustainable bio-fuels (derived from waste and not in competition with any food crops) that are in use already today. Synthetic fuels are another potential source, capturing CO2 during their production phase. SAF – which can reduce the carbon footprint of aviation fuel by up to 80% over their full life cycle – started testing on commercial-sized aircraft systems in 2008. As well as being cleaner than kerosene, another benefit of SAF is that they can be blended with conventional jet fuel, allowing for a gradual introduction into supply chains without the need for any expensive engine adaptation.
Air travel is centered around hubs.The fact that the 20 busiest airports in the world handle nearly one-fifth of all air passenger traffic should make it a lot easier for SAF to be adopted en masse by airlines. Yet, seven years after their introduction to commercial flights, they still account for less than 0.1% of total aviation fuel consumption, with airlines struggling to break away from fossil fuels.
SAF will only be in a position to compete effectively with petroleum-based fuels when they can be produced in sufficient quantities. Overcoming this impasse requires a new form of collaboration between different stakeholders across the industry – including airlines, airport operators, aircraft manufacturers, energy companies, financial institutions, government, civil society groups and customers. We believe this is now beginning to change. As it does, there are three instruments that can help drive the process.
1. The "Paris Buyers Club"
One of the most chronic challenges facing sustainability efforts in almost any industry is reaching a consensus among the key players on who bears the inevitable costs. This is usually characterized by a "chicken and egg" scenario whereby producers and consumers are both either unwilling or unable to make the initial investment for new technologies to reach a scale where they are competitive with existing fossil fuel-derived options.
One idea that was discussed at a workshop organized by the World Economic Forum on the side-lines of this year's Paris Air Show suggests this impasse could soon be overcome. Bringing together all the key stakeholders, the suggestion was made that if significant number of large businesses that rely on air travel clubbed together, their collective demand for carbon-neutral travel could catalyse the ramping up of production of SAF. For example, the annual carbon offset budget of one international professional services firm alone could fund up to two new plants for production of SAF. In essence, this would provide in-sector offsets versus out-of-sector offsets such as planting trees, and still earn participating organizations the relevant carbon credits. This idea is not new. Several programmes for redirecting such climate investments currently exist, but there is potential now for forming a larger coalition of corporate actors who want to demonstrate their commitment to climate change and ensure their staff can continue flying at a relatively low cost.
The KLM airplane which runs on biokerose, a type of biofuel.
Lex Lieshout/AFP/Getty Images
2. Finance takes to the skies
Such funding from corporate actors, or a collection of willing enterprises, could also be accumulated in a new type of investment fund, not unlike the Oil and Gas Climate Initiative. Through co-investment, the high risks associated with new refineries and related infrastructure can be lowered, and there can be greater confidence the SAF will be used once produced (referred to as "off-take agreements" in the industry). The more plants that are built, the cheaper the production process and fuel product becomes. The resulting SAF from new refineries may only be used several years after the initial investment, but the capital pooled in the investment fund could provide the initial push necessary to get the industry to 2% (or even higher) use of SAF by 2025. As was shown in the case of solar energy, this would be an important benchmark that raises the prospect for reaching price parity with conventional fuel and achieving a complete energy transition of the industry over the longer term.
Financial institutions could play a direct role themselves. The World Economic Forum's community of CEO Climate Leaders has made great strides in reducing the carbon footprints of their businesses in order to help meet the Paris Climate Goals. Some of the CEOs represent banks that have taken active steps towards ceasing to provide funding for coal-fired power stations and other heavily polluting assets. More recently, stakeholders in the shipping industry have launched the Poseidon Principles, which sees 11 major banks commit to lending portfolios and practices that incentivise the transition to a decarbonised shipping industry. A similar approach in the airline industry could result in beneficial financing terms for operators that commit to progressive adoption of SAF.
3. Supply
If buyers' clubs have the potential to provide significant momentum through a demand-led approach, opportunities exist for supply-led stimulation as well. One option is for airport operators, in collaboration with their carriers, to make landing rights and lowered associated fees an incentive for driving sustainability. Airports faced with the need to expand in order to accommodate growing demand are under huge pressure to limit their environmental footprint or undertake net-zero growth. The beauty of blended biofuels means that airports could gradually ramp up the percentage of SAF provided to airlines, raising it slowly as global supply increases. That percentage could increase to double digits by the 2030s.
In addition, smart regulatory choices designed to make production and sale of SAF more attractive could help level the playing field with traditional petroleum-based fuels. In emerging economies, like India and Brazil, where there is an abundance of appropriate feed stocks, inexpensive solar and wind resources or land available for refineries, such incentives could serve to encourage investment into new supply chains and scale SAF production in the near to medium term.
The well-sequenced combination of nuanced demand- and supply-led innovations, alongside the emergence of new or improved technologies, presents the aviation industry with a much-needed opportunity to protect its social license to operate and grow in an age of increased awareness around carbon emissions. There is no time to lose.
Reprinted with permission of the World Economic Forum. Read the original article.
Are we sure this isn't alien technology?
(Opener)
A Larry Page-backed company has announced that its flying car will go on sale in 2019.
It's called the BlackFly.
Not quite the escape from traffic you had in mind, but it's a jaw-dropping start.
Hey, it's the future. We're supposed to have flying cars, right? Well, here's your flying car, sort of and again. It's slated to go on sale in 2019. It's called the BlackFly and the company manufacturing it, Opener, is backed at least partially by Alphabet's Larry Page, who's been rumored to have been tinkering with such craft for a while, working with a few partners. Alan Eustace, who's been on Big Think, is an Opener technical advisor.
BlackFly isn't really much of a car-car. It can only travel on roads when it's being carried by its pair of carts, so your seamless, cruise-down-from-the-sky-and-onto-the-road vehicle hasn't quite arrived yet. And you'll be driving BlackFly solo—it holds just one person of up to 6.5 feet in height and weighing in a 250 lbs. But still, wow.
BlackFly in the sky
Here's the official launch video. Imagine seeing this while out on a hike.
As you might expect, where the strikingly futuristic, all-electric BlackFly shines is in the air. It can take off and land vertically (VTOL), and travel at a speed of 62 mph. It has a range of about 25 miles before its onboard battery needs to be recharged much like an electric car. With a rounded bottom, it sort of rocks itself into position as it lands.
Both its speed and range are limited by U.S. FAA regulations. It can go faster and farther in Canada, for example. (More on the regs below.)
Is this thing safe? Is it any fun?
Being at the forefront of personal flight, BlackFly sports three fail-safe flight systems, including a glide mode in case the power fails. There's also an optional parachute for the cautious. And the craft has been tested rigorously, successfully transporting a full payload for 12,000 miles. The propulsion systems made it through 40,000 flight cycles, the equivalent of 25 trips around Earth.
Being so high-tech, operation of the BlackFly is purported to be pretty easy, with a simple user interface, an "intuitive joystick," "soft-landing assist," and even a "Return-to-Home" button. In any event, Opener will be requiring buyers of the BlackFly to have successfully completed the FAA's private-pilot written test first.
The company says BlackFly will be capable of autonomous flight somewhere down the, er, road.
Sky legal
Opener
The FAA considers the BlackFly an ultralight vehicle, which limits its usefulness for escaping traffic jams—it's only allowed to fly over non-congested areas.
More targeted regulations are unlikely to be formulated quickly enough for businesses like Opener and Uber—which expects to have flying taxis up in the air by 2023—or some members of Congress. So says the FAA's acting administrator Dan Elwell at the Uber Elevate summit. When a suggestion was made that flying cars could be allotted their own air space, Elwell, responded, "What you just described is where we don't want to go. You just described segregated airspace. My hope is that we don't have to do that." Still, he says a legal framework for flying-car operation is more a matter of when than if. FAA spokesman Les Dorr tells the Washington Examiner, "The FAA has anticipated these vehicles for some time and is working with industry to help them develop their ideas."
Opener's flying SUV
Opener hasn't yet published a price for the BlackFly, excerpt to say that "In full production, BlackFly will be the price of an SUV. We are vague about the exact price so as not to overpromise." It hasn't yet established a waiting list, so there's no preordering going on yet. There is a mailing list so you can keep up with development, including air show appearances where you can see BlackFly in person. The website also lists its social media accounts.
Why name it BlackFly? Opener says, "Black flies are insects with outstanding aerodynamic and VTOL capabilities. They have the same color as the black carbon fibers in our fuselage. They are disruptive." Well, yes. But they also bite.
You know what would make LEGO even better? A base tape that lets you build against gravity.
Photo: Nimuno Loops
The creators of the Nimuno Loops tape have done some genius inventing bringing us a product that makes you wonder why no one else has come up with it before.
They have created the world's first toy block compatible tape — simple, versatile, cheap, and promising unlimited creative possibilities.
The tape has an adhesive back, and a front featuring the familiar toy block bumps that make it compatible with LEGO bricks, Mega Bloks, Kreo, and most major toy-building block systems. This means you can stick the tape to almost any surface then build your heart out on top of it. 
The creators of the tape, Anine Kirsten and Max Basler, are professional industrial designers based in South Africa who have focused most of their work on toys that engage children with the physical world and encourage creativity.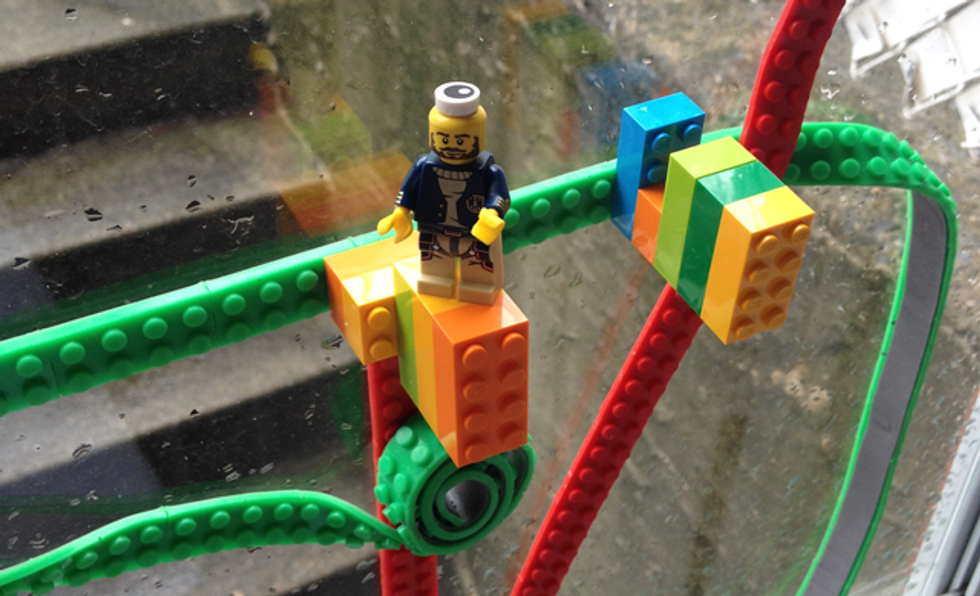 Just a few days after launching their crowdfunding campaign they surpassed the original goal of $8,000 and now stand at almost $1.5 million. Following this unexpected success, they have released more colors and sizes.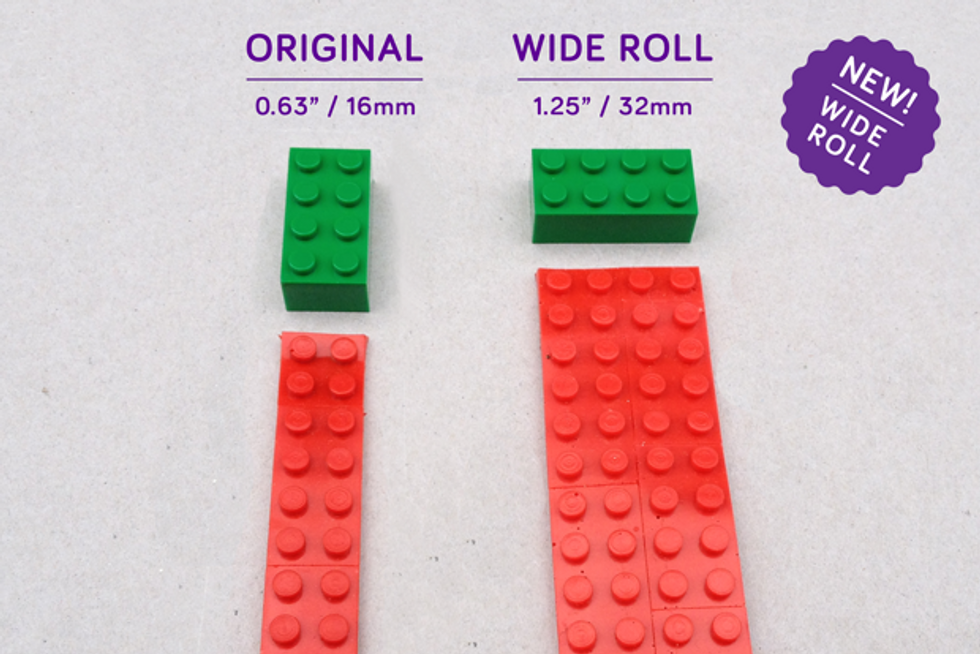 For $13, a backer can get a 6.5 ft roll of the tape. We're looking forward to seeing all the original Nimuno Loops applications.
The most impactful technology inventions in history are ranked.
Technology is a core component of the human experience. We have been creating tools to help us tame the physical world since the early days of our species.
Any attempt to count down the most important technological inventions is certainly debatable, but here are some major advancements that should probably be on any such list (in chronological order):
1. FIRE - it can be argued that fire was discovered rather than invented. Certainly, early humans observed incidents of fire, but it wasn't until they figured out how to control it and produce it themselves that humans could really make use of everything this new tool had to offer. The earliest use of fire goes back as far as two million years ago, while a widespread way to utilize this technology has been dated to about 125,000 years ago. Fire gave us warmth, protection, and led to a host of other key inventions and skills like cooking. The ability to cook helped us get the nutrients to support our expanding brains, giving us an indisputable advantage over other primates.
2. WHEEL - the wheel was invented by Mesopotamians around 3500 B.C., to be used in the creation of pottery. About 300 years after that, the wheel was put on a chariot and the rest is history. Wheels are ubiquitous in our everyday life, facilitating our transportation and commerce.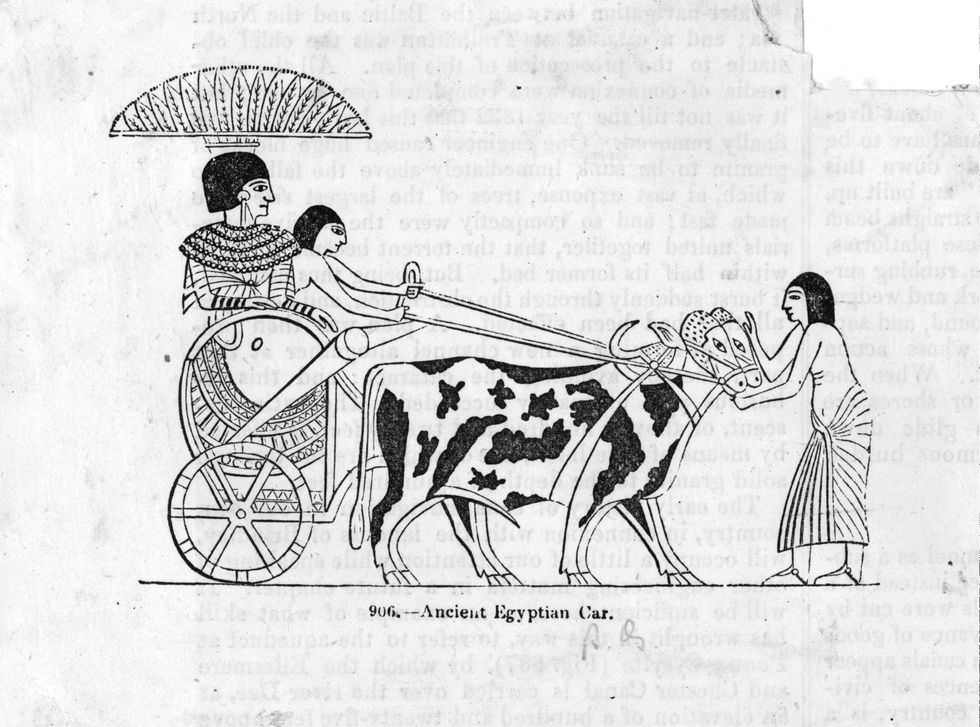 Circa 2000 BC, Oxen drawing an ancient Egyptian two-wheeled chariot. (Photo by Hulton Archive/Getty Images)
3. NAIL - The earliest known use of this very simple but super-useful metal fastener dates back to Ancient Egypt, about 3400 B.C. If you are more partial to screws, they've been around since Ancient Greeks (1st or 2nd century B.C.).
4. OPTICAL LENSES - from glasses to microscopes and telescopes, optical lenses have greatly expanded the possibilities of our vision. They have a long history, first developed by ancient Egyptians and Mesopotamians, with key theories of light and vision contributed by Ancient Greeks. Optical lenses were also instrumental components in the creation of media technologies involved in photography, film and television.
5. COMPASS - this navigational device has been a major force in human exploration. The earliest compasses were made of lodestone in China between 300 and 200 B.C.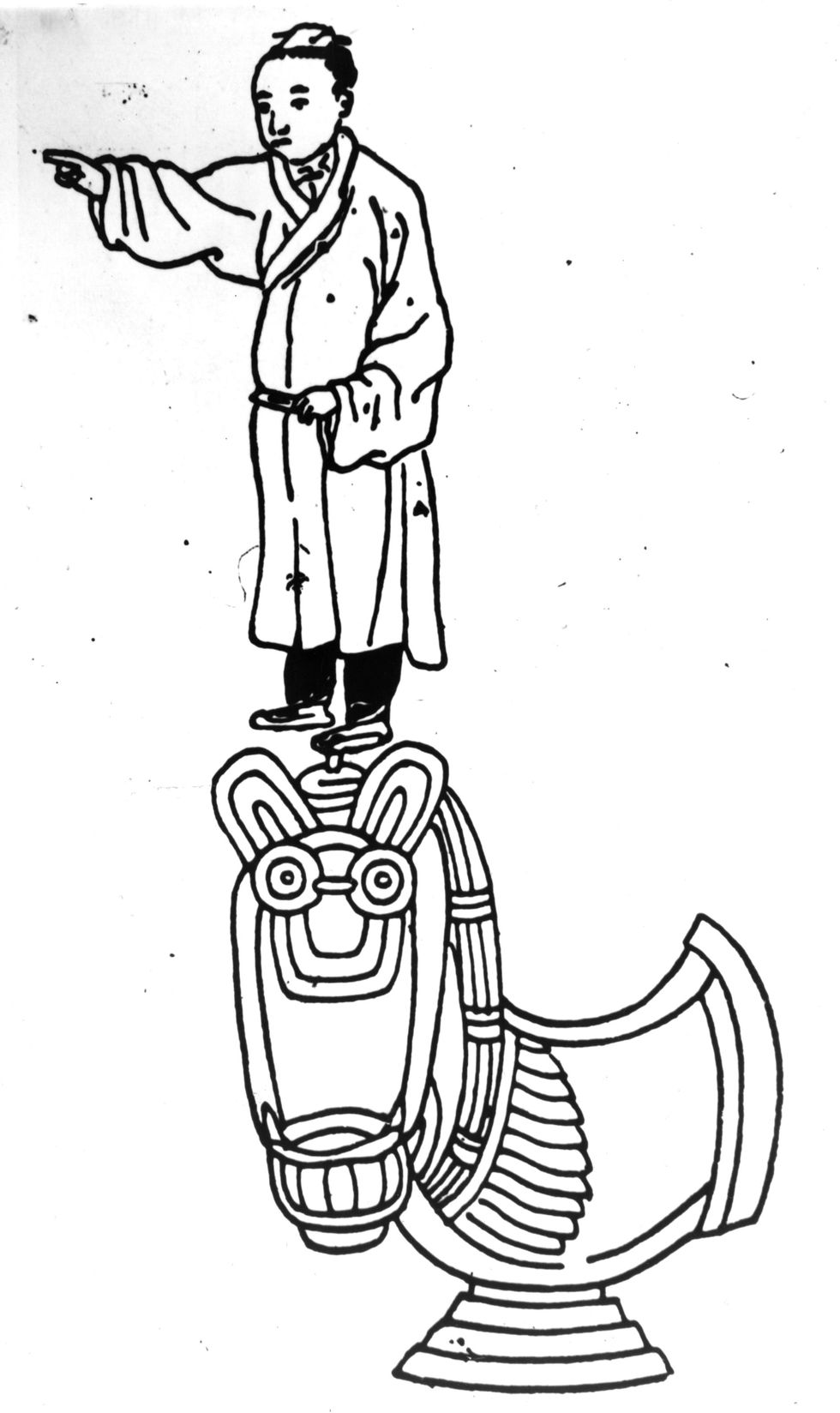 Circa 1121 BC, An ancient Chinese magnetic chariot. The figure, pointing to the south, moves in accordance with the principle of the magnetic compass. (Photo by Hulton Archive/Getty Images)
6. PAPER - invented about 100 BC in China, paper has been indispensible in allowing us to write down and share our ideas.
7. GUNPOWDER - this chemical explosive, invented in China in the 9th century, has been a major factor in military technology (and, by extension, in wars that changed the course of human history).
8. PRINTING PRESS - invented in 1439 by the German Johannes Gutenberg, this device in many ways laid the foundation for our modern age. It allowed ink to be transferred from the movable type to paper in a mechanized way. This revolutionized the spread of knowledge and religion as previously books were generally hand-written (often by monks).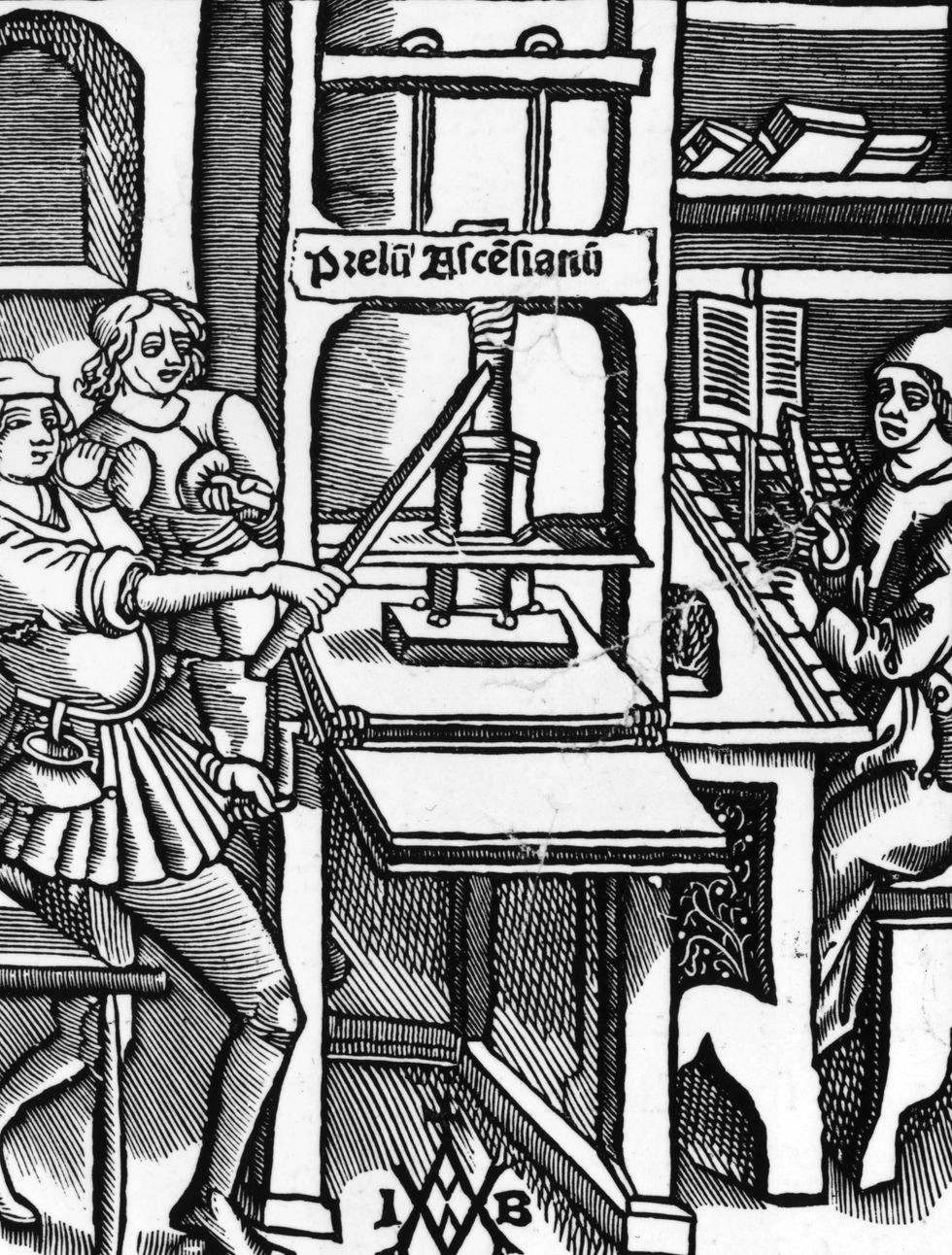 1511, Printing Press, from the title page of 'Hegesippus' printed by Jodocus Badius Ascensius in Paris. (Photo by Hulton Archive/Getty Images)
9. ELECTRICITY - utilization of electricity is a process to which a number of bright minds have contributed over thousands of years, going all the way back to Ancient Egypt and Ancient Greece, when Thales of Miletus conducted the earliest research into the phenomenon. The 18th-century American Renaissance man Benjamin Franklin is generally credited with significantly furthering our understanding of electricity, if not its discovery. It's hard to overestimate how important electricity has become to humanity as it runs the majority of our gadgetry and shapes our way of life. The invention of the light bulb, although a separate contribution, attributed to Thomas Edison in 1879, is certainly a major extension of the ability to harness electricity. It has profoundly changed the way we live, work as well as the look and functioning of our cities.
10. STEAM ENGINE - invented between 1763 and 1775 by Scottish inventor James Watt (who built upon the ideas of previous steam engine attempts like the 1712 Newcomen engine), the steam engine powered trains, ships, factories and the Industrial Revolution as a whole.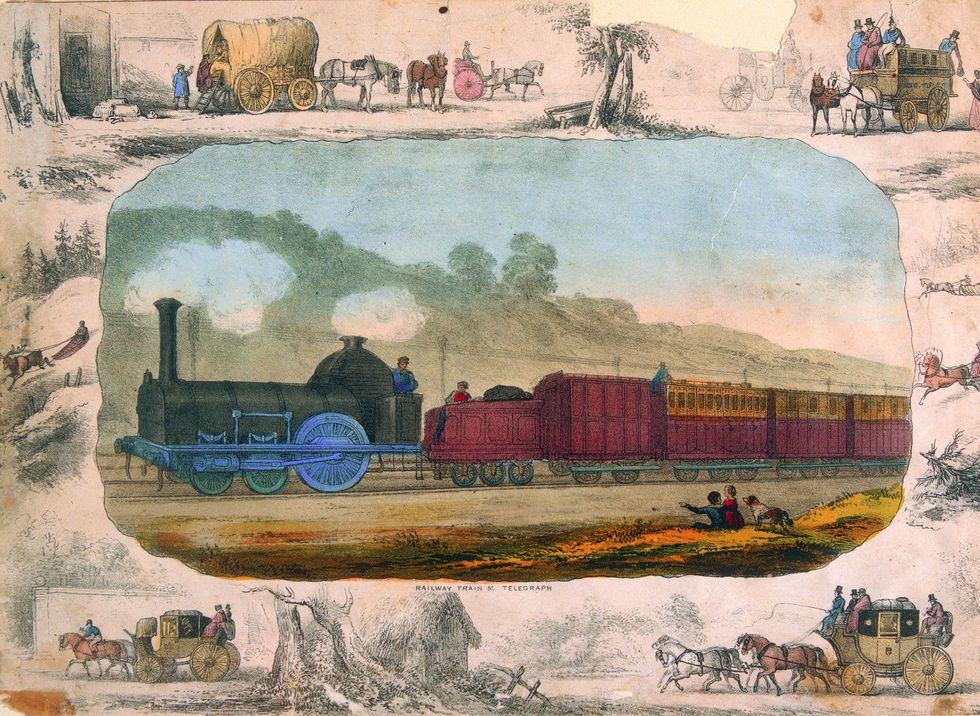 circa 1830: An early locomotive hauling freight. (Photo by Hulton Archive/Getty Images)
11. INTERNAL COMBUSTION ENGINE - the 19th-century invention (created by Belgian engineer Etienne Lenoir in 1859 and improved by Germany's Nikolaus Otto in 1876), this engine that converts chemical energy into mechanical energy overtook the steam engine and is used in modern cars and planes. Elon Musk's electric car company Tesla, among others, is currently trying to revolutionize technology in this arena once again.
12. TELEPHONE - although he was not the only one working on this kind of tech, Scottish-born inventor Alexander Graham Bell got the first patent for an electric telephone in 1876. Certainly, this instrument has revolutionized our ability to communicate.
13. VACCINATION - while sometimes controversial, the practice of vaccination is responsible for eradicating diseases and extending the human lifespan. The first vaccine (for smallpox) was developed by Edward Jenner in 1796. A rabies vaccine was developed by the French chemist and biologist Louis Pasteur in 1885, who is credited with making vaccination the major part of medicine that is it today. Pasteur is also responsible for inventing the food safety process of pasteurization, that bears his name.
14. CARS - cars completely changed the way we travel, as well as the design of our cities, and thrust the concept of the assembly line into the mainstream. They were invented in their modern form in the late 19th century by a number of individuals, with special credit going to the German Karl Benz for creating what's considered the first practical motorcar in 1885.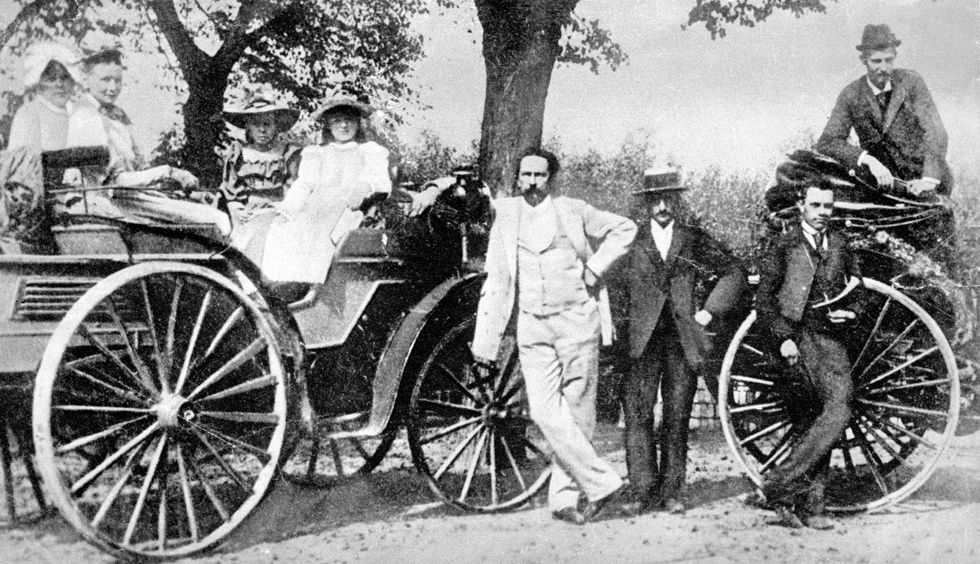 Karl Benz (in light suit) on a trip with his family with one of his first cars, which was built in 1893 and powered by a single cylinder, 3 h.p. engine. His friend Theodor von Liebig is in the Viktoria. (Photo by Hulton Archive/Getty Images)
15. AIRPLANE - invented in 1903 by the American Wright brothers, planes brought the world closer together, allowing us to travel quickly over great distances. This technology has broadened minds through enormous cultural exchanges—but it also escalated the reach of the world wars that would soon break out, and the severity of every war thereafter.
16. PENICILLIN - discovered by the Scottish scientist Alexander Fleming in 1928, this drug transformed medicine by its ability to cure infectious bacterial diseases. It began the era of antibiotics.
17. ROCKETS - while the invention of early rockets is credited to the Ancient Chinese, the modern rocket is a 20th century contribution to humanity, responsible for transforming military capabilities and allowing human space exploration.
18. NUCLEAR FISSION - this process of splitting atoms to release a tremendous amount of energy led to the creation of nuclear reactors and atomic bombs. It was the culmination of work by a number of prominent (mostly Nobel Prize-winning) 20th-century scientists, but the specific discovery of nuclear fission is generally credited to the Germans Otto Hahn and Fritz Stassmann, working with the Austrians Lise Meitner and Otto Frisch.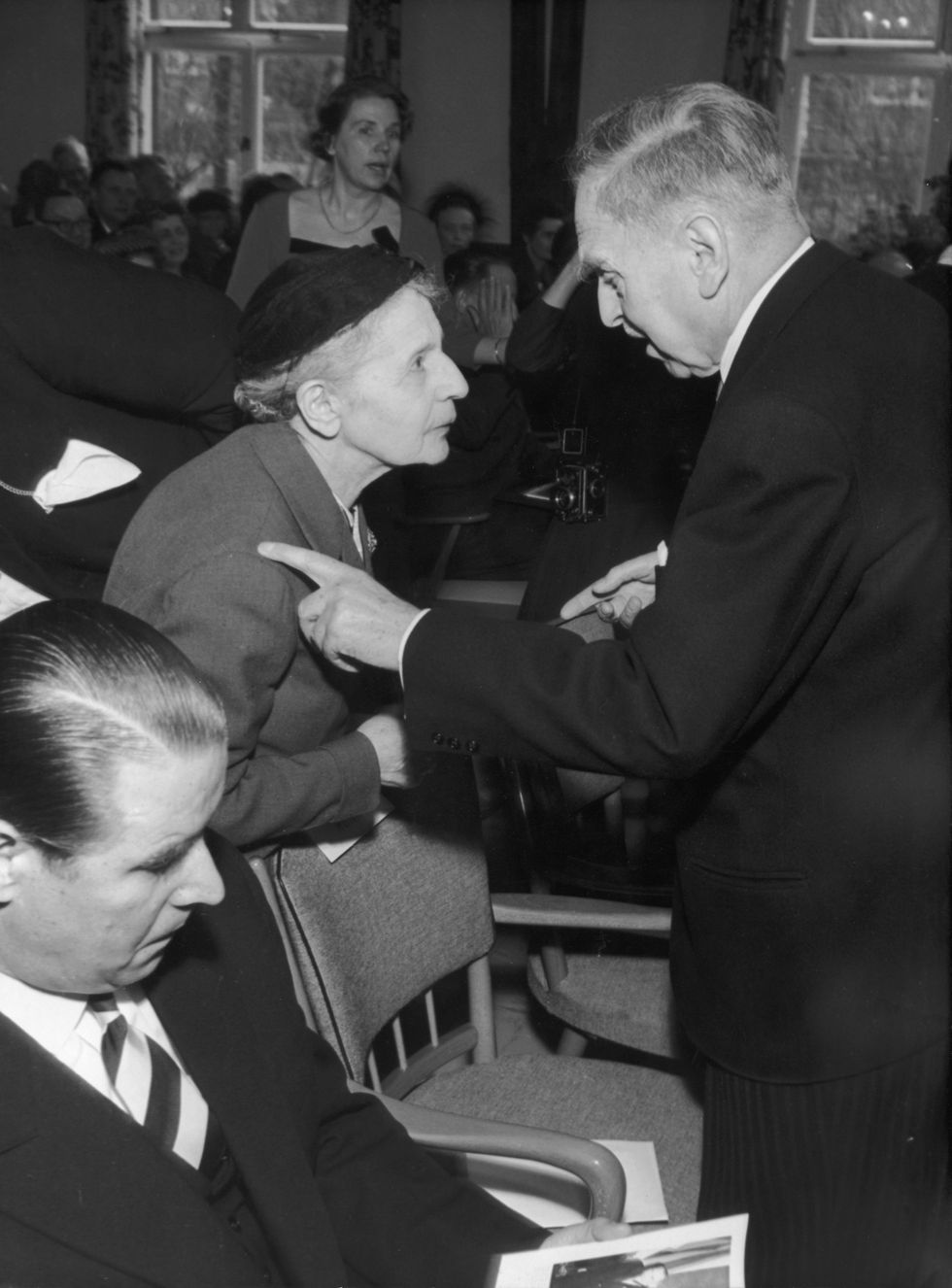 Austrian nuclear physicist Lise Meitner (1878 - 1968) congratulates German chemist Otto Hahn (1879 - 1968) on his 80th birthday, Gottingen, Germany, 8th March 1959. The pair collaborated for 30 years in the study of radioactivity, work which culminated in the discovery of nuclear fission. (Photo by Keystone/Hulton Archive/Getty Images)
19. SEMICONDUCTORS - they are at the foundation of electronic devices and the modern Digital Age. Mostly made of silicon, semiconductor devices are behind the nickname of "Silicon Valley", home to today's major U.S. computing companies. The first device containing semiconductor material was demonstrated in 1947 by America's John Bardeen, Walter Brattain and William Shockley of Bell Labs.
20. PERSONAL COMPUTER - invented in the 1970s, personal computers greatly expanded human capabilities. While your smartphone is more powerful, one of the earliest PCs was introduced in 1974 by Micro Instrumentation and Telemetry Systems (MITS) via a mail-order computer kit called the Altair. From there, companies like Apple, Microsoft, and IBM have redefined personal computing.
(BONUS) 21. THE INTERNET - while the worldwide network of computers (which you used to find this article) has been in development since the 1960s, when it took the shape of U.S. Defense Department's ARPANET, the Internet as we know it today is an even more modern invention. 1990s creation of the World Wide Web by England's Tim Berners-Lee is responsible for transforming our communication, commerce, entertainment, politics, you name it.
Cover photo: a drawing by Leonardo Da Vinci