Perhaps sooner than we think, we'll need to examine the moral standing of intelligent machines.
If eventually we develop artificial intelligence sophisticated enough to experience emotions like joy and suffering, should we grant it moral rights just as any other sentient being?
Theoretical philosopher Peter Singer predicts the ethical issues that could ensue as we expand the circle of moral concern to include these machines.
A free download of the 10th anniversary edition of The Life You Can Save: How to Do Your Part to End World Poverty is available here.
The Life You Can Save: How to Do Your Part to End World Poverty: 10th Anniversary ed. Edition
A newly discovered phenomenon shows that humans communicate outside of mere auditory and visual modes.
Neuroscientists are generally skeptical of supernatural connections to our feelings and perceptions. And yet, feeling the "vibe" of a room or situation is a common human experience, no matter your spiritual or philosophical outlook.
A place might just not "feel right" — or, the people in a particular room might get a "funny feeling." There have been many explanations for it. One theory, for instance, says it's the strange facial expressions or vocal tones that we pick up from others subconsciously.
However, recent Dutch studies offer more convincing evidence as to why we can pick up good and bad vibes.
According to the researchers, humans can detect chemosignals, through smelling bodily excretions, such as sweat or tears, left over from people previously at that location. Many other mammals transmit chemical signals — for instance, cats leave cheek rubbings or urine to mark their territory. Whether humans send out chemical signals, too, has been a subject of debate, until recently.

Human beings are social creatures who naturally benefit from emotional signaling. When one person in an ancient Stone Age band showed fear — say, when noticing an oncoming predator — if others in the band were tuned into the first observer's emotional state quickly enough, they could take up arms and defend themselves.
Picking up on the fear felt by others is known as "sensory acquisition." Studies have proven that making a fearful expression causes us to breathe in more through our nose, which enhances our perception and speeds up eye movements so we can locate potential dangers more easily.
Photo credit: Kenan Buhic on Unsplash
Disgusted facial expressions, such as lowering our eyebrows or wrinkling our nose, signals to others that something is poisonous, noxious, or rotten. This could save members of the group from food poisoning, for example, by preventing them from eating spoiled meat.

So, emotional signaling helps us to understand one another and communicate in a fast and effective manner, which is sorely needed when navigating difficulties in the environment.
Taking a closer look into the recent research, Jasper H. B. de Groot and his colleagues from Utrecht University, in the Netherlands, have been working for years to determine if chemosignals are exchanged between humans, and, if so, how the process works. In a groundbreaking 2012 study of theirs, they had men watch either a scary or disgusting video while wearing a certain t-shirt. Each participant adhered to a strict protocol so as not to mask their own body's scent while wearing it. After their viewing, these shirts were collected and given to women to smell.

Photo credit: Elevate on Unsplash
Researchers found that those who received the "fear sweat" shirts showed fearful expressions and those who had gotten "disgust based" shirts made disgusted ones. It also altered how well they did in performing a certain task. The Dutch scientists said that although we think we only communicate through the visual and auditory modes, our sense of smell and chemosignals help people to become "emotionally synchronized," enabling them to better face challenges together.

In a 2015 follow-up study, de Groot and his colleagues proved that positive emotions could be transmitted in the same way.
Researchers write in Psychological Science, "We observed that exposure to body odor collected from senders of chemosignals in a happy state induced a facial expression and perceptual-processing style indicative of happiness in the receivers of those signals." They added, "Our findings suggest that not only negative affect but also a positive state (happiness) can be transferred by means of odors."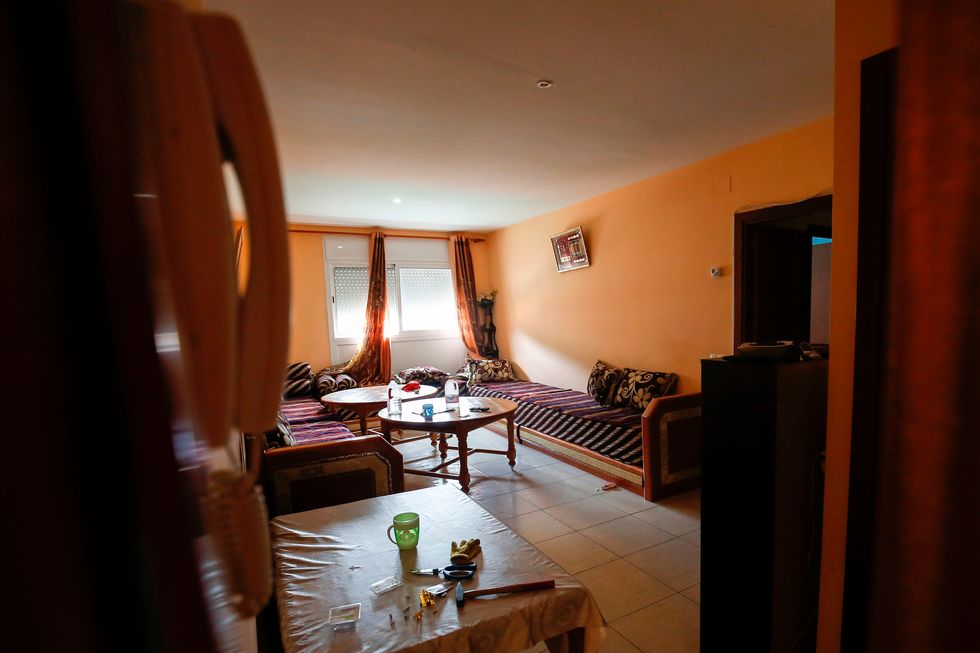 Can humans pick up chemosignals from those who once inhabited a room? Credit: Getty Images.
Some scientists suggest that good and bad vibes in a particular place — or, the "energy" of it — may, in fact, be our perception of positive or negative chemosignals left over in that particular environment. In this sense, it may, indeed, be possible to pick up on whether a place has "good vibes." It's important to note that this is a new field of research. There are still a lot of unknowns.
For instance, scientists aren't sure how the human brain processes chemosignals. And while a reaction evolves quickly, they don't know how long it lasts — does it hang on as a sort of emotional residue, or is it shaken off quickly? More studies will have to be conducted to find the answers to these questions. Still, it's a strong hypothesis for why we feel "vibes" and the Dutch researchers have provided us with the first evidence-based suggestion for what, up until now, has been mostly relegated to the realm of the supernatural.
Want to learn more about human chemosignaling? Click here.
Have you ever wondered why modern-day mammals have adaptations for nighttime activity? A new study suggests dinosaurs might be the reason.
Jurassic Park
Why have so many modern-day mammals evolved adaptations suited for the night? The answer might very well be dinosaurs, according to new research.
A study published in the journal Nature Ecology & Evolution suggests that the threat of dinosaurs, who ruled the world during the daytime more than 65 million years ago, encouraged mammals to only come out under the dark of night.
This idea – known as the "nocturnal bottleneck hypothesis" – has intrigued scientists for years, but it's been difficult to prove by direct means. The new study explores the hypothesis further by analyzing the behavior patterns of 2,415 mammal species, and then using computer models to predict the behavior of their ancestors. The international team of researchers classified each species' behavior into five categories:
Nocturnal – active at night
Diurnal – active in the day
Cathemeral – active during both day and night
Crepuscular – active only at twilight, around sunrise and sunset
Ultradian – active in cycles for several hours at a time
Focusing on the first three categories – nocturnal, diurnal, and cathemeral – the team found that most of the ancestors of modern-day mammals were likely nocturnal, but probably switched to other activity patterns after the dinosaurs died off.

"On balance, our evidence suggests that mammals remained nocturnal throughout the Mesozoic," the authors wrote, referring to the era also known as the Age of Reptiles, which ended about 66 million years ago.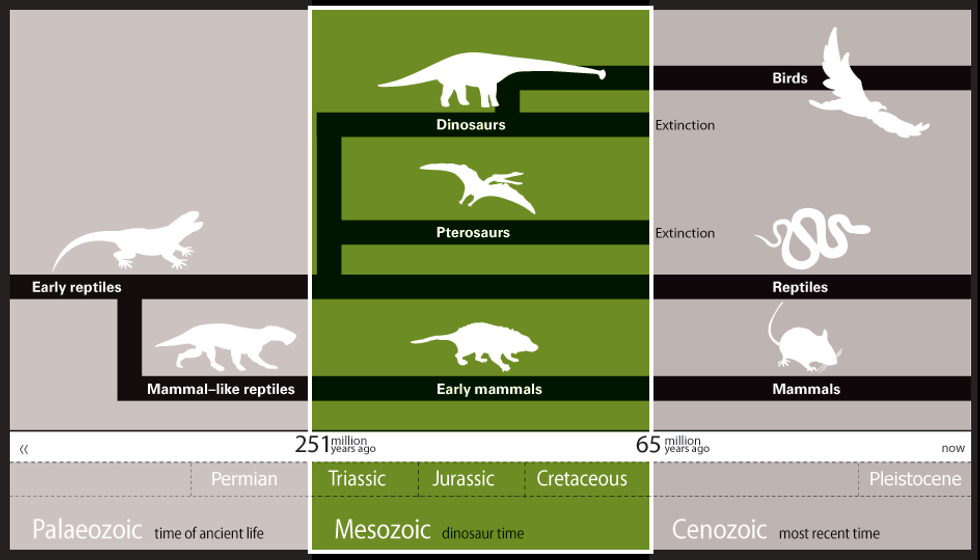 The first mammals to switch to a diurnal pattern (daytime only) appear to have been simian primates from about 52 to 33 million years ago. Primates are one of the few modern-day mammal species that have evolved key adaptations for daytime activity.
"Monkeys and apes (including humans) are the only diurnal mammals that have evolved eyes that are similar to the other diurnal animals like birds or reptiles," study co-author Roi Maor of Tel Aviv University said to The Guardian. "Other diurnal mammals have not developed such profound adaptations."
Although the threat of dinosaurs seems to have encouraged the small, scurrying mammals of prehistory to only come out at night, cathemeral activity — operating both during day and night — seems to have begun before the extinction began. So, why did some mammals risk being out in the light with the dinosaurs?

The researchers offered a few possibilities: these creatures were trying to avoid being eaten by nocturnal animals; they were taking advantage of relatively new flowering species of plants and the insects that liked them; or, as evidence suggests, the dinosaurs were simply beginning to die off before the massive extinction event, allowing for mammals to slowly emerge into the light of day.
Kids say the darndest things. They're also far more adept at workflow management than adults are. What can we learn from them?
Most likely, you don't need to be convinced in the utility of perseverance - the ability to stick to a boring task, despite the fact that the Facebook tab is blinking with notifications in your browser. Implementing tactics that help us resist distractions in order to work towards long-term goals is crucial for success. Now, researchers have found an interesting strategy that has been proven to work for kids - imagining they're Batman. The study was published in the journal Child Development.
With the onset of early childhood and attending preschool, increased demands are placed on the self-regulatory skills of kids. Children need to start completing tasks that may be much less interesting than the myriad of entertaining distractions around them. Researchers have been interested in how to develop self-control and perseverance in children by teaching them tactics like averting their attention away from distractions. 
Another strategy they have found effective is called "self-distancing"— the ability to look at your own situation from an outsider's perspective. Doing this helps people distance themselves from their current feelings and the particular distractions of the moment and instead reflect on the situation more objectively, with the long-term goal in a sharper focus. In a more scientific language, this sounds like "transitioning from stimulus control to volitional control of one's thoughts and behaviors" and is what we need to be able to self-regulate successfully.
This same tactic appears to work for kids as well. In an interesting experiment, researchers found that when kids (ages 4 and 6) are asked to imagine they are Batman (or another exemplary character) they perform markedly better on a test designed to measure their perseverance. 
The researchers simulated a typical grown-up dilemma: choosing between working on something that is beneficial in the long-run but tedious in the moment (completing a boring task on a computer but being a "good helper") or giving in to immediate gratification in the form of playing a game on an iPad. 
The children were separated into three different groups. The first group was asked to reflect on the task from a first-person perspective, the second was asked to reflect on the task while referring to themselves by name (third-person perspective), and the third group was encouraged to reflect on the task from the perspective of a character like Batman or Dora the Explorer. The "encouragement" came in the form of a question the kids had to ask themselves: "Am I working hard?" vs. "Is [child's name] working hard?" vs. "Is Batman working hard?"
As expected, the older kids persevered longer on the work task than the younger kids as they've had more time to develop self-control. However, the extent to which the children were self-distanced affected their performance regardless of age, with the kids in the Batman group spending the most time on the tedious task.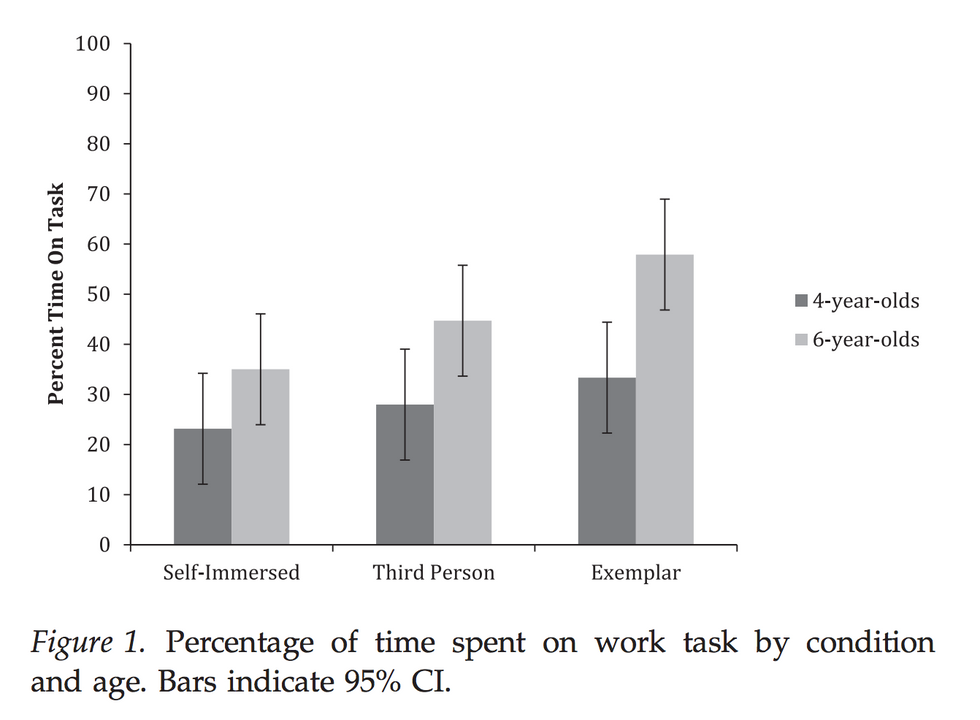 Credit: Child Development / The "Batman Effect": Improving Perseverance in Young Children
In addition to the self-distancing theory, the researchers suggest several other potential reasons why this tactic works for kids. One is that the kids were able to identify with powerful features of the impersonated character and the other is that role-playing in general is considered a fun and familiar activity at this age. 
The researchers conclude that: 
Perseverance can pave the pathway to success. The current research suggests that perseverance can be taught through role play, a skill that is accessible to even very young children.
So, who is ready for a role-playing day at work?
New studies shed light on how Neanderthal DNA is affecting the appearance and behavior of modern humans.
A model of Neanderthal man constructed on the basis of excavated bones, at the Field Museum of Natural History in Chicago. circa 1920 (Photo by General Photographic Agency/Getty Images)
Neanderthals, our ancient predecessors, who became extinct in Europe about 40,000 years ago, were found to interbreed with modern humans when both lived at the same time in Eurasia. As such, some Neanderthal genes found their way into our DNA, making up from 1 to 3 percent of the genetic code of humans who were not indigenous to Africa. As shows a new study from the Max Planck Institute for Evolutionary Anthropology in Germany, the Neanderthal code, while not large, may still be having a significant effect on how we look and feel.
The research team set out to figure out which specific elements of human appearance and behavior are linked to Neanderthal DNA. The scientists used information from the UK Biobank which made available genetic data on 112,338 individuals with white European ancestry (who have Neanderthal DNA), along with answers by the participants to questionnaires that included physical and behavioral descriptions. The researchers compared this to the genetic analysis of a Neanderthal specimen from the Altai mountains in Siberia.
The study's lead author computational biologist Michael Dannemann and co-author Janet Kelso discovered genetic links between Neanderthals and modern humans in traits like skin and hair color, sleeping patterns, mood and even tobacco use.
In particular, many of the connections were related to the adaptations to sunlight made by our genetic forefathers. They lived in Eurasia's sunlight conditions thousands of years before the arrival of modern humans and thus developed favorable genes to deal with the environment which they likely passed on to the humans through interbreeding.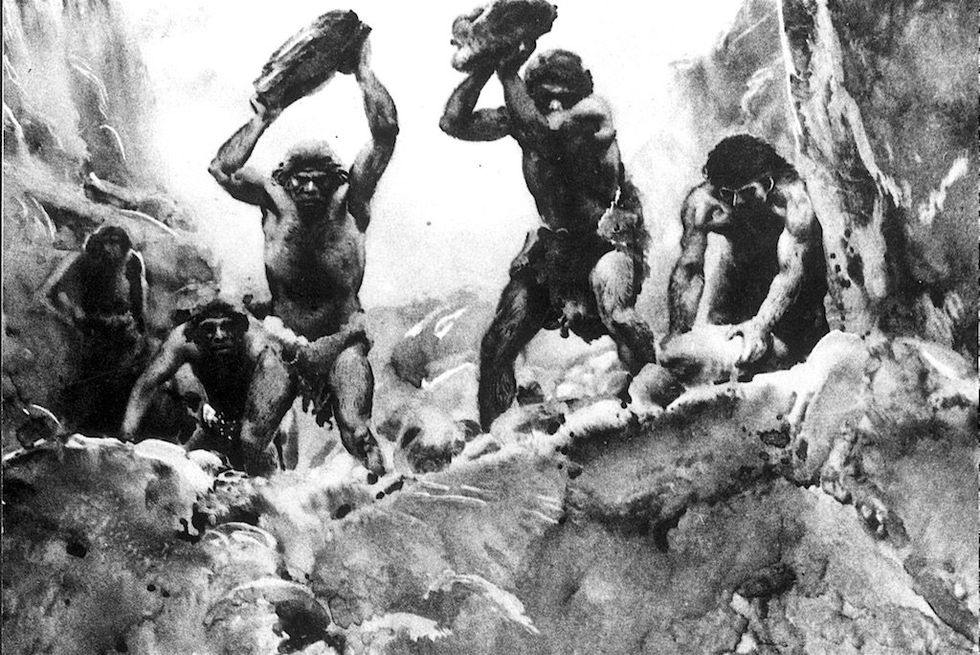 Neanderthal cavemen hunting the cave bear. Circa 500000 BC. (Photo by Three Lions/Getty Images)
Being a night owl is one way you might get in touch with your Neanderthal roots, shows the research, as traits for staying up at night and napping during the day were found linked to Neanderthal DNA. So were moodiness and loneliness as well as propensity to smoke.
If you have red hair, you probably have little Neanderthal DNA in you as the data suggests red-headed Neanderthals were rare or maybe even non-existent.
How easily you get sunburned is another Neanderthal-linked characteristic, according to the scientists.
"Skin and hair color, circadian rhythms and mood are all influenced by light exposure," wrote the researchers. "We speculate that their identification in our analysis suggests that sun exposure may have shaped Neanderthal phenotypes and that gene flow into modern humans continues to contribute to variation in these traits today."
Read the new study here, in the American Journal of Human Genetics.
Another Neanderthal-related new study from researchers at the same Max Planck Institute, published in October in Science magazine, provides more evidence of how ancient DNA affects our health.
The team led by Svante Pääbo and Kay Prüfer made a detailed analysis of a Neanderthal woman who lived 52,000 years ago in Croatia. Through comparison, they found that the Neanderthal genome contributes to such health issues in modern people as blood cholesterol levels, schizophrenia, eating disorders as well as rheumatoid arthritis.
"These are just associations, so that doesn't mean if you have a particular variant of a gene, you either will or won't have a disease. It means sometimes you might," said Prüfer.
The studies contribute to the growing amount of knowledge about how Neanderthal genetics are affecting us. In further research, Danneman and Kelso, the scientists behind the study using Biobank data are looking to use the genome analyzed by their colleagues to repeat the research.