Fight or flight? We've all been there. Now we have an understanding of how it works.
There is such a thing in neuroscience as a 'gut feeling.'
We don't quite know what it's saying yet, but we have an idea.
"Gut signals are transmitted at epithelial-neural synapses through the release of … serotonin."
Have you ever had a 'gut feeling?' That moment when you just knew? Did you ever wonder why that was? Research is starting to make inroads towards an answer.
A recent study led by Melanie Maya Kaelberer of Duke along with a team of others looked at mice to determine how the stomach communicated with the brain. Historically, it was believed that the stomach communicated with the brain indirectly — typically through something called neuropeptide signaling (peptides are like proteins but smaller; neurons use neuropeptides to communicate); however, the results from this study suggest something much more direct, much more nuanced, and a little bit more complicated.
Serotonin is a neurotransmitter. A neurotransmitter is a chemical that is released when a signal arrives from somewhere else in the body and acts as a bridge for the signal to move from one neuron to the next.
What makes the result of the study noteworthy is the fact that — in addition to neuropeptides — "further studies revealed that enteroendocrine cells activate sensory neurons within tens to hundreds of milliseconds, a time scale typical of synaptic transmission rather than neuropeptide signaling."
In other words: something arrived in the stomach and it was known, fast. Think of the speed with which your body lets you know that a fly has landed in your skin and think what it means that your body knows what's in its stomach at comparable speeds. (We know that gut bacteria responds to exercise, but this study raises an asterisk of a question all its own: how quickly does gut bacteria respond to exercise in real time?) It's hypothesized that the reason why this happens is to relay where something is in the gut and how it exists in space-time — whether it's just arrived, how it's immediately reacting to the digestive properties of the stomach, and so on.
Benjamin Hoffman and Ellen A. Lumpkin found the results intriguing, writing in a review of the study that it led them to wonder, "What are the molecular mechanisms of neurotransmitter release in enteroendocrine cells?" Who specifically mediates this synaptic transmission? And how are these neuron signals modulated in a stomach full of acid, anyway? What happens when someone has an intestinal disorder?
Perhaps the answer is already known to someone deep within the depths of their gut.
A UK-Chinese team of scientists have delivered a prototype for a better battery, which could extend the time between smartphone charges – and it's all inspired by our guts.
Say goodbye to carting your phone charger with you everywhere! ... But not until 2020.
A UK-Chinese team of scientists has delivered a prototype for a better battery, which could extend the time between smartphone charges. What's perhaps more interesting is this latest innovation was inspired by our guts.
This new lithium-sulfur battery mimics the villi found in the gut, which line the small intestines to absorb nutrients. What's more, the villi do so by increasing the surface area over which this process of energy absorption can take place—this process is what caught researchers' attentions. The increase in surface area would allow for improved power density—as much as five times that of the lithium-ion batteries in smartphones, today, researchers estimate. 
"By taking our inspiration from the natural world, we were able to come up with a solution that we hope will accelerate the development of next-generation batteries," said lead author Teng Zhao, a PhD student from Cambridge. "This is the first time a chemically functional layer with a well-organized nano-architecture has been proposed to trap and reuse the dissolved active materials during battery charging and discharging."
Lithium-sulfur batteries sure look like the successor to the lithium-ion battery. The higher energy density and reduced cost from the use of sulfur are two of the leading reasons, but as with any chemical reaction, this one comes with some side-effects. Many researchers and companies, like Sony, have been working to develop one durable and safe enough for commercial release.
The day of the lithium-sulfur battery is still years away, but on the horizon – Sony believes it can have one ready by 2020.
Your brain isn't the only organ processing your day while you sleep. Dr. Emeran Mayer explains the circular processing of emotion and memory that goes on between your brain and your digestive system, and how the latter can "dream".
There is so much more going on in your sleep than you think.
In his first video for Big Think, Dr Emeran Mayer – gastroenterologist and author of The Mind-Gut Connection – described what is called our "second brain". The gut is no ordinary body system; it's intelligent and independent, in that it consists of about 100 million nerve cells sandwiched between layers of the gut running all the way from the esophagus to the end of the large intestine. This 'second brain' in our gut, and our regular brain use the same neurotransmitters and are connected through neural, endocrine, and immune pathways, so it truly is an integrated intelligent system with information flowing in both directions.
This becomes interesting when you start asking questions about sleep and its relationship to health. We all know sleep is vital to bodily function, but usually we're focused on our mind activity. What are we dreaming about? Are we processing the day's emotional turbulences? Are we getting enough sleep to let the brain do its thing?
Dr. Mayer explains that your gut is also critically important during sleep, and is affected by your sleep patterns. When you fall asleep and your stomach is empty, your gut commences 90-minute cycles of intense contractile waves that migrate from your esophagus all the way down to the end of your large intestine. It's a cleaning process that removes residue from the gut and keeps microbial bacteria in check. We've always known that missing out on sleep makes us foggy-headed and far from our best selves in terms of cognition, but if our sleep is disturbed or we aren't getting enough of it, or we are eating too much in the night, the gut won't have a chance to properly clean itself. Left unregulated, bacteria will develop into abnormal colonies, the health implications of which can be enormous.
What's more, Mayer points out that, in a way, your gut dreams too. Just as the expressions on your face reveal your internal emotions, your gut is equally reflective of your daily ups and downs – whether it takes the form of butterflies, nervous bowels, emotional nausea, or more subtle physiological changes that fly under the radar. And just as an event that didn't really seem important in the daytime can completely take over your dreams at night, your gut too is encoded with these experiences and must digest them. "Many of these memories have a gut-feeling component because every time we have an emotion during the day there's always a counterpart at the gut level that, through these sensory pathways, goes back to the brain." During sleep, memories are retrieved and processed in the brain, which includes re-living the corresponding gut feelings we had during the day.
With this insight, one has a whole new appreciation for the gut or "second brain", and its nocturnal mechanisms are a fascinating and urgent reminder that sleep is more important than ever.
Dr Emeran Mayer's most recent book is The Mind-Gut Connection: How the Hidden Conversation Within Our Bodies Impacts Our Mood, Our Choices, and Our Overall Health
.
Scientists are concerned that the results of studies using mice may be affected by gut bacteria.
Mice in a laboratory
Mice and other rodents are a staple of laboratory research. In fact, mice are the most commonly used vertebrate species. They are popular because you can get them easily and cheaply, they are small, reproduce quickly, share 99% of their genes with humans, and can be utilized to study genetic human diseases. But studies that rely on mice may potentially be difficult to replicate due to the differing gut contents of the rodents.
Laura McCabe, a physiologist from Michigan State University (MSU), found that the laboratory mice they were using had different microbes in their guts. This skewed the results of their experiments on how a particular drug affects bone density since the drug's effects varied based on what was inside each mouse. Some mice lost bone density while some gained it.
A "microbiome" is a term used to refer to gut bacteria but also to other inhabitants of the gut, like viruses, fungi, and protozoa. The impact of the microbiome on varying experimental data has been coming under increased scrutiny in the scientific community.
"We didn't know to look for it before," said MSU's veterinarian Clair Hankenson to Science Magazine.
To try to standardize what's inside the mice, it has been relatively standard procedure for scientists to be careful in controlling where the mice come from - looking to get animals from the same vendor, keeping them in sterile environments, trying to account for any other factors.
Yet, this approach may not be achieving the desired effect. The gut bacteria in mice can change for reasons like a change in their diet, a new stress, or where and how they were kept by the vendors. For instance, in one instance, mice from one vendor were found lacking segmented filamentous bacteria (SFB), which were shown to help mice make crucial antibodies and immune cells. The presence or absense of this bacteria could affect studies of inflammatory response.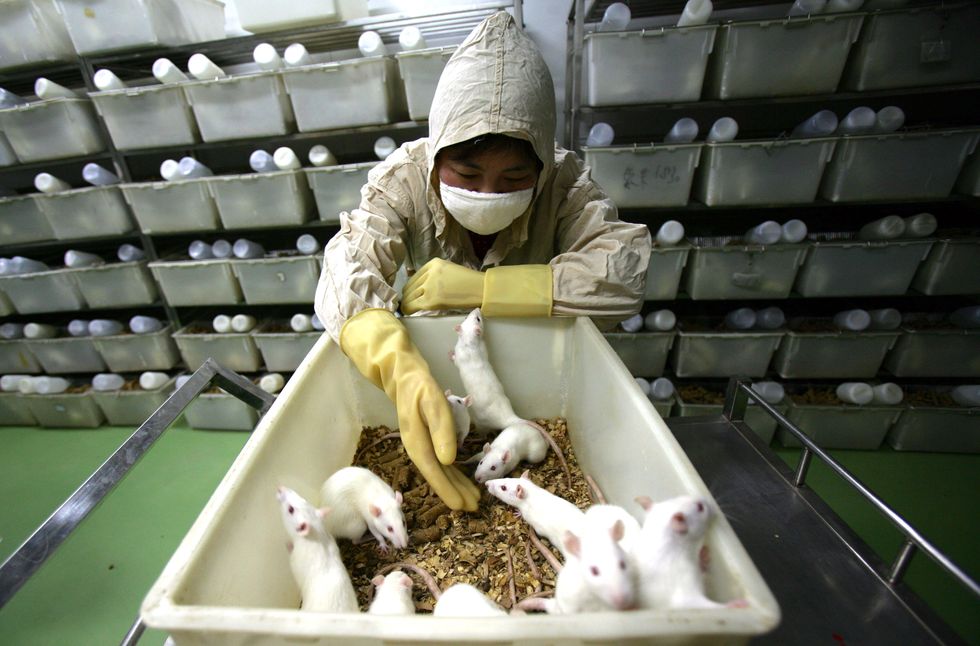 A worker observes white rats at an animal laboratory of a medical school in Chongqing Municipality, China. (Photo by China Photos/Getty Images)
One line of thinking also looks at whether it may not be a good idea to keep lab environments super-sterile. By cleaning, labs might be wiping out some of the microbial variety that make mice good subjects for studying human diseases in the first place. A 2016 study, led by immunologist David Masopust from the University of Minnesota, Twin Cities, found that mice bought from a pet store ended up exhibiting diseases like hepatitis and phenumonia, which have generally been eradicated from lab mice. Exposure to the diseases killed off a chunk of the lab mice but allowed others to build up immunity, thus becoming more realistic stand-ins for the human immune system, according to the scientists.
Another lab doing immunology studies has tried this approach with success. "My lab is incredibly excited about this," said Stephen McSorley, an immunologist from the University of California, Davis, School of Veterinary Medicine. Their lab bought a "dirty" colony of mice that normally serve as zoo animals. This approach, however, has some detractors as well, as it goes against the usual cleanliness-obsessed culture at most labs.
As scientists zero in on the importance of factors that might be influencing the microbiomes of lab mice, they are looking for more ways to account for them in the research. Among proposed ways to counteract the gut's influences is controlling for the diets of the mice and any potential exposure to antibiotics, including fecal microbiome analysis with the data, testing multiple types of microbiomes, and designing studies that separate the effects of microbial genes from the genes of their animal hosts.
A new study identifies key dietary factors that lead to healthy microbes in your gut.
If you love wine or coffee, you are in luck, say new findings from researchers at the University of Groningen in Netherlands. Drinking such beverages has been shown to lead to healthier and more diverse microbes in your gut.
"In total we found 60 dietary factors that influence diversity," said one of the authors of the study, Dr. Alexandra Zhernakova, said in a statement. "But there is good correlation between diversity and health: Greater diversity is better."
The name for the community of generally beneficial bacteria, fungi, and viruses that live in your gut is microbiome. Your microbiome helps you process food, regulate the immune system and has anti-inflammatory properties. Prior research has shown that these microbes (which number in the trillions) were linked to such ailments as mood disorders, obesity, irritable bowel syndrome (IBS) and others. 
Zhernakova and her colleagues helped understand what a healthy microbiome should look like by analyzing stool samples of "normal" 1,135 Dutch people. 
"To our knowledge, this is the first study to systematically assess such a broad range of host and environmental factors in relation to gut microbiome and at such a large scale," said Jingyuan Fu, a systems geneticist at who worked with Zhernakova.
After analyzing the samples and comparing them to collected data in another study, scientists concluded that eating fruits, vegetables and yogurt had a positive effect on microbial diversity. The same was true of drinking wine, coffee, tea and buttermilk.  Interestingly, being on a carb-heavy diet, consuming sugary soda drinks, snacks, and whole milk led to lower levels of diversity.   
19 different kinds of medicine were also found to affect the microbiome's diversity. Medications like antibiotics, laxatives, antidepressants, antihistamines and hormones used for birth control.  
Additional findings included the fact that women had more microbial diversity than men, while older people out-diversified the younger. Breast-fed babies were not found to have more microbial diversity when they grew up.
While there is still much work to be done for scientists to understand how the a healthy microbiome contributes to a healthy body, Fu underscored that "It is becoming more and more clear that the gut microbiome serves as a sort of fingerprint that captures all kinds of signals about host health."
While it is doubtful these researchers would suggest over-caffeinating and binge drinking would improve your gut's bacteria, a moderate consumption of these beverages sounds all the more appealing. Cheers to that!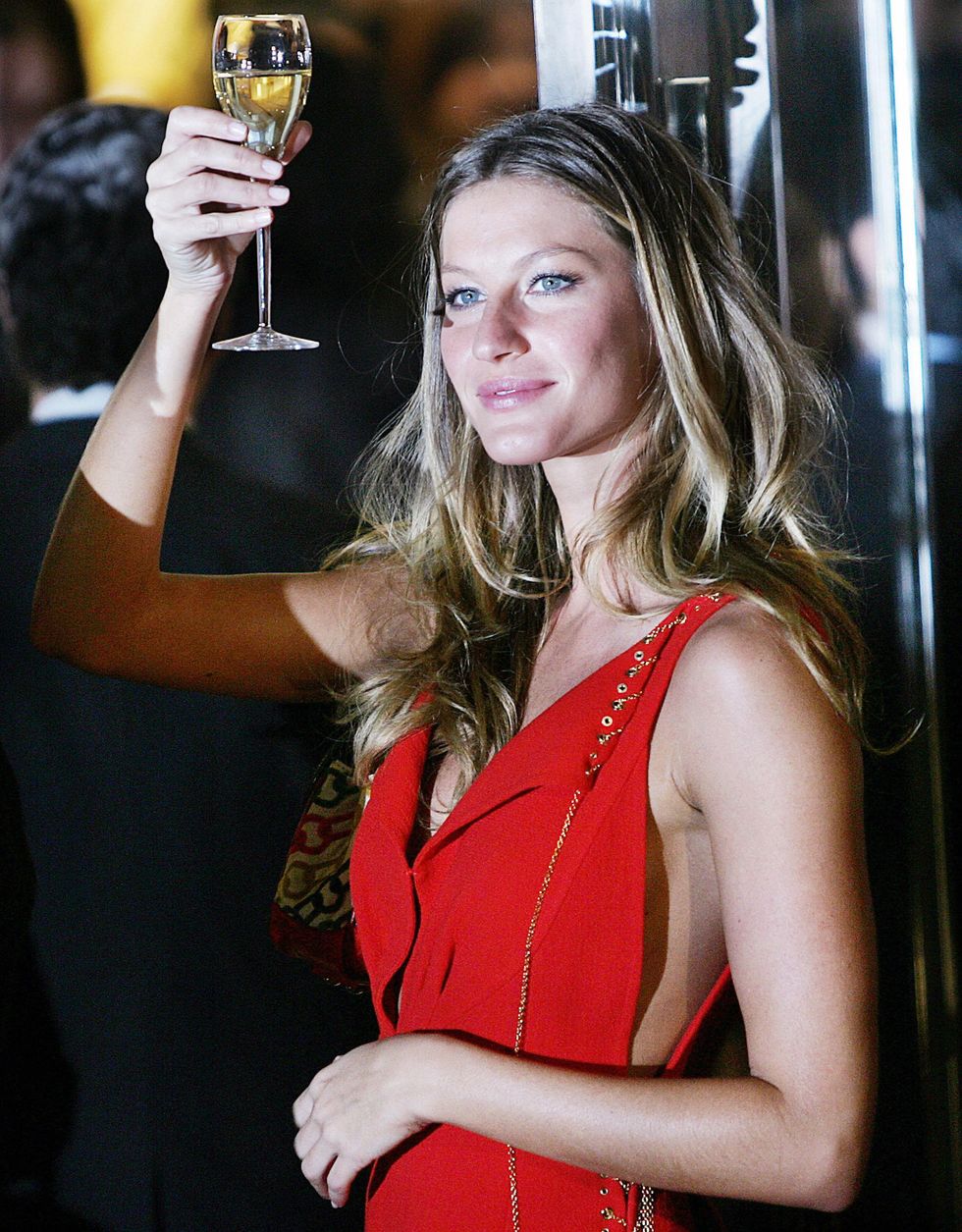 Gisele Bündchen appreciates wine.