Instead of insisting that we remain "free from" government control, we should view taking vaccines and wearing masks as a "freedom to" be a moral citizen who protects the lives of others.
Now that the vaccine is becoming widely available, why do so many insist on not taking it?
As different episodes in history have illustrated — including the building of an atomic bomb in the U.S. – true freedom is to choose to place the well-being of your family, community, and country above your own personal values.
We shouldn't confuse the privilege of choice with a threat to personal freedom. In threatening times, our best defense is to act together to the benefit of all.
Pandemic fatigue is beginning to grind. Amidst yet another pandemic wave cresting in America and in Europe, we have to ask ourselves what's going on, now that vaccines are becoming available. Americans are justly proud of living in a country where personal choices—political, religious, sexual—are supposedly free. I write "supposedly" because clearly there is widespread prejudice and judgement of others and their choices. Acceptance of differences and open-mindedness is still on the to-do list for many. Still, at least we don't have army tanks rolling down the streets when people demonstrate their political or social views. Not usually anyway. For comparison, look at what's happening in Myanmar.
What puzzles me is what could be called the ditching of privilege. I look, for example, at the situation in Brazil, where I was born and grew up. A huge shortage of vaccines and a government that has consistently downplayed the science has resulted in massive fatalities. People are clamoring for help while hospitals are nearing capacity. In the U.S., vaccines are becoming widely available for younger sectors of the population. In two to three months, we could reach herd immunity and life could be close to normal again. Yet, many are choosing not to take the vaccine or to wear masks. "It is my choice and no government should mess with it!" This kind of choice illustrates a confusing conflict between personal freedom and civic duty. When should you sacrifice your personal choices and views for the benefit of your family, community, and ultimately, country?
The choice to get a vaccine and to wear a mask is an expression of your freedom to be a moral citizen and to protect your family, community, and country.
I'm going to take a detour here and go back to another time when a group of individuals had to face a very difficult choice between personal views and civic duty. In 1941, the Japanese bombing of Pearl Harbor prompted the US to join the Allies in the war against Germany and Japan. Two years earlier, on 2-August-1939, Albert Einstein wrote a letter to President Franklin Roosevelt sounding the alarm of a very possible Nazi nuclear bomb. "In view of this situation you may think it desirable to have some permanent contact maintained between the Administration and the group of physicists working on chain reactions in America," Einstein wrote.
Now, Einstein was an outspoken pacifist, as were many of the physicists then working to understand nuclear chain reactions. When the Manhattan Project to build a U.S. atomic bomb started for real in 1942, the main worry and motivation for the group of scientists working in secrecy at Los Alamos was the fear of Hitler with a nuclear bomb in his hands. A split happened within the group. Some scientists pushed the moral worries of building a weapon of mass destruction aside and undertook the formidable technical challenge as another tough scientific problem to figure out. Others, however, had serious moral qualms in participating in the project, knowing very well what the social and political consequences would be. Still, they pushed their personal views aside and worked to build the bomb. The fear of a Nazi threat and the sense of civic duty, the need to protect their country, their community, their families, and their values took center stage, superseding their personal choice.
Erich FrommCredit: Müller-May / Rainer Funk via Wikipedia licensed under CC BY-SA 3.0 de.
Choosing to place community and love for the nation over personal gain or values is what German social psychologist and humanistic philosopher Erich Fromm called "freedom to," as opposed to "freedom from." Fromm argued that the course of civilization and industrialization led citizens to an ever-growing process of individuation—the realization of your aloneness as an individual in a large society— where the weight of choosing for oneself became a heavy emotional burden. People that once saw themselves protected by their communities and religious faith were now set adrift by the very progress of democracy and capitalism. Freedom came with a heavy emotional cost. The consequence was the rise of fascist authoritarian governments that effectively chose for the individuals, giving them a sense of relief from the burden of choice.
Most people focus their battles in the "freedom from" category, confused between their individual freedom and their duties to community and country. The scientists that chose to continue working on the bomb against their personal values did so because they were not focusing on their individual choices above all others. They understood that the damage from the outside threat—a Nazi bomb—would have a devastating effect for their lives, families, communities, and country. So, they chose to work on the bomb to protect their freedom.

Let's apply this lesson to vaccines and mask-wearing. At face value, these seem to be personal choices. And if you see them as personal choices then you conclude that any action against your personal choice is a threat to your freedom from government control. But that's a fundamental mistake. The choice to get a vaccine and to wear a mask is an expression of your freedom to be a moral citizen and to protect your family, community, and country. The virus is the outside threat that has already compromised everyone's way of life, caused immense loss and pain, and wreaked havoc with the economy across the globe. By doing something for your family, community, and country you exercise your freedom to protect what's dear to you. This is what an act of love is.
Quarantines are worth the trouble to keep the next pandemic at bay but they need to be applied intelligently.
A trainee, wearing personal protective Equipment (PPE), takes part in a training session held by the military trained Civil Security (Securite civile), on checking and treating suspected victims of the Ebola virus. (JEAN-FRANCOIS MONIER/AFP/Getty Images)
A new essay argues that quarantines are often needed, but require strict guidelines on when they can be used.
Pandemics are inevitable, and actions that can save lives must be planned now.
The arguments in this essay will undoubtedly be of use during the next outbreak.
The use of isolation and quarantine has a history of success going back to the black plague. The practice of isolating sick people form healthy ones intuitively strikes many of us as useful, and many of us do it on our own accord when we fall ill. It seems like a simple step up from that to the idea of quarantining people who are sick or have been exposed to deadly diseases to stop them from spreading.
However, the impositions on individuals that quarantine requires, such as isolation from friends, family, and activity is a rather steep price to pay. Besides, the use of force to limit people's freedoms for the greater good is always a moral minefield. Deciding exactly when, where, and how to implement a quarantine is a tricky business.
A paper by Alberto Giubilini, Hannah Maslen, Tom Douglas, and Julian Savulescu of the Oxford Uehiro Centre for Practical Ethics might have a solution. By taking a moral approach to the problem, one that seeks the most robust possible foundation for intervention, the authors hope to provide sound guidelines to people considering the question of when to intervene and when to take no action.
​What is a quarantine exactly?
Health workers are seen with a young patient under quarantine at the Nongo Ebola treatment unit in Conakry, Guinea on August 21, 2015. The World Health Organization WHO has lost track of 45 people under surveillance, who had been in contact with a patient who contracted Ebola, in Guinea. (CELLOU BINANI/AFP/Getty Images)
For the purposes of this paper, isolation and quarantine had two different meanings. As the authors define them: "Isolation separates sick people with a contagious disease from people who are not sick. Quarantine separates and restricts the movement of people who were exposed to a contagious disease to see if they become sick."
​Why would quarantine be a good idea? After all, they aren't sick yet!
"Typhoid" Mary Mallon, far left, in quarantine. Her refusal to wash her hands while carrying typhoid fever bacteria may have killed fifty people. She was forced into quarantine for the safety of the public.
(Public Domain)
The first argument that the authors make is the obvious one, society benefits a great deal from quarantining a person who might be carrying a deadly disease at a relatively low cost to that society and a moderate cost to the person quarantined. A person who is exposed to Ebola might contract the disease and start spreading it before they are aware of their illness. Quarantines try to prevent this by hiding away anybody who might have been exposed to a disease, even if they are asymptomatic.

This consequentialist stance is the one typically invoked by governments and state agencies when quarantines are introduced, but the authors don't think it is the best ethical foundation. After all, it might be for everybody's benefit to lock away anybody exposed to the common cold for a week to keep infection rates down. This seems excessive, suggesting that the final answer lies elsewhere.
​Personal responsibility
The authors then argue that, in many cases, the individual exposed to a potentially deadly disease will have a moral duty to quarantine themselves; making what the authorities do merely the enforcement of what a person ought to do anyway.

They use the example of Peter Singer's drowning child. Singer famously asked if we had a moral obligation to save a drowning child if the act of saving them was at a low cost to us. He concluded that we do, and many people agree with him. The authors call this the duty of "easy rescue" and argue that it applies in many quarantine cases since the cost of a person hiding in their room until they know they won't make others sick is typically low while the payoff could include saving lives.
The authors then suggest that, "when the cost to us of engaging in some activity is small, and the harm to others which is prevented is great, the state may permissibly compel us to engage in that activity." They place this inside of certain parameters, however.
Most of us would agree that we must keep other people from getting sick when we are ill. However, the suggestion here is that in severe cases, like when the illness in question is deadly, that the state has legitimate power to make sure we stay home. This is more limited than just comparing costs and benefits and doing whatever gives the best payoff, but still allows for interventions during the worst outbreaks.
​But what about the freedom of the individual?
The authors don't suggest that the authorities should always start with quarantines and use them whenever the mood strikes. They make it clear at the beginning of their paper that, "we will argue that authorities ought to implement quarantine and coercion in such a manner that they have the strongest justification possible for those measures."

They also point out that any rational use of quarantines would be limited to severe cases. As they note, while it might be a social net-positive to quarantine people with the stomach flu, the lack of threat it poses makes the action unthinkable. Ebola, on the other hand, is enough of a threat to people that quarantines would be justified.
At some point though, the freedom of a person to do what they like would be infringed on for the sake of the public health. Many people are put off by this. The question is determining when an individual poses enough of a threat to the people around them that forcing them into quarantine is justified. The authors are of the mind that this is permissible when a person might have a very deadly disease.
In some cases, quarantine laws are overused and not based on a cost-benefit analysis, such as when New Jersey introduced a quarantine of people who had been in certain African countries during the 2014 Ebola outbreak. The poorly thought out law was changed after a lawsuit was brought against the state. This case should be a warning against over-application of quarantines, but not against their use when they are correctly implemented.
The idea of using force to lock people in their rooms to assure that others don't get sick is a tricky one. It makes perfect sense when we're healthy, but seems like a potential use of excessive force when we might be on the sick bed. Nevertheless, the ethics surrounding this issue are far from settled though. Given that we're already preparing for the next pandemic, we may be ruminating more moral questions sooner than we think.
Have you been feeling like democracy is in trouble lately? According to this report, you're right.
A woman confronts riot police during a protest in Caracas on December 28, 2017. (Photo: Getty Images)
But, unpopularity might be the least of democracy's problems.
The annual Democracy Index report by the Economist Intelligence Unit shows that democratic governments are in trouble everywhere. Of the 167 countries ranked this year, 89 of them received lower scores than last year. The scores reflect a wide range of liberties, attitudes, and norms that are vital elements of a free society.
How does it work?
The report ranks countries on a scale of 0-10 in the categories of electoral process and pluralism, civil liberties, government functionality, political participation, and political culture. Each of those categories is further composed of a dozen, more concrete, indicators. The scores are then aggregated to create a single score for the state of freedom and democracy in that country.
A country's overall score then places it in one of four categories: full democracy, flawed democracy, hybrid regime or authoritarian regime. The map which shows how each country ranks is rather interesting.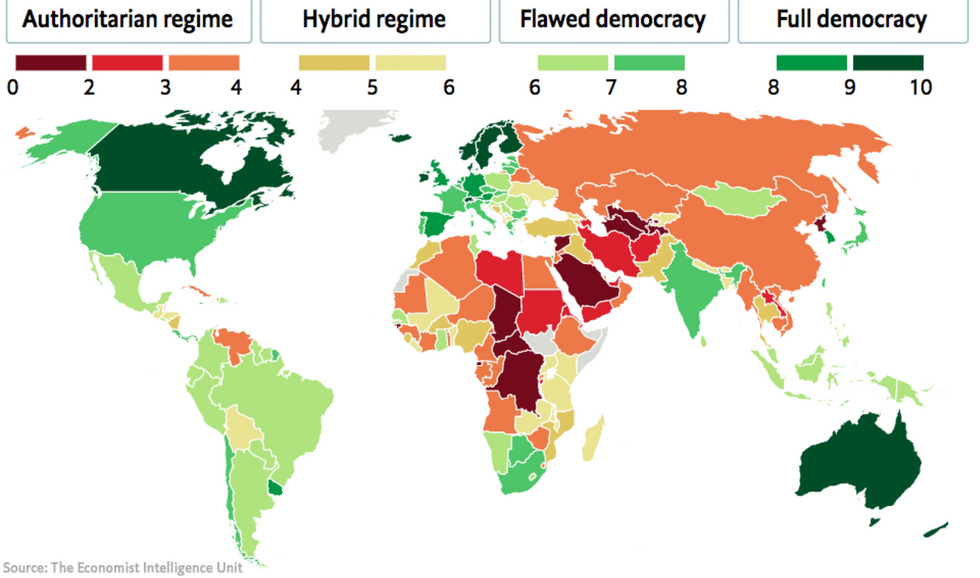 As you can see, darker greens correspond to higher scores for the health of a democracy. Red and yellow countries are hardly democratic at all. Credit: The Economist Intelligence Unit.
So, how bad is it?
This year less than half of the world's population lives in a democracy "of some sort." While the margin is thin, a one percent swing would tip the scale; it is symbolic of the decline of democracy over the last decade. One-third of the global population lives in outright authoritarian regimes, primarily due to the massive population of the People's Republic of China. The percentage of the world's population that lives in a "full democracy" fell to less than five percent.
Asia was a significant driver behind this decline. India, a democracy since independence, saw a substantial fall in its score due to increasing religious and ethnic unrest. Myanmar, Cambodia, and Vietnam all descended further into authoritarianism, and the recent religiously focused election for the governor of Jakarta caused Indonesia to see a major drop in its score.
The average Asian country is now a hybrid regime, as opposed to the full democracies which are typical in Europe and North America. The average Latin American country is a flawed democracy, although Uruguay has the distinction of being the only developing country which is also a full democracy.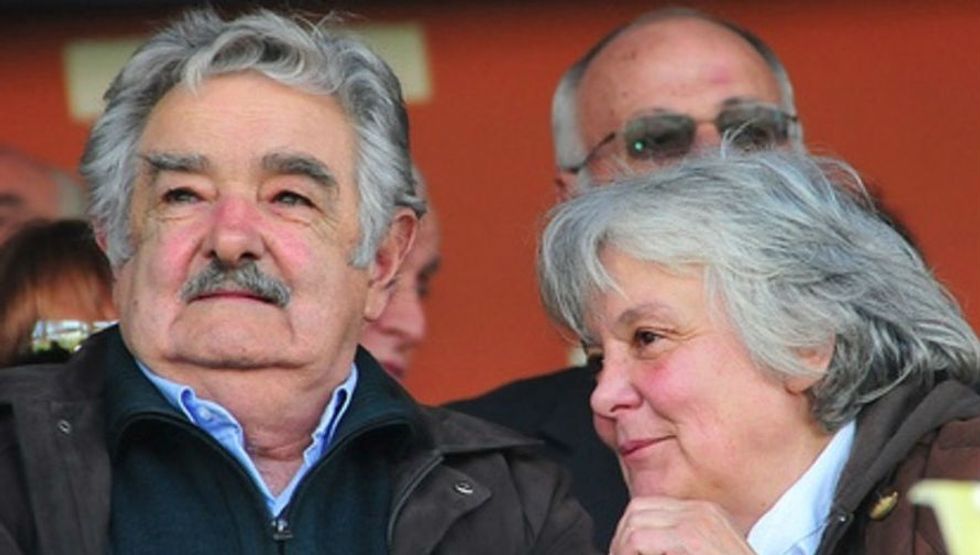 Uruguay's government is already rather unusual. As former president Jose "Pepe" Mujica donated nearly his entire income to charity. 
Why did this happen?
While some of the global decline is attributable to the gratuitous use of authoritarian tactics, such as the Spanish response to the ever-rebellious Catalonia or the crackdowns on dissent in Venezuela, some of it was due to much more subtle problems in the established democracies.
The report cites a "serious decline" in trust for governmental institutions for the decay of the United States' score, which fell low enough in 2015 to earn the title of "flawed democracy." The authors suggested that the decline was caused by factors which go back to the 1960s and helped facilitate the election of Donald Trump.
The authors also warn that many elements of a falling score can create vicious cycles, such as increasing polarization preventing government functionality. The decline in functionality almost inevitably leads to further erosion of confidence in public institutions.
Is there any good news in the report?
Some nations managed to improve their scores. The Gambia, in particular, saw so much improvement that it was promoted to a hybrid regime. Norway can celebrate its eighth year at the top of the list, scoring 9.87 points after a slight drop from last year.
It is also important to remember that while many nations are listed as "flawed" democracies, being even a hundredth of a point below the cut off is the same as being a full point below it. This year the United States tied with Italy at 7.98 points, making both nations "flawed" democracies. 
The authors also see some reasons to be optimistic. "If 2016 was notable for the populist insurgency against mainstream political parties and politicians in the developed democracies of Europe and North America, 2017 was defined by a backlash against populism," they write. As the decline in democratic norms in many nations was the result of populism gone mad, the reversal of the trend might offer hope for democratic norms in those places.
Last year was a difficult year for democracy around the world. Between direct challenges to freedom in places like China, Vietnam, and Venezuela and a deterioration in democratic norms in places like the United States, the world became a little less safe for democracy. If this report will be the beginning of a new trend or a blip on the march of democracy is yet to be seen.
Many great minds have plenty of bad things to say about democracy, but what about the people who think it is great?
Pericles, the great Athenian leader, speaks of the greatness of liberty to the people of Athens.
Socrates had several issues with democracy, most of them stemming from events that took place during his lifetime in Athens. Some of the decisions made by the Athenian democracy were rather insane and made by a body politic that had no business trying to determine foreign policy. Socrates is depicted in Plato's Republic as favoring a totalitarian regime managed by iron-fisted philosopher kings, in which all citizens are raised to fit a particular role, the state regulates bedtime stories, and harmony between individual and society reigns supreme. 
His objections to democracy are countered in the works of John Stuart Mill, whose love of democracy is as great as Socrates' hatred of it.
John Stuart Mill was an English philosopher in the 19th century who is best known for his work on utilitarianism, though his writings span an incredible range of topics. His ideas on democracy, liberty, and the benefits of both are laid out in two of his works; On Liberty, and Considerations on Representative Government.
What does he have to tell us?
While Mill agrees that the unwashed masses should not have absolute power, in Considerations on Representative Government he argues for a giving the votes of the educated more weight than anybody else's; he counters Socrates' idea of the philosopher king with an observation on what happens to the citizens of a "good" despotism. Seeing the society they would rule as being:
"One man of superhuman mental activity managing the entire affairs of a mentally passive people. Their passivity is implied in the very idea of absolute power. The nation as a whole, and every individual composing it, are without any potential voice in their own destiny. They exercise no will in respect to their collective interests. All is decided for them by a will not their own, which it is legally a crime for them to disobey. What sort of human beings can be formed under such a regimen? What development can either their thinking or their active faculties attain under it?"
The population living in a despotic society would be reduced to unthinking drones who need only enough mental capacity to get their daily chores done. Only a democracy can produce citizens capable of enough cognitive power to maintain a democracy, argues Mill, by requiring them to use that mental ability. He notes with envy that while the typical English voter only had to be prepared to vote and serve on a jury, the typical Athenian had to be ready to serve in nearly any office that existed. Mill sees this as a mostly good thing, as it requires the Athenian to be more fully developed as a person in order to fill those roles.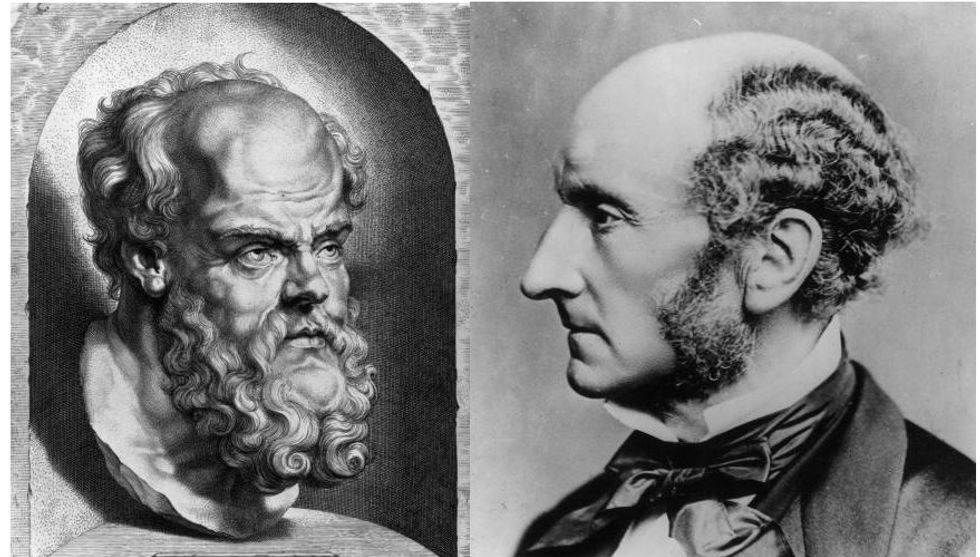 Could a Socrates have been produced in Sparta? Mill thinks not, despite Socrates' praise for the Spartan government. 
Democracy is great and all, but why is freedom good?
In On Liberty, Mill argues that we all need the freedom to choose our lifestyles. This is vital, as without this liberty people will be stifled and unable to explore new ideas, make discoveries, and fully develop as people. In a society where we must all follow the same religion, value the same things, and enjoy the same hobbies, individualism can never flourish. Mill sees this as a horrible situation, explaining that:
"It is only the cultivation of individuality which produces, or can produce, well developed human beings." and "In proportion to the development of his individuality, each person becomes more valuable to himself, and therefore capable of being more valuable to others."*
In Considerations on Representative Government, he notes that the best defense of liberty is an active population working inside of a democratic system. Mill allows us to connect the dots. Only a democratic government can safeguard freedom, and only a free society can hope to promote the development of the individual. The development of the individual is both good by itself and as a means to other ends. We, therefore, need democracy to help individualism and self-development to flourish and the world to progress.
But democracy can lead to such dangerous outcomes! Look to Athens and their mob!
Mill understands that people might make bad choices when they vote. However, he points out that the United Kingdom and the United States of the 19th century were doing rather well compared to the authoritarian states of Eastern Europe and Asia. He also reminded us that Athens, even with occasional lapses in judgment, produced much greater men than did any of the other Greek city-states. Liberty gives positive results, so it seems.
So, was Socrates just wrong about everything?
It is important to remember, however, that Mill was a progressive. He saw the march of history as moving ever forward and the ideal society as one that understood this progress was possible and promoted it. The ancient Greeks were interested in harmony, and in the Republic Plato built a utopia that would remain harmonious for the longest time possible. They even went so far as to define justice as harmony between parts of the whole, both for people and cities. The goals of Mill and Socrates differ considerably, and this must be remembered when comparing their worldviews.
Socrates offers us some excellent critiques of democracy. The problem of properly educating the voters, the threats of demagoguery, and the insistence that the people with direct power should be enlightened are all valuable insights. However, Mill shows us how democracy, flawed as it may be, offers us the best opportunity for growth as individuals and as a society. If, of course, we are willing to do what it takes to make democracy work.
*Mill was a utilitarian. He firmly believed that democracy and freedom lead to better outcomes and more happiness than tyranny. A common objection to utilitarian endorsements to democracy is that if it could be proven that oppression leads to better results, we would be morally obligated to institute that instead. Mill does dodge this problem, somewhat, by placing a high value on individualism. A high enough value, perhaps, to always make the math come down on the side of liberty. If this solves the problem or not is another issue. 
While we often criticize the humanities for not providing an education that leads directly to employment, one philosopher argues they have an even more important role to play in our societies.
Yet another history major who can't find a job? (Norman Rockwell, The Freedom of Speech)
We've discussed before that Socrates, one of the greatest things to come out of Athens, hated Athenian democracy. While he had many reasons to do so, one of the primary ones was that the typical Athenian had no idea what they were discussing, and were prone to using emotion over reason when making important political decisions. They lacked both the skills for critical thinking and viewing the world outside their own perspective to be proper democratic citizens.

But, as philosopher Martha Nussbaum argues, we can avoid those problems by placing a high value on an education in the humanities. A high value which today is often difficult to find.
In her book Not for Profit, Why Democracy Needs the Humanities, Nussbaum lays out the case that a job oriented education, one focused on preparing students for work, is far from enough to assure that the students will also be able to function as democratic citizens in a pluralistic, modern, and globalized, society.

While she doesn't deny the need for technical education; she argues that a purely job oriented education, or even one which is highly focused on a narrow field of study, does not promote the development of critical thinking skills, the ability to consider differing viewpoints, an understanding of people vastly different from themselves, or strong methods for finding truth for themselves that people need as citizens.
These skills, she argues, are best found in the arts and humanities as promoted by a liberal arts education at all levels. While the United States is doing well at the university level of teaching these things, she contests that we are often unwilling or unable to do so at the grade school or high school level. If we do not assure students have access to the arts and humanities, she posits, we are likely to fall victim to demagoguery and lose the benefits of a modern democratic society.

Well, what's wrong with our current method of teaching the humanities? Why write a whole book on this?

A major issue in modern American education she discusses is the increasing use of standardized fill in the bubble tests, and the tendency of teachers to "teach to the test". It isn't impossible to teach the humanities in a way that can be easily tested, the treatment of philosophy as a test subject for the A and O level exams in the United Kingdom has shown that much, but Nussbaum shows us how a multiple-choice test is unlikely to encourage any skills other than the regurgitation of information. They aren't even that good at what they claim to do anyway.

With the national focus increasingly given to education for employment and competitiveness those parts of education which seem unlikely to lead to employment are the most simple to justify cuts to. Nussbaum laments this, and notes that at her own university advertising geared towards new students focuses nearly exclusively on those programs seen as practical and leading to employment. She dubs the combination of funding cuts and lack of attention a "crisis of massive proportions" which is still underway.

Suppose we just got rid of the humanities. Can't we be a free people without them?
The myriad examples of tyrants attacking the arts and humanities suggests we might be wise to hold on to them. She cites, among other events, the prohibition of teaching the Korean language in public schools and the crackdown on Confucian education in general during Korea's occupation by Imperial Japan. All a key part of the plan to reduce the Korean people to servants of Japanese imperialism, a role which had no need for a non-technical education.
Nussbaum later argues that the most cartoonish and often horrifying mistakes made by the Athenian democracy, which caused thinkers like Socrates, Plato, and Aristotle to reject democracy, could have been easily avoided if the population had any of the skills an education in the humanities provides.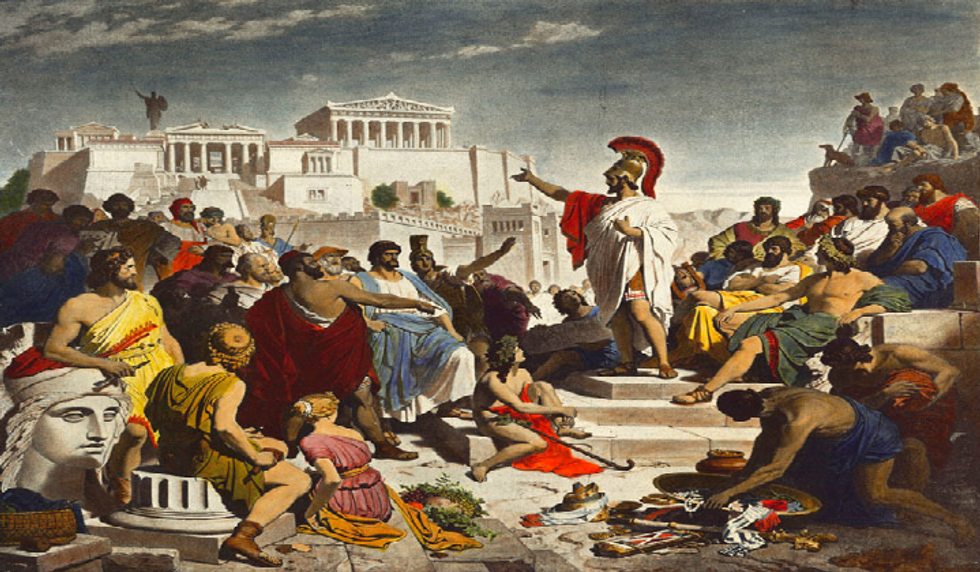 The Funeral Oration of Pericles, an example of the Athenians being led by a populist working in their interest. Often, they were only led astray.

Is she alone in these ideas? Does anybody else argue that a democracy requires these skills?

Socrates, as depicted in The Republic, favored an intensive education for the philosopher kings he saw as the ideal rulers of his utopia. While his proposed curriculum is not the liberal arts education Americans know today, it is one that promotes the search for truth with the use of reason and logic and assures that the leaders of the city state will know not only how to lead, but how to approach the problems they may face as leaders. While he didn't wish for the majority to lead a nation, it is clear he understood that those who do lead must have certain intellectual skills. In a democracy, these leaders are the people.

Aldous Huxley, philosopher, author of Brave New World, and noted psychonaut, made a similar observation in Brave New World, Revisited. Where he noted with terror that the world was moving towards his dystopia much faster than he had predicted and proposed education for democracy as a key tool to prevent this. He later elaborated on his proposed curriculum for a free people in his utopian work Island.

Okay, what does our situation look like now?
We presently have a better education system than the people of Athens; who ended their formal education in adolescence and denied it to women and non-citizens. Often inspired by Socrates and his pedagogy, today's students can find a humanistic education in the American, Scottish, and (increasingly) Korean education systems dedicated to making them fully rounded individuals and citizens.
While Nussbaum warns us to be on the lookout to attacks on and financial cutbacks to the liberal arts model of education, we have reason to be optimistic as well. She mentions many excellent programs in American schools, such as Future Problem Solvers, as examples of democratic education done correctly and in a way that assures continued support.  

The study of the humanities can have many practical uses. It can even be used to find employment, no matter what the nay-sayers might tell you. More importantly, they have an intrinsic value in allowing us to fully develop as individuals. In today's climate, they also take on the role of helping us make democracy possible. Without a proper education in the humanities, where we learn how to understand people we may never meet, how to evaluate arguments and charged rhetoric, and imagine differing scenarios from those we see every day, we may be doomed to the fate of many a failed democracy before us.  

But, if we utilize the fantastic tools we have access to, rise to the challenge of giving everyone the education they need, and emphasize all vital subject matter-even if it seems impractical, Nussbaum argues that we have much reason for optimism and the chance for the continued success of democracy all over the world.
If you would like to improve your humanities background, several Ivy League schools offer free classes you can take online. A selection can be found here and here.