The FDA calls out creators of genetically tweaked hornless bulls.
Hornless bull clones turn out to have questionable genomes.
Scientists were so confident they didn't even look for transgenic DNA.
No one's sure what to do with the offspring.
The lawsuit might be right in disputing LaCroix's "all-natural" claim, but fans of the sparkling water probably don't have much to worry about.
Image: LaCroix.com
The lawsuit claims LaCroix's parent company is "intentionally misleading consumers" by claiming its drink is all natural.
The lawsuit lists three "synthetic" chemicals used to make LaCroix, all of which the FDA classifies, in some way, as synthetic.
However, these chemicals are all naturally occurring and there's no research that suggests they're harmful to humans in small amounts.
A new lawsuit against the maker of LaCroix alleges that the "100% natural" drink actually contains artificial ingredients, including one used in cockroach insecticide.
"Testing reveals that LaCroix contains a number of artificial ingredients, including linalool, which is used in cockroach insecticide," claims a statement from Beaumont Costales, a law firm representing plaintiff Lenora Rice.
The lawsuit states that Natural Beverage Corp., LaCroix's parent company, is "intentionally misleading consumers" and that Rice was "led to purchase LaCroix sparkling water because of the claims made on its packaging, advertising and website to be 'innocent,' 'naturally essenced,' 'all natural,' and 'always 100% natural.'"
But LaCroix actually contains synthetic ingredients, the lawsuit argues. "These chemicals include limonene, which can cause kidney toxicity and tumors; linalool propionate, which is used to treat cancer; and linalool, which is used in cockroach insecticide."
Natural Beverage "categorically denies all allegations," which it said were filed "without basis in fact or law." The company plans to "vigorously seek actual and punitive damages among other remedies from everyone involved in the publication of these defamatory falsehoods."
What's in LaCroix, anyway?
The LaCroix website says all its "natural flavors are essences or oils derived from the named fruit, i.e., lime/lime oils. There is nothing artificial in LaCroix — enjoy!" Still, few people can define what really constitutes an "essence."
That's partly because the Food and Drug Administration doesn't require companies to define the term, but allows them to use it to describe "flavoring constituents derived from a spice, fruit or fruit juice, vegetable or vegetable juice, edible yeast, herb, bark, bud, root, leaf or similar plant material, meat, seafood, poultry, eggs, dairy products, or fermentation products thereof."
According to a 2017 story about LaCroix from Wall Street Journal reporter Rob Copeland, "Essence is, essentially, the mystery behind" the billion-dollar brand." A spokesperson for LaCroix told Copeland that "Essence is our picture word... Essence is — FEELINGS and Sensory Effects!"
Copeland conjured a more informative definition. "Essence is created by heating at high temperatures the skin, rinds or broken down remnants of fruits or vegetables," he wrote. "Alcohol is sometimes added to the mixture. The vapors that rise off the stew are captured, condensed and eventually sold by the 55-gallon barrel."
So, what about linalool and the other two supposedly artificial and dangerous chemicals found in America's favorite seltzer?
It's true that linalool is used in cockroach insecticide, but the chemical can also be found in dozens of spices recognized as safe by the FDA. The agency classifies both limonene and linalool as "synthetic flavoring substances" that are "generally recognized as safe for their intended use," and lists linalyl proprionate under "synthetic flavoring substances and adjuvants" that are safe, according to certain conditions.
It's also worth noting that there are varying definitions of the word "synthetic," and all three of these chemicals are naturally occurring substances that are added to LaCroix in relatively miniscule amounts, and, as such, likely aren't harmful to humans.

"It is very unlikely these naturally-occurring substances pose a health risk when consumed at levels usually found in foods," Roger Clemens, an expert in food and regulatory science at the University of Southern California, told Popular Science. "If there were a health risk, then citrus juices and spices, such as curry, would not be consumed or be part of the commodity market."
Although sparkling water is known to be less than ideal for dental health, it's unlikely that products like LaCroix pose any real danger to humans. If anything, the (questionably) "all-natural" drink has probably helped many people become healthier as they transition from sugar-heavy soda to sparkling water. But for others, it's all about the taste.
"I know what flavors I like but I have no idea what kinds of chemicals are in there and I don't care," one LaCroix fan told Copeland. "I know it tastes good."
Homeopathic manufacturers take advantage of sick and vulnerable populations in criminal ways—and the FDA is, after much absence, starting to crack down.
Samuel Hahnemann discovered cinchona, Peruvian bark, while translating Scottish physician William Cullen's book on malaria. The German doctor left a career in medicine because he objected to practices like bloodletting, which he considered ineffectual and barbaric. Upon leaving the establishment Hahnemann supported his family by translating medical textbooks—a linguist, he spoke nine languages. Cullen's 1789 book, A Treatise on the Materia Medica, set off a light bulb that would forever change the trajectory of Hahnemann's career.
Inspired by the possibilities of a less dangerous approach to healing, Hahnemann slathered cinchona over his body to induce malaria-like symptoms. It remains unproven that he really developed malaria; an inflammatory reaction is possible. Undaunted, he reasoned that it would be the same for any healthy individual. This experience became the foundation of homeopathy. The idea that "like cures like" was not new, but by being its champion Hahnemann created what would become a multi-billion dollar industry.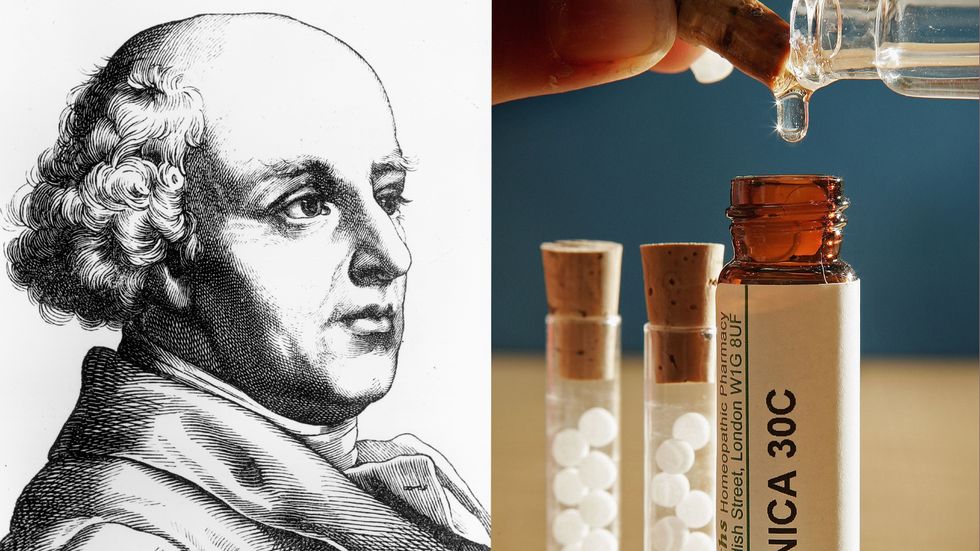 Samuel Hahnemann, the father of homeopathy. (Getty Images)
Hahnemann's method, potentization, remains the basis of homeopathy today. To understand this process, let's consider the most popular homeopathic flu remedy on the shelves, Oscillococcinum. One of France's top-selling medicines, it rakes in $20 million a year in America. Yet few people know what it actually is. 
Oscillococcinum is based on French physician Joseph Roy's 1917 discovery of an oscillating bacterium he termed Oscillococcus in the blood of flu victims. Roy speculated that this bacterium was responsible for a host of diseases, ranging from eczema to cancer. Years later he discovered the same bacterium in the blood of a Long Island duckling. Never mind that no one else ever verified its existence; it was likely dust on the microscope slide. 
Roy had a vision and stuck with it, evidence be damned. Today the process of potentization to manufacture Oscillococcinum begins with the heart and liver of the Muscovy duck. Technicians mix one part duck heart and liver with one hundred parts sugar in water. Then the process is repeated two hundred times. Well, lactose is continually added in; that one part duck is the only active ingredient blended in at any point. 
Dilutions—a proving—for various remedies range in intensity. A homeopathic prescription claiming a potency of 6x means there's one part active ingredient per million bits of sugar. By the time you get to 6c there is one part in ten trillion. By 13c no parts remain. A typical homeopathic medicine is 30c. Former U.S. Air Force flight surgeon and family physician Harriet Hall points out that at this level you'd need a container thirty times the sizes of the earth just to find one molecule of the initial substance. Oscillococcinum is 200c—pure sugar water.
In homeopathy, the less of an active ingredient, the stronger it is. Skirting the basic precepts of biology, most homeopathic remedies don't only work because of placebo, they are placebo. Despite the fact that this knowledge hides in plain sight, the FDA continues to turn a blind eye, to the point where the FTC stepped in last year to require stricter regulations of claims being made on homeopathic packaging, which pull in nearly $3 billion per year in America. 
Until now, that is. The FDA announced that, in a rare recent instance of consumer protection, it's cracking down on marketing claims by manufacturers of homeopathic products. Homeopathy has long enjoyed a lack of surveillance, even though these products are legally subject to the same approval and misbranding requirements as pharmaceuticals. 
The problem with current regulation is two-fold. First, claiming sugar water is responsible for curing colds or any other ailments is irresponsible. The second is more dangerous: some products do contain active ingredients—ironic, since in homeopathic lore it is a weak proving—which have not been clinically tested. 
As FDA commissioner Scott Gottlieb puts it: 
In recent years, we've seen a large uptick in products labeled as homeopathic that are being marketed for a wide array of diseases and conditions, from the common cold to cancer. In many cases, people may be placing their trust and money in therapies that may bring little to no benefit in combating serious ailments, or worse – that may cause significant and even irreparable harm because the products are poorly manufactured, or contain active ingredients that aren't adequately tested or disclosed to patients. 
Most homeopathic products will come through this unscathed, however. The FDA is targeting products with reported safety concerns, containing potentially dangerous ingredients, administered in ways other than oral or topical, marketed for the prevention of life-threatening diseases, aimed at vulnerable populations, or not meeting standards of quality, strength, or purity as those required under the law.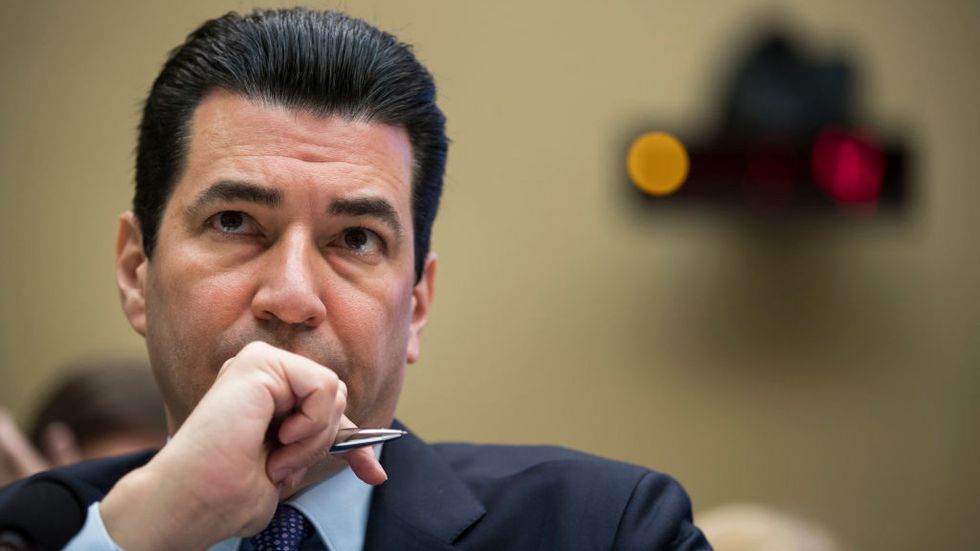 FDA Commissioner Scott Gottlieb. (Getty Images)
This could lead to serious problems, says Timothy Caulfield, the Canada Research Chair in Health Law and Policy at the University of Alberta and author of Is Gwyneth Paltrow Wrong About Everything? While he's happy the FDA is finally regulating homeopathy, he says that by overlooking clinically benign products it is inadvertently endorsing their efficacy. As he told me:
Do to resource constraints, they are prioritizing the high risk products. I understand the motivation for this policy. But I fear they are implicitly endorsing the low risk stuff—which is likely most of the homeopathic products. What is a needed is a clear, blanket policy that is built on the reality that homeopathy is science-free nonsense and that any claims of efficacy— at least beyond a placebo effect—are not founded on good evidence.
The rigors and constraints pharmaceuticals have to endure to get to market are for our protection, even if the pharmaceutical industry itself has been devious when extending patents and marketing ineffective products. Homeopathic medicine today in large part thrives due to consumer concern about Big Pharma—homeopathy was nearly decimated until magical thinking made a huge comeback in the 1960s. The response to growing corporate and governmental power created a mindset that anything coming from those camps must be tainted. 
That we search for solutions beyond pharmaceuticals is understandable. Yet homeopathic manufacturers are taking advantage of us in similarly criminal ways. We're literally being sold sugar water to coat the bitter reality of the vitamin aisle's most ineffective products. As with the rest of the sugar in the market, we gladly pay for it, ignorant of the damage it causes. 
--
Derek Beres is the author of Whole Motion: Training Your Brain and Body For Optimal Health. Based in Los Angeles, he is working on a new book about spiritual consumerism. Stay in touch on Facebook and Twitter.
The results of two human clinical trials involving elderly patients suffering from frailty showed no adverse side effects and "remarkable" physical improvement.
Stem cell therapy appears to be a safe and effective way to reverse age-related frailty among the elderly, suggest researchers at the Interdisciplinary Stem Cell Institute (ISCI) at the University of Miami Miller School of Medicine.
The researchers conducted two human clinical trials to study the safety and efficacy of stem cell therapy on frailty, a geriatric syndrome that includes weakness, muscle and weight loss, decreased energy, and increased likelihood of catastrophic injury, and which affects about 10 percent of the 50 million senior citizens in the U.S.
"These trials represent potential landmarks in the treatment of frailty," wrote David G. Le Couteur and colleagues in an editorial accompanying the papers about the clinical trials, all published in The Journals of Gerontology. "Both studies are early-phase trials of a small number of participants, designed primarily to assess safety, so conclusions about efficacy need to be treated with caution. Even so, the results are striking and, at minimum, pave the way for large randomized Phase III clinical trials."
A Phase III clinical trial typically involves many patients, and it's the last stage a health intervention must pass through before it's approved by the FDA.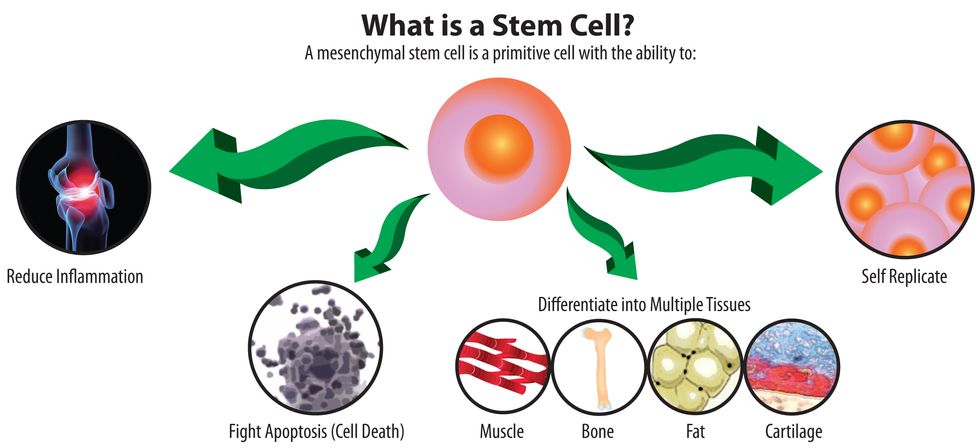 The therapy tested in the clinical trials involves mesenchymal stem cells (MSC), a type of adult stem cell that scientists are studying in efforts to combat everything from brain disease to multiple sclerosis. Like all adult stem cells, MSC can self-regenerate and generate progeny of several distinct cell types, but these abilities diminish as people age. That's why the elderly might benefit from MSC transplants from young donors.
"MSC have a number of biological properties that make them attractive as therapeutic agents: they home to sites of inflammation and tissue injury after an intravenous injection; they differentiate into many cell types including muscle and bone; they secrete bioactive compounds that induce tissue recovery and suppress inflammation; and they avoid host immune responses because of their immunomodulatory effects," wrote Le Couteur et al.
In the first trial, 15 frail patients were administered a single MSC infusion derived from donors between the ages of 20 and 45. After six months, the participants experienced no adverse side effects and all showed improved fitness outcomes, tumor necrosis factor levels and overall quality of life.
The second trial was a randomized, double-blind study with a placebo group, and the results again showed what researchers called "remarkable" physical improvements and no negative side effects.
"With the aging of the population, stem cells hold great promise to treat aging-related disability and frailty, improving physical capacity and quality of life," said Joshua M. Hare, who worked on the project and is Director of the Interdisciplinary Stem Cell Institute at the University of Miami Miller School of Medicine. "There is no FDA approved treatment for aging frailty and an enormous unmet need that will only increase with the changing demographics."
Richard M. Cohen, who suffers from multiple sclerosis, was the first person in the world to be treated with mesenchymal stem cells (MSC). This is his story:
The cognitive boost of taking testosterone supplements has not been substantiated — but let's face it, most men aren't seeking a better memory when popping testosterone pills.
This past weekend I randomly stumbled into the 420 Games in a Santa Monica beach parking lot. Rows of booths displayed the latest wares emerging in the culture of cannabis capitalism. Having worked in the fitness industry for most of my adult life, I was taken aback by how many start-ups are focusing on the magical motivational powers of marijuana. Forget glaucoma, "hacking your neurochemistry to achieve flow states" is the tagline du jour. 
Perhaps I shouldn't be surprised. We're a nation in search of shortcuts. Anything promising quick results with little work is practically destined to trend—tiny Tibetan berries that aren't really from Tibet, libido-boosting avocados, memory-boosting neurotransmitter precursors, how to think differently to influence the universe because, obviously, the universe needs your input. 
Products targeting the ravages of aging are especially profitable. Anything, natural or not, that defies wrinkles, sags, and hair loss are always in demand. Sometimes exogenous compounds make millions, though we seem especially interested in naturally occurring hormones. If a little does a little good, well then a boatload must be even better. Enter testosterone. 
First isolated in 1935, testosterone usage has tripled in the United States since 2001. The naturally occurring steroid hormone is used medically to treat diminished functional activity in the testes, as well as breast cancer, though most associate it with doping. Given its role in supposedly reinvigorating the male sex drive, the supplement is widely available. 
Testosterone therapy is often self-prescribed, which creates a lot of room for error. Ignorant of dosage requirements the side effects—which include heart attack and failure, hostility, depression, and male infertility—prompted the FDA to require new labeling standards last year. Of course if you've got a recurring shipment on Amazon chances that you're reading the box are slim.
New governmental studies on testosterone's effects give us more reason to pause. As the NY Times reports: 
Anyone hoping that a dose of testosterone will provide an easy antidote for sagging muscles, flagging energy and a retiring sex drive may find the results of recent government studies of the sex hormone sobering.
In a recent study, 790 men over the age of 65 were given either testosterone gel or a placebo gel over the course of a year. Each man was below average for blood testosterone levels and experienced symptoms associated with such levels, including diminished sex drive. The results were mixed. 
While the therapeutic application of testosterone helps correct anemia, it appears to have no effect on cognitive functioning or improved memory. More importantly, men that received testosterone also experienced increased levels of noncalcified plaque in their coronary arteries compared to the placebo group. This does conflict with another study published last year that stated testosterone therapy reduces heart problems. The "T trials," as they've been dubbed, were not long enough to measure other potential therapeutic benefits of testosterone, such as with prostate cancer or heart disease.
Let's face it, many men aren't seeking a better memory when popping testosterone pills. Yet only 15 per cent of men over age 65 have reduced levels in the first place. Some studies support the notion of an increased sexual drive, though, as the Times reports, "the bump was modest and waned over time." 
Testosterone didn't help older men walk farther, they found, and it didn't temper fatigue or increase men's sense of vitality, though it did improve mood slightly.
None of this will stop marketers from promoting testosterone replacement therapy as a silver bullet for male virility. Bodybuilders continue to "off-label" the hormone despite the well-known history of acne and shrunken gonads associated with overuse. Those looking to recapture their younger years will also be seduced by the promise of return.
No increase in hormones is without consequences. Hackers seeking a quick-fix will be disappointed with the prescription that doctors are offering for many problems addressed by testosterone therapy: a better diet and regular exercise. There's nothing sexy about the basics, but there's a reason the simplest response keeps popping up—it works. Since too much of a good thing is never enough for the insatiable mind, hackers tend to pay for what they abuse. 
--
Derek's next book, Whole Motion: Training Your Brain and Body For Optimal Health, will be published on 7/4/17 by Carrel/Skyhorse Publishing. He is based in Los Angeles. Stay in touch on Facebook and Twitter.