KGB-era "active measures" are still being used by Russian intelligence agencies today, according to experts.
Russian President Vladimir Putin salutes officers 18 February, 2004 in Plesetsk, where he came to watch the launch of spacecraft Molnia. (Photo credit: MAXIM MARMUR/AFP
As questions swirl about Russia's role in the 2016 Presidential elections, the old KGB strategy of "active measures" is getting a closer look. "Active measures" were subversive techniques and policies aimed at influencing people and events in foreign countries to suit Russia's objectives. Claims of internet-driven hacking and misinformation campaigns by Russia against the U.S. fit well within this Cold War approach. 
As described by retired KGB General Oleg Kalugin in 1987, the purpose of "active measures" was "to drive wedges in the Western community alliances of all sorts, particularly NATO, to sow discord among allies, to weaken the United States in the eyes of the people in Europe, Asia, Africa, Latin America, and thus to prepare ground in case the war really occurs. To make America more vulnerable to the anger and distrust of other peoples." 
According to former NSA analyst and security expert John Schindler, these measures are still in use today by Russia, a country led by the former KGB officer Vladimir Putin.
The practice of disinformation is a key example of such "measures". It could involve stories planted in foreign outlets - essentially "fake news" that would present "an alluring amalgam of fact and fantasy—much of it unverifiable—designed to confuse readers and shift political discussions," explains Schindler.
Other tactics that are part of what Schindler considers Russia "espionage worldview" include provocations which also work to murky the waters and disorient the enemy to such an extent that they would be defeated before even knowing what happened. Provocations could include planting agitators or even flipping activists to serve your ends. 
Conspiracy which involves recruiting agents and running covert operations is another tactic mentioned by Schindler. "Kompromat" which entails using compromising materials is also time-honored KGB staple, used to recruit new spies or agents by blackmailing.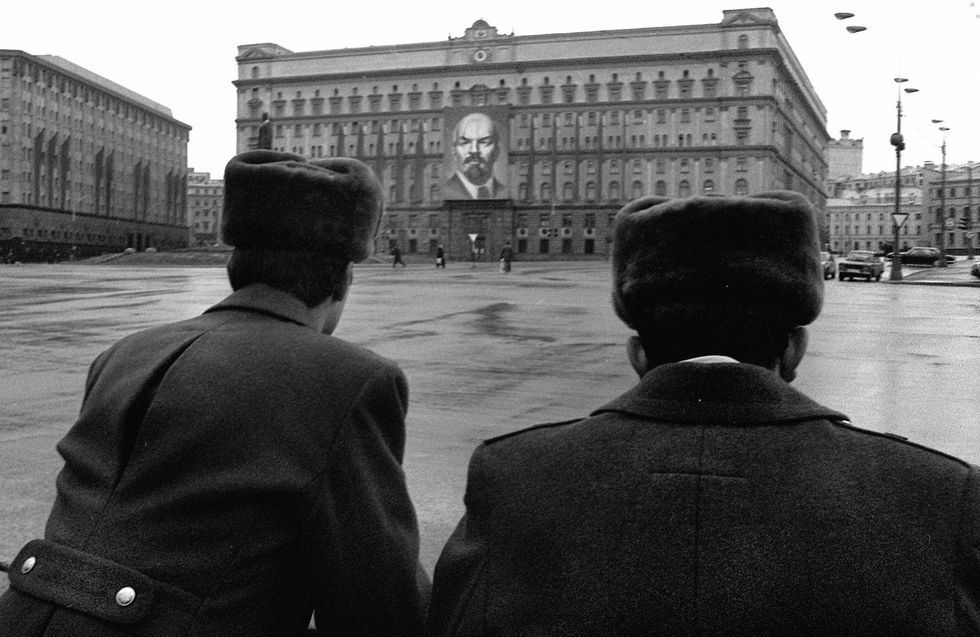 Moscow, RUSSIAN FEDERATION: This undated file picture shows Soviet policemen standing guard in front of the KGB building in Moscow, with a portrait of Vladimir Lenin on it. (Photo credit: ALEXANDER NEMENOV/AFP/Getty Images)
Eugene Rumer of the Carnegie Endowment for International Peace laid out the background on why Russia would want to use "active measures" before a recent hearing of the bipartisan Senate Intelligence Committee investigating Russian interference. For starters, he and the five other testifying witnesses all agreed that Russia was behind a campaign of misinformation in 2016 whose goal was to disrupt the U.S. Presidential elections in 2016.
Rumer said that as every country's foreign policy is shaped by its history and geography as well as politics, the dissolution of the Soviet Union left Russian national security establishment insecure. They were forced to accept the Soviet empire's demise in 1991 and had to retreat from the world stage during the 1990s. The 90s, in fact, turned out to be a difficult decade, blamed largely on the influence of the U.S. and other foreign meddlers in Russian politics and economy. 
But Russia's policy in this millennium has been of pushing back on its boundaries, warring with Georgia, annexing Crimea and fighting an "undeclared war" in Ukraine. From the Russian standpoint, their actions are aimed at restoring the balance of power, pushing back against the expansion of NATO at its borders and correcting the injustice of what happened in 1991. It's Russia's comeback.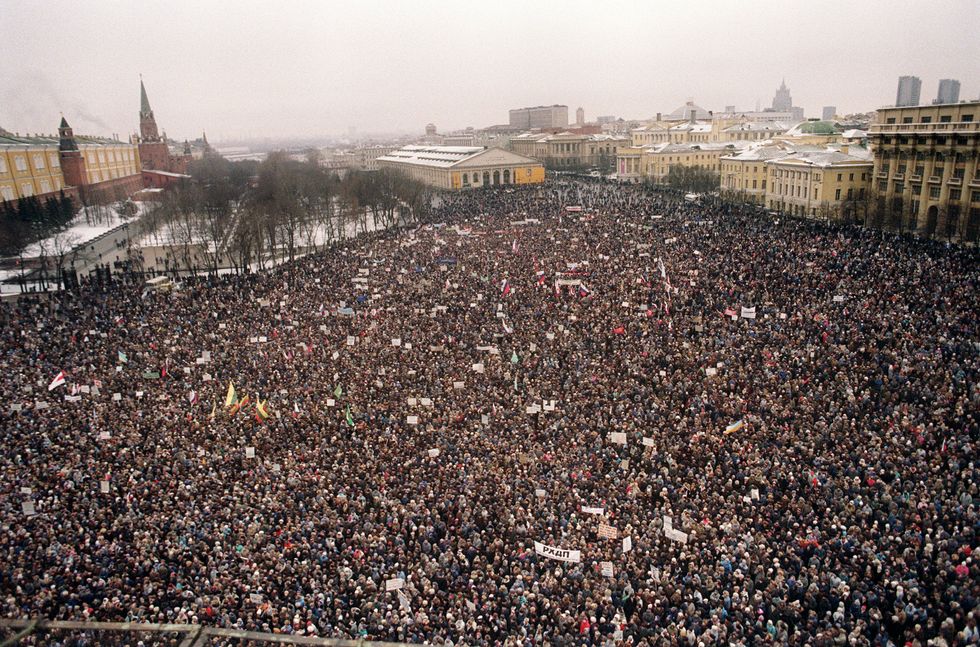 About 100 000 demonstrators march on the Kremlin in Moscow on January 20, 1991. (Photo credit: VITALY ARMAND/AFP/Getty Images)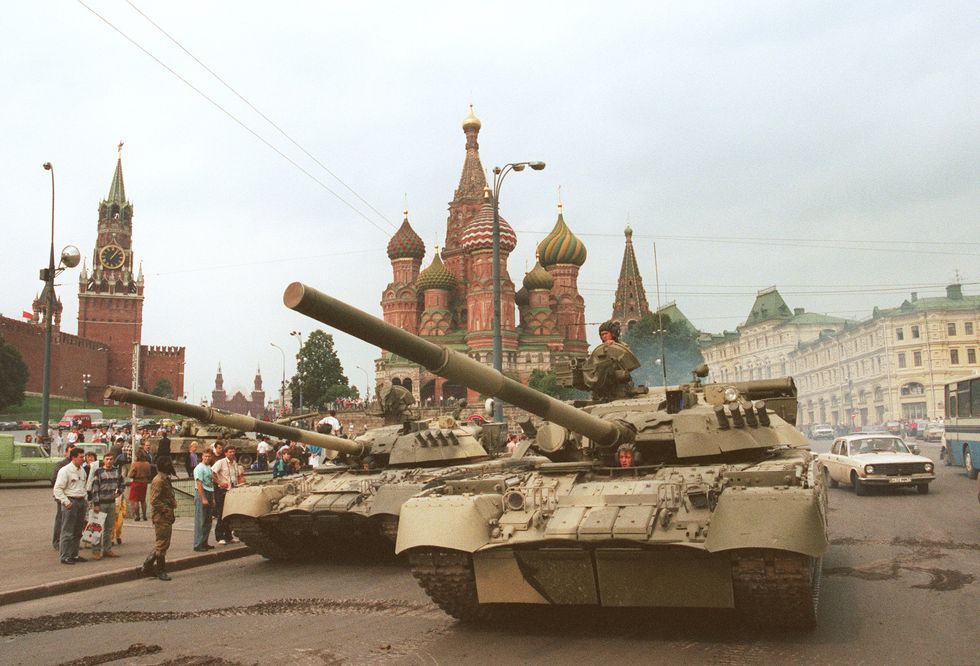 Soviet Army tanks occupy the area near Spassky Gate (L), the entrance to the Kremlin and St. Basil's Cathedral in Moscow 19 August 1991 after a coup toppled Soviet President Mikhail Gorbachev. (Photo credit should read ANATOLY SAPRONYENKO/AFP/Getty Images)
While Russia's military has made great improvements to modernize in the past decade, it would not fare well in a direct military confrontation with Western nations. So it pushes back in other ways - namely, using what Rumer called a "toolkit" of old KGB methods, which are cost-effective and generally less risky due to the confusion they cause.
What do we know about the Russian information warfare efforts during the 2016 U.S. Election? There is a consensus among the American intelligence agencies that the Russian government was behind the hacking of DNC emails that were later released via Wikileaks to politically damage Hillary Clinton. An additional goal was to help elect Donald Trump, a candidate preferred by Moscow. The attacks did not just start during the Trump vs Clinton general election, but were in full swing during the primaries as well, possibly aimed at other Republican candidates whose positions were not considered Russia-friendly, including Senator Marco Rubio.
Another tactic used by the Russians appears to be the employment of an army of Twitter bots that were spreading fake news. This information was shared by former FBI agent Clint Watts in his testimony before the Senate Committee on Intelligence. He discovered that the bots were pretending to be swing-voter Republicans from the Midwest.
"So that way whenever you're trying to socially engineer them and convince them that the information is true, it's much more simple because you see somebody and they look exactly like you, even down to the pictures," explained Watts.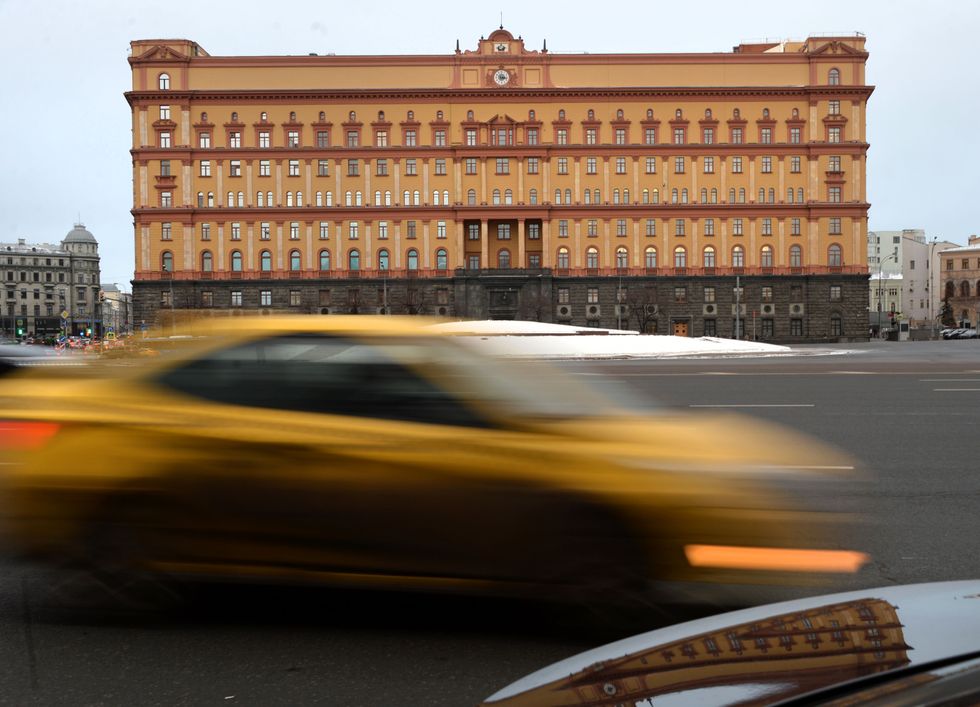 Cars drive past the headquarters of the FSB security service, the successor to the KGB in central Moscow on December 30, 2016. (Photo credit: VASILY MAXIMOV/AFP/Getty Images)
What's more, Watts, who is now a senior fellow at the Foreign Policy Research Institute and has tracked these tactics for over three years, says the Russian efforts did not stop at the election and are still continuing to try to engage with and support the President's tweets.
"If you went online today, you could see these accounts — either bots or actual personas somewhere — that are trying to connect with the administration. They might broadcast stories and then follow up with another tweet that tries to gain the president's attention, or they'll try and answer the tweets that the president puts out," he told NPR.
As far as who specifically is guiding these activities by the Russians, Watts says it's a "diffuse network" with a number of hackers controlled by "different parts of Russian intelligence and propagandists — all with general guidelines about what to pursue, but doing it at different times and paces and rhythms." 
Watts also testified that in 2014 Russian bots supported a petition on the White House website calling to give Alaska back to Russia, from whom Alaska was purchased 150 years ago. That set off an investigation showing how Russia used bots and paid trolls to spread its propaganda.
According to Watts, there are 5 ways in which Russian active measures are designed to topple democracy:
1. Undermine citizen confidence in democratic governance
2. Foment and exacerbate divisive political fractures
3. Erode trust between citizens and elected officials and democratic institutions
4. Popularize Russian policy agendas within foreign populations
5. Create general distrust or confusion over information sources by blurring the lines between fact and fiction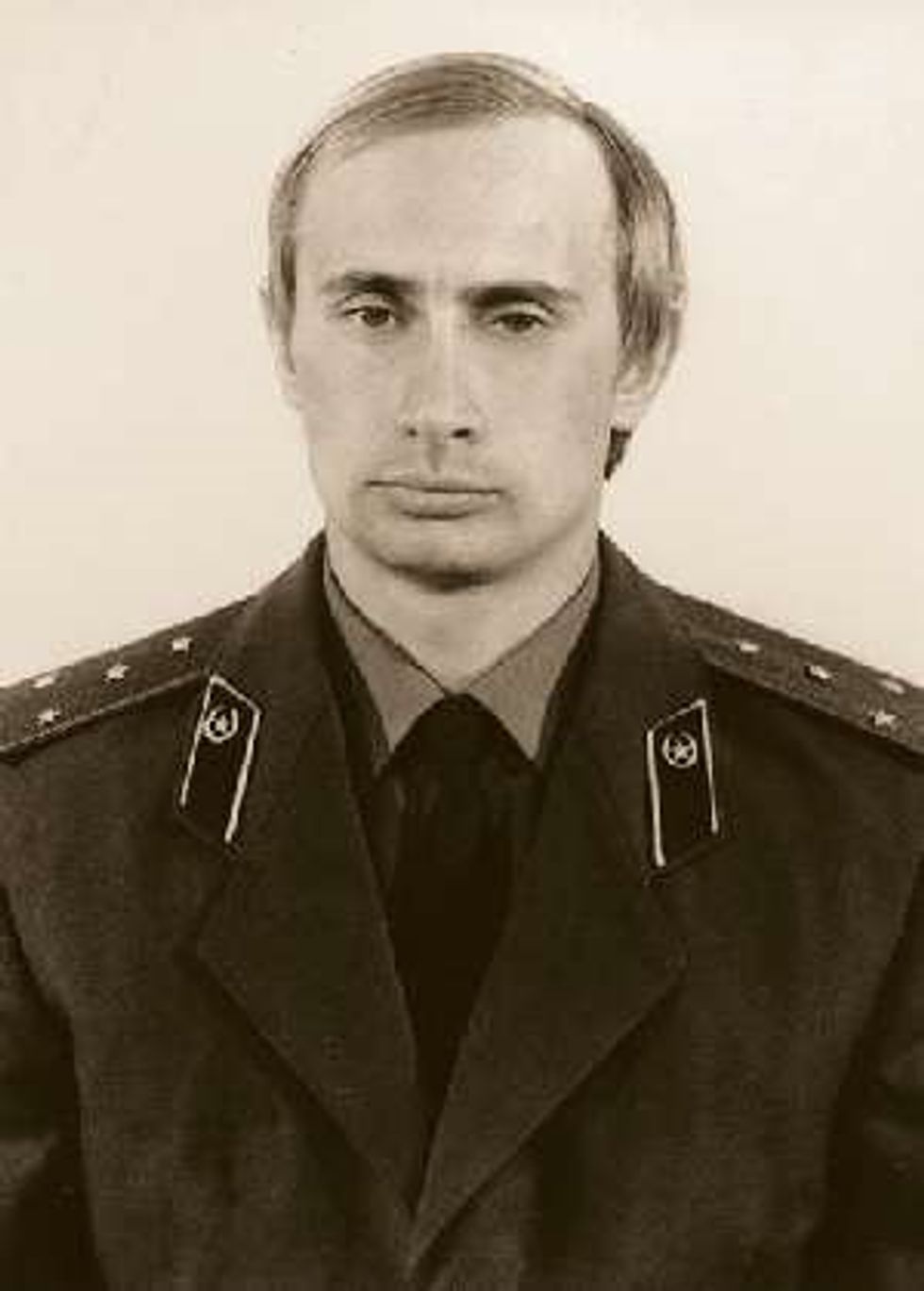 President Vladimir Putin while working as a KGB officer ca. 1990
Another line of investigation by the Senate Intelligence Committee concerns the reported use of an army of internet trolls working from a Russian facility to send targeted fake news to specific regions of America. 
Senator Mark Warner (D) said that their committee was investigating the information that the trolls were taking over computers called "botnets" which had the ability to generate regional news.
"It's been reported to me, and we've got to find this out, whether they were able to affect specific areas in Wisconsin, Michigan, Pennsylvania, where you would not have been receiving off of whoever your vendor might have been, Trump versus Clinton, during the waning days of the election, but instead, 'Clinton is sick', or 'Clinton is taking money from whoever for some source' … fake news," stated Warner.
What is the payoff Russia may be looking for by taking active measures during the 2016 U.S. election?
Eugene Rumer thinks the operation was a "major" and "unqualified" success for the Kremlin, causing unprecedented chaos within the U.S. and worsening its position worldwide.
"The payoff includes, but is not limited to a major political disruption in the United States, which has been distracted from many strategic pursuits; the standing of the United States and its leadership in the world have been damaged; it has become a common theme in the narrative of many leading commentators that from the pillar of stability of the international liberal order the United States has been transformed into its biggest source of instability; U.S. commitments to key allies in Europe and Asia have been questioned on both sides of the Atlantic and the Pacific. And last, but not least, the Kremlin has demonstrated what it can do to the world's sole remaining global superpower," told Rumer to the Senate Committee.
With such a wealth of goals possibly achieved, it's no surprise, according to Rumer, that Russia will continue to employ "active measures" going forward. The question is - how does America adjust? 
Want to make someone an offer they can't refuse? Understand how our minds are hung up on loss aversion, says former FBI negotiator Chris Voss.
In 2002, Daniel Kahneman and Amos Tversky won the Nobel Prize in Economics for a behavioral theory they created and refined between 1979 and 1992: prospect theory. It explained how people weigh up risks in decision making, and part of its findings revealed that we are inherently loss averse, meaning we give at least twice as much decision-making weight to the idea of losses than gains. Losing $5, explains former FBI negotiator Chris Voss, feels like losing $10, and the prospect of gaining $5 will feel joyless coompared to the fear of losing $5. This can be leveraged in negotiations simply by pointing out what is going to be lost if a deal isn't made, or something isn't done. The "crazy mathematics" we do in our heads isn't rational, but understanding it will give you an upper hand in your next negotiation. Chris Voss's book is Never Split the Difference: Negotiating as if Your Life Depended On It.
Chris Voss's book is Never Split the Difference: Negotiating as if Your Life Depended On It.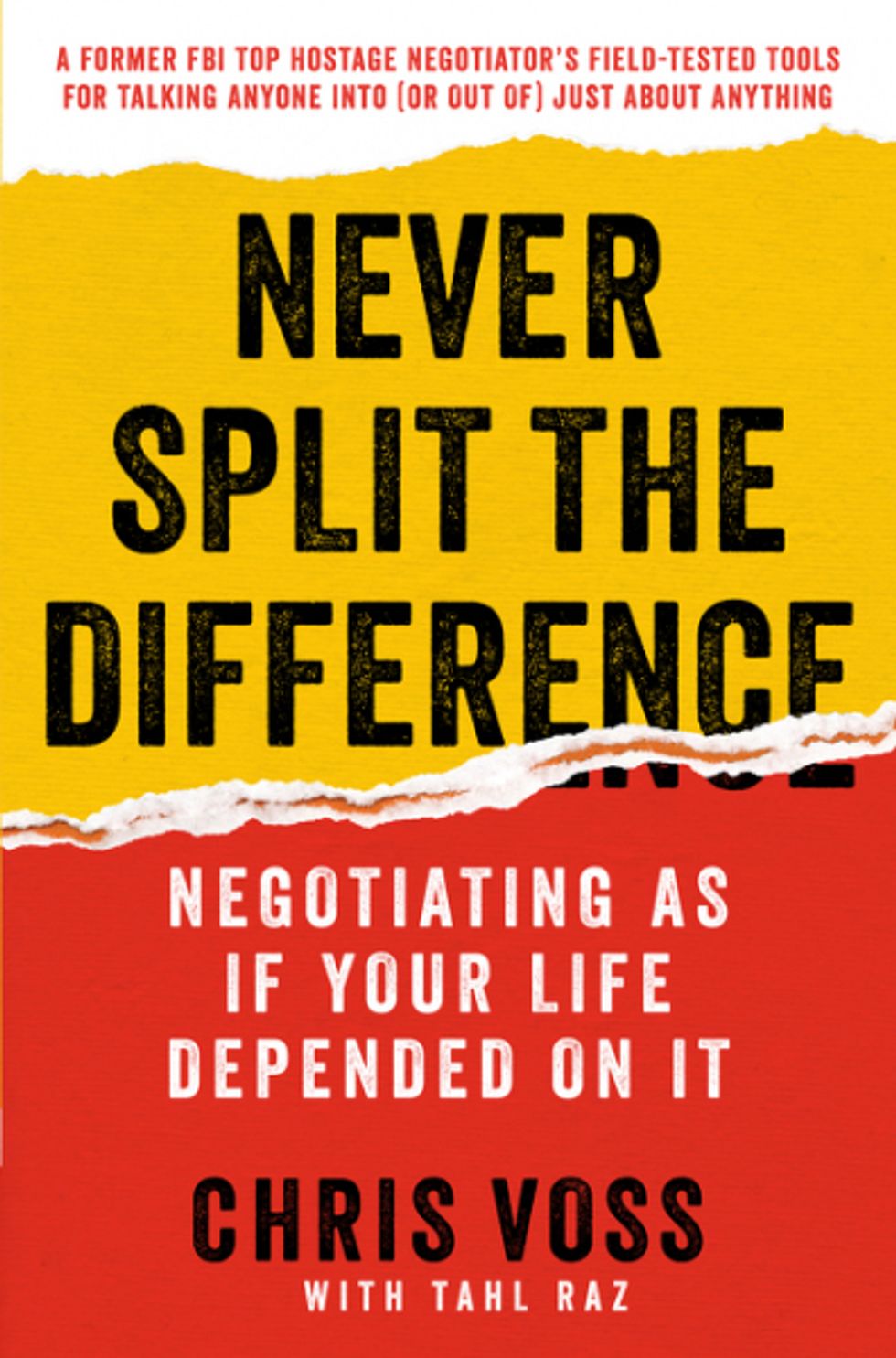 How should we view the amendment to Rule 41? Edward Snowden would have you believe it returns us to a time when a tyrant ruled over America.
Photo by Mandel Ngan/AFP/Getty Images
Edward Snowden believes the amendments to Rule 41 of the Federal Rules of Criminal Procedure, which regulates legal search and seizure, has returned us to the days when America was ruled by a tyrant. "The [FBI] is now openly issuing the general warrants that, in 1760, led John Adams to first dream of independence," he wrote in a tweet. For privacy advocates, like Snowden, this change flies in the face of the rights our founding fathers fought to secure. For law enforcement officials, this amendment is a necessary alteration which fits the digital age. For American citizens, it's a double-edge sword.
The changes made to Rule 41 took effect on December 1. The new version will allow federal agencies to obtain a warrant for "remote-access" searches and seizures of digital materials. Rule 41 now reads:
"A magistrate judge with authority in any district where activities related to a crime may have occurred has authority to issue a warrant to use remote access to search electronic storage media and to seize or copy electronically stored information located within or outside that district if: (A) the district where the media or information is located has been concealed through technological means; or (B) in an investigation of a violation of 18 U.S.C. § 1030(a)(5), the media are protected computers that have been damaged without authorization and are located in five or more districts."
What concerns many is now that federal agencies have this power, how will it be used?There are two real-world scenarios which may offer some insight. 
In 2015, the FBI took a child pornography website on the Dark Web and used it in a sting operation. Malware was deployed to any computer visiting the site, which resulted in the identification of over 1,500 pedophiles. This operation was done on a single warrant, which defense lawyers successfully argued was invalid.
The amendment to Rule 41 addresses this issue. Today, a magistrate judge has the authority to issue a warrant outside of their district, requiring no knowledge of the location of the computers being searched.
What concerns many privacy advocates and what should concern many citizens is innocent bystanders can become collateral in these searches. Take the victims of the Mirai botnet attack, in which hackers took advantage of weak security protocols on routers, security cameras, and more IoT devices. While innocent of the crime, the new rule would allow federal agencies to copy all material on these hacked devices.
Government access to the computers of botnet victims also raises serious privacy concerns, as a wide range of sensitive, unrelated personal data could well be accessed during the investigation," the Electronic Frontier Foundation, an internet privacy group, wrote in a blog post. "This is a dangerous expansion of powers, and not something to be granted without any public debate on the topic.
Snowden believes Rule 41 flies in the face of the Fourth Amendment. To give some historical context, back in the 1760s,British authorities were allowed to carry out searches of anyone at anytime, regardless of whether or not they were suspected of a crime. John Adams sought to make sure these invasive searches and seizures were never carried out again when drafting the Fourth Amendment. In it, he wrote "a warrant must specify the "persons or objects of search, arrest, or seizure."
Rule 41 has expanded the power of the Department of Justice. It's an attempt at making law enforcement effective in a digital age. Whether the spirit of the Fourth Amendment will be maintained under this newly amended rule will be put to the test.
Through a series of election-related email dumps, WikiLeaks played a major role in the U.S. elections.
There have already been many explanations given to explain why the Democratic party's nominee Hillary Clinton lost the U.S. Presidential elections in 2016. They range from personal failings, DNC campaign shenanigans, FBI director Comey's letter to Congress, turnout issues, forgetting the working class, not finding a way to connect with enough disaffected Bernie Sanders voters to over-relying on data analysis and incorrect polls. But besides all that, partial responsibility for her loss must lie with WikiLeaks, an organization that built a reputation for disclosing secret information to the public in the interest of greater transparency, but which, in effect, helped destroy the image of Hillary Clinton in the mind of many possible voters.
The email dumps by WikiLeaks exposed Clinton's paid Wall Street speeches, a possible conflict of interest with the Clinton Foundation, and the fact that she got some questions passed on to her before the debates. But it was the release of emails from DNC officials that suggested the Democratic party was playing favorites and was set on Clinton winning the nomination that probably did the most damage. Apparently, DNC got so annoyed with Bernie's surging candidacy that it was looking for a way to slow his momentum, even considering whether to use his religion against him. 
A further WikiLeaks dump right before the election worsened the perception of DNC's mistreatment of Bernie Sanders by suggesting Bernie was somehow blackmailed by the Clinton campaign during the primary campaign.
All the leaks proved highly embarrassing for the Clinton campaign and worked to further alienate Sanders's voters. Certainly, many of them came on board anyway, but as the results in Michigan and Wisconsin show, it's very possible Clinton did not connect with enough of Bernie's voters to get her over the top in those states. Both of them were won by Sanders in the Democratic primaries. 
The revelations by WikiLeaks also contributed to the hard-to-shake perception of Hilary Clinton and her campaign as secretive and somehow deceitful. Maybe the disclosures did not change the minds of many voters, but in a close election, they could have very well made enough of a difference, even just by driving down the excitement and turnout of her potential supporters. 
So why did WikiLeaks do it? Did it want Trump to be elected President?
This cartoon from the WikiLeaks page with a searchable archive of Clinton's emails shows a clear stance on what the organization thinks of the Secretary of State, drawing her as a corporate warmonger --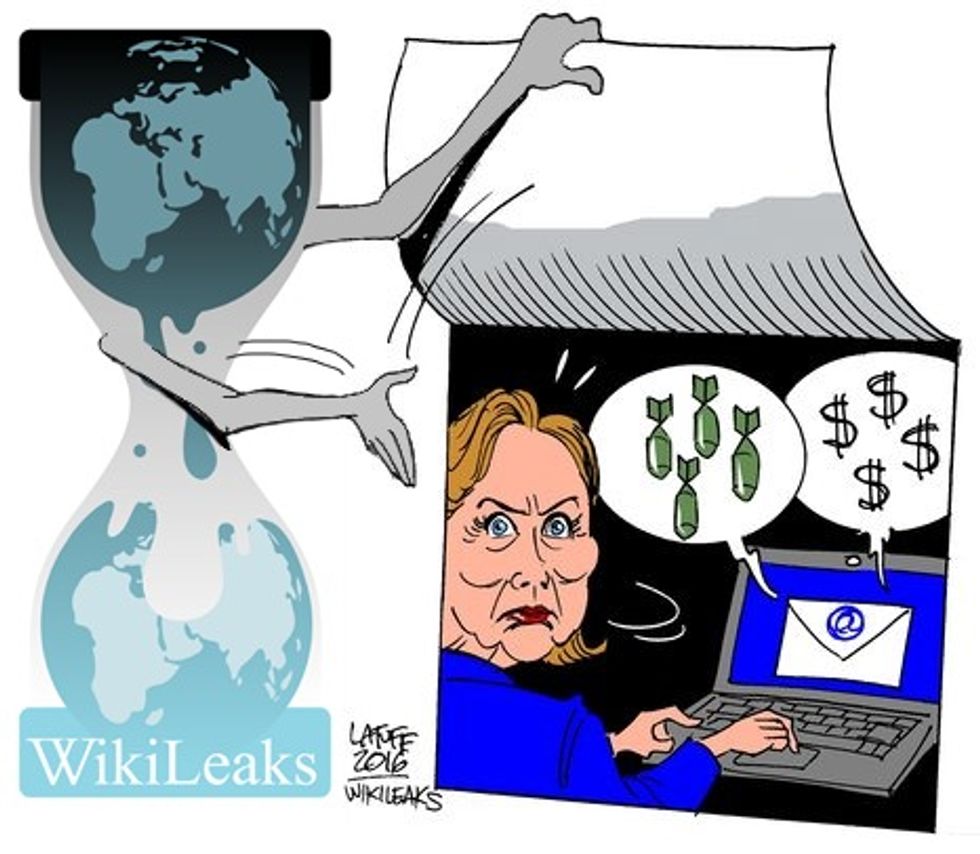 It was criticized by Edward Snowden, himself famous for disclosing classified information in the interest of transparency. In his tweet, he accused WikiLeaks of not having "even modest curation" of what it releases and how. 
Democratizing information has never been more vital, and @Wikileaks has helped. But their hostility to even modest curation is a mistake.
— Edward Snowden (@Snowden) July 28, 2016
Rumors of a terrorist gunman escalated at LAX. A panicked crowd trampled an old woman, snapping her femur. In our best Dick Cheney voice: "If you allow blind fear to disrupt society, the terrorists have already won."
A loud noise caused a panic at Los Angeles International Airport (LAX) on a recent Saturday in late August. At 8:45pm, passengers who were quietly waiting for their flights suddenly mobilized into a panicked herd, running in all directions, live-tweeting videos, and screaming about a shooter. But there was no shooter, according to local ABC affiliate WKOW. Police evacuated the suspected terminals and did a thorough investigation, but found no viable threat. The noise that shut down an entire airport and backed up flights into Monday morning was a literal false alarm.
That incident is far from the only time Americans freaked out at a false threat. Earlier this month, passengers at Kennedy International Airport in New York City went into the same sort of panic over another literal false alarm. Mall patrons in North Carolina, Michigan, and Florida did too. In every incident, mass hysteria broke out.
People were injured, even trampled, over perceived threats, causing much more damage and fear than if they had simply waited for further information before reacting. That's hard to do, especially with such a serious situation as a terrorist threat. But it's just psychological conditioning; reacting calmly to a potential terrorist threat is a choice you can make. Neurobiologically speaking, you can stimulate the production of acetylcholine, a "tranquilizer that you can self-administer simply by taking a few deep breaths with long exhales," according to Psychology Today. Game designer Jane McGonigal explains the technique here:
A group of former Navy SEALS who offer safety training for mass shootings offers these survival tips as well:
Observe the area around you and identify any potential threats
Remind yourself you are not in danger yet and repeat it like a mantra
If you see a threat, lie down on the floor or hide quietly behind something
If you're discovered, run. Ninety-six percent of the time a shooter will miss a moving target
If there's anyone around you who's freaking out, either try to quiet them or get away from them. Their anxiety will spread and will make everyone react in a panic, Psychology Today advises.

All of those tips can keep a scary incident from becoming a panicked frenzy. That said, the frenzied response of the airport and mall patrons, while drastic, is understandable. Incidents of shooters in airports at Brussels and Istanbul happened earlier this year. High-profile terrorist attacks in Paris and Nice, France, as well as within our own borders in San Bernadino and Orlando, also happened this year. All of those attacks primed us to expect the worst. Always. "The steady stream of news reports of bloodshed has heightened anxieties out of proportion to the threat," The New York Times explains, "making panic more likely to take hold." Dr. Daniel Antonius explained to the Times that there is "a national anxiety about mass attacks that did not reflect the real level of danger."
The real level of danger is much lower than most of us think. All violent crimes, including terrorist attacks, are at the lowest levels they've ever been, according to the Federal Bureau of Investigation (FBI). See?
Image source: FBI
In 2014, only 1,165,383 violent crimes happened in America according to the FBI's statistics. Sixty-three percent of them were aggravated assaults; 0.000016 percent were terrorist attacks, according to the Global Terrorism Database. That's 19 terrorist attacks. That's more than we'd like, but certainly not as many as we feel threatened by. Compared to the onslaught of potential threats stoked by the 24/7 news cycle – and to Pakistan, Iraq, and Afghanistan, whose combined experience of terrorist attacks is 54 percent of the entire world's attacks – when you look at the numbers, Americans have no reason to panic.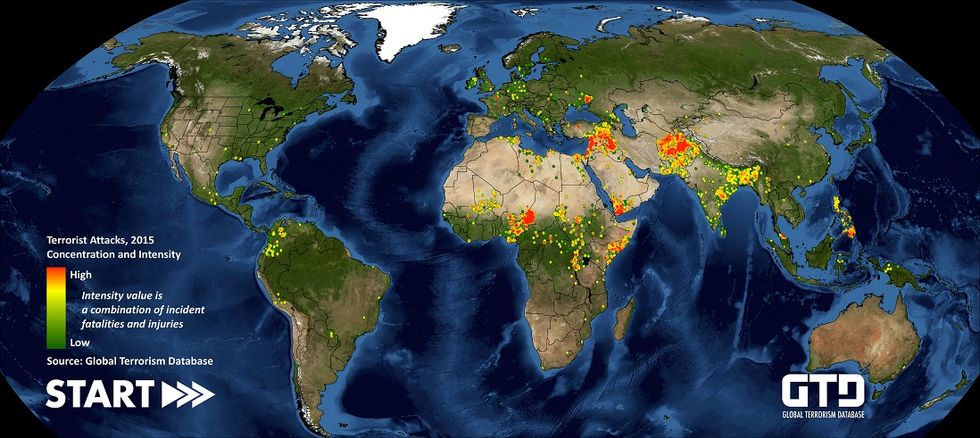 The concentration and intensity of every terror attack in 2015. Source: Global Terrorism Database.
Worse still, living in that constant state of panic is hurting us. We've told you before about how fear warps your brain and panic works much the same way. According to the National Institute of Mental Health, panic is "a fear of disaster or of losing control even when there is no real danger." It brings intense feelings of fear, worry, and helplessness. It can even cause physical symptoms, like a heart attack.
To be clear, the threat of a terrorist attack in the United States is more perceived danger than real danger. But the psychological warfare of terrorism works because it is draws on the natural effects of panic to instill fear and disrupt society, whether through airport shutdowns or mistrust between communities. Australian media commentator Waleed Aly has called terrorism the mouse that roars. By panicking about any potential threat and treating it as if it might be the worst possible one we can experience – a terrorist attack – we dull our senses and response time to actual threats, exhausting our mental and emotional resources. Harvard psychologist Susan David explains it this way: "The more familiar something sounds… even if the story is inaccurate, even if the story doesn't serve us, the more we are likely to become immured to it and immune to it."
We do need to be vigilant against terrorist attacks. But we also need to be vigilant against accepting false information and blind panic. Limiting exposure to news will help. Reading Alain de Botton's The News will help. So will understanding the actual probability of a terrorist attack. But there are real consequences to not taking this seriously. David broke it all down for us: