Shannon Lee shares lessons from her father in her new book, "Be Water, My Friend: The Teachings of Bruce Lee."
Bruce Lee would have turned 80 years old on November 27, 2020. The legendary actor and martial artist's daughter, Shannon Lee, shares some of his wisdom and his philosophy on self help in a new book titled "Be Water, My Friend: The Teachings of Bruce Lee."
In this video, Shannon shares a story of the fight that led to her father beginning a deeper philosophical journey, and how that informed his unique expression of martial arts called Jeet Kune Do.
One lesson passed down from Bruce Lee was his use and placement of physical symbols as a way to help "cement for yourself this new way of being, or this new lesson you've learned." By working on ourselves (with the right tools), we can develop the skills necessary to rise and conquer new challenges.
Research from Ohio State finds that acetaminophen affects our emotions.
Previous research has shown that acetaminophen dulls both our positive and negative feelings.
The new study finds that those taking the drug consider risks they've been presented as less scary.
Acetaminophen is an important everyday painkiller, so it's a good idea to factor in what it may be doing to our judgement.
Acetaminophen — the active ingredient in Tylenol and about 600 other medicines — is a pretty remarkable pain remedy for all sorts of things, including headaches. A new study finds that it's even more remarkable than many of us realized: It actually changes the way we assess risks.
According to Dr. Baldwin Way, co-author of the study from Ohio State University, "acetaminophen seems to make people feel less negative emotion when they consider risky activities — they just don't feel as scared."
Considering how many of us take acetaminophen occasionally or regularly, this is no small thing. As Dr. Way puts it, "with nearly 25 percent of the population in the U.S. taking acetaminophen each week, reduced risk perceptions and increased risk-taking could have important effects on society."
The study builds on earlier research conducted by Way revealing acetaminophen's psychological effects. That earlier work found that taking acetaminophen caused a reduction in both positive and negative emotions when study participants considered their own hurt feelings or joy, or another person's suffering.
The new study is published in the journal Social Cognitive and Affective Neuroscience.
Walking alone in a scary part of town
Credit: Francois Hoang/Unsplash
As part of the study, individuals rated the degree of risk they perceived in a range of activities such as "bungee jumping off a tall bridge" and "speaking your mind about an unpopular issue in a meeting at work." They considered these activities to be less risky than a control group not taking the medication.
In the first of the study's experiments, 189 college students took either 1,000 mg of acetaminophen — the standard dosage for headache pain — or a similar-looking placebo.
After giving the acetaminophen time to take effect, those in the study ranked the level of risk they perceived to be associated with a series of activities, on a scale of 1 to 7. Among the activities were walking alone in an unsafe area after dark, bungee jumping, changing careers in one's 30s, and taking a skydiving class. The students taking acetaminophen considered these activities less risky than the control group.
An additional three studies in which individuals participated in an online risk game confirmed this result. In this game, you click to pump up a virtual balloon — as the balloon gets bigger, you earn more money. If the balloon pops, you lose your earnings.
The acetaminophen-takers proved to be bolder than their control counterparts. People in the control group pumped less and successfully cashed out more often. Recalls Dr. Way, "for those who are on acetaminophen, as the balloon gets bigger, we believe they have less anxiety and less negative emotion about how big the balloon is getting and the possibility of it bursting." They pumped more times, and indeed popped more balloons.
Takeaway
Acetaminophen is an important weapon in the modern medical arsenal. Dr. Way points out that it's the CDC's recommended go-to drug for COVID-19 symptoms. In addition to calming our pounding noggins, surgeons typically prescribe acetaminophen, often with codeine, for post-surgical pain relief; your dentists may also suggest it. Its value lies in how well it works, and also that it's more gentle on our digestive systems than some other painkillers such as NSAIDs, drugs that contain ibuprofen. NSAIDs taken regularly pose danger to one's digestive tract.
Given that we're unlikely to stop taking acetaminophen for our aches and pains, the study represents a helpful little wakeup call. Perhaps we should pump the brakes a bit as we consider risks when we're taking acetaminophen. Take a beat, think twice, and only then carefully secure that bungee cord before you leap.
Acorn woodpecker battles over prized territory are serious business.
Acorn woodpeckers are highly socialized birds who are, let's say, unusual.
Small teams of acorn woodpeckers battle for days over coveted territory.
Up to 30 spectators attend the battles, leaving their own territories unattended to do so.
The old idea of running with springs on your feet gets a high-tech makeover.
Photo by Nicolas Hoizey on Unsplash
No matter how well designed, there are no running shoes that allow runners to keep up with cyclists.
The bicycle was a key invention that doubled human-powered speed. But what if a new kind of shoe could allow people to run faster by mimicking cycling mechanics?
This is the question my students in Vanderbilt's Center for Rehabilitation Engineering & Assistive Technology and I explored as we developed a new theory of spring-driven robotic exoskeletons. We came up with a concept for a new type of lower limb exoskeleton that could allow the world's fastest human to reach a speed of 18 meters per second or about 40 miles per hour.

Robo-boots allow the legs to supply energy in the air during running, similar to the pedaling mechanism in cycling. (A. Sutrisno and D. J. Braun, CC BY-ND)
The cutting edge of today's running shoes is Nike's Vaporfly, which allows runners to use 4% less energy than standard running shoes. Three-time Olympic medalist Eliud Kipchoge recently wore them to run a marathon in under two hours. Though the Vaporfly upended the world of professional running by increasing the efficiency of standard running shoes, it doesn't provide the advantages of cycling or otherwise fundamentally alter the physics of running.
There has been a lot of research and development in robotic exoskeletons that augment human power. These use actuators and external energy: motors and batteries. But they haven't helped humans run faster. Springs have also been used to make high-tech prostheses for paralympic running, but have not been shown to provide an unfair advantage compared to legs. For human-powered speed, the bicycle has been the reigning champion for over a century.
The precursor to the modern bicycle, dubbed the hobby horse, was invented in 1817 by Baron Karl von Drais.
Canada Science and Technology Museum/Flickr, CC BY-NC-ND
Running versus cycling
The first running machine was a bicycle with no pedals. It reduced the energy cost of running by supporting the body's weight on a seat and using wheels to avoid the inevitable energy loss when runners step.

But early bicycles did not allow cyclists to move faster than runners because the rider propelled himself by pushing against the ground with his legs – just like running. What changed the game for bicycling was the invention of the pedaling mechanism, which allowed the legs to propel the rider continuously rather than only when the foot hits the ground.
The bicycle's speed advantage over running has not endured for lack of trying. People have been imagining spring legs and refining running springs for generations, but these springs are not like a bicycle with pedals because they don't allow the legs to supply energy when they're off the ground.
The robo-boot
To apply the advantage of cycling to running, we came up with a concept for a new type of robo-boot that emulates the function of bicycle pedals. Using the robo-boot, runners supply energy by compressing a spring with each leg while it's in the air. With each footstep, the spring releases its stored energy by pushing against the ground faster and stronger than the legs could otherwise do.
We found that an ideal robo-boot would allow the fastest runner on Earth to use his legs 96% of the step time to run faster than 20 meters per second, comparable to the top speed of cycling. A more practical robo-boot that is used only about 60% of the step time could still help a runner reach a top speed of 18 meters per second. That's 50% faster than the world record speed of 12 meters per second in the 100 meter sprint.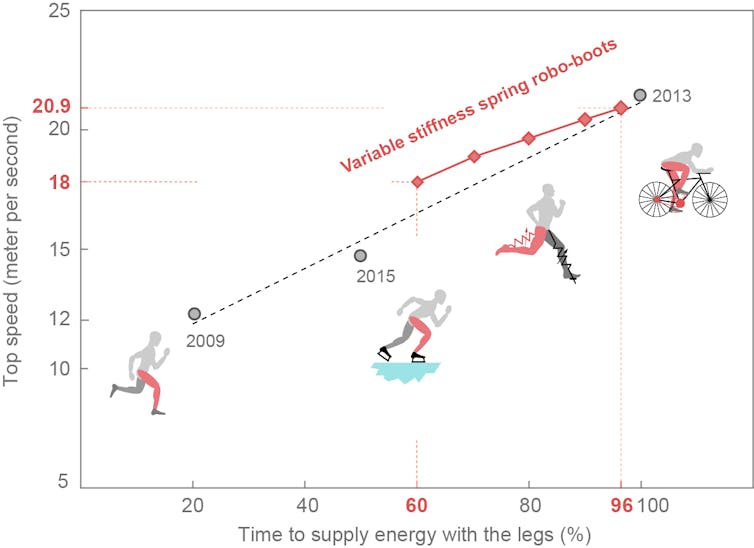 Top speed of human-powered locomotion. Adapted from A. Sutrisno, D. J. Braun, How to run 50% faster without external energy, vol. 6, no. 13, eaay1950, 2020., CC BY-ND.
The high-tech component of the robo-boot is a variable stiffness spring that can increase its stiffness without changing its stored energy. The stiffness of the spring determines how forcefully it can push against the ground to accelerate the runner's body – the stiffer the spring, the greater the force given the same spring compression.
Conventional springs like those in retractable pens have a constant stiffness based on the spring's material, shape and size. Variable stiffness springs are a special type of spring that can change shape or size. One type of variable stiffness spring increases stiffness by getting shorter. A mechanism shortens the spring by moving the spring's attachment point from its end to its middle. The mechanism in the robo-boot shortens the spring as the runner extends her leg in the air.

Running with robo-boots. Adapted from A. Sutrisno, D. J. Braun, How to run 50% faster without external energy, vol. 6, no. 13, eaay1950, 2020., CC BY-ND.
Increasing the stiffness of the spring as the runner picks up speed is analogous to switching to a higher gear on a bike as a cyclist rides faster. This allows runners to supply more energy and bypass the biomechanical limitation of supplying energy only during the short ground contact time of high-speed running.
Next steps
Modern racing bikes nearly double the top speed of running. Robo-boots that leverage bicycle mechanics could similarly allow people to run faster without hefty motors and batteries. We hope to have an initial robo-boot prototype within a year. But just as it took many years after their invention for bicycles to take full advantage of their unique mechanics, it will take some time to make a robo-boot that can achieve its full potential.
These more portable human-powered devices could enable more widespread adoption of wearable robotic technology, and could push the boundaries of search and rescue, law enforcement and sports. What would it mean for first responders to be able to move 50% faster? Would a running shoe that provides a 50% speed increase lead to a new event at the Olympics similar to ice skating and bicycle racing?
Using science and advanced robotics technology, we're able to envision next generation robo-boots that offer the first major boost to human-powered movement since the invention of the bicycle pedal in the 19th century.
David Braun, Assistant Professor of Mechanical Engineering and Computer Engineering, Vanderbilt University
This article is republished from The Conversation under a Creative Commons license. Read the original article.
Ultrarunners scored significantly higher on the resilience questionnaire than non-runners.
Gallo Images/Getty Images
For many, running a marathon is seen as the ultimate amateur athletic achievement; for others, it's just the start. Ultramarathon runners often take on courses of incredibly impressive length, running 50 or 100 kilometres at one time or over several days.
Clearly this is physically demanding, and only those in seriously good shape will be able to take on such challenges — ultramarathon running involves stress on muscles and bones, blisters, dehydration, sleep deprivation and mental and physical fatigue, so it's really not for the faint of heart.
But what about the psychological traits that make someone suitable for long-distance running? What kind of person can withstand this kind of physical stress, and how? A new study in the Australian Journal of Psychology takes a look.
Gregory Roebuck from Monash University and colleagues recruited 20 ultrarunners and 20 control participants aged between 18 and 70; runners were matched with non-runners by gender and age. Participants were asked about their exercise behaviours and running experiences before completing a number of questionnaires. These included a 25-item scale designed to measure resilience (with participants rating how much they agreed with statements such as "I am able to adapt when changes occur"), and two questionnaires that looked at emotion regulation — the ways a person moderates or expresses their emotion. Finally, a 155-item questionnaire looked at a range of personality traits across domains like well-being, achievement, stress reaction, and, aggression.
Next, participants took part in an emotion regulation task, viewing 36 neutral images (e.g. a sofa or chair) and 36 negative images (e.g. a bloody medical scene). Before viewing each image, participants were asked to either respond naturally to it (a "look" trial) or attempt to not have a negative reaction to it (a "decrease" trial), before rating the strength of their emotional response. Heart rate and skin conductance were measured during this section of the experiment.
Ultrarunners scored significantly higher on the resilience questionnaire than non-runners, and were more likely to indicate they used positive reappraisal when regulating their emotions — in other words, they were better able to reframe a situation with a positive angle. This may be down to the need to maintain high levels of motivation during races, attaching positive meaning to negative events in order to keep running.
There was also a physiological difference between ultrarunners and non-runners in the emotion regulation task, with ultrarunners showing reduced skin conductance and heart rate even when viewing unpleasant images. However, they didn't show any differences in their ability to decrease their response to negative images.
There was one measure on which ultrarunners scored lower, however — affiliative extraversion, which measures how socially warm people are, which the team puts down to the high levels of solitude involved in long-distance running. There was no significant difference in any of the other measures.
The results suggest that ultrarunners are pretty similar to the rest of us — with some important differences. While it's clear that ultrarunners are indeed more resilient than non-runners, and use different emotion regulation strategies, the direction of those relationships is not yet clear. It could be that training for ultramarathons makes people more resilient, or, on the other hand, it could be that people with higher levels of resilience are more likely to be attracted to the pastime.
It would be interesting to further explore how ultrarunners motivate themselves through many hours of pain and effort. Because even though most of us will never run 100 kilometres in one go (and may have no desire to, either), understanding how to tolerate pain, and cope with physical and mental fatigue, is a lesson we all could benefit from.
– Psychological characteristics associated with ultra‐marathon running: An exploratory self‐report and psychophysiological study
Emily Reynolds is a staff writer at BPS Research Digest
Reprinted with permission of The British Psychological Society. Read the original article.