Scientists find an exoplanet whose strange behavior may lead to the Solar's System hidden ninth planet.
Credit: ESA/Hubble, M. Kornmesser
NASA's Hubble Telescope provides 14 years of data on the exoplanet HD106906 b.
It exhibits strange behavior along its orbit 336 light-year away from Earth.
Scientists think data from the exoplanet may explain what happened to the possibly hidden Planet Nine in our Solar System.
How many planets are in our Solar System? You may think there's an obvious answer you learned in kindergarten, but the number has fluctuated between 8 and 9, depending on whether you accept Pluto as being large enough for a planet. But there's another mysterious planet that may be lurking at the edge of the Solar System – the so-called "Planet Nine". All we know about it is through inference, arrived at by judging the effects this potential planet may be having on its surroundings. Now, for the first time, scientists measured the motion of a massive exoplanet, in a different solar system, that may be exhibiting behavior similar to that of the hypothesized Planet Nine.
The exoplanet HD106906 b is 336 light-year away from Earth. With the mass of as much as 11 Jupiters, it orbits a double star system. Scientists first discovered it in 2013 but have now been able to get much better information about its orbit thanks to NASA's Hubble Space Telescope. In fact, Hubble has collected 14 years worth of precise data about the exoplanet, allowing for a wealth of new insight.
The exoplanet is located very far from its host stars, 730 times as far as it is from the Earth to the Sun. While its slow 15,000-year-long orbit would ordinarily not allow for very conclusive observation in just 14 years, the Hubble team found that its orbit is extreme, both very inclined and elongated, staying on the outside of a debris disc surrounding the twin stars.
Meiji Nguyen of the University of California, Berkeley, who led the study, commented on how unusual the exoplanet's orbit is:
"To highlight why this is weird, we can just look at our own Solar System and see that all of the planets lie roughly in the same plane," shared Nguyen. "It would be bizarre if, say, Jupiter just happened to be inclined 30 degrees relative to the plane that every other planet orbits in. This raises all sorts of questions about how HD 106906 b ended up so far out on such an inclined orbit."
The Strange Exoplanet That Resembles the Long-Sought "Planet Nine"
How did this planet develop such an orbit? The scientists think it likely formed much closer to the host stars, but the drag from the system's gas disc might have affected its orbit. This could have pushed it closer to the twin stars, whose gravitational force then threw it out into an eccentric orbit, nearly all the way into interstellar space. As the Hubble team's press release explains, a passing star then possibly corrected the exoplanet's orbit and stopped it from leaving the home system altogether.
This explanation is similar to what scientists predict could have pushed the potential Planet Nine to the edges of our Solar System, past the Kuiper belt. Jupiter might have affected its orbit, kicking it out from the inner Solar System. Planet Nine could have kept going past Pluto but a passing star possibly stopped it by altering its orbit.
Paul Kalas of the University of California, Berkeley, a member of the Hubble team, commented that analyzing what happened to exoplanet HD106906 b is like investigating our own past.
"It's as if we have a time machine for our own Solar System going back 4.6 billion years to see what may have happened when our young Solar System was dynamically active and everything was being jostled around and rearranged," elaborated Kalas.
This image, taken by the Hubble Space Telescope, shows one possible orbit (via the dashed ellipse) of the exoplanet HD 106906 b.
Credits: NASA, ESA, M. Nguyen (University of California, Berkeley), R. De Rosa (European Southern Observatory), and P. Kalas (University of California, Berkeley and SETI Institute)
Of course, none of this means we actually found Planet Nine, if it even exists. Evidence for its corporeality includes the strange behavior of small space bodies past Neptune, whose inexplicable orbits might be the result of being affected by the gravitational pull of an unseen planet.

Further investigations into the formation and debris system of the exoplanet HD106906 b will be carried out by the James Webb Space Telescope, slated to launch in October 2021. It promises to shed more like on the exoplanet's unusual system and, by extension, on our own mystery Planet Nine.
Check out the team's paper, published in The Astronomical Journal.
Artist's impression of the possibly hidden "Planet Nine"
Credit: ESA/Hubble, M. Kornmesser
A new study from NASA and the SETI Institute comes up with an exciting number of potentially life-supporting planets.
Credit: NASA Ames/JPL-Caltech/T. Pyle
A study analyzes data from the Kepler Space Telescope and the European Space Agency's GAIA survey to estimate the number of habitable planets.
There may be 30 such planets in our own galactic neighborhood.
The new estimate may help inform future research and missions.
Throughout its nine-year tour of duty that concluded in 2018, NASA's Kepler Space Telescope produced a massive amount of observational data. Scientists are still going through it all. Among its revelations were now-confirmed 2,800 exoplanets, with thousands more still being analyzed. A new study of its data suggests that there may be as many as 300 million inhabitable planets in our galaxy. It finds that several of these could be relatively close by, within 30 light years from here.
Co-author Jeff Coughlin stated in a SETI press release that "this is the first time that all of the pieces have been put together to provide a reliable measurement of the number of potentially habitable planets in the galaxy."
(We previously wrote about a specially designed calculator that determined there could be exactly 36 contactable civilizations.)
The research, a collaboration between NASA, SETI, and other organizations, will be published in The Astronomical Journal — you can see the pre-press version at arxiv.org.
What the study finds
Illustration of Kepler-7
Credit: SETI
The team that produced the new report was led by Steve Bryson of NASA's Ames Research Center in California. The authors of the study looked for stars that are similar in size, age, and temperature to our Sun, between 4,527 to 6,027 °C. These stars are either G dwarfs, or slightly smaller and more plentiful K dwarfs. Next, they looked for planets orbiting such stars that ranged in size from 0.5 to 1.5 times the size of Earth on the assumption that they were most likely to be rocky planets like ours.
A big factor affecting habitability is the ability to support surface water. Earlier estimates of habitable planets have focused primarily on an exoplanet's distance from its sun, the so-called "habitable zone." The new research also takes into consideration the amount of light the planet receives from its sun as a factor in the likelihood of water. The authors of the study supplemented the Kepler data with spectroscopic measurements from the European Space Agency's GAIA survey of a billion stars in the Milky Way.
The stars can be dim enough that their habitable zones are close, causing any exoplanets there to be tidally locked, which means the same side always faces their sun. This makes the stripping off of their atmospheres more likely. One of the unknowns is the degree to which a planet's atmosphere impacts its ability to retain water, though, and for the current research, the authors presumed that atmosphere has a minimal effect on the likelihood of surface water.
Taking all this into consideration, the research "estimate with 95% confidence that, on average, the nearest HZ planet around G and K dwarfs is ∼6 pc away, and there are ∼ 4 HZ rocky planets around G and K dwarfs within 10 pc of the Sun." (pc is the abbreviation for parsec.)
The study offers both a conservative estimate of the number of habitable exoplanets orbiting their stars — 0.37 to 0.60 planets per star — and a more optimistic one: 0.58 to 0.88 per star. More than half of galaxy's suitable stars may have habitable planets.
Refining a search
On a basic level, Coughlin notes, the study means "we're one step closer on the long road to finding out if we're alone in the cosmos."
The research may also prove useful in targeting future study and missions. Says Michelle Kunimoto of the Transiting Exoplanet Survey Satellite group at MIT in Cambridge, Massachusetts, "Knowing how common different kinds of planets are is extremely valuable for the design of upcoming exoplanet-finding missions." She adds that "surveys aimed at small, potentially habitable planets around Sun-like stars will depend on results like these to maximize their chance of success."
Astronomers propose new estimate of Earth-like planets in the Milky Way galaxy.
Credit: NASA/Ames Research Center/W. Stenzel/D. Rutter
Astronomers make new analysis based on data from NASA's Kepler space telescope.
The researchers estimate there may be as many as six billion Earth-like planets in our galaxy alone.
The scientists looked for planets that would be able to host life.
Maybe you think one Earth is enough. But what if there were billions? Researchers make a new estimate that the number of Earth-like planets in our Milky Way galaxy can reach us high as 6 billion.
Astronomers at the University of British Columbia (UBC) analyzed data from NASA's Kepler mission to reach the stunning conclusion. The information on 200,000 stars was gathered by the Kepler planet-hunting spacecraft from 2009 to 2018.
The criteria used by the scientists for selecting such a planet maintained it had to be rocky, about the same size as Earth, and orbiting a star like our Sun. This planet also had to be in the habitable zone of its star, where the conditions would be just right to potentially allow for water and life.
UBC researcher Michelle Kunimoto, who co-authored the new study, and previously discovered 17 new planets ("exoplanets") outside our Solar System, said their calculations "place an upper limit of 0.18 Earth-like planets per G-type star." In other words, that's about 5 planets per Sun.
The study's co-author UBC astronomer Jaymie Matthews put this from another perspective, explaining that "Our Milky Way has as many as 400 billion stars, with seven per cent of them being G-type. That means less than six billion stars may have Earth-like planets in our Galaxy."
To conduct the study, Kunimoto utilized a technique known as 'forward modelling,' which allowed her to overcome the issue that Earth-like planets are hard to spot on account of being small and orbiting far from their star.
Legacy of NASA's Kepler Space Telescope
"I started by simulating the full population of exoplanets around the stars Kepler searched," expounded the researcher in UBC's press release. "I marked each planet as 'detected' or 'missed' depending on how likely it was my planet search algorithm would have found them. Then, I compared the detected planets to my actual catalogue of planets. If the simulation produced a close match, then the initial population was likely a good representation of the actual population of planets orbiting those stars."
While the scientists came up with an impressive number of possible Earths, this likely doesn't mean that's how many such planets there are and if they would have life like ours. But this new estimate definitely expands the possibility that similar planets are out there.
Check out the new study in The Astronomical Journal.
The Planetary Habitability Laboratory has made up some periodic tables of all of the confirmed and suspected exoplanets so far, plus planetary bodies in our own solar system.
(PLANETARY HABITABILITY LABORATORY)
Exoplanets are hot right now. In the popularity sense. Thermally, they're also cold and medium. But ever since the first one was discovered nearly 26 years ago — or 9,457 days as of this writing — we've been fascinated by them. Some people are intrigued by the potential any of them may hold for migration from Earth should it become inhabitable. Some wonder if other life on our level could be there. And then there's their most undeniable value: science. If you've been having trouble keeping track of what we've found so far, the Planetary Habitability Laboratory (PHL) of the University of Puerto Rico at Arecibo has just published its Periodic Table of Exoplanets, which it'll presumably keep up to date as more of them are found. It's actually a set of three tables:
confirmed exoplanets
exoplanet candidates observed by NASA's Kepler spacecraft
planetary bodies in our own solar system
The PHL is in a great location for this kind of thing, being near one of the world's most important celestial observatories, the Arecibo Telescope.
The exoplanets are far away, of course, and so we know little about them other than their sizes and distances from their stars. It's with these two attributes that PHL is able to sort the exoplanets.
Each table's column, or Y axis, contains the exoplanets of a particular size, going from the smallest — miniterrans — at the left, to the largest — Jovians — at the right.
Miniterrans — are probably spherical and with low mass and no atmospoheres, like Mercury and our own moon.
Subterrans — are roughly the size of Mars.
Terrans — are about the size of Earth and Venus.
Superterrans — are bigger than us but not quite Neptunian.
Neptunians — are equivalent to Neptune and Uranus.
Jovians — are as big as Jupiter and Saturn or bigger.
Here's an overview of how many exoplanets of each type there are so far: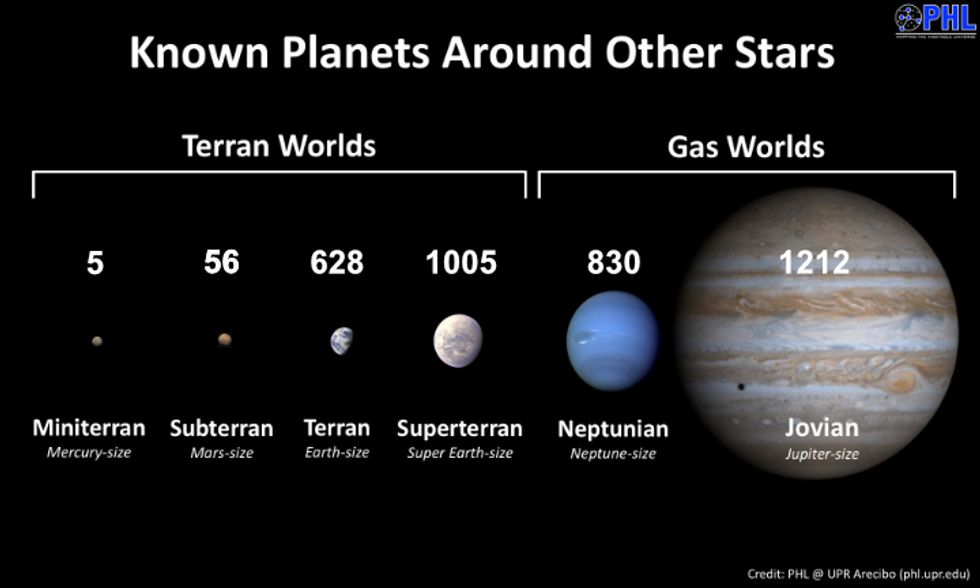 Simple summary of exoplanets by size (PHL)
There's also the issue of an exoplanet's distance from its sun, which is shown along the X axis at the left edge of each table:
Hot Zone exoplanets — are too close to their suns and too hot to have liquid water.
Warm "Habitable" Zone exoplanets — are in the sweet spot for life as we know it, with a capacity for liquid water.
Cold Zone exoplanets — are too far from their suns, and too cold, for anything but frozen ice.
Confirmed Exoplanets
There are 3,700 of these as of November 15, 2017.
Kelper Exoplanet Candidates
NASA's Kepler observatory has spotted 4,303 possible exoplanets so far.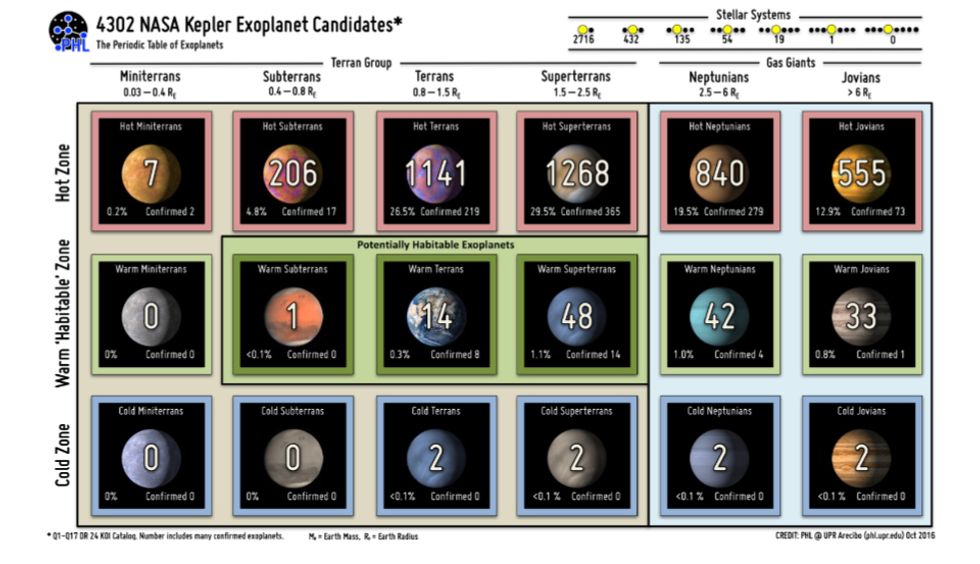 Click image to expand. (PHL)
Planetary Bodies in Our Own Solar System
These counts are accurate as of November 15, 2017. Some of the candidates will probably be confirmed and others ruled out in time. Many more will no doubt be found eventually out there in this vast, vast universe that's probably teeming with life. At least these bodies are places that life could be.
Are we alone in the universe? NASA's exploration of TRAPPIST-1 has the potential to answer one of humanity's deepest questions.
When NASA announced the discovery of the TRAPPIST-1 solar system in February 2017, humanity's collective ears spiked. The system is made up of a dwarf star surrounded by seven "Earth-like" exoplanets at potentially habitable temperatures. If we want to know whether we're alone in the universe or if we have company, the exploration of this planetary group may get us closer to an answer. Bill Nye explains some key signals NASA's researchers will be looking for as they focus their intellect, and telescopes, towards this extraordinary next step in our history. Unstoppable: Harnessing Science to Change the World.
Bill Nye's most recent book is Unstoppable: Harnessing Science to Change the World.