A psychologist and a doctor of emergency medicine explain.
Credit: Al Bello/Getty Images
People are eager to return to normal after a year of coronavirus, but is the U.S. there yet? Hardly. The ongoing psychological and spiritual damage caused by the pandemic is rising, too.
Guilt and shame are two prevailing emotions surrounding COVID-19. This guilt stems in part from the fact that anyone could be a potential carrier of the virus – so anyone, then, could unwittingly pass it to another person. Guilt can also arise when a person looks at the national and global death tolls and wonders how they were spared.
Guilt also happens when family members can't visit loved ones undergoing treatment at a hospital, or when someone with COVID-19 survives but reads about a infected stranger who died. A particular type of response called survivor's guilt can occur when people lose loved ones due to a traumatic event, or when they themselves experienced the threat but survived it.
As a psychologist and a doctor of emergency medicine, we have personal experience with patients suffering from survivor's guilt as they watched loved ones succumb to COVID-19. And as the pandemic continues, we expect to see more.
Survivor's guilt is complicated
Survivor's guilt can occur whether or not a person caused an event to occur. It can happen to a sole survivor of a plane crash who had nothing to do with the accident, or an intoxicated driver who crashed his car and killed his passenger. Either way, the person feels they were spared an event while others perished, and feelings of grief and anxiety result. Survivor's guilt can affect up to 90% of survivors of traumatic events. COVID-19 survivors in Bergamo, Italy, one of the world's hardest-hit towns, have experienced this on a widespread basis. Some people have reported a type of survivor guilt when they have been vaccinated, with many wondering why they have been so fortunate.
Conflicting messages from the federal and various state and local governments haven't helped. Because some leaders have suggested that COVID-19 is no worse than the flu, millions of Americans did not wear masks. By some estimates, not wearing masks could have contributed to 130,000 deaths.
Also, a person can spread COVID-19 without knowing they have the disease. This uncertainty combined with loneliness might have led to social gatherings that weren't the safest. Perhaps an elderly parent decides to risk illness rather than spend the holiday alone. Many parents, including our own, say they want to make the most out of the time they have right now; they cannot bank on being around next year.
In the world of palliative medicine, there is no shortage of examples of patients choosing quality of life over quantity, sometimes refusing lifesaving but invasive treatment so they can spend time engaged in activities they might not otherwise be able to enjoy. This is not unusual at any age – it's not at all uncommon for people to make choices that have potential tremendous costs, from smoking to skydiving.
So is someone who inadvertently passed along COVID-19 at fault? For example, how do we cope with the guilt when we know we passed the virus on to a family member? Generally people don't ascribe this kind of blame when they inadvertently pass the flu to someone who gets sick, or perhaps even dies. We do not see countless news stories assigning blame when someone with the common cold does not wear a mask at the grocery store. We believe that people should be forgiving of themselves should they accidentally transmit COVID-19. Self-forgiveness requires recognition we cannot control everything and that our motives were benign.
Dealing with survivor's guilt
Symptoms of survivor's guilt include anxiety, depression, headache, nausea, sleeplessness and fatigue. It can lead to post-traumatic stress disorder. Managing survivor's guilt is an individual process, and what works for one may not work for another. Interventions include deep breathing, meditation, relaxation, exercising, a healthy diet, journaling, adopting a hobby, getting a pet, watching comedies and reaching out – volunteering or engaging with family, friends and co-workers. For some, spirituality and faith are also important.
Nonreligious people may find comfort by connecting directly to nature, where life and death are part of a grand cycle, and nature itself may have a purpose that ordains when one person succumbs while another survives.
As people pass through the grieving process, healing comes by recognizing our interconnectedness to each other. But when the U.S. quarantined, many people lost that most basic and primal coping mechanism. Instead, Americans, sometimes alone, have had to explore existential truths that may have been painful, even devastating. Yet in many ways, the country has already prevailed. Through mourning our losses and suffering heartbreak, our medical, psychological and spiritual well-being remains a strength.
David Chesire, Associate Professor, College of Medicine, University of Florida and Mark S. McIntosh, Associate Professor of Emergency Medicine, University of Florida
This article is republished from The Conversation under a Creative Commons license. Read the original article.
The vaccine will shorten the "shedding" time.
Fredrik Lerneryd/Getty Images
Editor's note: So you've gotten your coronavirus vaccine, waited the two weeks for your immune system to respond to the shot and are now fully vaccinated.
Does this mean you can make your way through the world like the old days without fear of spreading the virus? Deborah Fuller is a microbiologist at the University of Washington School of Medicine working on coronavirus vaccines. She explains what the science shows about transmission post-vaccination – and whether new variants could change this equation.
1. Does vaccination completely prevent infection?
The short answer is no. You can still get infected after you've been vaccinated. But your chances of getting seriously ill are almost zero.
Many people think vaccines work like a shield, blocking a virus from infecting cells altogether. But in most cases, a person who gets vaccinated is protected from disease, not necessarily infection.
Every person's immune system is a little different, so when a vaccine is 95% effective, that just means 95% of people who receive the vaccine won't get sick. These people could be completely protected from infection, or they could be getting infected but remain asymptomatic because their immune system eliminates the virus very quickly. The remaining 5% of vaccinated people can become infected and get sick, but are extremely unlikely to be hospitalized.
Vaccination doesn't 100% prevent you from getting infected, but in all cases it gives your immune system a huge leg up on the coronavirus. Whatever your outcome – whether complete protection from infection or some level of disease – you will be better off after encountering the virus than if you hadn't been vaccinated.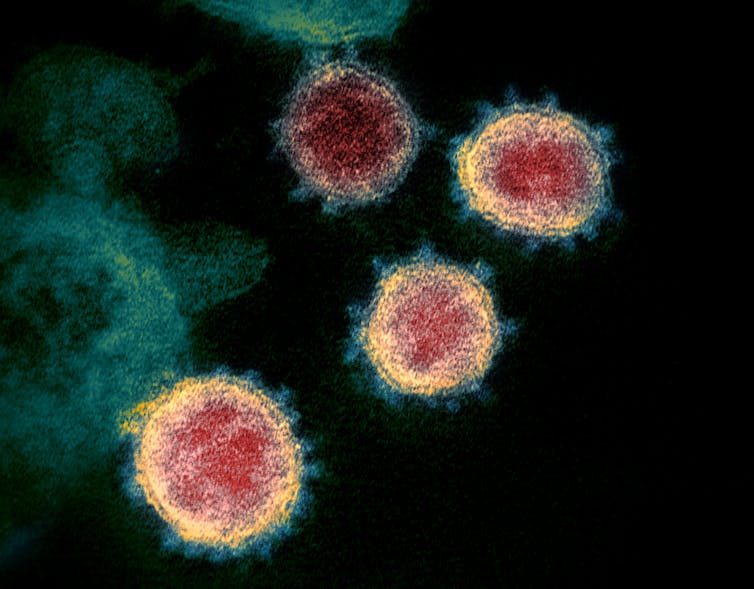 Vaccines prevent disease, not infection. (National Institute of Allergy and Infectious Diseases, CC BY)
2. Does infection always mean transmission?
Transmission happens when enough viral particles from an infected person get into the body of an uninfected person. In theory, anyone infected with the coronavirus could potentially transmit it. But a vaccine will reduce the chance of this happening.
In general, if vaccination doesn't completely prevent infection, it will significantly reduce the amount of virus coming out of your nose and mouth – a process called shedding – and shorten the time that you shed the virus. This is a big deal. A person who sheds less virus is less likely to transmit it to someone else.
This seems to be the case with coronavirus vaccines. In a recent preprint study which has yet to be peer reviewed, Israeli researchers tested 2,897 vaccinated people for signs of coronavirus infection. Most had no detectable virus, but people who were infected had one-quarter the amount of virus in their bodies as unvaccinated people tested at similar times post-infection.
Less coronavirus virus means less chance of spreading it, and if the amount of virus in your body is low enough, the probability of transmitting it may reach almost zero. However, researchers don't yet know where that cutoff is for the coronavirus, and since the vaccines don't provide 100% protection from infection, the Centers for Disease Control and Prevention recommends that people continue to wear masks and social distance even after they've been vaccinated.
3. What about the new coronavirus variants?
New variants of coronavirus have emerged in recent months, and recent studies show that vaccines are less effective against certain ones, like the B1351 variant first identified in South Africa.
Every time SARS-CoV-2 replicates, it gets new mutations. In recent months, researchers have found new variants that are more infective – meaning a person needs to breathe in less virus to become infected – and other variants that are more transmissible - meaning they increase the amount of virus a person sheds. And researchers have also found at least one new variant that seems to be better at evading the immune system, according to early data.
So how does this relate to vaccines and transmission?
For the South Africa variant, vaccines still provide greater than 85% protection from getting severely ill with COVID–19. But when you count mild and moderate cases, they provide, at best, only about 50%-60% protection. That means at least 40% of vaccinated people will still have a strong enough infection – and enough virus in their body – to cause at least moderate disease.
If vaccinated people have more virus in their bodies and it takes less of that virus to infect another person, there will be higher probability a vaccinated person could transmit these new strains of the coronavirus.
If all goes well, vaccines will very soon reduce the rate of severe disease and death worldwide. To be sure, any vaccine that reduces disease severity is also, at the population level, reducing the amount of virus being shed overall. But because of the emergence of new variants, vaccinated people still have the potential to shed and spread the coronavirus to other people, vaccinated or otherwise. This means it will likely take much longer for vaccines to reduce transmission and for populations to reach herd immunity than if these new variants had never emerged. Exactly how long that will take is a balance between how effective vaccines are against emerging strains and how transmissible and infectious these new strains are.
Deborah Fuller, Professor of Microbiology, School of Medicine, University of Washington
This article is republished from The Conversation under a Creative Commons license. Read the original article.
Beyond making up 70% of the world's health workers, women researchers have been at the cutting edge of coronavirus research.
Lisa Maree Williams/Getty Images
The gender gap persists, as only 33% of the world's researchers are women.
Here are just some of the women making lasting contributions in the fight against COVID-19.
They include Dr Özlem Türeci, co-founder of BioNTech, which helped produce the first vaccine.
Women across the world have made an enormous contribution to the global efforts to tackle COVID-19. Not only do women make up 70% of the world's health workers and first responders, women in STEM fields have been leading research into the virus, creating trackers and developing vaccines.
But the pandemic has had a disproportionate social and economic impact on women, as many have borne the brunt of childcare duties or lost jobs in sectors most affected – and this includes women scientists.
February 11th is UN International Day of Women and Girls in Science – and the theme this year is celebrating the women scientists at the forefront of the fight against COVID-19, including Dr Özlem Türeci, co-founder of BioNTech, which helped produce the first vaccine.
Could medical detection animals smell coronavirus?
Leon Neal/Getty Images
As COVID-19 continues to spread worldwide, scientists are analyzing new ways to track it.
One promising approach is training dogs to detect people who are infected by smelling samples of human urine or sweat. Research scientist Glen Golden, who has trained dogs and ferrets to detect avian flu in birds, explains why certain animals are well suited to sniff out sickness.
1. Which species have a nose for disease?
Some animals have highly developed senses of smell. They include rodents; dogs and their wild relatives, like wolves and coyotes; and mustelids – carnivorous mammals such as weasels, otters and ferrets. These species' brains have three or more times more functional olfactory receptor neurons – nerve cells that respond to odors – than species with less keen smelling abilities, including humans and other primates.
These neurons are responsible for detecting and identifying volatile olfactory compounds that send meaningful signals, like smoke from a fire or the aroma of fresh meat. A substance is volatile if it changes readily from liquid to gas at low temperatures, like the acetone that gives nail polish remover its fruity smell. Once it vaporizes, it can spread rapidly through the air.
When one of these animals detects a meaningful odor, the chemical signal is translated into messages and transported throughout its brain. The messages go simultaneously to the olfactory cortex, which is responsible for identifying, localizing and remembering odor, and to other brain regions responsible for decision-making and emotion. So these animals can detect many chemical signals over great distances and can make rapid and accurate mental associations about them.
2. How do researchers choose a target scent?
In most studies that have used dogs to detect cancer, the dogs have identified physical samples, such as skin, urine or breath, from patients who either have been diagnosed with cancer or have undiagnosed cancer at an early stage. Scientists don't know what odor cue the dogs use or whether it varies by type of cancer.
The U.S. Department of Agriculture's National Wildlife Research Center in Colorado and the Monell Chemical Senses Center in Pennsylvania have trained mice to detect avian influenza in fecal samples from infected ducks. Bird flu is hard to detect in wild flocks, and it can spread to humans, so this work is designed to help wildlife biologists monitor for outbreaks.
The Kimball lab at Monell taught the mice to get a reward when they smelled a confirmed positive sample from an infected animal. For example, mice would get a drink of water when they traveled down the arm of a Y-shaped maze that contained feces from a duck infected with avian influenza virus.
By chemically analyzing the fecal samples, researchers found that the concentration of volatile chemical compounds in them changed when a duck became infected with bird flu. So they inferred that this altered smell profile was what the mice recognized.
Members of the mustelid family, such as ferrets, badgers and otters, have highly developed senses of smell. Here a wolverine sniffs out frozen meat buried deep in the snow.
Building on that work, we've trained ferrets and dogs to detect avian influenza in fowl, such as wild ducks and domestic chickens, in a collaborative study between Colorado State University and the National Wildlife Research Center that is currently under review for publication.
With ferrets, we started by training them to alert, or signal that they had detected the target odor, by scratching on a box that contained high ratios of those volatile compounds and to ignore boxes that contained low ratios. Next we showed the ferrets fecal samples from both infected and noninfected ducks, and the ferrets immediately began alerting to the box containing the fecal sample from an infected duck.
This approach is similar to the way that dogs are trained to detect known volatile odors in explosives or illegal drugs. Sometimes, though, we have to let the detector animal determine the odor profile that it will respond to.
3. Can animals be trained to detect more than one target?
Yes. To avoid confusion about what a trained animal is detecting, we can teach it a different behavioral response for each target odor.
For example, the dogs in the U.S. Department of Agriculture's Wildlife Services Canine Disease Detection Program respond with an aggressive alert, such as scratching, when they detect a sample from a duck infected with bird flu. When they detect a sample from a white-tailed deer infected by the prion that causes chronic wasting disease, they respond with a passive alert such as sitting down.
Research at the University of Auburn has shown that dogs can remember and respond to 72 odors during an odor memory task. The only limitation is how many ways a dog can communicate about different odor cues.
4. What kinds of factors can complicate this process?
First, any organization that trains animals to detect disease needs the right type of laboratory and equipment. Depending on the disease, that could include personal protection equipment and air filtering.
Another concern is whether the pathogen might infect the detection animals. If that's a risk, researchers may need to inactivate the samples before they expose the animals. Then they need to see whether that process has altered the volatiles that they are teaching the animals to associate with infection.
Finally, handlers have to think about how to reinforce the desired response from detection animals in the field. If they are working in a population of mostly noninfected people – for example, in an airport – and an animal doesn't get a chance to earn a reward, it may lose interest and stop working. We look for animals that have a strong drive to work without stopping, but working for a long time without reward can be challenging for even the most motivated animal.
5. Why not build a machine that can do this?
Right now we don't have devices that are as sensitive as animals with well-developed senses of smell. For example, a dog's sense of smell is at least 1,000 times more sensitive than any mechanical device. This could explain why dogs have detected cancer in tissue samples that have been medically cleared as not cancerous
We also know that ferrets can detect avian flu infection in fecal samples before and after laboratory analysis shows that the virus has stopped shedding. This suggests that for some pathogens, there may be changes in volatiles in individuals who are infected but are asymptomatic.
As scientists learn more about how mammals' sense of smell works, they'll have a better chance of creating devices that are as sensitive and reliable in sniffing out disease.

Glen J. Golden, Research Scientist/Scholar I, Colorado State University
This article is republished from The Conversation under a Creative Commons license. Read the original article.
Spoiler: Most people actually approved of their government's approach.
Photo by Matthew Waring on Unsplash
How well did your country respond to the pandemic?
It's a subjective question, the answers to which are reflected in new research recording the diversity of opinion around the world.
Spoiler alert: globally, more people approved of their own country's response than disapproved.
A Pew Research Center survey of more than 14,000 adults across 14 advanced economies in Europe, Asia, North America and Australia, found 73% thought their own country had done a good job of tackling the coronavirus outbreak.
It's a matter of trust
Respondents' attitude to their own country's pandemic response – and its impact on national unity – were linked to feelings of trust in others, the survey found.
Image: Pew Research Center
Denmark recorded the highest government response approval rating of the countries surveyed (95%), followed closely by Australia.
Support for their government's actions was also shown in countries like South Korea and Canada, along with European nations like Germany, the Netherlands, Italy and Sweden, where more than two-thirds of respondents approved.
But a different picture emerged in the US and UK, where delayed action to combat COVID-19 received less emphatic support. More than half of those polled in each country said they thought the pandemic had been handled poorly.
Image: Pew Research Center
Divided or united?
Opinions were also split on whether the pandemic had increased the sense of national unity.

Again, Denmark proved to have the most optimistic outlook with 72% of respondents believing the country more united following the virus outbreak. In Canada, Sweden, South Korea and Australia, over half of respondents believed their country was more united.

Despite approving of their country's response to the pandemic, in European nations like Spain, Belgium, Italy and the Netherlands, a majority of people thought their country was more divided post-lockdown.

In the US, in an era of divisive politics and with no coordinated response to the pandemic in place, more than three-quarters of respondents believed their country was now more divided than before the pandemic.
The perceived strength of national unity is linked to trust in others, the report found. As a general principle, people who thought others couldn't be trusted were more likely to see divisions in their own country.

National divisions were most pronounced in France, where almost two-thirds of respondents who think people can't be trusted also see the country as more divided than before the pandemic.
Image: Pew Research Center
The role of international cooperation
But did this perceived drop in national cohesion prevent countries seeking international help to combat the spread of the virus? And would cross-border cooperation have resulted in fewer cases?

For the majority of respondents, the answer was yes.

Across the 14 countries surveyed, 59% of respondents believed greater international cooperation would have reduced the number of coronavirus cases in their own country. In Europe, this average increases to 62%, with seven of the nine countries surveyed expressing belief in the benefits of international cooperation, which was strongest in countries like Belgium, the UK and Spain.
Outside of Europe, support for international cooperation was also notable in the US (58%) and South Korea (59%), according to the report.
In Denmark, however, 78% of people thought international cooperation would not have reduced the number of cases. A majority of people in Australia, Germany, Canada and Japan also held little store in international cooperation to tackle the pandemic.

The World Bank, in collaboration with the World Economic Forum and other stakeholders, held a virtual roundtable to devise an action plan to facilitate international cooperations and communications to better tackle the pandemic.
International cooperation is a key element of producing an effective vaccine at scale to protect the global population against COVID-19, according to Chatham House. By working together, researchers, business leaders, policy-makers and other stakeholders can more quickly overcome scientific, regulatory and market challenges to developing and distributing a vaccine.
Reprinted with permission of the World Economic Forum. Read the original article.