Recent American presidents have all faced a crisis of legitimacy in a trend that threatens the health of our democracy.
Credit: MANNY CENETA/AFP via Getty Images
After a contentious election, some Americans are questioning the legitimacy of President-elect Joe Biden victory.
Legitimacy concerns also plagued the presidencies of Bill Clinton, George W. Bush, Barack Obama, and Donald Trump.
The trend of attacking a president's right to rule is growing.
The election of 2020 concluded the way Donald Trump's ascent to power began – with claims over legitimacy. In fact, the last five American presidents have been labeled "illegitimate" by their opponents, demonstrating a growing and dangerous trend that threatens bedrock principles of our democracy.
Bill Clinton's 1992 victory came as a result of a three-way race between him, George H.W. Bush, and the third-party candidate, Ross Perot. Garnering 43 percent of the popular vote, Clinton's support in the country seemed low, especially in light of the fact that Republicans blamed Ross Perot for siphoning off votes that their candidate could have received. As a result, Republican leaders at the time like Bob Dole proclaimed that Clinton did not have a mandate to enact his legislative agenda, hinting at his lack of true legitimacy.
This kind of sentiment led to opposition to what was perceived as Clinton's liberal agenda—allowing gay people in the military, raising taxes, and attempting to fix the healthcare system. The Republican opposition coalesced in the Gingrich Revolution of 1994 and culminated in the impeachment hearings of Clinton's second term.
U.S. presidential candidates Bill Clinton (L), Ross Perot (C) and President George Bush (R) shake hands with the panelists at the conclusion of their final debate on 19 October 1992.
Credit: J. DAVID AKE/AFP via Getty Images
The 2000 election brought issues of legitimacy to the contest between Clinton's successor George W. Bush and Al Gore. Bush received fewer votes in the national count and won as a result of a Supreme Court decision after a wait of several weeks. The infamous Bush v. Gore decision stopped a recount of Florida votes, giving the state to Bush by just a few hundred votes. A later analysis revealed that a full statewide recount could have netted Gore the victory. As such, a perception of illegitimacy followed Bush (at least until 9/11).
Who was calling for Bush's impeachment at the time for getting the U.S. involved in the Iraq War under false pretenses (lack of WMDs)? None other than Donald Trump, who revealed how he thought Clinton's impeachment was a total overreach compared to the fact that Bush got off scot-free for pulling America into a war it didn't need to fight.
Supporters of Democratic presidential candidate and vice president Al Gore march to the Florida State Capitol to rally against the Florida legislature. 2000.
Credit: TIM SLOAN/AFP via Getty Images
Trump, of course, is also the one who for years questioned the right of the next president, Barack Obama, to have such a position. Trump was the most high-profile "birther," pushing the unfounded conspiracy that Obama wasn't a real American and was, in fact, born in Kenya.
Who else spread such theories? It's worth noting that Hillary Clinton supporters were known to circulate chain emails with similar Kenya-oriented claims about Obama's origins.
Donald Trump Is Sworn In As 45th President Of The United States
Credit: Scott Applewhite - Pool/Getty Images
In his turn at the helm, Donald Trump's 2016 victory over Hillary Clinton was plagued strongly by the notion that he received help from foreign powers and didn't win fair and square. The Mueller investigation into his potential collusion with Russia found much support for this notion but didn't go as far as to charge the President. Still, harkening to the clear-cut conclusions of various investigative and spy agencies, Democrats generally saw a major asterisk around Trump's election, with Hillary Clinton and Rep. John Lewis flat-out calling him an "illegitimate" president.

The nearly two decades of political behavior that saw an escalation of legitimacy attacks against the country's most powerful elected leader bring us to 2020, with another crisis in the making, courtesy of Trump. With no evidence to back it up, the President has been claiming that the election has been stolen from him in favor of Joe Biden. While his arguments haven't found much support among the courts, Trump continues to make the claim, both to continue the fight and to weaken his opponent even if Biden does end up with the Presidency.
This combination of pictures from October 22, 2020 shows US President Donald Trump and now President-elect Joe Biden during the final presidential debate.
Credit: JIM WATSON and Brendan Smialowski / AFP via Getty Images
Where does this leave us, with each subsequent election creating a deep polarization and disappointing half the country to the point where they simply don't believe the other side and feel cheated? Nowhere good. Professor of Journalism Andrés Martinez described the situation aptly in 2017, in a way that resonates even louder today when we face a continuation of this sad trend:
"It's desirable, and quintessentially American, to strenuously oppose policies and ideas we disagree with," wrote Martinez in Washington Post. "But the haste of recent years to delegitimize opponents, and to call them un-American, is itself un-American. It leaves us with a bankrupt, even illegitimate, politics, devoid of shared narratives, aspirations, values and, increasingly, facts."
Martinez's prescience that facts will fall soundly at the expense of political ambitions is exactly where we find ourselves. The once-collegial chambers of government rife with unbreakable gridlock and loud accusations of misdeeds by opponents that your side doesn't even need to prove any more. A country where half the people feel the leader is illegitimate yet again but with much more anxiety and anger than ever before. A country tearing itself apart.
Haley, who's at times been both a supporter and critic of the president, reportedly "shocked" White House officials by announcing the end of her two-year tenure as a U.N. ambassador.
Photo: Mark Wilson via Getty Images
Nikki Haley has resigned as U.S. ambassador to the United Nations.
Haley didn't offer a clear reason why she's stepping down, but said "it's time."
The resignation reportedly came as a surprise to many White House officials, though Trump said she first floated the idea of stepping down about six months ago.
Nikki Haley has resigned from her position as the U.S. ambassador to the United Nations and plans to leave the administration by the end of 2018.
In an Oval Office press briefing, President Donald Trump accepted Haley's resignation and praised her two-year tenure.
"She's done a fantastic job and we've done a fantastic job together. We've solved a lot of problems and we're in the process of solving a lot of problems," Trump said.
Haley said it's been an honor "to serve the country I love so much," and that the Trump administration's stances on foreign policy have helped the U.S. become respected in the international community.
Trump said Haley teased the idea of resigning six months ago.
"She told me probably six months ago, 'You know maybe at end of the year -- at the end of the two year period -- but by the end of the year I want to take a little time off, I want to take a break.'"
However, multiple sources reported that White House staffers and senior officials were "shocked" by the announcement. Haley, who's at times clashed with administration officials, didn't offer a clear reason for her resignation.
"There's no personal reason," she said. "It's very important for government officials to understand when it's time to step aside...I want to make sure this administration, this president, has the strongest person to fight."
Trump said he hopes Haley will return to the administration in some capacity, and that she could have her "pick" of administration posts.
(Read Haley's full resignation letter here.)
​Why did Haley resign?
Without any explicit explanation, there's only speculation about why the U.N. ambassador chose to announce her resignation just weeks ahead of the midterm elections.

The South Carolina swap
One possibility is that Haley plans to take the Senate seat of Republican Lindsey Graham of South Carolina, the state for which Haley spent six years as governor, should he replace Jeff Sessions as attorney general, though Graham said he has no interest in pursuing the position. To gain the Senate seat, Haley would need the approval of South Carolina's governor, Republican Henry McMaster, according to Senate vacancy rules.
Clashes with the Trump administration
Others note that Haley has had a strained relationship with White House officials like Mike Pompeo and John Bolton. CNN wrote that "Haley was outwardly very tough within the UN (and the Trump administration), she was reportedly a voice urging more moderation -- and toeing the preferred line of establishment Republicans -- in private."
Haley has also clashed with Trump himself, perhaps most visibly in April when she announced U.S. sanctions on Russia. Larry Kudlow, the Trump administration's top economic adviser, later told media there were no sanctions and that Haley was confused. Haley shot back on live TV that she doesn't "get confused."
More recently, Haley penned an opinion piece responding to an anonymous op-ed published by the New York Times in September that outlined a secret resistance inside the White House. Haley wrote:
"...I don't agree with the president on everything. When there is disagreement, there is a right way and a wrong way to address it. I pick up the phone and call him or meet with him in person."
The treatment of sexual assault allegations has likely been one area of disagreement between Haley and the president.
"They should be heard, and they should be dealt with," Haley told CBS in December. "And I think we heard from them prior to the election. And I think any woman who has felt violated or felt mistreated in any way, they have every right to speak up.
2020 presidential run
Some have speculated that Haley could be plotting a 2020 presidential bid, though she's denied that and said she plans to campaign for Trump. Still, if Haley does indeed believe that the special counsel investigation could ruin the current administration, she'd be in a unique position to run for office, as Jennifer Rubin noted in an opinion piece for the Washington Post:
"She will then be in a position to pick up the pieces, a unifying figure not objectionable to Trump cultists or to the flock of Republicans who when things go downhill will claim they opposed Trump all along. She will be untainted and arguably the most highly credentialed challenger to Trump still within the GOP fold in 2020."
Expenses controversy
It's also worth noting that the Citizens for Responsibility and Ethics in Washington, a liberal nonprofit watchdog group in Washington, issued a report to the State Department on Monday night asking for officials to investigate how Haley and her husband had accepted free flights from businessmen in 2017, which could constitute violations of executive branch rules on accepting gifts.
Taking a break
Despite rumors of a presidential run, it's also plausible that Haley, who's served in high-level government positions for more than a decade, simply wants to take a break from politics, possibly with the intent to rest or make more money.
"It's been eight years of intense time, and I'm a believer in term limits," Haley told reporters on Tuesday. "I think you have to be selfless enough to know when you step aside and allow someone else to do the job."
Haley is close with Ivanka Trump and Jared Kushner
Haley praised Ivanka Trump and Jared Kushner in the Oval Office briefing on Tuesday.
"Jared is such a hidden genius that no one understands," Ms. Haley said. "And Ivanka has been just a great friend, and they do a lot of things behind the scenes that I wish more people knew about, because we're a better country because they're in this administration."
Some have speculated that Trump could pick his daughter and White House adviser Ivanka Trump to fill the role, noting Haley's positive comments and the fact that Ivanka's Twitter account recently began following many government accounts on Monday.
According to @Trumpsalert, @IvankaTrump started following a lot of Defense Department accounts yesterday pic.twitter.com/J3ZtngjloG
— Dave Brown (@dave_brown24) October 9, 2018
The New York Times noted some other possible successors, including "Dina Powell, a former deputy national security adviser to the president, and Richard A. Grenell. Mr. Grenell, the American ambassador to Germany, served as spokesman for John R. Bolton, the national security adviser, when he was ambassador to the United Nation under former President George W. Bush."

In 2017, conflict was stronger between red and blue than it was between black and white.
Wikicommons: Ferguson, MO Riots
In 2017, conflict was stronger between red and blue than it was between black and white.
A new Pew Research Center survey shows that 86 percent of Americans said conflicts between Democrats and Republicans are strong or very strong. In comparison, just 65 percent of Americans said the same for race relations between black and whites, while 60 percent reported strong conflicts between the poor and rich.
The respondents didn't, however, report feeling nearly as strong of a conflict between rural and urban Americans – a dichotomy that some suggested played a role in the election of President Donald Trump – with only 37 percent saying there were strong or very strong conflicts between the groups.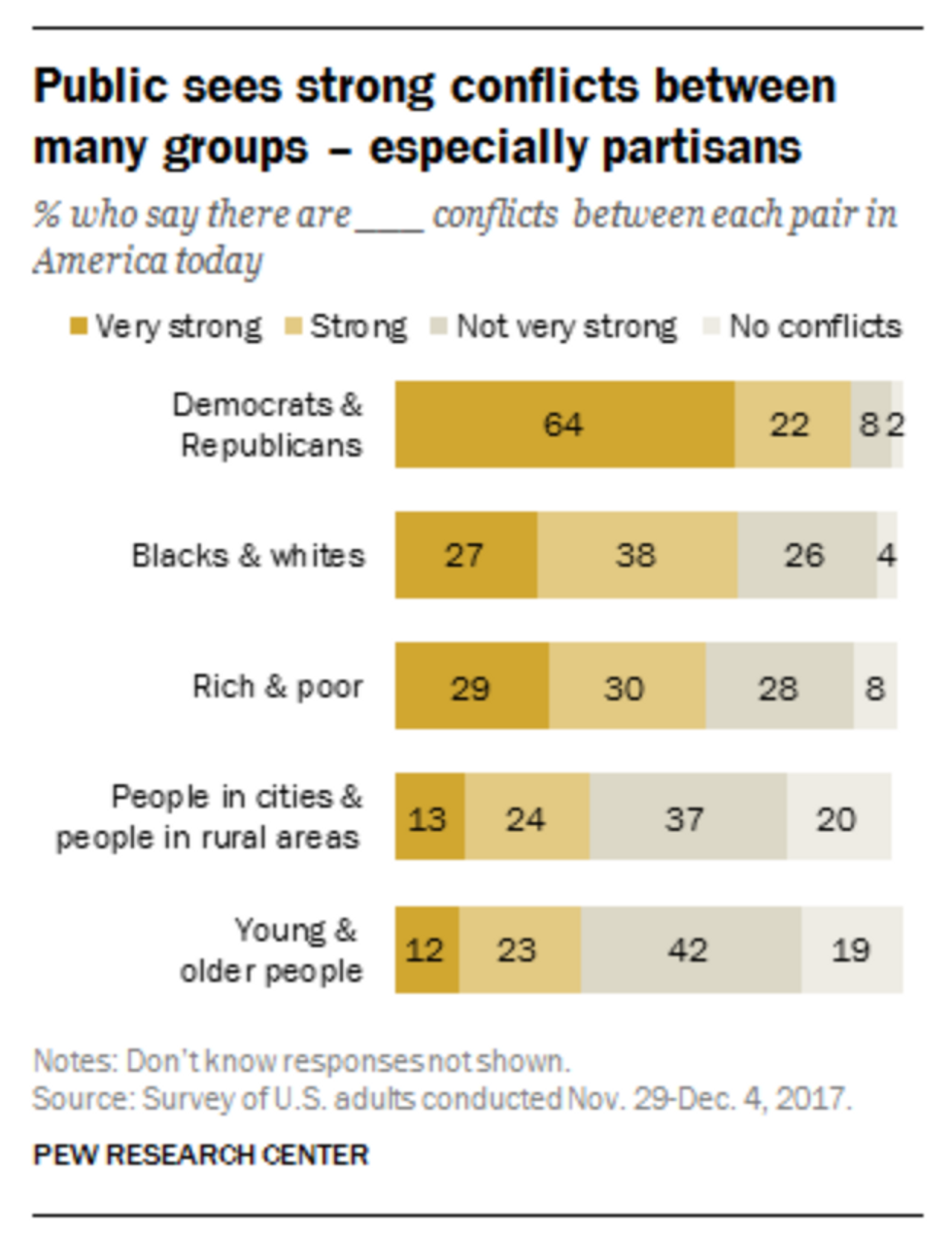 Both conservatives and liberals felt the discord: 90 percent of Democrats and 86 percent of Republicans reported a sense strong or very strong conflicts, representing a higher total rate than Pew Research Center recorded for 2016 or 2012. And the two parties appear to be more divided than ever when it comes to fundamental political issues. Pew Research Center reports that:
On 10 questions that the Center has asked in surveys since 1994 through summer 2017, the average gap between Democrats and Republicans has risen from 15 percentage points to 36 points. This gap is now much wider than the average gap on the same questions between people of different races, ages, educational backgrounds and other demographic factors.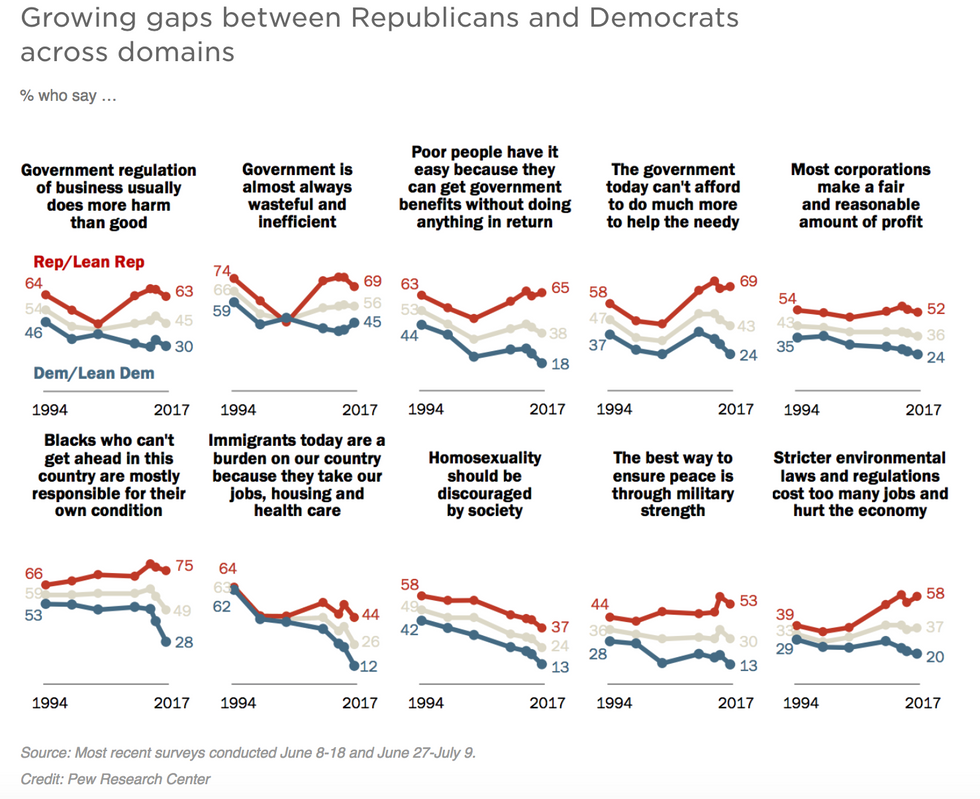 Interestingly, Democrats were more likely than Republicans to perceive the presence of strong conflict between every set of groups listed in the survey: rich and poor, white and black, rural and urban, and Democrat and Republican. Similarly, blacks were more likely than whites to perceive conflicts between every group measured.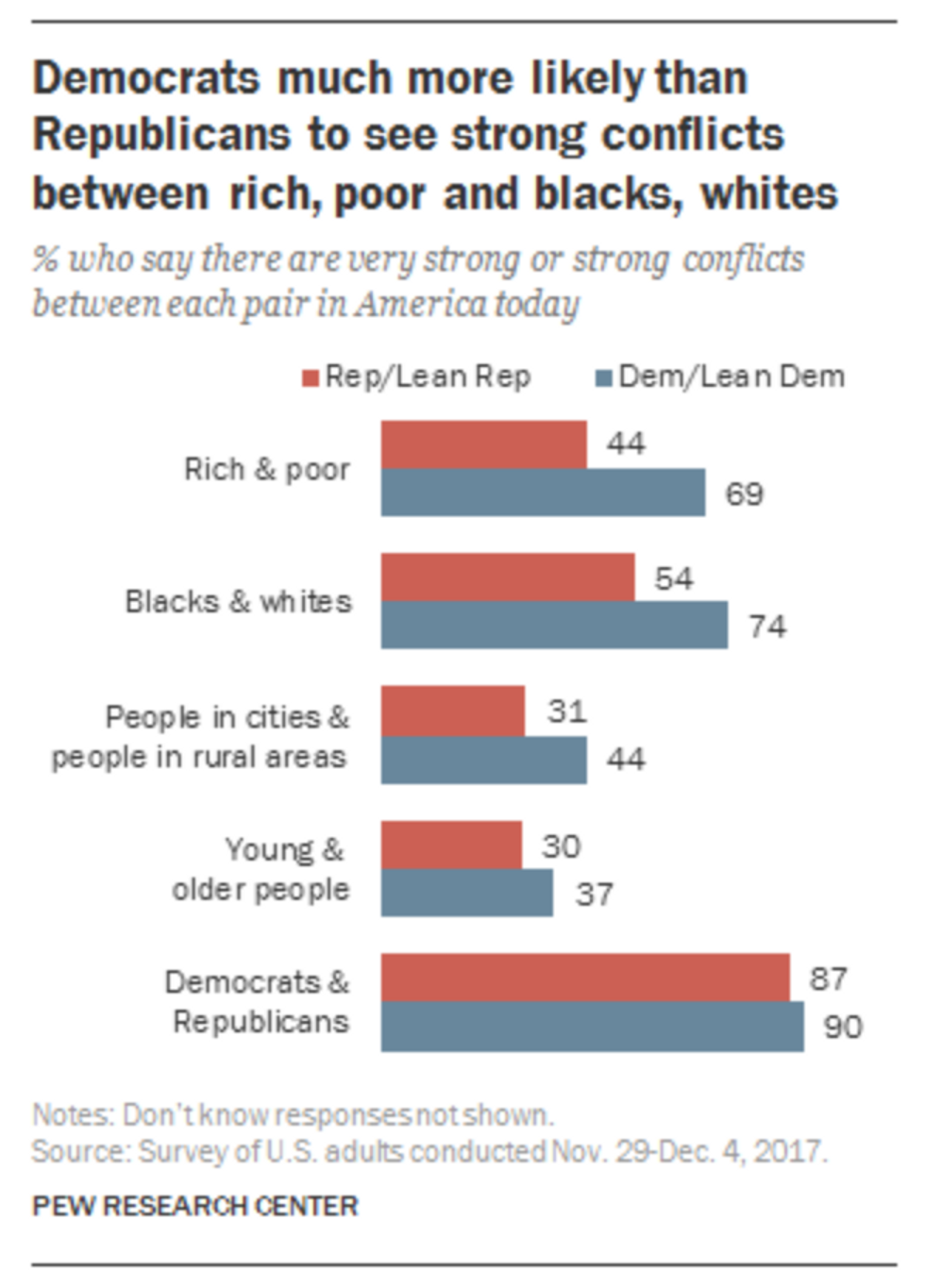 Making matters more complicated is the division and infighting within the two parties. In October 2017, the Pew Research Center published a report that describes the subgroups that have taken shape within each party in the wake of President Donald Trump's election. 
On the left:
Solid Liberals – "Largely white, financially comfortable and highly educated (most are college graduates and nearly a third have postgraduate degrees), Solid Liberals overwhelmingly express liberal attitudes on virtually every issue."
Opportunity Democrats "Agree with Solid Liberals on major issues. But Opportunity Democrats are less affluent, less politically engaged and less liberal – both in their attitudes on issues and in how they describe themselves politically."
Devout and Diverse "[this group] faces even tougher financial hardships than Disaffected Democrats. Devout and Diverse also are the most politically mixed typology group (about a quarter lean Republican), as well as the least politically engaged."
Disaffected Democrats "have very positive feelings toward the Democratic Party and its leading figures. Their disaffection stems from their cynicism about politics, government and the way things are going in the country. This financially stressed, majority-minority group supports activist government and the social safety net, but most say government is 'wasteful and inefficient.'"
And on the right:
Core Conservatives – are "in many ways the most traditional group of Republicans" and are "financially comfortable, male-dominated group overwhelmingly supports smaller government, lower corporate tax rates and believes in the fairness of the nation's economic system."
Country First Conservatives – represent a "much smaller segment of the GOP base, are older and less educated than other Republican-leaning typology groups. Unlike Core Conservatives, Country First Conservatives are unhappy with the nation's course, highly critical of immigrants and deeply wary of U.S. global involvement."
Market Skeptic Republicans – "support raising tax rates on corporations and large businesses. An overwhelming share (94%) say the economic system unfairly favors powerful interests, which places the view of Market Skeptic Republicans on this issue much closer to Solid Liberals (99% mostly unfair) than Core Conservatives (21%)."
New Era Enterprisers – "are fundamentally optimistic about the state of the nation and its future. They are more likely than any other typology group to say the next generation of Americans will have it better than people today. Younger and somewhat less overwhelmingly white than the other GOP-leaning groups, New Era Enterprisers are strongly pro-business and generally think that immigrants strengthen, rather than burden, the country."
Check out more about the subdivisions within each party in Pew Research Center's exhaustive report.
KGB-era "active measures" are still being used by Russian intelligence agencies today, according to experts.
Russian President Vladimir Putin salutes officers 18 February, 2004 in Plesetsk, where he came to watch the launch of spacecraft Molnia. (Photo credit: MAXIM MARMUR/AFP
As questions swirl about Russia's role in the 2016 Presidential elections, the old KGB strategy of "active measures" is getting a closer look. "Active measures" were subversive techniques and policies aimed at influencing people and events in foreign countries to suit Russia's objectives. Claims of internet-driven hacking and misinformation campaigns by Russia against the U.S. fit well within this Cold War approach. 
As described by retired KGB General Oleg Kalugin in 1987, the purpose of "active measures" was "to drive wedges in the Western community alliances of all sorts, particularly NATO, to sow discord among allies, to weaken the United States in the eyes of the people in Europe, Asia, Africa, Latin America, and thus to prepare ground in case the war really occurs. To make America more vulnerable to the anger and distrust of other peoples." 
According to former NSA analyst and security expert John Schindler, these measures are still in use today by Russia, a country led by the former KGB officer Vladimir Putin.
The practice of disinformation is a key example of such "measures". It could involve stories planted in foreign outlets - essentially "fake news" that would present "an alluring amalgam of fact and fantasy—much of it unverifiable—designed to confuse readers and shift political discussions," explains Schindler.
Other tactics that are part of what Schindler considers Russia "espionage worldview" include provocations which also work to murky the waters and disorient the enemy to such an extent that they would be defeated before even knowing what happened. Provocations could include planting agitators or even flipping activists to serve your ends. 
Conspiracy which involves recruiting agents and running covert operations is another tactic mentioned by Schindler. "Kompromat" which entails using compromising materials is also time-honored KGB staple, used to recruit new spies or agents by blackmailing.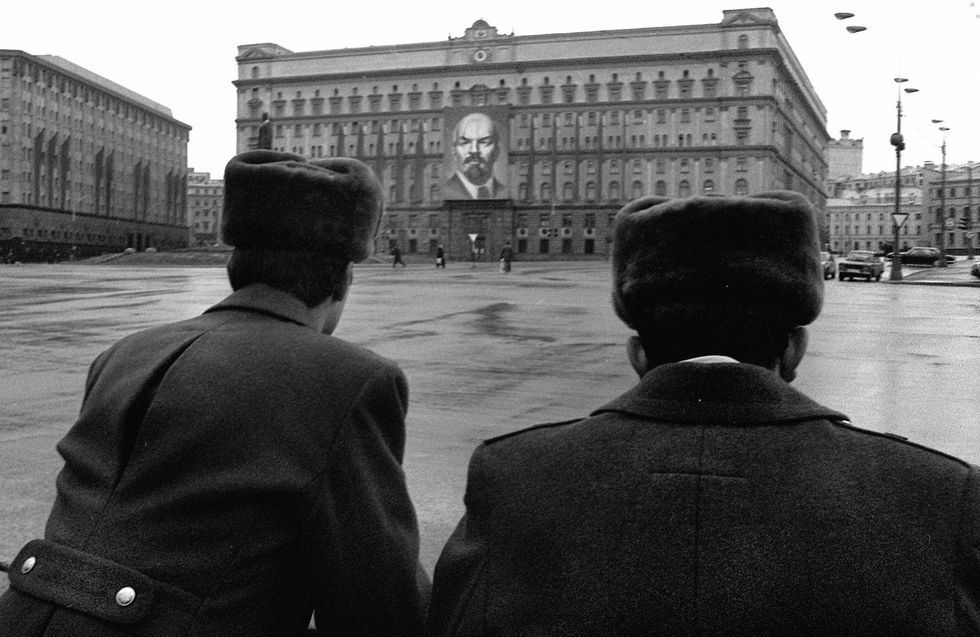 Moscow, RUSSIAN FEDERATION: This undated file picture shows Soviet policemen standing guard in front of the KGB building in Moscow, with a portrait of Vladimir Lenin on it. (Photo credit: ALEXANDER NEMENOV/AFP/Getty Images)
Eugene Rumer of the Carnegie Endowment for International Peace laid out the background on why Russia would want to use "active measures" before a recent hearing of the bipartisan Senate Intelligence Committee investigating Russian interference. For starters, he and the five other testifying witnesses all agreed that Russia was behind a campaign of misinformation in 2016 whose goal was to disrupt the U.S. Presidential elections in 2016.
Rumer said that as every country's foreign policy is shaped by its history and geography as well as politics, the dissolution of the Soviet Union left Russian national security establishment insecure. They were forced to accept the Soviet empire's demise in 1991 and had to retreat from the world stage during the 1990s. The 90s, in fact, turned out to be a difficult decade, blamed largely on the influence of the U.S. and other foreign meddlers in Russian politics and economy. 
But Russia's policy in this millennium has been of pushing back on its boundaries, warring with Georgia, annexing Crimea and fighting an "undeclared war" in Ukraine. From the Russian standpoint, their actions are aimed at restoring the balance of power, pushing back against the expansion of NATO at its borders and correcting the injustice of what happened in 1991. It's Russia's comeback.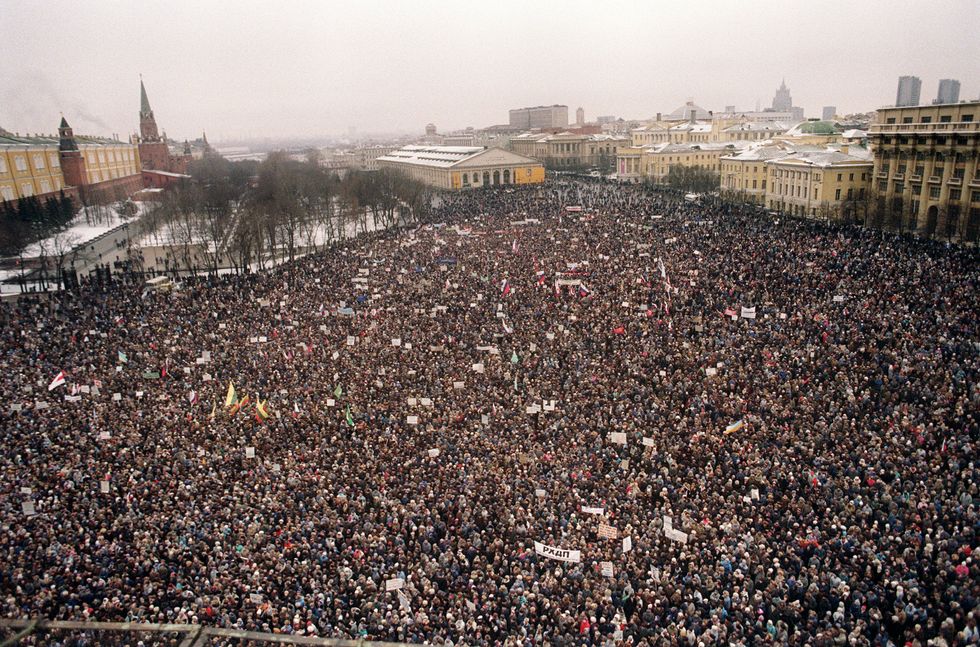 About 100 000 demonstrators march on the Kremlin in Moscow on January 20, 1991. (Photo credit: VITALY ARMAND/AFP/Getty Images)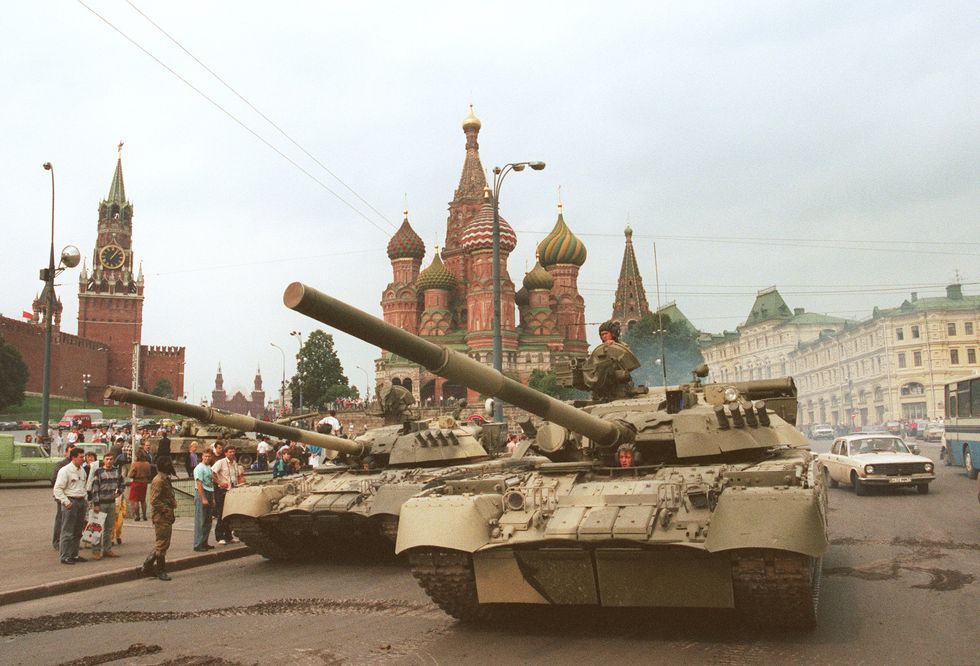 Soviet Army tanks occupy the area near Spassky Gate (L), the entrance to the Kremlin and St. Basil's Cathedral in Moscow 19 August 1991 after a coup toppled Soviet President Mikhail Gorbachev. (Photo credit should read ANATOLY SAPRONYENKO/AFP/Getty Images)
While Russia's military has made great improvements to modernize in the past decade, it would not fare well in a direct military confrontation with Western nations. So it pushes back in other ways - namely, using what Rumer called a "toolkit" of old KGB methods, which are cost-effective and generally less risky due to the confusion they cause.
What do we know about the Russian information warfare efforts during the 2016 U.S. Election? There is a consensus among the American intelligence agencies that the Russian government was behind the hacking of DNC emails that were later released via Wikileaks to politically damage Hillary Clinton. An additional goal was to help elect Donald Trump, a candidate preferred by Moscow. The attacks did not just start during the Trump vs Clinton general election, but were in full swing during the primaries as well, possibly aimed at other Republican candidates whose positions were not considered Russia-friendly, including Senator Marco Rubio.
Another tactic used by the Russians appears to be the employment of an army of Twitter bots that were spreading fake news. This information was shared by former FBI agent Clint Watts in his testimony before the Senate Committee on Intelligence. He discovered that the bots were pretending to be swing-voter Republicans from the Midwest.
"So that way whenever you're trying to socially engineer them and convince them that the information is true, it's much more simple because you see somebody and they look exactly like you, even down to the pictures," explained Watts.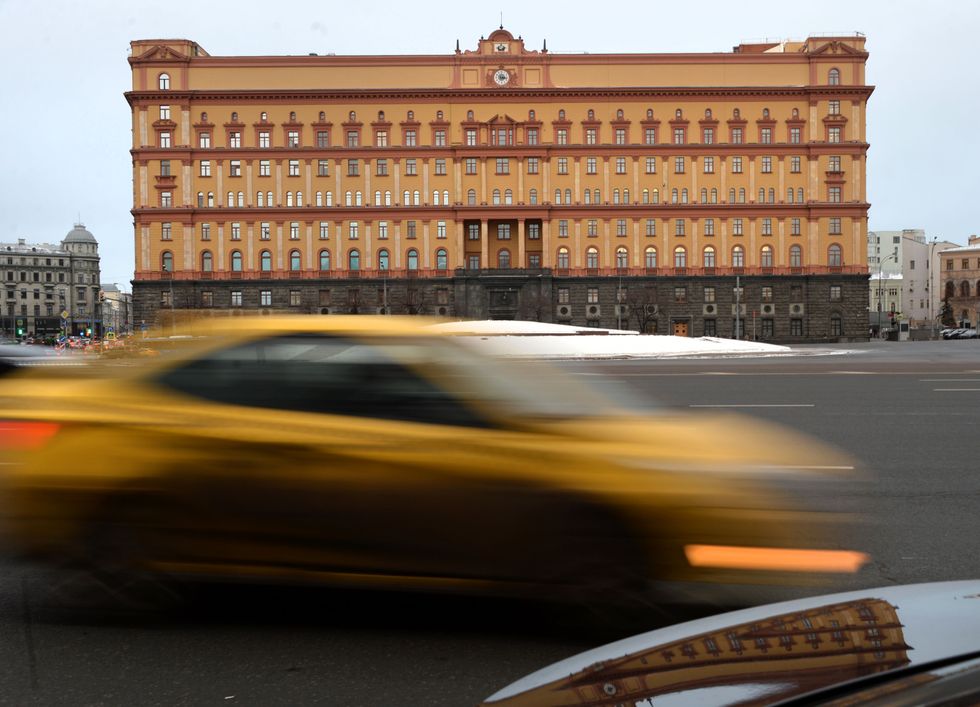 Cars drive past the headquarters of the FSB security service, the successor to the KGB in central Moscow on December 30, 2016. (Photo credit: VASILY MAXIMOV/AFP/Getty Images)
What's more, Watts, who is now a senior fellow at the Foreign Policy Research Institute and has tracked these tactics for over three years, says the Russian efforts did not stop at the election and are still continuing to try to engage with and support the President's tweets.
"If you went online today, you could see these accounts — either bots or actual personas somewhere — that are trying to connect with the administration. They might broadcast stories and then follow up with another tweet that tries to gain the president's attention, or they'll try and answer the tweets that the president puts out," he told NPR.
As far as who specifically is guiding these activities by the Russians, Watts says it's a "diffuse network" with a number of hackers controlled by "different parts of Russian intelligence and propagandists — all with general guidelines about what to pursue, but doing it at different times and paces and rhythms." 
Watts also testified that in 2014 Russian bots supported a petition on the White House website calling to give Alaska back to Russia, from whom Alaska was purchased 150 years ago. That set off an investigation showing how Russia used bots and paid trolls to spread its propaganda.
According to Watts, there are 5 ways in which Russian active measures are designed to topple democracy:
1. Undermine citizen confidence in democratic governance
2. Foment and exacerbate divisive political fractures
3. Erode trust between citizens and elected officials and democratic institutions
4. Popularize Russian policy agendas within foreign populations
5. Create general distrust or confusion over information sources by blurring the lines between fact and fiction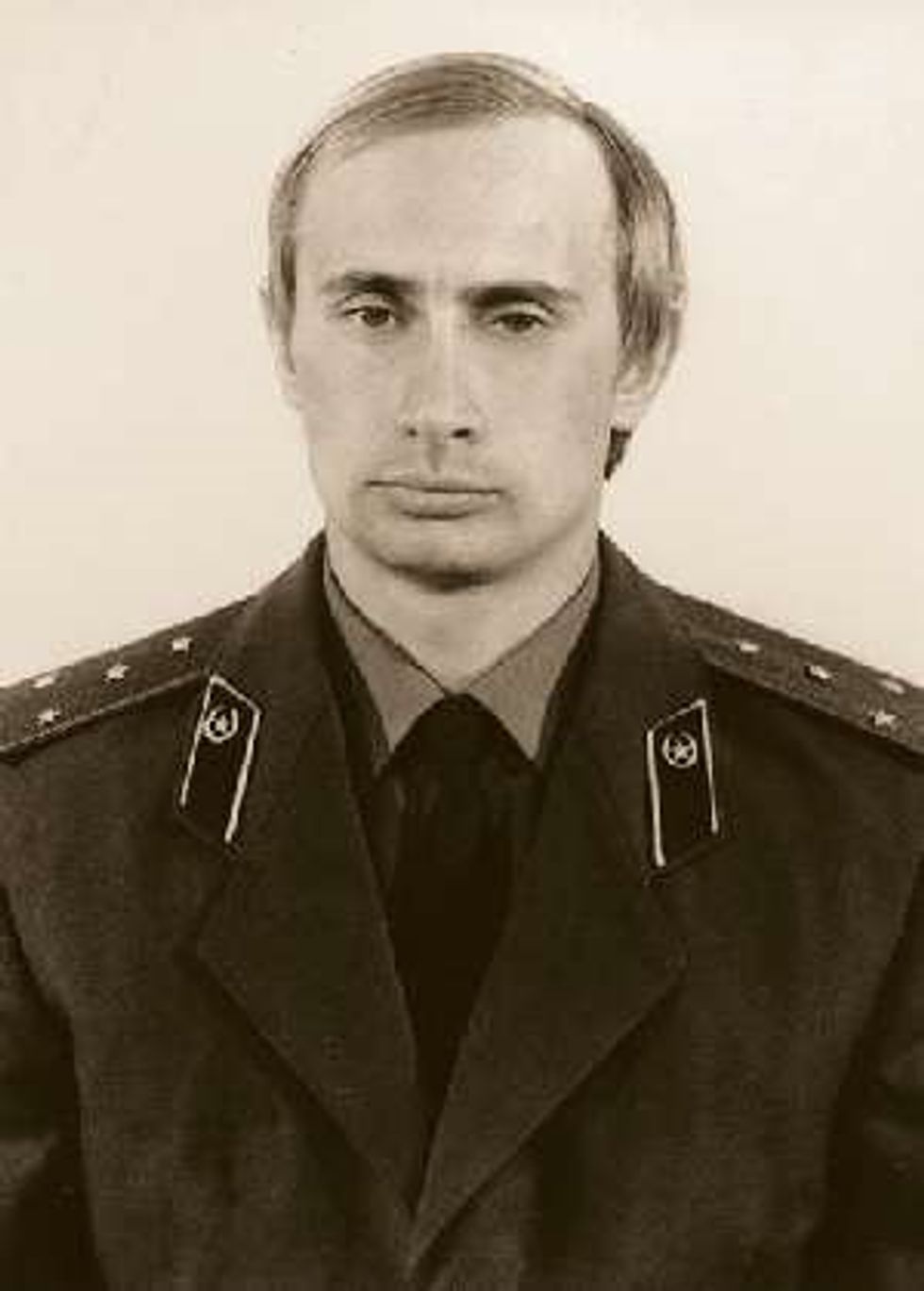 President Vladimir Putin while working as a KGB officer ca. 1990
Another line of investigation by the Senate Intelligence Committee concerns the reported use of an army of internet trolls working from a Russian facility to send targeted fake news to specific regions of America. 
Senator Mark Warner (D) said that their committee was investigating the information that the trolls were taking over computers called "botnets" which had the ability to generate regional news.
"It's been reported to me, and we've got to find this out, whether they were able to affect specific areas in Wisconsin, Michigan, Pennsylvania, where you would not have been receiving off of whoever your vendor might have been, Trump versus Clinton, during the waning days of the election, but instead, 'Clinton is sick', or 'Clinton is taking money from whoever for some source' … fake news," stated Warner.
What is the payoff Russia may be looking for by taking active measures during the 2016 U.S. election?
Eugene Rumer thinks the operation was a "major" and "unqualified" success for the Kremlin, causing unprecedented chaos within the U.S. and worsening its position worldwide.
"The payoff includes, but is not limited to a major political disruption in the United States, which has been distracted from many strategic pursuits; the standing of the United States and its leadership in the world have been damaged; it has become a common theme in the narrative of many leading commentators that from the pillar of stability of the international liberal order the United States has been transformed into its biggest source of instability; U.S. commitments to key allies in Europe and Asia have been questioned on both sides of the Atlantic and the Pacific. And last, but not least, the Kremlin has demonstrated what it can do to the world's sole remaining global superpower," told Rumer to the Senate Committee.
With such a wealth of goals possibly achieved, it's no surprise, according to Rumer, that Russia will continue to employ "active measures" going forward. The question is - how does America adjust? 
For the last two years the volume has risen on populist voices, culminating in a victory for President Trump. The day after his election, this is how "rude" New Yorkers treated one Muslim-American woman.
When she was nine years old, Amani Al-Khatahtbeh heard her first racial slur, from the mouth of one of her classmates. It was 2001, and 9/11 had just shocked and shattered the US's sense of safety. "I grew up through the worst forms of bullying, through an extremely low self-esteem, and it was very difficult for me to formulate who I was and what my identity meant to me," she says. So what was it like, 15 years later, being an American-Muslim woman in New York the day after President Trump was elected? Braced for the worst, Al-Khatahtbeh left her home and under the grey mood and matching skies of the day, was surprised by warm smiles and kind gestures from strangers in New York City. Even compliments on her headscarf. They were tiny exchanges that signified to her that there was a common understanding, and that hope was where it always has been — in other people.
This video is part of a collaborative series with the Hope & Optimism initiative, which supports interdisciplinary academic research into significant questions that remain under-explored. The three-year initiative will provide over $2 million for philosophers, philosophers of religion, and social scientists to generate original, high-quality, collaborative research on topics related to optimism and hopefulness. Discover the public components of the Hope & Optimism project, and how you can contribute, at hopeoptimism.com.
Amani Al-Khatahtbeh's book is Muslim Girl: A Coming of Age.