Seismic data from 2016 reveals a rare bi-directional boomerang earthquake.
An earthquake ran quickly east before turning west beneath the Atlantic Ocean near the equator in 2016.
Such earthquakes are likely to pack significantly more destructive power.
Land-based boomerang earthquakes may have been witnessed, but have never been recorded seismographically.
It was definitely an odd story Rosario García González told in the summer of 2010.
González is an elder of the indigenous Cucapah community in Baja, California/Mexico. He and his wife were in their trailer in Paso Inferior, about 12 miles south-southwest of Mexicali when they heard and felt the distinct, powerful rumble of earthquake moving across their valley. Looking outside, they watched as a cloud of light-colored dust was thrown up into the air along a path going in the opposite direction, as if a truck was retracing the earthquake's path. Except there was no truck.
It's not that scientists didn't believe González's story — they just couldn't figure out what he saw. Could an earthquake possible boomerang? The answer appears to be yes. A new study of seismic data has found clear evidence of another boomerang earthquake — technically a "back-propagating supershear rupture" — that shot back and forth deep beneath the Atlantic Ocean in 2016.
Boom and back
Reconstruction of Romanche fracture zone
Credit: Hicks et al., published in Nature Geoscience / © Imperial College London
The research was conducted by scientists from the University of Southampton and Imperial College, London in the U.K. First author Stephen Hicks of Imperial College says, "Whilst scientists have found that such a reversing rupture mechanism is possible from theoretical models, our new study provides some of the clearest evidence for this enigmatic mechanism occurring in a real fault."
The 2016 magnitude 7.1 quake occurred along the Romanche fracture zone — this is a 559 mile-long fault line near the Atlantic equator, about 650 miles west of the coast of Liberia.
Speaking to National Geographic, Hicks recalled the discovery of what at first seemed like a pair of pulses, which closer examination indicated might actually be two phases of the same quake. If so, the quake zipped eastward, and then west. "This was a weird sort of configuration to see," he says. Confirmation of the boomerang was provided by Ryo Okuwaki of Japan's University of Tsukuba via the identification of seismic echoes from the distant event.
"Even though the fault structure seems simple, the way the earthquake grew was not, and this was completely opposite to how we expected the earthquake to look before we started to analyse the data," admits Hicks.
When modeled, the data collected by 39 seismometers arrayed along the bottom of the ocean-floor gash depicted a temblor that moved rapidly in one direction before suddenly turning around and going back in the other at a blistering 11,000 miles per hour. This likely caused seismic waves to pile up similarly to what happens with air-pressure waves trigger a sonic boom, significantly magnifying the quake's power.
Land boomerangs
Rosario García González points to where the earthquake doubled back.
Image source: CISESE/USGS
While it's logistically simpler to record and study earthquakes on land thanks to the availability of seismometer networks, land-based temblors tend to track complex fault systems, with geological slips occurring in a series like falling dominoes. Sea-bottom quakes appear to be simpler, making it easier to discern their underlying mechanisms and travels.
Only a few boomerang quakes have ever been recorded, and examples of them on land are virtually nonexistent, making accounts such as González's that much more valuable. Clearly, quakes that double back on themselves stand to do considerably more damage than one-way shakers, allowing more outward propagation of destructive seismic waves in the direction of travel, an amount that would be doubled in a boomerang. Seismologist Kasey Aderhold tells National Geographic that "studies like this help us understand how past earthquakes ruptured, how future earthquakes may rupture, and how that relates to the potential impact for faults near populated areas."
Scientists developing computer models aimed at predicting seismic events haven't thus far been able to create worthy simulations of boomerang quakes, so the details provided the U.K. researchers provide some of the best information yet collected on these geologic oddities.
Minnesota earned its 'blue mark' in the 1975 Morris earthquake, which had its epicenter in the western part of the state.
Image: USGS, public domain
Californians, want to run away from the Big One? Head for Minnesota.
As this map shows, the Gopher State is the least likely to be hit by earthquakes.
Choose your new home wisely, though: even Minnesota has one earthquake-sensitive spot.
Not if, but when
The Long Beach earthquake hit on 10 March 1933 with an estimated magnitude of 6.25 on the Richter scale.
Image: Nathan Callahan, CC BY 2.0
It's not if, but when: Californians live with the certainty that someday, the Big One will hit.
The Big One is an earthquake with a magnitude of at least 7.8 on the Richter scale. Because of the plate tectonics at work under California, big quakes like that hit the area every 45 to 230 years.
The last one was more than 160 years ago. That's why paleoseismologist Kerry Sieh says the next one is likely to happen "within the lifetime of children in primary school today."
Here's how the United States Geological Survey (USGS) rates the hazard of a major earthquake in California in the next 30 years:
60% chance of a 6.7-magnitude quake.
46% chance of a 7.0-magnitude quake.
31% chance of a 7.5-magnitude quake.
It should be noted that the Richter scale is logarithmic in nature, meaning that a one-point increase in magnitude (e.g. from 6.7 to 7.7) represents a tenfold increase in amplitude. So, the Big One will be considerably stronger than the highest-magnitude quake considered by the USGS. When it hits, the Big One is likely to kill hundreds, hurt thousands and displace many more. It will cause widespread damage to buildings and infrastructure and start hundreds of fires. How do you put as much distance as possible between yourself and that apocalyptic prospect? Start with this earthquake hazard map.
Hazard everywhere
The earthquake hazard map of the United States.
Image: USGS, public domain
The Pacific coast is purple: the highest hazard. The entire west is shaded in colors denoting declining hazard. Only relatively small parts of the country are covered by the zone of lowest hazard:
central and southern Texas;
most of Florida, Michigan, Wisconsin, Iowa, and North Dakota;
sizable chunks of Kansas, Nebraska, Montana, and South Dakota;
and tiny bits of Alaska, Colorado, New Mexico, Louisiana, Arkansas, Alabama, and Georgia.
One state seems hazard-free, but that's only until you notice the blue spot in Minnesota's western bulge.
So, what do these colors actually denote? Earthquake hazard maps show the potential shaking hazard from future earthquakes.

The USGS defines earthquake hazard as the probability of ground motion over 50 years. That probability is determined by a region's geology and earthquake history.
The location of fault lines alone is not enough to determine quake hazard: a large earthquake can produce tremors at a relatively large distance from the actual fault line.
The colors on this earthquake hazard map correspond to Seismic Design Categories (SDCs), which reflect the likelihood of seismic activity leading to ground motion of various intensities.

Seismic resistance
Damage caused by the 6.0-magnitude Napa County earthquake of 24 August 2014.
Image: Matthew Keys, CC BY-SA 4.0
These SDCs are used to determine the level of seismic resistance required in building design and building codes.
SDC level A (grey): Very small probability of experiencing damaging earthquake effects.
SDC level B (blue): Moderate-intensity shaking possible. Such shaking will be felt by all. Many will be frightened. Some furniture will be moved and some plaster will fall. Overall damage will be slight.
SDC level C (green): Strong shaking possible. Damage will be negligible in well-designed and well-constructed buildings; considerable in poorly-built structures.
SDC levels D0 (yellow), D1 (orange) and D2 (red): Very strong shaking possible. Damage will be slight in specially designed structures; considerable in ordinary substantial buildings, with partial collapse; and great in poorly built structures.
SDC level E (purple): This is near major active faults capable of producing the most intense shaking. Even in specially designed structures, the damage will be considerable. The shaking is intense enough to completely destroy buildings.
The Morris quake
Minnesota earned its blue spot in 1975.
Image: USGS, public domain
This earthquake hazard map is not a snapshot of the past, but an evolving prediction of the future. The map is adapted as geological knowledge increases. But it is also partly based on past events – or more precisely the likelihood of their recurrence.
Minnesota earned its blue spot from the 1975 Morris earthquake. With its epicenter in Stevens County, it struck at around 10 am on July 9th of that year and had a magnitude of 4.6. It was the first seismic event recorded in the state since the Staples quake of 1917, and it was felt as far afield as the eastern Dakotas and northern Iowa.

Near the epicenter, plaster cracked and pictures fell off walls. In the town of Morris, two homes suffered damage to their foundations. Not quite California-sized, but for lack of comparison, probably Big Enough for the locals.
Strange Maps #1011
Got a strange map? Let me know at strangemaps@gmail.com.
Scientists discover how to predict megaquakes earlier to improve warning systems.
Photo by Mario Tama/Getty Images
Earthquakes of 7+ magnitude share a particular pattern, find seismologists.
The pored over data of over 3,000 earthquakes to spot a "slip pulse".
The scientists advocate using real-time GPS sensor data in early warning systems.
As the 2019 California earthquakes remind us, these natural events can be quite nerve-racking and dangerous. Potential for terrible destruction is always just a tremor away. That's probably the worst thing about earthquakes – they come out of nowhere and cause the most mayhem simply because of their sheer suddenness. Predicting earthquakes would save lives and property, and a recent study hopes to accomplish just that.
Seismologists Diego Melgar and his colleague Gavin P. Hayes were at first looking for databases to simulate the magnitude 9+ Cascadia megaquake of 1700. But they ended up discovering a very peculiar pattern. They employed data collections of earthquakes going back to the early 1990s and their background in geophysics to spot a specific moment, happening 10-15 seconds into an earthquake event. That moment, derived from GPS data, can indicate a quake of magnitude 7 or larger.
The scientists used GPS information, in particular, because it caught even the smallest initial movements along a fault, showing the strongest acceleration of ground movement. The seismologists identified a pattern in the data called "a slip pulse" that happened during the transition period, when displacement between two plates was taking place. The top rate of that displacement predicted if the quake would be small or go mega, found the researchers.
How did they know they were on the right track? The scientists performed physics-heavy analysis of numerous databases of 3,000+ earthquakes to confirm their methodology. They correctly picked out all 12 quakes of 7+ magnitude from the early 1990s till now in two U.S. Geological Survey databases. They also hit upon the same pattern in European and Chinese databases, reports a University of Oregon press release.
"It was super exciting," shared Melgar. "As Gavin and I pored through the data for what were really unrelated reasons, we began to see these trends. We had a bit of a eureka moment where we, well, if what we're seeing is true, it means something about how earthquakes start."
Vehicles driving over a crack on Highway 178, near Trona. This follows a 6.4-magnitude earthquake in Ridgecrest, California on July 4, 2019.
Credit: Frederic J. Brown/Getty Images
The scientists think their research can lead to a greater amount of GPS stations to improve early warning system, especially ShakeAlert, along the West Coast. The sensors can be placed on the seafloor to counter the delay in relaying valuable quake information.

"We can do a lot with GPS stations on land along the coasts of Oregon and Washington, but it comes with a delay," Melgar explained. "As an earthquake starts, it would take some time for information about the motion of the fault to reach coastal stations. That delay would impact when a warning could be issued. People on the coast would get no warning because they are in a blind zone."
Melgar's previous work on real-time GPS data found it could give an extra 20 minutes of warning in cases of tsunamis.
Diego Melgar is a researcher at the University of Oregon, while Gavin P. Hayes is a seismologist with the USGS National Earthquake Information Center in Colorado.
Read their study in Science Advances.
Natural disasters claim many more victims than terrorism, so why is funding in Europe and North America so out of balance? This negligence makes Neil deGrasse Tyson "embarrassed for our species".
A general view of Amatrice on August 26, 2016. Central Italy was struck by a powerful, 6.2-magnitude earthquake in the early hours, which has killed nearly 300 people and devastated dozens of mountain villages. Photo by Vittorio Daniele/NurPhoto via Getty
At 3:36am on August 24, an earthquake hit a small village in Central Italy. It had a magnitude of 6.2, making it one of the strongest on the Richter scale. It wreaked havoc on the village of Amatrice for several hours. The earthquake had over 200 aftershocks that were felt in Bologna (230 miles to the north) and Naples (615 miles to the south). At the most recent count, 296 people have been declared dead and many unaccounted for. "Half the town no longer exists," Amatrice's mayor Sergio Pirozzi told The New York Times.
The radius of the Amatrice earthquake. Credit: USGS
The devastation of the Amatrice earthquake is on par with a 2009 earthquake that killed 300 people in L'Aquila, another village in central Italy. The damage is likely to cost about 1% of Italy's GDP to repair, according to calculations from the United States Geological Survey:
Credit: USGS
Both towns had buildings dating back to the Middle Ages. Both towns saw those buildings destroyed in addition to the loss of human life. Both towns may have been saved if Italy invested more money in protecting against natural disasters.
The thought of protecting against natural disasters sounds crazy but it's rooted in sound science. Buildings can be engineered to absorb and safely redirect the force generated by extreme weather events like earthquakes, fires, and hurricanes. Governments can invest money in better forecasting tools. They can also invest in better awareness and training for citizens who live in areas prone to natural disasters.
Italy has the 3rd largest economy in the EU but allotted only 274.5 million euros (or 309 million USD) to national emergencies in 2015, according to its Civil Protection Department website. Only 984,000 euros (or 1.1 million USD) went to the Lazio region where Amatrice is located.
That's a shocking little amount for disaster aid and prevention, especially since the country's landscape makes it the most susceptible to natural disasters in Europe, according to Disaster Planning and Community Management. Italy tends to prioritize rebuilding rather than prevention, and has a tendency to overspend on restoration projects. The most infamous of these projects was $35 billion spent on unfinished restoration projects for the city of Irpina following its 1980 earthquake, as The New York Times reports. The Italian government has since cracked down on this kind of spending.
A different form of shockwave, the 2008 global financial crisis caused the Italian government to make major cutbacks at all levels of government spending and levy heavier taxes on its citizens to fill in the gap. As The New York Times reports, "Residents affected by the earthquake… will be required to start paying [their taxes] back next June…. those tax bills will be higher than in years past, taking into account property tax increases that are going into effect across Italy after a countrywide [sic] reassessment, in some cases by more than 50 percent." Italy has requested an additional 4 billion euros from the EU in order to help alleviate taxpayers' burden, but they still need more help.
Compare those numbers to the US. The US budget to protect against natural disasters is about $10 billion, according to the Center for American Progress. Keep in mind that the US is over 30 times bigger in land mass than Italy, so it seems both are woefully underprepared. After Hurricane Sandy devastated much of the eastern seaboard, the US government spent $60 billion – five times its annual budget – to repair the damage. Expensive as that was, it's pennies compared to the $100 billion dollars needed to repair the damage caused by Hurricane Katrina.
Given the increasingly dramatic weather caused by climate change, the scale of damage caused by natural disasters is likely to become more drastic. Hurricane Irene caused $16 billion dollars worth of damage in 2011, according to The New Yorker. On top of that, the US drastically under-invests in its infrastructure, leaving large swathes of the nation's roads, homes, and power lines vulnerable to weather. "In 2009, the American Society of Civil Engineers gave our infrastructure a D grade and estimated that we'd need $2.2 trillion to bring it up to snuff," reports The New Yorker. The numbers only get worse from there:
Credit: Center for American Progress
Again, all of these budgetary strains -- and potential loss of life -- can be avoided. The answer is as simple as reallocating funds from less likely threats. Like terrorist attacks.
The EU spent 93.5 million euros (105 million USD) on counter-terrorism efforts in 2009, which is a drastic increase from its 5.7 million (6.4 million USD) 2002 budget. The amount allocated to Italy is small but misguided; Italy is rated only 1 out of 5 on the Global Terrorism Index, meaning it's the least likely to suffer an attack. Italy is as likely to suffer a terrorist attack as Canada. Here's the data in map form:
Click here for the interactive map.
In 2013, the US spent $16.6 billion on counter-terrorism efforts, according to Pew Research. That's about the exact amount of damage caused by Hurricane Irene. Since the September 11 attacks, the US has spent $500 billion on intelligence to support these efforts, including $20 billion to monitor suspected threats around the world. That doesn't include $1 trillion spent on domestic security efforts like increased police and security personnel, airport security screenings, and the Department of Homeland Security, according to Nieman Watchdog.
That is an enormous amount of money to spend. And it's had very little payoff, as Nieman Watchdog reports, "for the counter terrorism spending since 9/11 to be fully justified, homeland security would have had to deter, prevent, foil or protect against 1,667 Times Square style attacks a year, or more than four a day." "Times Square style attacks" refers to a foiled 2010 bombing that would have caused dozens of fatalities and $100 million in property damage.
While some of that $1.5 trillion has undoubtedly helped save lives, the vast majority of it has not. Why? Because the US is trying to protect against another 9/11, and terrorist attacks on that scale don't happen often. Nieman Watchdog explains: "The frequency and severity of terrorist attacks are low, very low in fact, which makes the benefits of enhanced counter terrorism [sic] expenditures of a trillion dollars since 9/11 challenging, to say the least, to justify by any rational and accepted standard of cost-benefit analysis."
Worse still, the vast majority of that overspending has cost lives. Nieman Watchdog again:
"Instead of saving lives, extravagant homeland security spending is, in a sense, costing lives. In the past month over 320 people have been killed by tornadoes in the US. Yet there are studies that show $200 million spent subsidizing the purchase of tornado shelters for mobile homeowners would save 30 lives during the life of the shelters. These are guaranteed lives saved for a modest government investment. There are other examples ranging from airbags to smoke alarms to pharmaceuticals known to save many lives. Diverting even a small proportion of homeland security spending to such measures could save many lives at a fraction of the cost."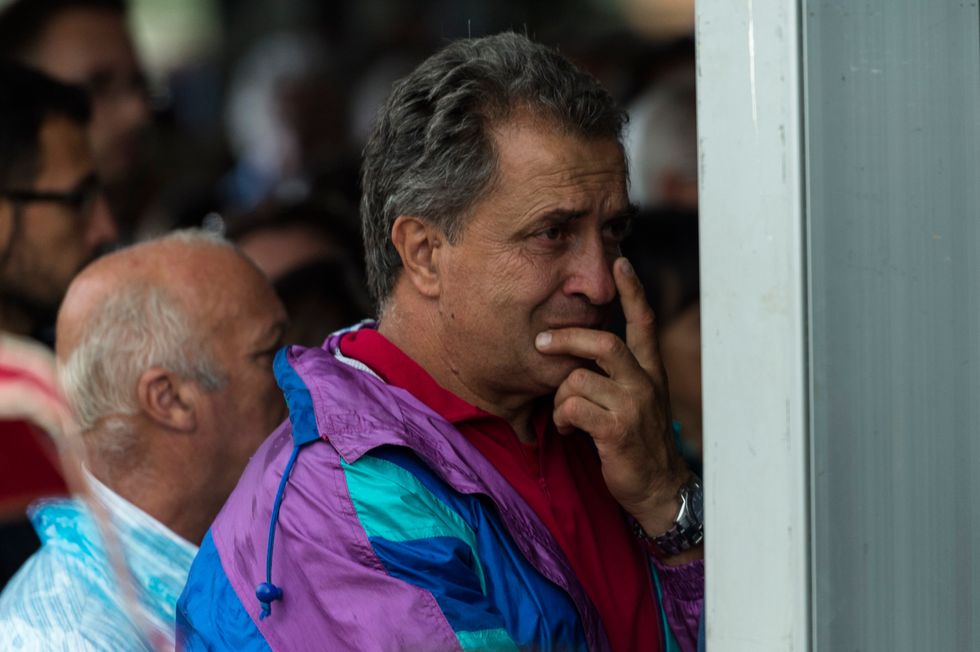 Relatives mourn during a funeral service for victims of the recent earthquake in Amatrice, central Italy, on August 30, 2016. (Photo by Fabrizio Di Nucci/NurPhoto via Getty Images)
For all that potential disaster, the US government is unlikely to prioritize preventative spending over terrorism spending. Heck, they're unlikely to prioritize it over relief spending since it's less politically advantageous to build roads than save victims, as The New Yorker reports. Yet the economics stand: as scary as a terrorist attack is, natural disasters like the Amatrice earthquake kill more people and cause more damage. We need to reallocate funds to prevent that. And if you don't believe me, listen to Neil deGrasse Tyson:
If you'd like to donate, you can still do so at the Italy Earthquake Relief Fund.