A new study discovers why whales grew to be the largest animals on our planet.
A Humpback whale jumps in the surface of the Pacific Ocean at the Uramba Bahia Malaga natural park in Colombia, on July 16, 2013. (Photo credit: LUIS ROBAYO/AFP/Getty Images)
While we tend to think of dinosaurs as gigantic, they are not the biggest animals ever. In fact, the largest animal to have ever lived is around on our planet right now. It's a blue whale, a giant that can reach up to 100 feet (30m) in length and 200 tons (400,000 pounds) in weight. This huge beast, while endangered, is still roaming our waters, with an estimated 10,000 to 25,000 blue whales alive today. Now scientists figured out why baleen whales like the blue whale got to be so big.
One previous theory explaining the gigantism of whales saw their large size as an adaptation necessary to fight off megasharks and other enormous prehistoric animals. But scientists found out that until about 4.5 million years ago whales stayed moderate in size - about 10 meters long. Then, near the beginning of the first Ice Age, they started growing larger.
What happened? Researchers from the University of Chicago, Stanford University and the Smithsonian's National Museum of Natural History studied fossils of 63 extinct whales to figure it out. They propose that the explanation lies in the dramatically changed diets of the animals.
"We might imagine that whales just gradually got bigger over time, as if by chance, and perhaps that could explain how these whales became so massive," said the study's co-author Graham Slater, who teaches geophysical sciences at the University of Chicago. "But our analyses show that this idea doesn't hold up—the only way that you can explain baleen whales becoming the giants they are today is if something changed in the recent past that created an incentive to be a giant and made it disadvantageous to be small."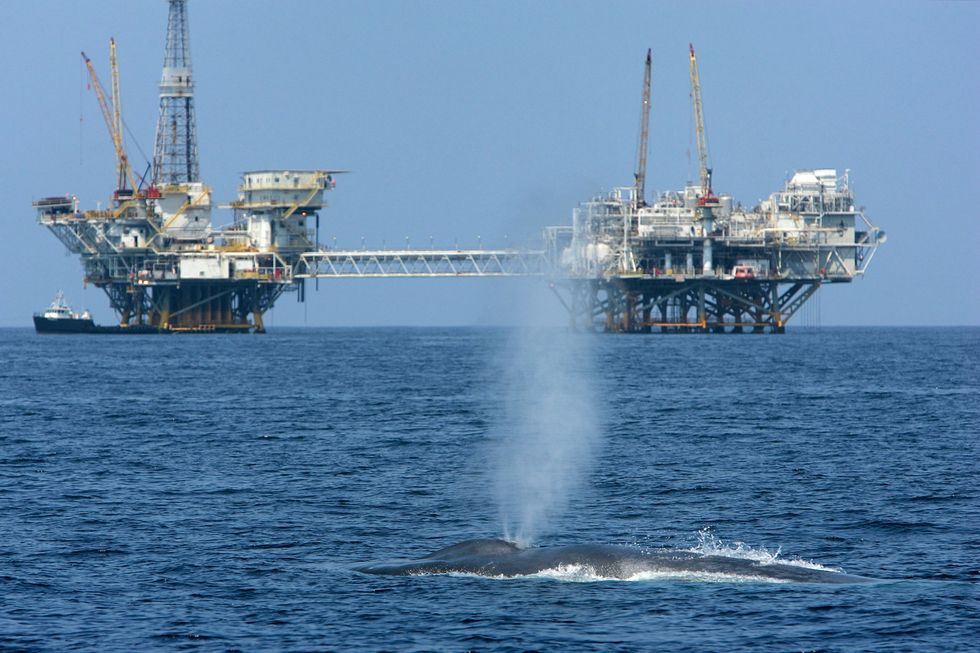 As glaciers grew during the Ice Age, their "runoff" or melting periods in the spring and summer dumped nutrients into the ocean, allowing for an explosion in the amount of tiny crustaceans called krill and other small animals whale eat. Before this, food for the whales was available all throughout the year, but the resulting climate change caused much of that supply to disappear.
Instead, food was now available in abundance seasonally and only in certain areas. This encouraged the whales to grow bigger and faster, to be able to find, consume and store food more efficiently. The reason the bigger whales were preferred by evolution is that they could survive the long migrations necessary to get to the next patch of food.
Check out this video from Science Magazine:
The research not only sheds light on the mystery of the whales' size but also provides insight into how oceans sustain life.
"An animal's size determines so much about its ecological role," said Smithsonian's Nicholas Pyenson, the study's co-author. "Our research sheds light on why today's oceans and climate can support Earth's most massive vertebrates. But today's oceans and climate are changing at geological scales in the course of human lifetimes. With these rapid changes, does the ocean have the capacity to sustain several billion people and the world's largest whales? The clues to answer this question lie in our ability to learn from Earth's deep past—the crucible of our present world—embedded in the fossil record."
You can read the study in the Proceedings of the Royal Society B.
Your bones would "explode."
She wouldn't last a second.
Who can forget the nail-biting scene in Jurassic Park when an escaped T-Rex, in the middle of a thunderstorm, proceeds to turn over and tear apart a Range Rover with two children trapped inside? Movie magic and real science don't often intersect. So, is this what would really happen, or is Hollywood just ramping up the drama? And how strong was a T. rex's bite anyway? Scientists now know. And the truth is, this terrifying predator retains its reputation. The jaw strength of a T-Rex contained nearly 8,000lbs (3,629kg) of force.
Gregory M. Erickson is a paleobiologist from Florida State University, who began his bizarre journey by becoming vastly curious about how many pounds of pressure the jaws of a T-Rex might exert. He teamed up with Paul M. Gignac, a paleobiologist at Oklahoma State University. Their findings, published in the journal Scientific Reports, conclude that its gnashing jaws would tear through everything, even popping bones.
The exact figure they came up with was 7,800lbs (3,538kg) of force, more than double any living species on Earth. "That's like setting three small cars on top of the jaws of a T. rex," Erickson told NPR. "That's basically what was pushing down." More horrifying still, it chewed up and ate the bones of its prey. This act, known as extreme osteophagy, is practiced by few animals today. No living reptiles do it. It has been observed in just a few mammals, notably hyenas and wolves.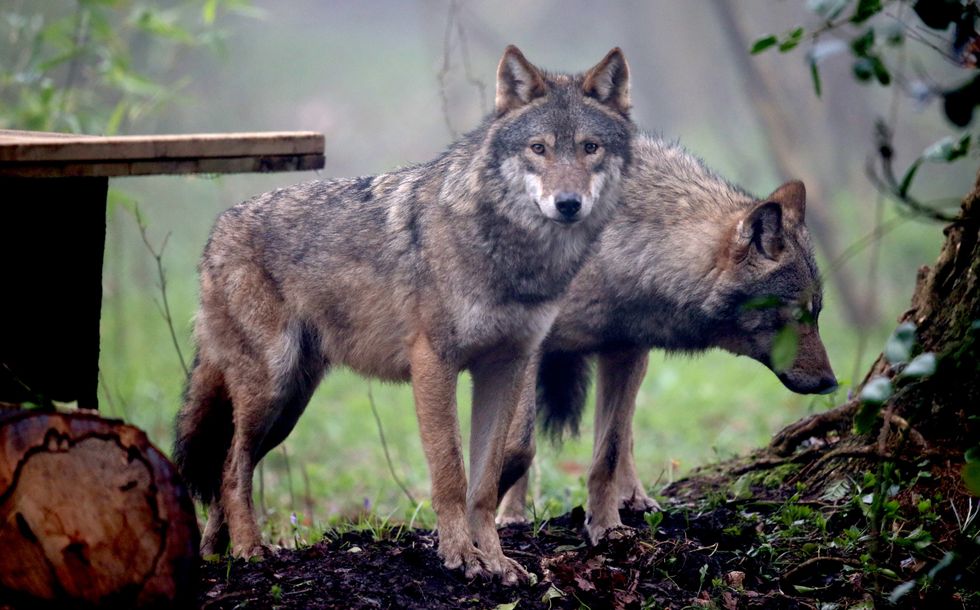 Wolves practice extreme osteophagy or the eating of bones. No modern reptiles do. Getty Images.
As if the towering monster's banana-sized teeth weren't enough! How do we know it ate bone? Triceratops fossils and others have been found with T. rex bite marks in them. Also, their droppings have been found containing minerals, which could only be derived from digested bones.
To work out what a T. rex was packing in terms of bite strength, Erickson and Gignac looked at modern crocodile bites and their musculature, and the bites of birds. Crocodiles are probably the T-Rex's closest living relatives, Erickson said. These aren't your mamby-pamby scientists, mind. They lassoed a 17-foot crocodile and got its bite strength, using something akin to a bathroom scale. Erickson told NPR, "I call it 'bull-riding' for scientists."
Once the information gathering process was complete, they ran the information through computer models to determine the amount of force a T. rex's bite would've delivered. Today, the Australian saltwater crocodile delivers the most powerful bite, 3,700lbs (1,678kg) of force. Though nowhere near the sheer brute strength of the T. rex, it's still not something you want to tango with. Meanwhile, we humans fire off a measly 200lbs (approx. 91kg) of force per bite.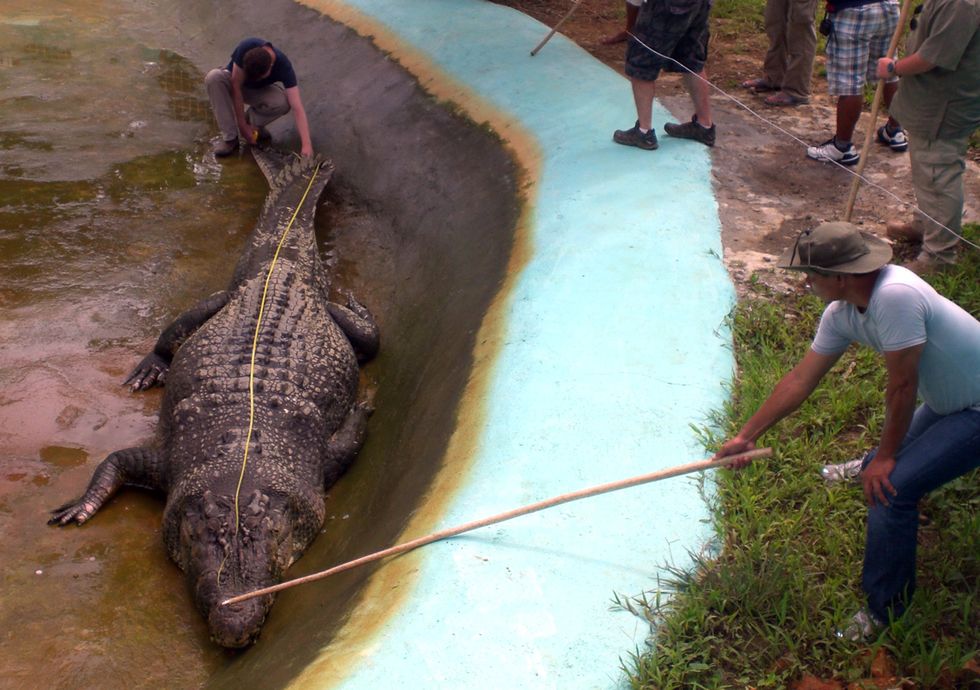 Researchers caught an Australian saltwater croc and tested its bite strength. Getty Images.
Erickson says jaw pressure doesn't tell the whole story. Tooth pressure actually plays a huge role in the effectiveness of a bite. The shape of the tooth and how well it delivers pressure to its point will tell whether it punctures hide or bone. Luckily for the T. rex, its serrated teeth were designed to do both with precision. A T. rex's tooth pressure clocked in at 431,000 lbs per square inch (303,000kg per square meter). "It basically could slice through just about anything in its realm," Erickson said.
The T. rex could gorge itself on triceratops and duck-billed dinosaurs alike, and the fact that it could metastasize and digest bone gave it an advantage over other predators. Though modern crocs and alligators swallow their food whole, the T. rex chewed its food.
Gignac says that their method of quantifying its bite strength should be accurate and another expert said that it sounds close to reality. Paleontologist Mark Norell, with the American Museum of Natural History, said it was the first such study to employ principles from engineering. He also told the New York Times, that a bite from a T. rex, "would cause bones to basically explode."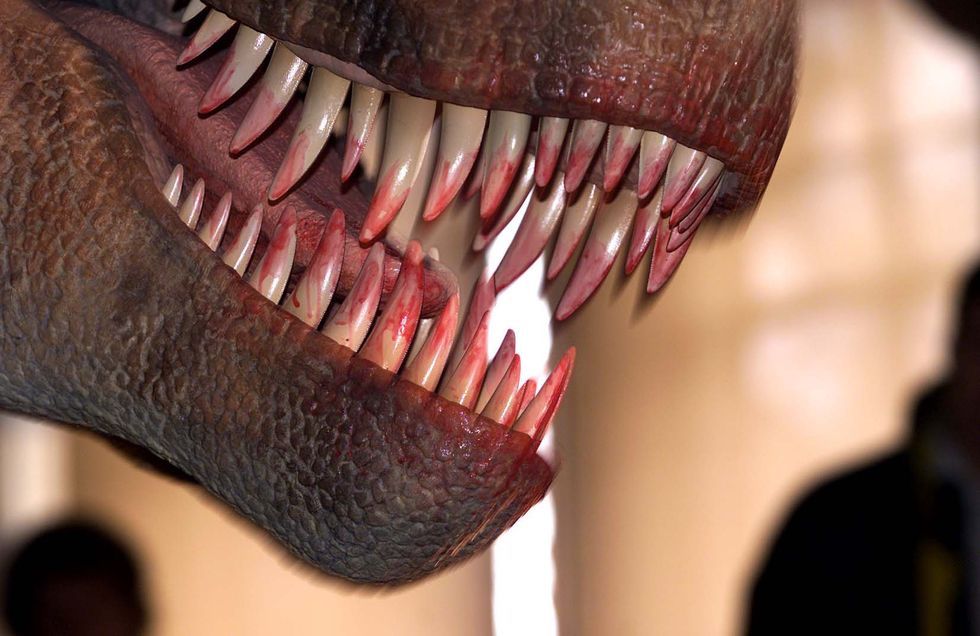 Tooth pressure means more for carnivores than bite force. T-Rex had it in spades. Getty Images.
According to Gignac, though impressive, the T. rex may not have delivered the most powerful bite in all of history. That title would've gone to the gigantic Newfoundland crocodile that lived alongside our ancient ancestors. They were 30-40 ft (12m) long. These crocs would have delivered a bite strength of 18,000lbs (8,165kg) of force. That's over twice what the T. rex delivered.
That aside, the T. rex was still one of the most fearsome predators ever. But unlike Jurassic Park, it might not have roared. In fact, it may have sounded more like a giant pigeon. In another study, published in the journal Evolution, researchers determined that instead of an earthshaking roar, dinosaurs more likely let out coos and hoots much like modern birds do.
By studying the evolution of birds and the patterns they suggest, researchers believe dinosaurs may have used a sound making process called closed-mouth vocalization, often practiced today among owls and doves. Here, sound is emitted through the skin in the neck and pushed out via an esophageal pouch. Dinosaurs may have relied upon closed-mouth vocalization since they were so large. It takes a large body for it to be effective.
So Hollywood sort of got it right, except one would be hooted and cooed at by a T. rex rather than roared at, which doesn't seem intimidating, at least compared to what's behind the thundering reptile's bite. Luckily, sound in the animal kingdom, at least among birds, is usually reserved for defending territory or attracting a mate. So a T. rex, if it got a hold of you, probably wouldn't have cooed as it chewed you up, devouring you to your very bones. Good to know.
Will we ever resurrect the T. rex like in Jurassic Park? See what Michio Kaku thinks:
A 99-million-year-old dinosaur tail with feathers was examined in a new study by an international team of researchers.
Researchers found a 99-million-year-old chunk of amber containing the feathered tail of a dinosaur.
The remarkable discovery of the sample, which includes preserved bones, soft tissues and feathers, was made in 2015 at an amber market in Myanmar by the paleontologist Dr. Lida Xing from the China University of Geosciences at Beijing. After careful study of the sample by CT scanning and microscopic observation, an international scientific team now published their findings in Current Biology.
What's remarkable about this? What isn't?
It's the first time skeletal material from a dinosaur was spotted in amber. The scientists can tell the flexible tail is from a dinosaur and not from a more contemporary bird-like creature due to the way the vertebrae in the sample are not fused together into a stiff rod.
The discovery sheds light on the evolution of feathers from dinosaurs to modern birds. The tail in the find likely belonged to a small "juvenile" dinosaur, probably no larger than a sparrow. It would be classified under the group of dinosaurs called Coelurosauria, a rather large group that fits animals from Tyrannosauruses to modern birds.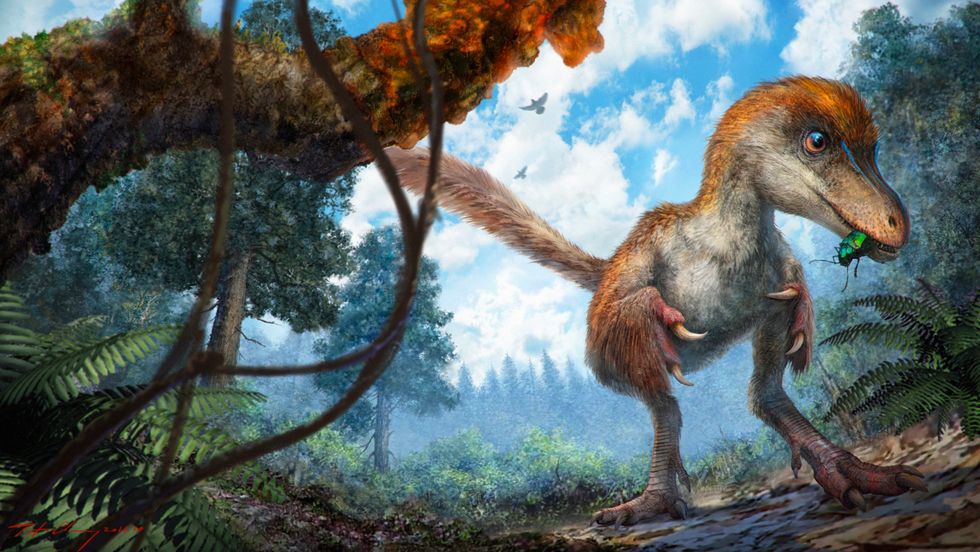 This artist reconstruction depicts a small coelurosaur approaching a resin-coated branch on the forest floor. Credit - Chung-tat Cheung.
Here's how Dr. Ryan McKellar, a paleontologist at the Royal Saskatchewan Museum in Canada and an author of the study, described the animal whose tail was found in an interview with ResearchGate:
The individual that the tail came from would have had rows of feathers coming off the sides of its tail, and this part body would have been fuzzy looking, with pale or white feathers on the underside of the tail, and brown feathers on the upper surface. If this sort of plumage ran the entire length of the tail, it seems unlikely that the animal would have been an active flyer.
The specimen in amber is so well-preserved that first looking at it really excited Dr. McKellar, an amber expert, who examined it after it was found by Dr. Xing.
"When it hit my desk, I was blown away," said Dr. McKellar to the New York Times. "It's one of those things where you're like, 'Wow!' It's the closest you'll ever get to holding a fleshed-out dinosaur in your hands."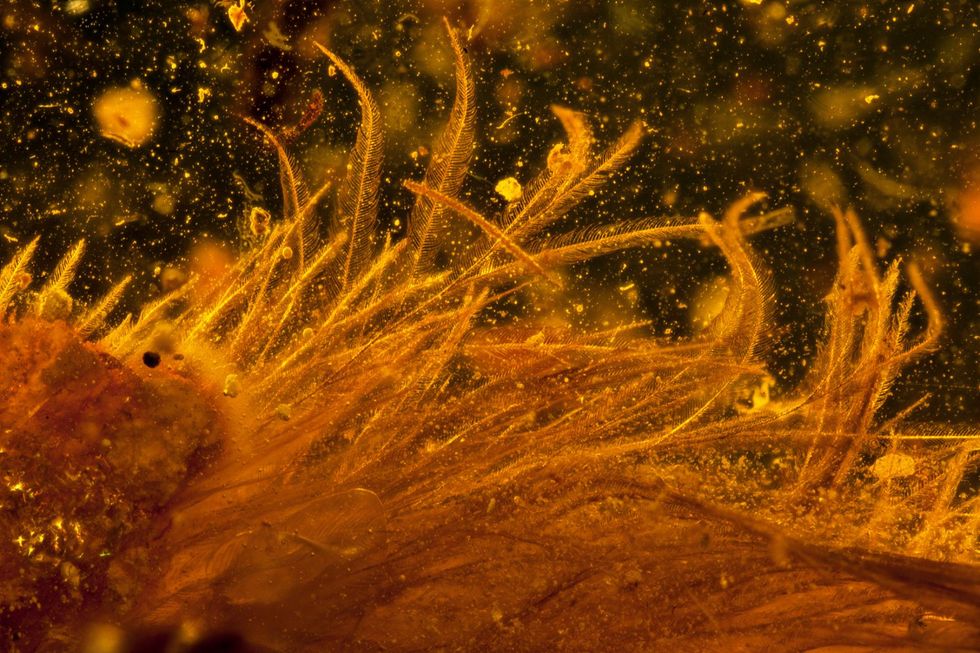 A micro-CT scan shows the feathers in the dinosaur tail. Credit: Lida Xing.
He was particularly fascinated by the feature structure, which did not have a central shaft called a "rachis," something most birds of today have as they need it for flight. Its absence in the sample can be explained if other shafts and filaments in feathers called "barbs" and "barbules" developed before the rachis, with dinosaurs possibly using them for camouflage, visual signaling and to regulate temperature rather than to fly.
"It shapes our view of how feathers came to develop in modern birds, and it gives us a rare glimpse of what dinosaurs looked like and potentially what feathers were being used for in the mid-Cretaceous," explained Dr. McKellar.
Cover photo credit: R.C. McKellar, Royal Saskatchewan Museum.