Granted, genetic manipulation has been a dream for decades. Here's what is different now.
Learning childcare at Beijing's Nanny University. (Photo by Kevin Frayer/Getty Images)
Would you pay to give your child a genetic advantage, to make them smarter than their peers, taller, or more beautiful? This is a question that will become relevant within a few decades — if not sooner.
Gene sequencing will cost only a couple of dollars per human. A new generation of genetic editing tools, most notably CRISPR, have made it ridiculously easy to edit the human genome. Rapid advances in computing power will make it easier to understand the minute interplays between the dozens — if not hundreds — of genes that impact complex but valuable characteristics such as intelligence and patience. And, frankly, as artificial intelligence lets machines take on more and more complicated human tasks, we humans may need a genetic boost.
Unfortunately, the rich will likely be able to buy access to better genetics sooner than the rest of us — unless society intervenes. Do we really want a world where money can buy genetic superiority?
Granted, genetic manipulation has been a dream for decades. Here's what is different now.
To start with, the cost of sequencing and mapping genes has plummeted. The initial Human Genome Project cost over $1 billion. It is presently below $1,000 for a human genome to be sequenced and should fall below $100 over the next few years. That cost will continue to drop rapidly. Within five years, having your genes sequenced will cost less than a fancy cup of coffee.
Also importantly, the available computing power to analyze these sequences has never been greater. The rise of cloud computing, pioneered by Amazon's Elastic Compute Cloud, and increases in processing power have made it possible to build on-demand analytics systems that researchers can use to unravel the minute interactions of genes. In other words, they have access to supercomputing power but at a fraction of the cost of building a supercomputer — and without all the wires, cables, real estate, and technicians required.
The real breakthrough and missing piece, however, is CRISPR. The acronym is short for Clustered Regularly Interspaced Short Palindromic Repeats. CRISPR is actually an ancient self-defense mechanism of bacteria that modern scientists repurposed for laser-targeted gene editing. It is not a huge overstatement to say that CRISPR has made genetic manipulation a backyard hobby. In fact, DIY geneticists are using CRISPR to modify the genes of pure-bred dogs to try to improve their health. And a DIY CRISPR kit called the Odin is on sale online.  In the very near future, CRISPR editing will be akin to cutting and pasting characters in a Microsoft Word document.
Combined, these three changes have ushered in an entirely new era of genomics, one where we move from traditional empiricism — informed guesswork, really — to engineered systems where design is intentional and the workings of genes are understood and known.
The initial stage of this will be ability to handicap the likelihood of which embryo will have which traits. Called pre-implantation genetic diagnosis (PGD), this technique is practiced today to help couples identify embryos that might have high risks of major genetic diseases such as Tay-Sachs disease. In the next few years, parents with access to cash will also be to use this technique to more accurately analyze the pluses and minuses of multiple embryos and select the one that has the best combination of probabilities for in vitro fertilization (IVF). PGD remains expensive and inaccurate, but it will become a more attractive option as it improves. Insurance companies at present don't cover PGD or genetic improvement, only for disease prevention. That doesn't mean it can't be done.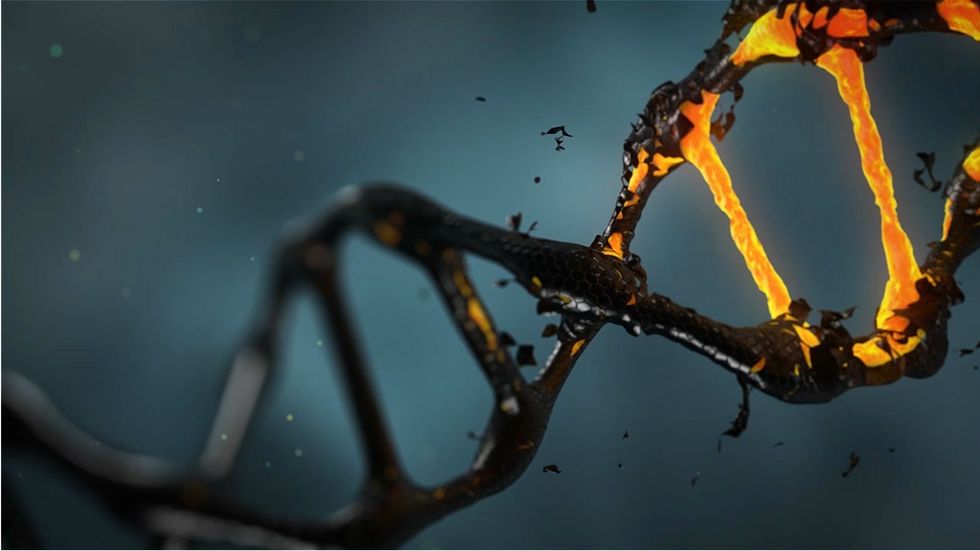 In addition, ongoing improvements in computing power should help scientists better understand the complex interplay of genes. Determining the relationship of genetic makeup to traits like intelligence is a math problem that will probably never have an exact answer, but can be improved to provide more accurate probabilities. The impending arrival of  powerful Quantum Computers could turbocharge this process by giving scientists new ways to analyze and simulate complex biological systems. That might make actual gene editing of humans or embryos viable and perhaps more economical than PGD.
CRISPR remains an experimental technique with many questions about the long-term safety of its editing process. Scientists and doctors fear that CRISPR may inadvertently impact non-target genes with unintended consequences.  That said, scientists are growing more and more comfortable using CRISPR. Initially, a consensus of scientists advocated banning CRISPR editing on human embryos, even if they were not viable and would never become babies. Today, a growing number of research teams are testing how to use CRISPR more effectively on human embryos.
The initial goal is to modify single genes that cause serious illnesses. In these cases, fixing the mutant form of the gene will cure or reduce the impact of the illness. However, single-gene modification is just the start; many diseases result from the interplay of multiple genes.
For today, PGD carries no obvious risk because no modification of genetic matter occurs. Rather, the parents will be able to pick an embryo with a higher probability, based on the best research, of exhibiting desirable traits. This is less precise than CRISPR but could significantly increase chances of babies having desired traits. But PGD costs a lot of money. So will early stage gene editing of human embryos with CRISPR, albeit not for the tech as for the expertise and the service.
This all prompts challenging ethical questions. To date, many national governments have banned gene editing of live human embryos. Governments have also outlawed editing genes of the human germline — the genes we pass on to our children -— to carry advantageous traits such as height or intelligence.
IVF combined with PGD, or well-tuned CRISPR interventions, could become a highly-sought pre-birth treatment for wealthy folks seeking a leg up for their unborn offspring. This might further exacerbate the already documented trend of increased assortative mating — where people of like backgrounds and positions tend to marry each other. Assortative mating further concentrates wealth or other benefits further in a society, augmenting inequality. Genetics are not destiny but they do help; every extra point of IQ is associated with X dollars more in salary.
Individual rights advocates argue that the government should not possess the right to legislate how parents handle their children's DNA. In their view, as long as these enhancements are safe and parents understand the risks, then the government should not regulate CRISPR editing on embryos any more than it should regulate whether the rich pay for pricey personal trainers to improve their physiques or expensive science and math tutors to improve chances that their children are accepted into Ivy League schools.
There is one key distinction in those analogies. Unlike personal trainers or tutors, genetic enhancements to embryos will confer benefits transferred from generation to generation. Over time, allowing subsequent generations to choose to gift their offspring with valuable traits via either CRISPR or PGD might generate even more inequality — driven by biology.  Given the high current level of global inequality, selective biology generating more inequality will have strong political implications on fairness and the very foundational concept of modern democracy — that all humans are created equal.
While genetic manipulation to save lives makes perfect sense, the process shouldn't be used to merely improve the chances of success of those already born with inherited socio-economic advantages. Designer babies must only be available if all in society can share the benefits. Equality of opportunity must extend to the realm of genetics and biology.
--
Vivek Wadhwa is a distinguished fellow at Carnegie Mellon University's College of Engineering. He is a globally syndicated columnist for the Washington Post and the co-author of  The Driver in the Driverless Car. You can follow him on Twitter @wadhwa.
Alex Salkever is the co-author of  The Driver In The Driverless Car: How Our Technology Choices Can Change the Future. You can follow him on Twitter @AlexSalkever. 
U.S. scientists have successfully repaired DNA in a human embryo for the first time.
American researchers have announced the successful repair of a human embryo's genes. As reported in the journal Nature, they used CRISPR-cas9. On one hand, their success represents an exciting breakthrough and on the other, it's a stark reminder of all we don't yet understand about human genetics. That's because the repair of the gene occurred in a way that researchers didn't anticipate.
The gene they repaired is MYBPC3. A mutation in it causes hypertrophic cardiomyopathy (HCM). With HCM, which is estimated to occur in 700,000 to 725,000 U.S. citizens — 1 in 500's heart muscle becomes thickened. Many people lead normal lives with it, with or without treatment. HCM isn't restricted to any particular group or gender, either, but the disease is especially worrisome in young people, where its first symptom can be sudden death — in fact, it's the most common cause of death in young athletes.
Word of the repair first appeared in i News, followed a week later by the peer-reviewed study in Nature. An international team authored the study, with scientists from Oregon, California, China, and South Korea. They were led by senior author Shoukhrat Mitalipov, director of the Center for Embryonic Cell and Gene Therapy at Oregon Health and Science University (OHSU).
Mitalipov previously made a name for himself by introducing the first cloned stem cells from monkeys, the first "three-parent" monkeys, and making embryonic cells from human skin cells.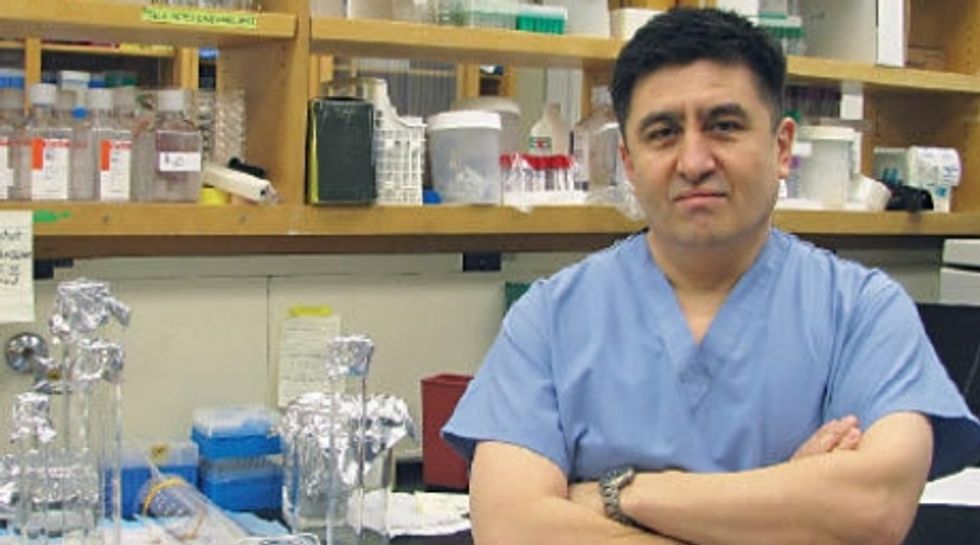 Shoukhrat Mitalipov (UYGHUR HUMAN RIGHTS PROJECT)
The new study involved embryos created with eggs from 12 healthy females injected with sperm from a male with the MYBPC3 mutation. The team tried twice, using a cas9 enzyme targeting the mutation they sought to snip out. The cas9 enzyme was accompanied by a synthetic DNA template modeled after a normal MYBPC3 gene, but chemically tagged so it could be identified by researchers later.
CRISPR After Fertilization
In the first experiments, the scientists fertilized 54 eggs with the sperm, and then injected the cas9 enzyme and template post-fertilization.
In 36 of the embryos (66.7%), the mutation was repaired. Of the remaining 18 (33.3%), 5 embryos were simply not repaired. The other 13 were more troubling: They contained a "mosaic" of repaired and unrepaired genes that may represent a potential time bomb for subsequent generations, one of the reasons many are encouraging caution when modifying embryos. Bioethicist L. Syd M Johnson tells Big Think, "It's one thing to use experimental gene therapies in patients, where the modifications will be isolated to that individual. It's something else entirely to make genomic changes that could potentially be passed on to future generations, which is what happens when you alter an embryo."
If you carry the MYBPC3 mutation, there's a 50% chance your children will develop HCM. It only takes one parent having the mutation for offspring to acquire the condition.
CRISPR During Fertilization — and a Surprise
In the second round, the scientists injected the sperm, cas9, and the DNA template together, and the the result was a pronounced increase in their success rate. In 42 of the 58 embryos, 72.4%, the mutation was successfully snipped out and replaced by cells without the MYBPC3 mutation. And — most encouragingly — no mosaic embryos were produced.
But here's the surprise, and the reminder of how much there still is to learn. The replaced DNA in all 41 of the repaired embryos was not from the injected DNA template — instead it was non-synthesized, or "wild," MYBPC3 material from the maternal egg. "We were so surprised that we just couldn't get this template that we made to be used," Mitalipov tells New York Times. "It was very new and unusual."
It also allows Mitalipov to hedge a bit as to just exactly what he and his team have done. "Everyone always talks about gene editing," he says. "I don't like the word 'editing.' We didn't edit or modify anything. All we did was unmodify a mutant gene using the existing wild-type maternal gene." In other words, we didn't implant synthetic DNA in anyone. This is why the title of his paper is "Correction of a Pathogenic Gene Mutation in Human Embryos." To be fair, "unmodifying" something should really mean to just leave it alone, and it may be more accurate to say that his team simply snipped out a mutation and the embryo unexpectedly did the rest.
Moral Concerns
The study notes the potential for repairing embryos with undesirable mutations before they're implanted during IVF, and others agree that reducing the number of defective embryos would be a positive thing. Not everyone's comfortable with the idea though. There is the issue of the potential for engineering "designer babies." Hank Greely, director of the Center for Law and the Biosciences at Stanford notes, "If you're in one camp, it's a horror to be avoided, and if you're in the other camp, it's desirable."
"There's an additional worry that this technology might be used for nefarious purposes," says Johnson, "to advance eugenicist policies, for example, to 'weed out' undesirable traits or people." She adds, "It's a small conceptual step to move from so-called undesirable traits to undesirable humans. Humans have an unfortunate history of taking that step."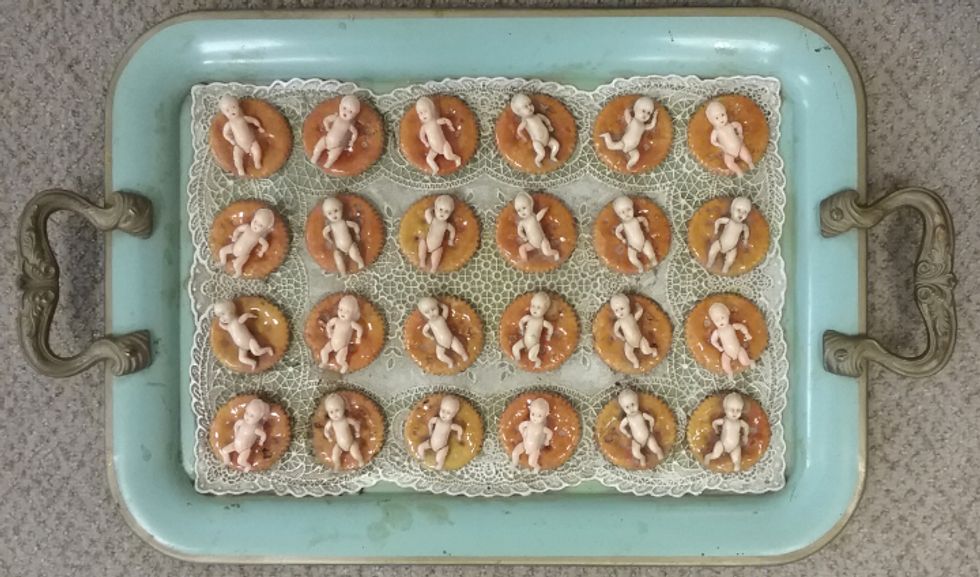 (WINSLOW ANDERSON)
Going Forward
Mitalipov's next step is to see if he can similarly "unmodify" other mutations, including some that are trickier to target than MYBPC3s. The legal terrain in the U.S is not exactly welcoming of such efforts, with the Food and Drug Administration prohibited from permitting clinical trials of germline engineering, and the National Institutes of Health not funding research on gene-editing in humans. (Mitalipov's work was funded by OHSU, the Institute for Basic Science in South Korea, and some private foundations.) This may be starting to change, though — a committee of the National Academy of Sciences, Engineering and Medicine has recently endorsed the modification of human embryos for the purposes of repairing mutations that would otherwise lead to a serious condition if there's no other known remedy.
While the possibilities suggested by the study's success are obvious, the results weren't perfect, and there's more work to be done. As Gaétan Burgio told WIRED, "This is a remarkable paper that shows how much the field has progressed in just the last year or two. But I think for now everyone needs to chill down a bit."
Johnson notes, "We are talking about the future of the human species here. Before we rush headlong into a future where germline genetic modifications of humans might be possible, it's important to consider whether that's a future we really want, how the use of the technology will be controlled, who will have access to it, and how human individuals and the diversity of our species will be protected."
Creating a race of super soldiers is off the table, too.
Ethicists fear gene editing could lead to a homogeneous human race, or worse.
CRISPR-Cas9 is a precise method of gene editing. It can snip a gene out of the DNA sequence –say, a harmful mutation – then add a healthy gene to replace it. This new but exciting technique is being used in clinical trials to treat things like hereditary cancer. It could also be a godsend for certain genetic diseases, such as Huntington's or Tay-Sachs disease, among others. Experimental studies with cancer and blindness are slated to reap benefits this year.
Despite the great promise this new technique affords, there is controversy surrounding applying it to human embryos. One such concern is creating designer babies. Another is accidentally creating a hereditary disease and allowing it to enter the human genome. This could be passed down from parent to child, dooming future generations. But some fear that stifling regulation suppresses innovation and the march of progress. So, of course, there needs to be balance between regulation and freedom of exploration.
The National Academy of Sciences (NAS), aware of the growing debate, put together a committee of experts last year to consider the ethical quandaries the technique presents when applied to human embryos. It's just recently released its report, a full 261 pages, which suggests allowing CRISPR to be performed on embryos in certain instances, and barring others. The committee concluded that cures for serious diseases and disabilities should be allowed, especially when conventional medicine offers no "reasonable alternative." But the advisory panel won't abide designer babies or the creation of super soldiers.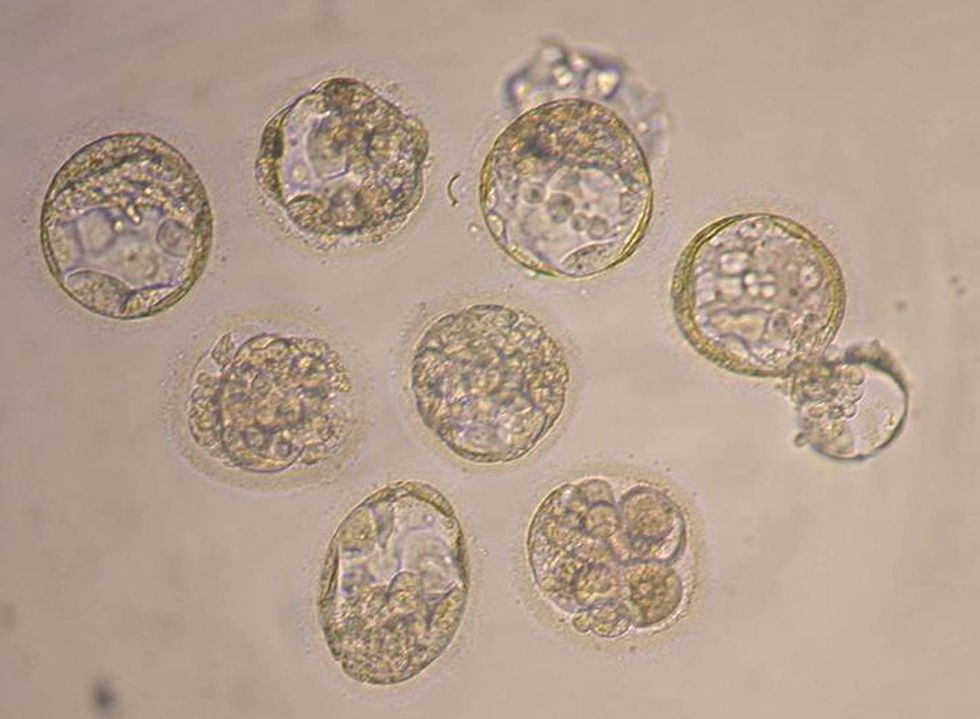 The committee suggests opening the door a crack, and allowing gene editing on embryos for research on certain diseases.
Richard Hynes co-chaired the committee. He wrote that since the science is flying by at an outrageous clip, we should keep a tight grasp on it for now. "You want to have a good control of what is being done," he wrote. Chinese scientists have already modified the DNA of five embryos as of 2015, using this technique. Sweden is also conducting advanced experiments, fueling the fear that the US could fall behind.
Many hailed the NAS committee's move. This framework should allow for more cancer studies and those on genetic diseases, like retinal degeneration, which can lead to blindness. But some say, the guidelines are still too stringent. There are a lot of genetic diseases such as muscular dystrophy, sickle cell anemia, or even Parkinson's, which may benefit from CRISPR experiments. But the panel fears allowing a technique whose outcome isn't entirely known.
University of Wisconsin ethicist Alta Charo was a co-chair of the advisory group. She said that although off-label uses, or those which a drug wasn't intended for, are tolerated with pharmaceuticals commonly, gene editing of embryos would not allow such a practice. What's more, a social consensus is needed before the gene editing of embryos becomes common practice. "It is essential for public discussions to precede any decisions about whether or how to pursue clinical trials of such applications," said Charo. "And we need to have them now."
Some fear that this technique could someday be used to add muscle tissue to a person's body to make them stronger or faster, or neural manipulation will be performed to reap greater intelligence. Gene editing may even allow for certain anti-aging features to become available. This last one might be allowed as a sort of preventative medicine.
With these guidelines, Charo and colleagues were clear: you can use gene editing to undo illness but not enhance the human body. Some geneticists find the prospect of genetic enhancement "ethically inviolable." Even so, the technique is not able to perform such feats, yet. "Genome editing to enhance traits or abilities beyond ordinary health raises concerns about whether the benefits can outweigh the risks, and about fairness if available only to some people," Charo said.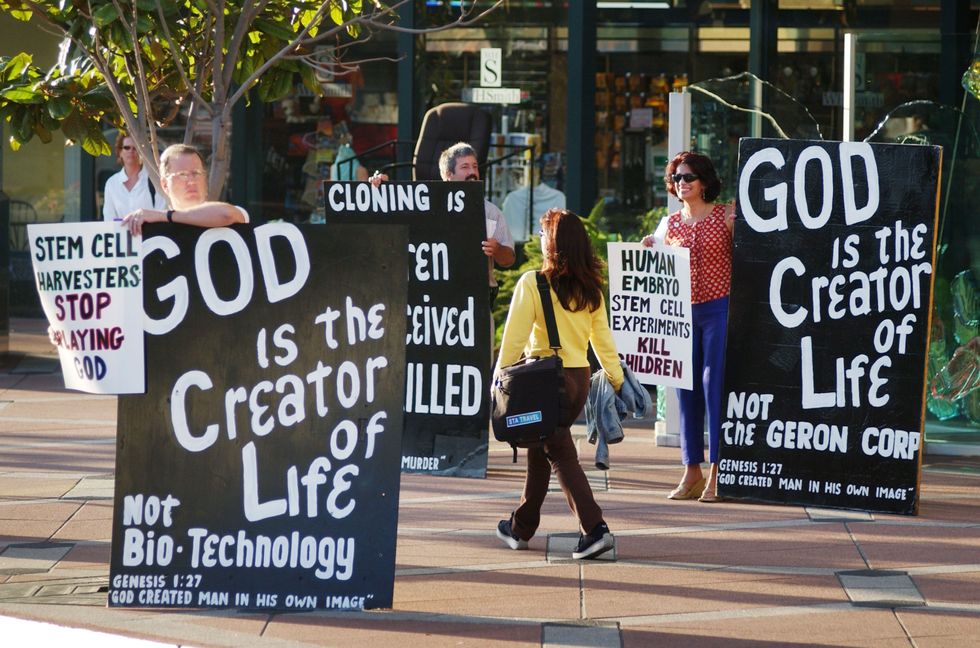 This research could create a backlash. Committee members point out the need for a societal consensus on the gene editing of embryos, before it becomes commonplace. 
Should we continue to embrace individuality, or are we destined to edit out everything that makes us unique, creating a race of beautiful, bland, healthy geniuses, and in the end, losing heterogeneity? With it could go innovation, novelty, uniqueness, disruption, and creativity. After all, it is usually the mavericks, the marginalized, and the outliers that revolutionize society. Or would a startling divide be born, between those who could afford gene editing and those who couldn't?
The philosopher Alan Watts once said that if we reached the point where we could design people, we should make as diverse a group of possible, so to have enormous flexibility. For who knows what kinds of people will best populate the late 21st century and beyond.
These guidelines posit a tight way of allowing the exploration of CRISPR for use in the human genome. Currently, the FDA bars the germline engineering, or gene editing, of human offspring. But the guidelines are meant as a crack of light, showing the way, but also a way of beginning the conversation of how we should proceed.
To learn more about the issues surrounding gene editing, click here: