In each of our minds, we draw a demarcation line between beliefs that are reasonable and those that are nonsense. Where do you draw your line?
Conspiracy theories exist on a spectrum, from plausible and mainstream to fringe and unpopular.
It's very rare to find someone who only believes in one conspiracy theory. They generally believe in every conspiracy theory that's less extreme than their favorite one.
To some extent, we are all conspiracy theorists.
The following is an excerpt from the book Escaping the Rabbit Hole by Mick West. It is reprinted with permission from the author.
If you want to understand how people fall for conspiracy theories, and if you want to help them, then you have to understand the conspiracy universe. More specifically, you need to know where their favorite theories are on the broader spectrum of conspiracies.
What type of person falls for conspiracy theories? What type of person would think that the World Trade Center was a controlled demolition, or that planes are secretly spraying chemicals to modify the climate, or that nobody died at Sandy Hook, or that the Earth is flat? Are these people crazy? Are they just incredibly gullible? Are they young and impressionable? No, in fact the range of people who believe in conspiracy theories is simply a random slice of the general population.
There's a conspiracy theory for everyone, and hence very few people are immune.
Many dismiss conspiracy theorists as a bunch of crazy people, or a bunch of stupid people, or a bunch of crazy stupid people. Yet in many ways the belief in a conspiracy theory is as American as apple pie, and like apple pie it comes in all kinds of varieties, and all kinds of normal people like to consume it.
My neighbor down the road is a conspiracy theorist. Yet he's also an engineer, retired after a successful career. I've had dinner at his house, and yet he's a believer in chemtrails, and I'm a chemtrail debunker. It's odd; he even told me after a few glasses of wine that he thinks I'm being paid to debunk chemtrails. He thought this because he googled my name and found some pages that said I was a paid shill. Since he's a conspiracy theorist he tends to trust conspiracy sources more than mainstream sources, so he went with that.
Why do people believe in conspiracy theories? | Michio Kaku, Bill Nye & more | Big Think www.youtube.com
I've met all kinds of conspiracy theorists. At a chemtrails convention I attended there was pretty much the full spectrum. There were sensible and intelligent older people who had discovered their conspiracy anything from a few months ago to several decades ago. There were highly eccentric people of all ages, including one old gentleman with a pyramid attached to his bike. There were people who channeled aliens, and there were people who were angry that the alien-channeling people were allowed in. There were young people itching for a revolution. There were well-read intellectuals who thought there was a subtle system of persuasion going on in the evening news, and there were people who genuinely thought they were living in a computer simulation.

There's such a wide spectrum of people who believe in conspiracy theories because the spectrum of conspiracy theories itself is very wide. There's a conspiracy theory for everyone, and hence very few people are immune.
The mainstream and the fringe
One unfortunate problem with the term "conspiracy theory" is that it paints with a broad brush. It's tempting to simply divide people up into "conspiracy theorists" and "regular people" — to have tinfoil-hat-wearing paranoids on one side and sensible folk on the other. But the reality is that we are all conspiracy theorists, one way or another. We all know that conspiracies exist; we all suspect people in power of being involved in many kinds of conspiracies, even if it's only something as banal as accepting campaign contributions to vote a certain way on certain types of legislation.
It's also tempting to simply label conspiracy theories as either "mainstream" or "fringe." Journalist Paul Musgrave referenced this dichotomy when he wrote in the Washington Post:
Less than two months into the administration, the danger is no longer that Trump will make conspiracy thinking mainstream. That has already come to pass.
Musgrave obviously does not mean that shape-shifting lizard overlords have become mainstream. Nor does he mean that flat Earth, chemtrails, or even 9/11 truth are mainstream. What he's really talking about is a fairly small shift in a dividing line on the conspiracy spectrum. Most fringe conspiracy theories remain fringe, most mainstream theories remain mainstream. But, Musgrave argues, there's been a shift that's allowed the bottom part of the fringe to enter into the mainstream. Obama being a Kenyan was thought by many to be a silly conspiracy theory, something on the fringe. But if the president of the United States (Trump) keeps bringing it up, then it moves more towards the mainstream.
Both conspiracy theories and conspiracy theorists exist on a spectrum. If we are to communicate effectively with a conspiracy-minded friend we need to get some perspective on the full range of that spectrum, and where our friend's personal blend of theories fit into it.
It's very rare to find someone who only believes in one conspiracy theory. They generally believe in every conspiracy theory that's less extreme than their favorite one.
There are several ways we can classify a conspiracy theory: how scientific is it? How many people believe in it? How plausible is? But one I'm going use is a somewhat subjective measure of how extreme the theory is. I'm going to rank them from 1 to 10, with 1 being entirely mainstream to 10 being the most obscure extreme fringe theory you can fathom.
This extremeness spectrum is not simply a spectrum of reasonableness or scientific plausibility. Being extreme is being on the fringe, and fringe simply denotes the fact that it's an unusual interpretation and is restricted to a small number of people. A belief in religious supernatural occurrences (like miracles) is a scientifically implausible belief, and yet it is not considered particularly fringe.
Let's start with a simple list of actual conspiracy theories. These are ranked by extremeness in their most typical manifestation, but in reality, the following represent topics that can span several points on the scale, or even the entire scale.
Big Pharma: The theory that pharmaceutical companies conspire to maximize profit by selling drugs that people do not actually need
Global Warming Hoax: The theory that climate change is not caused by man-made carbon emissions, and that there's some other motive for claiming this
JFK: The theory that people in addition to Lee Harvey Oswald were involved in the assassination of John F. Kennedy
9/11 Inside Job: The theory that the events of 9/11 were arranged by elements within the US government
Chemtrails: The theory that the trails left behind aircraft are part of a secret spraying program
False Flag Shootings: The theory that shootings like Sandy Hook and Las Vegas either never happened or were arranged by people in power
Moon Landing Hoax: The theory that the Moon landings were faked in a movie studio
UFO Cover-Up: The theory that the US government has contact with aliens or crashed alien crafts and is keeping it secret
Flat Earth: The theory that the Earth is flat, but governments, business, and scientists all pretend it is a globe
Reptile Overlords: The theory that the ruling classes are a race of shape-shifting trans-dimensional reptiles
If your friend subscribes to one of these theories you should not assume they believe in the most extreme version. They could be anywhere within a range. The categories are both rough and complex, and while some are quite narrow and specific, others encapsulate a wide range of variants of the theory that might go nearly all the way from a 1 to a 10. The position on the fringe conspiracy spectrum instead gives us a rough reference point for the center of the extent of the conspiracy belief.
Credit: "Escaping the Rabbit Hole" by Mick West
Figure 3 is an illustration (again, somewhat subjective) of the extents of extremeness of the conspiracy theories listed. For some of them the ranges are quite small. Flat Earth and Reptile Overlords are examples of theories that exist only at the far end of the spectrum. It's simply impossible to have a sensible version of the Flat Earth theory due to the fact that the Earth is actually round.

Similarly, there exist theories at the lower end of the spectrum that are fairly narrow in scope. A plot by pharmaceutical companies to maximize profits is hard (but not impossible) to make into a more extreme version.
Other theories are broader in scope. The 9/11 Inside Job theory is the classic example where the various theories go all the way from "they lowered their guard to allow some attack to happen," to "the planes were holograms; the towers were demolished with nuclear bombs." The chemtrail theory also has a wide range, from "additives to the fuel are making contrails last longer" to "nano-machines are being sprayed to decimate the population."
There's also overlapping relationships between the theories. chemtrails might be spraying poison to help big pharma sell more drugs. JFK might have been killed because he was going to reveal that UFOs were real. Fake shootings might have been arranged to distract people from any of the other theories. The conspiracy theory spectrum is continuous and multi-dimensional.
Don't immediately pigeonhole your friend if they express some skepticism about some aspect of the broader theories. For example, having some doubts about a few pieces from a Moon-landing video does not necessarily mean that they think we never went to the Moon, it could just mean that they think a few bits of the footage were mocked up for propaganda purposes. Likewise, if they say we should question the events of 9/11, it does not necessarily mean that they think the Twin Towers were destroyed with explosives, it could just mean they think elements within the CIA helped the hijackers somehow.
Understanding where your friend is on the conspiracy spectrum is not about which topics he is interested in, it's about where he draws the line.
The demarcation line
While conspiracy theorists might individually focus on one particular theory, like 9/11 or chemtrails, it's very rare to find someone who only believes in one conspiracy theory. They generally believe in every conspiracy theory that's less extreme than their favorite one.
In practical terms this means that if someone believes in the chemtrail theory they will also believe that 9/11 was an inside job involving controlled demolition, that Lee Harvey Oswald was just one of several gunmen, and that global warming is a big scam.
The general conspiracy spectrum is complex, with individual theory categories spread out in multiple ways. But for your friend, an individual, they have an internal version of this scale, one that is much less complex. For the individual the conspiracy spectrum breaks down into two sets of beliefs — the reasonable and the ridiculous. Conspiracists, especially those who have been doing it for a while, make increasingly precise distinctions about where they draw the line.
The drawing of such dividing lines is called "demarcation." In philosophy there's a classical problem called the "demarcation problem," which is basically where you draw the line between science and non-science. Conspiracists have a demarcation line on their own personal version of the conspiracy spectrum. On one side of the line there's science and reasonable theories they feel are probably correct. On the other side of the line there's non-science, gibberish, propaganda, lies, and disinformation.
Credit: "Escaping the Rabbit Hole" by Mick West
I have a line of demarcation (probably around 1.5), you have one, your friend has a line. We all draw the line in different places.

Some Americans are fearful of government control and awash in conspiracy theories.
Photo by LOGAN CYRUS/AFP via Getty Images
Many around the U.S. are protesting lockdown measures imposed to stop the spread of the coronavirus.
The choice between freedom and death was famously posed by Patrick Henry's speech in 1775.
"Give me liberty or give me death" was the motto that launched the American Revolution that still resonates today.
The idea of freedom is central in the founding philosophy of the United States. It's also the focus of many of the nation's most cherished speeches like the oration given by one of its founding fathers, the attorney Patrick Henry on March 20th, 1775, to the delegates of the Second Virginia Convention, which ended with the declaration "give me liberty or give me death!" in what was to become the war cry of the American Revolution.
The coronavirus pandemic that has stricken contemporary America makes the choice for some just as stark. The tension between freedom and the measures necessary to stop the spread of a deadly disease lays bare the basic conflict in the country's DNA. With the United States becoming by far the global epicenter of the disease, the virus directly assaults what it means to be free in this modern age, when the rights of one are confronted with the welfare of many.
The powerful choice posed by Henry propelled Virginia to contribute troops to the rebellion, fueling the Revolution. Choosing freedom has been paramount to the country's governance since. It is part of the cultural fabric of the society, with the notion of "freedom" celebrated in its mythology, books, movies and art, even if it has clearly become more nebulous over time.
Henry's speech was a list of grievances against the "tyrannical" power abuses of the British, likening the situation to slavery, and proclaiming the inevitability of war, which he called "the last arguments to which kings resort." The fear of losing control to a dictatorial government are key to the country's psyche and have certainly resurfaced due to the restrictions imposed upon the United States due to the coronavirus, sparking spreading paranoia that liberty is being lost.
A slew of right-wing politicians have been raising alarms about big government trampling on their rights by closing down churches, gun stores and preventing people from doing as they please. This harkens to the long-held conspiracy theory of the government wanting to use a national emergency to take over people's freedoms. Of course, the measures taken were intended to stop the spread of the pandemic, have been shown to work, and were advised by health professionals.
Nonetheless, the idea of overreaching government has been a concern for people like State Rep. Heather Scott from northern Idaho, who called the government's policy on stopping the virus "a way to chip away at the foundations of our Constitution to push a global, socialistic agenda while in the midst of a national emergency."
People take part in a protest for "Michiganders Against Excessive Quarantine" at the Michigan State Capitol in Lansing, Michigan on April 15, 2020.
Credit: JEFF KOWALSKY/AFP via Getty Images
Thousands of cars participated in an anti-quarantine rally in Michigan, protesting against the restrictions imposed by the governor. Elsewhere, some experts have warned about the use of police or National Guard to set up checkpoints in places like Texas and Florida as possibly unconstitutional and certainly not something you would ever see in America. Of special concern is impeding movement by license plates, singling people out by states of residence, rather than posing the same requirements for all people traveling from the same direction.
The virus has also produced the need to keep track of the people who've been infected, in order to slow the spread. This has led to concerns that the gathered data about the patient's health and location could violate people's privacy and, while useful now, could be used eventually as another tool of governmental control and surveillance.
More elaborate fears of this nature lead to veritable conspiracy theories, with people burning down 5G cellphone towers which they blame for causing the virus – a misinformation theory that is possibly spread by a foreign state, as has been recently reported.
Protesters from REOPEN NC protests the coronavirus lockdown in Raleigh, North Carolina, on April 14, 2020.
Credit: LOGAN CYRUS/AFP via Getty Images
Another such "government control" proposal, spread by none other than the provocateur and President Trump's adviser Roger Stone, maintains that Bill Gates created the coronavirus so he and his "globalist" friends can institute mandatory vaccinations and microchip people (to presumably then exercise some measure of ruling over their lives).
All such attitudes are certainly to be expected in a dreadfully divided country under the leadership of a President with a media aversion and his own definitions of what constitutes truthful facts. But for the United States, which has about a third of the global pandemic's infected (while being just 4% of its population), with a deathly rate that doubled in the past week, the conflict playing out in its psyche may be just a false dichotomy that can lead to an existential disaster.
You can read the full text of Patrick Henry's speech here.
Hear Orson Welles read "Give me liberty or give me death"
A volcano in California is a hot spot for conspiracy theorists.
Photo Credit: Shasta-Trinity National Forest.
Unusual UFO-shaped formations were observed in the skies over Mount Shasta.
These were actually lenticular clouds that often look like lenses or flying saucers.
This volcano peak in California has long been the subject of conspiracy theories.
Mount Shasta in California has become a nexus of conspiracy theories and unusual events. The latest viral sensation from the area has been a UFO-shaped object that appeared in the skies above the potentially active volcano peak of 14,179 feet on the morning of February 12th.
Upon closer look, this was not an alien spaceship but a beautiful lenticular cloud, the kind that is often shaped like lentils or UFOs, depending on your perspective. It was so convincing, however, that the U.S. Forest Service had to deny its extraterrestrial origins in a statement.
The flying saucer or lens shape of these clouds is caused by their development along the downwind sides of mountains. When moist and stable air goes over a mountain, oscillating waves are created. The crest of the waves causes condensation of vapor, which evaporates through the troughs, explains Weather Underground. These evaporations take the form of lenses and spaceships, looking layered.
Mount Shasta, in particular, has seen its share of lenticular cloud sightings, leading to its status as a new focal point for alien hunters much like Roswell, New Mexico. The latest UFO cloud quickly became a social media sensation, as you can see in these posts of the enigmatic formations:
Mount Shasta has also seen other unusual happenings, with a mysterious side hole that appeared over 10 years ago becoming the subject of a documentary. Its sudden emergence connected with local legends about a lost continent of Lemuria supposedly hidden under the mountain. This mythical kingdom would be there along with its capital city Telos.
The first thought of the documentary filmmaker Elijah Sullivan about the giant hole was that it was from people trying to find Lemuria.
"You'll hear a lot of people talking about Lemuria, maybe even asking for directions," he told the news in 2018. "People make pilgrimages here — it's like a New Age mecca."
In 1987, the area was home to a New Age conference dubbed a "spiritual Woodstock".
It is also known to be sacred to the Native American Winnemem Wintu tribe, indigenous to this area.
If you're in the mood to check out the stunning area for yourself and see some aliens in the skies above, you can come to the nearby town of McCloud for the "Meet the Venusians — We Are in Contact" conference from August 25-30 of this year. It promises to be a "tribute to honor of all the Venusians & Pleiadean's who have taken the time to present themselves" with a schedule of speakers and events focused on healing and consciousness.
Jokesters and serious Area 51 raiders would be met with military force.
Facebook joke event to "raid Area 51" has already gained 1,000,000 "going" attendees.
The U.S. Air Force has issued an official warning to potential "raiders."
If anyone actually tries to storm an American military base, the use of deadly force is authorized.
Conspiracy theorists, Ufologists, and, more importantly, internet satirists' most favorite target of scorn and alien memes, Area 51, has garnered a lot of attention as of late. Recently, a Facebook event called "Storm Area 51, They Can't Stop All of Us" riled up over 1,000,000 users who declared they were "going" — with another roughly 900,000 saying they are "interested."
Obviously created as a joke, the event's description reads:
"We will all meet up at the Area 51 Alien Center tourist attraction and coordinate our entry. If we Naruto run, we can move faster than their bullets. Lets see them aliens."
A pinned post from one of the organizers of the event, Jackson Barnes, also reiterates the fact that this upcoming shindig is all in jest.
But as the event has gone viral and inspired countless jokes and memes, the United States Air Force released a statement about the potential military base raid.
It seems like the comedy of this convoluted, self-referential and juvenile "meme culture" might be lost on both the military and some unsuspecting UFO enthusiasts, who might take the opportunity to turn this thin line of shoddy internet satire into reality.
Storm Area 51 raid
A majority of news organizations reporting on this situation are taking it with a hefty grain of salt and some light-hearted jokes. No doubt the creators of this event are reveling in the extended coverage, as the "event" isn't meant to go live until September 20th.
But that hasn't stopped the United States Airforce from issuing a very stern warning.
In an interview with The Washington Post, Air Force spokeswoman Laura McAndrews informed the news agency that officials knew about the event. Although she didn't give any specifics on what would happen to any would-be trespassers, she stated:
"Area 51 is an open training range for the U.S. Air Force, and we would discourage anyone from trying to come into the area where we train American armed forces. The U.S. Air Force always stands ready to protect America and its assets."
The facility was officially acknowledged by the U.S. Government in 2013 when the CIA confirmed its existence through public record. Additionally, other reports have been released about that nature of Area 51 as just an aircraft testing facility. But no amount of publicly-released data will ever quell conspiratorial theorists — or, by extension, good-natured humorists.
A number of celebrities have RSVP'd to the event or referenced the joke, among them are singer Kevin Jonas, Game of Thrones actor Liam Cunningham, and Jeffree Star. Expect more celebrities and "social media stars," to start cashing in on the memes in the coming months.
Alert! Turn back, Area 51 raiders
Toward the end of Jackson Barnes' Facebook post is the message:
"P.S. Hello U.S. government, this is a joke, and I do not actually intend to go ahead with this plan. I just thought it would be funny and get me some thumbsy uppies on the internet. I'm not responsible if people decide to actually storm area 51."
Out of the millions who've either signed up or interacted with this internet joke, in some way or another, it's inevitable that some stooges will take this event seriously.
For instance, a hotel in Rachel, Nevada, called the Little A'Le'Inn, which has glommed onto the Area 51 hype throughout the years has just recently received an unusually high number of reservations for September 20th.
In a recent interview with the New York Times, Connie West, a co-owner of the establishment stated that, "My poor bartender today walked past me and said, 'I hate to tell you, but every phone call I've had is about Sept. 20," she then added, "They're pretty serious; they're coming. People are coming."
Many people that called had mentioned the Facebook post when reserving the rooms. The Facebook post had invited people to Amargosa Valley, which is actually a few hours away from Little A'Le'Inn and further from Area 51 on the opposite side.
There are multiple signs surrounding the Area 51 perimeter and border which state that not only "photography is prohibited," but the "use of deadly force is authorized."
But hey, the fool who persists in his folly will become wise. After all, who's to say the Ufologist persisting in his alien search won't find some. Maybe our Naruto running raiders can use this show of force as a bargaining chip with the officials for a tour of the facility. . . if the government officials really have nothing to hide that is.
Elite organizations tend to get conspiracy theorists going.
Archive.org Bohemian Grove
More than a few powerful men throughout world history have been part of the Freemasons and elite Skull and Bones society.
Organizations such as the Bilderberg Group and Trilateral Commission foster international cooperation, but stir discontent with the conspiratorial-minded populace.
Famous leaders and executives have routinely engaged with these groups, fueling only more intrigue over the years.
Leave it to the conspiracists to leave no stone unturned when it comes to the rich, powerful, and global elite. According to some conspiracy theorists, the Illuminati, New World Order or extraterrestrial satanic Zionist cabal — or what have you — has many international organizational fronts to further their conquest of the world and your mind.
Most of these absurd conspiracies sound like fodder for some hack superhero film plot. You can really only pity them, after all the Illuminati conspiracy started from a humble satirical book. Though, the existence of such organizations can't be entirely ruled out — people in power may very well scheme to stay in power.
This said, the following are the few organizations and secret societies that are supposedly involved in the shady dealings of the world's elite coterie. Some of their origins are shrouded in mystery or intrigue. Many famous leaders have cavorted around in their secret halls. For the most part, they're also not open to the public and have had a hand in major world historical decisions throughout the years.
Freemasons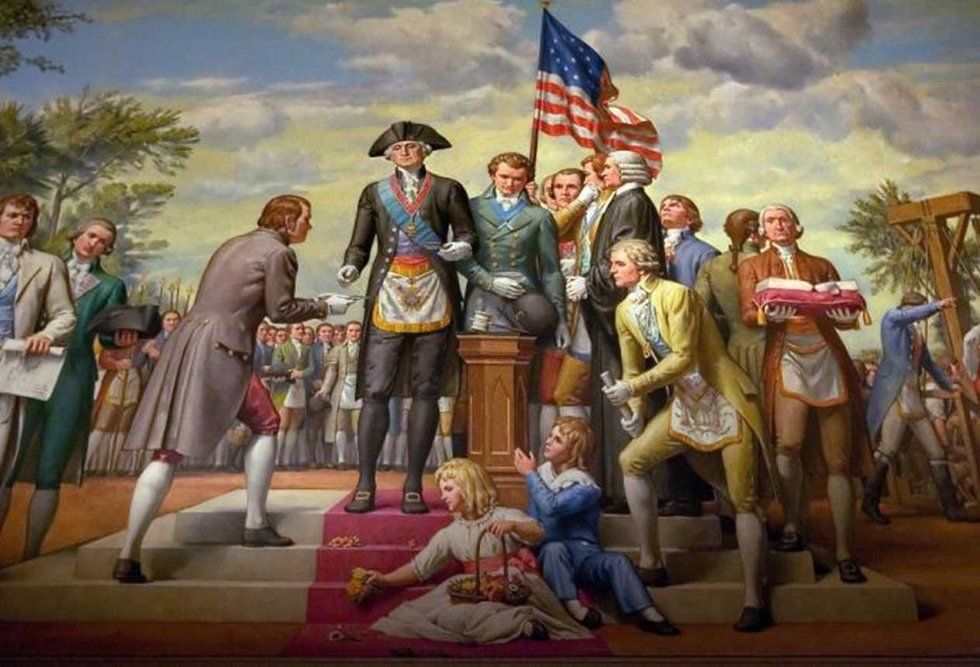 Mural of George Washington in Masonic National Memorial Hall — Allyn Cox. Creative Commons Wikimedia
The Freemasons encompass one of the largest secret fraternal organizations worldwide. Spread through the conquest and advancement of the British Empire throughout the last few centuries, Freemasonry remains popular in countries that were once under British rule. Estimates of membership in this group number anywhere from 2–6 million. Anyone is allowed to join. If you're an American, you've most likely passed a Freemason lodge in your town or even went to some kind of local event there.
Freemasonry evolved from the guild culture that was flourishing during the Middle ages. As the name implies, it was originally for stonemasons and church builders. During the 17th and 18th centuries, the Masons began to take on a more religious and ritualistic role in their organization. It became a place for men to meet, philosophize, and deal with political issues. The first Grand Lodge opened up in England 1717.
There are numerous independent lodges around the world with millions of members. There is no controlling governance from a central lodge. While men like George Washington were Masons and held political sway back in the day, it's unlikely that the local boy scouts troop leader camped out in the lodge basement is involved with any elite plot of world domination.
The Bohemian Club
There are very few public comments about the the Bohemian Club from its many members. Mostly old Republicans and other conservative men. The existence of the club and its members is no secret. Every Republican president since Herbert Hoover has either been a member or visited the summer camp — the Bohemian Grove. It was said that in 1942, J. Robert Oppenheimer who headed the Manhattan Project, led a meeting in one of the clubhouses just a few years before the atomic bomb was set off over Hiroshima and Nagasaki.
The Bohemian Club was founded in 1872 and, in its earlier days, had more of a liberal and artistic flair to it back then. Mark Twain and Jack London were members. Over the years it's turned into what we know commonly know it as — a gathering where rich conservative men can let loose and put on bad theater… Supposedly, a number of low-level employees of the summer camp gave their experiences on the innocuous and somewhat boring retreat for the rich and powerful.
Oscar Wilde, who once visited the camp, snarkily remarked: "I never saw so many well-dressed, well-fed, business-looking Bohemians in my life."
Bilderberg Group 
Purported to be a wing of the shadowy world government, the Bilderberg Group is a secretive gathering where the elites of the world go to discuss a wider range of topics. An annual conference, the Bilderberg group was created in 1954 by Prince Bernhard of the Netherlands. The goal was to create a better connection between Europe and North America.
Big tech CEOs, heads of state and other powerful people of the world are routinely invited to the yearly conference.
Though members of the media are allegedly also invited, the inner dealings of the Bilderberg conference are largely private. This said, not much has been reported on their discussions in detail — including who said what. Though it seems little leaves the rooms of these conferences, we can get an idea of topics they discuss from their public agenda. For instance, the group's members purportedly talked about populism in Europe, Russia, artificial intelligence, quantum computing, and the future of work, among other things, at last year's conference.
Bilderberg abides by the Chatham House Rule, which means that anyone attending the meeting can talk about the information gained there, but cannot disclose who said it. Aside from the usual run of the mill conspiracies, there have been some valid academic critiques of this kind of organization.
Skull and Bones
Yale University Secret Society Skull and Bones Tomb. Image source: Wikimedia Commons
This not-so-secret secret society goes a few levels deep in the elite cadre of the ruling plutocracy. First, it's only open up to undergraduates of Yale University. And it's only open to the best in class. . . or to those with an established tie to the group. Nepotism.
Founded in 1832, the Skull and Bones selects 15 members of the junior class to join. Once accepted, members are called "Bonesmen."

The late President George H.W. Bush and his son George W. Bush were members, as well as John Kerry and a number of other highly connected and powerful alumni. Of course this has led to the reputation of the Skull and Bones being part of the Illuminati conspiracy. Some people believe that the Skull and Bones controls the CIA and others think it has some kind of connection to the Kennedy assassinations.
The club was also immortalized by F. Scott Fitzgerald in 1925 when some of his rich East Coast characters were described as belonging to the highly selective group.
Adding to the intrigue, Skull and Bones members meet in a crypt-like building called the Tomb. The number "322" is part of their insignia and is said to represent the year 322 BCE, when Athens lost the Lamian War and their democracy was destroyed.
Trilateral commission
The Trilateral commission was created by every conspiracist favorite scapegoat — David Rockefeller. Conspiracy theorists often lump this group together with the United Nations, Bilderberg Conference, and the aforementioned hoax — the Illuminati. These fronts or wings of the super conspiracy all help guide along the world controlled by a couple of elites.
Founded in 1973, David Rockefeller's initiative was to confront the challenges that grew from the new dependence on foreign allies that included the likes of Canada, Japan and Western Europe. Similar to the Bilderberg Group, the goal was to encourage greater international cooperation.
There are three regional chairs for Europe, North America, and the Asia-Pacific region. Meetings are held throughout the year, with regional headquarters in Paris, Washington, D.C., and Tokyo. Its members includes influential statesmen, politicians, business executives, and intellectuals. Membership is, as you'd expect, by invite only.