New research brings nuance to the concept of being nice by illuminating the personality traits that underlie it, dividing the quality into two related but distinct components.
What exactly does it mean to be nice? Is it about being fair and respectful, or is it more about helping people in need? Both?
New research explores that question by illuminating two related yet distinct personality traits that underlie niceness: compassion and politeness.
In personality psychology, the quality of being nice falls under a broad category called agreeableness. This trait – one of five dimensions in the Big 5 model of personality – refers to how well an individual gets along with others. For example, people who are high in agreeableness might also be described as kind, forgiving, trusting, friendly, warm, modest and patient. The broadness of this category raises some questions, though. Kun Zhao, a personality psychologist at the University of Melbourne, asks in an article she wrote for The Conversation:
"Are there exceptions to this cluster of 'nice' personality traits? What about your big-hearted but foul-mouthed friend, or a well-mannered but distant acquaintance?"
The answer is that agreeableness can divided into two related but distinct components: compassion and politeness.
Compassion refers to our tendency to be emotionally concerned about others. Politeness is defined as our tendency to demonstrate good manners, adhere to social norms and avoid aggression. 
"Another way to think about it is politeness is more about not doing harm, and compassion is more about helping others," Zhao said, noting that the way psychologists conceptualize the terms is slightly different than how they're commonly defined.
(Interestingly, research has shown that compassion tends to be positively associated with liberal political ideology, while politeness is linked to conservative ideology.)
Zhao, along with researchers Eamonn Ferguson and Luke Smillie, conducted two studies to examine the ways in which compassionate people and polite people make social decisions. The first study measured altruism with the dictator game, a task in which an individual is asked to divide a sum of money with a stranger.
"Our results showed that traditional economic predictions were wrong on two counts," Zhao wrote. "Not only did people not behave selfishly, they behaved in different ways depending on their personality."

"Notably, polite people were more likely to split the money fairly than their rude counterparts. Surprisingly, we did not see this for compassion, which may indicate that sharing money with a stranger doesn't necessarily arouse emotional concern."
The second study measured social decision-making with a third-party recompensation game, in which a bystander witnesses an unfair division of money between two people and is given the opportunity to give their own money to the victim. 
"Here, compassionate people gave away more money than their cold-hearted counterparts," Zhao wrote. "Polite bystanders were not selfish per se — we know this because they were willing to part with their money in the dictator game just moments earlier. But they were no more likely than anyone else to intervene when bearing witness to the mistreatment of others."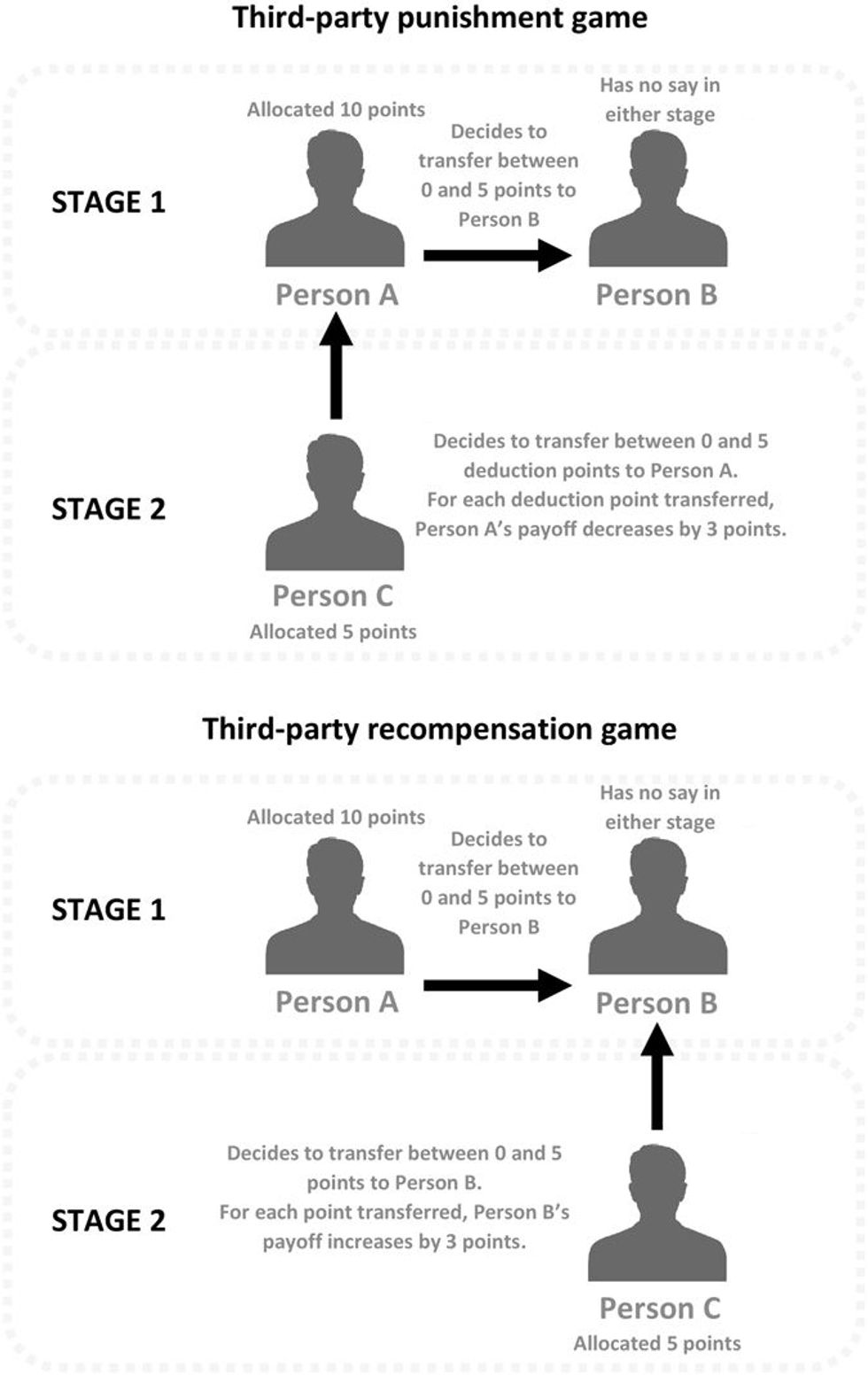 The researchers offered a good way to conceptualize the results: Compassionate people behave like good Samaritans, while polite people act more like good citizens. The question is: can a good citizen work toward becoming a good Samaritan, or vice versa?
Cultivating compassion and politeness 
A growing body of research shows that personality traits can, at least in part, be changed through intervention. Zhao referenced a 2011 study that measured the effectiveness of short-term "compassion training."
"The interesting finding is that compassion training increased prosocial behaviour in a compassion-relevant economic game (the Zurich Prosocial Game), but not the dictator game – which was the first economic game we used (and where we did not see a unique relationship with compassion.)"
Another study found that compassion training seemed to increase altruistic behavior.
"This is consistent with our second study where we find it was related uniquely to compassion too," Zhao said.
Zhao noted that politeness and compassion aren't mutually exclusive, and that both have utility.
"You can be high in one and high in another, or low in one and low in another," Zhao said. "And they're correlated, that's why they're classified under the category of agreeableness."

 "I think all of these traits serve some sort of purpose depending on the scenario. You don't really want to go into the extreme on any of them."
Looking deeper into the Big 5 model
Agreeableness isn't the only dimension of personality that's been shown to have related yet distinct components. Psychologists have spent years looking beyond the surface of each of the Big 5 dimensions, searching for clearer definitions. 
"What they find is that, for each of these five broad summary traits, we can further separate them into two narrower personality traits," Zhao said, referencing a 2007 study.
As far future research into agreeableness, Zhao's curious as to what the biological sciences might tell us about personality.
 "There's a lot of interest in the neuroscience of personality," Zhao said. "I'd be really interested in future work linking these personality traits, and the distinction between these personality traits, in the biological systems that create variations in our behavior. That's a bit of a hot topic at the moment."
The popular concept of introversion often differs from how psychologists define the term, but a new model seeks to clarify exactly what being an introvert means.
Why does it seem trendy to be — or at least call yourself — an introvert? 
The label "introvert" hasn't always been fashionable. It used to carry mostly negative connotations in the West, where traits associated with introversion — quiet, reserved, reflective — aren't exactly as championed. Some have even considered introversion a behavioral defect.
But in recent years, articles about introversion have become ubiquitous, especially in the BuzzFeed listicles: 37 Jokes That'll Make Introverts Think "Yep, That's Me" or 21 Pictures You'll Only Understand If You're Introverted. There have been best-selling books on the subject, like Susan Cain's 2012 Quiet: The Power of Introverts in a World That Can't Stop Talking. And, of course, numerous TED Talks.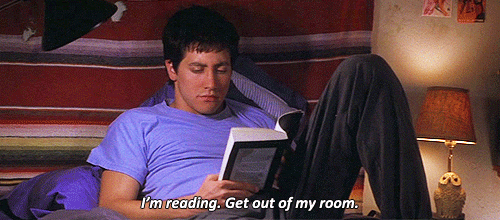 Extraversion doesn't get the same praise. I can't recall reading an article or having a conversation in which someone felt the need to champion or defend extraversion, or drop the fact that they're a bit of an extravert in that humble-brag way that self-identifying introverts do. 
So, why the hype? Could it be the result of people trying to excuse unhealthy behavior, possibly aided by a misunderstanding of introversion?
"What troubles me, however, is the blurring of lines between introversion and other personality traits," writes Sugandha for the Huffington Post. "... we have also been OKing, perhaps indeliberately (or perhaps not), the dark side of introversion—often and almost always made up of one or all of quirks such as a compulsive and unjustified hate of other people, an intolerance for difference of opinion, elitism, thanklessness rooted in narcissism, unfriendliness, or worse, an "ugh I hate the world" attitude that isn't exactly healthy."
It's hard to say exactly why introversion is having a "cultural moment." But what's clear is that many people have an incomplete understanding of the term.
"When you survey a person on the street, asking them to define introversion, what comes up as the prototypical characteristics ... are things like thoughtful or introspective," said Jonathan Cheek, a psychology professor at Wellesley College.
Neither of these terms, however, are found in the scientific literature, where conceptualizations of introversion have differed over the past century. 
So what exactly is introversion?
Carl Jung popularized the terms "introversion" and "extraversion" (spelled with an "a" by Jung) in his 1921 paper 'Psychological Types'. The main idea behind his definition was that introverts focus their "energy" inward, while extraverts focus it outward:
"Extraversion is characterized by interest in the external object, responsiveness, and a ready acceptance of external happenings, a desire to influence and be influenced by events, a need to join in… the capacity to endure bustle and noise of every kind, and actually find them enjoyable, constant attention to the surrounding world, the cultivation of friends and acquaintances… The psychic life of this type of person is enacted, as it were, outside himself, in the environment."
Another way of thinking about the two terms is how a subject relates to an object in the world, as Jung wrote: 
"Whereas the extraverted type refers preeminently to that which reaches him from the object, the introvert principally relies upon that which the outer impression constellates in the subject."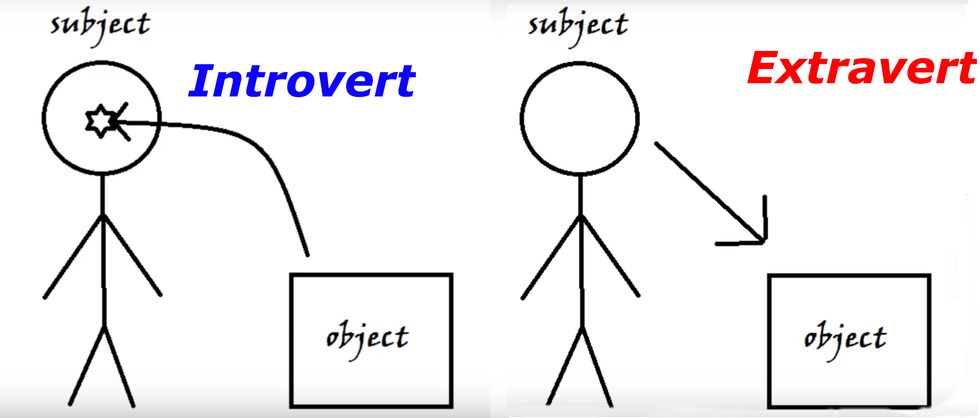 In other words: extraverts focus on information from objects, and introverts focus on the effects within themselves caused by the information from objects. (In this definition, objects can be people, places, events, things or ideas.)

Psychologists have expanded Jung's concept of introversion and extraversion over the past century, but it eventually became the foundation of many of tests used to measure personality — notably the Myers-Briggs Type Indicator and the Big Five personality traits.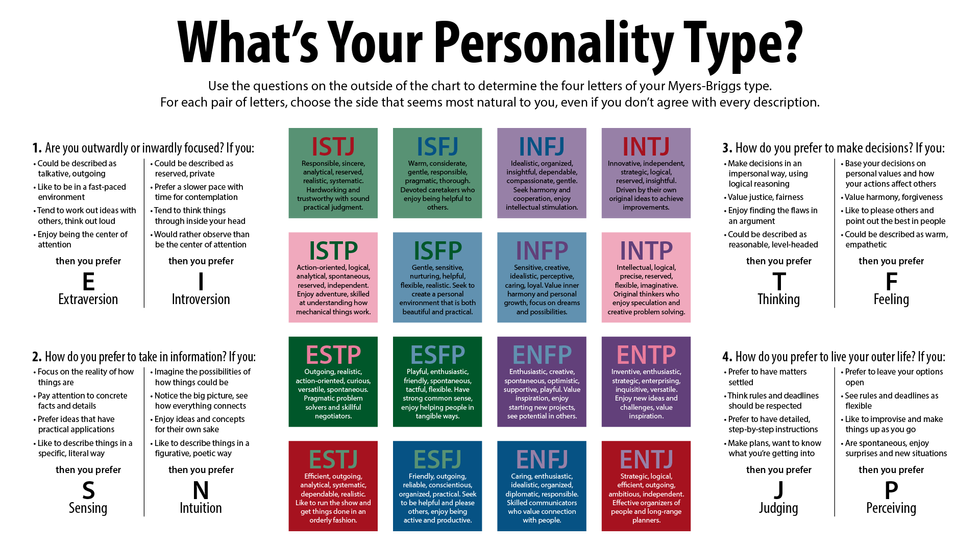 Now, finding out if you're an introvert or not depends on which book you read, as Scott Barry Kaufman of Scientific American points out in this list of popular definitions of the term:
What's consistent across these definitions of introversion is Carl Jung's basic idea: that introverts tend to focus their energy inward.
Still, some psychologists argue that introversion is too broad a term, and that scales like the Big Five personality traits impose a possibly incomplete or skewed definition of introversion upon people. That's why Jennifer Odessa Grimes and Cheek developed a more comprehensive model of introversion in their paper Four Meanings of Introversion: Social, Thinking, Anxious and Restrained.
Dubbed STAR, the model contains four dimensions of introversion. People can display traits in one dimension, or a combination of all four. Here's a brief description of each:
Social: These introverts aren't socially anxious, they rather just "prefer to stay home with a book or a computer, or to stick to small gatherings with close friends, as opposed to attending large parties with many strangers," Cheek says.
Thinking: More daydreamy than neurotic, this type is "capable of getting lost in an internal fantasy world," Cheek says.
Anxious: Social interaction makes this type self-conscious and anxious, and they'll seek out solitude to avoid it.
Restrained: These introverts might appear slow to move, but that's just because they prefer to think before they act — they're reserved.
The STAR model is more about expanding the definition of introversion than it is correcting popular misconceptions.
"Many people do not feel identified or understood just by the label introversion as it's used in the culture or by psychologists. It doesn't do the job — it helps a little bit, but it just doesn't get you very far," Cheek says. "It turns out to be more of a beginning."
--
Grimes, Cheek, Julie Norem and Courtney Brown created an introversion test based on the STAR model, originally published in Scientific American. You can take it below:
To find out where you stand on each of the four meanings of introversion, answer the following questions by deciding to what extent each item is characteristic of your feelings and behavior. Fill in the blank next to each item by choosing a number from the following scale:
1 = very uncharacteristic or untrue, strongly disagree
2 = uncharacteristic
3 = neutral
4 = characteristic
5 = very characteristic or true, strongly agree
Social Introversion
____ 1. I like to share special occasions with just one person or a few close friends, rather than have big celebrations.
____ 2. I think it would be satisfying if I could have very close friendships with many people.
____ 3. I try to structure my day so that I always have some time to myself.
____ 4. I like to vacation in places where there are a lot of people around and a lot of activities going on.
____ 5. After spending a few hours surrounded by a lot of people, I am usually eager to get away by myself.
____ 6. I do not have a strong need to be around other people.
____ 7. Just being around others and finding out about them is one of the most interesting things I can think of doing.
____ 8. I usually prefer to do things alone.
____ 9. Other people tend to misunderstand me—forming a mistaken impression of what kind of person I am because I don't say much about myself.
____ 10. I feel drained after social situations, even when I enjoyed myself.
Thinking Introversion
____ 1. I enjoy analyzing my own thoughts and ideas about myself.
____ 2. I have a rich, complex inner life.
____ 3. I frequently think about what kind of person I am.
____ 4. When I am reading an interesting story or novel or when I am watching a good movie, I imagine how I would feel if the events in the story were happening to me.
____ 5. I seldom think about myself.
____ 6. I generally pay attention to my inner feelings.
____ 7. I value my personal self-evaluation, that is, the private opinion I have of myself.
____ 8. I sometimes step back (in my mind) in order to examine myself from a distance.
____ 9. I daydream and fantasize, with some regularity, about things that might happen to me.
____ 10. I am inclined to be introspective, that is, to analyze myself.
Anxious Introversion
____ 1. When I enter a room I often become self-conscious and feel that the eyes of others are upon me.
____ 2. My thoughts are often focused on episodes of my life that I wish I'd stop thinking about.
____ 3. My nervous system sometimes feels so frazzled that I just have to get off by myself.
____ 4. I am confident about my social skills.
____ 5. Defeat or disappointment usually shame or anger me, but I try not to show it.
____ 6. It does not take me long to overcome my shyness in new situations.
____ 7. I feel relaxed even in unfamiliar social situations.
____ 8. Even when I am in a group of friends, I often feel very alone and uneasy.
____ 9. My secret thoughts, feelings, and actions would horrify some of my friends.
____ 10. I feel painfully self-conscious when I am around strangers.
Restrained Introversion
____ 1. I like to be off and running as soon as I wake up in the morning.
____ 2. I'll try anything once.
____ 3. For relaxation I like to slow down and take things easy.
____ 4. I like to wear myself out with exertion.
____ 5. I often say the first thing that comes into my head.
____ 6. I generally seek new and exciting experiences and sensations.
____ 7. I like to keep busy all the time.
____ 8. I often act on the spur of the moment.
____ 9. I sometimes do "crazy" things just to be different.
____ 10. I often feel sluggish.
How'd you do?
To find out your score for each of the four kinds of introversion, RECODE the following Reverse-Worded items: (1=5) (2=4) (4=2) (5=1):
Social Introversion items: 2, 4, & 7
Thinking Introversion item: 5
Anxious Introversion items: 4, 6, & 7
Restrained Introversion items: 1, 2, 4, 5, 6, 7, 8, & 9
Next, add together all the numbers to come up with a total score.
Here's a guide of how you scored compared to others in the general population:
Social Introversion -- below 24 low, around 30 average, above 36 high​
Thinking Introversion -- below 28 low, around 34 average, above 40 high
Anxious Introversion -- below 23 low, around 30 average, above 37 high
Restrained Introversion -- below 25 low, around 31 average, above 37 high
Hitler appeared to have been highly sensitive to disgust, and research shows this trait is linked to numerous dimensions of ideology.
Adolph Hitler
Hitler seemed obsessed with the idea of infection. The Nazi leader was, by most accounts, a germaphobe who avoided personal contact and bathed incessantly. He was repelled by sex, horrified by venereal disease. He referred to himself as an Einsiedler – a hermit. He extolled the virtues of celibacy and claimed prostitution was for inferior races, though some have proposed Hitler himself contracted syphilis from a Jewish prostitute in Vienna in 1908. 
It was in ideology, however, where Hitler's obsession with infection thrived, becoming the essential Nazi metaphor: Germany was the body, Jews were the parasites. 

Examples are abundant in his speeches and writings:
"How many diseases have their origin in the Jewish virus! We shall regain our health only be eliminating the Jew."
"Anyone who wants to cure this era, which is inwardly sick and rotten, must first of all summon up the courage to make clear the causes of this disease."
"This is the battle against a veritable world sickness which threatens to infect the peoples, a plague that devastates whole peoples...an international pestilence."
"The Jew is a parasite in the body of other nations."
"Germany, without blinking an eyelid, for whole decades admitted these Jews by the hundred thousand. But now… when the nation is no longer willing to be sucked dry by these parasites, on every side one hears nothing but laments."

"If this battle should not come...Germany would decay and at best sink to ruin like a rotting corpse."
Do Hitler's germaphobic tendencies and obsession with the infection metaphor reveal anything about his personality traits? While it's impossible to know for sure, it seems likely that he was highly sensitive to disgust.
Over the past couple of decades, studies have linked disgust sensitivity to numerous dimensions of ideology – immigration, political affiliation, sense of justice. If Hitler ranked high on the disgust scale, there were probably deeply rooted psychological forces lurking underneath his xenophobia and murderous fantasies that research on the behavioral immune system might help bring to light.
How disgust relates to personality and ideology
Disgust is a protective emotion. It causes us to lurch back from a rotten apple, or take an extra big step over dog poop on the sidewalk. These reactions are part of the behavioral immune system, which evolved to help us detect and avoid things in our environment that cause disease. That's why we find some things universally repulsive – urine, feces, vomit. 
What's strange, however, is that an acute sense of disgust can extend beyond these things and into the social world, causing some to feel repulsed by certain ethnic groups. This might have once served an evolutionary function: In earlier times, it was probably useful to be wary of unfamiliar individuals or groups because they might have carried disease.
Today, this same evolutionary function might be playing a role in the immigration debate. According to a recent paper, people who are acutely sensitive to disgust are more likely to oppose immigration. The researchers explained:
It is the presence of physically and culturally distinct immigrants that poses a threat to individuals concerned about pathogens, not the intentions of the immigrants. Second, individuals motivated by pathogen avoidance are especially motivated to avoid contact with immigrants, potentially preventing the sorts of experiences that may engender tolerance. Taken together, these findings demonstrate that the behavioral immune system emerges as a potent—and distinct—obstacle to inclusive attitudes and tolerance.
Other studies have linked high disgust sensitivity to:
Personality types that value order and tradition
Opposition to gay marriage and abortion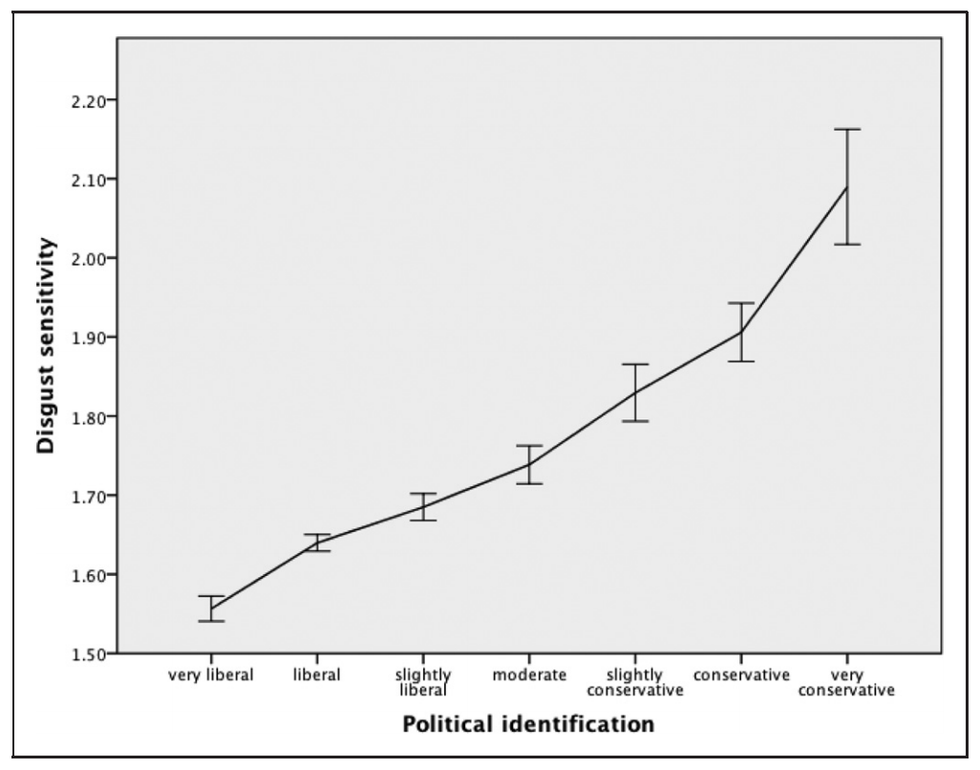 (Source)
Hitler arguably qualifies for almost every dimension to which high disgust sensitivity is linked. Professor of Psychology Jordan Peterson elaborates on the connection between disgust and Nazism in the video below, about an hour into the lecture:
Still, how could one leader's disgust-oriented rhetoric have influenced an entire country? 
Metaphor and the Final Solution
The Jew is the parasite of humanity. He can be a parasite for an individual person, a social parasite for whole peoples, and the world parasite of humanity. – Excerpt from "The Jew as World Parasite," a Nazi propaganda pamphlet

The use of metaphoric language in Nazi Germany has been studied at length since the end of World War II. On a psychological level, the dehumanization of the Jewish population through language was crucial in carrying out the Final Solution because deeming the Jews to be rats or parasites made extermination the logical and "necessary" course of action.
(A Nazi propaganda video compares the Jewish population to rats and parasites)
Some have considered the Nazi use of metaphorical language to be a "rhetorical trick," a cynical manipulation of the cultural conversation to advance a murderous fantasy. But others, like Andreas Mulsoff, who penned Metaphor, Nation and the Holocaust, thought Hitler's parasite metaphor sat at the bedrock of his ideology, conveying his "fundamental cognitive processes" and serving as an "integral part of the ideology that made the holocaust happen."
In his essay The Jewish Parasite, Alex Bein argues that Nazi ideology captivated the German people through repeated use of words and concepts that eventually led to "belief in the reality of a fantasy." Richard A. Koenigsberg, author of the seminal Hitler's Ideology, elaborated:
"In language, Bein explains, thoughts and conceptions are mirrored. Nazism crept into the flesh and blood of the masses by means of "single words, terms and phrases, and stock expressions" which, imposed upon the people a million times over in continuous reiteration, were "mechanically and unconsciously absorbed by them." The presentation of Jews as corroding and poison parasites as vermin, bacteria and bacilli—everywhere infecting and striving to destroy the body of the German people— "paralyzed any internal resistance on the part of the masses.""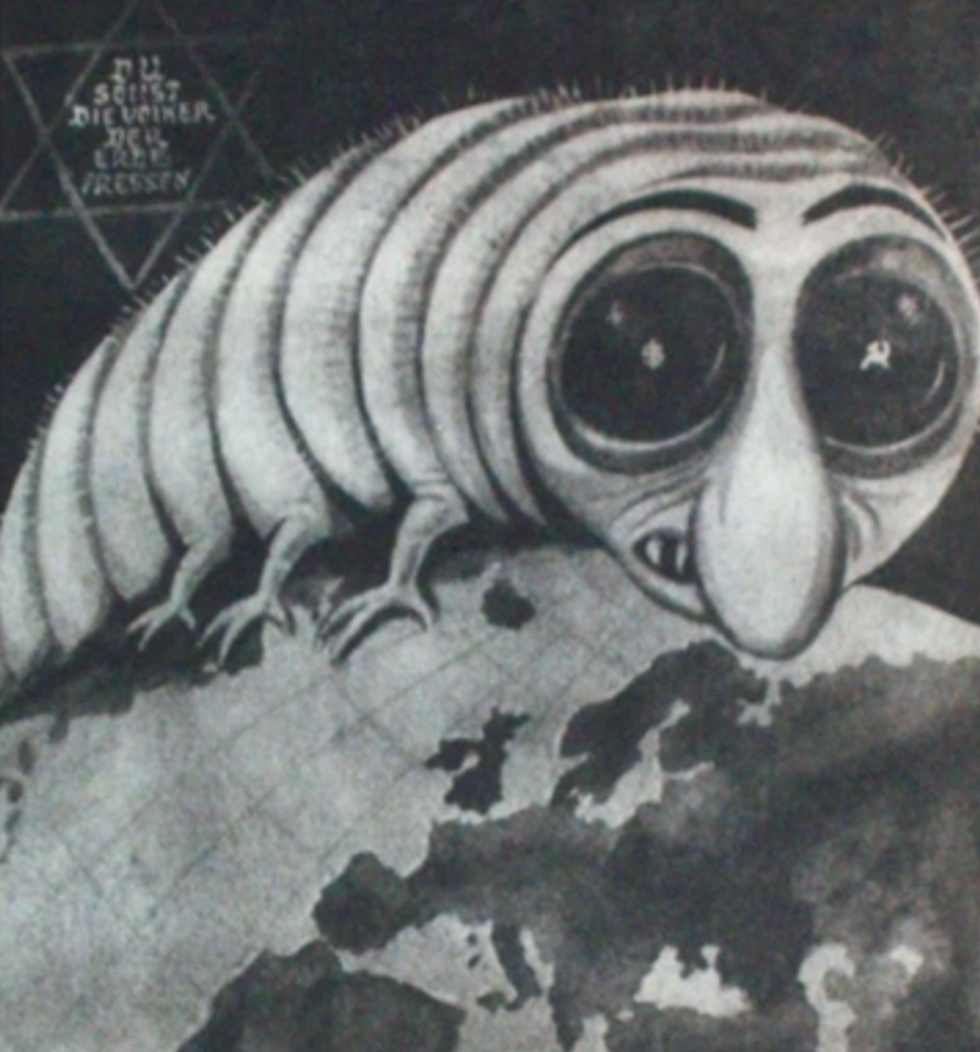 (Anti-Semetic Nazi propaganda)
A recent study suggests that disgust-oriented language can wield surprising power over our biases. Researchers Lene Aaroe, Michael Bang Petersen and Kevin Arceneaux asked two groups of participants to read a passage about a hospital employee coming in contact with bodily fluids. The passage given to one group, however, included an addition part in which the hospital employee thoroughly washes his hands. Anti-immigration sentiment dropped by 47 percent among this group, leading researchers to claim:
[Pathogen avoidance] plays a causal role in the formation of immigration attitudes and because hand washing is not logically connected with immigration attitudes, it ostensibly does so outside of one's conscious awareness.
The findings imply that threats of actual infection need not be present in order for our sense of disgust to unconsciously affect how we see groups of people. Mere language can accomplish that.
A new study says there are two main categories of politically correct people – PC egalitarian and PC authoritarian.
The idea of political correctness is ubiquitous, lurking beneath virtually all of public conversation. Even people who strongly oppose it are just as aware, if not more so, of its presence and ever-changing boundaries. Still, the question that remains largely unanswered is: Who exactly are the politically correct?   
That's the focus of a recent study conducted by Jordan Peterson and Christine Brophy of the University of Toronto's Department of Psychology.
Peterson and Brophy created a 192-item survey that measured PC-related language, beliefs and emotional sensitivity. The survey was completed by 332 participants, who also responded to questionnaires that measured personality, IQ, and disgust sensitivity.
The researchers found a few common threads among the politically correct. People who agreed with the statement "It is important for me to be politically correct" were likely to be non-White females who reported high levels of compassion. And, according to the survey, they were also likely to be particularly sensitive to offensive subject matter.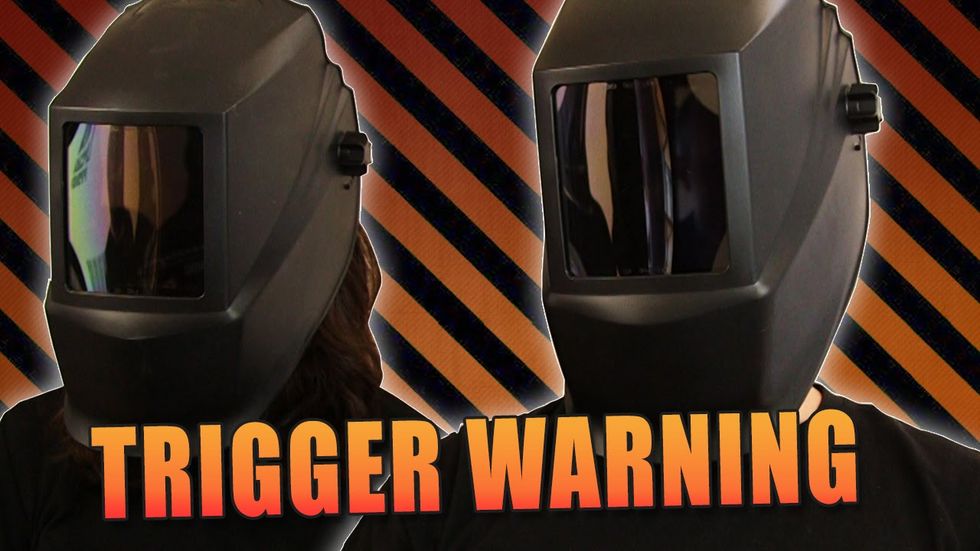 Beyond that, Peterson and Brophy suggest politically correct people fall into two main groups: PC Authoritarianism and PC Egalitarianism. Here's how they distinguish the two, in part:
PC Egalitarians 
Believe cultural forces are responsible for group differences
Think differences among groups arise from societal injustice
Support policies and ideas that prop up historically disadvantaged groups
Show high emotional response to discriminating language 
Have a higher vocabulary and openness to new experiences
Are likely to identify with historically disadvantaged groups
Desire a more diverse, democratic governance
PC Authoritarians 
Believe biological forces are responsible for group differences
Demonstrate a lower vocabulary and more likely to be religious 
Support censorship of offensive material and harsher punitive justice
Express a general desire to achieve security for people in distress
Show a higher need for order, and a higher sensitivity to disgust
Are likely to report a mood or anxiety disorder in themselves or family
Desire a more uniform society through autocratic governance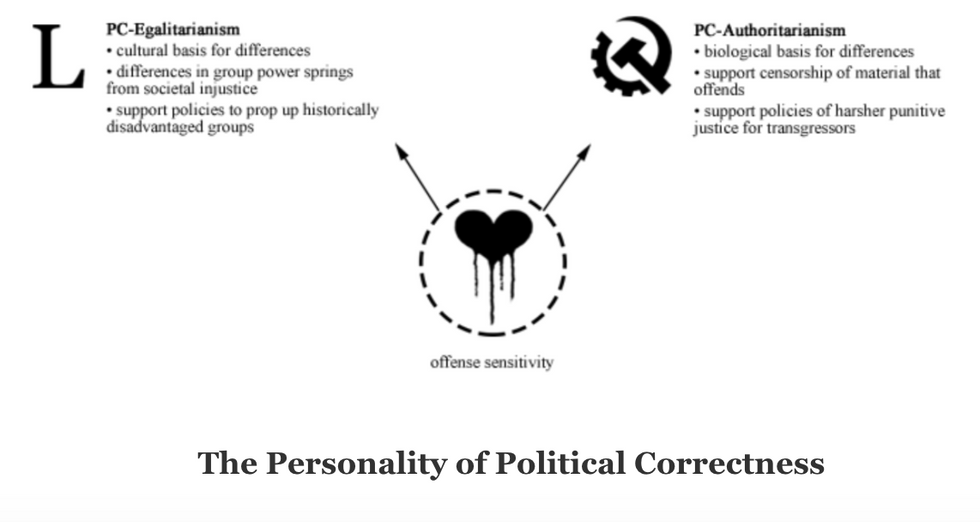 One of the most interesting things about the findings is the personality overlap between PC Authoritarians and right-wing authoritarians. Scott Barry Kaufman, scientific director of the Imagination Institute and a researcher and lecturer in the Positive Psychology Center at the University of Pennsylvania, explains:
A common finding in the psychological literature is a positive association between conservative belief and sensitivity to disgust. In the current study, contamination disgust and the order and traditionalism dimension were all related, suggesting a greater similarity between PC-Authoritarians and Right-Wing authoritarians than either side would probably like to admit!

Also, another interesting similarity is the higher levels of a diagnosed anxiety or mood disorder found among PC-Authoritarians. Both PC-Authoritarians and Right-Wing Authoritarians tend to show a heightened fear response to both social and personal threats, with the strongest fear response being towards instances of social difference.
Authoritarianism on both sides of the political spectrum is commonly associated with an outlook that perceives the world to be a threatening place. The researchers suggest this outlook might explain why PC Authoritarians feel a need to protect themselves and others from material they consider offensive. Peterson also thinks high levels of compassion can lead to authoritarian stances. 
Compassion is widely understood to be an evolutionary adaptation that facilitates the mother-child bond. For instance, a mother bear feels compassion for her cubs because, for them, the outside world is full of threats from which she's compelled to protect them. This type of compassion serves a clear purpose. But what happens when people with high levels of compassion try to map this trait onto larger society, not just onto family members? Peterson elaborates on this idea in the video below:
Check out some of the questions listed on the survey below:
PC-Egalitarianism
Anti-Establishment Diversity (.89)
Rate your level of agreement with the following statements:
The quality of social services available to this country's citizens has remained the same, despite refugees/immigrants entering.
Refugees/Immigrants are as entitled to subsidized housing or subsidized utilities (water, electricity) as this country's "poor" citizens are.
The values and beliefs of refugees/immigrants regarding family issues and socializing children are basically quite similar to that of citizens of this country.
2. Biological-Cultural Based Differences (.60) (PC-Egalitarians rank those as rooted in culture)
Rate the degree you think each of the following facts is a biological or cultural phenomenon:
Women are on average more agreeable and nurturing than men.
Men have better spatial ability than women.
On average, individuals who identify as "white" score higher than those of African ancestry on IQ tests.
3. Societal Injustice (.59)
Rate the degree you think each of the following facts is evidence of an unjust system:
Only 5% of the Fortune 500 companies have women as CEOs.
There have been no Black prime ministers in Canada or the UK, and the United States has only had one Black president.
Only 8% of registered nurses in the United States are male.
PC-Authoritarianism
Censorship Area (.70)
Do you believe the works in these categories should be screened for offensive, racist, sexist, or otherwise discriminatory language and/or ideas?
Books
Movies
Art
2. Coddling (.65)
Rate your level of agreement with the following statements:
Universities should be required to provide safe spaces for lectures/events discussing potentially sensitive/unsettling material.
Students should be allowed to request a safe space when material on campus makes them uncomfortable.
Businesses should be required to provide safe spaces for employees.
3. Patriarchy Censorship (.60)
Rate your level of agreement with the following statements:
Feathered headdresses should be banned from music festivals.
White people should not wear their hair in cornrows or afros because it is cultural appropriation.
White musical artists winning awards for reggae, rap, hip-hop, and jazz, is exploitation and appropriation of Black cultural art forms.