Many people believe that in the face of profound evil, they would have the courage to speak up. It might be harder than we think.
After World War II, many psychologists wanted to address the question of how it was that people could go along with the evil deeds of fascist regimes.
Solomon Asch's experiment alarmingly showed just how easily we conform and how susceptible we are to group influence.
People often will not only sacrifice truth and reason to conformity but also their own health and sense of right and wrong.
It's the last question of the quiz, and Chloë knows the answer: it's Bolivia. Yes, it's definitely Bolivia. She went there last year, so she ought to know.
But then Shaun says it's Panama, and all the others agree with him. Chloë's sure it's Bolivia, but Shaun's so confident, the others now are nodding furiously along with him.
"What do you think, Chloë?" she's asked. She pauses for a moment.
"Yeah... Shaun's probably right. Put Panama," she mumbles.
The question of conformity
We've all been Chloë. Humans are social animals with families, tribes, and workplaces. So, it's no wonder that we try to fit in or conform. Social rejection is devastating, and we're biologically wired to avoid it. A sense of belonging and cooperation is essential to dealing with the world. Sometimes, though, this instinct can take us to ridiculous or dark places.
In the decades after World War II, politicians and academics were curious to know how it was that a country like Germany — so steeped in tradition, culture, and education — could fall into such a terrible regime within such a short time. Psychologists Stanley Milgram and Philip Zimbardo conducted experiments to answer a question many everyday people were asking: "Could it happen here?"
Would you tell a laughing group of people that a joke was sexist or racist or bigoted? In your heart of hearts, do you think that you — surely a loving and kind person — would have had the courage to resist Nazism?
While the Milgram and Zimbardo experiments are pretty famous, one of the lesser known experiments was done in the early 1950s by Solomon Asch. They demonstrated just how far humans are willing to go for the sake of "fitting in" and conforming to the rules.
The Asch experiment
Asch had his volunteers perform a simple task: they were all given a series of lines drawn on a card and asked to choose which line was longest out of three options. The right answer was laughably obvious; for instance, line A was clearly the longest. When they were alone, people chose correctly nearly every time.
Asch then put his subjects in a group with actors who had been instructed to deliberately choose the wrong answer. Under these conditions, 75 percent of subjects agreed with the group consensus at least once, even though they were blatantly wrong.
What makes us conform?
A little surprised by this, Asch went on to do a series of related experiments and documented the factors that made it more or less likely that people will "conform" with the group consensus. Here are some of them:
The difficulty of the task. When there's a higher degree of ambiguity or uncertainty about the answer (for instance, the lines in the experiment weren't so obviously different), we're more likely to agree with others.
Reliability of the source. If someone within the group seems more reliable or knowledgeable about a topic — like a doctor about a disease — then we are more likely to go along with that person's view.
Publicity. People are much more likely to conform if they have to declare their judgment publicly rather than privately.
Degree of unanimity. The presence of merely one or two dissenting voices in a group of any size greatly increases the chances that others will not conform. Even one rebellious response is enough to make others follow suit.
The implications of conformity
A Kosovo's opposition lawmaker throws a teargas canister in Pristina's parliament assembly room.Credit: ARMEND NIMANI via Getty Images
Of course, conformity has implications far beyond quizzes with your friends or measuring lines.

A similar but more alarming study was conducted by John Darley and Bibb Latané in the 1970s. In this study, they had subjects appear for an apparent "job interview." As the subjects were waiting, smoke was slowly pumped into the room. If people were alone, they always would check to see what was wrong, or they would get up and leave.
But when subjects were in a room with actors pretending as if nothing was wrong, the majority made no move whatsoever. This happened despite people coughing and rubbing their eyes from all the smoke. Amazingly, people were willing to risk their own health rather than break with group behavior. (No wonder many of us are hesitant to interrupt a meeting at work to open a window because it's far too hot in the room.)
What do these experiments suggest about conformity? Well, as Asch said, we learned "that intelligent and well-meaning young people are willing to call white black." He concluded that it was "concerning." Indeed.
Would you tell a laughing group of people that a joke was sexist or racist or bigoted? In your heart of hearts, do you think that you — surely a loving and kind person — would have had the courage to resist Nazism? Psychology experiments strongly suggest you would not.
Undoubtedly, there are huge evolutionary, social, and emotional benefits to conformity. Many times, it has done great good. But equally true is that conformity can also bring out the darkest and worst in us.
Jonny Thomson teaches philosophy in Oxford. He runs a popular Instagram account called Mini Philosophy (@philosophyminis). His first book is Mini Philosophy: A Small Book of Big Ideas.
Want to predict someone's next move, or know if someone is telling you a lie? Learn to read body language like a poker pro.
A good poker face can win you a fortune or help you sell a difficult lie, but that term might be leading us all astray. For poker champ Liv Boeree, calling someone's bluff isn't about their face at all, it's often much more about their body as a whole—and one part in particular. "The feet are often the most reliable thing to look at on your opponent because they might be completely stoic in their face but their feet are bouncing around," she says. We're all hyper aware of our faces as a primary point of communication, but our bodies are speaking more loudly than we may realize. Typically, "the lower down on the body that you're looking at, the more reliable the information," she says. Keep in mind, reading body language is an art not a science, but thanks to Boeree's years of experience at the poker table she highlights some classic behaviors of bluffers, and reliable strategies for those who want to call them out. Find more from Liv Boeree at www.livboeree.com.
Have you ever wondered why modern-day mammals have adaptations for nighttime activity? A new study suggests dinosaurs might be the reason.
Jurassic Park
Why have so many modern-day mammals evolved adaptations suited for the night? The answer might very well be dinosaurs, according to new research.
A study published in the journal Nature Ecology & Evolution suggests that the threat of dinosaurs, who ruled the world during the daytime more than 65 million years ago, encouraged mammals to only come out under the dark of night.
This idea – known as the "nocturnal bottleneck hypothesis" – has intrigued scientists for years, but it's been difficult to prove by direct means. The new study explores the hypothesis further by analyzing the behavior patterns of 2,415 mammal species, and then using computer models to predict the behavior of their ancestors. The international team of researchers classified each species' behavior into five categories:
Nocturnal – active at night
Diurnal – active in the day
Cathemeral – active during both day and night
Crepuscular – active only at twilight, around sunrise and sunset
Ultradian – active in cycles for several hours at a time
Focusing on the first three categories – nocturnal, diurnal, and cathemeral – the team found that most of the ancestors of modern-day mammals were likely nocturnal, but probably switched to other activity patterns after the dinosaurs died off.

"On balance, our evidence suggests that mammals remained nocturnal throughout the Mesozoic," the authors wrote, referring to the era also known as the Age of Reptiles, which ended about 66 million years ago.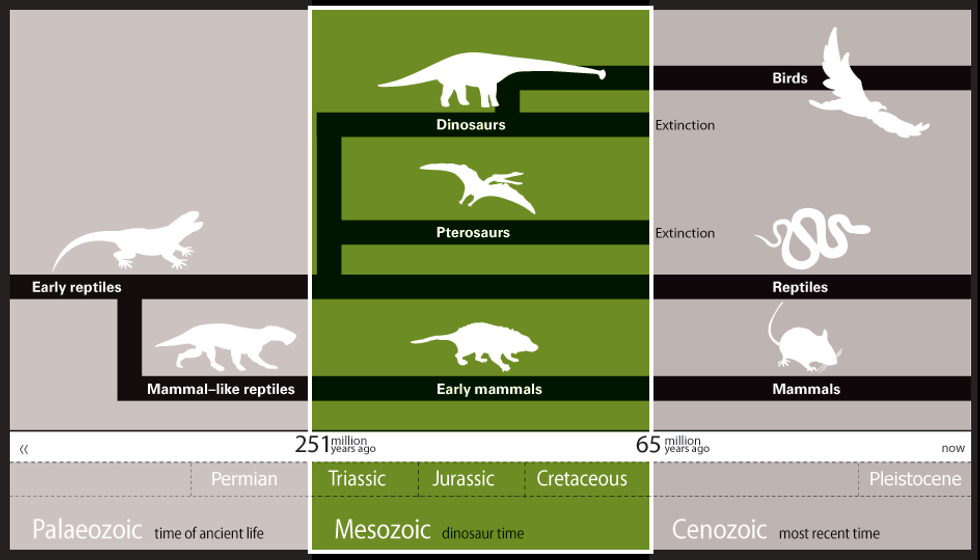 The first mammals to switch to a diurnal pattern (daytime only) appear to have been simian primates from about 52 to 33 million years ago. Primates are one of the few modern-day mammal species that have evolved key adaptations for daytime activity.
"Monkeys and apes (including humans) are the only diurnal mammals that have evolved eyes that are similar to the other diurnal animals like birds or reptiles," study co-author Roi Maor of Tel Aviv University said to The Guardian. "Other diurnal mammals have not developed such profound adaptations."
Although the threat of dinosaurs seems to have encouraged the small, scurrying mammals of prehistory to only come out at night, cathemeral activity — operating both during day and night — seems to have begun before the extinction began. So, why did some mammals risk being out in the light with the dinosaurs?

The researchers offered a few possibilities: these creatures were trying to avoid being eaten by nocturnal animals; they were taking advantage of relatively new flowering species of plants and the insects that liked them; or, as evidence suggests, the dinosaurs were simply beginning to die off before the massive extinction event, allowing for mammals to slowly emerge into the light of day.
The discovery of a neuron in the brain that acts as the "master controller" of habits could someday change the way we treat addiction and compulsive behaviors.
Cultured Rat Hippocampal Neuron
Scientists at Duke University have identified a neuron that acts as the "master controller" of habits. The findings, published in the journal eLife, could someday change the ways addiction and compulsive behavior are treated.
The "master controller" of habit appears to be a rare cell called the fast-spiking interneuron (FSI), which shows boosted activity during habit formation and, interestingly, seems to shut down habit behaviors when suppressed by drugs. 
FSIs, which belong to a class of neuron that relays messages between other neurons, are found in a region deep within the brain called the striatum. Here, FSIs make up only 1 percent of cells, but they have long branch-like tendrils that allow them to connect with 95 percent of the other neurons associated with habitual behavior.
"This cell is a relatively rare cell but one that is very heavily connected to the main neurons that relay the outgoing message for this brain region," said Nicole Calakos, an associate professor of neurology and neurobiology at the Duke University Medical Center, to Duke News. "We find that this cell is a master controller of habitual behavior, and it appears to do this by re-orchestrating the message sent by the outgoing neurons."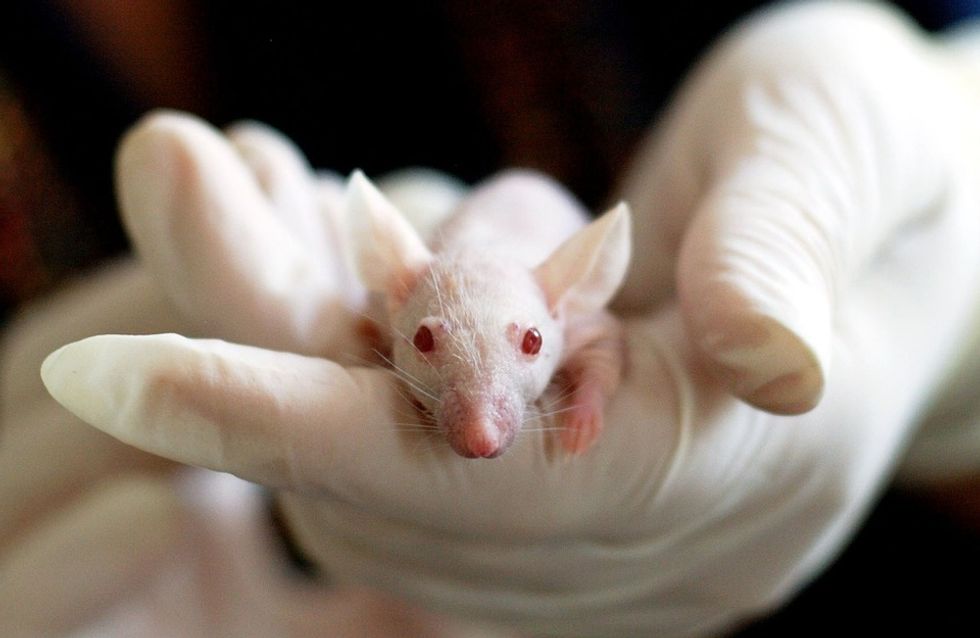 It's been known that habit formation can effectively rewire the brain, but exactly which neurons cause and control this process has been unclear. The team behind the new study wanted to change that.
"We were trying to put these pieces of the puzzle into a mechanism," Calakos said.
In 2016, the Duke University researchers published their first insights into habit and its effects on the brain. They found that habit formation in mice resulted in long-lasting changes in the striatum, which has two sets of neural pathways: a "go" pathway that triggers action, and a "stop" pathway that inhibits it.
The results showed habit formation made both of these pathways stronger, and also caused the "go" pathway to fire before the "stop" pathway.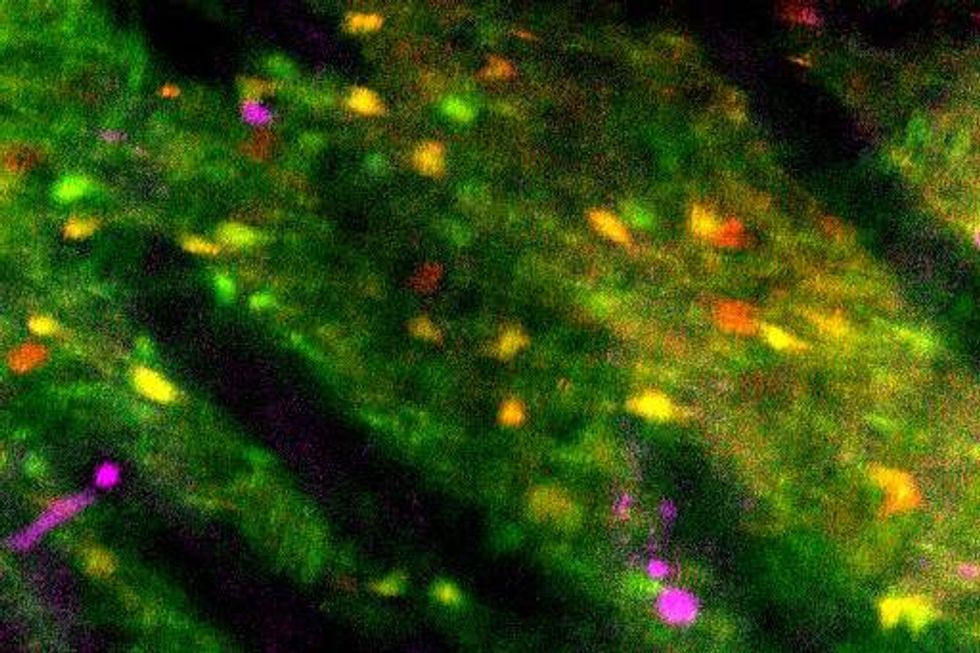 A magnified view of the striatum of a mouse brain, fast-spiking interneuron in purple. Credit: Justin O'Hare, Duke University
Still, they weren't quite sure which neurons were effectively running the show in the striatum. To find out, the researchers, led by graduate student Justin O'Hare, first observed that FSIs become more excitable when a habit is formed. Then they administered a drug to habituated mice that suppresses the firing of FSIs. The results? The "stop" and "go" pathways in the striatum reverted to "pre-habit" patterns, and their habit behaviors vanished.
"Some harmful behaviors like compulsion and addiction in humans might involve corruption of the normally adaptive habit-learning mechanisms." Calakos said. "Understanding the neurological mechanisms underlying our habits may inspire new ways to treat these conditions."
"I firmly believe that to develop new therapies to help people, we need to understand how the brain normally works, and then compare it to what the 'broken' brain looks like." 
Goal setting is a hamster wheel, says Adam Alter. If you want to channel your best work and get off the failure circuit, set systems instead.
You've just achieved a goal you've been working towards for two years. You did it! Congratulations. Someone asks you: how does it feel? "Kind of anti-climactic, actually," you say. This scenario is quite common among those who have achieved even the highest benchmarks in business, athletics, or art, says Adam Alter, and it's because the goal setting process is broken. With long-term goals particularly, you spend the large majority of the time in a failure state, awaiting what could be a mere second of success down the track. This can be a hollow and unrewarding process. Describing an idea first proposed by Scott Adams in his book How to Fail at Almost Everything and Still Win Big, Alter suggests swapping quantitative goals (I will write 1,000 words of my novel per day. I will run 1km further every week) for qualitative systems—like writing every morning with no word target, or running in a new environment each week—that nourish you psychologically, and are independently rewarding each time you do them. Adam Alter is the author of Irresistible: The Rise of Addictive Technology and the Business of Keeping Us Hooked.