How does the largest welfare program imaginable have libertarian supporters?
The idea for a universal basic income, or UBI, is increasingly popular.
While it seems like a left-wing handout, many prominent right wing thinkers have endorsed the idea.
The libertarian version of UBI does have a few key differences from the more standard version.
We've all heard of it: basic income, the freedom dividend, the income guarantee, or any of the other names for the program that would give everybody a payment as a right of citizenship. Such plans have been discussed by American thinkers for at least two hundred years and have gained increasing attention and popularity in the modern age.
On the face of it, it seems like a rather left-wing concept. The idea of sending everybody a check each month for existing seems as Marxist as it gets. It also doesn't help that many of the best-known supporters of the idea are on the left. However, the idea's popularity isn't limited to red book clubs. There are right-wing supporters of the concept as well, among them was famous economist Milton Friedman.
The libertarian case for the basic income
For those who don't know, Milton Friedman was an economist working out of the University of Chicago during the middle part of the 20th century. A leading thinker behind monetarism, he favored tinkering with the economy through controlling the size of the money supply rather than through fiscal policy. Even people on the American center-left acknowledge his brilliance as they criticize his mistakes.
When it came to the problem of poverty, Friedman supported letting the free market and private charity have a chance to solve it first. However, he understood that dealing with it effectively at the large scale likely required at least some state intervention. As he explains in Capitalism and Freedom, its the free-rider problem that causes this:
It can be argued that private charity is insufficient because the benefits from it accrue to people other than those who make the gifts [...] I am distressed by the sight of poverty; I am benefited by its alleviation; but I am benefited equally whether I or someone else pays for its alleviation; the benefits of other people's charity therefore partly accrue to me. To put it differently, we might all of us be willing to contribute to the relief of poverty, provided everyone else did. We might not be willing to contribute the same amount without such assurance. In small communities, public pressure can suffice to realize the proviso even with private charity. In the large impersonal communities that are increasingly coming to dominate our society, it is much more difficult for it to do so.
He argued that this justified having the state take steps to reduce poverty, as it is harder to skip out on paying money to reduce poverty when that is tax fraud rather then miserliness. This didn't mean Friedman supported the welfare state though; he argued instead for a much simpler solution in the form of the negative income tax, or NIT.
In our current welfare system, there are a myriad of programs that each deal with a different aspect of life for the poor. One program provides food aid, another deals with housing, yet another provides low-cost utilities, and another one deals with income security for the elderly. A large number of regulations, such as minimum wage laws, exist to help hold wages high enough to keep other working people off the welfare rolls.
Friedman viewed this multitude of agencies as wasteful and suggested that a single program would do the same job with a smaller government by just giving cash to people who needed it. As a libertarian who placed a high value on the freedom of choice, he also suggested it was a much more dignified way of helping the poor than telling them what they could and could not do with the money we give them as is currently the case with things like food stamps.
How would it work?
The mechanism is relatively simple. Dr. Friedman explains it above in his interview on Firing Line.
For those who didn't watch the clip, it is easily explained. The income tax system is changed a bit to include an exemption based on family size. Only earned income above that point is taxed. If you make less than the exemption amount, you instead receive a subsidy.
The size of the subsidy would change based on how much you make and would also be subject to a subsidy rate. This means that if a person makes $1000 less than the exemption point, they would only get a certain percentage of that difference back as a subsidy. Friedman argued that the subsidy rate shouldn't any higher than 50 percent, as it would discourage work if it were raised past that point.
As an example, suppose we lived in a society where with an NIT where the exemption for me is $10,000, and the subsidy rate is 50 percent. If I were to only make $8000, I would pay no taxes and get back half of the $2000 difference between what I made and the exemption point, or $1000.
If I made exactly $10,000, I would neither pay taxes nor receive a subsidy. If I made more than that, I would start to pay income taxes on the income above that point. If I made absolutely nothing, I would get the largest subsidy possible under this system, $5000, which would be the "guaranteed" income under this arrangement.
Such a program would also have the advantage of not having a "welfare trap," the point where making more money at work causes welfare payments to go down by a larger amount and leaves the recipient worse off. The trap is a well-known problem and is bashed by many economists as a significant flaw that discourages people from trying to improve their situation.
The numbers used above were just for discussion; the exact numbers used in a working system would reflect economic realities. It should be said that Friedman intended to keep the guaranteed rate low enough to encourage people to still work while at the same time being high enough to correct for the failures of private charity.
Has it ever been tried?
Yes, it has, and it worked.
Several experiments in the 1970s in the United States and Canada showed that the negative income tax could work as intended. The guaranteed income was set as equal to the poverty threshold and, as predicted, the labor supply fell because of this.
This fall was not as significant as experts feared, however. The simultaneous rise in high school graduation rates suggests that at least part of this fall in labor supply was caused people having the economic security to stop working and finish their education. Claims that the program resulted in an increased divorce rate were initially reported but are now known to be the result of a statistical error.
What do others think of the NIT?
Criticism of the idea comes from two directions.
On the right, critics often object on a fundamental level to any redistribution or an income tax of any kind. Some who do support the NIT see it merely as the best version of a bad deal.
On the left, criticism tends to focus on either the mechanism of the NIT or on the details of Friedman's plan. Josh Martin, an executive committee member at the US Basic Income Guarantee Network, explained his objections this way:
A negative income tax and a universal basic income seek to achieve the same goal — to ensure an income floor for everyone. But, given the choice between the two, a UBI is preferable as it solidifies this income floor as a universal benefit, while an NIT would only provide the income floor to those who need it. This conditionality makes it easier for politicians and for people who don't receive the NIT to justify cutting the program as they don't receive the benefit personally.
This concern that a purely redistributive program will be subject to political difficulties later is a common one. It is part of the reason why regressive taxes on the poor fund Social Security — you can't attack it in the way Mr. Martin describes. A system of basic income that pays everybody a set amount each month is similarly protected; it's hard to cut a program everybody gets direct benefits from.
Universal basic income is an increasingly popular idea that will likely exist in some form someday. It enjoys support from every part of the political spectrum for various reasons. While the far left and the far right might disagree on why a universal basic income program is needed or what form it should take, the fact that they agree on the need for such a program is surprising enough to almost count as an endorsement in itself.
Discover the peril and potential of an automated robotic world.
Photo credit: Hugo Amaral/SOPA Images/LightRocket via Getty Image
Journalist Andrés Oppenheimer, columnist and member of a Pulitzer Prize-winning team explores the cutting edge of automation.
From South Korean robot schools, Silicon valley futurist predictions and automated Japanese restaurants, this book shows us that the future of work is almost here.
Already replacing a growing number of workers while also creating new roles, the concept of employment is becoming even more dynamic.
Alarmed and somewhat intrigued by a University of Oxford study that predicted 47 percent of jobs would be replaced by robots or intelligent computers, journalist Andrés Oppenheimer set out to discover what the future of work held for the potential casualties and benefactors of this new era.
Robotics and other assorted automated processes are already radically changing the nature of what we consider work and employment. Unlike past eras of paradigmatic technological shifts, where entire workforces were able to quickly recover and evolve into new burgeoning fields — the coming age of automation isn't going to be as seamless of a transition.
In The Robots Are Coming! The Future of Jobs in the Age of Automation, Oppenheimer casts a wide net of inquiry into a broad and multidisciplinary search for the future of what's to come. The result of years of tenacious research, experiences and thrilling conversations, this book leaves no tech stone unturned.
Without devolving into a buzzword jargon fest, Oppenheimer adequately sketches out and name drops nearly every technology experts and pundits alike think will usher in the new age.
Whether it's machine learning, A.I., augmented and virtual realities or the need for a universal basic income — this book name checks the aforementioned tech and then assaults it from all fronts. Is it hype? Where are we in terms of implementation? What do the experts say and what do the detractors think? How will this affect the job market and notions of employment?
The Robots Are Coming!
What're they coming for? Everything.
Timeframes, statistics, and opinion tended to oscillate depending on who the author was talking to at the time. There were many instances cited that went against all common fears of automation displacing jobs. For example, in 2016 Amazon increased their transport robots from 30,000 to 45,000. Speculators at the time figured this would result in the loss of jobs. On the contrary, more than 100,000 new jobs were added in the next 18 months.
In our present time these types of employment increases are relatively common. But they're also equally matched with a host of jobs in all industries being lost to automation. And they're not just confined to low-level labor and service jobs. They're affecting all levels of work.
Head up to the high towers of Wall Street and you'll even see financial professionals replaced by robo-analysts using big data. These aren't displacing the lowest of the workforce, but knocking out big-time financial advisors that use to make an average of $350,000 to $500,000 a year.
Even duties in professions such as journalism and law aren't safe from being deferred to automation. Andrês remarked that in just the past few years the stunning speed of automated transcription services completely changed the way he conducted interviews. The book's interviews themselves were transcribed and largely translated by A.I. methods.
A growing force of bots are also writing a rising number of articles due to a technology called Heliograf. What would have taken hundreds of journalists covering local elections, was done with just one templating bot. In 2016 the Washington Post was able to cover over 500 local elections with this technology.
If one thing is perfectly clear, it's that automation and intelligent computers are leaving nothing behind and popping up in the least expected places. Understandably, this has got a lot of people worried.
Anders Sandberg from Oxford comically, but nonetheless genuinely, put it this way:
It's quite simple: if your job can be easily explained it can be automated, if it can't it wont.
The future of work is going to require a massive shift in skills, mindset and know-how. Soft skills, being able to work with a steady flow of interactive data and ability to make actionable insights from the data-driven world are just some of the traits of a future workforce.
For those that aren't going to make the cut, they'll need to shift their mindset on the psychological and cultural notion of work and employment in the first place. The many futurists, serious economists, and, at times, the author himself truly believe that a universal basic income needs to be implemented.
A new mindset for the future
In an interview with philosopher Nick Bostrom, there was a discussion about the importance and self-worth that so many people receive from their employment. This he believes is a new phenomenon and one of the major problems we'll have to face socially.
Bostrom mentions that at one point, the aristocratic classes of old were able to live worthy lives by engaging in pleasurable and fulfilling experiences. It's inferred from his conversation that something like this will need to take place in the mindset of a larger sect of the population. With the prospect of an entire futuristic world not needed for work, we seriously need to reconsider the human enterprise and the notions of self-worth tied to employment.
All futurist utopian ideals aside, the nature of schooling, vocational work and employment seem to be following an age-old trend – omnipotent progress always rears its head and usurps the status quo. Work will change with the times in absurdly unique ways in which even this book and any one else alive today will not be able to predict.
Oppenheimer mentions how jobs like iPhone developer, Cloud data analyst and so on emerged from our most recent inventions and innovations. Less than two decades ago these words would have been gibberish to anyone hearing them. The same will hold true for the jobs in the next few decades.
There are a number of things that no foreseeable robotic intelligence will ever be able to compete with. Forget fantasy notions of singularities and eschatological coming of days through superintelligence – these things are a different thing to worry about entirely. The reality of the situation is that new jobs are coming and a whole lot of jobs we've had for years are never going to return.
Dealing with the inability to reskill a large amount of the populace will be a major problem in the coming years.
The author sees himself as both techno optimist in the long-run, but a techno-pessimist in the short term.
If there's one final takeaway from this book it's that the threat or rather promise of automation is real and an inevitability. There's no use fighting against it. The only thing we can do is evolve alongside it.
A guaranteed basic income is an old solution to a new problem of labor automation.
Image: Big Think
Economist Robert Theobald coined the team 'basic living guarantee' in the 1960s.
He believed that we were going to suffer problems because of an overabundance of resources.
Philosopher Alan Watts spoke about the possibility of an economic utopia through a universal basic income.
The perceived threat of labor-ending automation, a stratified elite class, and increasingly complex occupations have left some worried about the fate of their livelihoods and jobs. It's feared that a seemingly useless class may be the end sum of this unfettered march of technological and economic progress.
The answer to this problem, from some corners of academia and governments, has been an enthusiastic call for a basic income – also referred to as Universal Basic Income (UBI) or Guaranteed Basic Income (GBI). This solution to a potential economic catastrophe has actually been floating around for quite some time. In the 1960s, a few philosophers and economists foresaw in the tea leaves this far-off solution for a still growing problem.
Early proponents of a guaranteed income
Economist and futurist Robert Theobald first rang the alarm bells on this economic threat, which at the time didn't have a name to it. Theobald believed that the threat to the American and subsequently world economy wasn't one of scarcity but abundance. His views were in direct contrast to the traditional strain of economics worrying more about scarcity. Theobald looked at the technology of the time and realized that the promise of future development would lead to even greater automated abundance in the future.
In his essay, Free Men and Free Markets, Theobald argued that technological progress would free surplus labor and capital in such a way that it would eventually prove detrimental to the society if this excess human capital wasn't fully utilized. He predicted that the mass of wealth would be transferred largely to the rich, which would fuel dissent and resentment among the lower classes. To avoid the looming disaster, he called for a "basic living guarantee". Theobald states:
"Unemployment rates must…be expected to rise. This unemployment will be concentrated among the unskilled, the older worker and the youngster entering the labor force. Minority groups will also be hard hit. No conceivable rate of economic growth will avoid this result."
Philosopher Alan Watts, who at the time called Theobald "an avant-garde economist," took the idea one step further and tried to imagine what sort of psychological and sociological issues a basic income would rile up. Not only did he imagine what the after effects of this radical change would bring, but what kind of psychic change would be needed to also bring about a new way we think about money.
Automation and basic income
Alan Watts believed that we still place an unjustified fixation on the notion of a job or employment, which he said predates back to our pre-technological days.
"Isn't it obvious that the whole purpose of machines is to get rid of work? When you get rid of the work required for producing basic necessities, you have leisure – time for fun or new and creative explorations and adventures."
The problem is we don't see that as the case. If you follow the outcome of automation to its logical end, you'll realize that the whole purpose is to eventually eliminate any human interference in rote menial tasks. But if the casualties of this instead creates a new invalid serfdom class, our entire capitalistic structure will become severely strained.
"... we increasingly abolish human slavery; but in penalizing the displaced slaves, in depriving them of purchasing power, the manufacturers in turn deprive themselves of outlets and markets for their products," writes Watts in Does It Matter?: Essays on Man's Relation to Materiality.
Those that lose their jobs will live in a more diminished and impoverished state. All the while, there is a surplus of cheap consumer goods being created by the automated factories. On the subject of who should pay for the basic income, Watts said that the machine should – something echoed by Bill Gates in recent years, who suggested a robot tax.
Theoretical outcomes for a universal basic income
Watts was a bit premature on his basic income prediction, but the picture he paints is still one that proponents of UBI look to as the future. Watts said:
"I predict by AD 2000, or sooner, no one will pay taxes, no one will carry cash, utilities will be free, and everyone will carry a general credit card."
"This card will be valid up to each individual's share in a guaranteed basic income or national dividend, issued free, beyond which he may still earn anything more that he desires by an art or craft, profession or trade that has not been displaced by automation."
Inflation arguments abound when talking about basic income. Watts understood at the time that the way people thought about money would prove most of these arguments true.
"The difficulty is that, with our present superstitions about money, the issue of a guaranteed basic income of, say $10,000 per annum per person would result in wild inflation. Prices would go sky-high to "catch" the vast amounts of new money in circulation…"
Watts found inflation arguments to be null if people would simply realize the symbolic nature of currency instead of confusing it with true wealth.
"The hapless dollar-hypnotized sellers do not realize that whenever they raise prices, the money so gained has less and less purchasing power, which is the reason that as material wealth grows and grows, the value of the monetary unit goes down and down."
While this idea has gained both supporters and detractors in the years since, the main point still stands: Automated abundance is at risk of disrupting the status quo of the past few hundred years.
Later on in his life, Theobald looked back on the foresight he had and its unnerving validity.
"What's startling to me is that when I started talking about ideas like these 30 years ago, they were so new and strange that people looked at me as if I had two heads. In retrospect, I think I was looked on as something of a cultural clown – a "crazy" who was fun to listen to. The reaction I get now worries me a lot more, because what most people say is, "Bob, today you're right, but we're not going to do anything about it."'
Facebook's co-founder wants middle-class workers to get a $6,000 raise
The Job Guarantee is a policy proposal that would have the state function as an employer of last resort.
George Grantham Bain Collection (Library of Congress)
What is it?
The Job Guarantee is a policy proposal that would have the state function as an employer of last resort; always having public works projects in action to assure that any person looking for work is going to be able to find a job. That job might not be glamorous or conveniently located, but it will exist.
Such a plan would not end unemployment outright, but would rather assure that the rate is always near a low target. While most proposals set the target unemployment rate near three percent, that rate has been as high as six percent in others. It is based not only on economic questions, but also on the pragmatic question of how many people would take the work offered.
Is this a new idea?

No, the idea was formalized by Bill Mitchel and Joan Muysken decades ago. However, the principle goes back to the New Deal in the United States when agencies like the Civilian Conservation Corps and WPA offered work to the unemployed when the market failed to provide it. In the United Kingdom it goes back to the work of William Beveridge, notably the book Total Employment in a Free Society, which reached the conclusion that the state could assure total employment by a variety of means consistent with a liberal, capitalist, society.
Has it been tried?
In the United States, the bill known as Full Employment and Balanced Growth Act states the Federal Government can institute this policy- but no action has ever been taken along these lines despite unemployment often being above the bill's suggested level of three percent.
Currently, India has the National Rural Employment Guarantee Act, which aims to provide work in impoverished areas. While criticism the projects has been made, independent studies show it does have a positive effect on the people and areas it serves. It is, however, less comprehensive than many theorists would have liked. Though it does employ many people and provide needed infrastructure work in isolated areas.
What are the upsides?
The benefits of attempts at job guarantees have included reduced poverty and the ills associated with unemployment, including issues with health, family problems, drug use, and high crime rates. Supporters also argue that it can lead to stability of both prices and economic growth by assuring the unemployment rate never spikes.
Well, this sounds pretty good, what are the downsides?
There are a few, one objection of course is that such a policy calls for major government intervention in the economy; an idea opposed by many people for various reasons. The project could also cause inflation if not managed properly. The risk of politicians using assured employment to create a pool of loyal voters has also been a hurdle to the creation of new projects.
There is also a practical problem to consider. While it may be possible to assure that there are more open job positions than unemployed workers at any time, it may prove impossible for that work to be useful, attractive, and accessible. While there will be a demand for people to pave roads in Northern Alaska at some point, it will prove difficult to get people to move there to do it at a low cost. At the same time, you could employ everyone digging and filling in holes, but would have a hard time selling it to voters as being useful.
And more recently, the question of how automation would influence attempts to have productive work for everyone is also currently unsolved.
How we are going to organize the economy is always a pressing question. With the pressures of automation and globalization becoming stronger all the time, the question takes on new dimensions. Will the right to have a job be the next freedom enjoyed by people all over the world? Or will the idea end up as a trivial notion in a history of economics class?
It really depends on who you ask, as one European poll found out.
Data visual by Dalia Research
We've mentioned the idea of Universal Basic Income, or universal income guarantee, here before at Big Think. You might say that we enjoy mentioning it a lot. The idea goes back to the 1400s and has been taken up by many big thinkers throughout history, from Martin Luther and Martin Luther King to Thomas Moore and Milton Friedman.
But, what do the polls say? Do people actually want this, no matter what the experts argue?

Support for the idea in the US was high enough in the early 1970s to prompt George McGovern to include it on his presidential platform, and for President Nixon to support a similar measure that failed to pass in Congress. Tests of the effects of the program were made in rural Iowa and North Carolina at that time.
More recently, a poll showed 68% of Europeans support the idea of a basic income, and 31% of them want it as soon as possible. However, 48% of those who support the idea want to see a successful trial run first. Although, despite these numbers, a referendum to introduce the basic income to Switzerland was crushed in a 77-23 percent landslide.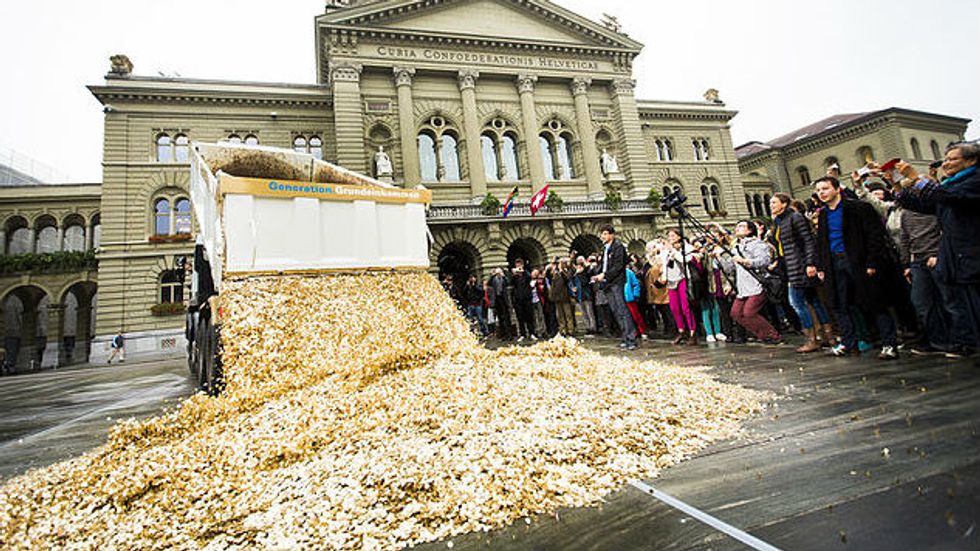 A rally in favor of the defeated Swiss referendum; there are eight million coins here, one for each Swiss citizen. 
Well, that seems a little odd, given all the good you often hear about it. Why might people support, or not support the idea?
The simplest reason for the supporting the idea, and the one that 52% of interviewed people cite, is increased financial security. The freedom from having to work to merely survive is a powerful idea. When Canada tested basic income in the 1970s, this effect was seen quite clearly. The number of hours worked by the population was reduced, but it was shown that this time was often devoted to child care and increased educational opportunities.
On the political right, basic income is supported as the element which makes hypothetical models of ideal markets practical. Milton Friedman argued that the labor market is rendered inefficient by our need to work to survive, and that a variant of basic income would allow the job market to function more effectively. Many conservative supporters of basic income support the idea of the drastic reduction the bureaucracy that a single, all inclusive, welfare check would entail.
On the left, the support is behind the promise of the end of poverty, caused by bad luck, discrimination, economic cycle, or automation alike. This rationale was endorsed by Martin Luther King Jr, a supporter of the basic income, who stated that: "I am now convinced that the simplest approach will prove to be the most effective – the solution to poverty is to abolish it directly by a now widely discussed measure: the guaranteed income."
A final area of support is found in the futurist community. Those who suppose that the development of technology can and will render most of the current economy obsolete. They support the notion of a basic income as the freedom to invest time in culture, science, and the like in an age when work is increasingly automated. This would then lead to the flourishing of the individual, now free to learn, grow, and self-improve.
But there are objections to handing out large sums of cash to everybody. No less a man than FDR was opposed to the idea of a dole over guaranteed employment as a means to fight poverty. Saying, "The lessons of history, confirmed by the evidence immediately before me, show conclusively that continued dependence upon relief induces a spiritual and moral disintegration fundamentally destructive to the national fibre. To dole out relief in this way is to administer a narcotic, a subtle destroyer of the human spirit. It is inimical to the dictates of sound policy. It is in violation of the traditions of America. Work must be found for able-bodied but destitute workers."
We also face the practical issue of implementation. While the benefits of removing nearly all of a national welfare system and replacing it by a single, simple, payout would be massive, estimates for the taxes required to pay for basic income show moderate required increases. They are in the 45 percent range in Ireland and the 40 percent range in the United States, if done as a flat tax. As people tend to not like higher taxes, this does present a practical problem for the implementation. The difficulty of removing an established bureaucracy must also be considered.
Lastly, there is the ironic fear that the basic income wouldn't go far enough. While current models of welfare are structured on need, (old-age pensions, medical care coverage, aid for buying food, etc.) basic income would have no such considerations. The German government considered this a reason to think that basic income would be less effective for the poorest members of society than the current model.

Attempts at implementation continue, with California planning to create a more limited program financed by taxes on carbon emissions. This program would be only a partial income guarantee, similar to the Alaska Permanent Fund. Finland's massive pilot program carries on as well.

Universal basic income is an issue that will define our time. Will we be the ones to abolish poverty directly and forever? Or will we be remembered as the cause of a great moral decay? Will we even enact the programs? All questions which must be answered in good time. Basic income stands as an intriguing idea of what we can do as a society, if the political will exists.