Archaeologists discover a cave painting of a wild pig that is now the world's oldest dated work of representational art.
Credit: Maxime Aubert
Archaeologists find a cave painting of a wild pig that is at least 45,500 years old.
The painting is the earliest known work of representational art.
The discovery was made in a remote valley on the Indonesian island of Sulawesi.
A recently-found picture of a wild pig that was made over 45,500 years ago is the world's oldest known cave painting, according to archaeologists. The painting, which may also be the world's oldest representational or figurative artwork, was discovered on the island of Sulawesi in Indonesia, hidden away in a remote Leang Tedongnge cave.
If you're wondering, the now-second world's oldest dated painting of 43,900 years of age was previously found in the same Sulawesi area by the same team. That one pictured a group of part-human, part-animal hybrid figures on the hunt. The scientists also point out that these dates are minimum ages, determined from analyzing buildups of mineral deposits on the cave art. The paintings could be as old as 60,000 to 65,000 years. By comparison, the cave paintings in the Lascaux cave complex in France are "just" 17,000 years old.
The discovery was made inside the Leang Tedongnge cave by the archaeologist Basran Burhan, a doctoral student and co-author of the study. He's part of a team which involves researchers from Griffith University in Australia and Indonesia's leading archaeological research centre, Pusat Penelitian Arkeologi Nasional (ARKENAS).
"Humans have hunted Sulawesi warty pigs for tens of thousands of years," said Burhan, adding "These pigs were the most commonly portrayed animal in the ice age rock art of the island, suggesting they have long been valued both as food and a focus of creative thinking and artistic expression".
The Sulawesi warty pig was painted using dark red ochre pigment and is about 53 by 21 inches in size. It features some upright hair and horn-like warts on the face that the adults of this species are known for. Another two partially-preserved pigs face the main animal.
Oldest Cave Art Found in Sulawesi
Two hand prints, most probably left by Homo sapiens rather than other human ancestors like the Denisovans, can be seen by the pig's hindquarters. The scientists are looking to extract DNA samples from the prints.
The cave with the painting is in a valley of limestone cliffs, an hour's walk away from any road. You can only access it during dry season because of flooding during the rainy season. Previously it was only known to members of the isolated Bugis community.
The site has the oldest evidence of human presence on the islands of Indonesia, known as "Wallacea," and is likely linked to the group of people who were migrating to Australia.
Read the new study in Science Advances.
Victorians want to rectify 19th-century surveying error – and become South Australians.
Image: Google Earth & Ruland Kolen
A 19th-century surveying error created a complicated tripoint on the Murray River in eastern Australia.
Officially, the dispute about the zigzag border between South Australia and Victoria was settled in 1914.
COVID-19 is making life so difficult for the locals that now they want to switch sides again.
Researchers find that an ancient chunk of North America is now a part of Australia, shedding light on Earth's first supercontinent Nuna.
Georgetown terrane, in green, joining Australia around 1.6 billion years ago during the formation of the supercontinent Nuna. Credit: Geology
Geologists from Australia's Curtin University made the surprising discovery that a part of Australia was once attached to North America. 
By comparing sandstone sedimentary rocks from the Georgetown region of Northern Queensland in Australia to rocks in present-day Canada, researchers concluded that they were very similar and that the Georgetown area broke off from North America about 1.7 billion years ago. And a 100 million years after that, this landmass crashed into what is now the Mount Isa region of northern Australia. 
Doctoral student Adam Nordsvan from Curtin University, who led the study, explained that at that point in time a "global continental reorganization" took place and all of Earth's continents assembled into a supercontinent called Nuna. 
"The team was able to determine this by using both new sedimentological field data and new and existing geochronological data from both Georgetown and Mount Isa to reveal this unexpected information on the Australia continent," elaborated Nordsvan.
When the supercontinent Nuna broke apart 300 million years later, the Georgetown area remained stuck to Australia while North America drifted away. 
If you're keeping score with Earth's supercontinents, you might have heard about Pangaea. That came later, after Nuna, and "only" 300 million years ago.
Along with identifying the origin of the Georgetown area, the scientists also found that the collision of landmasses produced a mountain range in the area, as pointed out the study's co-author Professor Zheng-Xiang Li.
"Ongoing research by our team shows that this mountain belt, in contrast to the Himalayas, would not have been very high, suggesting the final continental assembling process that led to the formation of the supercontinent Nuna was not a hard collision like India's recent collision with Asia," said Professor Li.
He added that their finding is instrumental in figuring out how Earth's first supercontinent Nuna likely formed. 
You can read the new study here, in Geology.
The case of a 7-year-old Australian boy who was supposed to lose sight at two weeks old but can still see has stunned scientists.
Credit: Inaki-Carril Mundinano, Juan Chen, Mitchell de Souza, Marc G. Sarossy, Marc F. Joanisse, Melvyn A. Goodale, James A. Bourne.
Researchers in Australia recently presented a study of a 7-year-old boy who is missing most of his visual cortex but surprisingly can still see. It is the first known case of this kind.
When he was only two weeks old, the boy suffered serious damage to his visual cortex, the part of the brain that manages sensory nerve impulses from our eyes, as a result of a rare metabolic disorder called medium-chain acyl-Co-A dehydrogenase deficiency. This condition prevents tissues from converting some types of fats into energy.
The boy, referred to only as "B.I." by the researchers from the Australian Regenerative Medicine Institute at Monash University, ended up without of his visual cortex. This is usually a situation that would result in cortical blindness, an illness where the brain can still get visual input but cannot process what it is seeing, making the person feel like they have sight but not actually allowing them to see. The boy, however, can see almost anything on par with other kids his age, able to play soccer or video games and read emotions on people's faces. 
The scientists studied the unusual case, hoping to understand what makes B.I.'s condition so unique. Through MRI-scanning they found a remarkable instance of the brain's neuroplasticity, with the boy's visual pathway of neural fibers in the back of the brain enlarged. This adaptation means that the pathway allows the boy to see by doing the work of the visual cortex.
"Despite the extensive bilateral occipital cortical damage, B.I. has extensive conscious visual abilities, is not blind, and can use vision to navigate his environment," write the researchers in the study.
You can read their study here.
There's a special reason these generally solo cephalopods have decided to cohabitate.
If you've ever dreamed of visiting an octopus's garden like the Beatles song portrays, you might get your chance—if you visit Australia. Common Sydney Octopuses, also known as gloomy octopuses (Octopus tetricus​) were recently found cohabiting in Eastern Australia's Jervis Bay, at a depth of 10-15m (30-45 ft.).
This particular species can be found roaming the subtropical waters between New Zealand and Australia. It was first thought that they were solitary creatures who only met once a year to mate. Instead, over the course of eight days, researchers found 10-15 of them inhabiting the same space.
The "city" was comprised of a series of dens made out of shells leftover from mealtimes, along with beer bottles and fishing lures. This shell city was founded upon some type of metal slab. It's too old and encrusted for researchers to tell what it is.
Within and around it, the octopuses interacted, signaling to one another, protecting mates, making art out of leftover shells, starting fights, tossing out roommates, and ignoring undesirable cohorts until they went away. Sounds more like a college dorm than a city. At any rate, the results of this fascinating find were published in the journal, Marine and Freshwater Behaviour and Physiology. American and Australian researchers conducted it. Much like the cantankerous New Yorker, the gloomy octopus might be irritable due to the cramped conditions found in its murky metropolis.
These creatures are known to be temperamental already, and they're thought to crave solitude. Mother octopuses after mating and tending to her eggs, will take off once they've hatched, leaving the hatchlings to fend for themselves, which is why the discovery of Octlantis is so surprising. Although, it's in fact the second "octopus city" to be discovered. The first was Octopolis in 2009, which is in close proximity to this one. That one's 17m (approx. 55.8 ft.) deep.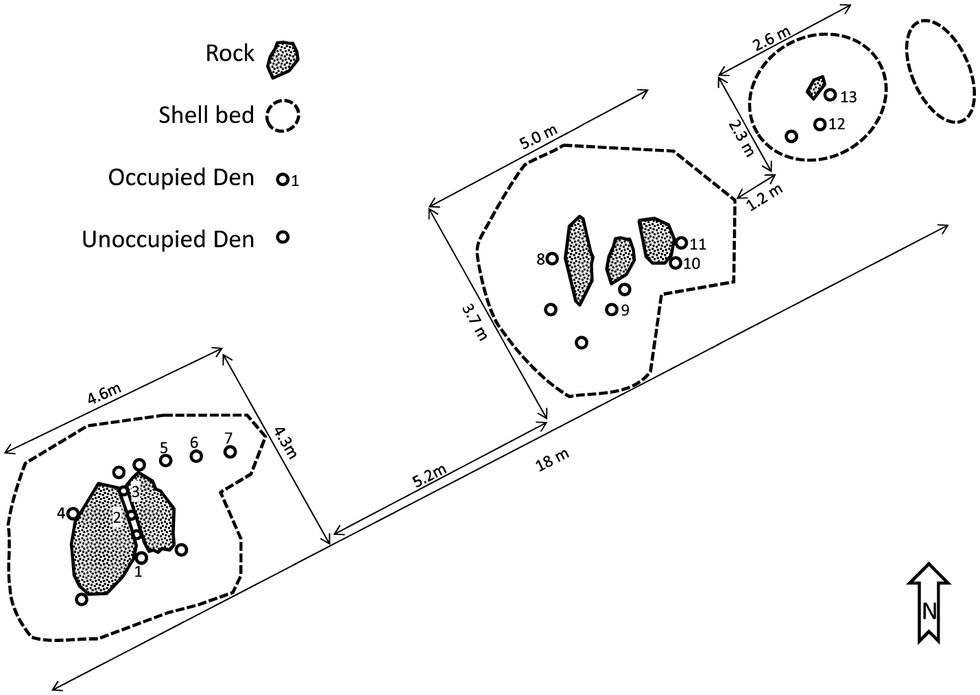 A sketch of Octatlantis. Marine and Freshwater Behaviour and Physiology.
"These observations demonstrate that high-density occupation and complex social behaviors are not unique to the earlier described site," researchers wrote. Discovering this second location has made them rethink their stance on octopus social behavior, particularly since generations of octopuses have been found at each site.
According to the report, finding two sites "suggest that social interactions are more wide spread among octopuses than previously recognized." Studying these creatures isn't easy. They're very smart and elusive. They can blend in very well with their environment and fit themselves in the snuggest of spaces. You need to have a lot of experience in order to hunt them.
What sticks out is, octopuses make piles of discarded shells—called midden piles. These can help you spot their lair. Otherwise, you could luck out and see one swimming, but it's rare. They're vulnerable to predators in open water. Another stumbling block on the human side of things: the equipment needed to study them is expensive.
They're hard to keep in captivity as well. Not only do they have specific environmental requirements, octopuses love to escape and they're good at it. Put more than one in a tank together and they'll fight and bicker constantly. The larger one usually wins. Even in these cities, they're very aggressive with one another and evictions are commonplace. It's like an extended, dysfunctional family where everyone has eight arms.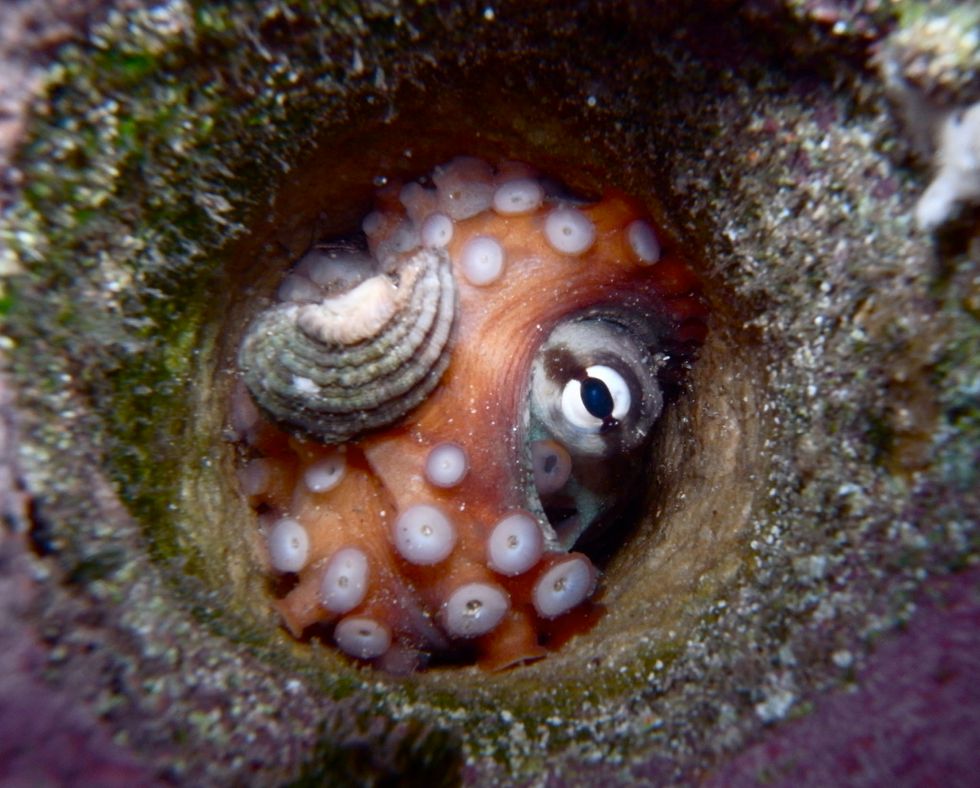 Octopuses are elusive and can squeeze themselves into small spaces. Flickr.
Studying such behavior can help us to better understand the octopus. Why is it that they've decided to live collectively? Some animals such as fish live together and travel in packs for protection from predators and to further commonly shared aims, like swimming faster while using less energy. Others do so to hunt more effectively. Or perhaps there's a dearth of food in other places, forcing the octopuses to cohabitate.
Professor David Scheel of Alaska Pacific University led the study. He told Quartz, "These behaviors are the product of natural selection, and may be remarkably similar to vertebrate complex social behavior. This suggests that when the right conditions occur, evolution may produce very similar outcomes in diverse groups of organisms."
Little actual data has surfaced thus far. Researchers found the city in the first few days of the study, dropped cameras down and started taking footage. Now, there's a ton of it to go through. Most of what's written in their report are impressions from among the daily recreational dives they took to the site, over the course of eight days.
Study co-author Peter Godfrey-Smith has put out an interesting book called, Other Minds: The Octopus, the Sea, and the Deep Origins of Consciousness. He said that dens give an octopus good protection against predators. In the case of Octlantis, the area northwest of the site has an exceptionally large scallop bed, a favorite food among these cunning cephalopods.
Besides doughboy scallops, there are plenty of razor clams and Tasmanian scallops to be had in the area as well. This rich bounty allows for the octopuses to tolerate one another, in order to enrich themselves. As the creatures devour mollusks, their midden piles build, which makes room for future occupants, who themselves consume shellfish, leading to an even further pile-up. Godfrey-Smith calls this process ecosystem engineering.
To see another wonder of our great oceans, click here: