From Abraham Lincoln's founding of the National Academy of Sciences in 1863, to the US currently leading the world in the Nobel Prize count (a third of which we owe to immigrants), America was built on science. What happens when we doubt and defund it?
In 2017, science is a political tennis ball being served hard and fast. It's a buffet from which people on the left and right cherry pick their information. It's something to be believed in or doubted. Is Neil deGrasse Tyson worried? "Everyone should be concerned by this, not just a scientist," he says. The reality is, even if science research organizations have their budgets cut, and even if science loses its credibility, scientists will continue to do exactly what they're doing—it just won't be in the US. From jobs and innovation, to immigrants and global clout, Tyson expresses how an America without science will fade away. Science is not a partisan issue; it informs politics, not the other way around. So how can the US hold onto its long tradition as a scientific and economic leader? Tyson's solution is better education, and he pitches one class all schools should teach, but don't yet have. Tyson's new book is Astrophysics for People in a Hurry.
Whether it's palm reading, climate denial, or straight-up illuminati finger pointing, people all around us – and including us – have world views that are inconsistent with evidence.
Denial comes in all flavors. Some think the moon landing was staged, some think Tupac is alive, and others reject vaccines. If the United States learnt anything in the 2016 election, it's that social bubbles need to be broken down — so how do you reason with someone who ignores evidence or bends it to fit their worldview? This has been on Bill Nye's mind more and more since climate change denial has become a political issue rather than a scientific one. People can't change their minds instantly when their beliefs are ingrained, so it's not a matter of convincing them on the spot. Nye suggests working together towards scientific understanding by tactfully pointing out that perhaps this person is rejecting evidence because the alternative makes them uncomfortable. Understanding is a process, not a flip switch. Bill Nye's most recent book is Unstoppable: Harnessing Science to Change the World.
Since the March for Science was planned, it's been mired in controversy from both supporters and those who think it's politicized.
Protestors gather near the National Monument [Photo: Zach Gibson]
On Earth Day, April 22, millions of people plan to hit the streets of Washington, D.C. and cities worldwide to March for Science.

The organizers of the march frame it as a reproach against "an alarming trend toward discrediting scientific consensus and restricting scientific discovery." Lead organizer Jonathan Berman, a postdoctoral fellow at the University of Texas Health Science Center at San Antonio, described it like this to the New York Times:
"Yes, this is a protest, but it's not a political protest... The people making decisions are in Washington, and they are the people we are trying to reach with the message: You should listen to evidence."
Speaking to Buzzfeed News, Bill Nye, one of several public leaders for the march, said:
"People are denying the facts of science in the world's most influential economy. We're marching to remind everybody of how much science serves you, a person, as a citizen in our society."
But despite the good intentions of organizers, some scientists are questioning whether the march will do more harm than good.
A lack of consensus 
The March for Science got off to a rocky start, and almost all the bad noise came from within the scientific community itself. Soon after the march was announced in January, an organizer sent out a tweet that some scientists considered overtly political. 


Harvard psychologist Steven Pinker responded with a tweet that said the march "compromises its goals with anti-science PC/identity politics/hard-left rhetoric." Organizers soon deleted the tweet, issued an apology, and revised their mission statement, though they never mentioned Pinker.
Pinker wasn't alone in thinking the organizers were using highly politicized language.
"I was pretty appalled," said evolutionary biologist Jerry Coyne to the New Republic. "Their mission statement was like, all the buzzwords of the regressive left. It wasn't a march about science, it was a march about identity politics. And at that point, I couldn't support it."
Meanwhile, other scientists criticized the march for failing to be inclusive. After it was announced that Bill Nye would be the march's first honorary co-chair, complaints arose about how organizers weren't committed to diversity. 
"I love Bill Nye," said Stephani Page, a biophysicist at University of North Carolina who was invited to join the march's board in February after she criticized its approach to diversity, to BuzzFeed News. "But I do feel comfortable saying to you what I said to the steering committee: He is a white male, and in that way he does represent the status quo of science, of what it is to be a scientist."
Regardless of questions of inclusivity, some scientists think the march is a bad idea simply because it will be perceived as a noisy political protest by the same people it seeks to reach — especially in the wake of the women's march.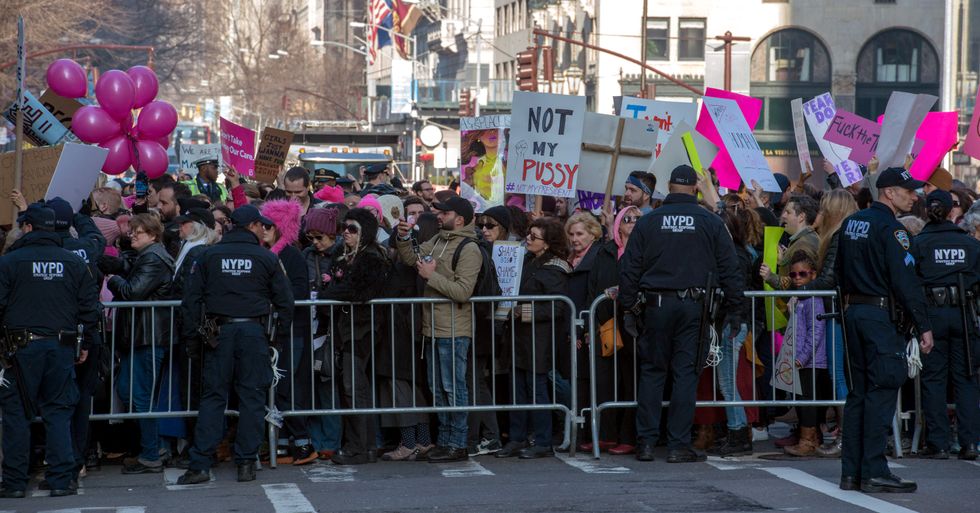 (Photo: Bryan R. Smith)

Robert S. Young, a coastal geologist, wrote an op-ed for the New York Times explaining why he thinks the march is a bad idea:
"A march by scientists, while well intentioned, will serve only to trivialize and politicize the science we care so much about, turn scientists into another group caught up in the culture wars and further drive the wedge between scientists and a certain segment of the American electorate."
James Gates, a physicist at the University of Maryland who served on Obama's Presidential Council of Science Advisors, told PBS that the march will likely be a futile display of outrage.
"No one has enunciated to me what the theory of action is behind the March for Science. It's obviously a way for people to express their frustration, but I would posit that an emotional reaction is perhaps not the best way to proceed.

One of the best things my life in science has taught me is that you deliberate and think about the consequences of actions. I know that a lot of people are fervent in their desire to express their outrage, but an expression of outrage is not a plan."
Instead of marching on Washington, Young suggests scientists start dialogues in their communities.

"Make contact with that part of America that doesn't know any scientists. Put a face on the debate. Help them understand what we do, and how we do it. Give them your email, or better yet, your phone number... 
The solution here is not mass spectacle, but an increased effort to communicate directly with those who do not understand the degree to which the changing climate is already affecting their lives. We need storytellers, not marchers."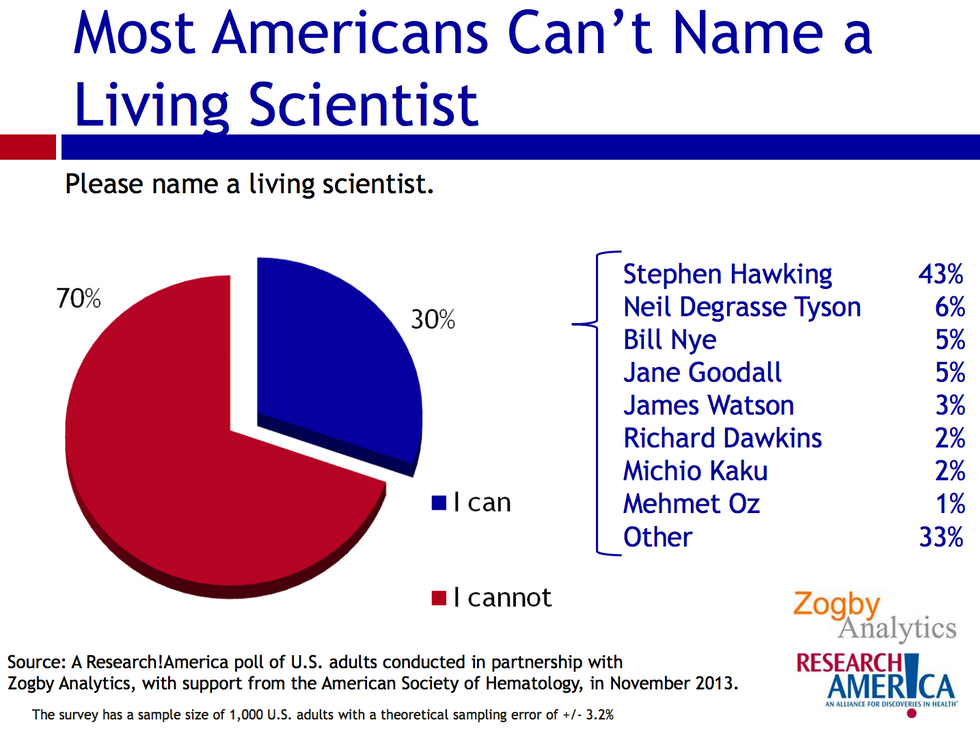 Support from the scientific community 
Despite the criticisms, the march has the support of many of the nation's top science organizations, like the New York Academy of Sciences, the American Anthropological Association, and the American Association for the Advancement of Science (AAAS). Rush Holt, CEO of AAAS, said it's collaborating with other groups in the community to make the march a success. 
"We see the activities collectively known as the march as a unique opportunity to communicate the importance, value, and beauty of science."
Other supporters hope the March for Science will shed some light on the important research and scientists that often go unrecognized. If nothing else, the march has reinvigorated a broader conversation about what role scientists should play in politics. 

Some think scientists should steer clear of politics, or that science can't answer moral questions. Philosopher David Hume famously said that an "ought" can't be derived from an "is", meaning it's not immediately clear how we can use facts about the world to make moral judgments. 

Still, those organizing the march think it's time for action.
"We face a possible future where people not only ignore scientific evidence, but seek to eliminate it entirely. Staying silent is a luxury that we can no longer afford. We must stand together and support science."
Is it good science in practice or just a smokescreen?
Al Gore in An Inconvenient Truth. Getty Images.
97% of climate scientists agree that the radical changes in the Earth's climate, over the past century, are caused by human industry. So what about the remaining three percent? One of them recently approached a Congressional committee with a proposal. He wants to create "red teams," which Congress would fund, to investigate what natural phenomenon could be warming the planet, rivaling the claim that human activity is the main driver. The goal would be to produce evidence to counter the Intergovernmental Panel on Climate Change (IPCC), among other prominent institutions. The IPCC is considered one of the world's most respected authorities on global warming.
The idea was proposed at a hearing of the House Committee on Science, Space, and Technology. It's currently majority Republican. The hearing was entitled, "Climate Science: Assumptions, Policy Implications, and the Scientific Method." Several such hearings have taken place recently in House science-related committees, questioning whether climate change exists and if so, how impactful it actually is. This particular hearing focused on the scientific method and how it's applied to climate change.
During the opening statement, Committee Chairman Rep. Lamar Smith (R-Texas), said that more needed to be known about the methodology employed by climate scientists. He said he believed the climate was warming and that human activity plays a role. But how large a role seemed to be in question, according to Smith. He went on to say that some climate science has been proposed by researchers who "operate outside of the principles of the scientific method." As a consequence, their "alarmist findings are therefore reported as facts."
He also claimed that many climate experiments lack reproducibility. In addition, he alleges that scientists at the National Oceanic and Atmospheric Administration (NOAA), and at East Anglia University, had, in instances past, altered facts to fit the commonly accepted narrative. Rep. Smith claimed that NOAA scientists omitted information that weakened the case for catastrophic climate change, and that the researchers at East Anglia, who had their emails hacked back in 2009, had done the same.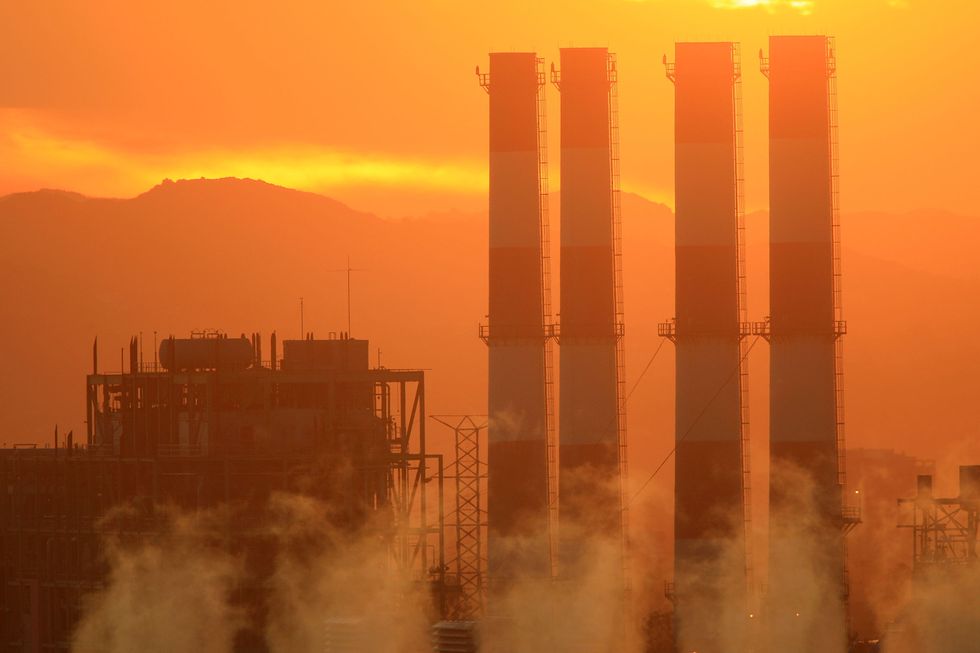 Most Republican lawmakers now say human activity is contributing to climate change. How much remains in debate. Getty Images.
Some witnesses called before the committee questioned the findings of the IPCC. They called the panel's view "biased," and not representative to the wider scientific community. John Christy is an atmospheric scientist at the University of Alabama, Huntsville. During his witness testimony, he said the IPCC starts with a political assumption, then selects those scientists who agree with them. The "red team" idea was his. Christy told the Washington Post that he had proposed it before, at other committee meetings.
Christy's proposal is timely, as President Trump has vowed to pull the US out of the Paris climate accords, and appointed Scott Pruitt as his EPA chief, who has sued the agency on multiple occasions in the past. Climate change activists argue that Pruitt's mission is to dismantle the agency, though he has made statements vowing to protect the climate in a common sense way, while also allowing for job creation and economic growth.
The Trump administration has also expressed interest in slashing funding for climate research. This seems at odds with lots of other branches of government, including the Pentagon, which has called global warming a significant and growing threat, and is making preparations against its effects.  
Christy proposed the creation of "credible red teams" that could "look at issues such as natural variability, the failure of climate models and the huge benefits to society from affordable energy, carbon-based and otherwise." He also said, "I would expect such a team would offer to Congress some very different conclusions regarding the human impacts on climate."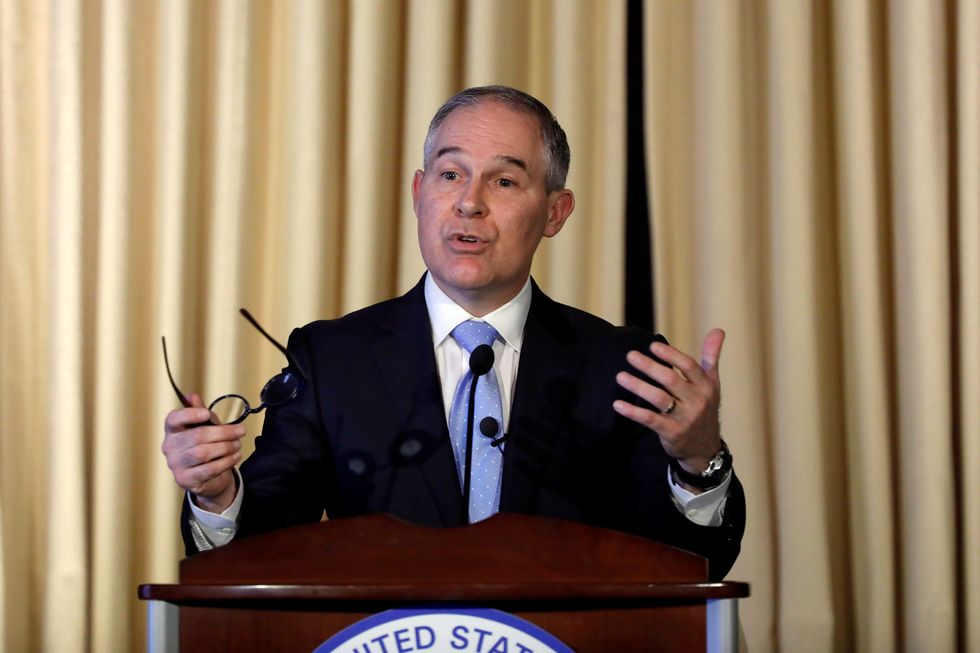 Scott Pruitt. New head of the EPA. Getty Images.
At least one scientist hailed the move, Dr. Judith Curry, Professor Emeritus at the Georgia Institute of Technology. After all she said, part of science is to play "devil's advocate," and try to evaluate one's own biases, and how they might taint the work. What would it hurt to bring together a group of scientists with varying opinions? This approach could even help improve the climate science we have.
The use of red teams in simulations, to try to discover the weaknesses in one's defenses, is a method employed by the Department of Defense and the CIA, in both the virtual and real world. One example is employing hackers to test a new cybersecurity system.
Other scientists question whether the point of a "red team" in this arena is to merely obfuscate the issue. Peter Frumhoff, director of science and policy for the Union of Concerned Scientists, considers it a smoke screen. He called the move, "a completely ridiculous proposition." The National Academy of Sciences already offers Congress an unvarnished view on climate change, he said, and their findings have been unwavering.
Frumhoff told the Washington Post that climate science has been conducted using airtight methods. He said, "The notion that we would need to create an entirely different new approach, in particular for the specific question around global warming is unfounded and ridiculous and simply intended to promote the notion of a lack of consensus about the core findings, which in fact is a false notion."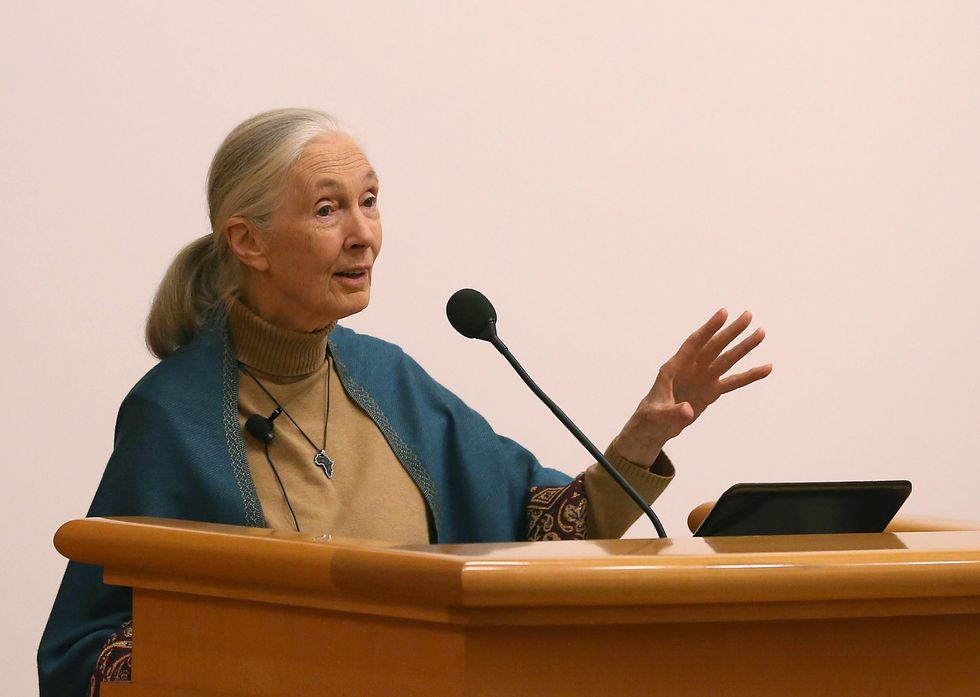 Dr. Jane Goodall recently spoke out against the Trump administration's stance on climate. Getty Images.
While the vast majority of climate scientists believe that fossil fuels are the main driver of global warming, Curry and Christy still question how much it actually contributes. Climate scientist Michael Mann of Pennsylvania State University, called the idea of IPCC bias, "hogwash." He said politicians were cherry-picking scientists already aligned with their views. Since scientific research in several branches is being slashed from proposed federal budgets, such "red teams," may never come into being.
Ask world renowned primatologist Dr. Jane Goodall whether such red teams would be a smokescreen or good scientific practice, and she would probably say the argument is moot. She talked to reporters the day before the hearing, after giving a speech at American University in Washington.
Dr. Goodall called the Trump administration's climate agenda "immensely depressing," but said that the public has "woken up," to the catastrophic damage being done to their environment. People are extremely motivated to save the planet, she said, not just for themselves, but for future generations.
To learn what Bill Nye might say on the subject, click here: 
A "forbidden research" conference at MIT tackles areas of science constrained by ethical, cultural and institutional restrictions.
The recent changes in Washington do not seem to bode well for fact-driven, scientific points of view on many issues. But there are already a number of sensitive areas of science where important research is stalling due to outside pressures or serious questions asked by the scientists themselves.
A yearly conference organized by the MIT Media Lab tackles "forbidden research", the science that is constrained by ethical, cultural and institutional restrictions. The purpose of the conference is to give scientists a forum to consider these ideas and questions and to discuss the viability and necessity of studying topics like the rights of AI and machines, genetic engineering, climate change and others.
Edward Snowden, who appeared remotely at the 2016 conference, summarized its "theme" as "law is no substitute for conscience." Pointing to his work against pervasive digital surveillance, he reiterated that "the legality of a thing is quite distinct from the morality of it."
The major "forbidden" topics discussed at the conference were, unsurprisingly, wrought with political implications - 
1. Messing with Nature
How much should we mess with nature? We now have an opportunity to potentially greatly advance our abilities and eradicate diseases with genetic engineering. But how much interference with the way nature designed us is ok? Who should decide how much is ok? 
It is possible to use "gene" drives" to gene-edit an entire species, like, for instance, to get rid of mosquitoes. Not many would miss the pesky insects, but spreading the modified genetic traits throughout their population could have unintended consequences, not to mention the effect on the food chain.
Still, these concerns do not necessarily outweigh the possibility that gene-editing them could be extremely beneficial to us. The questions of how gene-editing can be safely incorporated into our lives will continue to persist as technology keeps improving. 
 "Some things are forbidden and arguably shouldn't be, but other things perhaps we need some more barriers," says Kevin Esvelt, a synthetic biologist with the Media Lab.
2. Engineering the Climate
One way to help address climate change is via solar engineering. This involves releasing sulfur dioxide into the atmosphere to reflect some of the sunlight away from Earth. Doing this could tamp down rising temperatures, possibly bringing them back to pre-industrial levels. 
This approach is certainly open to significant challenges. Atmospheric testing is necessary to see whether doing this could damage the ozone layer while adding more pollutants to the atmosphere. Yet, it's something that to could work and address global warming. Without a serious discussion, which starts by agreeing that global warming is a real issue, we are just doing nothing while the problem potentially grows worse and worse.
"We have collectively decided we prefer ignorance. We need a serious, open, no-nonsense international research program, and we don't have one. That is political cowardice," said Harvard professor David Keith.
3. Robot Ethics
As robotic technology continues to advance by leaps and bounds, the questions of where the lines between the robots and humans will be drawn abound. For example, there is potential to protect children from sexual deviance by creating sex robots for pedophiles. This kind of research is nearly impossible, however, due to the ethical and legal restrictions in the field.
"I want to know [if] we can use robots therapeutically to help," said robot ethicist Kate Darling from MIT'a Media Lab. "We have no idea if we can, and we can't research it because of the huge social stigma."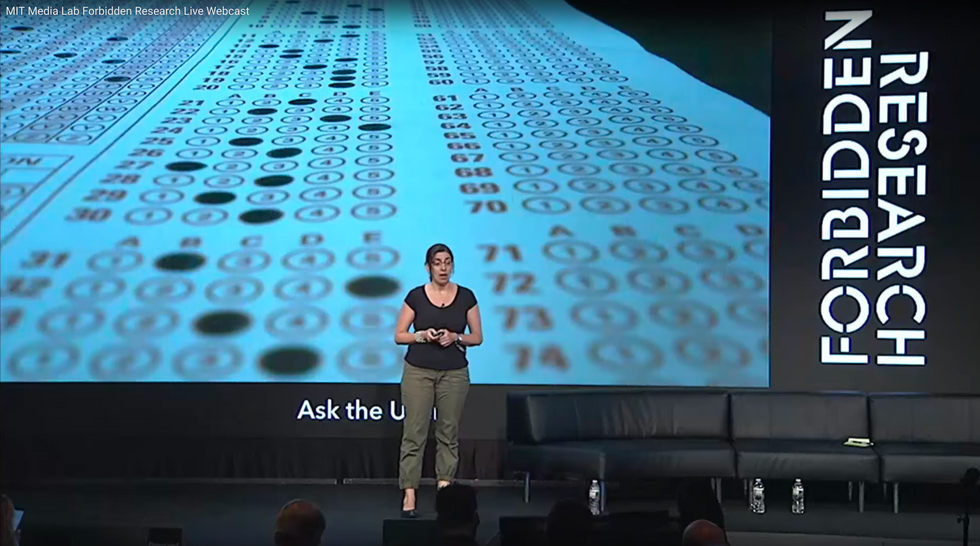 MIT Media Lab's "Forbidden Research" conference 2016. Credit: MIT Media Lab, Youtube.
4. Secure Communication Technology 
It's a real challenge to create communication tech that is not being spied on by somebody, from corporations to the government. This was stressed by Edward Snowden and hacker and engineer Andrew Huang, who appeared at the conference.
Snowden elaborated on the distinction between the moral and legal in these examples: 
"Our investigation regards countering what we're calling lawful abuses of digital surveillance. Lawful abuse, right, what is that, doesn't seem to make a lot of sense. Seems like it might be a contradiction in terms. (…) But if you think about it for just a moment it might seem to be a little bit more clear. After all, the legality of a thing is quite distinct from the morality of it. Segregation, slavery, genocides, these have all been perpetuated under frameworks that said they were lawful, as long as you abided by the regulations that were sort of managing those activities," said Snowden.
5. Universal Access to Science
Should all publicly-funded research be available to everyone on Earth? This was the inspiration for SciHub, a Russian science that featured 55 million scientific papers for free. Many of them were pirated and pulled from behind paywalls.
Kazakh student Alexandra Elbakyan, who created the site, said at the conference that she can't travel to the U.S. or Europe because she might be arrested. On the other hand, because the site has been resilient and not taken down, she thinks "the only thing now is to make it legal".
The nature of science is to discover secrets, not keep them—Alexandra Elbakyan, @ringo_ring #forbiddenML
— MIT Media Lab (@medialab) July 21, 2016