Like autism, ADHD lies on a spectrum, and some children should not be treated.
Photo: NDABCREATIVITY / Adobe Stock
ADHD is an extremely contentious disorder in terms of diagnosis and treatment.
A research team examined 334 studies on ADHD published between 1979 and 2020.
The team concluded that ADHD is being overdiagnosed and overtreated in children with milder symptoms.
Attention deficit hyperactivity disorder (ADHD) has long been a controversial topic. While the term "mental restlessness" dates back to 1798, English pediatrician George Still described the disorder in front of the Royal College of Physicians of London in 1902. The condition is attributed to both nature and nurture, with a recent study suggesting the disorder is 75 percent genetic.
According to DSM-IV criteria, ADHD affects five to seven percent of children; but according to ICD-10, only between one and two percent are afflicted. Global estimates state that nearly 85 million people suffer from ADHD, which, like autism, exists on a spectrum.
Treatment is perhaps the most contentious issue. While a holistic approach includes counseling, lifestyle changes, and medication, due to insurance requirements and other factors, many children only receive the latter. And now a new systematic scoping review published in the journal JAMA Network Open that investigated 334 studies conducted between 1979 and 2020 found that ADHD is being both overdiagnosed and overtreated in children and adolescents.
ADHD: An epidemic of overdiagnosis
Researchers from the University of Sydney and the Institute for Evidence-Based Healthcare in Australia initially retrieved 12,267 relevant studies before using a set of criteria that whittled the list down to 334. Only five studies critically investigated the costs and benefits of treating milder cases of ADHD, prompting the team to focus on knowledge gaps in side effects.
The team writes that public scrutiny has increased along with the increase in diagnoses. The numbers are startling: between 1997 and 2016, the number of children reported to be suffering from ADHD doubled. While the symptoms of ADHD include fidgeting, inattention, and impulsivity, Dr. Stephen Hinshaw compared this disorder to depression, as neither condition has "unequivocal biological markers." He continues, "It's probably not a true epidemic of ADHD. It might be an epidemic of diagnosing it."
The Australian researchers write that ambiguous or mild symptoms might contribute to diagnostic inflation and the subsequent rise in the prevalence of ADHD. They compare this to cancer, a field that has established protocols for overdiagnosis. ADHD is still understudied in this regard.
Photo: fizkes / Adobe Stock
Overdiagnosis is harmful

This has contributed to an increase in potential harm, not just to children's health (such as the long-term pharmacological impact on developing brains) but to parents' finances. As of 2018, ADHD is a $16.4 billion global industry, with continued revenue growth predicted — ensured by future ADHD diagnoses.
The costs and benefits of ADHD treatment are mixed. The authors write:
"We found evidence of benefits for academic outcomes, injuries, hospital admissions, criminal behavior, and quality of life. In addition, harmful outcomes were evident for heart rate and cardiovascular events, growth and weight, risk for psychosis and tics, and stimulant misuse or poisoning."
For most of these studies, the benefits outweighed the risks in children suffering from more severe ADHD. But this is not true for children with milder symptoms.
Across the studies, the team noticed that four themes emerged. The first two were positive, and the second two were negative:
For some people, an ADHD diagnosis was shown to create a sense of empowerment because a biological explanation provided a sense of legitimacy.
Feelings of empowerment enabled help-seeking behavior.
For others, a biomedical explanation led to disempowerment because it served as an excuse and provided a way to shirk responsibility.
An ADHD diagnosis was linked to stigmatization and social isolation.
The unfortunate reality is that ADHD is a real condition that should be treated in some children. But for many, the harm of treatment outweighs the benefits.
--
Stay in touch with Derek on Twitter and Facebook. His most recent book is "Hero's Dose: The Case For Psychedelics in Ritual and Therapy."
Kids say the darndest things. They're also far more adept at workflow management than adults are. What can we learn from them?
Most likely, you don't need to be convinced in the utility of perseverance - the ability to stick to a boring task, despite the fact that the Facebook tab is blinking with notifications in your browser. Implementing tactics that help us resist distractions in order to work towards long-term goals is crucial for success. Now, researchers have found an interesting strategy that has been proven to work for kids - imagining they're Batman. The study was published in the journal Child Development.
With the onset of early childhood and attending preschool, increased demands are placed on the self-regulatory skills of kids. Children need to start completing tasks that may be much less interesting than the myriad of entertaining distractions around them. Researchers have been interested in how to develop self-control and perseverance in children by teaching them tactics like averting their attention away from distractions. 
Another strategy they have found effective is called "self-distancing"— the ability to look at your own situation from an outsider's perspective. Doing this helps people distance themselves from their current feelings and the particular distractions of the moment and instead reflect on the situation more objectively, with the long-term goal in a sharper focus. In a more scientific language, this sounds like "transitioning from stimulus control to volitional control of one's thoughts and behaviors" and is what we need to be able to self-regulate successfully.
This same tactic appears to work for kids as well. In an interesting experiment, researchers found that when kids (ages 4 and 6) are asked to imagine they are Batman (or another exemplary character) they perform markedly better on a test designed to measure their perseverance. 
The researchers simulated a typical grown-up dilemma: choosing between working on something that is beneficial in the long-run but tedious in the moment (completing a boring task on a computer but being a "good helper") or giving in to immediate gratification in the form of playing a game on an iPad. 
The children were separated into three different groups. The first group was asked to reflect on the task from a first-person perspective, the second was asked to reflect on the task while referring to themselves by name (third-person perspective), and the third group was encouraged to reflect on the task from the perspective of a character like Batman or Dora the Explorer. The "encouragement" came in the form of a question the kids had to ask themselves: "Am I working hard?" vs. "Is [child's name] working hard?" vs. "Is Batman working hard?"
As expected, the older kids persevered longer on the work task than the younger kids as they've had more time to develop self-control. However, the extent to which the children were self-distanced affected their performance regardless of age, with the kids in the Batman group spending the most time on the tedious task.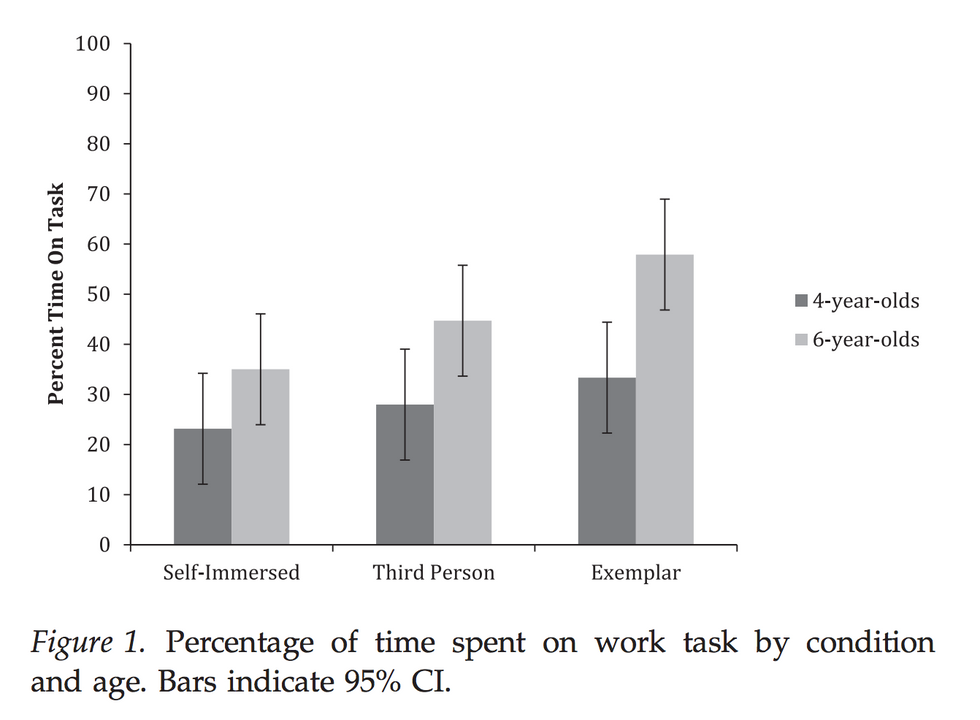 Credit: Child Development / The "Batman Effect": Improving Perseverance in Young Children
In addition to the self-distancing theory, the researchers suggest several other potential reasons why this tactic works for kids. One is that the kids were able to identify with powerful features of the impersonated character and the other is that role-playing in general is considered a fun and familiar activity at this age. 
The researchers conclude that: 
Perseverance can pave the pathway to success. The current research suggests that perseverance can be taught through role play, a skill that is accessible to even very young children.
So, who is ready for a role-playing day at work?
Humans worship at the altar of excellence, but is our complete obsession with this "quality controlled" mode of intellect holding us back?
We want our surgeons to be excellent. We wants our classical music performers to be excellent. But do we really want excellence everywhere? This is the provocative line of thought economist and mathematician Eric Weinstein is currently chasing. We've figured out how to reliably teach excellence, which is useful — but there is a trade-off. Individuals and education institutions become hyper-focused on cutting variant individuals to a certain shape, pushing them into a mold so they can passably imitate the "excellent" population, but not really perform. "The key question is: who are these high-variance individuals? Why are our schools filled with dyslexics? Why are there so many kids diagnosed with ADHD? My claim is these are giant underserved populations who are not meant for the excellence model." To that end, Weinstein suggests that the label of 'learning disabled' is severely misguided. Perhaps we should call this phenomenon what it more accurately is: a teaching disability. How much genius is squandered by muting the strengths of these populations?
The IQ test is the most widely known measure of intelligence, but are the 'twice exceptional' and other gifted members of society slipping between the cracks?
Most of us know about the IQ test, whether you've taken one, read about it, or seen that episode of Seinfeld, it's part of the lexicon when we talk about intelligence.
Conversely, here's a less common term: 'twice exceptional', which is often abbreviated to 2e. This refers to those who have some form of disability but are also intellectually gifted (contrary to quick-fire biases, the two aren't mutually exclusive). It's this group – and people all across the intelligence and creativity spectrum – that misses out when aptitude is measured by what experts like Scott Barry Kaufman consider to be a fairly narrow test.
The IQ test was developed in the early 20th century, spring-boarding off the work of French psychologist Alfred Binet. It involves a series of standardized tests that measure a person's mental age score, which is divided by their chronological age, and that fraction is then multiplied by 100 to obtain the IQ score. But the test has evolved over the 100 years since its inception, and even Binet's work, which is often thought of as seminal, points to methods that he borrowed from other scholars. This mish-mash of tests has fluctuated over the years to reflect the values of the era, dropping tests that are seen as bad and retaining the ones that are considered good measures of intelligence.
But it has plenty of shapeshifting still to do, according to Kaufman. Intelligence takes many forms, and the IQ test doesn't capture the full complexity of the human mind. Billionaire business magnate Richard Branson is an excellent example: "I was dyslexic, I had no understanding of schoolwork whatsoever. I certainly would have failed IQ tests. And it was one of the reasons I left school when I was 15 years old."
The IQ test doesn't measure for factors like creativity, emotional sensitivity, real-world rationality, social intelligence and skills-based acumen. There are many ways to be gifted, and those who are twice exceptional or intellectually advanced outside of the normal parameters, can miss out on the developmental attention needed to cultivate their intellect to its full potential. Kaufman suggests retaining components of the IQ test to identify where people do well and spot intelligence patterns, but to also utilize new methodologies, and solicit parent and teacher readings as they are in a position to observe intelligence indicators day by day, such as deep sensitivity, questioning assumptions, or signs that a child is bored with their work. The more you can triangulate information from different sources, the better the measure of true intelligence will be.
If you're now itching to know how you would perform on an IQ test, you can take one here, but don't be too buoyed or disheartened by the results – intelligence is a sprawling entity that scientists are still mapping, and the IQ test is a well-worn but ultimately narrow path to tread.
Scott Barry Kaufman's book is Wired to Create: Unraveling the Mysteries of the Creative Mind.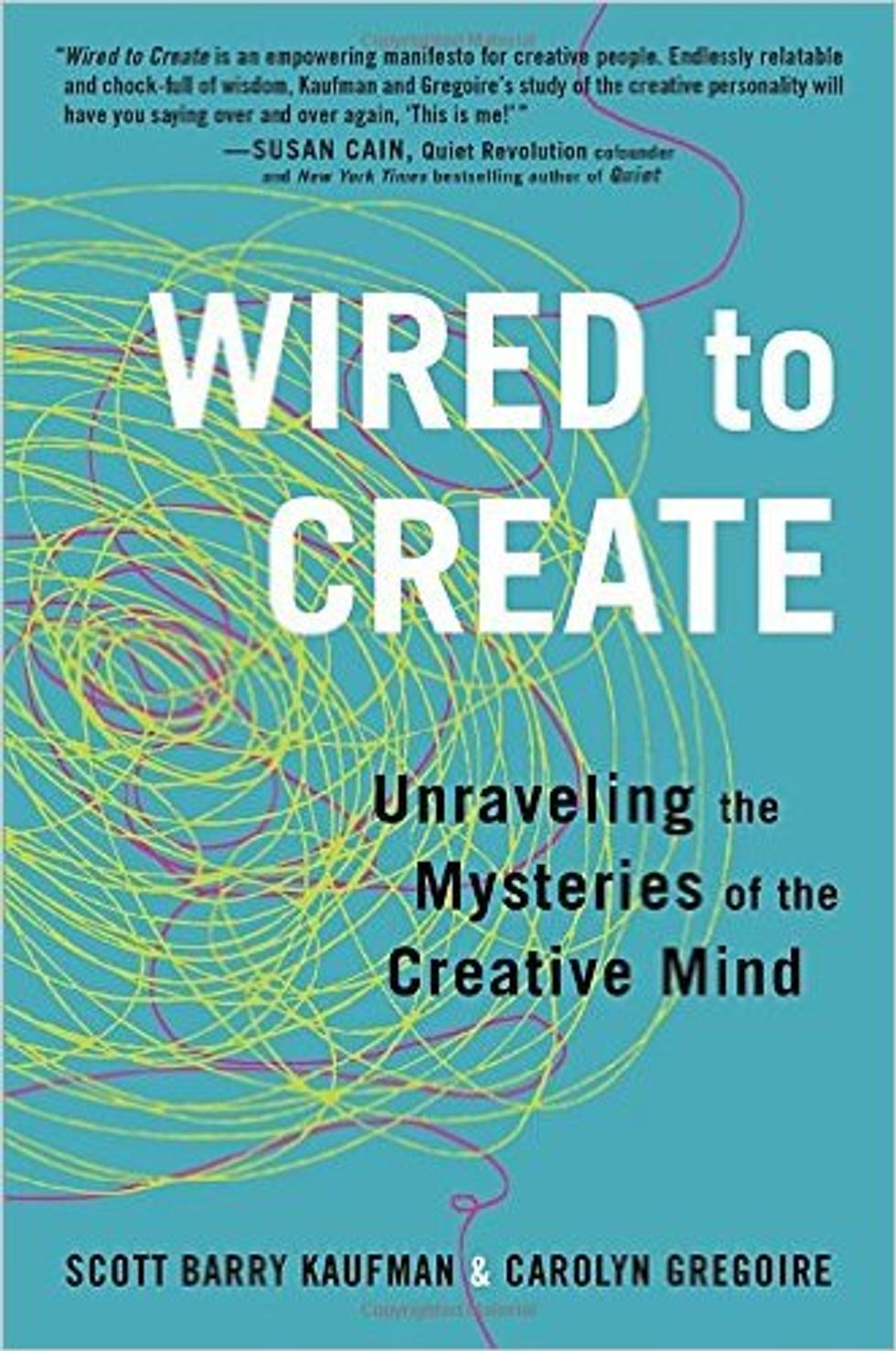 A new study shows that addressing the ADHD epidemic may require a dose of physical activity, so kids can refocus and learn effectively in a classroom.
Gym programs – and the underfunding of them – may be as important as math or reading to learning. A new study shows that addressing the ADHD epidemic may require a dose of physical activity, so kids can refocus and learn effectively in a classroom.
Study, after study have given enough reason to think there may be a causal effect in addressing ADHD symptoms with physical activity. Researchers from another study published in the medical journal Pediatrics said they were able to "demonstrate a causal effect of a physical program on executive control, and provide support for physical activity for improving childhood cognition and brain health."
The image below shows the results from a group of 221 kids between the ages of eight and nine who were randomly selected to participate in the two-hour FITKids after school PE program, and those who didn't. The program lasted for nine months and the differences in cognitive health, focus, and physical well-being were noticeable.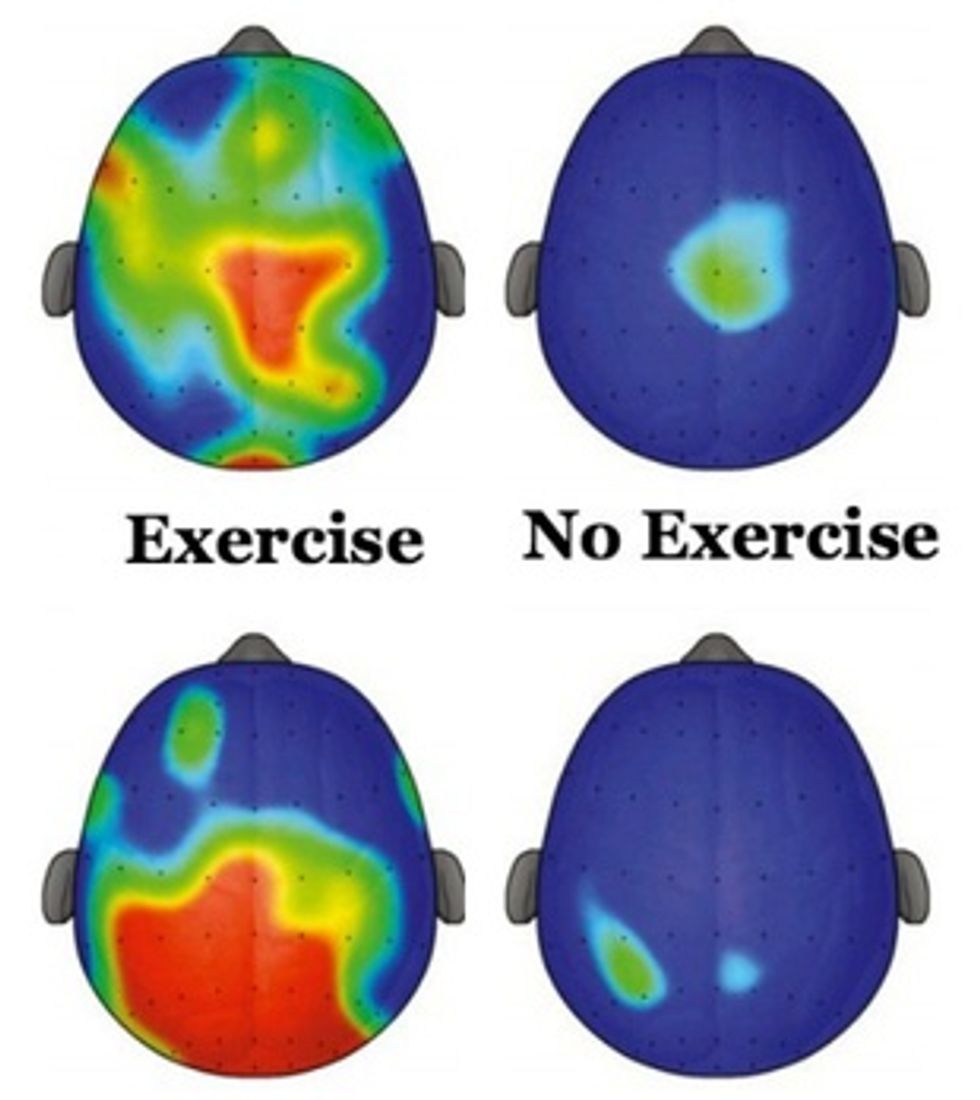 These electrophysiological plots represent the brain's processing capacity and mental workload (P3 amplitude) during cognitive tests, which requireed executive control. The red represents the greatest amount of executive control and blue represents the lowest.
(Hillman et al, Pediatrics/The Atlantic)
The researchers make a plea to policymakers and schools to consider their results, writing, "Given the rapid decline in [physical activity] opportunities for children at school, the dissemination of our findings is particularly important… Specifically, policies that reduce or replace [physical activity] opportunities during the school day (eg, recess), in an attempt to increase academic achievement, may have unintended effects."
The measures put in place to prepare kids for tests in the future may actually be putting them at a severe disadvantage. It's important to put this in perspective — our children are our future, after all. They will dictate the successes in this country and in their own lives.