Big ideas.
Once a week.
Subscribe to our weekly newsletter.
10 new things we've learned about cancer
Cancer's sweet tooth. Turning cancer cells into fat. Unveiling genetic secrets. Scientists are learning about cancer every day.
24 July, 2019
Cancer is a leading cause of death among Americans, second only to heart disease.
Researchers are unearthing cancer's genetic secrets and, with it, potential new treatments.
Their efforts have seen the cancer death rate for men, women, and children fall year after year between 1999 and 2016.
The 21st century has been, and will continue to be, shaped by cancer. Although heart disease remains the United States' number one killer, cancer is quickly closing the gap and may soon surpass it. Some oncologists claim a cure is five, 10, certainly no more than 20 years away. Others aren't so sure because, in a way, cancer is the price we pay for evolutionary success.
"It is no coincidence that the very genes that allow our embryos to grow — our hands to grow, our feet to grow — if you mutate them in inappropriate contexts, [they] will ultimately release the disease that kills us," said oncologist Siddhartha Mukherjee, who dubbed cancer the Emperor of All Maladies, also the title of his Pulitzer Prize-winning book.
Whether for five years or forever, cancer won't be going anywhere any time soon. Yet, the more doctors and scientists discover about it, the better we can learn to live with it.
A love-hate relationship: Cancer and antioxidants
A photo pointing out a cancerous growth in a lung.
Photo: James Heilman/Wikimedia Commons
Contrary to what many believe, cancer enjoys a nutrient-rich diet as much as the next cell because it helps it grow, even those legendary antioxidants.
In two independent studies published in Cell, Swedish and American research teams found that lung cancer utilizes antioxidants to activate a protein called BACH1. This protein stimulates the cancer cells to metabolize glucose and accelerate metastasis. Even without a ready supply of dietary antioxidants available, the tumor would simply produce its own.
Professor Martin Bergo, who led the Swedish study, hopes this research will help develop new treatments. "We now have important new information on lung cancer metastasis, making it possible for us to develop new treatments, such as ones based on inhibiting BACH1," he said in a release.
Does this mean you should abstain from antioxidant-rich foods? Not at all. Antioxidants do neutralize the free radicals that cause oxidative stress on cells. Preventing such cell damage can help prevent cancer.
However, it's best to avoid antioxidant supplements unless prescribed by a doctor. As reported by the National Cancer Institute, of nine randomized-controlled clinical trials, none provided evidence that such supplements lower cancer risks. A few even found that beta-carotene supplements increased the risk of lung cancer so severely that the trials had to be ended prematurely.
Get your antioxidants from fruits, veggies, and beans instead. Research suggests that these antioxidants work in combination with additional molecules found in the whole foods. It's this tag-team effect that ultimately give antioxidants their salubrious power.
Cancer costs (in more ways than one)
It goes without saying that cancer is costly. The physical strain of treatment. The potential loss of life, whether one's own or the life of a loved one. And even if one survives, there's the emotional cost of the ordeal.
But the toll imposed by cancer is more than physical or psychological. A study released last year found "that 42 percent of patients deplete their life savings during the first two years of treatment." Of the 9.5 million newly diagnosed cancer patients surveyed, the study calculated average losses at $92,098.
Its authors dubbed the effect "financial toxicity" and concluded: "As large financial burdens have been found to adversely affect access to care and outcomes, the active development of approaches to mitigate these effects among already vulnerable groups remains of key importance."
Cancer's sweet tooth
A recent study found a positive association between a daily sugary drink and an increased risk of cancer.
Researchers asked more than 100,000 people to complete surveys looking at their usual consumption of 3,300 foods and beverages. The results? A positive association between daily consumption of a sugary beverage and an increased risk of cancer. The sugary drinks not only included soda but also 100 percent fruit juice and artificially sweetened drinks.
"These data support the relevance of existing nutritional recommendations to limit sugary drink consumption, including 100% fruit juice, as well as policy actions, such as taxation and marketing restrictions targeting sugary drinks, which might potentially contribute to the reduction of cancer incidence," the researchers stated in a release.
Don't go trashing the OJ just yet, though. As an observational study, the data could not establish a cause-effect relationship, and the researchers note the results are only preliminary. Additionally, the results hinge on the memories of the participants. (What exactly did you eat for breakfast the Monday before last?)
But the study helps stress the American Institute for Cancer Research's (AICR) suggestion to limit sugary beverages. Try to remove soda from your diet. Drink 100 percent fruit juices with no added sugar sparingly. And of course, enjoy an active, healthy lifestyle.
Cancer on the grill
The hydrocarbons and amines formed from grilling over high temperatures are known cancer-related compounds.
It's a summer tradition to throw some meat on the grill alongside a good beer. But grilled meats hide a few furtive carcinogens: polycyclic aromatic hydrocarbons and heterocyclic aromatic amines.
The hydrocarbons are carried in the smoke after fat burns on the flame, while the heterocyclic amines form when sugars, amino acids, and creatine react at high heats. Neither has been proven to cause cancer, but they are known mutagens that can damage DNA after being metabolized.
"Research shows that diets high in red and processed meat increase risk for colon cancer," said Alice Bender, AIRC Senior Director of Nutrition Programs. "And grilling meat, red or white, at high temperatures forms potent cancer-causing substances."
Like sugary drinks, however, you don't have to forever hang up your "Kiss the Cook" apron. The institute has several suggestions for safe summer grilling, such as limiting red meat, marinating foods beforehand, keeping a low flame, and throwing more vegetables into the mix.
A unified theory of leukemia
Acute lymphoblastic leukemia (ALL) afflicts about one in 2,000 children, and Mel Greaves, at the Institute of Cancer Research, London, believes he's found the cause. Researching 30 years of data and medical literature on childhood leukemia, he argues the "delayed infection" is the culprit.
According to this theory, children develop a pre-leukemia mutation in utero. The mutation remains inert until later in life when the child encounters a common infection. The microbes then trigger secondary genetic changes that led to overt leukemia.
Does this mean children are safe only in cleanrooms? Strike that, reverse it. Greaves believes exposure to germs in the first year of life is proactive. It trains the immune system to deal with pathogens, therefore preventing the secondary mutation from triggering.
"Childhood ALL can be viewed as a paradoxical consequence of progress in modern societies, where behavioral changes have restrained early microbial exposure," Greaves writes. "This engenders an evolutionary mismatch between historical adaptations of the immune system and contemporary lifestyles. Childhood ALL may be a preventable cancer."
The future of cancer treatment is genetic
A major stride toward our understanding of cancer came with the Human Genome Project. Why? At its core, cancer is a genetic disease.
Our ability to sequence and read cancerous genomes will be a major step toward cancer treatments. As Eric Green, director of the National Human Genome Research Institute, told Big Think:
"[The] standard of care for many types of cancer is going to be: Get that tumor, read out its DNA, sequence its genome and based on what you've seen what's wrong with that tumor -- not by looking at it under a microscope only or by looking at it in a sort of a gross fashion but actually looking inside its blueprint -- you will be able to have a much better way of deciding what types of treatments to pursue and have a much better idea about what's wrong in that kind of tumor."
A future treatment? The "cancer vaccine"
An airman receives a vaccine. Could the future of cancer treatment be as easy as a shot?
Photo: Senior Airman Areca T. Wilson/U.S. Air Force
Rather than using chemotherapy to combat cancer with the subtlety of an atomic bomb, immunotherapies aim to uncloak cancer cells, so the body's immune system can go on the offensive
One example of an immunotherapeutic approach is the so-called "cancer vaccine." During its clinical trial, 11 patients had a tumor injected with a steroid to bolster the site's dendritic cells — immune system cells that specialize in processing antigens.
Following a light dose of radiation and a stimulant, the patients' dendritic cells directed T-cells to attack the cancer cells. Once the T-cells could recognize the tumor, they became able to locate cancer cells throughout the body.
Of the 11 patients, three saw their cancer go into regression or remission. Six others had their cancer stymied for at least three months.
"It's really promising, and the fact you get not only responses in treated areas, but areas outside the field [of treatment with radiation] is really significant," Dr. Silvia Formenti, chairwoman of radiation oncology at Weill Cornell Medicine and New York Presbyterian, told CNBC. (Dr. Formenti was not involved in the study.)
Turning tumors into fat
Cancer cells spreading to other parts of the body through the circulatory system.
A deadly tool in cancer's arsenal is cell plasticity, a cell's ability to alter its physiological characteristics. It is one of the reasons cancers can metastasize throughout the body, and it helps the disease resist treatments.
Researchers at the University of Basel, Switzerland, have hijacked this ability and turned it against cancer. Using a drug therapy that combined an anti-diabetic drug and MEK inhibitors, they attacked cancer cells and turned them into adipocytes (a.k.a. fat cells).
While this did not remove the tumor, it did make the cells post-miotic, meaning they could no longer divide. This inhibited the cancer's ability to spread.
"In future, this innovative therapeutic approach could be used in combination with conventional chemotherapy to suppress both primary tumor growth and the formation of deadly metastases," senior study author Gerhard Christofori told Medical News Today.
Cancer-killing bacteria
An image of the E. coli bacteria. Will these become the next breakthrough in cancer therapies?
Photo: NIAID/Wikimedia Commons
Another advancement in cancer treatment is synthetic biology, a field in which scientists use the principals of engineering to redesign biological systems. In one example, researchers genetically programmed a non-pathogenic E. coli strain to attack tumors in lab mice.
Once injected, the rewired bacteria took refuge in the tumor, where they self-destructed. These dead bacteria leaked from the tumor, and thanks to encoded nanobodies, drew the attention of T-cells which devoured the bacteria and tumor alike.
Of course, lab tests in mice do not guarantee a successful transition to human patients, but it remains a promising avenue for treatment.
"At some point in the future, we will use programmable bacteria for treatment," Michael Dougan, an immunologist at Massachusetts General Hospital, told the New York Times. "I think there's just too much potential."
A new attitude toward cancer
Medical professionals originally viewed cancer as a disease to be destroyed with extreme prejudice; the treatment was only better than the disease because the disease ended in death.
But as David Agus, professor of medicine and engineering at USC, told us, there are better ways to approach cancer:
"Well, to me cancer is a verb and not a noun. You're cancering, it's something the body does and not that the body gets. And so that philosophy needs a very different way of approaching disease, and it means changing the system in addition to trying to target the cancer."
One way is to approach treatment holistically. Agus points to a trial that gave premenopausal women with breast cancer a bone-building drug. The drug didn't target the cancer, yet it reduced recurrence by 40 percent because breast cancer metastasizes in bone.
Another method is psychosocial oncology. In this relatively new field, the practitioners' goal is to enhance the quality of life for cancer patients through mental health care as a part of physical care.
Living with cancer
Cancer death rates in the United States by cancer type, male and female, age standardized.
Source: American Cancer Society/ Our World in Data
Scientists have learned a lot about cancer, but there remains much we don't know. Does that mean we should despair for the future? Quite the contrary. Thanks to the knowledge accumulated by scientists, we have much to be hopeful for.
Headlines are correct that the total number of new cancer cases and deaths continue to increase. However, the rates of cancer diagnoses and death have declined year after year. This is because absolute numbers don't account for metrics like population growth and increased life expectancy. In fact, the Annual Report to the Nation on the Status of Cancer found that the cancer death rate for men, women, and children fell year after year between 1999 and 2016, as did cancer incident rates.
"Death in old age is inevitable. The job of science is to prevent unanticipated deaths in unanticipated times. I find that is a perfectly reasonable goal," said Mukerjee. "If you're saying to me that we will have a more profound, more proximal reconciliation with cancer in the next few decades, I think the answer is absolutely yes."
We may not be able to eradicate cancer as we did with diseases like smallpox and polio. But we're learning how to live with it more and more every day.
From Your Site Articles
Related Articles Around the Web
Even before publication, health agencies were asking the journal not to publish the research.
Surprising Science
A new study in the Annals of Internal Medicine found little correlation between red meat consumption and health problems.
A number of organizations immediately contested the evidence, claiming it to be based on an irrelevant system of analysis.
Beef and dairy production is one of the leading drivers of climate change, forcing humans to weigh personal health against the environment.
It is perhaps fitting that just as McDonald's introduces meatless burgers, a new study, published in the journal, Annals of Internal Medicine, is overturning years' worth of dietary recommendations that we eat less red meat. Not that everyone is taking the study as the final word, however.
A panel of fourteen researchers and three community members from seven countries (reporting no conflicts of interest), directed by Dalhousie University epidemiologist, Bradley Johnson, studied 61 articles on all-cause mortality that included a total of four million participants. The team also reviewed dozens of trials linking red meat to cancer, heart disease, and mortality. The team concluded that the evidence between red meat, both unprocessed and processed, and health problems is "low to very low."
The study took three years to complete. Researchers from a range of cultures were included to ensure diversity of thought, while each professional was vetted for perceived conflicts of interest. When considering both processed and unprocessed red meat, 11 researchers voted for adults (age 18 and over) to continue eating recommended allowances and not cut down. In each study, three researchers offered a "weak recommendation" for reducing intake.
For the record, the average American adult consumes an average of 4.5 servings of red meat per week.
Organizations such as The American Heart Association and the American Cancer Society immediately came out against the study, with some groups suggesting that the journal withhold publication. They believed that not only would this information contradict years of findings, but it would "erode public trust in scientific research."
To be fair, that's the nature of science: If evidence overturns pre-existing norms, that evidence should be considered. However, we need to take a more holistic look at this picture.
Gut Bacteria and Red Meat: Highlight from Cancer and Diet
Nutrition science is tricky. Not only do self-endowed "life coaches" and fitness trainers not certified in nutrition offer unsolicited advice, actual scientific bodies find it hard to come to conclusions. One of the biggest issues: It's nearly impossible to isolate macronutrients or entire classes of food given their interactions with all the other food you consume. A burger doesn't have the same effect on your body as a burger with mayonnaise on a bun; whether you drink water or soda to accompany that meal matters too.

The main contention comes from the type of analysis the researchers used. As Harvard nutrition scientist, Frank Hu, says, the GRADE systematic approach was introduced for evaluating drug trials, not nutrition science. Alongside his colleagues, Hu published an article countering the results of the meta-analyses, coming to four conclusions:
The new guidelines are not justified as they contradict the evidence generated from their own meta-analyses
The publication of these studies and the meat guidelines in a major medical journal is unfortunate because following the new guidelines may potentially harm individuals' health, public health, and planetary health
This is a prime example where one must look beyond the headlines and abstract conclusions
These studies should not change current recommendations on healthy and balanced eating patterns for the prevention of chronic diseases
Close-up of Impossible Whopper, a meat-free item using engineered, plant-protein based burger patty from food technology company Impossible, during a limited market test at a Burger King restaurant in the San Francisco Bay Area, Danville, California, June 26, 2019.
Photo by Smith Collection/Gado/Getty Images
As with many topics in American discourse, our diet has become polarized. Those that claim that humans were not designed to eat meat are ignorant of how our biology (and cultures) evolved. As primatologist Richard Wrangham writes, the greatest culinary advancement in history was fire. Cooking made nutrients available much more quickly—a burger on a grill is more nutritious than chewing on raw meat. And meat is something our ancestors definitively ate whenever they could.

What also doesn't help is a sentiment that has been batted around the holistic blogosphere: that meat is toxic. To be fair, growth hormones and factory farming have increased the potential for toxicity in our food supply. But meat itself is not inherently toxic to our digestive system. As Harvard paleoanthropologist, Daniel Lieberman, writes, given our ancestors' adaptation to diverse climates, there is no "optimal diet." We ate what we could source. That said, meat consumption offered a particularly important boon to our biology.
"By incorporating meat in the diet and relying more on food processing, early Homo was able to spend much less energy digesting its food and could thus devote more energy toward growing and paying for a larger brain."
Yet that doesn't mean we need to eat meat, at least not as much of it was we do. Beyond sating our biological impulse, industrial agriculture—specifically, beef and dairy production—is one of the biggest drivers of climate change. Beef is extremely taxing on the environment, much more so than chicken or pork agriculture.
From a climate perspective, plant-based diets are less taxing, though you often run into the problem of nutrient loss due to monocropping. Plant-based burgers might be all the rage, but that also doesn't mean they're healthy, which brings into question whether or not it makes sense to sacrifice personal health for a perceived environmental gain.
An easy answer? Not here.
One thing is clear: The current rate of beef production is unsustainable. Whether or not 4.5 servings of red meat will increase your risk of cancer or heart disease might remain a source of contention. But a more important question remains: If reducing your meat intake is better for the environment (and therefore everyone's health), isn't that a wiser decision to make?
--
It marks a breakthrough in using gene editing to treat diseases.
Credit
: National Cancer Institute via Unsplash
Technology & Innovation
This article was originally published by our sister site, Freethink.
For the first time, researchers appear to have effectively treated a genetic disorder by directly injecting a CRISPR therapy into patients' bloodstreams — overcoming one of the biggest hurdles to curing diseases with the gene editing technology.
The therapy appears to be astonishingly effective, editing nearly every cell in the liver to stop a disease-causing mutation.
The challenge: CRISPR gives us the ability to correct genetic mutations, and given that such mutations are responsible for more than 6,000 human diseases, the tech has the potential to dramatically improve human health.
One way to use CRISPR to treat diseases is to remove affected cells from a patient, edit out the mutation in the lab, and place the cells back in the body to replicate — that's how one team functionally cured people with the blood disorder sickle cell anemia, editing and then infusing bone marrow cells.
Bone marrow is a special case, though, and many mutations cause disease in organs that are harder to fix.
Another option is to insert the CRISPR system itself into the body so that it can make edits directly in the affected organs (that's only been attempted once, in an ongoing study in which people had a CRISPR therapy injected into their eyes to treat a rare vision disorder).
Injecting a CRISPR therapy right into the bloodstream has been a problem, though, because the therapy has to find the right cells to edit. An inherited mutation will be in the DNA of every cell of your body, but if it only causes disease in the liver, you don't want your therapy being used up in the pancreas or kidneys.
A new CRISPR therapy: Now, researchers from Intellia Therapeutics and Regeneron Pharmaceuticals have demonstrated for the first time that a CRISPR therapy delivered into the bloodstream can travel to desired tissues to make edits.
We can overcome one of the biggest challenges with applying CRISPR clinically.

—JENNIFER DOUDNA

"This is a major milestone for patients," Jennifer Doudna, co-developer of CRISPR, who wasn't involved in the trial, told NPR.
"While these are early data, they show us that we can overcome one of the biggest challenges with applying CRISPR clinically so far, which is being able to deliver it systemically and get it to the right place," she continued.
What they did: During a phase 1 clinical trial, Intellia researchers injected a CRISPR therapy dubbed NTLA-2001 into the bloodstreams of six people with a rare, potentially fatal genetic disorder called transthyretin amyloidosis.
The livers of people with transthyretin amyloidosis produce a destructive protein, and the CRISPR therapy was designed to target the gene that makes the protein and halt its production. After just one injection of NTLA-2001, the three patients given a higher dose saw their levels of the protein drop by 80% to 96%.
A better option: The CRISPR therapy produced only mild adverse effects and did lower the protein levels, but we don't know yet if the effect will be permanent. It'll also be a few months before we know if the therapy can alleviate the symptoms of transthyretin amyloidosis.
This is a wonderful day for the future of gene-editing as a medicine.

—FYODOR URNOV

If everything goes as hoped, though, NTLA-2001 could one day offer a better treatment option for transthyretin amyloidosis than a currently approved medication, patisiran, which only reduces toxic protein levels by 81% and must be injected regularly.
Looking ahead: Even more exciting than NTLA-2001's potential impact on transthyretin amyloidosis, though, is the knowledge that we may be able to use CRISPR injections to treat other genetic disorders that are difficult to target directly, such as heart or brain diseases.
"This is a wonderful day for the future of gene-editing as a medicine," Fyodor Urnov, a UC Berkeley professor of genetics, who wasn't involved in the trial, told NPR. "We as a species are watching this remarkable new show called: our gene-edited future."
A new government report describes 144 sightings of unidentified aerial phenomena.
Surprising Science
The military has rebranded unidentified flying objects as unidentified aerial phenomena – UAPs – in part to avoid the stigma that has been attached to claims of aliens visiting the Earth since the Roswell incident in 1947. The report presents no convincing evidence that alien spacecraft have been spotted, but some of the data defy easy interpretation.
I'm a professor of astronomy who has written extensively on the search for life in the universe. I also teach a free online class on astrobiology. I do not believe that the new government report or any other sightings of UFOs in the past are proof of aliens visiting Earth. But the report is important because it opens the door for a serious look at UFOs. Specifically, it encourages the U.S. government to collect better data on UFOs, and I think the release of the report increases the chances that scientists will try to interpret that data. Historically, UFOs have felt off limits to mainstream science, but perhaps no more.
Three videos from the U.S. military sparked a recent surge in interest in UFOs.
What's in the UFO report?
The No. 1 thing the report focuses on is the lack of high-quality data. Here are the highlights from the slender nine-page report, covering a total of 144 UAP sightings from U.S. government sources between 2004 and 2021:
"Limited data and inconsistent reporting are key challenges to evaluating UAP."
Some observations "could be the result of sensor errors, spoofing, or observer misperception."
"UAP clearly pose a safety of flight issue and may pose a challenge to U.S. national security."
Of the 144 sightings, the task force was "able to identify one reported UAP with high confidence. In that case, we identified the object as a large, deflating balloon. The others remain unexplained."
"Some UAP many be technologies deployed by China, Russia, another nation, or non-governmental entity."
UFOs are taboo among scientists
UFO means unidentified flying object. Nothing more, nothing less. You'd think scientists would enjoy the challenge of solving this puzzle. Instead, UFOs have been taboo for academic scientists to investigate, and so unexplained reports have not received the scrutiny they deserve.
One reason is that most scientists think there is less to most reports than meets the eye, and the few who have dug deeply have mostly debunked the phenomenon. Over half of sightings can be attributed to meteors, fireballs and the planet Venus.
Another reason for the scientific hesitance is that UFOs have been co-opted by popular culture. They are part of a landscape of conspiracy theories that includes accounts of abduction by aliens and crop circles. Scientists worry about their professional reputations, and the association of UFOs with these supernatural stories causes most researchers to avoid the topic.
But some scientists have looked. In 1968, Edward U. Condon at the University of Colorado published the first major academic study of UFO sightings. The Condon Report put a damper on further research when it found that "nothing has come from the study of UFOs in the past 21 years that has added to scientific knowledge."
However, a review in 1998 by a panel led by Peter Sturrock, a professor of applied physics at Stanford University, concluded that some sightings are accompanied by physical evidence that deserves scientific study. Sturrock also surveyed professional astronomers and found that nearly half thought UFOs were worthy of scientific study, with higher interest among younger and more well-informed astronomers.
If astronomers are intrigued by UFOs – and believe some cases deserve study with academic rigor – what's holding them back? A history of mistrust between ufologists and scientists hasn't helped. And while UFO research has employed some of the tools of the scientific method, it has not had the core of skeptical, evidence-based reasoning that demarcates science from pseudoscience.
A search of 90,000 recent and current grants awarded by the National Science Foundation finds none addressing UFOs or related phenomena. I've served on review panels for 35 years, and can imagine the reaction if such a proposal came up for peer review: raised eyebrows and a quick vote not to fund.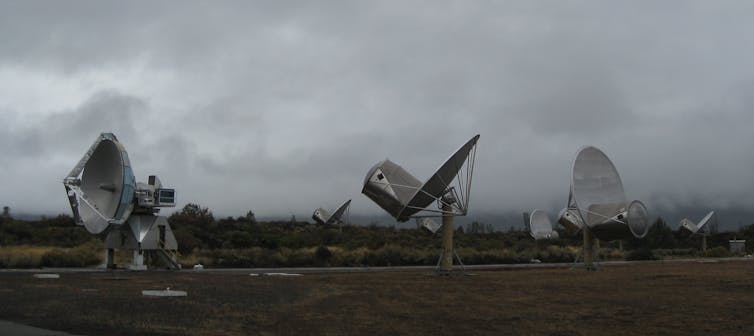 Radio telescopes like the Allen Telescope Array seen here scan the sky looking for signs of intelligent life in the universe. (Brewbooks/Wikimedia Commons, CC BY-SA)
A decadeslong search for aliens
While the scientific community has almost entirely avoided engaging with UFOs, a much more mainstream search for intelligent aliens and their technology has been going on for decades.
The search is motivated by the fact that astronomers have, to date, discovered over 4,400 planets orbiting other stars. Called exoplanets, some are close to the Earth's mass and at just the right distance from their stars to potentially have water on their surfaces – meaning they might be habitable.
Astronomers estimate that there are 300 million habitable worlds in the Milky Way galaxy alone, and each one is a potential opportunity for life to develop and for intelligence and technology to emerge. Indeed, most astronomers think it very unlikely that humans are the only or the first advanced civilization.
This confidence has fueled an active search for extraterrestrial intelligence, known as SETI. It has been unsuccessful so far. As a result, researchers have recast the question "Are we alone?" to "Where are the aliens?" The absence of evidence for intelligent aliens is called the Fermi paradox. First articulated by the physicist Enrico Fermi, it's a paradox because advanced civilizations should be spread throughout the galaxy, yet we see no sign of their existence.
The SETI activity has not been immune from scientists' criticism. It was starved of federal funding for decades and recently has gotten most of its support from private sources. However, in 2020, NASA resumed funding for SETI, and the new NASA administrator wants researchers to pursue the topic of UFOs.
In this context, the intelligence report is welcome. The report draws few concrete conclusions about UFOs and avoids any reference to aliens or extraterrestrial spacecraft. However, it notes the importance of destigmatizing UFOs so that more pilots report what they see. It also sets a goal of moving from anecdotal observations to standardized and scientific data collection. Time will tell if this is enough to draw scientists into the effort, but the transparency to publish the report at all reverses a long history of secrecy surrounding U.S. government reports on UFOs.
I don't see any convincing evidence of alien spacecraft, but as a curious scientist, I hope the subset of UFO sightings that are truly unexplained gets closer study. Scientists are unlikely to weigh in if their skepticism generates attacks from "true believers" or they get ostracized by their colleagues. Meanwhile, the truth is still out there.
This article has been updated to clarify that the report was produced by the Office of the Director of National Intelligence.
Chris Impey, University Distinguished Professor of Astronomy, University of Arizona
This article is republished from The Conversation under a Creative Commons license. Read the original article.
Coronavirus
Gain-of-function mutation research may help predict the next pandemic — or, critics argue, cause one.
Scroll down to load more…