The Longest Walk On Earth Takes You From China to Liberia (or Vice Versa)
Pretty sure nobody has ever attempted this
Frank Jacobs
From a young age, Frank was fascinated by maps and atlases, and the stories they contained. Finding his birthplace on the map in the endpapers of Tolkien's Lord of the Rings only increased his interest in the mystery and message of maps.
While pursuing a career in journalism, Frank started a blog called Strange Maps, as a repository for the weird and wonderful cartography he found hidden in books, posing as everyday objects and (of course) floating around the Internet.
"Each map tells a story, but the stories told by your standard atlas for school or reference are limited and literal: they show only the most practical side of the world, its geography and its political divisions. Strange Maps aims to collect and comment on maps that do everything but that - maps that show the world from a different angle".
A remit that wide allows for a steady, varied diet of maps: Frank has been writing about strange maps since 2006, published a book on the subject in 2009 and joined Big Think in 2010. Readers send in new material daily, and he keeps bumping in to cartography that is delightfully obscure, amazingly beautiful, shockingly partisan, and more.
08 September, 2017
What is the longest straight line on Earth you can walk without getting your feet wet in a lake, sea or ocean? Someone has finally produced an answer to that question – and here's the map that shows you how to go. 
---
Start in Shitangzhen, a Chinese coastal city just south of Shanghai. March inland, and keep walking over the mountains and across the deserts of China's Far East. Cross Central Asia into Iran, and narrowly avoid the Caspian Sea. Pass through Iraq, Jordan and Israel (watch out you don't fall into the Mediterranean). Walk across the Sinai Desert, through the Nile Valley, and then onwards to the Sahara and Sahel. Finally arrive about 6 miles (10 km) north of Greenville, on Liberia's Atlantic coast (1).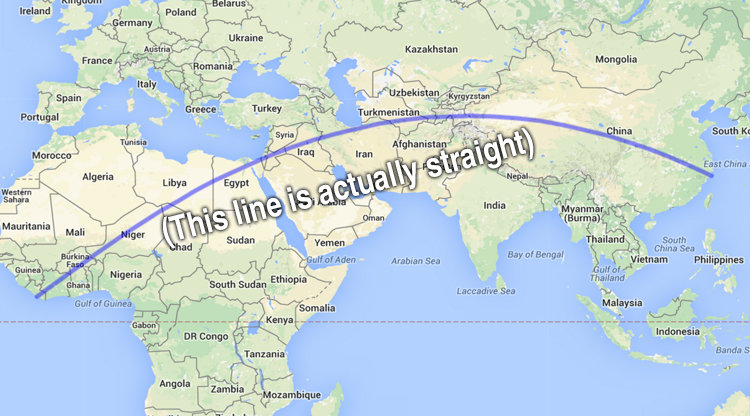 Congratulations: you have racked up 8,443 miles (13,589 km) – almost exactly one third of the total circumference of the planet (2).
If you're wondering why that straight line looks bent, the clue is in the word circumference. In spite of the increasingly popular, yet demonstrably false theory that the Earth is flat (3), our planet is in fact almost perfectly round. 
Which is why a straight line on the ground appears bendy on a map. Unless you adapt your map projection to protect the straightness of the line, like so:

Either way, it's a pretty long schlep, and probably not soon to be attempted in real life, as the line transsects some of the world's trouble spots as well as some of its most inhospitable zones. Maybe in a few years or so, at about the time when the hippie trail (2) reopens. 
Maps found here at the personal page of IT/GIS consultant Guy Bruneau, via Simon Kuestenmacher. Map with caption here at That's.
Strange Maps #856
Got a strange map? Let me know at strangemaps@gmail.com.
(1) Or go the other way around, walking from Liberia to China. Same difference. 
(2) About 24,874 miles (40,030 km) at the equator, but only 24,860 miles (40,008 km) from pole to pole. That is because the Earth is not a perfect sphere, but slightly flatter at the poles. Our planet, as geographers like to say, is an oblate spheroid.
(3) see #644.
The famed author headed to the pond thanks to Indian philosophy.
Image: Public Domain / Shutterstock / Big Think
Personal Growth
The famed author was heavily influenced by Indian literature, informing his decision to self-exile on Walden Pond.
He was introduced to these texts by his good friend's father, William Emerson.
Yoga philosophy was in America a century before any physical practices were introduced.
Pfizer's partnerships strengthen their ability to deliver vaccines in developing countries.
Susan Silbermann, Global President of Pfizer Vaccines, looks on as a health care worker administers a vaccine in Rwanda. Photo: Courtesy of Pfizer.
Sponsored
Community healthcare workers face many challenges in their work, including often traveling far distances to see their clients
Pfizer is helping to drive the UN's sustainable development goals through partnerships.
Pfizer partnered with AMP and the World Health Organization to develop a training program for healthcare workers.
A little goes a long way.
Photo: Shutterstock / Big Think
Personal Growth
A recent study from the Department of Health and Human Services found that 80 percent of Americans don't exercise enough.
Small breaks from work add up, causing experts to recommend short doses of movement rather than waiting to do longer workouts.
Rethinking what exercise is can help you frame how you move throughout your day.
Big think's weekly newsletter.
Get smarter faster from the comfort of your inbox.
See our newsletter privacy policy
here
Most Popular
Most Recent
Big think's weekly newsletter.
Get smarter faster from the comfort of your inbox.
See our newsletter privacy policy
here
© Copyright 2007-2018 & BIG THINK, BIG THINK EDGE,
SMARTER FASTER trademarks owned by The Big Think, Inc. All rights reserved.