The Longest Walk On Earth Takes You From China to Liberia (or Vice Versa)
Pretty sure nobody has ever attempted this
08 September, 2017
What is the longest straight line on Earth you can walk without getting your feet wet in a lake, sea or ocean? Someone has finally produced an answer to that question – and here's the map that shows you how to go. 
---
Start in Shitangzhen, a Chinese coastal city just south of Shanghai. March inland, and keep walking over the mountains and across the deserts of China's Far East. Cross Central Asia into Iran, and narrowly avoid the Caspian Sea. Pass through Iraq, Jordan and Israel (watch out you don't fall into the Mediterranean). Walk across the Sinai Desert, through the Nile Valley, and then onwards to the Sahara and Sahel. Finally arrive about 6 miles (10 km) north of Greenville, on Liberia's Atlantic coast (1).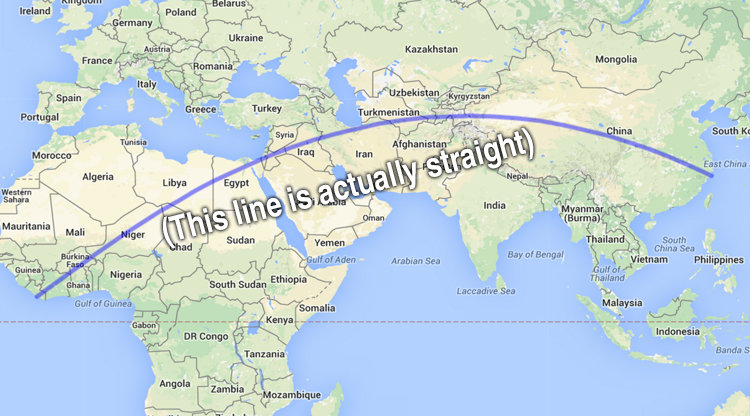 Congratulations: you have racked up 8,443 miles (13,589 km) – almost exactly one third of the total circumference of the planet (2).
If you're wondering why that straight line looks bent, the clue is in the word circumference. In spite of the increasingly popular, yet demonstrably false theory that the Earth is flat (3), our planet is in fact almost perfectly round. 
Which is why a straight line on the ground appears bendy on a map. Unless you adapt your map projection to protect the straightness of the line, like so:

Either way, it's a pretty long schlep, and probably not soon to be attempted in real life, as the line transsects some of the world's trouble spots as well as some of its most inhospitable zones. Maybe in a few years or so, at about the time when the hippie trail (2) reopens. 
Maps found here at the personal page of IT/GIS consultant Guy Bruneau, via Simon Kuestenmacher. Map with caption here at That's.
Strange Maps #856
Got a strange map? Let me know at strangemaps@gmail.com.
(1) Or go the other way around, walking from Liberia to China. Same difference. 
(2) About 24,874 miles (40,030 km) at the equator, but only 24,860 miles (40,008 km) from pole to pole. That is because the Earth is not a perfect sphere, but slightly flatter at the poles. Our planet, as geographers like to say, is an oblate spheroid.
(3) see #644.
Understanding thinking talents in yourself and others can build strong teams and help avoid burnout.
Big Think Edge
Learn to collaborate within a team and identify "thinking talent" surpluses – and shortages.

Angie McArthur teaches intelligent collaboration for Big Think Edge.

Subscribe to Big Think Edge before we launch on March 30 to get 20% off monthly and annual memberships.
Archeologists had been doubtful since no such ship had ever been found.
(Christoph Gerigk/Franck Goddio/Hilti Foundation)
Surprising Science
In 450 BCE, Greek historian Herodotus described a barge that's never been found.
When the ancient port of Thonis-Heracleion was discovered, some 70 sunken ships were found resting in its waters.
One boat, Ship 17, uncannily matches the Herodotus' description.
The blood of horseshoe crabs is harvested on a massive scale in order to retrieve a cell critical to medical research. However, recent innovations might make this practice obsolete.
Credit: Business Insider (video)
Surprising Science
Horseshoe crabs' blue blood is so valuable that a quart of it can be sold for $15,000.
This is because it contains a molecule that is crucial to the medical research community.
Today, however, new innovations have resulted in a synthetic substitute that may end the practice of farming horseshoe crabs for their blood.
The Canadian professor has been on the Joe Rogan Experience six times. There's a lot of material to discuss.
Personal Growth
Jordan Peterson has constantly been in the headlines for his ideas on gender over the last three years.
While on Joe Rogan's podcast, he explains his thoughts on the gender differences in society.
On another episode, Peterson discusses the development of character through competition.
Big think's weekly newsletter.
Get smarter faster from the comfort of your inbox.
See our newsletter privacy policy
here
Most Popular
Most Recent
Big think's weekly newsletter.
Get smarter faster from the comfort of your inbox.
See our newsletter privacy policy
here
© Copyright 2007-2018 & BIG THINK, BIG THINK EDGE,
SMARTER FASTER trademarks owned by The Big Think, Inc. All rights reserved.