The Geography of Empathy and Apathy: Some Countries We Care about More than Others
Compassion comes is five concentric zones, according to this cynical map.
17 November, 2015
Compassion is tricky. Solidarity is a minefield. Which natural disasters, which terrorists attacks do you feel more keenly? If you're like most people, it will be those incidents closer to home - both in a literal and figurative sense. We are not as magnanimous as we think; our sympathy has limits — and those limits are, to a certain extent, geographic.
---
As shown by this cartoon map, the crude offensiveness of which is shocking only in so far as it is true. This Mapamundi Tragico colour-codes the horror we experience, and the concomitant empathy we feel, for the tragedies that occur all over the world, from a Western perspective. Those feelings of empathy decrease as the cultural, economic, and geographical distance to the disaster and its victims increases. 
The map details five concentric zones of compassion. The red zone, fairly contiguous with what used to be called the "first world," is Ground Zero for our sympathies. For disasters in Canada and the U.S. (but not, strangely enough, Alaska), Western and Central Europe, Israel, Japan and Australia (sorry, no New Zealanders!), we say: Que gran tragedia!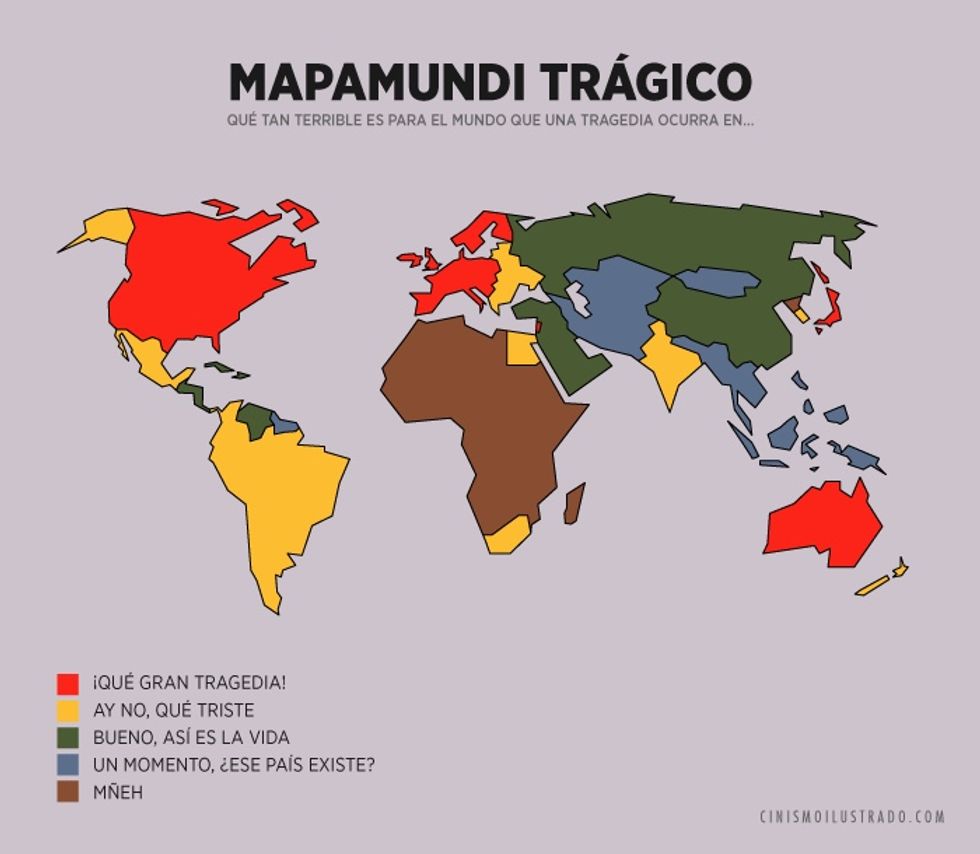 The second circle of sympathy comprises most of Latin America (but not Venezuela, nor the Central American states), the part of Eastern Europe squeezed between Russia and the West, Egypt, South Africa, India, and South Korea. Something terrible goes down here, we can still bring ourselves to think: Ay no, qué triste. But if you're in a train wreck or plane crash in Russia, China, the Middle East, Venezuela, Cuba, or Central America, we shrug: Bueno, asi es la vida. No tears please, they make you look even poorer. 
There's worse depths our empathy can sink to. Dozens of miners trapped underground, an apartment building ablaze, a bomb going off in a market place — if that happens in the Guyanas, Mongolia, Central Asia, or the bits of that continent to the west or east of India, our reaction is: Wait a second, does that country even exist? But that's still better than our response to tragedy in most of Africa: Mneh. Or when will your Facebook profile start reflecting your concerns about that famine now looming in east Africa?
Image found here on Cinismo Illustrado. For more on the link between geographic proximity and newsworthiness, see #266.
Strange Maps #749
Who is to blame for the U.S.'s dismal college graduation rate? "Radical" educator Dennis Littky has a hunch.
Sponsored by Charles Koch Foundation
COVID-19 has magnified the challenges that underserved communities face with regard to higher education, such as widening social inequality and sky-high tuition.
At College Unbound, where I am president, we get to know students individually to understand what motivates them, so they can build a curriculum based on goals they want to achieve.
My teaching mantra: Everything is permitted during COVID-19. Everything is permitted during COVID-19. Everything is permitted during COVID-19.
Meteorologists propose a stunning new explanation for the mysterious events in the Bermuda Triangle.
Surprising Science
One of life's great mysteries, the Bermuda Triangle might have finally found an explanation. This strange region, that lies in the North Atlantic Ocean between Bermuda, Miami and San Juan, Puerto Rico, has been the presumed cause of dozens and dozens of mind-boggling disappearances of ships and planes.
Did you know that shifting to a positive perspective on aging can add 7.5 years to your life? Or that there is a provable U-curve of happiness that shows people get happier after age 50?
Sweden tops the ranking for the third year in a row.
AXEL SCHMIDT/DDP/AFP via Getty Images
Technology & Innovation
What does COVID-19 mean for the energy transition? While lockdowns have caused a temporary fall in CO2 emissions, the pandemic risks derailing recent progress in addressing the world's energy challenges.
Culture & Religion
Neo's superhuman powers were only inside of The Matrix. The outside world offered a different reality.
Scroll down to load more…