The Geography of Empathy and Apathy: Some Countries We Care about More than Others
Compassion comes is five concentric zones, according to this cynical map.
17 November, 2015
Compassion is tricky. Solidarity is a minefield. Which natural disasters, which terrorists attacks do you feel more keenly? If you're like most people, it will be those incidents closer to home - both in a literal and figurative sense. We are not as magnanimous as we think; our sympathy has limits — and those limits are, to a certain extent, geographic.
---
As shown by this cartoon map, the crude offensiveness of which is shocking only in so far as it is true. This Mapamundi Tragico colour-codes the horror we experience, and the concomitant empathy we feel, for the tragedies that occur all over the world, from a Western perspective. Those feelings of empathy decrease as the cultural, economic, and geographical distance to the disaster and its victims increases. 
The map details five concentric zones of compassion. The red zone, fairly contiguous with what used to be called the "first world," is Ground Zero for our sympathies. For disasters in Canada and the U.S. (but not, strangely enough, Alaska), Western and Central Europe, Israel, Japan and Australia (sorry, no New Zealanders!), we say: Que gran tragedia!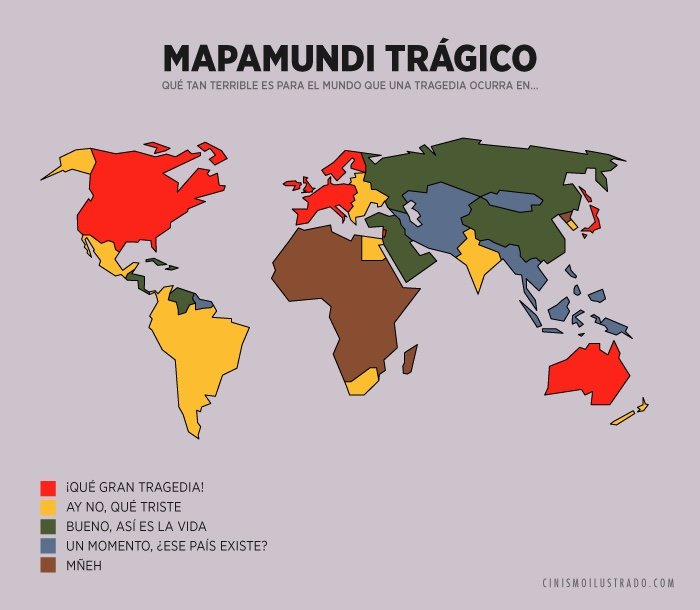 The second circle of sympathy comprises most of Latin America (but not Venezuela, nor the Central American states), the part of Eastern Europe squeezed between Russia and the West, Egypt, South Africa, India, and South Korea. Something terrible goes down here, we can still bring ourselves to think: Ay no, qué triste. But if you're in a train wreck or plane crash in Russia, China, the Middle East, Venezuela, Cuba, or Central America, we shrug: Bueno, asi es la vida. No tears please, they make you look even poorer. 
There's worse depths our empathy can sink to. Dozens of miners trapped underground, an apartment building ablaze, a bomb going off in a market place — if that happens in the Guyanas, Mongolia, Central Asia, or the bits of that continent to the west or east of India, our reaction is: Wait a second, does that country even exist? But that's still better than our response to tragedy in most of Africa: Mneh. Or when will your Facebook profile start reflecting your concerns about that famine now looming in east Africa?
Image found here on Cinismo Illustrado. For more on the link between geographic proximity and newsworthiness, see #266.
Strange Maps #749
Malcolm Gladwell teaches "Get over yourself and get to work" for Big Think Edge.
Big Think Edge
Learn to recognize failure and know the big difference between panicking and choking.

At Big Think Edge, Malcolm Gladwell teaches how to check your inner critic and get clear on what failure is.

Subscribe to Big Think Edge before we launch on March 30 to get 20% off monthly and annual memberships.
You can say 'no' to things, and you should. Do it like this.
Videos
Give yourself permission to say "no" to things. Saying yes to everything is a fast way to burn out.
Learn to say no in a way that keeps the door of opportunity open: No should never be a one-word answer. Say "No, but I could do this instead," or, "No, but let me connect you to someone who can help."
If you really want to say yes but can't manage another commitment, try qualifiers like "yes, if," or "yes, after."
Three scientists publish a paper proving that Mercury, not Venus, is the closest planet to Earth.
Strange Maps
Earth is the third planet from the Sun, so our closest neighbor must be planet two or four, right?
Wrong! Neither Venus nor Mars is the right answer.
Three scientists ran the numbers. In this YouTube video, one of them explains why our nearest neighbor is... Mercury!
Neuroscience research suggests it might be time to rethink our ideas about when exactly a child becomes an adult.
Mind & Brain
Research suggests that most human brains take about 25 years to develop, though these rates can vary among men and women, and among individuals.
Although the human brain matures in size during adolescence, important developments within the prefrontal cortex and other regions still take pace well into one's 20s.
The findings raise complex ethical questions about the way our criminal justice systems punishes criminals in their late teens and early 20s.
Big think's weekly newsletter.
Get smarter faster from the comfort of your inbox.
See our newsletter privacy policy
here
Most Popular
Most Recent
Big think's weekly newsletter.
Get smarter faster from the comfort of your inbox.
See our newsletter privacy policy
here
© Copyright 2007-2018 & BIG THINK, BIG THINK EDGE,
SMARTER FASTER trademarks owned by The Big Think, Inc. All rights reserved.