Big ideas.
Once a week.
Subscribe to our weekly newsletter.
Sierra Leone is the world's roundest country (and Egypt the squarest one)
Mind-boggling as it is, some of the world's roundest countries are also some of the most rectangular ones.
30 July, 2018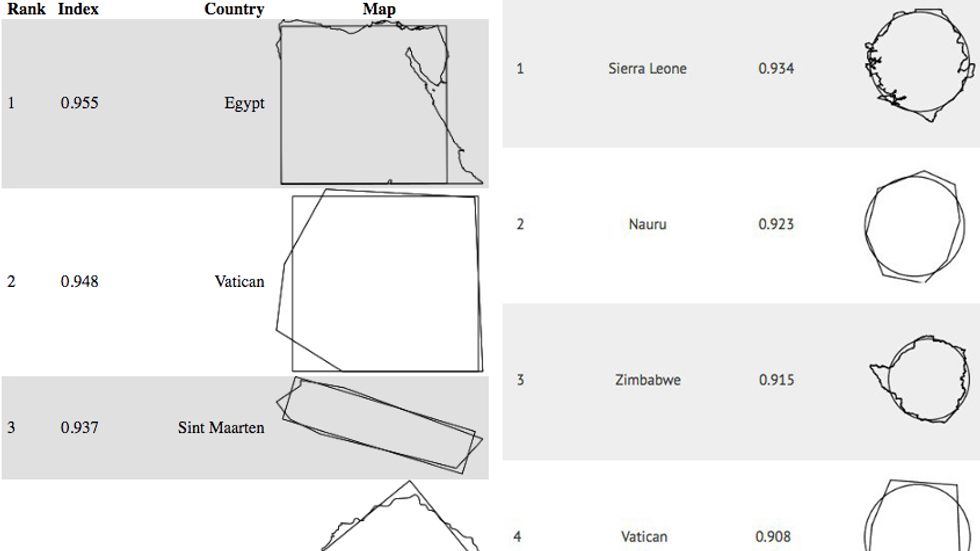 In country morphology, rectangularity and rotundity are not entirely mutually exclusive.
Take look at a map of Turkey and you'll have to agree: it's a curiously box-shaped country. Why is the wrong question. Like most international borders, Turkey's are the result of geopolitical accident, not of aesthetic or geometric design. A more pertinent query: How rectangular is Turkey? Is it, perhaps, the most rectangular country in the world?
---
To answer that question, you'd have to find a dataset that minutely describes the borders of all countries on Earth and devise an algorithm that compares each country's shape to an optimum rectangle with the same area.
That's exactly what Australian geo-statistician David Barry did. His conclusion: Turkey is only the 15th most rectangular country in the world. The winner: Egypt.
Inevitably, one esoteric geographical question led to its opposite: What is the roundest country in the world? That one was answered by Gonzalo Ciruelos, an Argentinian mathematician. The top of that ranking is Sierra Leone.
As the winners in both categories indicate, Africa is a country of great diversity in geopolitical morphology. But the most curious country in either ranking is... the Vatican. As it turns out, the Papal State is both the 4th roundest and the 2nd most rectangular country in the world. How is that possible?
First, let's have a closer look at the results. In Mr Barry's definition, 'optimum rectangularity' is the maximum percentage overlap of a country with a rectangle of the same area.
He's the first to admit that his algorithm may be inadequate for some countries with complex shapes ("Italy looks like the biggest country that might be wrong"), scattered geographies (e.g. Norway, because it includes Bouvet Island, a Norwegian dependency located between South Africa and Antarctica, freakishly far from the motherland) or locations on either side of the 180° longitude meridian (New Zealand, United States, Russia).
Also, the Natural Earth database includes small dependencies such as Scarborough Reef (1) as separate entries, which somewhat distorts a per-country ranking. Still, here goes:
Cutting through empty deserts, Egypt's eastern and southern borders are completely straight—the Bir Tawil Trapezoid (2) is a notable but statistically insignificant exception. Combined with a fairly straight Mediterranean coastline in the north and its only slightly slanted Red Sea shore in the east, Egypt gets a 'rectangularity' score of 0.955 (out of 1), and the first place.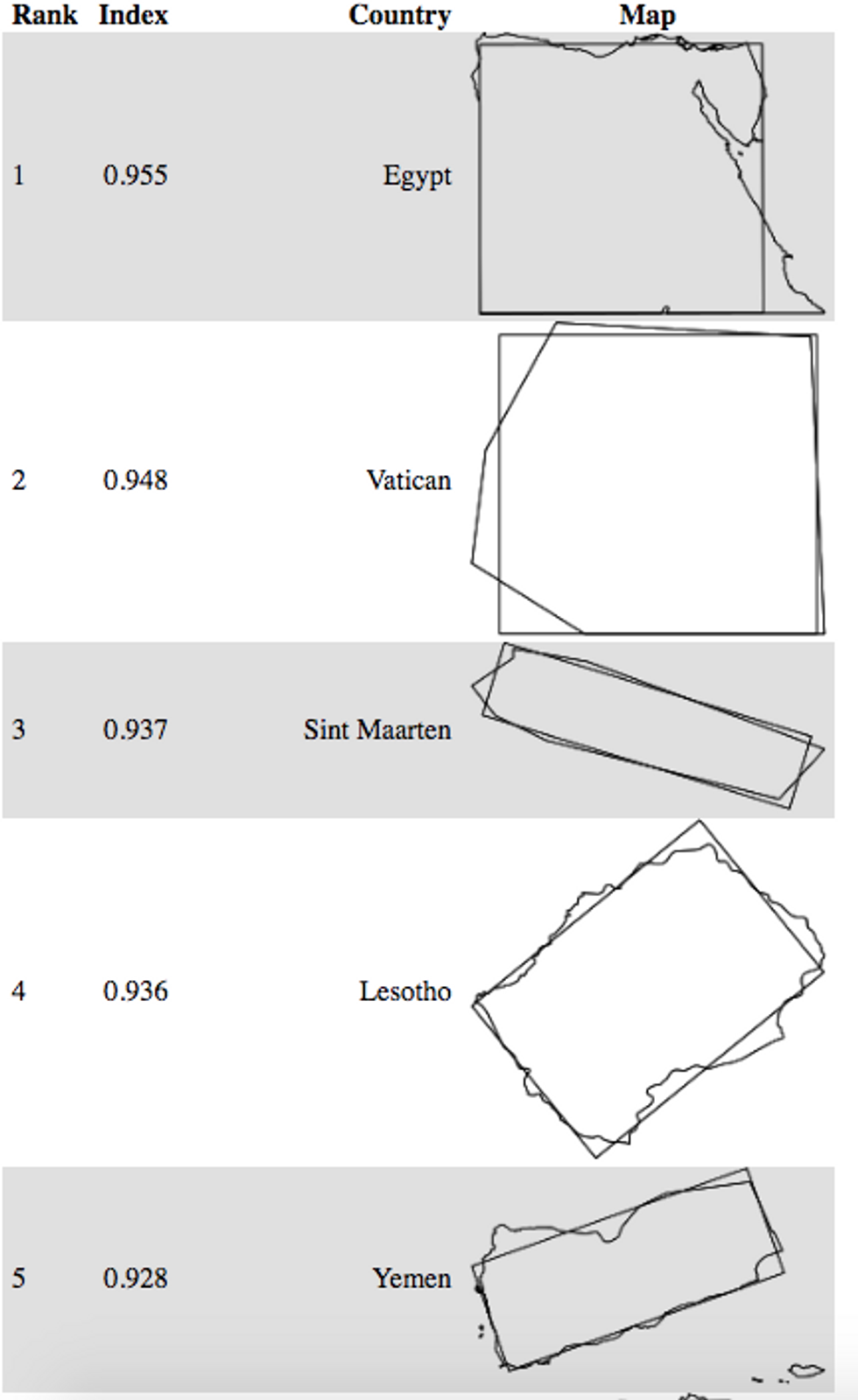 The Vatican's actual borders are a lot more varied than this boxy rendition—perhaps because the database wasn't built to reflect the delineation of the world's smallest state in the greatest possible detail. That may explain why the geopolitical headquarters of the Catholic church manages to rank second in this list.
Smallness and concurrent lack of detail may explain the high score of Sint-Maarten, one of the Dutch dependencies in the Caribbean, but not of Lesotho—a much bigger enclave state inside South Africa—nor Yemen. Currently torn by a vicious civil war, the latter country may yet dissolve back into North and South Yemen, as was the case until 1990. Its constituent parts would likely tumble far down the global rectangularity rankings, perhaps the most trivial effect of such a separation.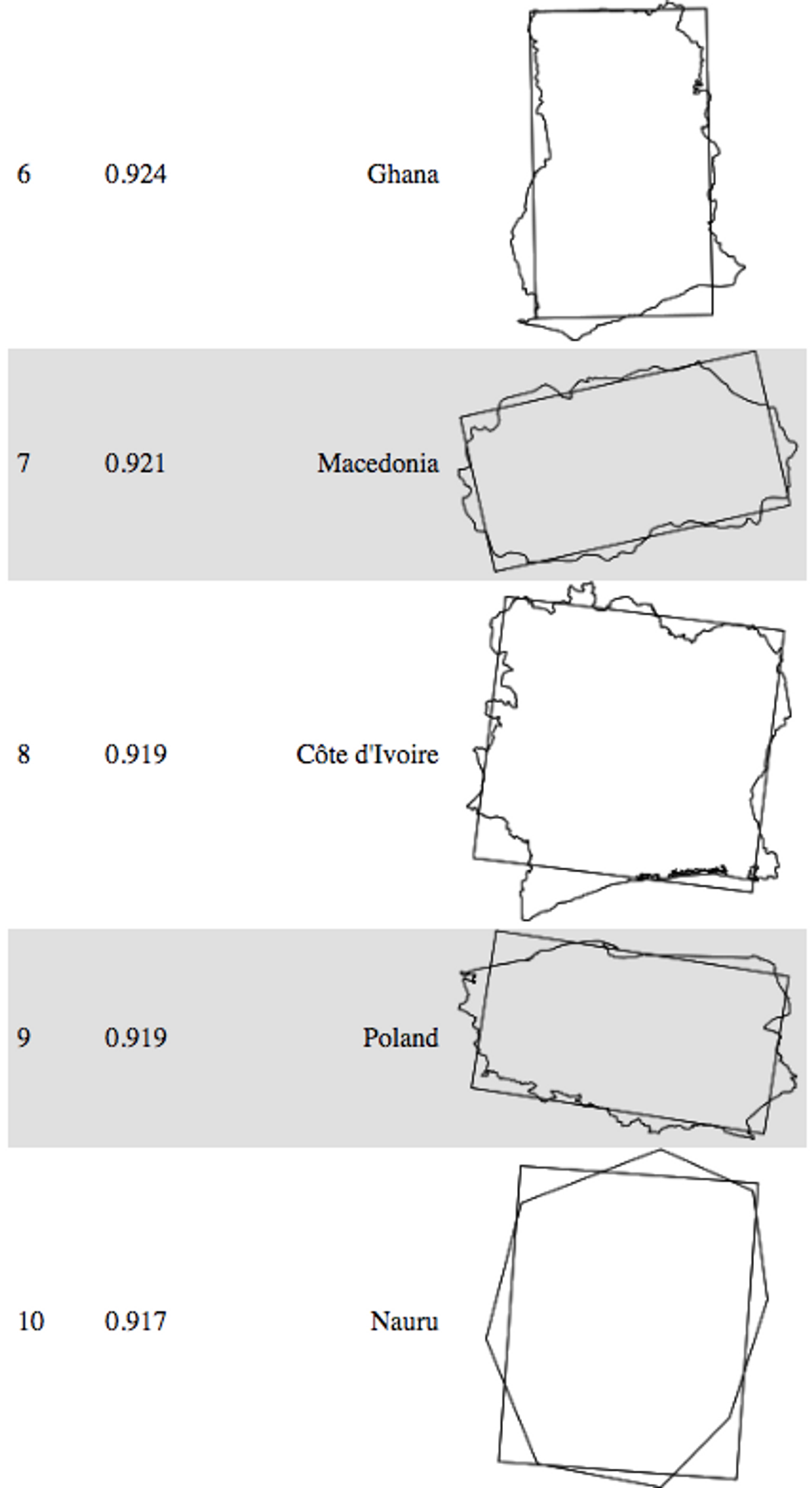 Still rating higher than 0.9 on the rectangularity scale are Ghana and Ivory Coast in Africa, and in Europe Macedonia and Poland—indeed also one of those preternaturally 'boxy'-looking countries. The tiny Pacific island nation of Nauru, for its part, is another one of those countries that looks rectangular by lack of detail in the database.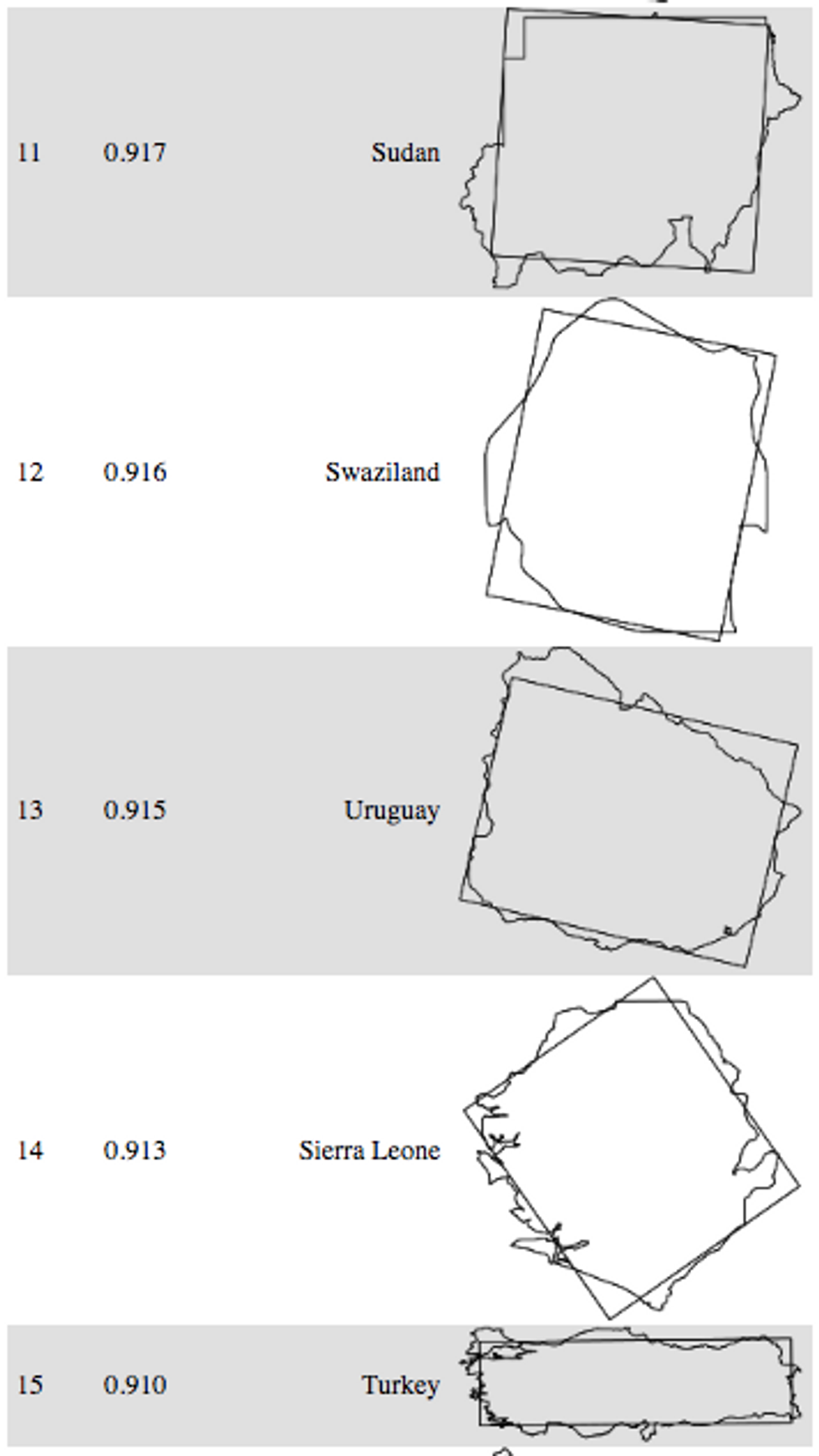 Sudan lost its southern third (3) in an independence referendum in 2011. As the emptiest of  consolations, it gained in rectangularity. It now ranks 11th in the world. Rating 0.916, Eswatini (since 19 April 2018 the new name for Swaziland) loses out by a small margin from its near neighbor Lesotho. Uruguay is the highest Latin American entry.
Both the U.K. and the U.S. are down towards the bottom of the ranking, by the way. The United Kingdom (rating 0.763) is down in 159th place. Largely due to the eccentricity of Alaska (and Hawaii), the United States (rating 0.735) is only the 169th most rectangular country in the world.
Taking a look at the other ranking, Sierra Leone (rating: 0.934) leads the world in national roundness—despite also being the world's 14th most rectangular country. It's a nose-length ahead of Nauru (0.923), which is also the world's 10th most rectangular country.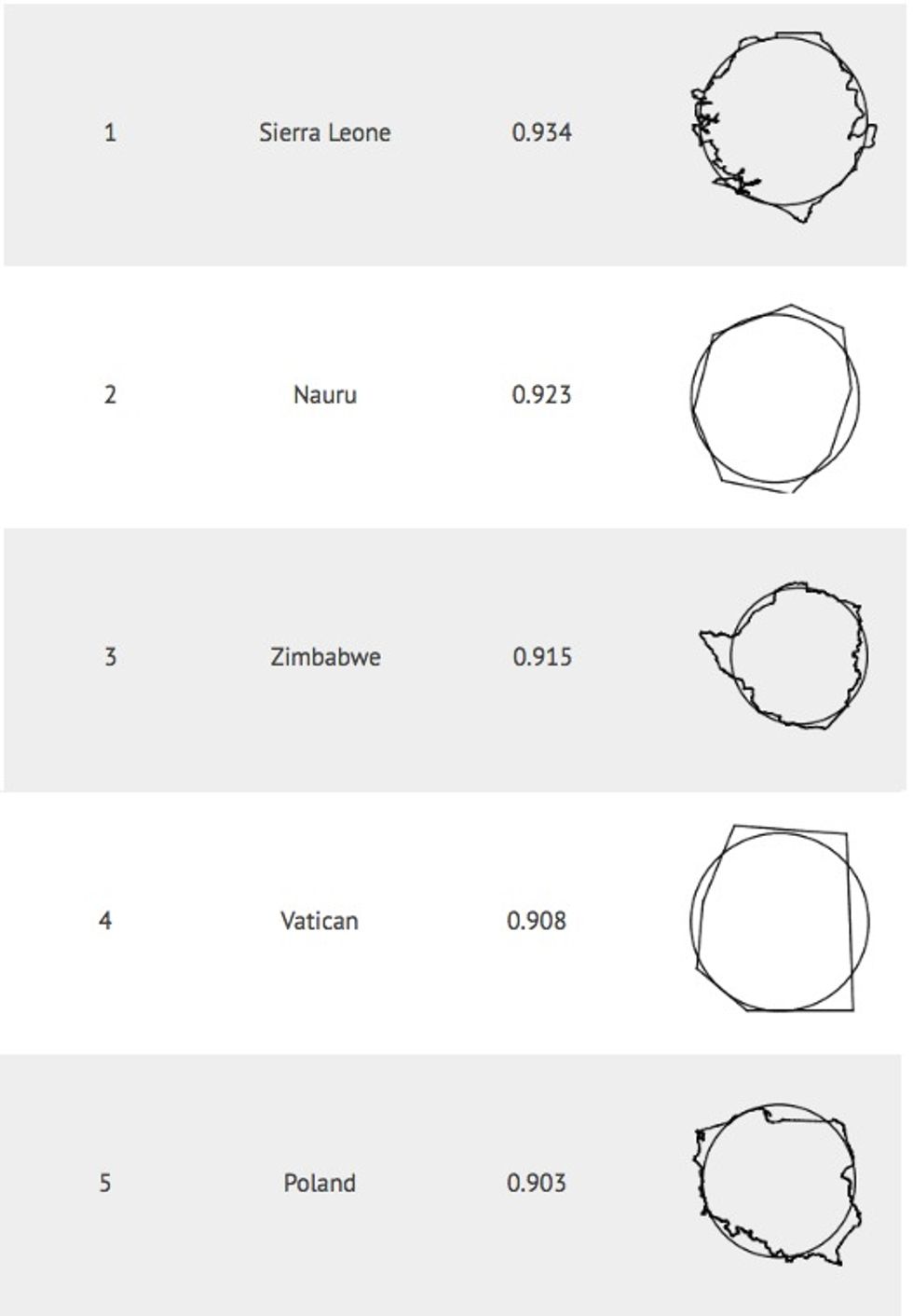 Zimbabwe (0.915) might have finished first, if it weren't for the Hwange region in Matabeleland, jutting out of the country's circle of Optimal Rotundity. The Southern African country is also the world's 30th most rectangular country, by the way.
As mentioned earlier, the 4th-roundest country is the Vatican, the world's 2nd most rectangular country. The 5th-roundest country: Poland… on 9th place in the other ranking.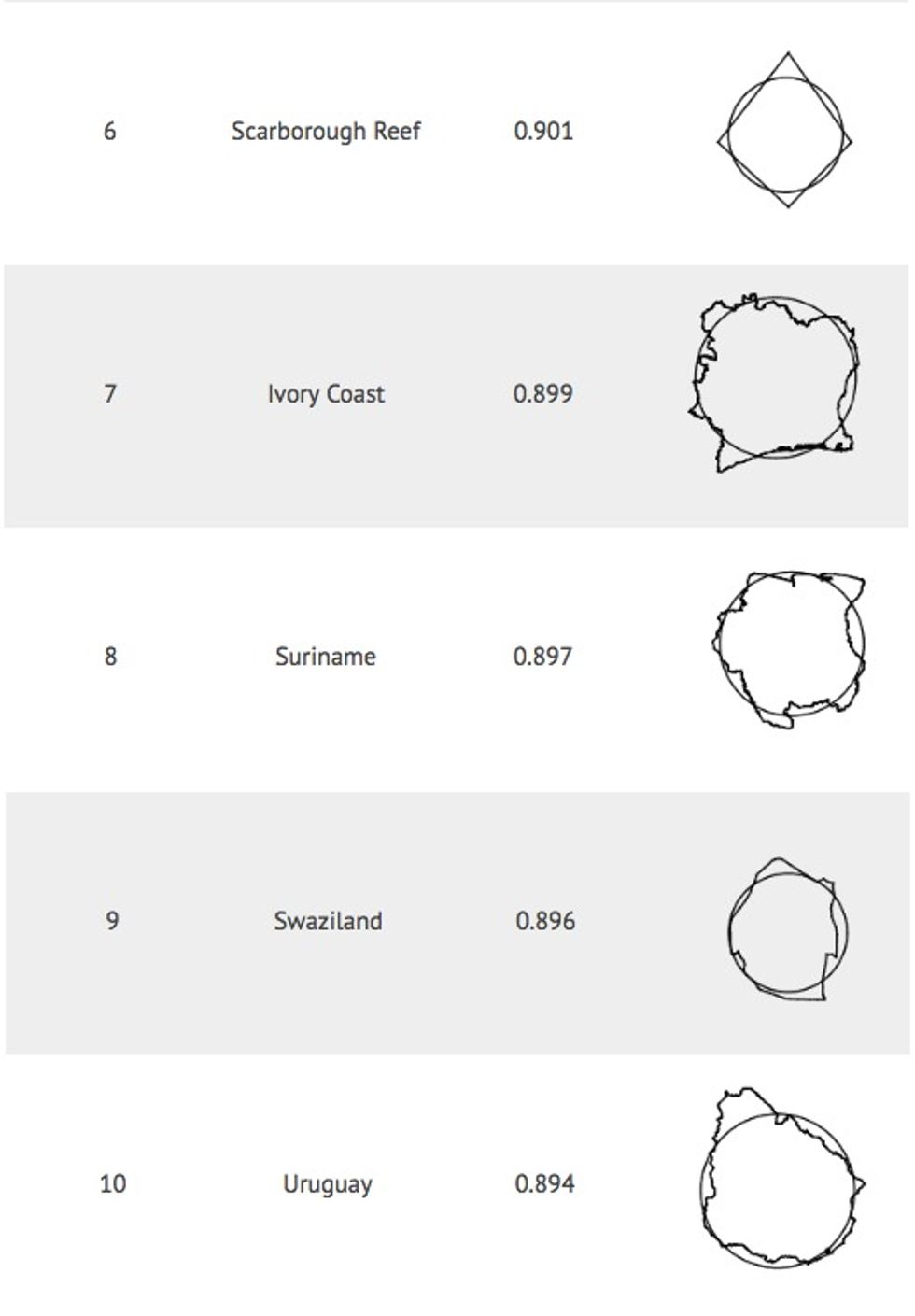 So what does this teach us? Little of any practical value, except this: the fact that the Vatican scores pretty high on both lists has nothing to do with divine intervention. Contrary to common sense, countries can be both very rotund and very rectangular at the same time.
And funnily enough, it's also the same countries that are both the least round and rectangular: on 208th and last place, the Maldives are the world's least rectangular country, followed by the Marshall Islands (on 207). That same Pacific archipelago is also the world's least round country, with the Maldives trailing just four places behind.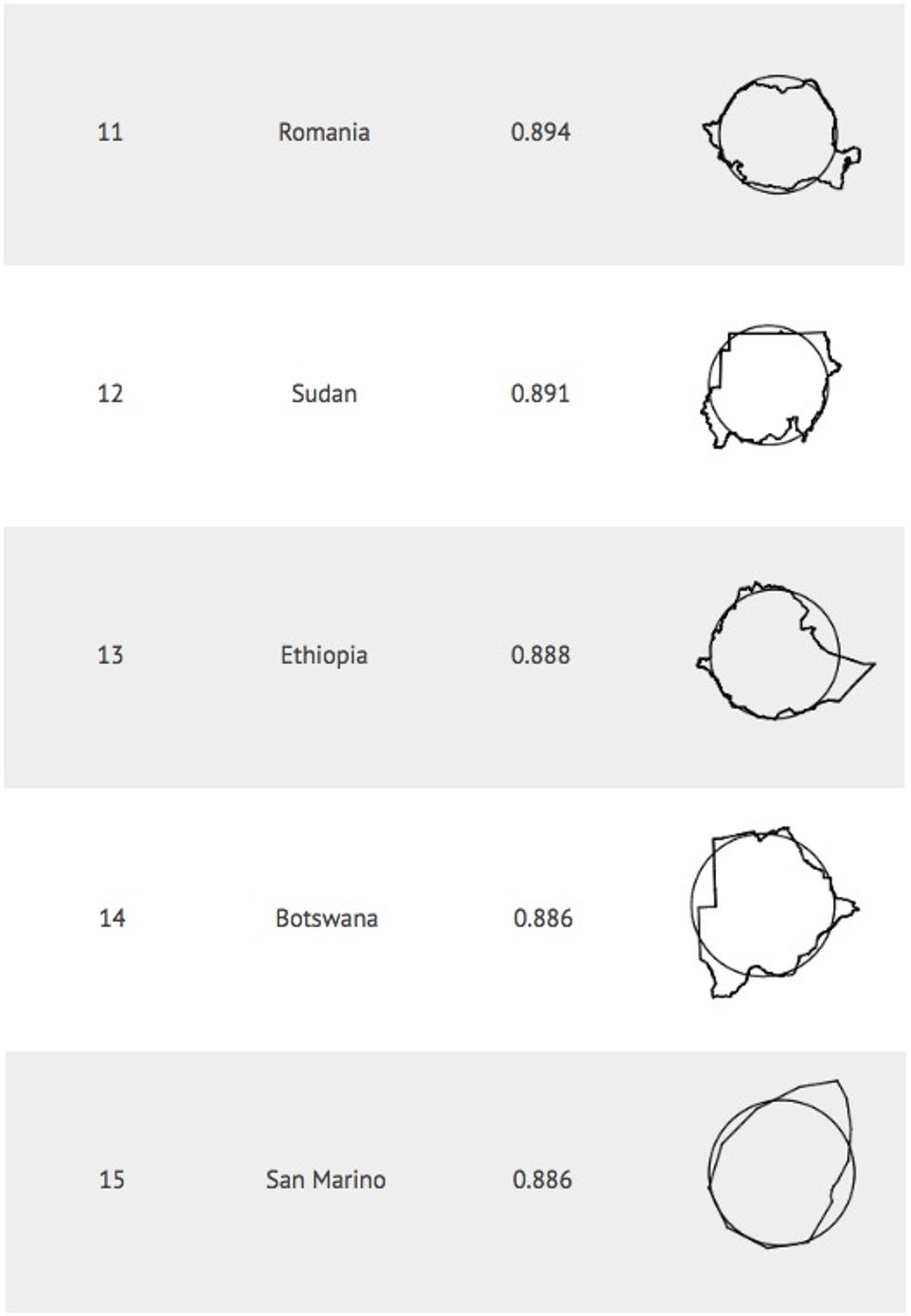 Roundness maps found here at A Map A Day. Original context here on Mr Ciruelos' web page. Rectangularity maps found here on Mr Barry's page.
Strange Maps #926
Got a strange map? Let me know at strangemaps@gmail.com.
(1) A shoal in the South China Sea disputed between China, Taiwan and the Philippines. In April 2012, the Chinese Navy prevented their Philippine counterparts from apprehending a number of Chinese fishing vessels off Scarborough Reef (known in Chinese as Huangyan Dao). Since that incident, de facto control over the Reef has passed from the Philippines to China – straining both relations between the Philippines and China, and between the Philippines and the U.S., which did not act to defend the territorial claim of its ally. 
(2) Quite possibly the only officially ungoverned territory on Earth, outside Antarctica. See also #396.
(3) South Sudan—infamous as one of the world's data holes (see #843). But not for the aforementioned researchers: the world's youngest nation is the 63rd roundest and 89th most rectangular country in the world. 
Is information the fifth form of matter?
Photo: Shutterstock
Surprising Science
Researchers have been trying for over 60 years to detect dark matter.
There are many theories about it, but none are supported by evidence.
The mass-energy-information equivalence principle combines several theories to offer an alternative to dark matter.
The experience of life flashing before one's eyes has been reported for well over a century, but where's the science behind it?
Mind & Brain
At the age of 16, when Tony Kofi was an apprentice builder living in Nottingham, he fell from the third story of a building. Time seemed to slow down massively, and he saw a complex series of images flash before his eyes.
As he described it, "In my mind's eye I saw many, many things: children that I hadn't even had yet, friends that I had never seen but are now my friends. The thing that really stuck in my mind was playing an instrument". Then Tony landed on his head and lost consciousness.
When he came to at the hospital, he felt like a different person and didn't want to return to his previous life. Over the following weeks, the images kept flashing back into his mind. He felt that he was "being shown something" and that the images represented his future.
Later, Tony saw a picture of a saxophone and recognized it as the instrument he'd seen himself playing. He used his compensation money from the accident to buy one. Now, Tony Kofi is one of the UK's most successful jazz musicians, having won the BBC Jazz awards twice, in 2005 and 2008.
Though Tony's belief that he saw into his future is uncommon, it's by no means uncommon for people to report witnessing multiple scenes from their past during split-second emergency situations. After all, this is where the phrase "my life flashed before my eyes" comes from.
But what explains this phenomenon? Psychologists have proposed a number of explanations, but I'd argue the key to understanding Tony's experience lies in a different interpretation of time itself.
When life flashes before our eyes
The experience of life flashing before one's eyes has been reported for well over a century. In 1892, a Swiss geologist named Albert Heim fell from a precipice while mountain climbing. In his account of the fall, he wrote is was "as if on a distant stage, my whole past life [was] playing itself out in numerous scenes".
More recently, in July 2005, a young woman called Gill Hicks was sitting near one of the bombs that exploded on the London Underground. In the minutes after the accident, she hovered on the brink of death where, as she describes it: "my life was flashing before my eyes, flickering through every scene, every happy and sad moment, everything I have ever done, said, experienced".
In some cases, people don't see a review of their whole lives, but a series of past experiences and events that have special significance to them.
Explaining life reviews
Perhaps surprisingly, given how common it is, the "life review experience" has been studied very little. A handful of theories have been put forward, but they're understandably tentative and rather vague.
For example, a group of Israeli researchers suggested in 2017 that our life events may exist as a continuum in our minds, and may come to the forefront in extreme conditions of psychological and physiological stress.
Another theory is that, when we're close to death, our memories suddenly "unload" themselves, like the contents of a skip being dumped. This could be related to "cortical disinhibition" – a breaking down of the normal regulatory processes of the brain – in highly stressful or dangerous situations, causing a "cascade" of mental impressions.
But the life review is usually reported as a serene and ordered experience, completely unlike the kind of chaotic cascade of experiences associated with cortical disinhibition. And none of these theories explain how it's possible for such a vast amount of information – in many cases, all the events of a person's life – to manifest themselves in a period of a few seconds, and often far less.
Thinking in 'spatial' time
An alternative explanation is to think of time in a "spatial" sense. Our commonsense view of time is as an arrow that moves from the past through the present towards the future, in which we only have direct access to the present. But modern physics has cast doubt on this simple linear view of time.
Indeed, since Einstein's theory of relativity, some physicists have adopted a "spatial" view of time. They argue we live in a static "block universe" in which time is spread out in a kind of panorama where the past, the present and the future co-exist simultaneously.
The modern physicist Carlo Rovelli – author of the best-selling The Order of Time – also holds the view that linear time doesn't exist as a universal fact. This idea reflects the view of the philosopher Immanuel Kant, who argued that time is not an objectively real phenomenon, but a construct of the human mind.
This could explain why some people are able to review the events of their whole lives in an instant. A good deal of previous research – including my own – has suggested that our normal perception of time is simply a product of our normal state of consciousness.
In many altered states of consciousness, time slows down so dramatically that seconds seem to stretch out into minutes. This is a common feature of emergency situations, as well as states of deep meditation, experiences on psychedelic drugs and when athletes are "in the zone".
The limits of understanding
But what about Tony Kofi's apparent visions of his future? Did he really glimpse scenes from his future life? Did he see himself playing the saxophone because somehow his future as a musician was already established?
There are obviously some mundane interpretations of Tony's experience. Perhaps, for instance, he became a saxophone player simply because he saw himself playing it in his vision. But I don't think it's impossible that Tony did glimpse future events.
If time really does exist in a spatial sense – and if it's true that time is a construct of the human mind – then perhaps in some way future events may already be present, just as past events are still present.
Admittedly, this is very difficult to make sense of. But why should everything make sense to us? As I have suggested in a recent book, there must be some aspects of reality that are beyond our comprehension. After all, we're just animals, with a limited awareness of reality. And perhaps more than any other phenomenon, this is especially true of time.

Steve Taylor, Senior Lecturer in Psychology, Leeds Beckett University
This article is republished from The Conversation under a Creative Commons license. Read the original article.
Might as well face it, you're addicted to love.
Sex & Relationships
Many writers have commented on the addictive qualities of love. Science agrees.
The reward system of the brain reacts similarly to both love and drugs
Someday, it might be possible to treat "love addiction."
Since people started writing, they've written about love. The oldest love poem known dates back to the 21st century BCE. For most of that time, writers also apparently have been of two (or more) minds about it, announcing that love can be painful, impossible to quit, or even addictive — while also mentioning how nice it is.
The idea of love as an addiction is one that is both familiar and unsettling. Surely it can't be the case that our mutual love with our partner — a thing that can produce euphoria, consumes a great deal of our time, and which we fear losing — can be compared to a drug habit? But indeed, many scientists have turned their attention to the idea of "love addiction" and how your brain on drugs might resemble your brain in love.
Love and other drugs
In a 2017 article published in the journal Philosophy, Psychiatry, & Psychology, a team of neuroethicists considered the idea that love is addicting and held the idea up to science for scrutiny.
They point out that the leading model of addiction rests on the notion of a drug causing the brain to release an unnatural level of reward chemicals, such as dopamine, effectively hijacking the brain's reward system. This phenomenon isn't strictly limited to drugs, though they are more effective at this process than other things. Rats can get a similar rush from sugar as from cocaine, and they can have terrible withdrawal symptoms when the sugar crash kicks in.
On the structural level, there is a fair amount of overlap between the parts of the brain that handle love and pair-bonding and the parts that deal with addiction and reward processing. When inside an MRI machine and asked to think about the person they love romantically, the reward centers of people's brains light up like Broadway.
Love as an addiction
These facts lead the authors to consider two ideas, dubbed the "narrow" and "broad" views of love as an addiction.
The narrow view holds that addiction is the result of abnormal brain processes that simply don't exist in non-addicts. Under this paradigm, "food-seeking or love-seeking behaviors are not truly the result of addiction, no matter how addiction-like they may outwardly appear." It could be that abnormal processes cause the brain's reward system to misfire when exposed to love and to react to it excessively.
If this model is accurate, love addiction would be a rare thing — one study puts it around five to ten percent of the population — but could be considered a disorder similar to others and caused by faulty wiring in the brain. As with other addictions, this malfunction of the reward system could lead to an inability to fully live a typical life, difficulty having healthy relationships, and a number of other negative consequences.
The broad view looks at addiction differently, perhaps even radically.
It begins with the idea that addiction exists on a spectrum of motivations. All of our appetites, including those for food and water, exist on this spectrum and activate similar parts of the brain when satisfied. We can have appetites for anything that taps into our reward system, including food, gambling, sex, drugs, and love. For most people most of the time, our appetites are fairly temperate, if recurring. I might be slightly "addicted" to food — I do need some a few times per day — but that "addiction" doesn't have any negative effects on my health.
An appetite for cocaine, however, is rarely temperate and usually dangerous. Likewise, a person's appetite for love could reach addiction levels, and a person could be considered "hooked" on relationships (or on a particular person). This would put love addiction at the extreme end of the spectrum.
None of this is to say that the authors think that love is bad for you just because it can resemble an addiction. Love addiction is not the same as cocaine addiction at the neurological level: important differences, like how long it takes for the desire for another "hit" to occur, do exist. Rather, the authors see this as an opportunity to reconsider our approach to addiction in general and to think about how we can help the heartsick when they just can't seem to get over their last relationship.
Is "love addiction" a treatable disorder?
Hypothetically, a neurological basis for an addiction to love could point toward interventions that "correct" for it. If the narrow view of addiction is accurate, perhaps some people will be able to seek treatment for love addiction in the same way that others seek help to quit smoking. If the broad view of addiction is correct, the treatment of love addiction would be unlikely as it may be difficult to properly identify where the cutoff of acceptability on a spectrum should be.
Either way, since love is generally held in high regard by all cultures and doesn't quite seem to be in the same category as a bad cocaine habit in terms of social undesirability, the authors doubt we'll be treating anyone for "love addiction" anytime soon.
Politics & Current Affairs
A brief passage from a recent UN report describes what could be the first-known case of an autonomous weapon, powered by artificial intelligence, killing in the battlefield.
Scroll down to load more…