The World's Data Holes, Quantified
It's not the ice that turns Greenland white, but the lack of data
31 May, 2017
---
Finally, a map that focuses on those corners of the world that are usually left out. And quantifies how little we know about them. Most data-free zone: Western Sahara. Where is that? Exactly.
You may not know the word choropleth – from the Greek for 'many shades' – but you have seen the principle applied on maps. Any map that variously shades or patterns areas in proportion to a statistical variable is a choropleth map. Except that on a world map, some countries or regions are likely to be left blank.
More often than not, those blank spaces include some or all of the following line-up of usual suspects: Greenland, French Guyana, Western Sahara, South Sudan, Eritrea, Somalia and North Korea.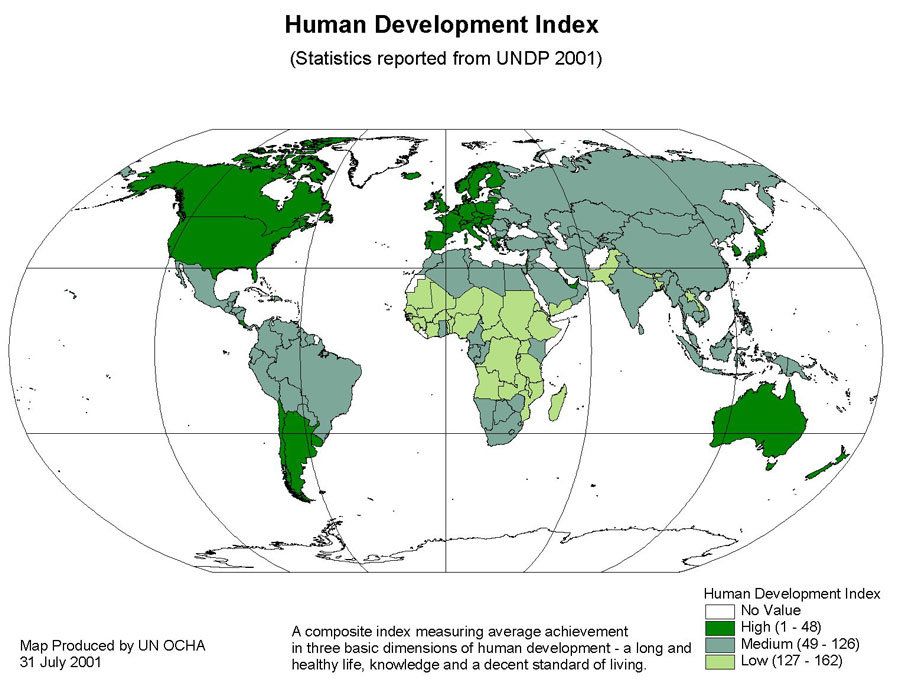 UN Human Development Index map from 2001. Data holes: Greenland, Cuba, French Guiana, Western Sahara, Liberia, Somalia, Belarus, Afghanistan, North Korea. 
These are either highly secretive countries, nations too war-torn and/or chaotic to produce sound statistical data, or territories whose data is subsumed in that of their colonising/occupying power.
For The Unmeasured World, the mapmaker analysed 100 choropleth world maps, adding up how many times each country contributed data. Not only does this provide us with a ranking of the world's most notorious data holes, it also reveals a much longer list of data-weak countries.
Let's start with the world's worst blind spots:
21 – Western Sahara: A disputed territory, Western Sahara is de facto a part of Morocco's figures but rarely labelled due to its unresolved international status
22 – Greenland: Not an independent state, Greenland's statistics are often buried as a subset of Denmark's and warrant no entry in most international data sets. But unlike some sovereign nations, Greenland's vast landmass makes it hard to ignore on a world map.
40 – North Korea: North Korea, an oppressive dictatorship, publishes figures that are distrusted and dismissed by most NGOs. The population is unavailable for independent surveys.
40 – Somalia: Engulfed by civil war for nearly three decades, Somalia's Directorate of National Statistics published its last census in 1986. Since 2015, the federal government, aided by Statistics Sweden, has attempted to rebuild Somalia's statistical capabilities.
48 – South Sudan: South Sudan's National Bureau of Statistics published several year books and censuses as a subnational entity of Sudan, but apparently funds ran out after the 2011 declaration of independence.
49 – Eritrea: Eritrea is a dictatorship like North Korea, ravaged by civil war like Somalia, and a young nation like South Sudan. Apart from government budgets, their National Statistics and Evaluation Offices has published nothing since 2002. 
49 – French Guiana: An integrated region of France, French Guiana is in the same situation as Greenland.
You will have seen these blind spots stare blankly at your from many a world map. But in a way, these 'known unknowns' are the lucky ones. As a close examination of this map shows, there are plenty of much smaller, lesser-known data holes - even if most of the world is doing fairly okay on the statistical front.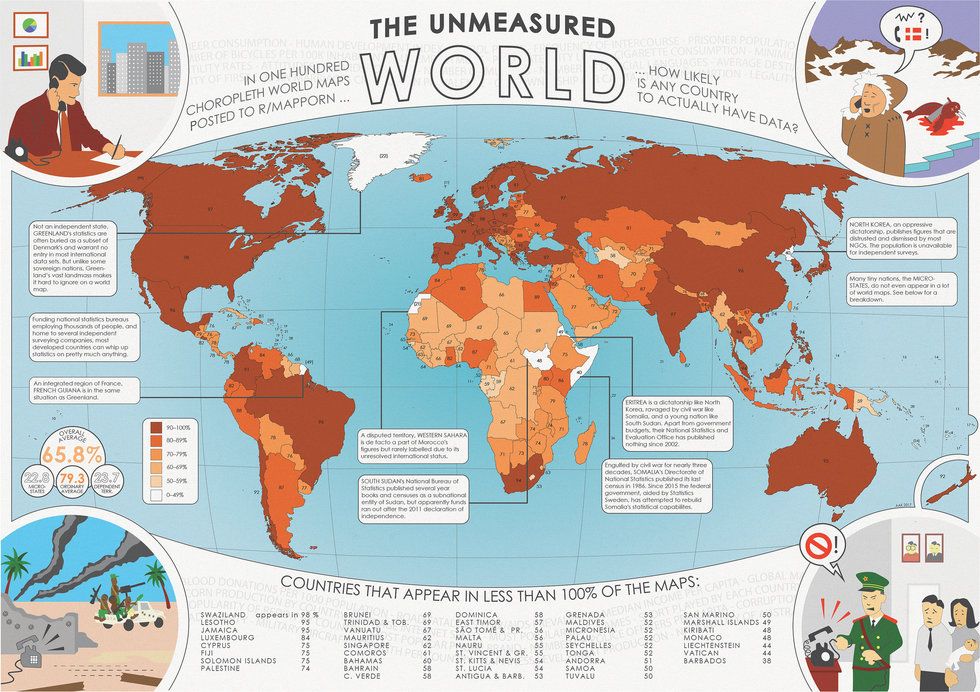 Countries in the darkest shade of brown appear in more than 90% of the examined maps. Many countries achieve a near-perfect score, including France and the UK (both 99), Germany and the U.S. (both 98) and India and Russia (both 97).
In Latin America, Mexico, El Salvador, Brazil, Colombia and Chile all score above 90, but the rest of the region lingers in the 80s (Argentina, Peru, Venezuela, among others), the 70s (Uruguay, Bolivia, Costa Rica) or even the 60s (Cuba, Jamaica, Suriname).
With the exception of South Africa (94) and Morocco, Algeria, Egypt, Ghana, Nigeria, Uganda and Kenya (all in the 80s), Africa seems particularly lacking in consistent data. Worst performers, except the aforementioned blank spots, are Equatorial Guinea (52), Lesotho (53), Guinea Bissau (54), Gabon and Congo (both 59).
Even Europe has its data-weak neighbourhoods, mainly ex-Yugoslavia, but also Albania, Moldova and Belarus (all in the 70s). Cyprus, because of its particular status – split between an internationally recognised south and a virtually unrecognised north – scores 42, atypically low for Europe, and is another data hole.
Jordan (82) is doing well in a region stuck in the 70s, except war-torn Yemen (64), outsider Israel (91) and special case Palestine (35) – yet another data blind spot, albeit a tiny one.
Remarkably, Afghanistan (70), although extremely poor and conflicted, is doing a lot better than peaceful, but secretive Turkmenistan (58). In Asia and Oceania, Bhutan (68), Birma/Myanmar (62) and Papua New Guinea (59) stand out as fairly remarkable data holes. But not as bad as tiny East Timor (24) – we almost missed it, just north of Australia. Oh, and look at Brunei (37) a bit further north.
East Timor is another young, poor nation. And Brunei is the personal fiefdom of a sultan who may not value statistical transparency with the same keenness as a democratic government would. At least, that is how we rationalise the low scores of those two countries. But what is Singapore's (41) excuse? The high-tech city-state surely does not lack in stats, vital and otherwise?
As indicated by the list of nations printed at the bottom of the map, choropleth world maps have a problem with showing data for the world's smallest nations – and often leave them out. That is why the Caribbean nations generally score pretty bad, and the Vatican appears on only 44 out of a hundred maps. Who would have guessed that the Pope runs a data hole even deeper than South Sudan? 
UN HDI map found here at Cool Geography. This map found here on the Map Porn subreddit, where it won the May Map Contest. Congratulations!
Strange Maps #843 
Got a strange map? Let me know at strangemaps@gmail.com. 
Big Think Edge
The meaning of the word 'confidence' seems obvious. But it's not the same as self-esteem.
Confidence isn't just a feeling on your inside. It comes from taking action in the world.
Join Big Think Edge today and learn how to achieve more confidence when and where it really matters.
The team caught a glimpse of a process that takes 18,000,000,000,000,000,000,000 years.
Image source: Pixabay
Surprising Science
In Italy, a team of scientists is using a highly sophisticated detector to hunt for dark matter.
The team observed an ultra-rare particle interaction that reveals the half-life of a xenon-124 atom to be 18 sextillion years.
The half-life of a process is how long it takes for half of the radioactive nuclei present in a sample to decay.
Researchers hope the technology will further our understanding of the brain, but lawmakers may not be ready for the ethical challenges.
Still from John Stephenson's 1999 rendition of Animal Farm.
Surprising Science
Researchers at the Yale School of Medicine successfully restored some functions to pig brains that had been dead for hours.
They hope the technology will advance our understanding of the brain, potentially developing new treatments for debilitating diseases and disorders.
The research raises many ethical questions and puts to the test our current understanding of death.
The image of an undead brain coming back to live again is the stuff of science fiction. Not just any science fiction, specifically B-grade sci fi. What instantly springs to mind is the black-and-white horrors of films like Fiend Without a Face. Bad acting. Plastic monstrosities. Visible strings. And a spinal cord that, for some reason, is also a tentacle?
But like any good science fiction, it's only a matter of time before some manner of it seeps into our reality. This week's Nature published the findings of researchers who managed to restore function to pigs' brains that were clinically dead. At least, what we once thought of as dead.
What's dead may never die, it seems
The researchers did not hail from House Greyjoy — "What is dead may never die" — but came largely from the Yale School of Medicine. They connected 32 pig brains to a system called BrainEx. BrainEx is an artificial perfusion system — that is, a system that takes over the functions normally regulated by the organ. The pigs had been killed four hours earlier at a U.S. Department of Agriculture slaughterhouse; their brains completely removed from the skulls.
BrainEx pumped an experiment solution into the brain that essentially mimic blood flow. It brought oxygen and nutrients to the tissues, giving brain cells the resources to begin many normal functions. The cells began consuming and metabolizing sugars. The brains' immune systems kicked in. Neuron samples could carry an electrical signal. Some brain cells even responded to drugs.
The researchers have managed to keep some brains alive for up to 36 hours, and currently do not know if BrainEx can have sustained the brains longer. "It is conceivable we are just preventing the inevitable, and the brain won't be able to recover," said Nenad Sestan, Yale neuroscientist and the lead researcher.
As a control, other brains received either a fake solution or no solution at all. None revived brain activity and deteriorated as normal.
The researchers hope the technology can enhance our ability to study the brain and its cellular functions. One of the main avenues of such studies would be brain disorders and diseases. This could point the way to developing new of treatments for the likes of brain injuries, Alzheimer's, Huntington's, and neurodegenerative conditions.
"This is an extraordinary and very promising breakthrough for neuroscience. It immediately offers a much better model for studying the human brain, which is extraordinarily important, given the vast amount of human suffering from diseases of the mind [and] brain," Nita Farahany, the bioethicists at the Duke University School of Law who wrote the study's commentary, told National Geographic.
An ethical gray matter
Before anyone gets an Island of Dr. Moreau vibe, it's worth noting that the brains did not approach neural activity anywhere near consciousness.
The BrainEx solution contained chemicals that prevented neurons from firing. To be extra cautious, the researchers also monitored the brains for any such activity and were prepared to administer an anesthetic should they have seen signs of consciousness.
Even so, the research signals a massive debate to come regarding medical ethics and our definition of death.
Most countries define death, clinically speaking, as the irreversible loss of brain or circulatory function. This definition was already at odds with some folk- and value-centric understandings, but where do we go if it becomes possible to reverse clinical death with artificial perfusion?
"This is wild," Jonathan Moreno, a bioethicist at the University of Pennsylvania, told the New York Times. "If ever there was an issue that merited big public deliberation on the ethics of science and medicine, this is one."
One possible consequence involves organ donations. Some European countries require emergency responders to use a process that preserves organs when they cannot resuscitate a person. They continue to pump blood throughout the body, but use a "thoracic aortic occlusion balloon" to prevent that blood from reaching the brain.
The system is already controversial because it raises concerns about what caused the patient's death. But what happens when brain death becomes readily reversible? Stuart Younger, a bioethicist at Case Western Reserve University, told Nature that if BrainEx were to become widely available, it could shrink the pool of eligible donors.
"There's a potential conflict here between the interests of potential donors — who might not even be donors — and people who are waiting for organs," he said.
It will be a while before such experiments go anywhere near human subjects. A more immediate ethical question relates to how such experiments harm animal subjects.
Ethical review boards evaluate research protocols and can reject any that causes undue pain, suffering, or distress. Since dead animals feel no pain, suffer no trauma, they are typically approved as subjects. But how do such boards make a judgement regarding the suffering of a "cellularly active" brain? The distress of a partially alive brain?
The dilemma is unprecedented.
Setting new boundaries
Another science fiction story that comes to mind when discussing this story is, of course, Frankenstein. As Farahany told National Geographic: "It is definitely has [sic] a good science-fiction element to it, and it is restoring cellular function where we previously thought impossible. But to have Frankenstein, you need some degree of consciousness, some 'there' there. [The researchers] did not recover any form of consciousness in this study, and it is still unclear if we ever could. But we are one step closer to that possibility."
She's right. The researchers undertook their research for the betterment of humanity, and we may one day reap some unimaginable medical benefits from it. The ethical questions, however, remain as unsettling as the stories they remind us of.
A scientific look into a ubiquitous phenomenon.
Big think's weekly newsletter.
Get smarter faster from the comfort of your inbox.
See our newsletter privacy policy
here
Most Popular
Most Recent
Big think's weekly newsletter.
Get smarter faster from the comfort of your inbox.
See our newsletter privacy policy
here
© Copyright 2007-2019 & BIG THINK, BIG THINK EDGE,
SMARTER FASTER trademarks owned by The Big Think, Inc. All rights reserved.