It Ain't Easy Being Greece
Three maps show how Greece is taking the brunt of Europe's refugee crisis
Frank Jacobs
From a young age, Frank was fascinated by maps and atlases, and the stories they contained. Finding his birthplace on the map in the endpapers of Tolkien's Lord of the Rings only increased his interest in the mystery and message of maps.
While pursuing a career in journalism, Frank started a blog called Strange Maps, as a repository for the weird and wonderful cartography he found hidden in books, posing as everyday objects and (of course) floating around the Internet.
"Each map tells a story, but the stories told by your standard atlas for school or reference are limited and literal: they show only the most practical side of the world, its geography and its political divisions. Strange Maps aims to collect and comment on maps that do everything but that - maps that show the world from a different angle".
A remit that wide allows for a steady, varied diet of maps: Frank has been writing about strange maps since 2006, published a book on the subject in 2009 and joined Big Think in 2010. Readers send in new material daily, and he keeps bumping in to cartography that is delightfully obscure, amazingly beautiful, shockingly partisan, and more.
10 March, 2016
It ain't easy being Greece. Last year, the eurozone crisis had the country flirting with insolvency. Athens narrowly avoided being kicked out of the common currency. This year, it's the refugee crisis. 
---
Not that waves of rubber dinghies landing on Lesbos are a new phenomenon. For a number of years now, Greece's islands have been stepping stones for huge numbers of migrants crossing from Turkey into Europe.
Typically, they move north to seek asylum in Germany, Sweden and the other promised lands of northern Europe. But that route has been blocked off this week, by a cascade of border closures, moving from north to south across the Balkans.
Austria was first to bar migrants from transiting its territory, quickly followed by Slovenia and Croatia, both also EU members, and Serbia and Macedonia, both outside the EU.
As a result, close to 14,000 refugees are now trapped at Idomeni, on the Greek side of the border with Macedonia, in conditions described by a Greek government minister as "atrocious".
Germany's chancellor Merkel has condemned the border closures, saying they put Greece in a very difficult position. She stated that a resolution to the crisis would need to come from the EU as a whole, not from disconnected measures by individual states.
The EU and Turkey are in fact finalising a plan that would send back all migrants arriving in Greece to Turkey. In exchange, the EU would take in an equivalent number of Syrian refugees currently living in Turkey.
But that's not a done deal yet, so migrants are still streaming into Greece, and are now unable to move on. "If we don't reach a deal with Turkey, Greece won't be able to bear the weight for long", Merkel said. Ankara, in any case, has said that the 'one-in, one-out' plan does not cover Syrian migrants already in Greece.
Is there a danger that Greece, impoverished by the eurozone crisis and strained by the refugee crisis, will collapse under its burden? Here are three maps that give an idea of the size of the problem. All three are cartograms, distorting the area of the countries on the map to reflect the number of refugees arriving by sea. The first one covers the period 2006 up to and including 2014.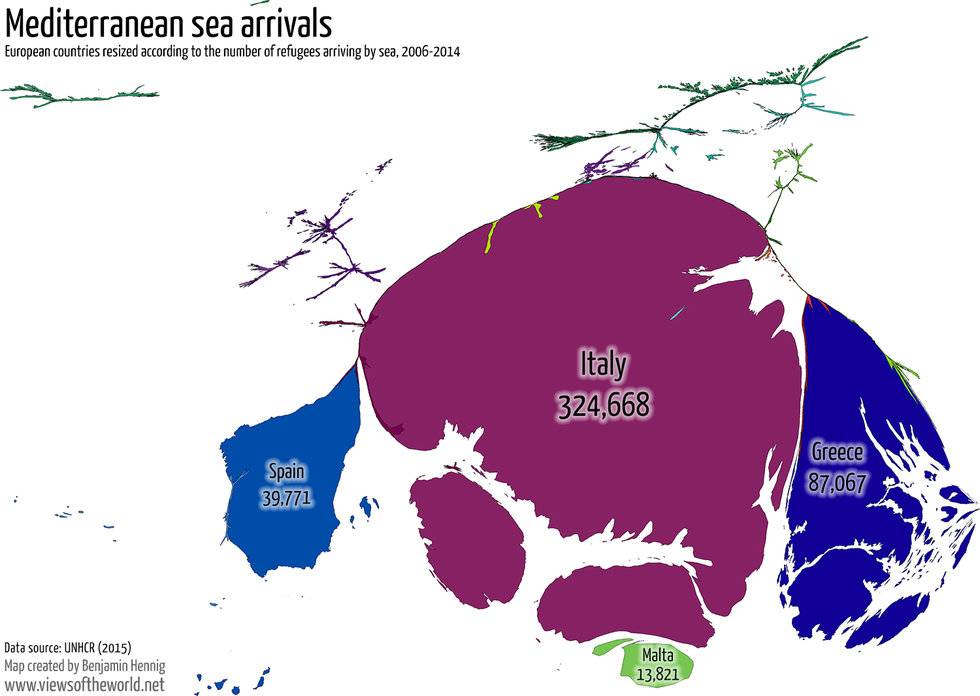 Maritime migration clearly is a Mediterranean issue: there are no boat people landing on Europe's Atlantic, North Sea or Baltic coasts. Italy was the favoured destination, with nearly a third of a million people arriving. Greece had less than 90,000 arrivals over the same nine years, Spain had just under 40,000 and Malta almost 14,000.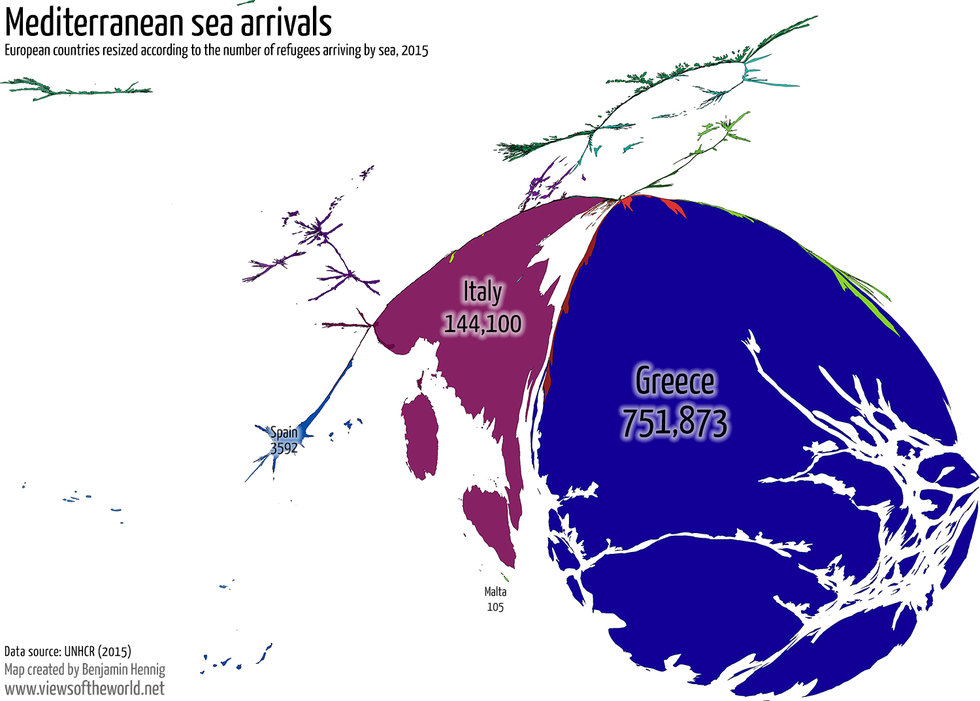 By 2015, the figures have exploded, and the stream has shifted. Migration to Spain and Malta has all but dried up; Italy is taking in a lot of people in absolute terms (almost 145,000 in a single year), but those figures are overshadowed by Greece's – more than 750,000 arrivals just for 2015 alone.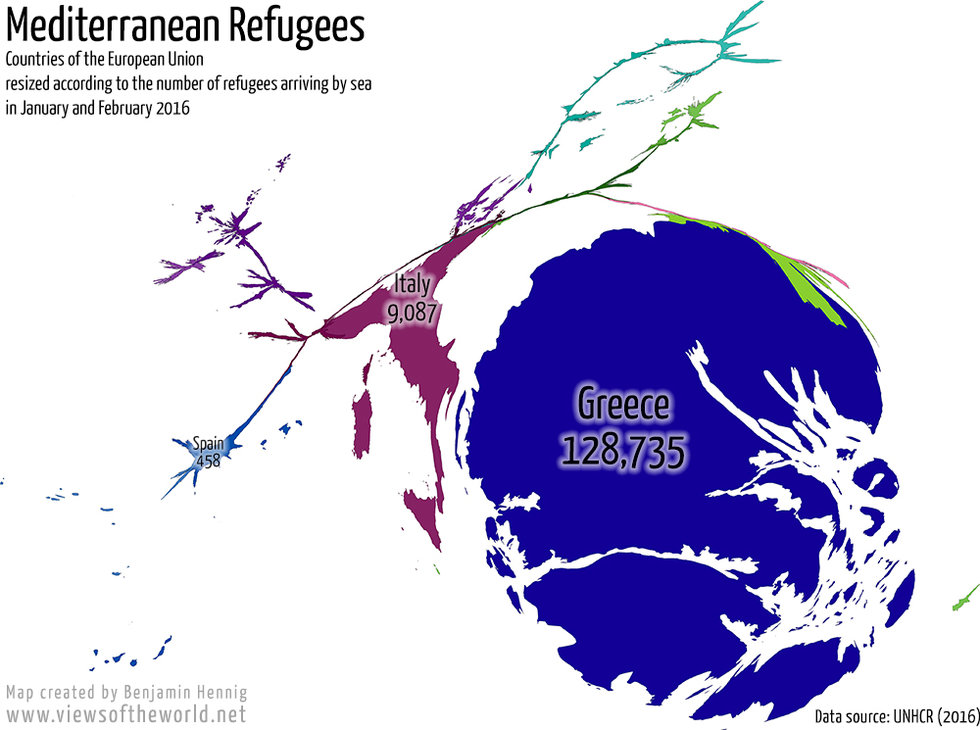 The last map, based on figures for the first two months of 2016, shows the crisis lessening for Italy, but worsening for Greece, with almost 130,000 refugees arriving in January and February alone.
Will the closed borders keep potential migrants from making the dangerous crossing into Europe? Or will it turn Greece into Europe's refugee dumping ground?
Maps created by Benjamin Hennig, Senior Research Fellow in the School of Geography and the Environment at the University of Oxford, and found here and here at Views of the World, his personal website, which contains a lot more cool maps. 
Strange Maps #771 
Got a strange map? Let me know at strangemaps@gmail.com.
Related Articles
The Spilhaus Projection may be more than 75 years old, but it has never been more relevant than today.
Surprising Science
Athelstan Spilhaus designed an oceanic thermometer to fight the Nazis, and the weather balloon that got mistaken for a UFO in Roswell.
In 1942, he produced a world map with a unique perspective, presenting the world's oceans as one body of water.
The Spilhaus Projection could be just what the oceans need to get the attention their problems deserve.
It's just the current cycle that involves opiates, but methamphetamine, cocaine, and others have caused the trajectory of overdoses to head the same direction
From the study: http://science.sciencemag.org/content/361/6408/eaau1184
Surprising Science
It appears that overdoses are increasing exponentially, no matter the drug itself
If the study bears out, it means that even reducing opiates will not slow the trajectory.
The causes of these trends remain obscure, but near the end of the write-up about the study, a hint might be apparent
Through computationally intensive computer simulations, researchers have discovered that "nuclear pasta," found in the crusts of neutron stars, is the strongest material in the universe.
Accretion disk surrounding a neutron star. Credit: NASA
Surprising Science
The strongest material in the universe may be the whimsically named "nuclear pasta."
You can find this substance in the crust of neutron stars.
This amazing material is super-dense, and is 10 billion times harder to break than steel.
---
Superman is known as the "Man of Steel" for his strength and indestructibility. But the discovery of a new material that's 10 billion times harder to break than steel begs the question—is it time for a new superhero known as "Nuclear Pasta"? That's the name of the substance that a team of researchers thinks is the strongest known material in the universe.
Unlike humans, when stars reach a certain age, they do not just wither and die, but they explode, collapsing into a mass of neurons. The resulting space entity, known as a neutron star, is incredibly dense. So much so that previous research showed that the surface of a such a star would feature amazingly strong material. The new research, which involved the largest-ever computer simulations of a neutron star's crust, proposes that "nuclear pasta," the material just under the surface, is actually stronger.
The competition between forces from protons and neutrons inside a neutron star create super-dense shapes that look like long cylinders or flat planes, referred to as "spaghetti" and "lasagna," respectively. That's also where we get the overall name of nuclear pasta.
Caplan & Horowitz/arXiv
Diagrams illustrating the different types of so-called nuclear pasta.
The researchers' computer simulations needed 2 million hours of processor time before completion, which would be, according to a press release from McGill University, "the equivalent of 250 years on a laptop with a single good GPU." Fortunately, the researchers had access to a supercomputer, although it still took a couple of years. The scientists' simulations consisted of stretching and deforming the nuclear pasta to see how it behaved and what it would take to break it.
While they were able to discover just how strong nuclear pasta seems to be, no one is holding their breath that we'll be sending out missions to mine this substance any time soon. Instead, the discovery has other significant applications.
One of the study's co-authors, Matthew Caplan, a postdoctoral research fellow at McGill University, said the neutron stars would be "a hundred trillion times denser than anything on earth." Understanding what's inside them would be valuable for astronomers because now only the outer layer of such starts can be observed.
"A lot of interesting physics is going on here under extreme conditions and so understanding the physical properties of a neutron star is a way for scientists to test their theories and models," Caplan added. "With this result, many problems need to be revisited. How large a mountain can you build on a neutron star before the crust breaks and it collapses? What will it look like? And most importantly, how can astronomers observe it?"
Another possibility worth studying is that, due to its instability, nuclear pasta might generate gravitational waves. It may be possible to observe them at some point here on Earth by utilizing very sensitive equipment.
The team of scientists also included A. S. Schneider from California Institute of Technology and C. J. Horowitz from Indiana University.
Check out the study "The elasticity of nuclear pasta," published in Physical Review Letters.
Big think's weekly newsletter.
Get smarter faster from the comfort of your inbox.
See our newsletter privacy policy
here
Most Popular
Most Recent
Big think's weekly newsletter.
Get smarter faster from the comfort of your inbox.
See our newsletter privacy policy
here
© Copyright 2007-2018 & BIG THINK, BIG THINK EDGE,
SMARTER FASTER trademarks owned by The Big Think, Inc. All rights reserved.