How Do You Say 'Plastic Bag' in French?
Depending on where you do your shopping, it could be a sac, a pochon or even a nylon.
30 March, 2016
Maps don't have to be relevant to be fascinating. This one couldn't be more trivial. But we can't take our eyes off it. It's an isogloss map of what French-speakers call a plastic bag.
---
Isogloss? From the Greek: iso, as in 'the same', gloss as in 'speech'. Using lines or dots, isogloss maps are popular tools for showing the distribution of dialects, word variants and other linguistic differences (1).
Plastic bag? One thing is for sure: no self-respecting Francophone will call that most mundane, multitudinous and milieu-destroying of utensils le plastic bag. And definitely not la plastic bag.
As your dictionary will tell you, the most conventional translation for 'plastic bag' is le sac plastique, for short: le sac. That should solve all your plastic bag-related needs throughout the French-speaking world.
However, should you want to dazzle the checkout lad or lady at your local supermarché, this map is a handy guide to the vernacular variations on the plastic bag paradigm.
The map covers the French-speaking part of Europe: France proper, and the Francophone parts of Switzerland and Belgium. However, quite a few dots cross over the language border in those two countries – and hop across la Manche to Her Majesty's Channel Islands. Keep your tongues where I can see 'em, French cultural imperialists!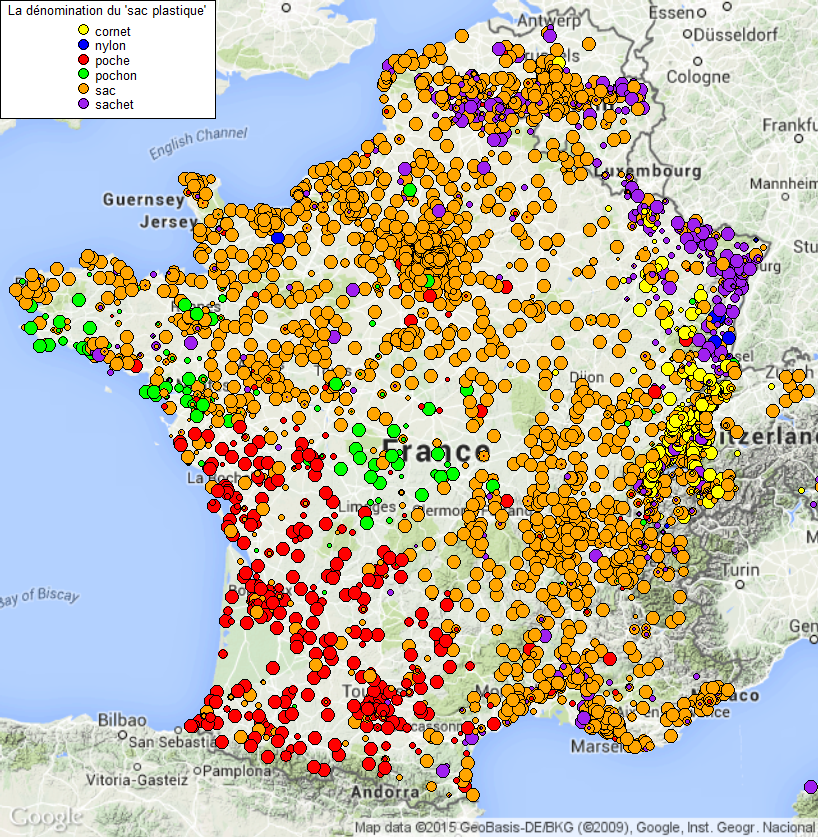 By far the most popular word for plastic bag is sac, which is used almost to the exclusion of any other term in Paris, Brussels, Lyon and other urban areas. Very popular on the Channel coast, in Belgium and in Burgundy, and throughout the length and breadth of the Francophonie. 
In the southwest: not so much. This is poche territory, which in the north and northeast extends into pockets of pochon, a diminutive of the former.
The Swiss prefer putting their groceries in a cornet, a preference that extends north through Lorraine, all the way to the Luxembourg border. The Alsaciens, however, prefer a sachet, as do quite a few Belgians.
The smallest preference, in the south of Alsace, is for le nylon. Did they ever make shopping bags out of nylon in and around Mulhouse? Or do they carry home their stuff in stockings?
Next time we're at a dinner party in southern Alsace, we'll know how to get the conversation started: Pourquoi votre sac est-il un nylon?
Map found here at Français de nos régions, via this page of Maps on the Web and as seen on the addictive Twitter feed of OnlMaps. 
Strange Maps #776 
Got a strange map? Let me know at strangemaps@gmail.com.
(1) See also #500 (four different ways of saying "quarter past ten" in German), #606 (what to call a cucumber throughout Europe) and #585 (where a pain au chocolat is called a chocolatine, and what that might have to do with Islam).
Malcolm Gladwell teaches "Get over yourself and get to work" for Big Think Edge.
Big Think Edge
Learn to recognize failure and know the big difference between panicking and choking.

At Big Think Edge, Malcolm Gladwell teaches how to check your inner critic and get clear on what failure is.

Subscribe to Big Think Edge before we launch on March 30 to get 20% off monthly and annual memberships.
Here's why universal basic income will hurt the 99%, and make the 1% even richer.
Videos
Universal basic income is a band-aid solution that will not solve wealth inequality, says Rushkoff.
Funneling money to the 99% perpetuates their roles as consumers, pumping money straight back up to the 1% at the top of the pyramid.
Rushkoff suggests universal basic assets instead, so that the people at the bottom of the pyramid can own some means of production and participate in the profits of mega-rich companies.
Pugs and bulldogs are incredibly trendy, but experts have massive animal welfare concerns about these genetically manipulated breeds. 
'No nose, no thermoregulation, no health, no welfare.' Photo by terriermandotcom.blogspot.com
popular
Pugs, Frenchies, boxers, shih-tzus and other flat-faced dog breeds have been trending for at least the last decade, thanks to higher visibility (usually in a celebrity's handbag), an increase in city living (smaller dogs for smaller homes), and possibly even the fine acting of Frank the Pug in 1997's Men in Black. We're not ruling it out. These small, specialty pure breeds are seen as the pinnacle of cuteness – they have friendly personalities, endearing odd looks, and are perfect for Stranger Things video montages.
Both panoramic and detailed, this infographic manages to show both the size and distribution of world religions.
Strange Maps
At a glance, this map shows both the size and distribution of world religions.
See how religions mix at both national and regional level.
There's one country in the Americas without a Christian majority – which?
Big think's weekly newsletter.
Get smarter faster from the comfort of your inbox.
See our newsletter privacy policy
here
Most Popular
Most Recent
Big think's weekly newsletter.
Get smarter faster from the comfort of your inbox.
See our newsletter privacy policy
here
© Copyright 2007-2018 & BIG THINK, BIG THINK EDGE,
SMARTER FASTER trademarks owned by The Big Think, Inc. All rights reserved.