How Do You Say 'Plastic Bag' in French?
Depending on where you do your shopping, it could be a sac, a pochon or even a nylon.
Frank Jacobs
From a young age, Frank was fascinated by maps and atlases, and the stories they contained. Finding his birthplace on the map in the endpapers of Tolkien's Lord of the Rings only increased his interest in the mystery and message of maps.
While pursuing a career in journalism, Frank started a blog called Strange Maps, as a repository for the weird and wonderful cartography he found hidden in books, posing as everyday objects and (of course) floating around the Internet.
"Each map tells a story, but the stories told by your standard atlas for school or reference are limited and literal: they show only the most practical side of the world, its geography and its political divisions. Strange Maps aims to collect and comment on maps that do everything but that - maps that show the world from a different angle".
A remit that wide allows for a steady, varied diet of maps: Frank has been writing about strange maps since 2006, published a book on the subject in 2009 and joined Big Think in 2010. Readers send in new material daily, and he keeps bumping in to cartography that is delightfully obscure, amazingly beautiful, shockingly partisan, and more.
30 March, 2016
Maps don't have to be relevant to be fascinating. This one couldn't be more trivial. But we can't take our eyes off it. It's an isogloss map of what French-speakers call a plastic bag.
---
Isogloss? From the Greek: iso, as in 'the same', gloss as in 'speech'. Using lines or dots, isogloss maps are popular tools for showing the distribution of dialects, word variants and other linguistic differences (1).
Plastic bag? One thing is for sure: no self-respecting Francophone will call that most mundane, multitudinous and milieu-destroying of utensils le plastic bag. And definitely not la plastic bag.
As your dictionary will tell you, the most conventional translation for 'plastic bag' is le sac plastique, for short: le sac. That should solve all your plastic bag-related needs throughout the French-speaking world.
However, should you want to dazzle the checkout lad or lady at your local supermarché, this map is a handy guide to the vernacular variations on the plastic bag paradigm.
The map covers the French-speaking part of Europe: France proper, and the Francophone parts of Switzerland and Belgium. However, quite a few dots cross over the language border in those two countries – and hop across la Manche to Her Majesty's Channel Islands. Keep your tongues where I can see 'em, French cultural imperialists!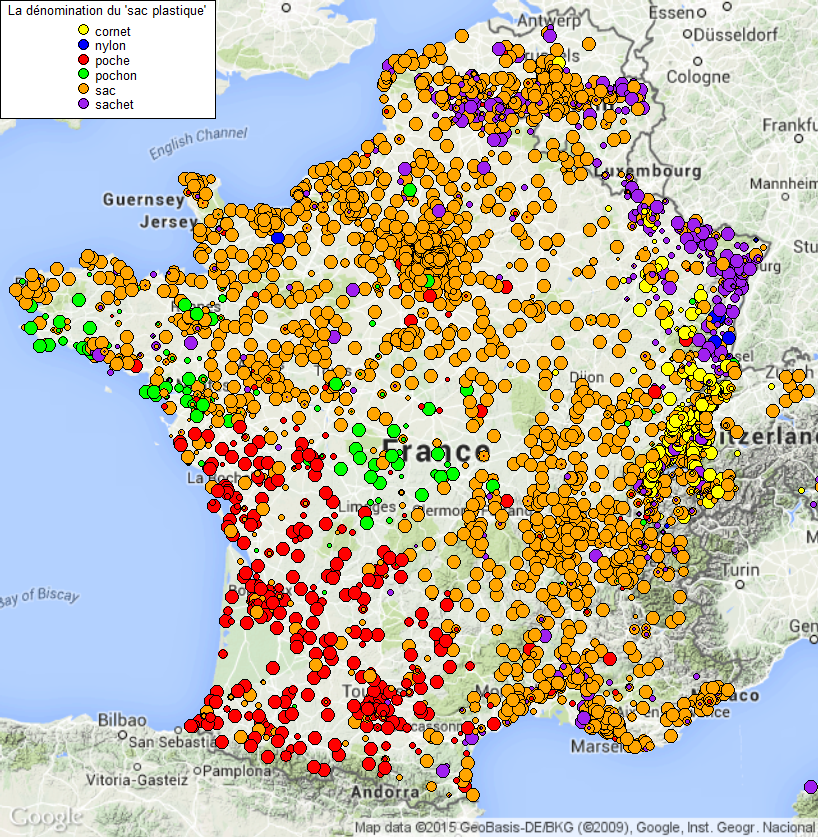 By far the most popular word for plastic bag is sac, which is used almost to the exclusion of any other term in Paris, Brussels, Lyon and other urban areas. Very popular on the Channel coast, in Belgium and in Burgundy, and throughout the length and breadth of the Francophonie. 
In the southwest: not so much. This is poche territory, which in the north and northeast extends into pockets of pochon, a diminutive of the former.
The Swiss prefer putting their groceries in a cornet, a preference that extends north through Lorraine, all the way to the Luxembourg border. The Alsaciens, however, prefer a sachet, as do quite a few Belgians.
The smallest preference, in the south of Alsace, is for le nylon. Did they ever make shopping bags out of nylon in and around Mulhouse? Or do they carry home their stuff in stockings?
Next time we're at a dinner party in southern Alsace, we'll know how to get the conversation started: Pourquoi votre sac est-il un nylon?
Map found here at Français de nos régions, via this page of Maps on the Web and as seen on the addictive Twitter feed of OnlMaps. 
Strange Maps #776 
Got a strange map? Let me know at strangemaps@gmail.com.
(1) See also #500 (four different ways of saying "quarter past ten" in German), #606 (what to call a cucumber throughout Europe) and #585 (where a pain au chocolat is called a chocolatine, and what that might have to do with Islam).
Science and the squishiness of the human mind. The joys of wearing whatever the hell you want, and so much more.
Think Again Podcasts
Why can't we have a human-sized cat tree?
What would happen if you got a spoonful of a neutron star?
Why do we insist on dividing our wonderfully complex selves into boring little boxes
Progressive America would be half as big, but twice as populated as its conservative twin.
Image: Dicken Schrader
Strange Maps
America's two political tribes have consolidated into 'red' and 'blue' nations, with seemingly irreconcilable differences.
Perhaps the best way to stop the infighting is to go for a divorce and give the two nations a country each
Based on the UN's partition plan for Israel/Palestine, this proposal provides territorial contiguity and sea access to both 'red' and 'blue' America
A guide to making difficult conversations possible—and peaceful—in an increasingly polarized nation.
Big think's weekly newsletter.
Get smarter faster from the comfort of your inbox.
See our newsletter privacy policy
here
Most Popular
Most Recent
Big think's weekly newsletter.
Get smarter faster from the comfort of your inbox.
See our newsletter privacy policy
here
© Copyright 2007-2018 & BIG THINK, BIG THINK EDGE,
SMARTER FASTER trademarks owned by The Big Think, Inc. All rights reserved.