Big ideas.
Once a week.
Subscribe to our weekly newsletter.
A Cucumber Map of Europe
Isogloss maps are irresistible, even if they are about cucumbers
28 April, 2013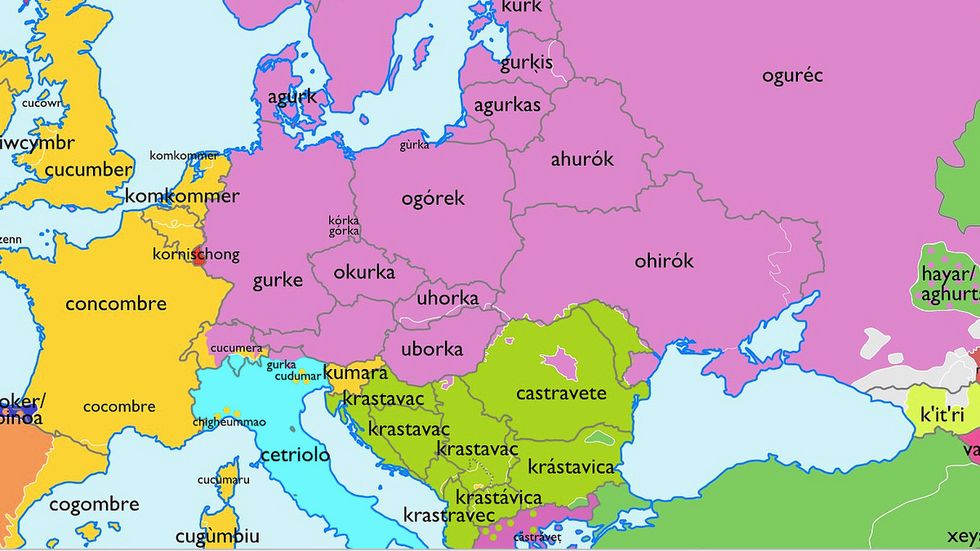 "A cucumber should be well sliced, and dressed with pepper and vinegar, and then thrown out, as good for nothing", said Samuel Johnson [1]. The lexicographer's wit is as piquant as the cucumber's taste is bland. The humble fruit [2] is about 95% water and not terribly high in nutrients, so perhaps its detractors have a point. 
---
But as a refreshing snack, and a popular ingredient in salads, cucumbers have their fans too. Praise, or at least culinary nostalgia, comes from no less authoritative a source than the Bible: "We remember the fish, which we did eat in Egypt freely; the cucumbers, and the melons, and the leeks, and the onions, and the garlic" [3].
Whether loved or loathed, the Cucumis sativus [4] certainly has pedigree. It was one of the first plants domesticated by humankind. Originally 'tamed' in India at least 3,000 years ago, its cultivation spread to China during the Han dynasty and to the west early enough to be mentioned in Mesopotamian writings. 
The Greeks are credited with introducing cucumbers to the rest of Europe. One of the cucumber's all-time biggest fans must have been the Roman emperor Tiberius. As attested in Pliny the Elder's Natural History, Tiberius ordered the use of wheeled cultivation beds to expose growing cucumbers to as much sun as possible, and to enable those beds to move into primitive greenhouses in winter. This allowed the emperor to eat cucumbers every day of the year. From Italy, they spread throughout the rest of Europe. At the turn of the 9th century [5], cucumbers were growing as far north as the imperial gardens of Charlemagne's capital Aachen.
Much later, Columbus introduced them to America, planting cucumbers on Hispaniola in 1494. They proved so popular with Native Americans that they spread faster than European exploration of the New World [6]. During the American Civil War, general Ulysses S. Grant was so fond of cucumbers that sometimes he ate nothing else: "The general made rather a singular meal preparatory to so exhausting a day as that which was to follow. He took a cucumber, sliced it, poured some vinegar over it, and partook of nothing else except a cup of strong coffee". [7] An interesting modification of Dr. Johnson's recipe.
Cucumbers, related tot pumpkins, melons and other squashes, are not distinct from pickles and gherkins; these are just names for cucumbers that have been preserved in vinegar, brine or other solutions. Other foodstuffs are similarly conserved - see pickled herrings, pickled onions, or kimchi, the varieties of pickled vegetables typical for Korean cuisine. A gherkin is nothing but a pickled cucumber of a very specific, shorter type, e.g. the West Indian Burr Gherkin. 
In 2011, your average American ate 9.2 lbs of cucumbers, down from 11.2 lbs in 2000, but up from 8.5 lbs in 1970. Across those fluctuating numbers, one clear trend emerges: the popularity of the pickled variety has steadily declined (5.7 to 2.8 lbs), while the share of fresh cucumbers has increased (2.8 lbs in 1970 to 6.4 in 2011). Worldwide, cucumber cultivation has shot up dramatically since the turn of the millennium [8], from 76.5 billion pounds (in 2000) to 126.6 billion pounds (in 2010). The increase is almost entirely due to China doubling its production (from 44.8 to 89.5 billion pounds); China now accounts for just over 70% of the world's cucumber production [9].
A final bit of cucumber trivia: Cucumber is one of the rarest of American surnames. There are about 20 individual listings in the US White Pages for people named Cucumber [10], all but one in the western part of North Carolina [11]. Curiously, a Mr. David Cucumber lives on Dave Cucumber Road. The only Cucumber listed outside of Appalachia is a Mr. Cucumber in Rhode Island, who lives on Cucumber Hill Road.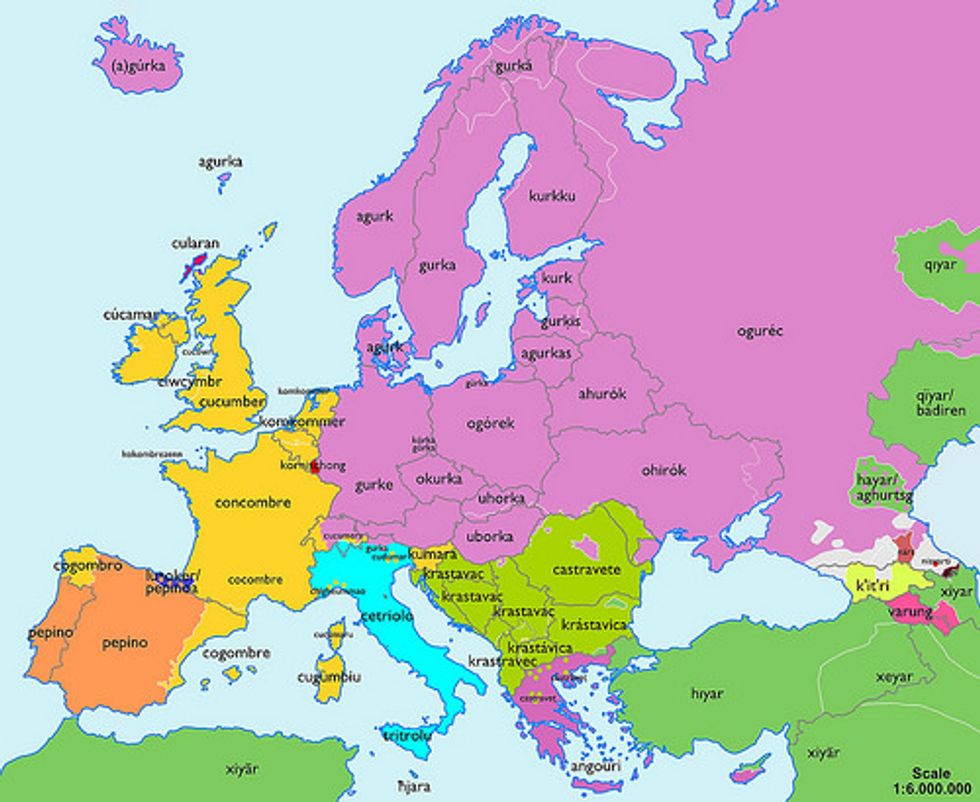 The cucumber clearly has a bunch of fascinating stories to tell - and one of them involves this rather intriguing isogloss [12] map. The map shows the word for 'cucumber' in the diverse languages of Europe and surrounding areas. It shows how the cucumber has managed to achieve territorial homogeneity, even across language borders. 
Out of all the potential for permutations, four large, and remarkably uniform blocks have emerged. The most striking zone is the one coloured pink, including many Germanic and Slavic variations of cucumber: ranging from Gurke in German to ogurec in Russian. Cognate words in unrelated languages are kurkku in Finnish, and uborka in Hungarian.
Remarkably, the linguistically diverse countries of the Balkan share a similar word for cucumber: castravete in Romanian [13] (descended from Latin), krastavac in Serbian (and similar words in the other Slavic languages of the region), and kastravec in Albanian (a language with no close relatives). The only exceptions are Greece (angouri - a pink exclave) and Slovenia (kumara). 
In this, as in other matters, Slovenia shows itself to be more oriented towards western Europe [14] than the rest of the Balkan. Cucumerally [15] speaking, Slovenia is an isolated part of a larger zone, dominated by the English cucumber, and the French concombre. Smaller variants are the Dutch komkommer, the Welsh ciwcymbr, the Galician cogombro, the Catalan cogombre and the Romansh cucumera [16] among others.
In a crescent surrounding the European mainland, Arabic- and Turkish-speaking countries favour variations of the word xiyar, with qiyar all the way up in Tatarstan [17].
What remains, are small islands of peculiar names given to the cucumber: pepino in most of the Iberian peninsula, cetriolo in most of Italy, cularan in the Hebrides, kornischong in Luxembourg, k'it'ri in Georgia, varung in Armenia. The Chechens call it närs, while the Basque have the option of calling it luzoker. 
 What are we to conclude from this Cucumber Map of Europe? Does the distribution of the linguistic variants for 'cucumber' correspond to any kind of cultural, historical or other border? Well - it did remind me of a map I saw in the end papers of the Robert Harris novel Fatherland: of a Europe where Germany had won World War Two.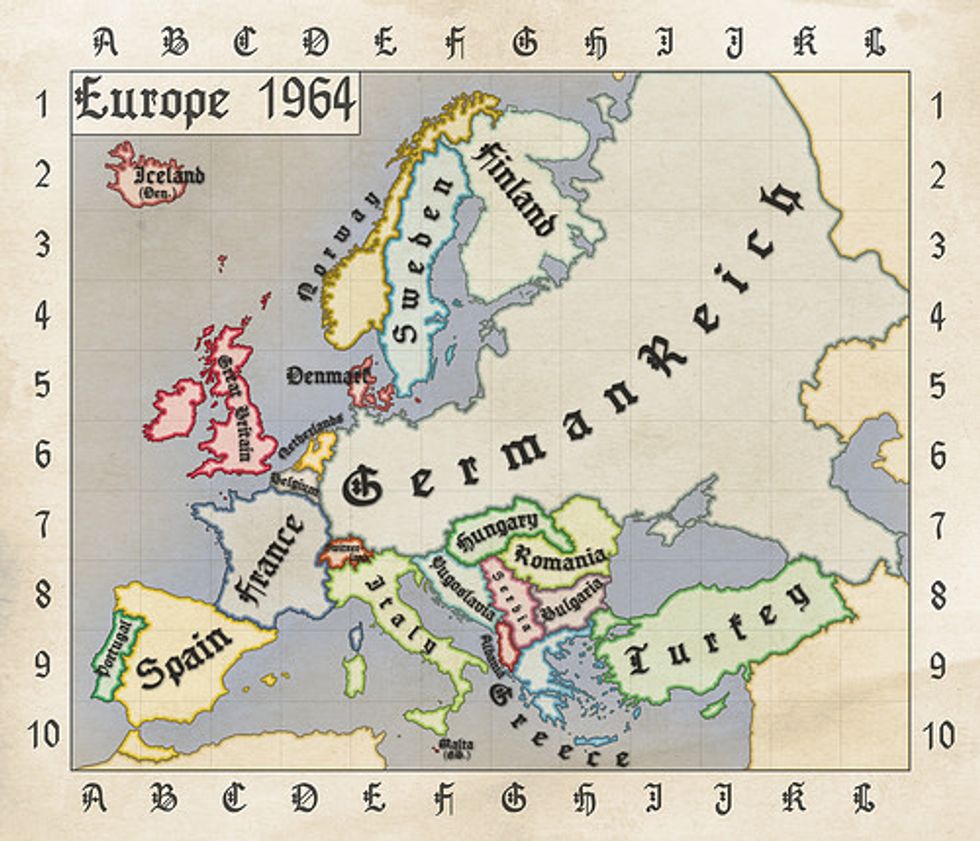 The zone dominated by the German/Slavic cognates for cucumber corresponds somewhat to the Greater German Reich in Harris's alternate 1964: from the Benelux border deep into Russia, with an independence of sorts for Italy, France, and the Balkan countries (among others).
So does this mean anything? Are cucumbers a sinister crop with a hidden agenda, garden-variety shock troops of a New Plant Order? Surely not. From one map to the next, isogloss lines are as mutable as the shape of clouds.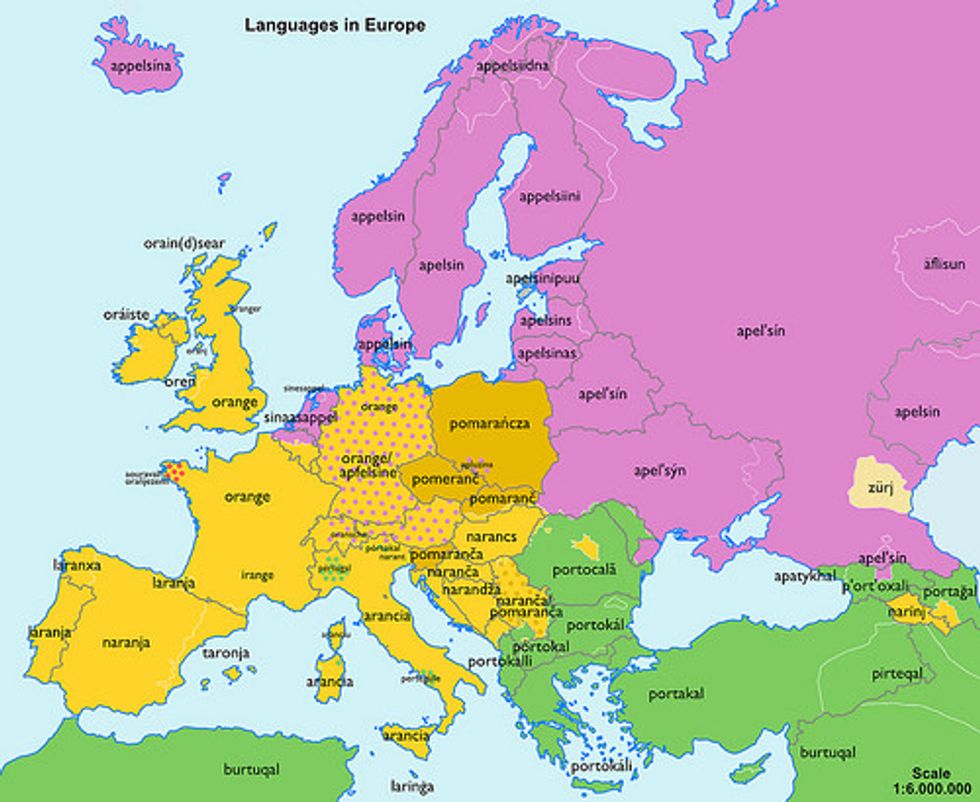 Take for instance this map, taken from the same series, depicting the words used to describe an orange. Gone is the Greater Cucumber Co-Prosperity Sphere, to be replaced by a Russo-Scandinavian-Dutch alliance against a European Union of Orangists. All the while, the Sublime Portokal [18] rules North Africa, Turkey and the eastern half of the Balkans, otherwise so united under the krastavac.
Trivial, amusing, strange. Exactly the kind of map for to get stuck into during a slow news cycle. Or, as they call it throughout much of Europe: cucumber time [19].
Many thanks to Mikołaj Kirschke for sending in this map, posted by his friend Eglė Markevičiūtė on Facebook. The Fatherland map made by Kristo1594 and found here on his DeviantArt page, where you can find some more interesting maps by his hand. The orange map found here on imgur.
Strange Maps #606
Got a strange map? Let me know at strangemaps@gmail.com.
[1] As quoted by James Boswell in The Journal of a Tour to the Hebrides (1785). ↩
[2] Yes, the cucumber is a fruit, in spite of of its frequent use in salads. Botanists define a fruit as that part of the plant that develops from a flower, and contains the plant's seeds. All other parts of the plant, be they leaves, roots, stems or even flower buds, are vegetables. ↩
[3] In Numbers 11:5, when the Israelites are wandering though the desert on an empty stomach. ↩
[4] Latin for 'sown', the adjectival part of this taxonomic description is used for crops that have been cultivated for domestic use. Compare Cannabis sativa. ↩
[5] Meant here is the turn of the 8th century to the 9th, i.e. the late 700s to the early 800s. Curiously, there is no protocol for the use of the phrase, so 'the turn of the 9th century' could also mean the transition of the 9th to the 10th, i.e. the late 800s to the early 900s.  ↩
[6] In 1535, Jacques Cartier found "very great cucumbers" grown on the site of what is now Montréal. ↩
[7] As related by general Horace Porter, in his memoir Campaigning with Grant. ↩
[8] The most recent one, not the transition to the year 1000. ↩
[9] All figures from the US Department of Agriculture, taken here from foodreference. ↩
[10] 34 listings in total on Switchboard, but clearly including a number of duplicates. ↩
[11] With a remarkable concentration in and around Cherokee, the major town in Qualla Boundary, the land trust (rather than a reservation) that is the last remnant of the original Cherokee homeland still controlled by part of the tribe (i.e. the Eastern Band of the Cherokee). See also #206. ↩
[12] Isogloss maps show the geographic distribution of differences in pronunciation, word meaning, word use, or other linguistic features. The term was coined in reference to the contour lines on weather charts. But whereas these isobars connect points of equal pressure, isoglosses merely separate areas of different language. It has therefore been suggested they be called heteroglosses instead. ↩
[13] The pink island in the middle of Romania is a Hungarian-majority area of Transylvania. ↩
[14] Slovenia was the first former Yugoslav republic to become an EU member state, in 2004. Croatia will be the second one to join, on 1 July of this year. The other ex-Yugoslav states, plus Albania, are recognised as candidates or potential candidates. ↩
[15] The adjectival form of the Latin word cucumis (gen. cucumeris), perhaps used here for the first time. And possibly the last. ↩
[16] A Latin-based language, Romansh is the smallest of the four official languages in Switzerland, spoken by 35,000-60,000 people in the canton Graubünden. It is part of the small Rhaetian (or Rhaeto-Romance) language family, with Ladin and Friulian in northern Italy.  ↩
[17] Tatarstan, now a constituent republic of the Russian Federation, is the world's northernmost majority-muslim republic. ↩
[18] The Sublime Porte was used to describe the Ottoman Empire; it referred to the gate that gave access to the principal offices of government in Istanbul. Compare: Number Ten for the office of the British Prime Minister (located at 10 Downing Street). ↩
[19] The English silly season, called serpiente de verano ('summer snake') in Spanish, is linked to cucumbers in many European languages, due to the fact that the period of low news intensity usually falls in high summer, supposedly the best season to harvest cucumbers. Some examples: okurková sezóna (Czech), agurketid (Danish), komkommertijd (Dutch), Sauregurkenzeit (German), Agurkų sezonas (Lithuanian), Sezon ogórkowy (Polish), Uborkaszezon (Hungarian). Americans - though none I have ever come across - apparently refer to gooseberry time.  ↩
Inventions with revolutionary potential made by a mysterious aerospace engineer for the U.S. Navy come to light.
Credit: Getty Images
Surprising Science
U.S. Navy holds patents for enigmatic inventions by aerospace engineer Dr. Salvatore Pais.
Pais came up with technology that can "engineer" reality, devising an ultrafast craft, a fusion reactor, and more.
While mostly theoretical at this point, the inventions could transform energy, space, and military sectors.
The U.S. Navy controls patents for some futuristic and outlandish technologies, some of which, dubbed "the UFO patents," came to life recently. Of particular note are inventions by the somewhat mysterious Dr. Salvatore Cezar Pais, whose tech claims to be able to "engineer reality." His slate of highly-ambitious, borderline sci-fi designs meant for use by the U.S. government range from gravitational wave generators and compact fusion reactors to next-gen hybrid aerospace-underwater crafts with revolutionary propulsion systems, and beyond.
Of course, the existence of patents does not mean these technologies have actually been created, but there is evidence that some demonstrations of operability have been successfully carried out. As investigated and reported by The War Zone, a possible reason why some of the patents may have been taken on by the Navy is that the Chinese military may also be developing similar advanced gadgets.
Among Dr. Pais's patents are designs, approved in 2018, for an aerospace-underwater craft of incredible speed and maneuverability. This cone-shaped vehicle can potentially fly just as well anywhere it may be, whether air, water or space, without leaving any heat signatures. It can achieve this by creating a quantum vacuum around itself with a very dense polarized energy field. This vacuum would allow it to repel any molecule the craft comes in contact with, no matter the medium. Manipulating "quantum field fluctuations in the local vacuum energy state," would help reduce the craft's inertia. The polarized vacuum would dramatically decrease any elemental resistance and lead to "extreme speeds," claims the paper.
Not only that, if the vacuum-creating technology can be engineered, we'd also be able to "engineer the fabric of our reality at the most fundamental level," states the patent. This would lead to major advancements in aerospace propulsion and generating power. Not to mention other reality-changing outcomes that come to mind.
Among Pais's other patents are inventions that stem from similar thinking, outlining pieces of technology necessary to make his creations come to fruition. His paper presented in 2019, titled "Room Temperature Superconducting System for Use on a Hybrid Aerospace Undersea Craft," proposes a system that can achieve superconductivity at room temperatures. This would become "a highly disruptive technology, capable of a total paradigm change in Science and Technology," conveys Pais.
High frequency gravitational wave generator.
Credit: Dr. Salvatore Pais
Another invention devised by Pais is an electromagnetic field generator that could generate "an impenetrable defensive shield to sea and land as well as space-based military and civilian assets." This shield could protect from threats like anti-ship ballistic missiles, cruise missiles that evade radar, coronal mass ejections, military satellites, and even asteroids.
Dr. Pais's ideas center around the phenomenon he dubbed "The Pais Effect". He referred to it in his writings as the "controlled motion of electrically charged matter (from solid to plasma) via accelerated spin and/or accelerated vibration under rapid (yet smooth) acceleration-deceleration-acceleration transients." In less jargon-heavy terms, Pais claims to have figured out how to spin electromagnetic fields in order to contain a fusion reaction – an accomplishment that would lead to a tremendous change in power consumption and an abundance of energy.
According to his bio in a recently published paper on a new Plasma Compression Fusion Device, which could transform energy production, Dr. Pais is a mechanical and aerospace engineer working at the Naval Air Warfare Center Aircraft Division (NAWCAD), which is headquartered in Patuxent River, Maryland. Holding a Ph.D. from Case Western Reserve University in Cleveland, Ohio, Pais was a NASA Research Fellow and worked with Northrop Grumman Aerospace Systems. His current Department of Defense work involves his "advanced knowledge of theory, analysis, and modern experimental and computational methods in aerodynamics, along with an understanding of air-vehicle and missile design, especially in the domain of hypersonic power plant and vehicle design." He also has expert knowledge of electrooptics, emerging quantum technologies (laser power generation in particular), high-energy electromagnetic field generation, and the "breakthrough field of room temperature superconductivity, as related to advanced field propulsion."
Suffice it to say, with such a list of research credentials that would make Nikola Tesla proud, Dr. Pais seems well-positioned to carry out groundbreaking work.
A craft using an inertial mass reduction device.
Credit: Salvatore Pais
The patents won't necessarily lead to these technologies ever seeing the light of day. The research has its share of detractors and nonbelievers among other scientists, who think the amount of energy required for the fields described by Pais and his ideas on electromagnetic propulsions are well beyond the scope of current tech and are nearly impossible. Yet investigators at The War Zone found comments from Navy officials that indicate the inventions are being looked at seriously enough, and some tests are taking place.
If you'd like to read through Pais's patents yourself, check them out here.
Laser Augmented Turbojet Propulsion System
Credit: Dr. Salvatore Pais
Measuring a person's movements and poses, smart clothes could be used for athletic training, rehabilitation, or health-monitoring.
Technology & Innovation
In recent years there have been exciting breakthroughs in wearable technologies, like smartwatches that can monitor your breathing and blood oxygen levels.
But what about a wearable that can detect how you move as you do a physical activity or play a sport, and could potentially even offer feedback on how to improve your technique?
And, as a major bonus, what if the wearable were something you'd actually already be wearing, like a shirt of a pair of socks?
That's the idea behind a new set of MIT-designed clothing that use special fibers to sense a person's movement via touch. Among other things, the researchers showed that their clothes can actually determine things like if someone is sitting, walking, or doing particular poses.
The group from MIT's Computer Science and Artificial Intelligence Lab (CSAIL) says that their clothes could be used for athletic training and rehabilitation. With patients' permission, they could even help passively monitor the health of residents in assisted-care facilities and determine if, for example, someone has fallen or is unconscious.
The researchers have developed a range of prototypes, from socks and gloves to a full vest. The team's "tactile electronics" use a mix of more typical textile fibers alongside a small amount of custom-made functional fibers that sense pressure from the person wearing the garment.
According to CSAIL graduate student Yiyue Luo, a key advantage of the team's design is that, unlike many existing wearable electronics, theirs can be incorporated into traditional large-scale clothing production. The machine-knitted tactile textiles are soft, stretchable, breathable, and can take a wide range of forms.
"Traditionally it's been hard to develop a mass-production wearable that provides high-accuracy data across a large number of sensors," says Luo, lead author on a new paper about the project that is appearing in this month's edition of Nature Electronics. "When you manufacture lots of sensor arrays, some of them will not work and some of them will work worse than others, so we developed a self-correcting mechanism that uses a self-supervised machine learning algorithm to recognize and adjust when certain sensors in the design are off-base."
The team's clothes have a range of capabilities. Their socks predict motion by looking at how different sequences of tactile footprints correlate to different poses as the user transitions from one pose to another. The full-sized vest can also detect the wearers' pose, activity, and the texture of the contacted surfaces.
The authors imagine a coach using the sensor to analyze people's postures and give suggestions on improvement. It could also be used by an experienced athlete to record their posture so that beginners can learn from them. In the long term, they even imagine that robots could be trained to learn how to do different activities using data from the wearables.
"Imagine robots that are no longer tactilely blind, and that have 'skins' that can provide tactile sensing just like we have as humans," says corresponding author Wan Shou, a postdoc at CSAIL. "Clothing with high-resolution tactile sensing opens up a lot of exciting new application areas for researchers to explore in the years to come."
The paper was co-written by MIT professors Antonio Torralba, Wojciech Matusik, and Tomás Palacios, alongside PhD students Yunzhu Li, Pratyusha Sharma, and Beichen Li; postdoc Kui Wu; and research engineer Michael Foshey.
The work was partially funded by Toyota Research Institute.
Reprinted with permission of MIT News. Read the original article.

How imagining the worst case scenario can help calm anxiety.
Credit
: OLIVIER DOULIERY via Getty Images
Personal Growth
Stoicism is the philosophy that nothing about the world is good or bad in itself, and that we have control over both our judgments and our reactions to things.
It is hardest to control our reactions to the things that come unexpectedly.
By meditating every day on the "worst case scenario," we can take the sting out of the worst that life can throw our way.
Are you a worrier? Do you imagine nightmare scenarios and then get worked up and anxious about them? Does your mind get caught in a horrible spiral of catastrophizing over even the smallest of things? Worrying, particularly imagining the worst case scenario, seems to be a natural part of being human and comes easily to a lot of us. It's awful, perhaps even dangerous, when we do it.
But, there might just be an ancient wisdom that can help. It involves reframing this attitude for the better, and it comes from Stoicism. It's called "premeditation," and it could be the most useful trick we can learn.
Practical Stoicism
Broadly speaking, Stoicism is the philosophy of choosing your judgments. Stoics believe that there is nothing about the universe that can be called good or bad, valuable or valueless, in itself. It's we who add these values to things. As Shakespeare's Hamlet says, "There is nothing either good or bad, but thinking makes it so." Our minds color the things we encounter as being "good" or "bad," and given that we control our minds, we therefore have control over all of our negative feelings.
Put another way, Stoicism maintains that there's a gap between our experience of an event and our judgment of it. For instance, if someone calls you a smelly goat, you have an opportunity, however small and hard it might be, to pause and ask yourself, "How will I judge this?" What's more, you can even ask, "How will I respond?" We have power over which thoughts we entertain and the final say on our actions. Today, Stoicism has influenced and finds modern expression in the hugely effective "cognitive behavioral therapy."
Helping you practice StoicismCredit: Robyn Beck via Getty Images
One of the principal fathers of ancient Stoicism was the Roman statesmen, Seneca, who argued that the unexpected and unforeseen blows of life are the hardest to take control over. The shock of a misfortune can strip away the power we have to choose our reaction. For instance, being burglarized feels so horrible because we had felt so safe at home. A stomach ache, out of the blue, is harder than a stitch thirty minutes into a run. A sudden bang makes us jump, but a firework makes us smile. Fell swoops hurt more than known hardships.
What could possibly go wrong?
So, how can we resolve this? Seneca suggests a Stoic technique called "premeditatio malorum" or "premeditation." At the start of every day, we ought to take time to indulge our anxious and catastrophizing mind. We should "rehearse in the mind: exile, torture, war, shipwreck." We should meditate on the worst things that could happen: your partner will leave you, your boss will fire you, your house will burn down. Maybe, even, you'll die.
This might sound depressing, but the important thing is that we do not stop there.
Stoicism has influenced and finds modern expression in the hugely effective "cognitive behavioral therapy."
The Stoic also rehearses how they will react to these things as they come up. For instance, another Stoic (and Roman Emperor) Marcus Aurelius asks us to imagine all the mean, rude, selfish, and boorish people we'll come across today. Then, in our heads, we script how we'll respond when we meet them. We can shrug off their meanness, smile at their rudeness, and refuse to be "implicated in what is degrading." Thus prepared, we take control again of our reactions and behavior.
The Stoics cast themselves into the darkest and most desperate of conditions but then realize that they can and will endure. With premeditation, the Stoic is prepared and has the mental vigor necessary to take the blow on the chin and say, "Yep, l can deal with this."
Catastrophizing as a method of mental inoculation
Seneca wrote: "In times of peace, the soldier carries out maneuvers." This is also true of premeditation, which acts as the war room or training ground. The agonizing cut of the unexpected is blunted by preparedness. We can prepare the mind for whatever trials may come, in just the same way we can prepare the body for some endurance activity. The world can throw nothing as bad as that which our minds have already imagined.
Stoicism teaches us to embrace our worrying mind but to embrace it as a kind of inoculation. With a frown over breakfast, try to spend five minutes of your day deliberately catastrophizing. Get your anti-anxiety battle plan ready and then face the world.
Jonny Thomson teaches philosophy in Oxford. He runs a popular Instagram account called Mini Philosophy (@philosophyminis). His first book is Mini Philosophy: A Small Book of Big Ideas.
Personal Growth
A study on charity finds that reminding people how nice it feels to give yields better results than appealing to altruism.
Scroll down to load more…