A sucker for soccer? Here are seven maps to unlock the FIFA World Cup in Russia
Soccer is not a matter of life and death. It's much more important than that. And the FIFA World Cup even more so.
14 June, 2018
"Football is not a matter of life and death," said legendary coach Bill Shankly in 1981, "it's more important than that."
---
As the 2018 FIFA World Cup gets underway in Russia today, that saying will ring true for millions of fans around the world. For the next few weeks, little else will matter but the beautiful game—which Americans obstinately keep referring to as soccer.
Here are seven maps to make sense of the month-long tournament that will captivate the world's attention from now until the final, on July 15th in Moscow.
Held every four years, the FIFA World Cup is expected this time to have a global audience of more than three billion viewers—about half the total world population.
Despite the U.S.'s first absence from the tournament since 1986, that number will include millions of Americans. However, as this map shows, interest varies greatly by state. Based on an analysis of recent Google searches, soccer fever reaches its highest pitch in Washington D.C. (with a relative score of 100), followed by New Jersey (71), California and New York (both 64), Connecticut (62), Maryland (60) and Massachusetts (58). Least interested in the tournament are Mississippi (15), West Virginia (17), Alabama (21), Montana and Arkansas (both 22).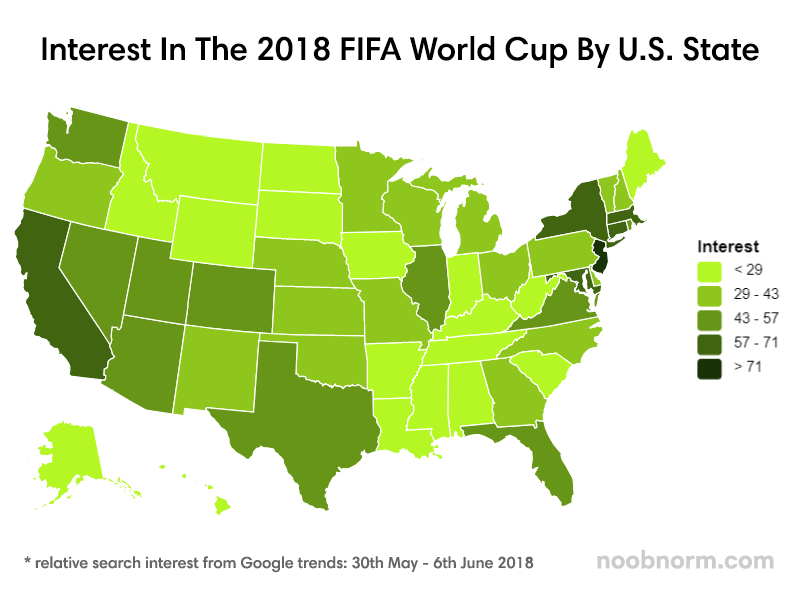 It would be fair to say that the World Cup will be followed most passionately in the 32 nations whose teams have qualified for the tournament (marked blue on the map below).
Latin America and Europe are particularly well represented. The eight qualifying American teams, all from south of the border, include regulars like Brazil, Argentina, Mexico and Uruguay.
Peru is back for the first time since 1982. Panama declared a national holiday when it qualified for Russia 2018; it's the first World Cup for the small nation, hemmed in by two more experienced participants, Costa Rica and Colombia. Chile, the current champion of South America, is notably absent.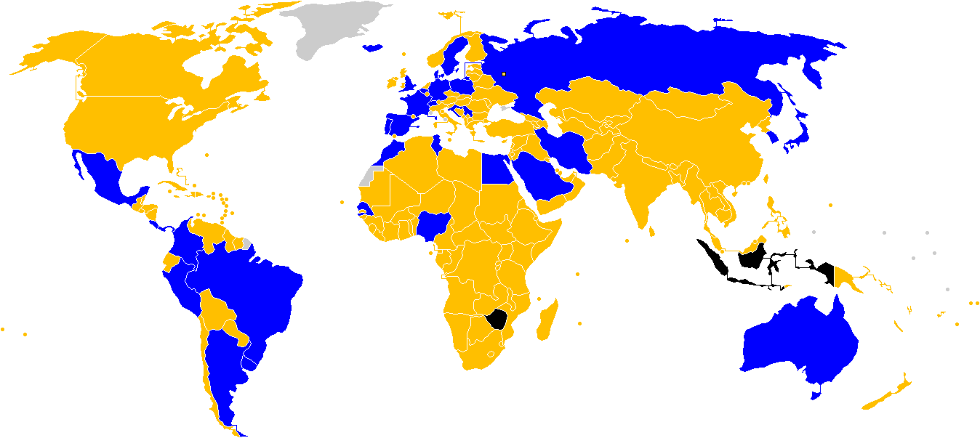 Germany, France, England and Spain are some of the most formidable participants from the European delegation, 14 countries strong. Belgium is tipped as a strong contender, which leaves other competitors like Poland, Denmark, Portugal (winner of Euro 2016), Sweden and Balkan rivals Croatia and Serbia with more opportunity to surprise.
For Iceland, it's the first World Cup ever. With a population of just over a third of a million, it's also the smallest country ever to participate (1). Despite winning the World Cup on four previous occasions, Italy failed to qualify. The Netherlands are another conspicuous no-show. Host country Russia automatically qualifies.
Africa supplies five countries: Egypt (for the first time since 1990), Morocco (previously qualified in 1998), Tunisia, Senegal and Nigeria. Neighbouring Cameroon, despite its strong footballing tradition and being the current holder of the African champion title, didn't make the cut (Zimbabwe, and other countries in black, were expelled from the tournament by FIFA).
The other teams are two pairs of rivals from each end of Asia: Saudi Arabia and Iran, and South Korea and Japan; and Australia.
So, who plays whom? The competition features eight groups, each consisting of four teams. Each group is 'seeded' with a strong team. By virtue of hosting, Russia gets to seed team A, although it is only placed 70th in the FIFA world rankings—the lowest-ranked team in the entire competition.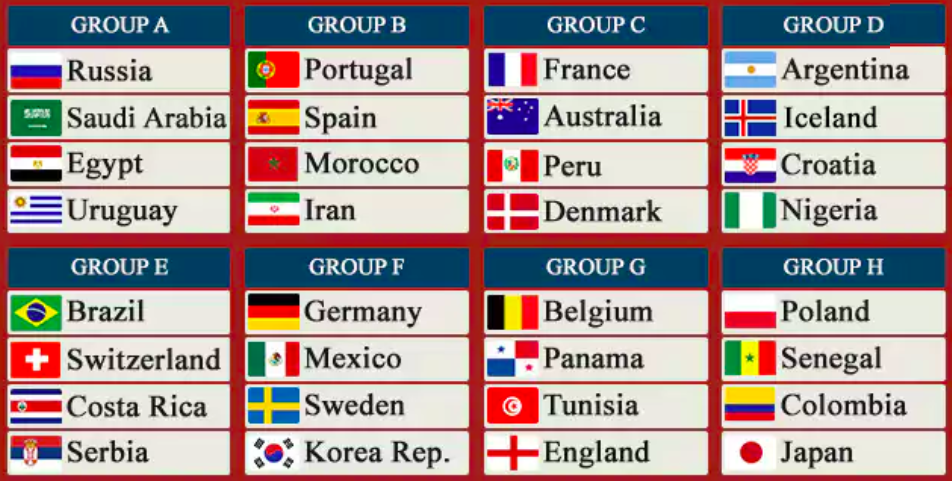 Other seeded teams are Portugal (B), France (C), Argentina (D), Brazil (E), Germany (F), Belgium (G) and Poland (H). After the first round, in which each team will play three games, the two best-placed teams in each group will advance to the next stage: 16 knock-out games sending the winner to the quarterfinals (on July 6th and 7th), semifinals (on July 10th and 11th) and eventually to the final, on July 15th.
Both the opening game today, between Russia and Saudi Arabia, and the final will take place in Moscow's 81,000-seater Luzhniki Stadium. In all, the 64 matches of the 21st World Cup will be played in 12 stadiums across 11 cities. The furthest distance between two venues is 1,800 miles – and still, the tournament locations are limited mainly to the western part of the country. Yekaterinburg, just east of the Urals, is the only venue outside European Russia.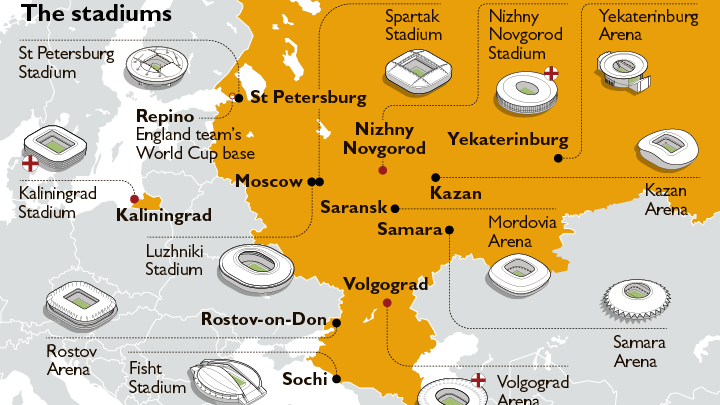 Who will win? Only time will tell, but that doesn't stop everybody and their uncle from offering their opinion, well-reasoned or otherwise. Germany are considered strong contenders, not least because they are the reigning champions, having defeated Argentina in the 2014 final. Brazil, who have participated in all World Cups and won five of them, are also high on the list—even though they haven't won since 2002 and not in Europe since 1958.
Even though Russia's team is not a huge favorite, they do have a home advantage. As this diagram shows, 30% of teams hosting the World Cup have gone on to win the tournament on home soil – i.e. Uruguay (1930), Italy (1934), England (1966), Germany (1974), Argentina (1978) and France (1988).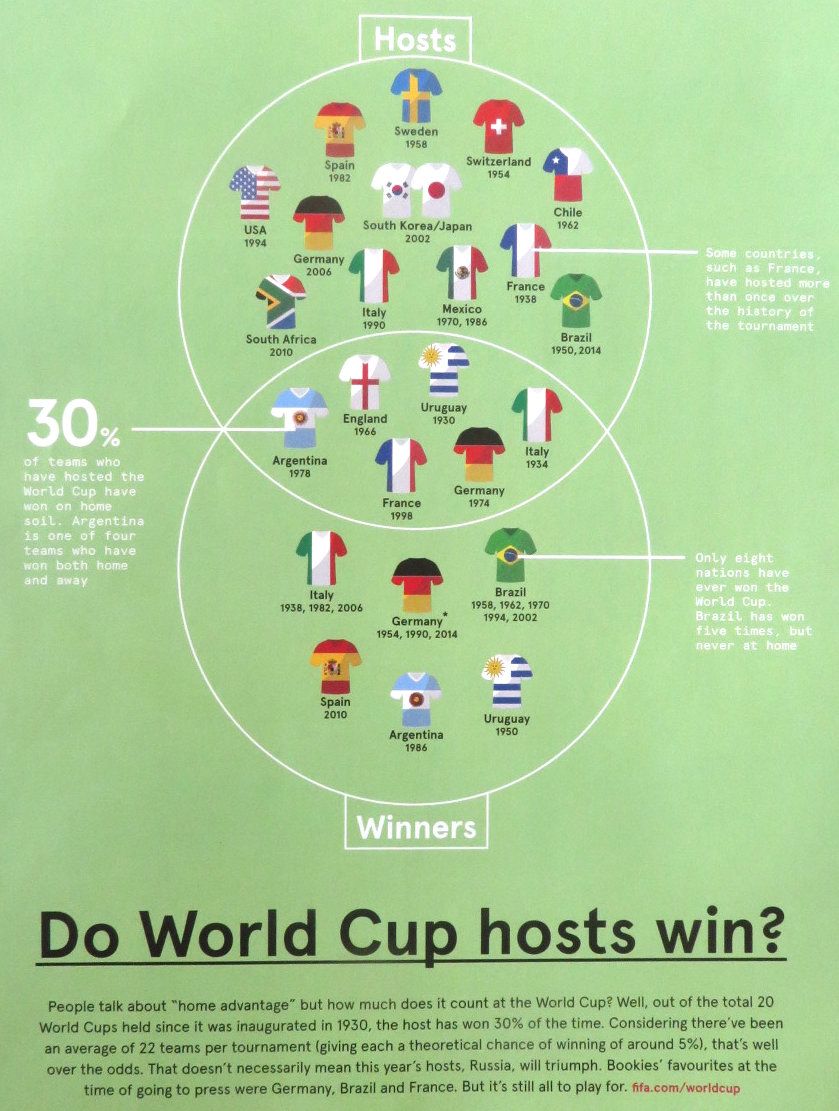 As the top of the diagram shows, many more countries have hosted the World Cup without winning it. The bottom of the diagram shows countries winning the Cup away from home. In all, just eight countries have ever won the Cup. Apart from the six mentioned above, also Spain and Brazil.
Even if the host country fails to win the trophy, organizing the World Cup is a massive PR coup for Russia, and its president Vladimir Putin. No more than a couple of weeks ago, Russia was singled out as the likely culprit for the chemical attack on a Russian defector and his daughter in the UK. The country has been heavily sanctioned and expelled from various bodies for its 2014 annexation of Crimea, and its military support for Syria's Assad regime drives yet another wedge between it and most western countries.
All that and more will now disappear under a month-long flood of football frenzy (see the Shankly quote at the beginning). However, the Greens in the European Parliament are using the World Cup to draw attention to a less-than-friendly facet of today's Russia: more than a quarter century after the fall of Communism, the country is again imprisoning people for their political beliefs.
Their website offers 'fair play' and 'foul play' versions of the map of Russia. Yes, the coming month will feature crowd-pleasing games in 12 stadiums across Russia. But the country is also dotted with 87 prisons that contain among them no less than 158 political prisoners. By all means, cheer for your favorite team. But also consider signing the petition that urges their release.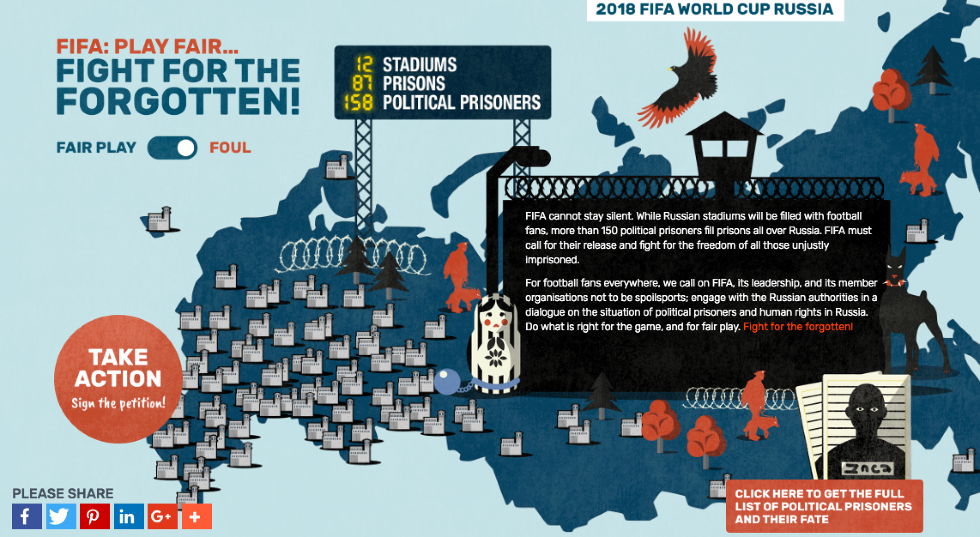 Map of interest in the World Cup per U.S. state found here on noobnorm. Map of qualifying countries found here on Wikimedia Commons. Chart of the Groups found here at The Australian. The stadiums map taken here from The Times. The 'home advantage' diagram taken from the Norwegian in-flight magazine. More on the Euro-Greens initiative here on their page. 
Strange Maps #913
Got a strange map? Let me know at strangemaps@gmail.com.
(1) When Iceland reached the quarterfinals at Euro 2016 in France, more than 10% of the country's entire population had travelled down to support their team.
Big Think Edge
The meaning of the word 'confidence' seems obvious. But it's not the same as self-esteem.
Confidence isn't just a feeling on your inside. It comes from taking action in the world.
Join Big Think Edge today and learn how to achieve more confidence when and where it really matters.
An innovation may lead to lifelike evolving machines.
Shogo Hamada/Cornell University
Surprising Science
Scientists at Cornell University devise a material with 3 key traits of life.
The goal for the researchers is not to create life but lifelike machines.
The researchers were able to program metabolism into the material's DNA.
The team caught a glimpse of a process that takes 18,000,000,000,000,000,000,000 years.
Image source: Pixabay
Surprising Science
In Italy, a team of scientists is using a highly sophisticated detector to hunt for dark matter.
The team observed an ultra-rare particle interaction that reveals the half-life of a xenon-124 atom to be 18 sextillion years.
The half-life of a process is how long it takes for half of the radioactive nuclei present in a sample to decay.
Big think's weekly newsletter.
Get smarter faster from the comfort of your inbox.
See our newsletter privacy policy
here
Most Popular
Most Recent
Big think's weekly newsletter.
Get smarter faster from the comfort of your inbox.
See our newsletter privacy policy
here
© Copyright 2007-2019 & BIG THINK, BIG THINK EDGE,
SMARTER FASTER trademarks owned by The Big Think, Inc. All rights reserved.