High Culture —
Chess boom: Will the U.S. produce another Bobby Fischer?
It has been 50 years since an American has claimed the title of World Chess Champion. Will it ever happen again?
Key Takeaways
The pandemic and the Netflix series The Queen's Gambit have triggered a resurgence of interest in chess.
The last American to win the World Chess Championship was Bobby Fischer in 1972.
Currently, there are three Americans in the global top 10 chess players. Perhaps one of them will become World Chess Champion.
When American Bobby Fischer won the World Chess Championship in 1972, membership in the United States Chess Federation doubled. After a dip when Fischer left chess, membership grew steadily, especially among schoolchildren. In March 2020, housebound, thousands of Americans played chess online. The chess-themed Netflix series The Queen's Gambit, which debuted in October 2020, sparked more interest. Is a chess boom and a U.S.-born World Chess Champion happening?
An explosion of online chess
The United States Chess Federation (US Chess) hit an all-time high of 97,062 members in February 2020. Beginning in March 2020, over-the-board tournaments rated by US Chess were cancelled due to restrictions on in-person gatherings. Although many tournaments have resumed, "scholastic chess has not rebounded yet due to the lack of after school programs as schools still struggle with COVID protocols," according to Dan Lucas, Senior Director of Strategic Communication for US Chess. As of December 2021, US Chess had 73,664 members.
In contrast, online chess playing has boomed. The Lichess website has its own rating system. Its database shows a jump in rated games after the pandemic began, from just over 44 million in February 2020 to over 73 million in April 2020. After The Queen's Gambit aired, the website recorded nearly 89.5 million in December 2020. (About one-third of Lichess games are not rated and some users partake in non-playing activities, such as watching Twitch streamers or solving chess puzzles. A free site, Lichess eschews trackers so does not know how many of its users are from the United States.)
The number one chess website, Chess.com, peaked at 4.3 million unique monthly new registrations across the world during December 2020. The wave of U.S. registrants was similar, peaking a month later at 1.5 million. According to Austin Gasparini, Director of Business Development for Chess.com, "The real story is not in new registrations, but in monthly active users (MAUs). Our registration pace tapered off, but our new players stuck around. MAUs from all countries in February 2020 were 6.1 million and were 18.1 million in December 2021, a 195% increase. For the U.S. specifically: 1.4 million in February 2020 and 4.6 million in December 2021, a 228% increase."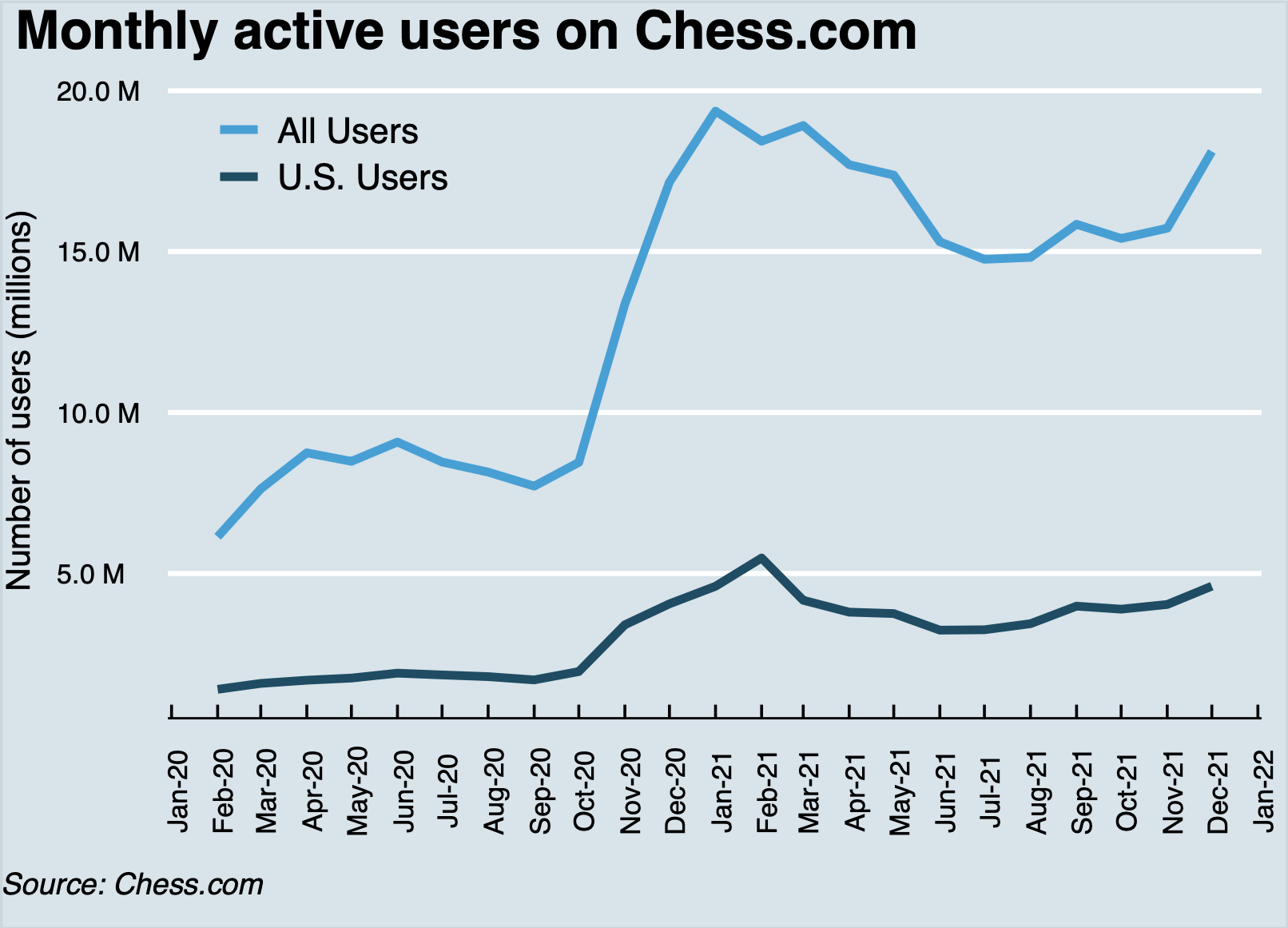 Scholarships, St. Louis, and the Sinquefield effect
While online games attract more players, over-the-board games determine the World Chess Championship title. Historically and today, top chess players have immigrated to the United States to play over-the-board.
Glasnost was "the greatest disaster in the history of American chess," wrote three-time U.S. Chess Champion Joel Benjamin in American Grandmaster: Four Decades of Chess Adventures. Beginning in the mid-1980s, many chess players from the Soviet Union immigrated to the United States. U.S.-born players, such as Benjamin, earned less prize money than before the immigrants arrived.
Two of the more famous immigrants were Boris Gulko and Anna Akhsharumova. Before they became refuseniks, they had lived comfortable lives as chess professionals in Moscow. After seven years as refuseniks — going on hunger strikes, demonstrating, and being arrested frequently — Gulko and Akhsharumova were allowed to leave the Soviet Union in 1986. Having already won the Soviet Chess Championships, overall and for women (respectively), Gulko became a two-time U.S. Chess Champion and Akhsharumova became a U.S. Women's Chess Champion.
Immigration in the 21st century has two new impetuses. First, billionaire Rex Sinquefield's money attracts world-class chess players to St. Louis. One example: On February 26, 2021, the Saint Louis Chess Club issued a press release that the world's sixth-highest ranked active chess player, Grandmaster Levon Aronian, will move from Yerevan, Armenia to St. Louis. The release continued, "The 'Sinquefield Effect' is largely credited with the resurgence of American chess over the last decade."
Second, several U.S. universities offer full-ride chess scholarships. The University of Texas at Dallas chess team currently has 14 students (including 10 international students) on full-ride scholarships. Chess Program Director Jim Stallings said, "The students bring excellent academic skills, which fits with the university's reputation for mental prowess."
Sabina Foişor and Nazi Paikidze received chess scholarships from the University of Maryland, Baltimore County. Foişor was from Romania and Paikidze was from Georgia (the country, not the state). They switched their federations to US Chess. Both became U.S. Women's Chess Champions, Foişor in 2017 and Paikidze in 2016 and 2018.
The 2021 U.S. Women's Chess Champion, Carissa Yip, was born in Boston in 2003. Unlike the fictional Beth Harmon from The Queen's Gambit, whose chess skills were on par with the top U.S. men, the top U.S. women are not among the 12 players invited to the U.S. Chess Championship.
Searching for Bobby Fischer
Wesley So won the U.S. Chess Championship in 2020 and in 2021. Born in the Philippines, So moved to the United States for a chess scholarship at Webster University. Along with U.S.-born Fabiano Caruana (4th in the world), So (8th) and Aronian (6th) are the Americans on the top 10 list of FIDE (International Chess Federation) players. Caruana challenged World Chess Champion Magnus Carlsen in 2018, drawing 12 classical time control games before losing the rapid tiebreak games.
An American might be the next Challenger, in 2023, to Carlsen, who defeated Challenger Ian Nepomniachtchi of Russia in 2021. Caruana already has a spot in the 2022 Candidates Tournament, which determines the Challenger. Hoping to qualify for the Candidates Tournament, via two spots from the FIDE Grand Prix Series held between February and April 2022, are Americans Aronian, So, Leinier Domínguez, Hikaru Nakamura, and Sam Shankland.
The CEO of American Chess Magazine, Josip Asik, thinks So is the most likely American to become the Challenger. Asik said,"Wesley So can get the world title back to the United States. The sky is the limit for this humble guy from Minnesota." If So's impact is as great as Fischer's was, the number of over-the-board US Chess-rated games may radically increase. Even in that scenario, it's likely that online will remain the most popular venue for chess in the United States.