Forking Amazing
What Are the Chances? Cornwall-shaped Lightning Hits Cornwall
Frank Jacobs
From a young age, Frank was fascinated by maps and atlases, and the stories they contained. Finding his birthplace on the map in the endpapers of Tolkien's Lord of the Rings only increased his interest in the mystery and message of maps.
While pursuing a career in journalism, Frank started a blog called Strange Maps, as a repository for the weird and wonderful cartography he found hidden in books, posing as everyday objects and (of course) floating around the Internet.
"Each map tells a story, but the stories told by your standard atlas for school or reference are limited and literal: they show only the most practical side of the world, its geography and its political divisions. Strange Maps aims to collect and comment on maps that do everything but that - maps that show the world from a different angle".
A remit that wide allows for a steady, varied diet of maps: Frank has been writing about strange maps since 2006, published a book on the subject in 2009 and joined Big Think in 2010. Readers send in new material daily, and he keeps bumping in to cartography that is delightfully obscure, amazingly beautiful, shockingly partisan, and more.
02 August, 2014
"This is a once in a lifetime photo", says Arron McNally. "There will never be one like it again". One evening in mid-2014, the Cornish father of five was watching a spectacular electrical storm with his wife Krista Oflynn from their daughter Kelly's bedroom window. 
---
No doubt to allay the four-year-old's fear of the storm, mum and dad started a competition to see who could snap the most spectacular fork of lightning on camera. "When I caught this one I knew I was the winner", Arron (26) says. Scrolling back to see the picture he had taken of a particularly bright strike nearby, he immediately recognised the outline: "It was exactly the same shape as Cornwall – it was as if someone drew a map of the county in the sky".
The incident is related in the Plymouth Herald, which covers parts of Cornwall and Devon, in the southwest of England. The paper quotes unnamed 'experts' who claim this is "the first time on record that a place has been struck by lightning which looks like the area itself". While that sounds suspiciously like that old trick in the journalist's book – faking an 'anonymous source' to use an unverifiable quote you came up with yourself – it is true that the resemblance is uncanny.

Cornwall is England's southwesternmost county, a wedge-shaped peninsula dividing the Celtic Sea to its west from the English Channel to its east. The peninsula's tip is known as Land's End. On the other side of the county, the River Tamar separates Cornwall from Devon, and the rest of England. Some would even say: from England proper – Cornwall, although officially English, has its own Celtic history, culture and language. Some locals promote the separate Cornish identity (reviving the virtually extinct Kernowek language – see also #13) and even strive for larger political autonomy. In April 2014, the Cornish were granted minority status under the European Framework Convention for the Protection of National Minorities. 
The bolt of lightning photographed by Arron McNally mirrors the geography of Cornwall in a few crucial areas. The main streak at the bottom and the secondary one on top together suggest the wedge shape of the county. Two protrusions at bottom left of the fiery constellation resemble Land's End, the neighbouring Lizard peninsula (Britain's southernmost) and Mount's Bay between them. In fact, the Lizard is suggested twice, by a second downward stab of lightning to the right; next, a hint of the gentler curve of Falmouth Bay. The fainter, northerly streak of lightning also shows a passing resemblance to the northern Cornish coastline, from St. Ives Bay to where the line fades.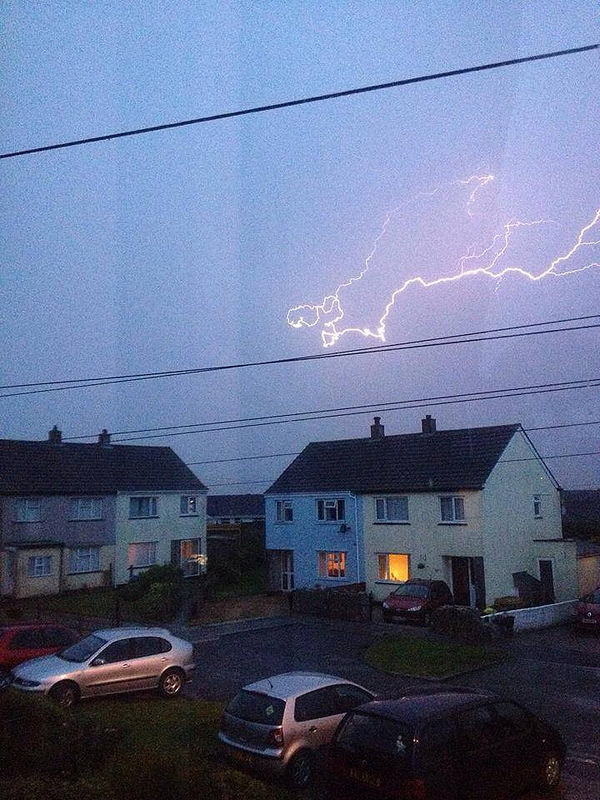 The 'meteorologists' quoted by the Herald may or may not be right in claiming that the Cornwall-shaped lightning is a 'world first' – how could you be sure of either? - this certainly isn't the first time this blog has reported on weird territorial echoes.
Some time ago, this blog reported on a mysterious Nebraska-shaped field in Nebraska (see #426). And recently, we demonstrated how Belgium possesses a body double in one of its own provinces (see #659). But, most strangely of all: this is not the first time that Cornwall's shapely contour has been shown to possess a curious double (see #555). And they say lightning never strikes twice...
Many thanks to Stijn Meuris for sending in this picture. Main info from this page at the Plymouth Herald. Bigger image of the lightning bolt taken here from the Jedi Council Forums.
Strange Maps #671
Got a strange map? Let me know at strangemaps@gmail.com.
PS – 'The size of Wales' is a standard geographical comparison. 'The shape of Cornwall' may never become as prominent an expression, but there is at least one other example: this Cornwall-shaped pasty, made – appropriately – for the World Pasty Championships at Eden Project, in Cornwall.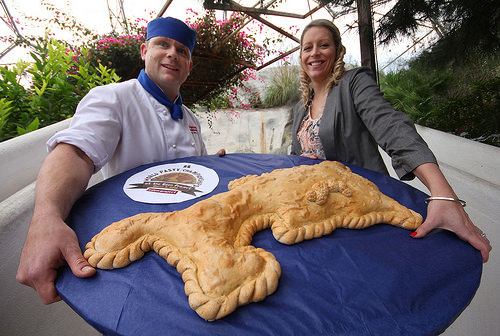 PPS - For earlier entries on cartographic pareidolia (seeing maps where none are intended), see #350, #424, #494 and #593.
Related Articles
New research offers a tip for politicians who don't want to be seen as corrupt: don't get a big head.
These five main food groups are important for your brain's health and likely to boost the production of feel-good chemicals.
Big think's weekly newsletter.
Get smarter faster from the comfort of your inbox.
See our newsletter privacy policy
here
Most Popular
Most Recent
Big think's weekly newsletter.
Get smarter faster from the comfort of your inbox.
See our newsletter privacy policy
here
© Copyright 2007-2018 & BIG THINK, BIG THINK EDGE,
SMARTER FASTER trademarks owned by The Big Think, Inc. All rights reserved.