426 - Mysterious Nebraska-Shaped Field in... Nebraska
Frank Jacobs
From a young age, Frank was fascinated by maps and atlases, and the stories they contained. Finding his birthplace on the map in the endpapers of Tolkien's Lord of the Rings only increased his interest in the mystery and message of maps.
While pursuing a career in journalism, Frank started a blog called Strange Maps, as a repository for the weird and wonderful cartography he found hidden in books, posing as everyday objects and (of course) floating around the Internet.
"Each map tells a story, but the stories told by your standard atlas for school or reference are limited and literal: they show only the most practical side of the world, its geography and its political divisions. Strange Maps aims to collect and comment on maps that do everything but that - maps that show the world from a different angle".
A remit that wide allows for a steady, varied diet of maps: Frank has been writing about strange maps since 2006, published a book on the subject in 2009 and joined Big Think in 2010. Readers send in new material daily, and he keeps bumping in to cartography that is delightfully obscure, amazingly beautiful, shockingly partisan, and more.
23 July, 2010
  A few miles northwest of the small town of Minden, in the seemingly endless Nebraska plains, lies a field shaped like the state itself. By intelligent design or as an accident of agriculture? 
---
Either option seems unlikely in a landscape so utilitarian that efficiency has imposed symmetry upon it. These plains are cut into perfect squares, with sides exactly a mile long. The straight lines dividing the squares are semi-anonymous roads, named after numbers and letters.
The only other pattern thriving in this checkered landscape is the circle, touching the edges of many squares (as seen on the left of this picture): a sign of the popular method of centre-pivot irrigation. As pretty as that might look from the sky, all these squares and circles are practical first and foremost. This is not a topology of frivolity. Why lose a bit of perfectly arable land only to sculpt something as pointless as a map?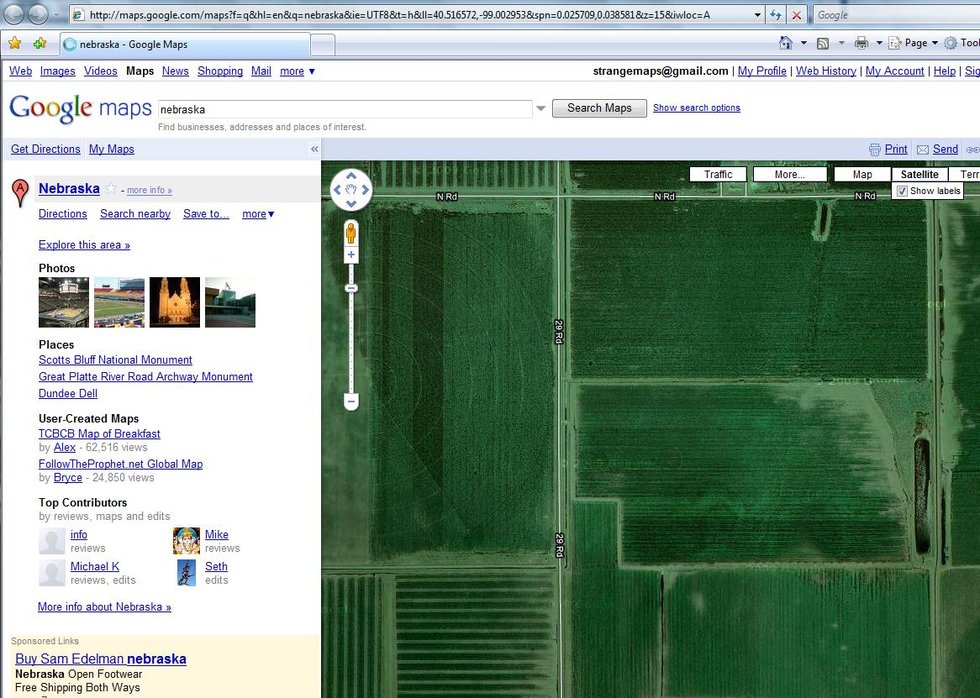 Is Nebraska Field a coincidence, then? When not being centrally irrigated, each of the mile-by-mile blocks is often divided into smaller fields, mostly rectangular but not really symmetrical. That sort of describes the shape of Nebraska – but still, chances of a field mimicking it so perfectly seem very remote indeed.
Nebraska is rectangular in an oblong sort of way, with straight borders everywhere except in the east, where it is bounded by the Missouri River. An immediately recognisable feature on its western border is the square chunk bitten out by Colorado, allowing that state to be completely rectangular. 
The field mimics all these shapes: the straight lines north, west and south, the indentation in the southwest, the slightly slanting eastern border, near what looks like a little, elongated lake. And all in the right proportions too.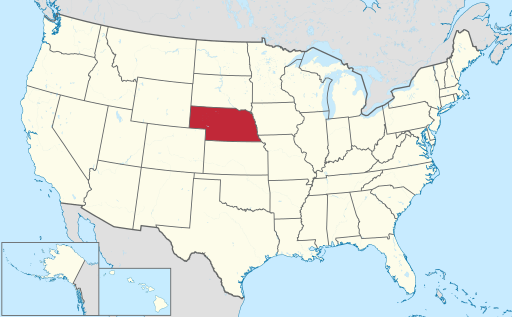 So: coincidence or design? It has to be one or the other. But the only thing we know for sure are the circumstances of the Field's discovery. "It was a complete coincidence, which is the best part," says Adam Kommel, who sent in this map. "I was just goofing off on Google Maps during the weekend, seeing if I could find the largest all-green spot in the middle of the country. I zoomed in a bit and all of a sudden I just saw it." 
The mysterious Nebraska Field does not seem to have achieved even local fame. The town of Minden only boasts a Pioneer Museum, and each December hyper-decorates itself to defend its reputation as Christmas City. Any extra information on the Nebraska Field and its creator/owner would therefore be greatly appreciated! 
Many thanks to Mr Kommel for finding and sending in this rather peculiar map-in-a-map. Overview map taken from Wikipedia's Nebraska page.
Related Articles
We all live by society's invisible rules but for some groups, these rules are tighter than for others, says psychologist Michele Gelfand.
popular
Rules, whether they're visible or invisible, govern our behavior every day.
Different groups have different rules, and have different views on how strict those rules are.
Powerful and dominant social groups have more flexible rules where obeisance is less mandatory.
New research offers a tip for politicians who don't want to be seen as corrupt: don't get a big head.
Researchers at Caltech discovered that wide-faced politicians are seen as more corrupt. (Keystone/Getty Images)
popular
New research offers a tip for politicians who don't want to be seen as corrupt: don't get a big head.
A new study showed people photos of politicians and asked them to rate how corruptible each seemed.
The results were published this week in Psychological Science by researchers at Caltech.
Big think's weekly newsletter.
Get smarter faster from the comfort of your inbox.
See our newsletter privacy policy
here
Most Popular
Most Recent
Big think's weekly newsletter.
Get smarter faster from the comfort of your inbox.
See our newsletter privacy policy
here
© Copyright 2007-2018 & BIG THINK, BIG THINK EDGE,
SMARTER FASTER trademarks owned by The Big Think, Inc. All rights reserved.