42 of the world's 50 deadliest cities are in one region
Here's why Latin American cities are the deadliest in the world.
12 March, 2018
Back in 2016, 61 people were killed in Los Cabos, a favorite holiday destination for Americans. Last year, 365 people were murdered in the city, a 500% increase over 2016. The Mexican municipality at the southern tip of the Baja California peninsula now officially is the deadliest city in the world. 
---
With an average of one murder per day and a total population of just under 330,000, Los Cabos has a murder rate of 111.33 per 100,000 inhabitants—a fraction more than the 111.19 figure for Caracas, in second place. But the Venezuelan capital is much larger. With a population of just over three million, its (relative) murder rate translates into an (absolute) death toll of 3,387 murders last year, more than any other city on the list (which excludes combat zones like Syria or Yemen).
That list, of the world's 50 most violent cities translates into this map. If it doesn't much look like a world map, it's because no less than 42 of those cities are in Latin America. Most of this are in Brazil—17, in all. Mexico has 12. Third in the country ranking is Venezuela, with five cities. Only eight cities are outside Ibero-America: four in the U.S. (St Louis, Baltimore, New Orleans and Detroit, in that order), three in South Africa (Cape Town, Durban and Nelson Mandela Bay—i.e. the Port Elizabeth area) and one in the Caribbean (Kingston, Jamaica).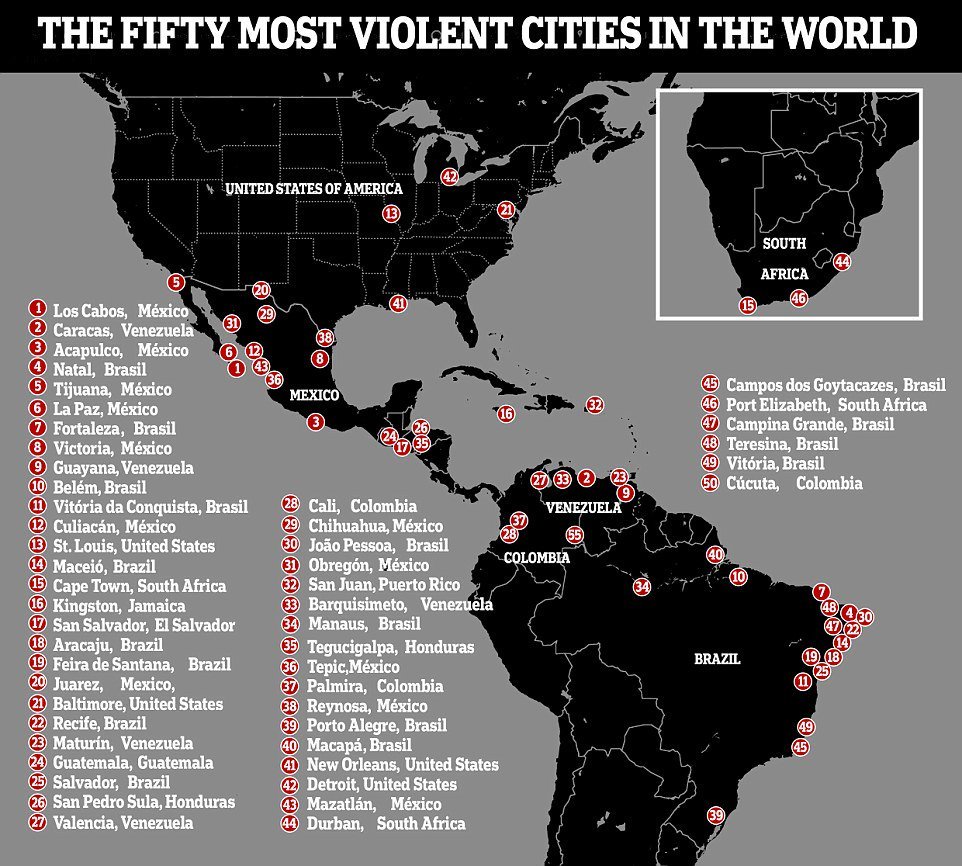 The annual ranking of the world's deadliest major cities (with a population of at least 300,000) is the work of the Mexican anti-violence think tank Seguridad, Justicia y Paz, which draws three conclusions from the latest figures:
1 - Honduras is getting better
From 2011 to 2014, San Pedro Sula was the deadliest city in the world. In 2016, it was still ranked third. With the murder rate more than halving between 2016 and last year, it dropped to 26th place. Homicides in the Central District (the municipality that includes the country's capital Tegucigalpa) dropped by almost 44%, leading to a drop from 4th place in 2016 to 35th place last year.
"These extraordinary reductions did not happen by chance," the think tank says. "They are the Honduran government's commendable efforts to systematically eradicate criminal cells, reduce judicial impunity and act against gang crimes other than homicides, as well as restoring order to the prison system."
2 - Mexico is getting worse (again)
Things had gotten better in Mexico. In 2015, only five Mexican cities were included in the ranking. Now the figure is up to 12 again, the same number as in 2011. Things aren't quite as bad as back then, when the homicide rate in Juarez approached 300, but the situation is definitely worsening.
Why? "The opposite has been done from Honduras: no action is undertaken to systematically eradicate the private militias of criminal groups. And judicial impunity has been allowed to reach its worst levels ever recorded."
3 - Chaos in Venezuela leads to undercounting
The situation in Venezuela is so chaotic that it has become difficult to count the dead.
"The official data is scarcer, less periodic and less specific than in previous years. That is why we took two Venezuelan cities (Gran Barcelona and Cumana, Ed.) off the list. Also, with four million Venezuelans having left the country, population estimates no longer reflect reality, and homicide rates based on them should, in fact, be higher."
For all 50 cities combined, the average homicide rate was 59.17 per 100,000 inhabitants, which translates to 41,430 intentional killings for a total of just over 70 million inhabitants.
The 'deadliness' of the rankings is relative. For instance, Los Cabos only ranks 31st in absolute terms. Of the 14 cities with more than 1,000 murders last year, no less than seven are Brazilian; two are in South Africa, and Tijuana is the only one in Mexico.
In the 'relative' ranking, five of the ten deadliest cities are Mexican. The uptick in killings in Mexico can be related to the fragmenting of criminal groups, leading to more intra-gang violence.
According to the think tank, the violence across Latin America has two common, related traits: it is driven by drug trafficking, and by the prevalence in organized crime gangs. Enabling the violent climate is a general backdrop of poverty, instability and corruption.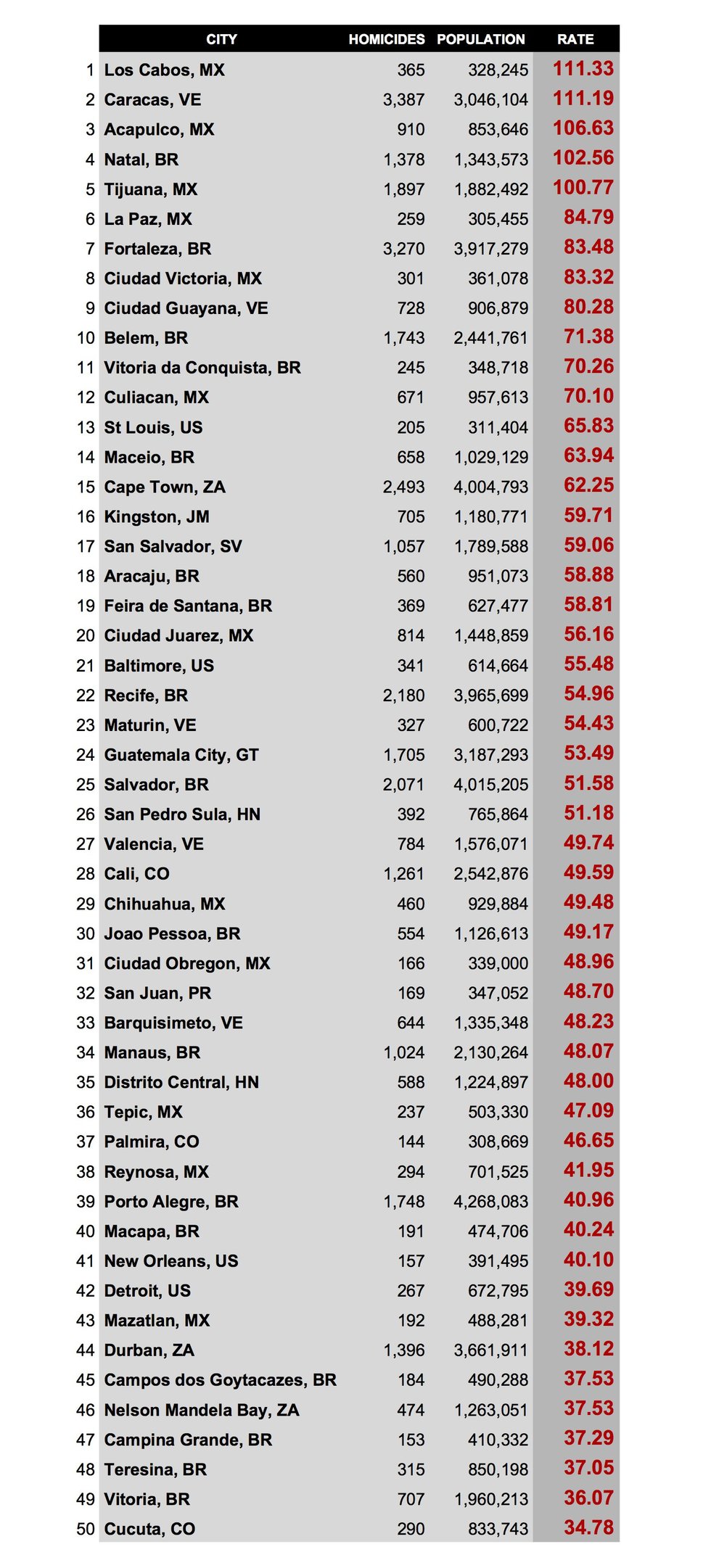 Strange Maps #890
Map found here at the Daily Mail. Graph by Ruland Kolen.
Got a strange map? Let me know at strangemaps@gmail.com.
Understanding thinking talents in yourself and others can build strong teams and help avoid burnout.
Big Think Edge
Learn to collaborate within a team and identify "thinking talent" surpluses – and shortages.

Angie McArthur teaches intelligent collaboration for Big Think Edge.

Subscribe to Big Think Edge before we launch on March 30 to get 20% off monthly and annual memberships.
The Canadian professor has been on the Joe Rogan Experience six times. There's a lot of material to discuss.
Personal Growth
Jordan Peterson has constantly been in the headlines for his ideas on gender over the last three years.
While on Joe Rogan's podcast, he explains his thoughts on the gender differences in society.
On another episode, Peterson discusses the development of character through competition.
The blood of horseshoe crabs is harvested on a massive scale in order to retrieve a cell critical to medical research. However, recent innovations might make this practice obsolete.
Credit: Business Insider (video)
Surprising Science
Horseshoe crabs' blue blood is so valuable that a quart of it can be sold for $15,000.
This is because it contains a molecule that is crucial to the medical research community.
Today, however, new innovations have resulted in a synthetic substitute that may end the practice of farming horseshoe crabs for their blood.
Rediscovering the principles of self-actualisation might be just the tonic that the modern world is crying out for.
Personal Growth
Abraham Maslow was the 20th-century American psychologist best-known for explaining motivation through his hierarchy of needs, which he represented in a pyramid. At the base, our physiological needs include food, water, warmth and rest.
Big think's weekly newsletter.
Get smarter faster from the comfort of your inbox.
See our newsletter privacy policy
here
Most Popular
Most Recent
Big think's weekly newsletter.
Get smarter faster from the comfort of your inbox.
See our newsletter privacy policy
here
© Copyright 2007-2018 & BIG THINK, BIG THINK EDGE,
SMARTER FASTER trademarks owned by The Big Think, Inc. All rights reserved.