42 of the world's 50 deadliest cities are in one region
Here's why Latin American cities are the deadliest in the world.
Frank Jacobs
From a young age, Frank was fascinated by maps and atlases, and the stories they contained. Finding his birthplace on the map in the endpapers of Tolkien's Lord of the Rings only increased his interest in the mystery and message of maps.
While pursuing a career in journalism, Frank started a blog called Strange Maps, as a repository for the weird and wonderful cartography he found hidden in books, posing as everyday objects and (of course) floating around the Internet.
"Each map tells a story, but the stories told by your standard atlas for school or reference are limited and literal: they show only the most practical side of the world, its geography and its political divisions. Strange Maps aims to collect and comment on maps that do everything but that - maps that show the world from a different angle".
A remit that wide allows for a steady, varied diet of maps: Frank has been writing about strange maps since 2006, published a book on the subject in 2009 and joined Big Think in 2010. Readers send in new material daily, and he keeps bumping in to cartography that is delightfully obscure, amazingly beautiful, shockingly partisan, and more.
12 March, 2018
Back in 2016, 61 people were killed in Los Cabos, a favorite holiday destination for Americans. Last year, 365 people were murdered in the city, a 500% increase over 2016. The Mexican municipality at the southern tip of the Baja California peninsula now officially is the deadliest city in the world. 
---
With an average of one murder per day and a total population of just under 330,000, Los Cabos has a murder rate of 111.33 per 100,000 inhabitants—a fraction more than the 111.19 figure for Caracas, in second place. But the Venezuelan capital is much larger. With a population of just over three million, its (relative) murder rate translates into an (absolute) death toll of 3,387 murders last year, more than any other city on the list (which excludes combat zones like Syria or Yemen).
That list, of the world's 50 most violent cities translates into this map. If it doesn't much look like a world map, it's because no less than 42 of those cities are in Latin America. Most of this are in Brazil—17, in all. Mexico has 12. Third in the country ranking is Venezuela, with five cities. Only eight cities are outside Ibero-America: four in the U.S. (St Louis, Baltimore, New Orleans and Detroit, in that order), three in South Africa (Cape Town, Durban and Nelson Mandela Bay—i.e. the Port Elizabeth area) and one in the Caribbean (Kingston, Jamaica).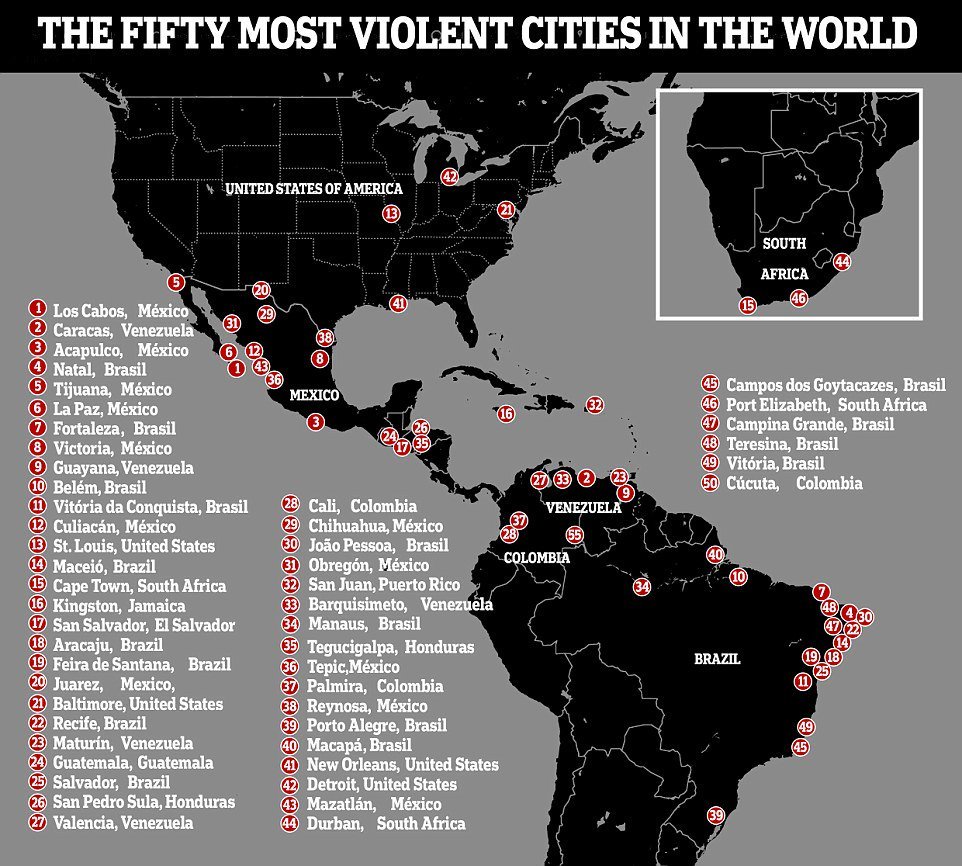 The annual ranking of the world's deadliest major cities (with a population of at least 300,000) is the work of the Mexican anti-violence think tank Seguridad, Justicia y Paz, which draws three conclusions from the latest figures:
1 - Honduras is getting better
From 2011 to 2014, San Pedro Sula was the deadliest city in the world. In 2016, it was still ranked third. With the murder rate more than halving between 2016 and last year, it dropped to 26th place. Homicides in the Central District (the municipality that includes the country's capital Tegucigalpa) dropped by almost 44%, leading to a drop from 4th place in 2016 to 35th place last year.
"These extraordinary reductions did not happen by chance," the think tank says. "They are the Honduran government's commendable efforts to systematically eradicate criminal cells, reduce judicial impunity and act against gang crimes other than homicides, as well as restoring order to the prison system."
2 - Mexico is getting worse (again)
Things had gotten better in Mexico. In 2015, only five Mexican cities were included in the ranking. Now the figure is up to 12 again, the same number as in 2011. Things aren't quite as bad as back then, when the homicide rate in Juarez approached 300, but the situation is definitely worsening.
Why? "The opposite has been done from Honduras: no action is undertaken to systematically eradicate the private militias of criminal groups. And judicial impunity has been allowed to reach its worst levels ever recorded."
3 - Chaos in Venezuela leads to undercounting
The situation in Venezuela is so chaotic that it has become difficult to count the dead.
"The official data is scarcer, less periodic and less specific than in previous years. That is why we took two Venezuelan cities (Gran Barcelona and Cumana, Ed.) off the list. Also, with four million Venezuelans having left the country, population estimates no longer reflect reality, and homicide rates based on them should, in fact, be higher."
For all 50 cities combined, the average homicide rate was 59.17 per 100,000 inhabitants, which translates to 41,430 intentional killings for a total of just over 70 million inhabitants.
The 'deadliness' of the rankings is relative. For instance, Los Cabos only ranks 31st in absolute terms. Of the 14 cities with more than 1,000 murders last year, no less than seven are Brazilian; two are in South Africa, and Tijuana is the only one in Mexico.
In the 'relative' ranking, five of the ten deadliest cities are Mexican. The uptick in killings in Mexico can be related to the fragmenting of criminal groups, leading to more intra-gang violence.
According to the think tank, the violence across Latin America has two common, related traits: it is driven by drug trafficking, and by the prevalence in organized crime gangs. Enabling the violent climate is a general backdrop of poverty, instability and corruption.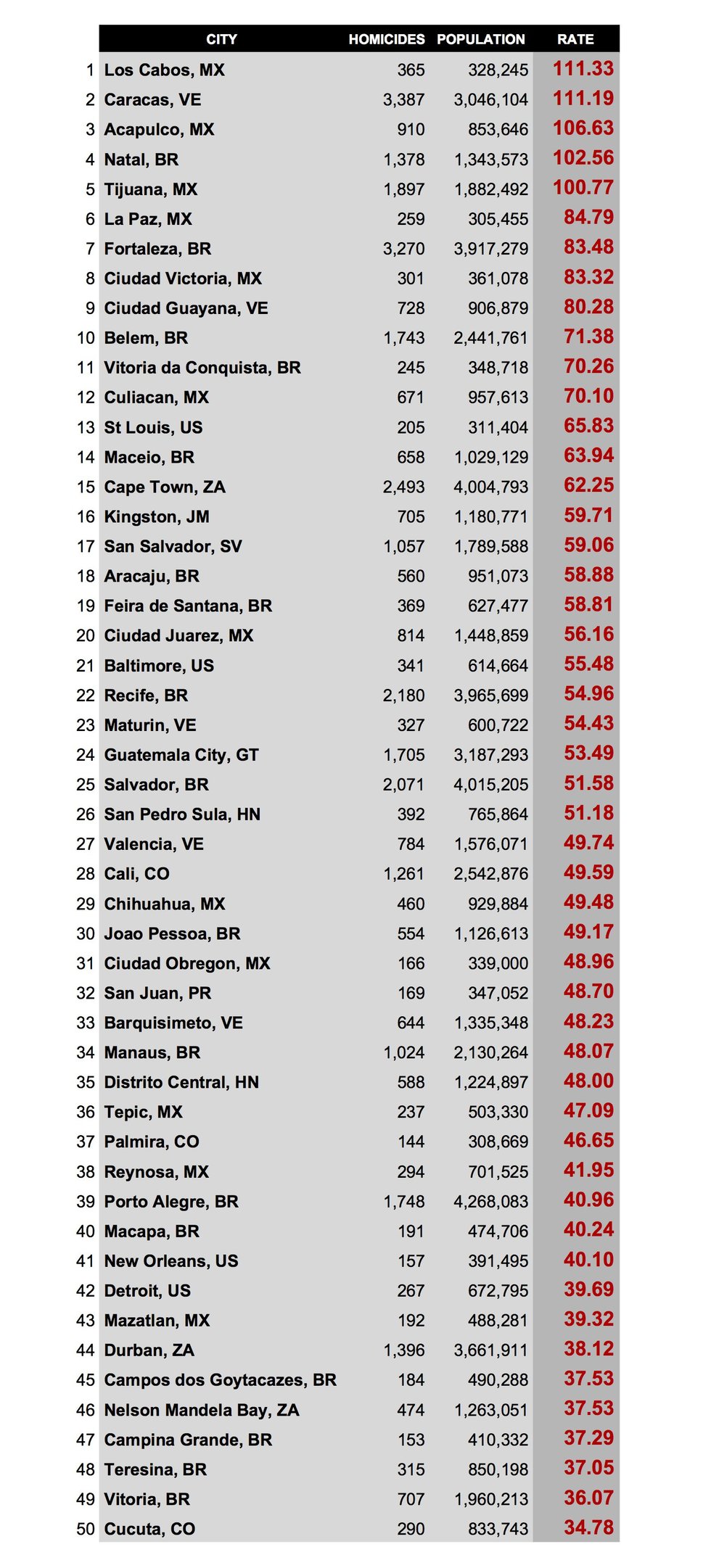 Strange Maps #890
Map found here at the Daily Mail. Graph by Ruland Kolen.
Got a strange map? Let me know at strangemaps@gmail.com.
Giving our solar system a "slap in the face."
Surprising Science
A stream of galactic debris is hurtling at us, pulling dark matter along with it
It's traveling so quickly it's been described as a hurricane of dark matter
Scientists are excited to set their particle detectors at the onslffaught
The climate change we're witnessing is more dramatic than we might think.
Surprising Science
A lazy buzz phrase – 'Is this the new normal?' – has been doing the rounds as extreme climate events have been piling up over the past year. To which the riposte should be: it's worse than that – we're on the road to even more frequent, more extreme events than we saw this year.
Once again, our circadian rhythm points the way.
Photo: Victor Freitas / Unsplash
Surprising Science
Seven individuals were locked inside a windowless, internetless room for 37 days.
While at rest, they burned 130 more calories at 5 p.m. than at 5 a.m.
Morning time again shown not to be the best time to eat.
Big think's weekly newsletter.
Get smarter faster from the comfort of your inbox.
See our newsletter privacy policy
here
Most Popular
Most Recent
Big think's weekly newsletter.
Get smarter faster from the comfort of your inbox.
See our newsletter privacy policy
here
© Copyright 2007-2018 & BIG THINK, BIG THINK EDGE,
SMARTER FASTER trademarks owned by The Big Think, Inc. All rights reserved.